Quick Vegan Meal Ideas for When You Don't Feel Like Cooking
Here I'm sharing quick vegan meal ideas for when you don't feel like cooking. You'll find a variety of 15-minute vegan recipes, as well as non-recipe meal ideas and tips to make your meals nutritious and filling.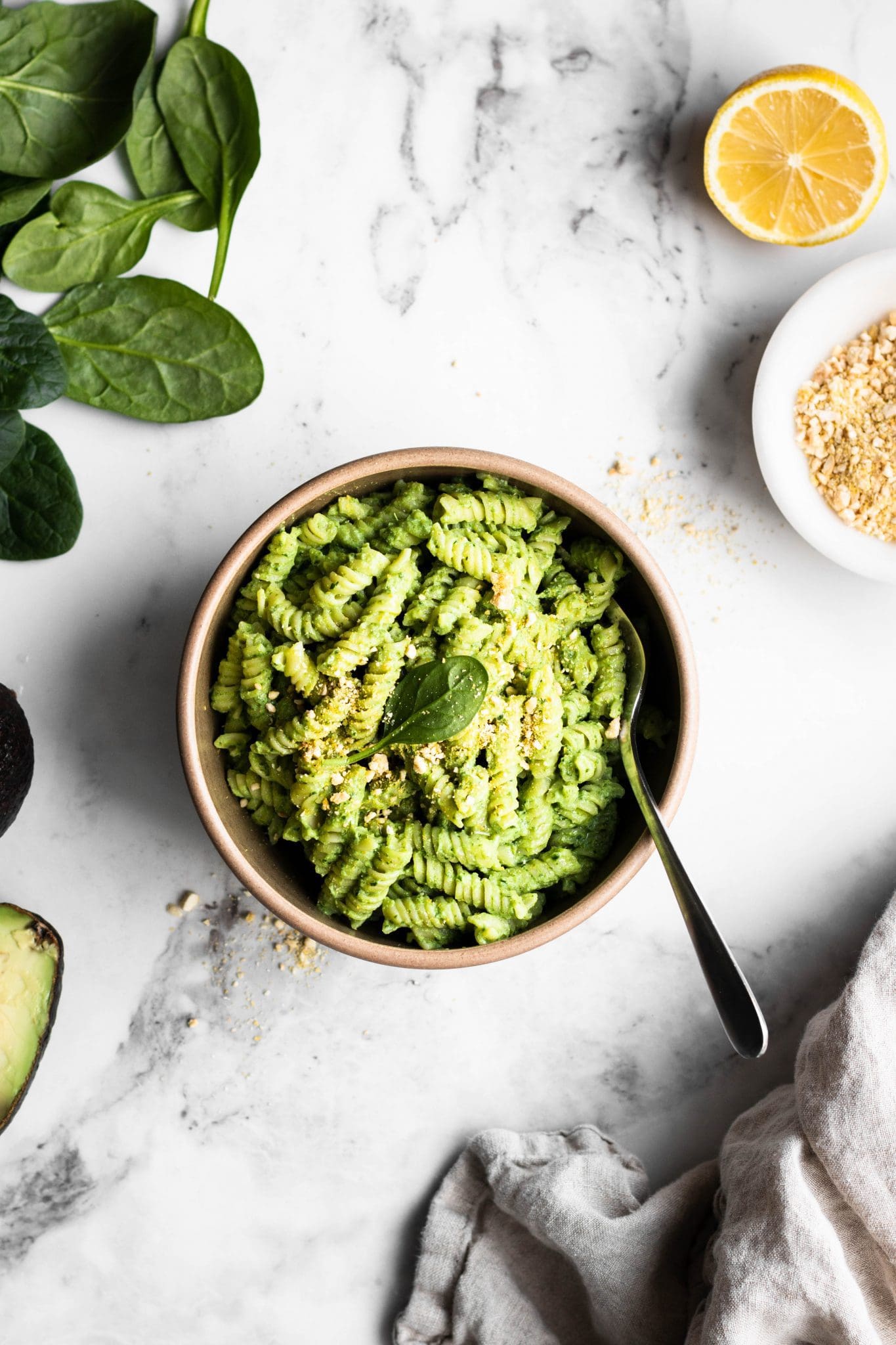 We all need quick and easy recipes to get through busy weeks. In this post, I've compiled a list of simple vegan recipes for when you don't feel like cooking (or for when you're just short on time). You'll find a list of non-recipe meal ideas, easy ways to make your meals more filling and nourishing, as well as my favorite 15-minute recipes.
You can also check out my post on 18 easy 30-minute vegan recipes for more ideas. And if you're looking for more easy recipes, get my Quick Vegan Meals eBook for FREE by subscribing to the blog. This mini eBook has 5 recipes ready in 15 minutes or less.
Quick Vegan Meal Ideas for When You Don't Feel Like Cooking
Easy Pasta Dishes:
It's okay to take shortcuts! Try keeping store-bought pasta sauce in your pantry for quick weeknight meals. I love to stir in canned lentils into the sauce to add protein and fiber, as well as spinach for vegetables. You can also stir in hummus to create a creamy sauce with a little extra fiber and protein. Top your pasta with nutritional yeast for flavor and vitamin B12.
Quick Pizza:
I love to create a "pizza" using tortilla bread, pita bread or even naan bread. It saves you from making a crust and you can simply add your favorite toppings and bake! It's a bit unconventional, but I top my tortilla pizza with canned black beans or lentils for protein and fiber. Then load it with vegetables and vegan cheese.
Another option is to buy a store-bought pizza crust or even a frozen vegan pizza. Serve it with a simple side salad to create a balanced meal.
Simple Sandwiches:
I shared some of my go-to sandwich recipes from the blog later in this post, however, you can easily make a non-recipe sandwich. You can use store-bought vegan sandwich "meat" or make a simple sandwich with tofu, tempeh (store-bought tempeh "bacon" is a great easy option) or hummus and vegetables.
For an even easier option, you can make a simple peanut butter and jelly (or banana) sandwich. Serve it with cut up veggies or other sides to make it into a more filling meal.
Avocado Toasts:
Make simple avocado toasts with your favorite toppings. To add a little protein to the meal (no, avocado is not a source of protein), you can add a sprinkle of hemp hearts, nutritional yeast and a drizzle of tahini. Or you can serve your toasts with tofu scramble or a glass of soy milk.
Protein with Sides:
Make a simple vegan version of the basic "meat, potato and vegetable" meals. You can serve simple crispy tofu with basmati rice (which cooks in 15 minutes) and your favorite vegetables. Another delicious and convenient protein option for these types of meals is frozen vegan nuggets. I love these ones from Gardein. This type of meal is easily done in less than 30 minutes with minimal work.
Nachos:
Make vegan nachos with salsa, canned black beans, vegan cheese and vegetables such as bell peppers. If you want your meal ready in 5 minutes, heat it up in the microwave. It's not fancy, but it works when you don't have the patience to wait for them to bake in the oven.
Burrito or Burrito Bowl:
You can make a simple burrito or burrito bowl with leftover rice (or basmati rice for a quick option), canned black beans, salsa, vegan cheese and vegetables of choice. I also love making a batch of this quick and easy vegan taco "meat" to use in these meals. It's ready in less than 15 minutes!
Simple Salads:
Prepare a salad with any vegetables you have on hand. You can add canned beans or lentils for a quick protein or cook some crispy tofu or tempeh. I also love adding nuts and/or seeds and nutritional yeast to my salads. Use store-bought dressing or make a simple homemade dressing with olive oil and balsamic vinegar. You can find my salad dressing recipes with these salad posts.
Quick Stir Fry:
I love making a stir fry with frozen vegetables and edamame for a quick meal. You can also make a tofu stir fry or use fresh vegetables if preferred.
Veggie Burger:
Use store-bought veggie burger patties for a quick weeknight meal. You can also make a batch of homemade veggie burger patties when you have the time and motivation. Store them in the freezer for quick meals in the future.
Breakfast for Dinner:
When you have very little time or motivation to cook, breakfast for dinner can be a great option! You can make it savory with tofu scramble and toasts. Or you can make it sweet and have oatmeal with fruit or a filling fruit and vegetable smoothie. Just make sure that you eat enough to be satisfied.
---
Tips to Make Your Meals Balanced and Nutritious
Here are some quick ways to make your meals more satisfying or to add more nutrients.
Add protein:
If your meal is lower in protein, consider having a glass of soy milk on the side or add a tablespoon of hemp hearts. All meals don't have to be high in protein, but including a bit of protein will help you feel full for longer.
Add vegetables:
Serve your meal with cut up raw vegetables or a simple salad if you feel that it's lacking vegetables. You can also easily add vegetables in sandwiches or add spinach to your pasta or tofu scramble.
Add healthy fats:
Hemp hearts can be added to most meals for a healthy fat, protein and fiber boost. You can also add nuts, seeds or avocados to salads or a drizzle of olive oil during cooking.
Add fruit:
If you'd like, serve your meal with a piece of fruit to finish with something sweet. Or you can keep the fruits for breakfast and snacks, then have dessert instead. All foods fit.
Make it flavorful:
Make sure that you enjoy your meals. Add sauces, dressings, fresh herbs, spices, salt and pepper to your taste. Enjoying your meals will help you feel more satisfied after.
For more nutrition tips, check out my posts on How to Feel Full on a Vegan Diet, 10 Gentle Nutrition Tips for Vegans and How to Prepare Balanced Vegan Meals.
---
15-Minute Vegan Recipes:
If you're looking for specific recipes, you can find my favorite quick recipes below. These meals are done in approximately 15 minutes and/or require minimal work.
If you make any of these quick vegan recipes, be sure to leave a comment and/or give the recipes a rating! I love to hear from you guys. And of course, if you try a recipe, don't forget to tag me on Instagram!
---