Peanut Butter Chocolate Chunk Energy Bites
Peanut butter chocolate chunk energy bites, made with dates, peanuts, oats and a little touch of chocolate. These bites are my favorite snack while hiking or travelling. They're naturally sweetened with fruit, yet so satisfying and filling.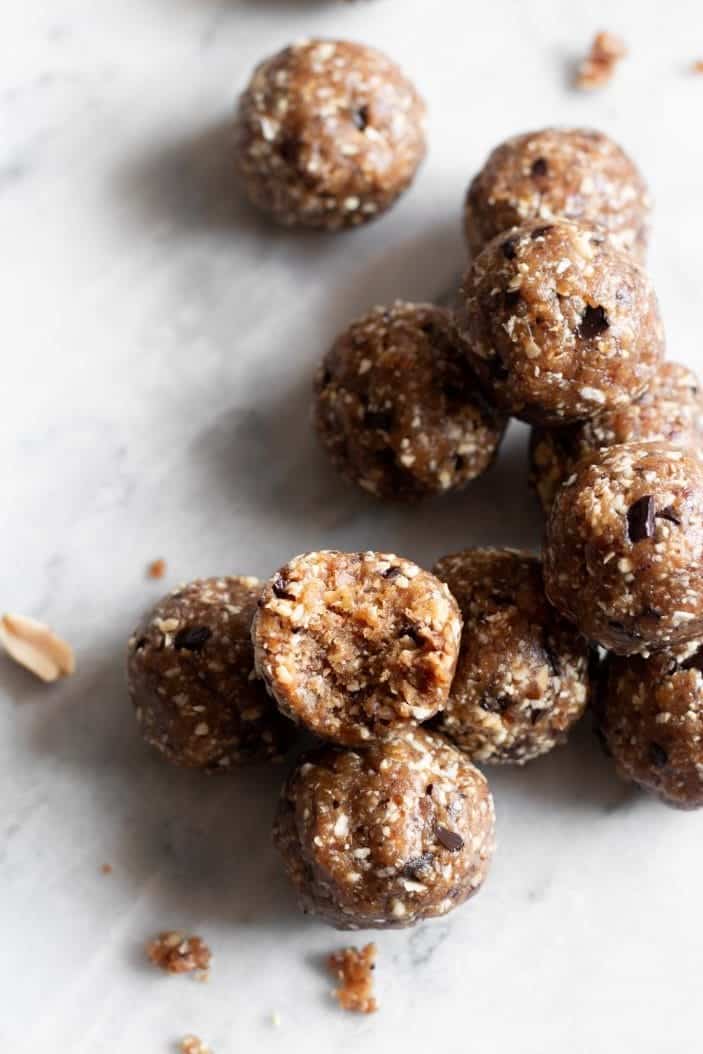 I'm sitting in my living room, on the couch with the doors wide open. It's 6 in the morning and I've been up since 5, as I usually am during the week. It's cool and windy outside and I can hear the birds chirping. Mornings are my favorite.
I'm taking it slow today after a fast-paced weekend in Vancouver with Shaun and a friend. We did so much in so little time.
On Friday, we drove through Whistler and Squamish, all the way to Vancouver. We ended the night with pizza at Virtuous Pie and a walk on the beach. We spent the next day biking around Stanley Park, Granville Market and all the way to the Olympic Village. In the evening, we had dinner at Heirloom Vegetarian Restaurant, one of my favorites.
We slept in a little cottage in Langley, outside the city. There's nothing quite like waking up in nature to the sound of the birds and the river.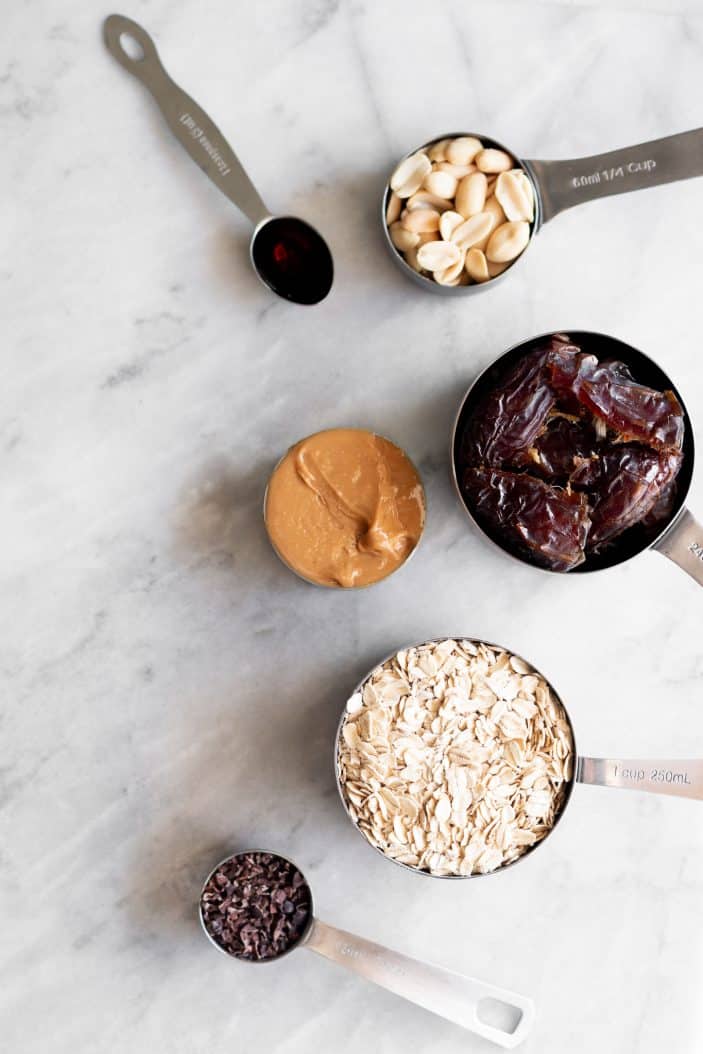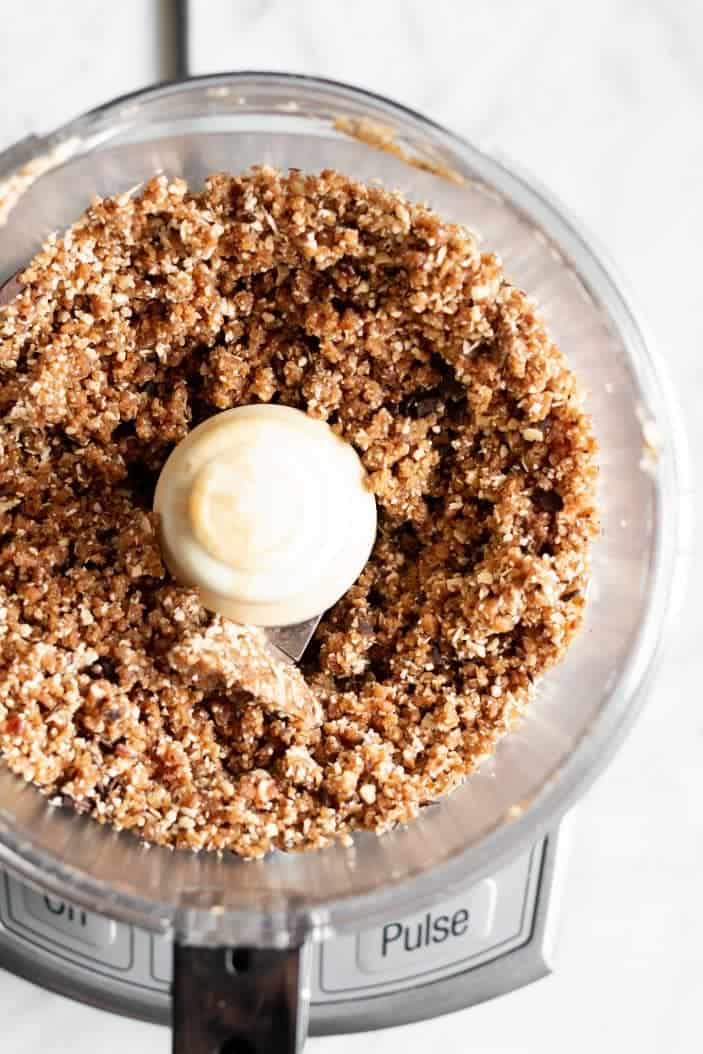 As always, I packed a big Tupperware full of energy bites for the road. I can't travel without snacks and these are my favorites. I had a mix of salted caramel energy bites and these delicious peanut butter chocolate chunk energy bites.
These little bites are a new and improved version of my peanut butter cookie dough energy bites, one of the first recipes I ever posted. I've been looking at old posts lately, looking for recipes and photos that needed some love when I stumbled onto these.
Many of you love this old recipe, but I wanted an updated version as well (you can still make the old ones if you want!). What did I change? I added more peanuts and reduced the amount of oats. I omitted the coconut oil and I added chocolate chunks. You know, you really can't go wrong with adding chocolate.
I also simplified the recipe a bit by adding all the ingredients at once in the food processor (minus the chocolate). This way, there are less steps and the mixture turns out a little smoother. I love them both ways of course, but I have to say, these are my favorites.
They're packed with peanut butter flavor, yet perfectly sweetened with dates. The chocolate doesn't hurt either.
I think we can all appreciate a good hiking and road trip snack during the summer months. Am I right?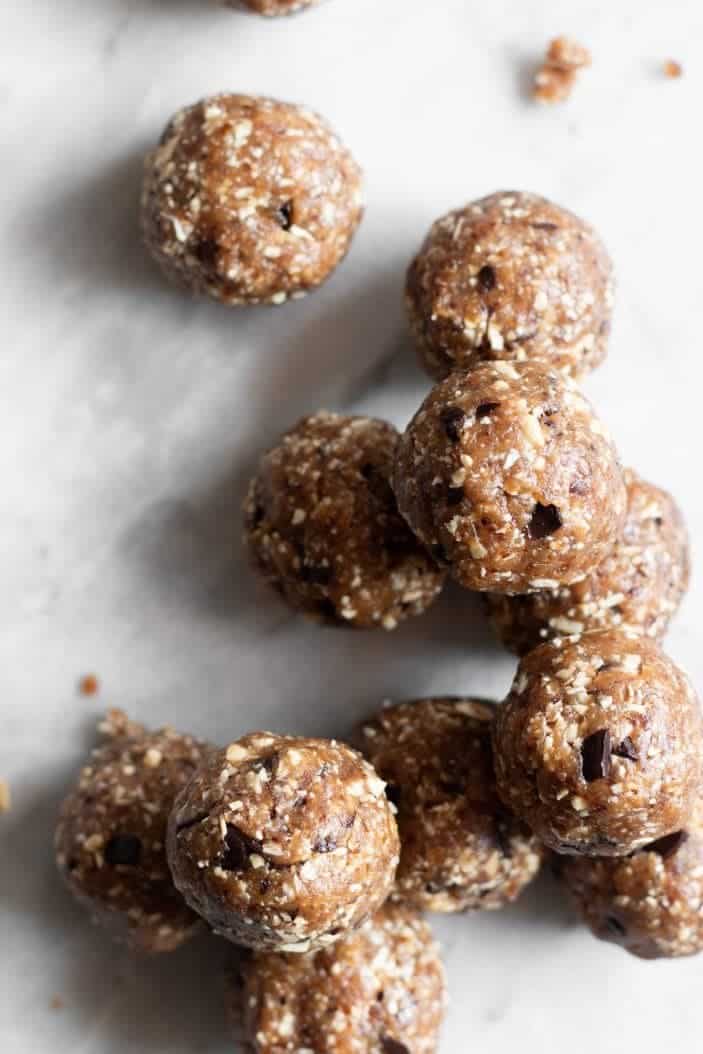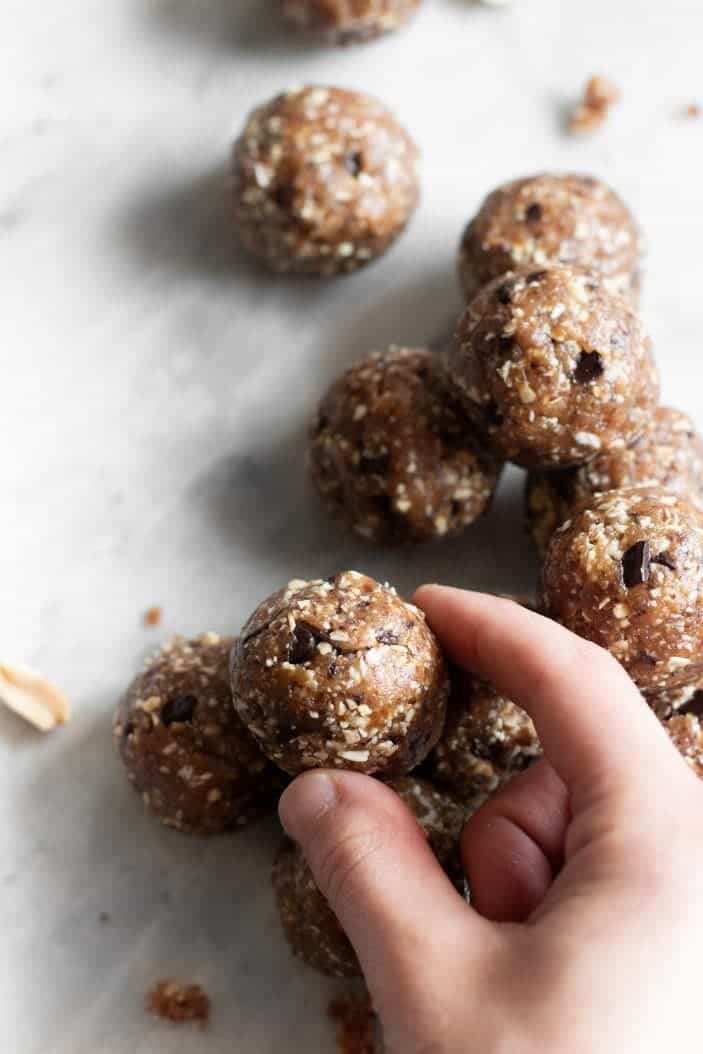 Chocolate Chunk Peanut Butter Energy Bites
Possibly the healthiest way to satisfy your chocolate peanut butter cravings. These delicious little energy bites are made of peanuts, peanut butter, oats, dates and other wholesome ingredients. They're the perfect hiking or road trip snack!
Ingredients
1

cup

Medjool dates,

pitted

1/2

cup

dry roasted peanuts,

unsalted

1/2

cup

rolled oats

1/4

cup

peanut butter,

smooth

1

teaspoon

vanilla extract

2

tablespoons

unsweetened or dark chocolate,

chopped into small pieces
Instructions
Add the dates, peanuts, peanut butter, oats and vanilla to a food processor. Process until the mixture sticks together when pressed (about 2-3 minutes).

Add the chopped chocolate and pulse a few times to combine.

Form the dough into about 12 little balls using your hands.

Store in an airtight container in the fridge or freezer. You can eat them straight from the freezer!
Notes
I used a lightly salted peanut butter. If using a natural peanut butter, add a small pinch of salt.
You can replace the chocolate for 1-2 tablespoons of cocoa nibs.
If you make these peanut butter chocolate chunk energy bites, be sure to leave a comment and/or give this recipe a rating! I love to hear from you guys. And of course, if you try this recipe, don't forget to tag me on Instagram!