Weeknight Vegetarian Stir Fry
Weeknight vegetarian stir fry. A simple stir fry made with tofu, broccoli, peppers and snap peas. Serve it with rice for a satisfying and delicious plant-based meal.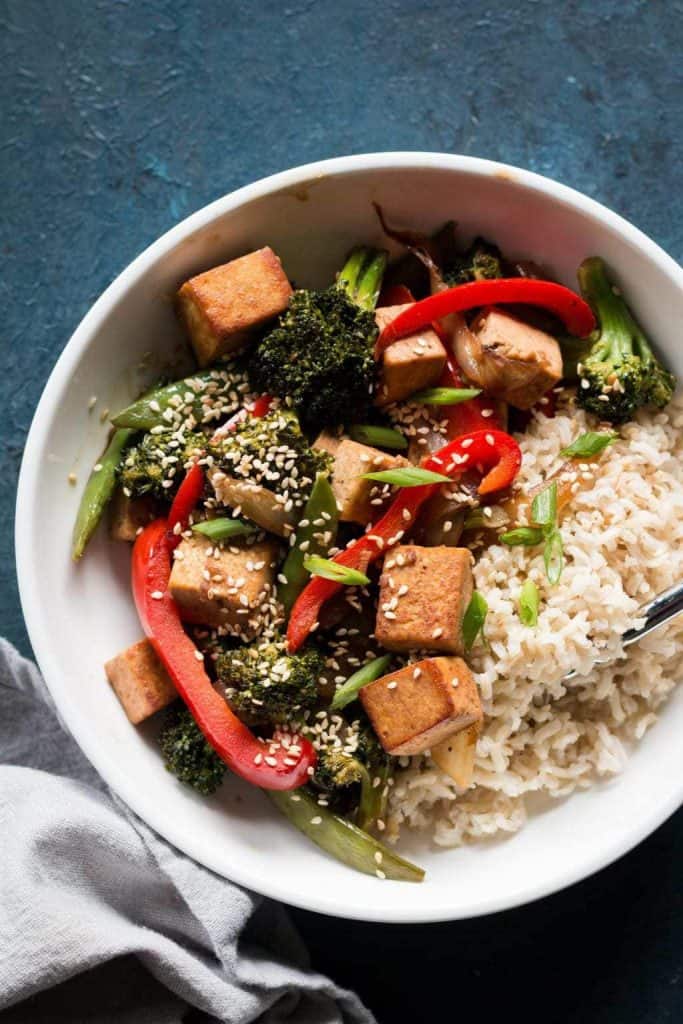 We just got our second small batch of snow of the season on Sunday. Shaun and I were out for a hike when large, beautiful snow flakes started falling. It was beautiful, until the next morning, when I tried to drive to work. We live around mountains and the roads are full of sharp turns and hills – Ends up my car couldn't handle that and I got stuck not far from home.
Winter really isn't bad here, but the winding roads do make it a little more difficult to drive. Back home, where the roads are flat, I would drive in a snow storm, no problem. Lesson learned!
So that was my Monday. Now, let's move on to the recipe!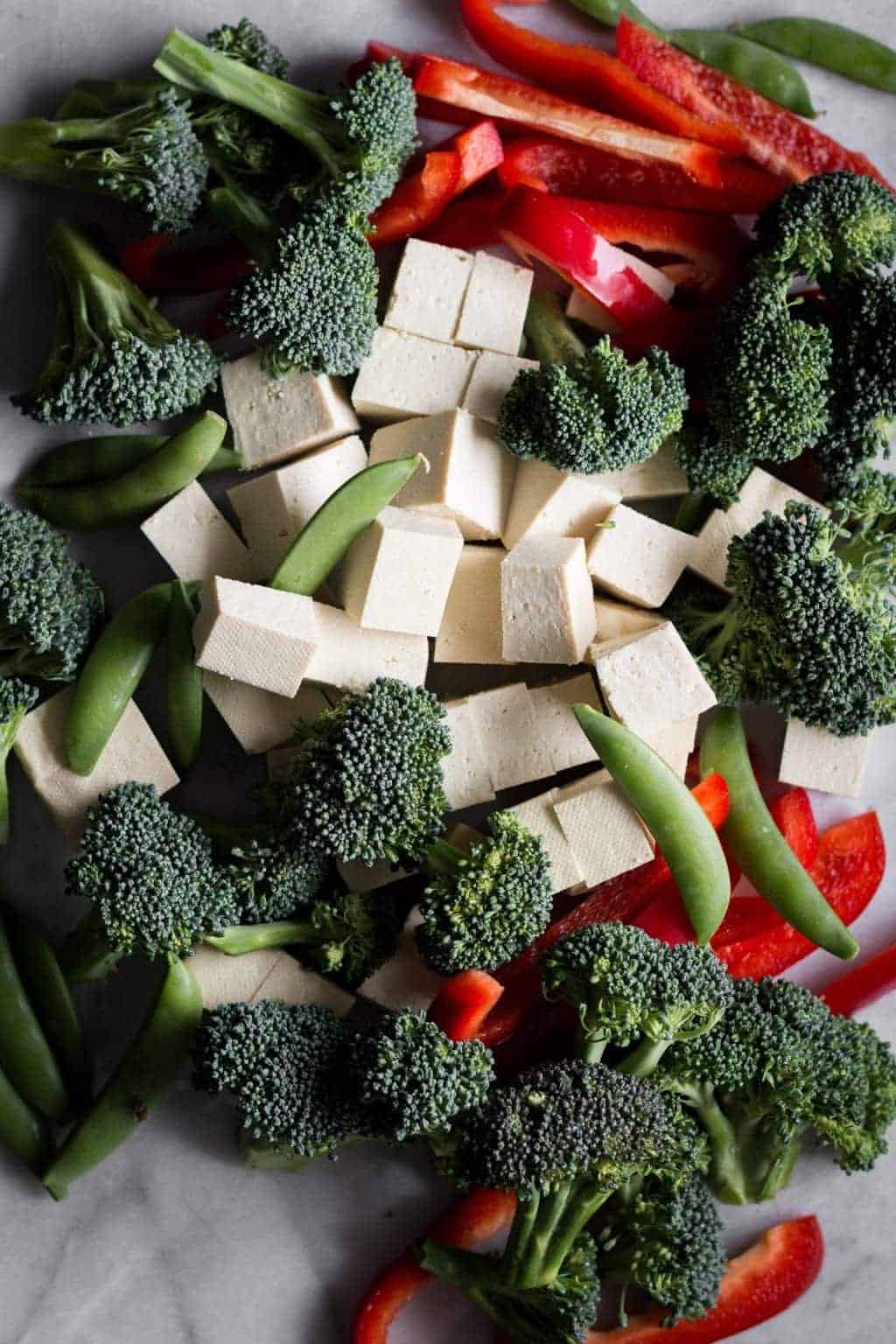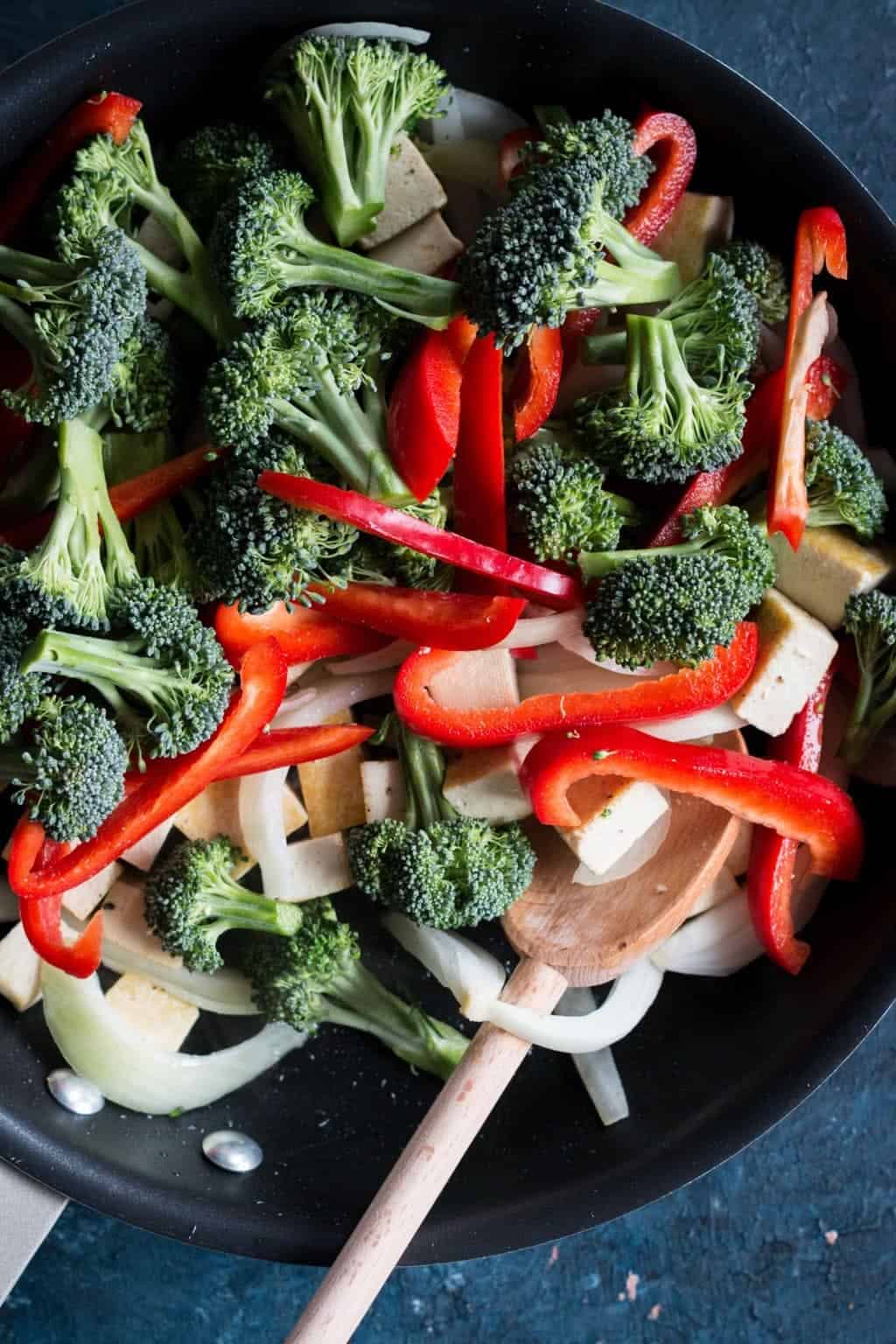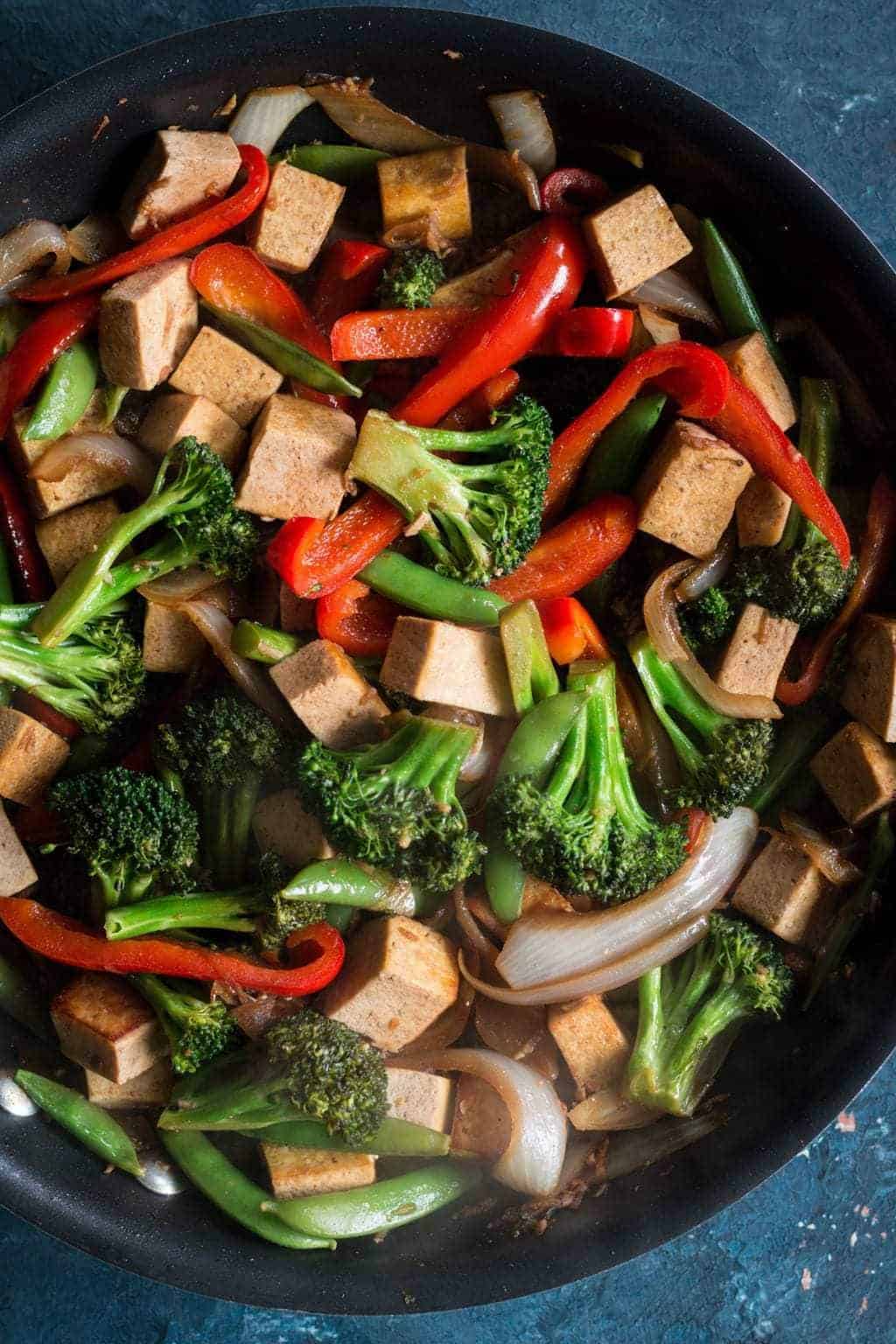 Today, I'm sharing a simple weeknight meal – A delicious vegetarian stir fry.
I adapted the recipe from my friend Julie-Ann's cookbook. I did the photography for her book, which came out 2 years ago already and she let me share this recipe with you!
It's a very simple stir fry, which makes it perfect for busy weeks. All you need to do is cut up some vegetables, prepare a simple sauce and sauté everything together. It will all be ready in less than 35 minutes. Plus, you can substitute the vegetables suggested for any vegetables you have on hand. It's a great way to give life to older vegetables at the end of the week. You can also make this recipe on a Sunday and enjoy the leftovers throughout the week!
Serve the stir fry with rice (I love basmati, which is better for you than white rice) and top it with sesame seeds and sliced green onions. It's a satisfying, yet light and delicious meal.
For another recipe from Julie-Ann's cookbook, you can check out this delicious tomato tart.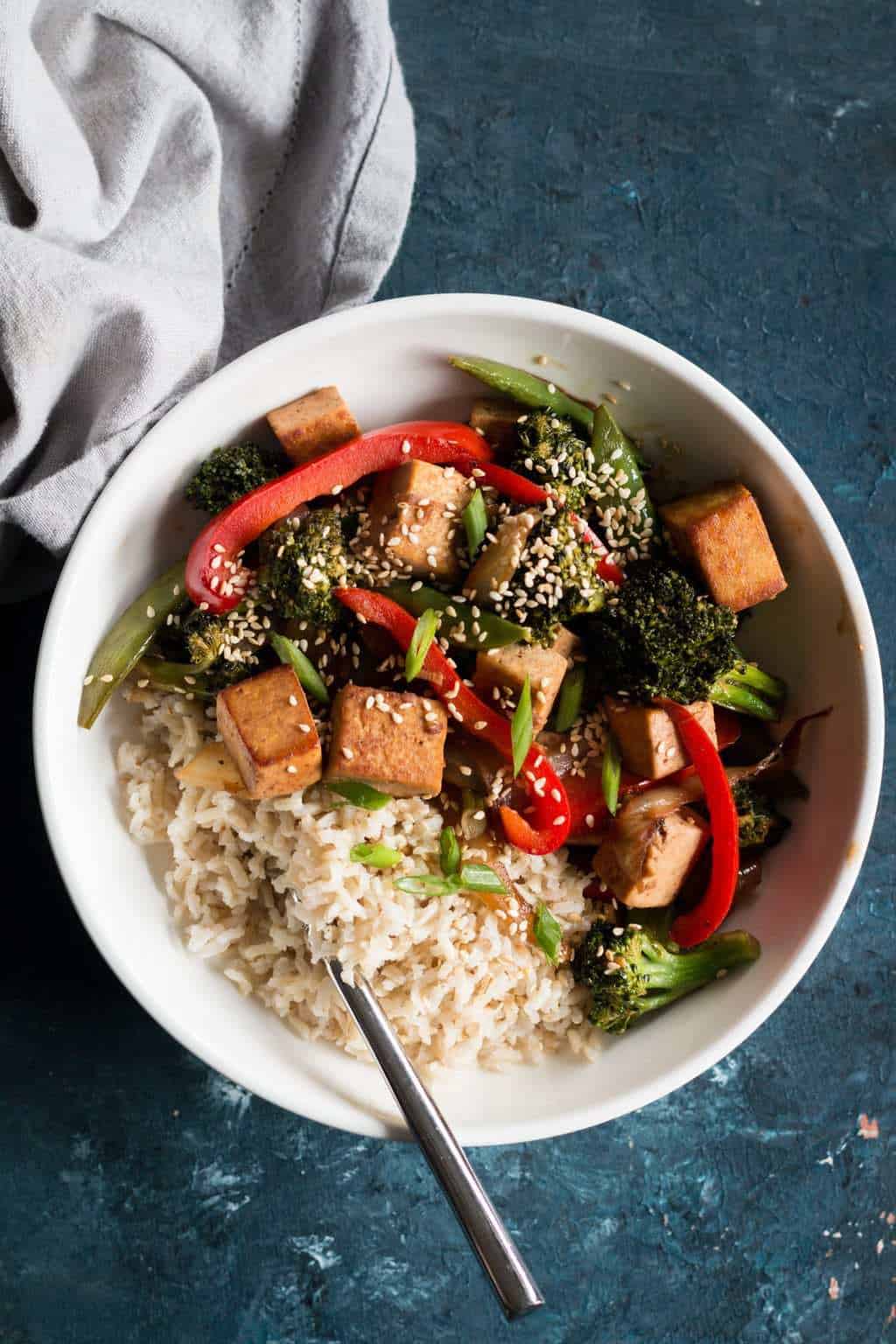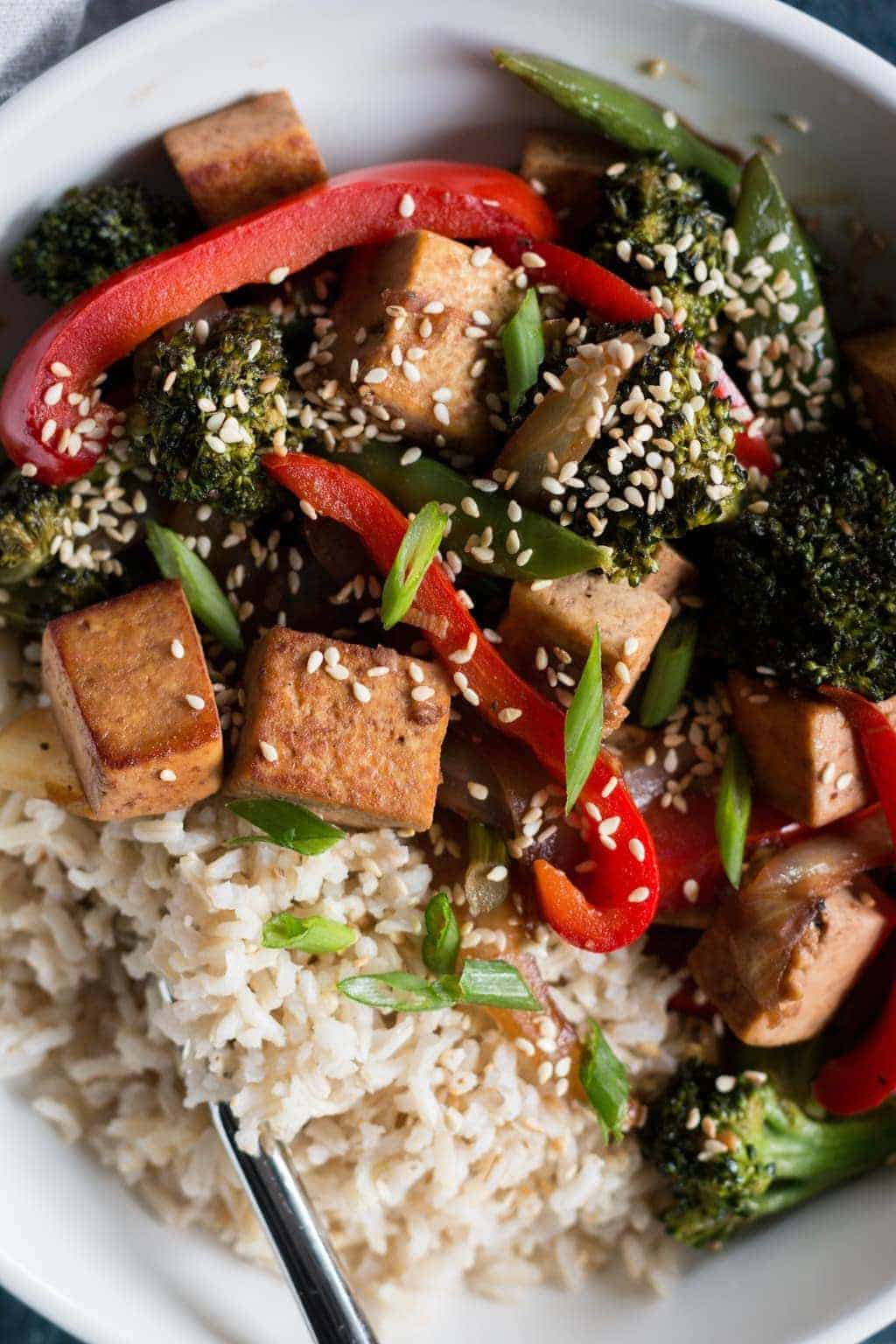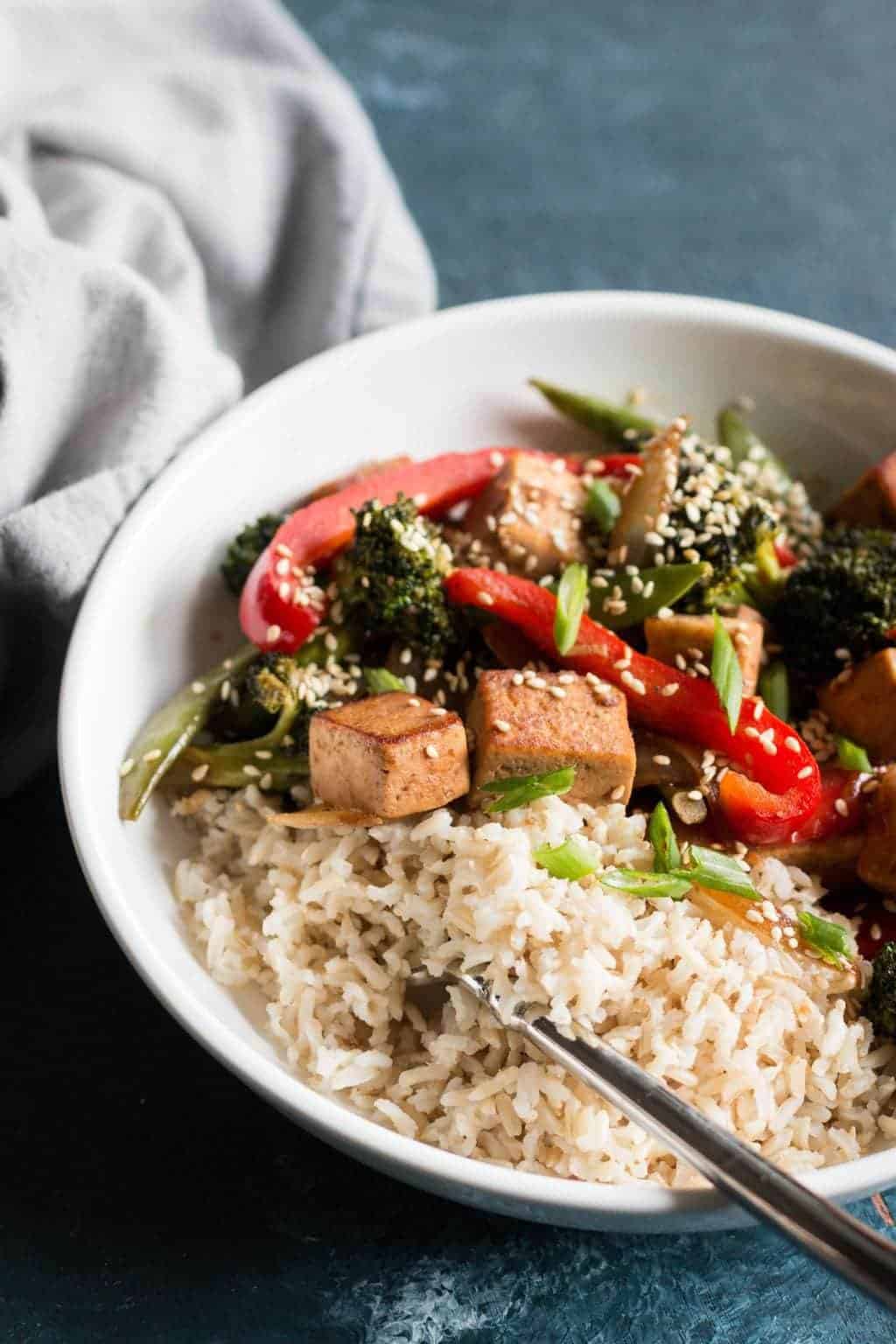 Weeknight Vegetarian Stir Fry
A simple tofu stir fry, packed with vegetables and flavor. Serve it on top of rice for a filling, yet healthy meal with a sprinkle of sesame seeds and green onions.
Ingredients
1

package (454g)

extra-firm tofu,

cubed

1

broccoli,

chopped in bite-sized florets

1

medium

onion,

sliced

1

bell pepper (red, yellow or orange),

sliced

1

cup

snap peas

1-2

tablespoons

toasted sesame oil

(or oil of choice)

Salt and pepper to taste

Sesame seeds,

for topping (optional)

Sliced green onions,

for topping (optional)

Rice or rice noodles

(optional)
Sauce
6

tablespoons

soy sauce

6

tablespoons

vegetable broth

(or water)

1-2

tablespoons

fresh ginger,

minced

4

cloves

garlic,

minced

1

tablespoon

rice vinegar

(optional)
Instructions
Mix all the sauce ingredients. Set aside.

Heat 1 tablespoon oil in a large non-stick skillet. Sautée the tofu for 4-5 minutes or until lightly golden. Add salt and pepper.

Add the onions and continue cooking for 2 minutes. Add the broccoli and pepper and cook for another 3-5 minutes or until tender, stirring often. Add another tablespoon of oil as needed.

Stir in the prepared sauce and snap peas. Cook covered until tender.

Serve with rice or rice noodles if desired and top with green onions and sesame seeds.
Notes
You can substitute the vegetables in this recipe with other vegetables you have on hand.
If you make this stir fry, be sure to leave a comment and/or give this recipe a rating! I love to hear from you guys. And of course, if you try this recipe, don't forget to tag me on Instagram!