How to Stay Healthy While Traveling + What we Ate in Europe
Sharing all of my tips for staying healthy while traveling. You can also find my go-to quick travel meals and snacks, plus all the restaurants we tried in Europe. Hint: It's all about balance.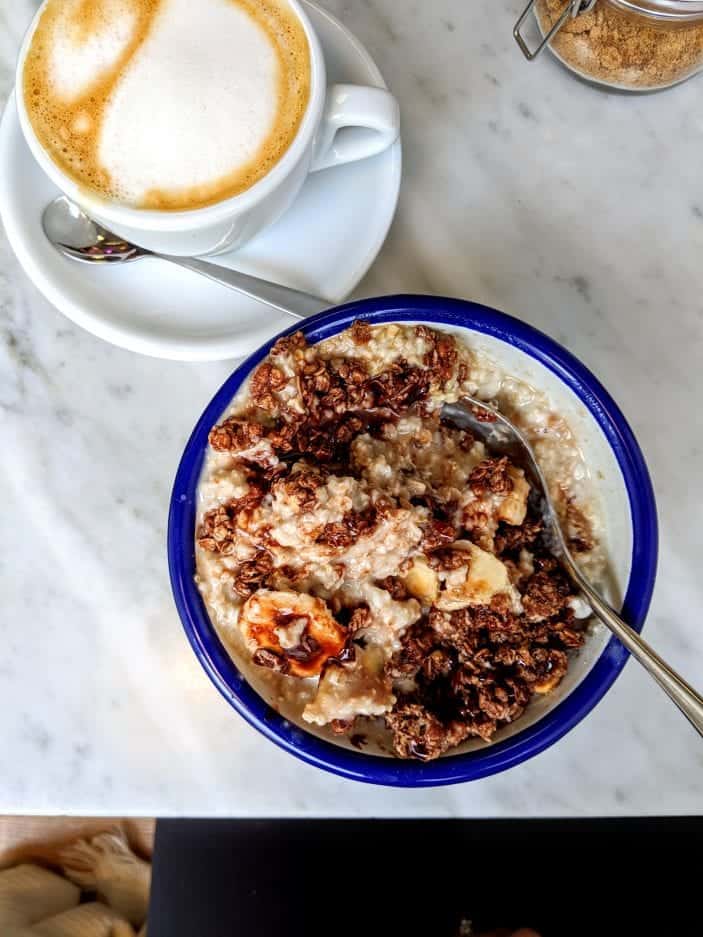 In exactly one week, our big 3 month Europe trip will be over. I still can't believe it. Soon it will be back to normal, just in time for the New Year.
As amazing as this trip has been, there's a small part of me that's excited to be home, to dive into my projects and take better care of myself. Staying healthy can be a challenge when traveling, but today, I'm sharing all of my tips with you.
Note that healthy can mean something different to everyone. Here, I'm sharing tips that made me feel my best while traveling for 3 months. What worked for me may not work for you. Also, these tips are mostly directed towards long term travel, which is what we did. They may not apply for short-term travel. These tips are not intended to replace medical advice. If you have health conditions, check with your dietitian or doctor for specific advice.
That being said, I hope you'll find some useful tips and inspiration!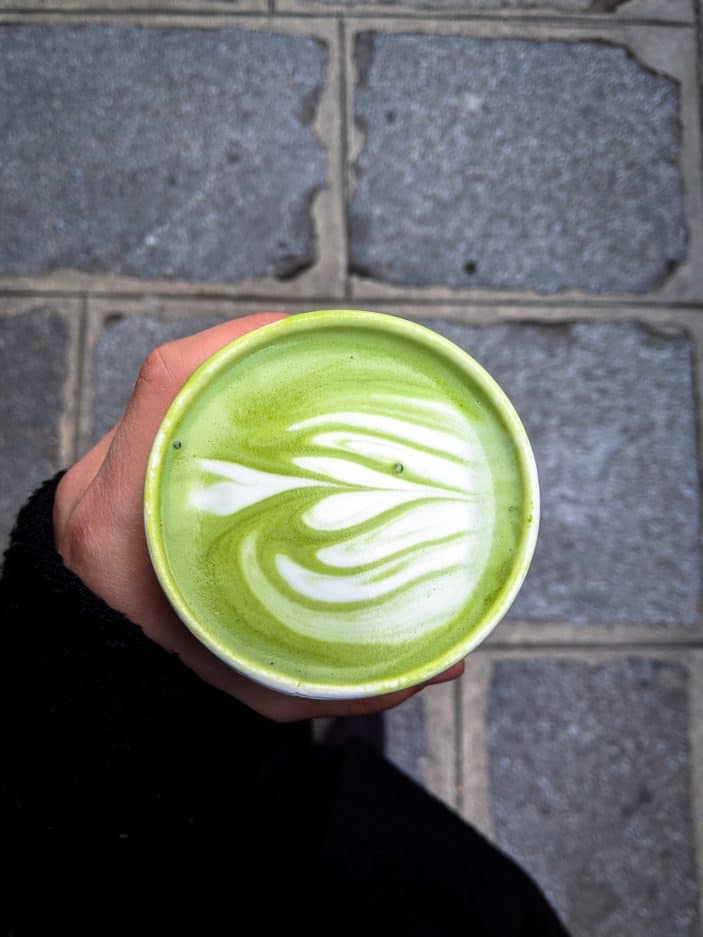 My Tips for Staying Healthy While Traveling
Stay Active
I don't mean going to the gym (although you can do that if you absolutely love it). What I mean is fitting some movement into your day. Walk instead of taking the transit if you can. Go for a hike. Take the stairs. It all adds up. And I don't know about you, but I love walking when I'm traveling as it allows me to see more of the cities we visit.
If you're traveling for long periods of time and don't have access to a gym, you can also do some equipment-free exercises. Personally, I've been doing a few push-ups and stretches in our Airbnbs whenever I feel like it. Not because I feel like I should, but because it feels good and I want to stay strong. Plus, stretching is a good idea when you're walking a lot or sitting for hours on a train.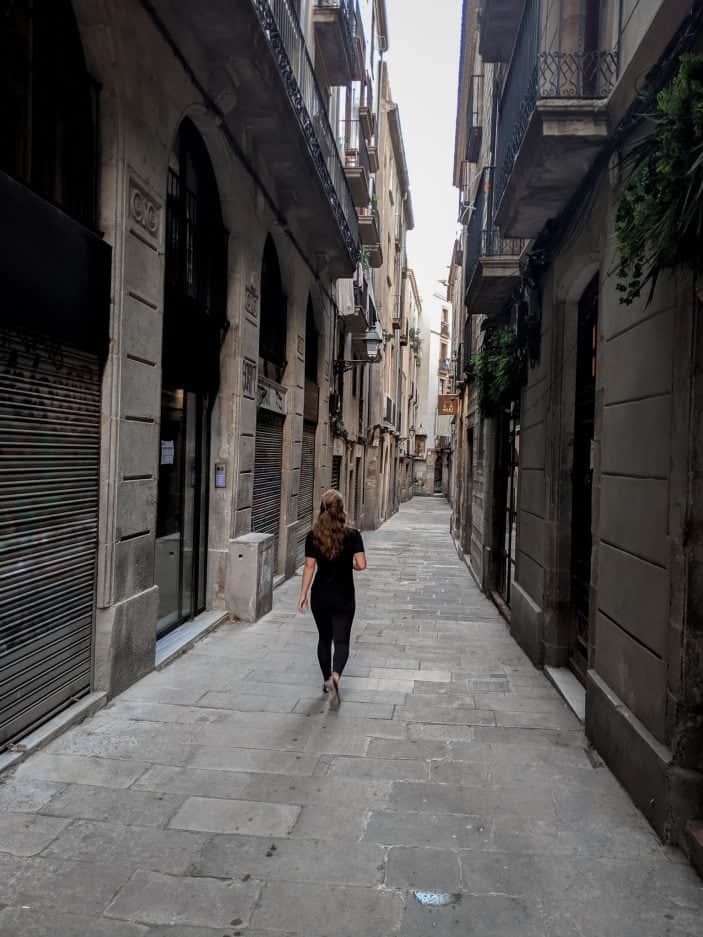 Cook from your Airbnb/Hotel When you Can:
Not only will you save money, but you'll be able to cook nutritious meals. There's nothing wrong with eating out, but it's good to find a balance that feels good to you, especially if you're travelling for long periods of time. If you can, try eating breakfast at your Airbnb/hotel. It can be as simple as a fiber-rich cereal, porridge or toast with fruit and/or nuts. You could bring a simple sandwich with you for lunch or eat at your hotel in the evening. Do whatever works best for you. For us, this meant eating out once per day or less on average (mostly due to budget), either for lunch or dinner.
When you do decide to eat out, enjoy it! Don't feel guilty, order what you want and savor the experience. Food is an important part of travelling.
If you're travelling for a long period of time and don't have access to a kitchen, you might feel best choosing balanced meals that contain vegetables, whole grains and protein when you can. Find a balance that makes you feel good, while not depriving yourself. You should always enjoy the food you eat!
Tip: Don't feel like you need to eat salads. Avocado toasts, sandwiches, soups and other meals can be nourishing and more filling.
Self-Care
This isn't necessarily related to nutrition, but it's equally important. When we left our home for 3 months, I left all of my routines behind. The result? My digestion has been irritated, my skin has been breaking out and I've been a little short on patience (the result of being on-the-go all the time). This was especially true during the busiest month of our trip.
Since we've arrived in London, I've been a little more careful and it's made a big difference. My tip: If you have some special self-care routines at home, try to bring some of them with you. You won't be able to do it all (it's part of travelling), but do what you can.
A few examples could be to bring a travel yoga mat to continue your practice, continue taking supplements if you need them, enjoy your daily tea or coffee first thing in the morning or continue reading in the evenings. Whatever keeps you feeling well. Of course this may not be as important for a 1 week trip to the beach, but trust me, it was important to me on this 3 month trip.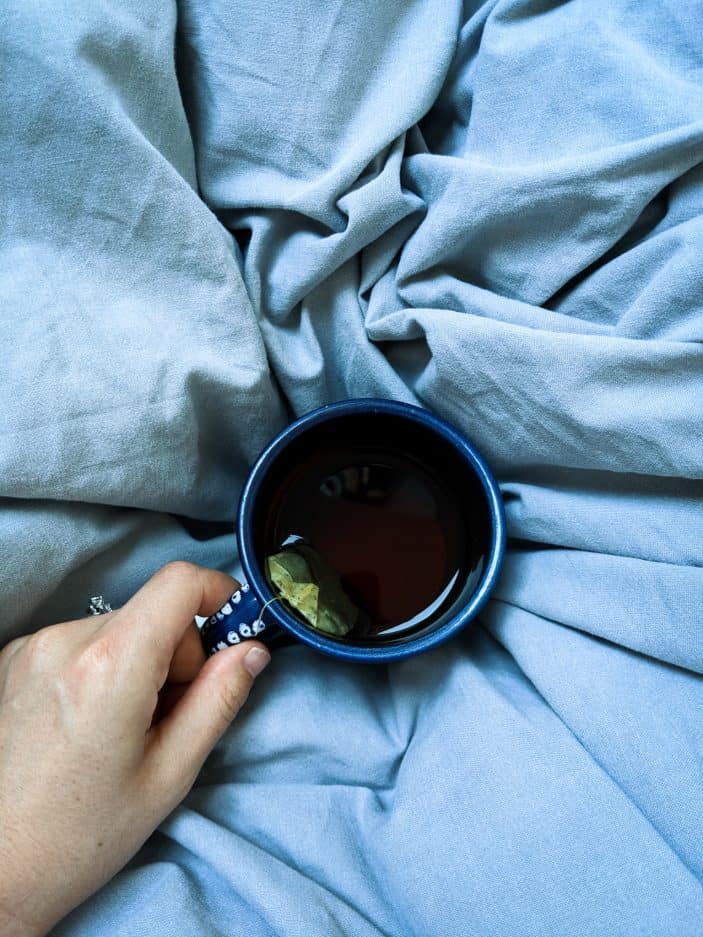 Take Care of Your Gut
This may not be something you want to hear, but a lot of people get constipated when traveling. Add that to all the different food that you're eating, the time change and the plane rides and you'll likely feel bloated and possibly unwell.
Gut health is so important and that doesn't change when you're away from home. This is especially true for those with sensitive guts (like me), when you have IBS or other digestive issues.
A few things you can do to stay regular and take care of your gut:
Eat regularly.
Drink a lot of water.
Eat plenty of fiber from fruits, vegetables, whole grains, legumes, nuts and seeds.
Talk to your doctor or dietitian about fiber supplements, such as Metamucil, if you often struggle with constipation or diarrhea when travelling.
Listen to your hunger and fullness when possible.
Be mindful of fat. High-fat meals are harder to digest and can lead to indigestion for those with sensitive guts.
Incorporate some gentle movement into your day.
Eat probiotic-rich foods, such as probiotic yogurt. Or continue taking supplements if you do at home.
Drink warm coffee or tea in the morning. This can help things move.
Try to keep a bathroom schedule and go if you need to go. Don't hold yourself.
Avoid trigger foods. If some foods bother you, try to limit them.
Of course if you feel well and don't have any digestive issues, this may not apply to you. Listen to your body and do what you need to feel well!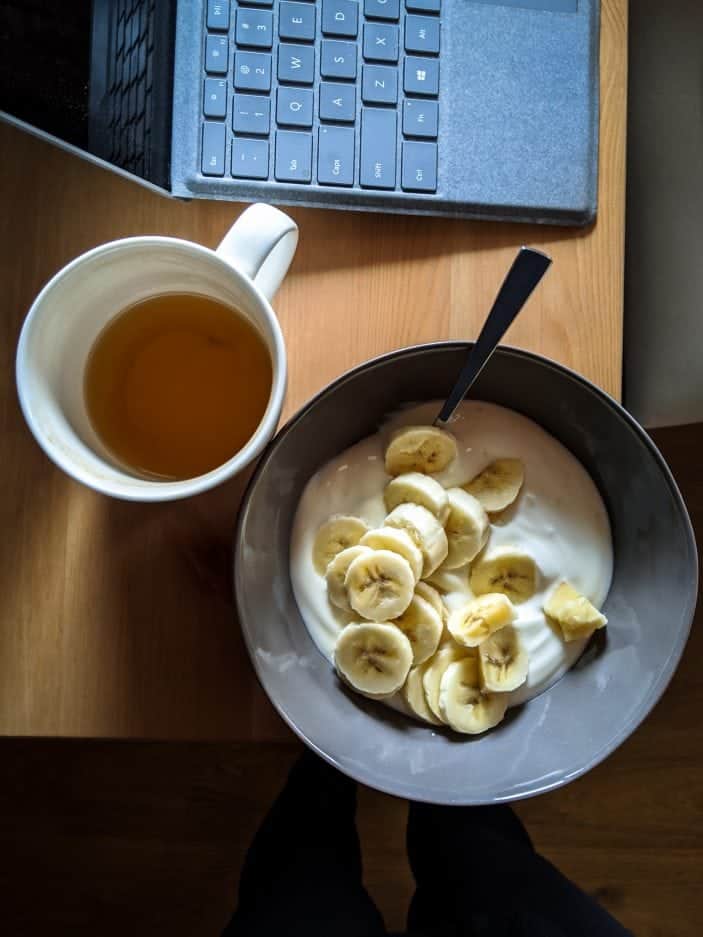 Don't Worry About It, Enjoy Yourself!
My last and most important tip. Don't try to be perfect!! Food is part of the experience. Don't stop yourself from enjoying the local food, just because it may not fit into your definition of health. Travelling is temporary, enjoy it while it lasts.
Find a balance and don't try to be perfect (this goes for eating at home too). Maybe you'll eat more and exercise less, but in the end, you'll come back home to your old routine with so many great memories. Remember, less nutritious foods can be (and should be) part of a healthy life. I'm a strong believer in intuitive eating. If you'd like to learn more about intuitive eating, you can check out this post.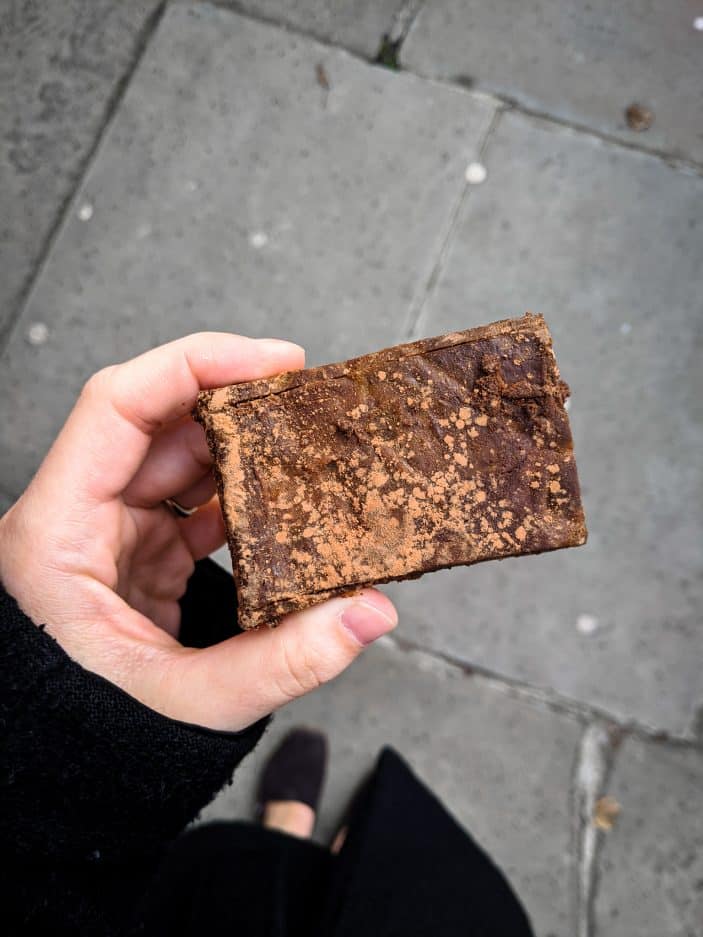 What We Ate While Traveling
While we certainly didn't stop ourselves from trying new restaurants and enjoying some of the local cuisine, we did try to make our own meals most of the time. Not just because it's usually healthier, but because it's much cheaper. This can be difficult when staying in a hotel or somewhere without a kitchen, which is why we purposely chose Airbnbs with small kitchens. Again, this may not be applicable for short trips, but for a 3 month trip, it was important to us.
I can safely say that we did eat very differently than we did back home. We chose convenience over health many times. We ate more packaged foods and probably higher carb meals. We also ate larger portions as we were very active. There's nothing wrong with that of course. As I said earlier, it's part of traveling and eating intuitively.
All that being said, here's what we ate when traveling through Europe for 3 months. This is our balanced way of traveling, while making the most of the experience (food included).
Breakfast:
We basically ate the same two breakfasts every day during our trip: Peanut butter toast (with or without plant-based milk and a piece of fruit) or oatmeal. I made my favorite oatmeal every morning when I was in London as we stayed there longer and I could buy all the ingredients. I basically just cooked oats with Oatly, a mashed banana and peanut butter. Cheap, simple and filling!
In London, I also loved to have a bowl of Deliciously Ella's granola with Oatly milk.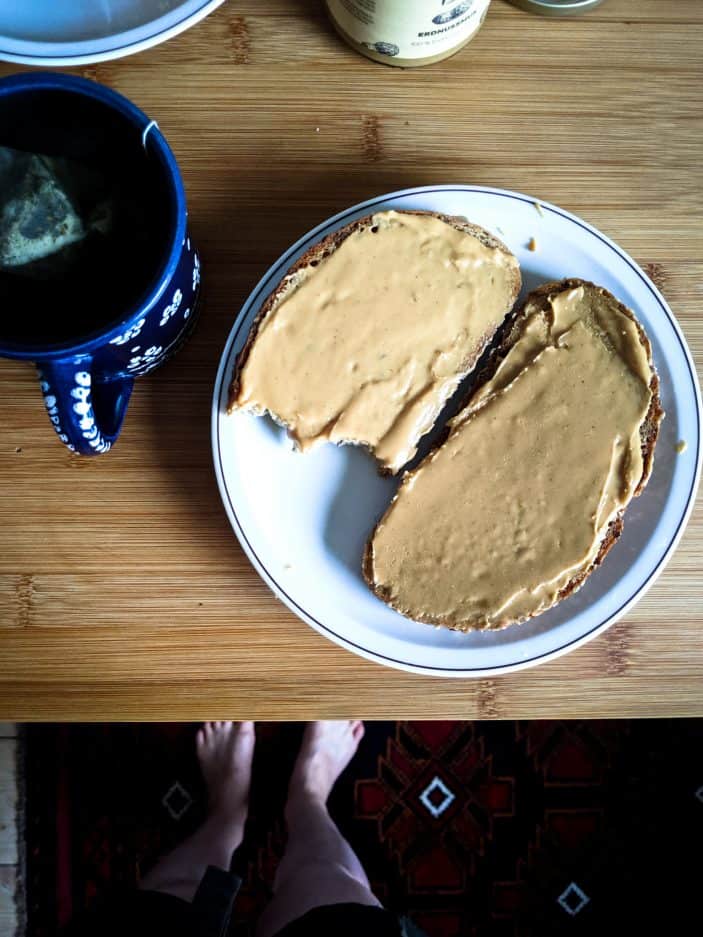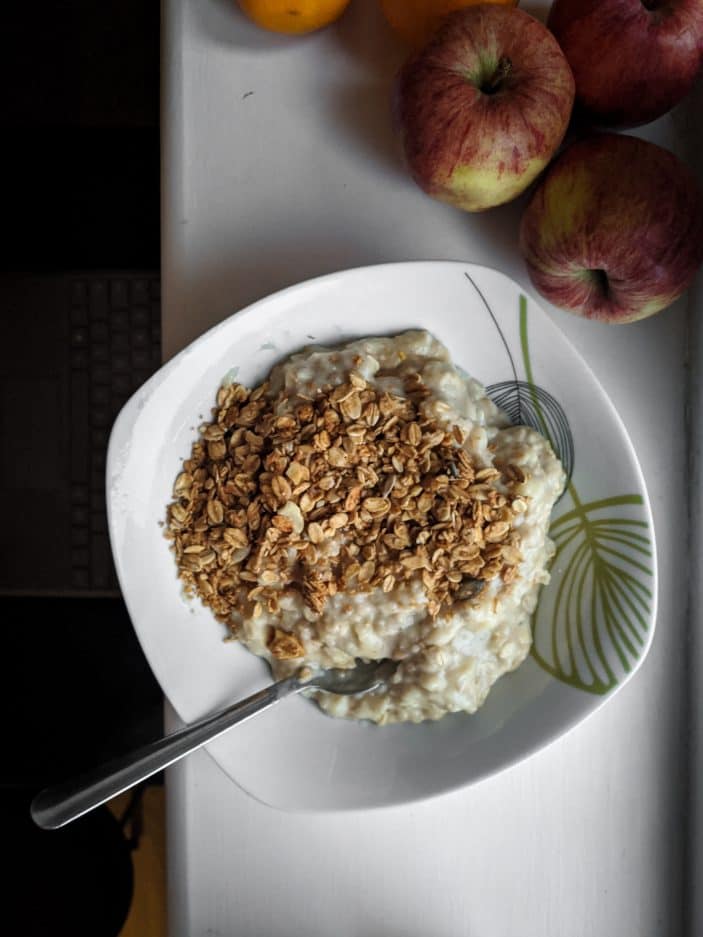 Lunch and Dinner:
We kept it very simple as we didn't have big kitchens and didn't want to travel with leftover food or ingredients. Here are a few examples:
Hummus, cheese and vegetable sandwich: This is what we ate the most. Sometimes with beans, avocado or store-bought falafels.
Pasta: Whole wheat pasta with store-bought tomato sauce and canned legumes (lentils, beans, chickpeas). Usually with cut-up vegetables or a simple salad on the side.
Microwave Nachos: Tortilla chips with salsa, cheese and black beans, heated in the microwave until the cheese has melted. Fancy, I know.
Grilled cheese with canned soups: I tried to find some lower salt vegetable or legume-based soups. I also sometimes found some nutritious pre-made curries.
Salads: I bought leafy greens, cherry tomatoes and cucumbers (all things that kept well when travelling), threw in some vinegar and oil (whatever was available at our Airbnb) or used store-bought dressing. I also added legumes or store-bought falafels and had whole grain baguette on the side to make it filling.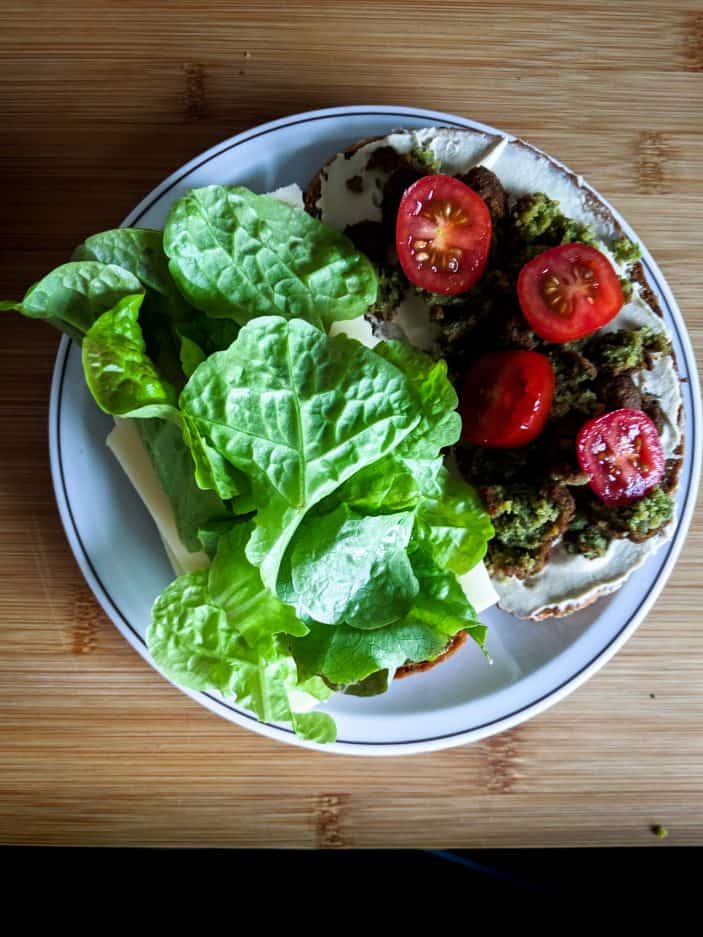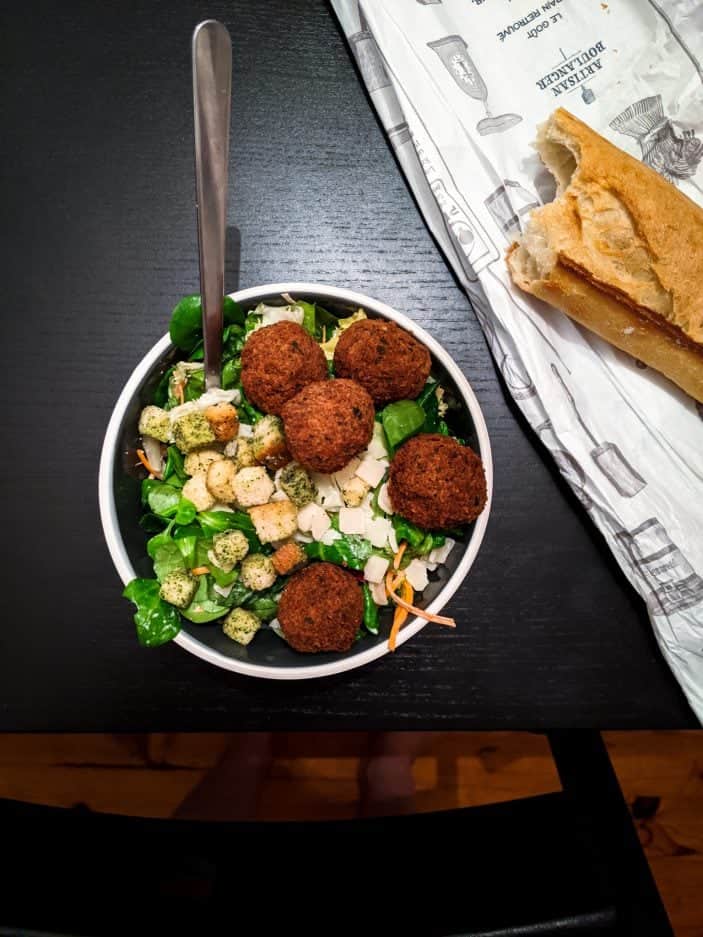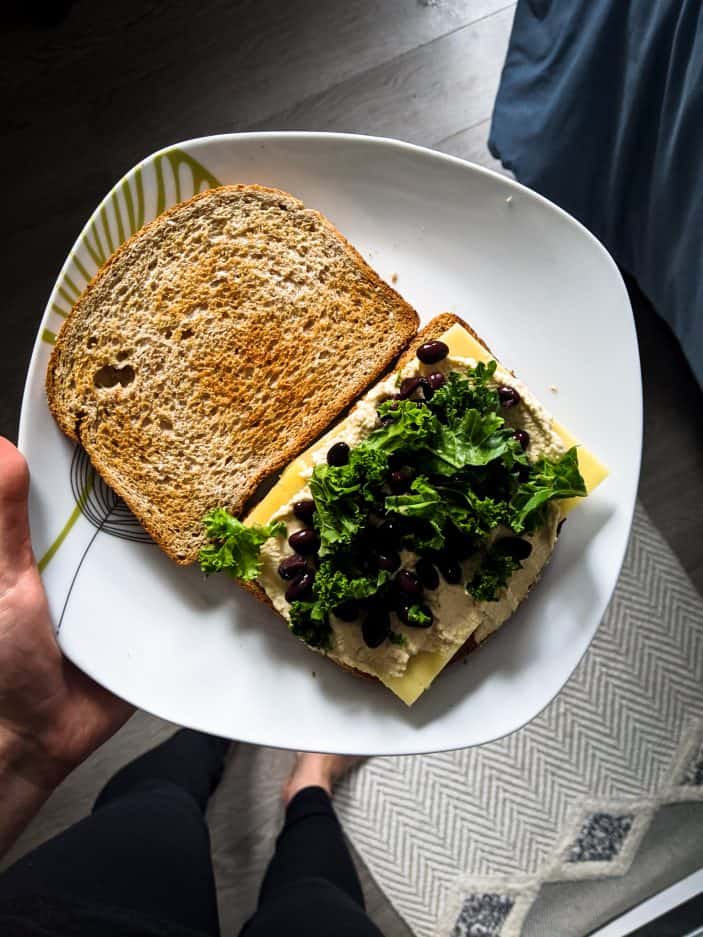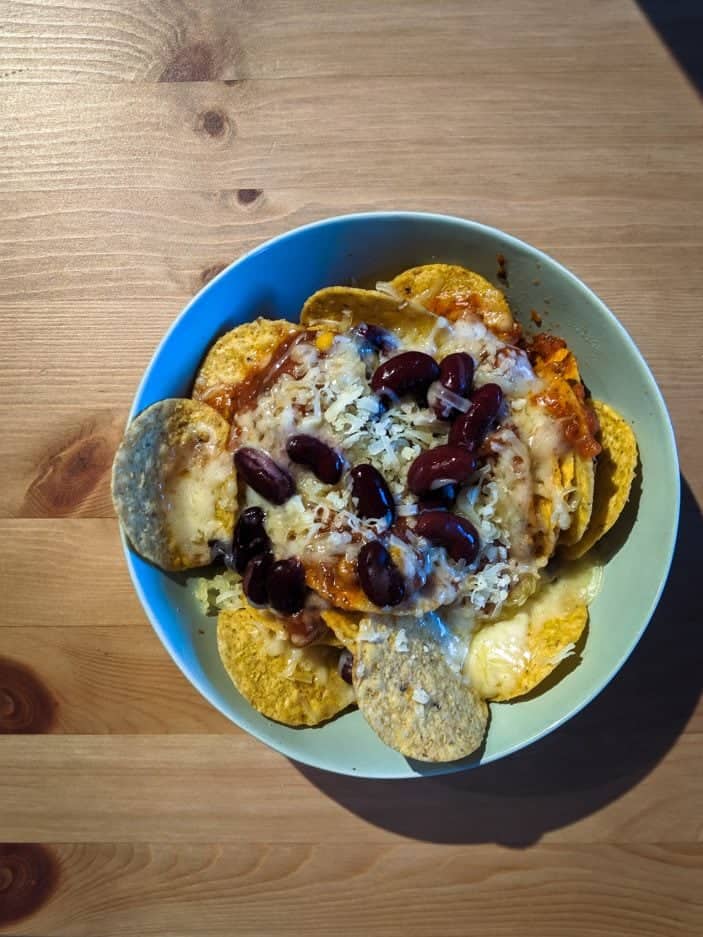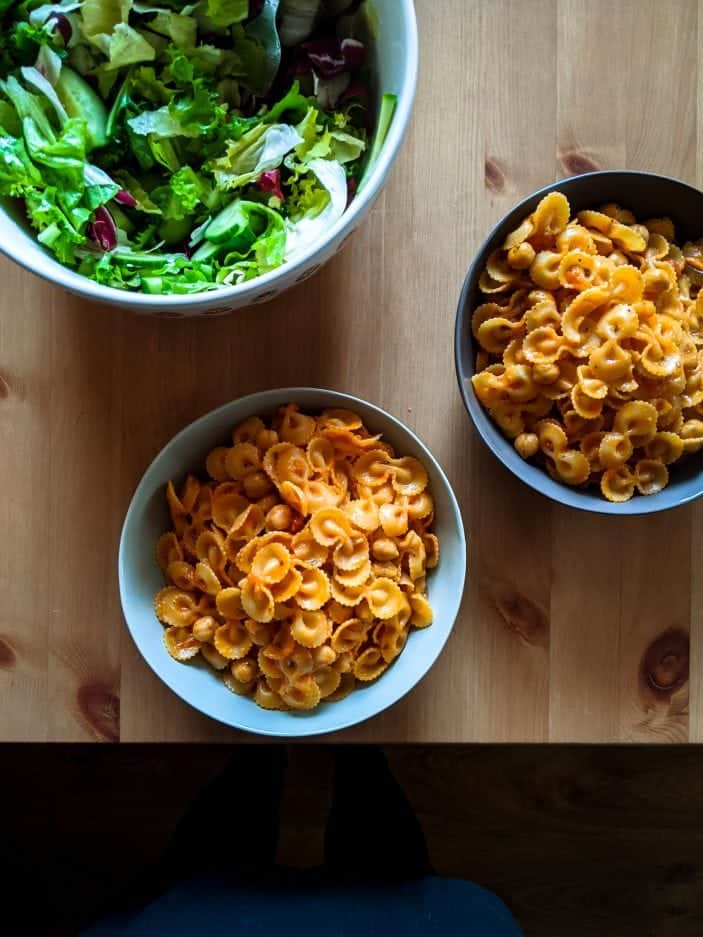 Snacks:
We didn't have snacks every day, but when we did, here's what we chose:
Popcorn or Chips: When we spent the evening in our Airbnb, we sometimes had a salty snack while watching a movie. I love making home-popped popcorn at home, but here, we just had bagged popcorn or a bit of chips.
Trail Mix: This is my go-to snack when traveling. During our busy month, I always had trail mix on hand. It's a good mix of protein, fat and carbs.
Fruit: Especially easy to carry fruits, such as clementines, apples, plums, bananas, etc. I try to go for a variety of color. I also love pairing fruit with protein for a filling snack. For example, I'll have fruit with a handful of nuts or an apple or banana with peanut butter.
Granola Bars/ Bites: Once we arrived in London, I almost always had a Deliciously Ella bite on hand. I also got my hands on a food processor in London (our host borrowed hers) and made my own bites with cashews and dates.
Vegetables: Cucumbers and cherry tomatoes were our go-to as they keep well at room temperature. Sometimes with hummus.
Crackers and hummus or peanut butter: A good mix of protein and carbs to keep us full for hours.
Yogurt: I sometimes got plain Greek yogurt to have with fruit (or granola). I also found some soy yogurt, which was great!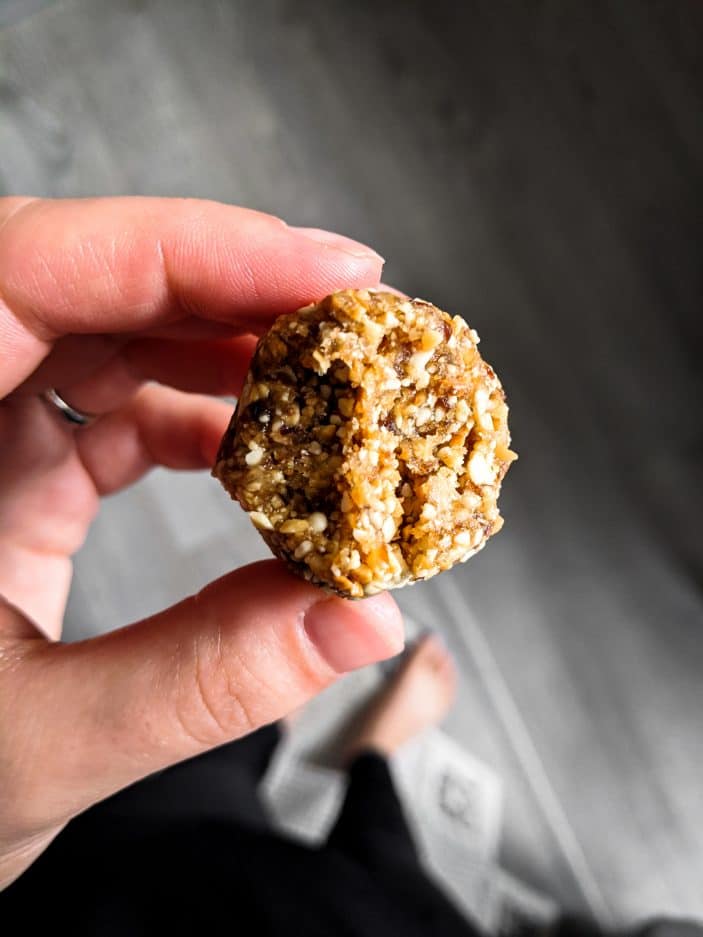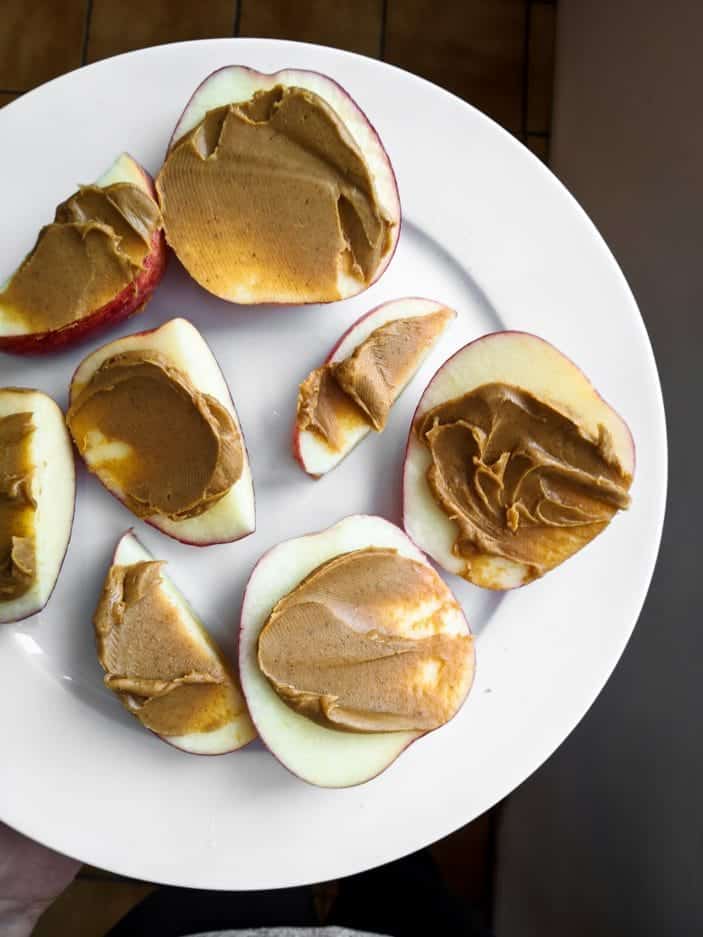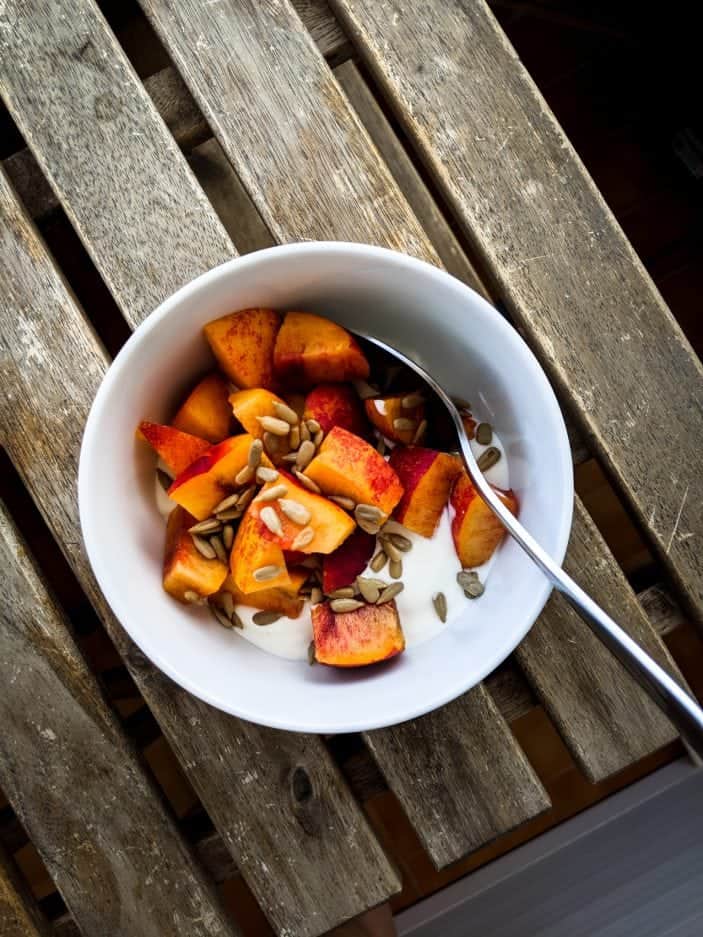 Eating Out
You can find lists of all the restaurants we ate at in each of my travel guides.
We also enjoyed some occasional snacks out at times, mostly at local bakeries. I mean, you can't visit France without enjoying a croissant or Switzerland without trying a bite of chocolate. And of course we enjoyed some good coffee and matcha.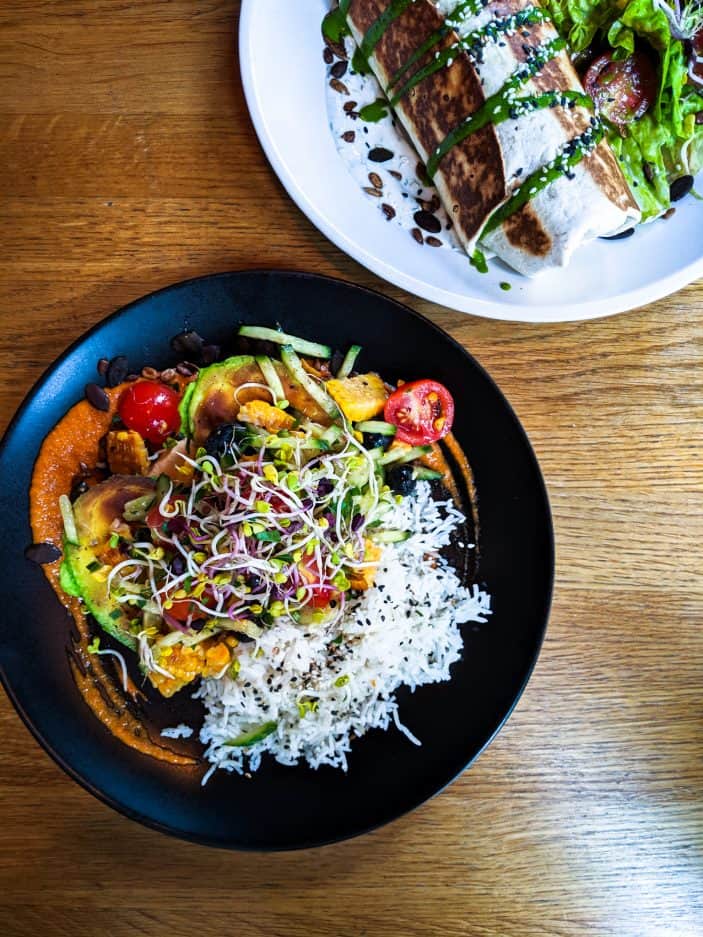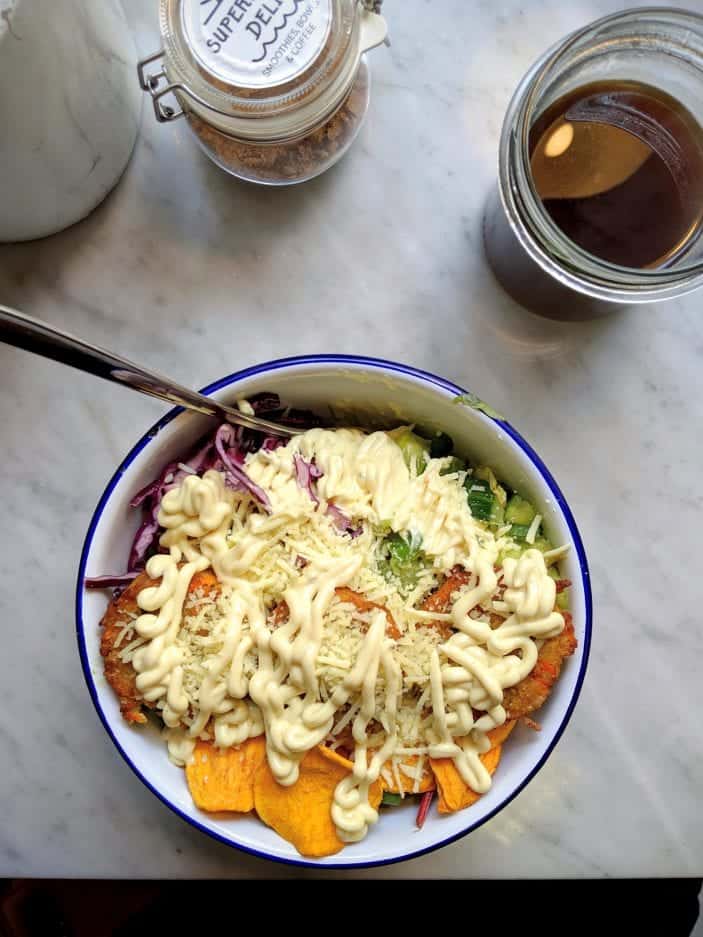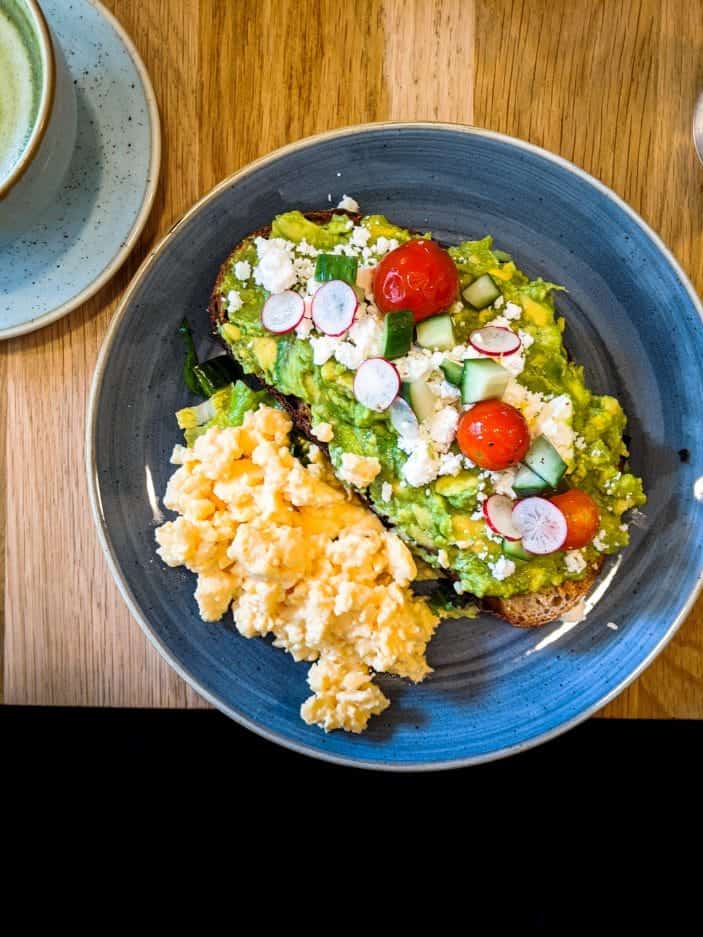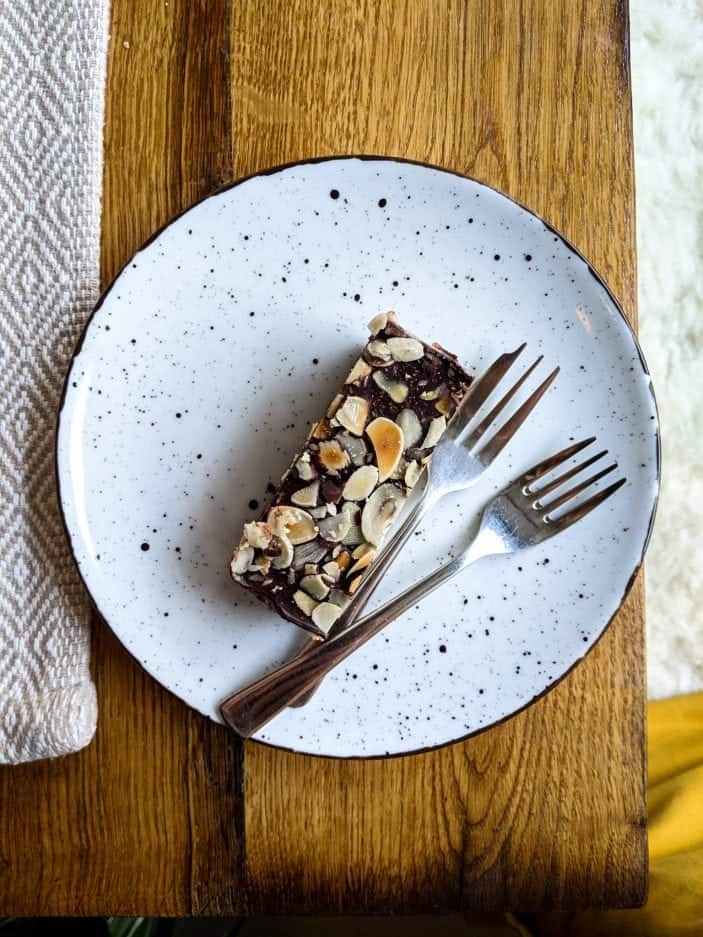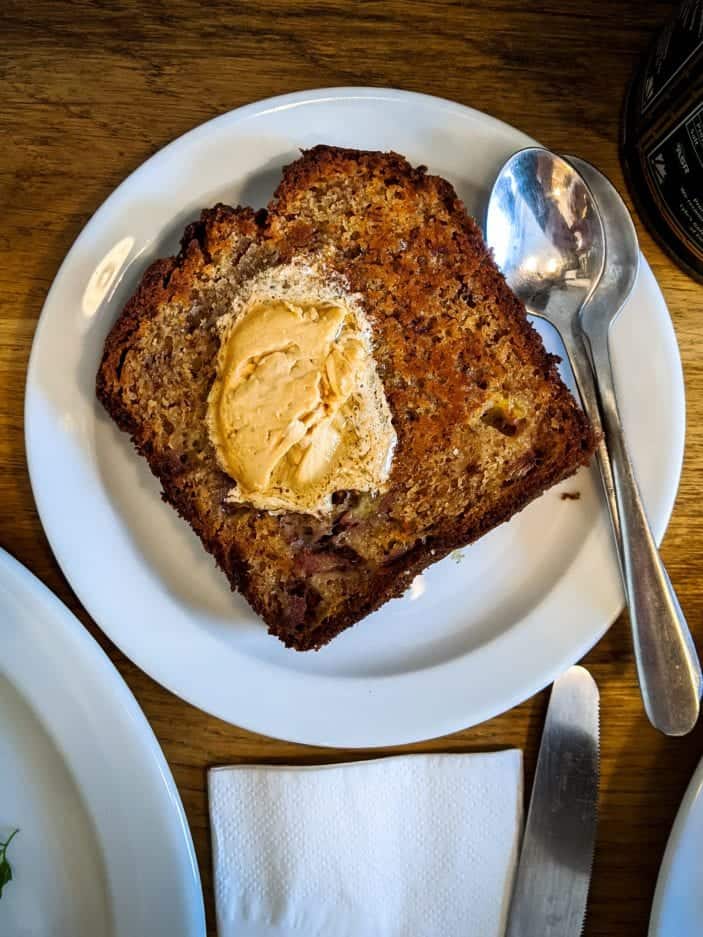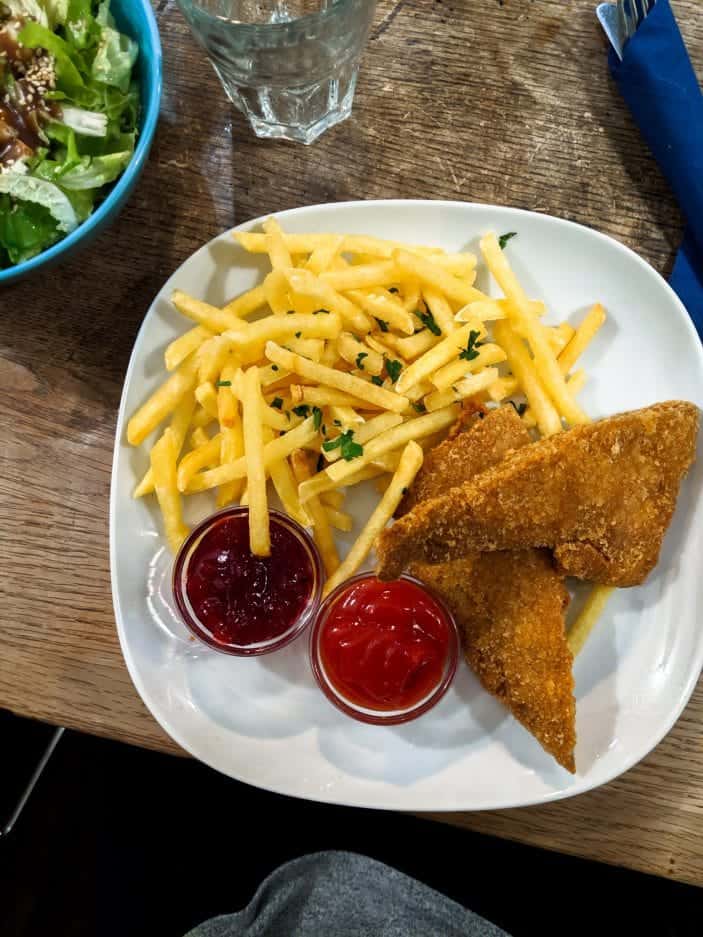 And that's it! I hope you found some helpful tips for staying healthy while traveling. Remember that food is part of the experience and don't try to be perfect, at home or when traveling.
You can check out my complete 3-month Europe guide here.