One Day in Barcelona + Vegetarian Guide
A few weeks ago, we spent one day in Barcelona. One wonderful day filled with good food, beautiful sights and many, many steps. We left Spain a few weeks back, so I thought it was about time that I share our little guide to Barcelona.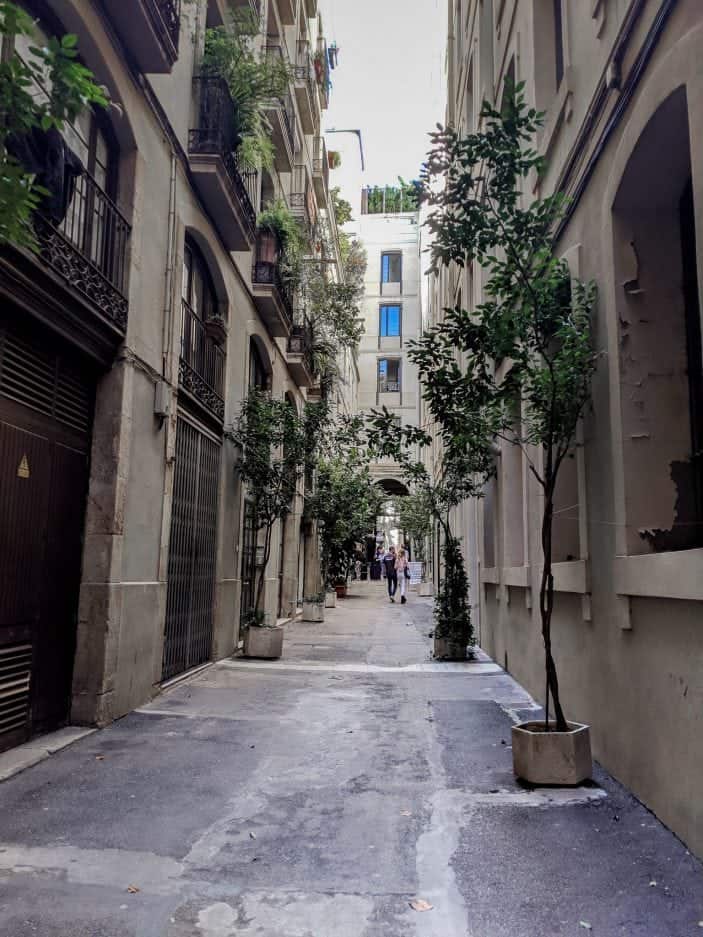 If you've been following me on Instagram lately, you may know that we recently spent 3 weeks in Spain, as part of our 3 months honeymoon across Europe. Most of our time was spent in the small city of Lloret de Mar, near Barcelona. Why? Because we wanted a quiet beach town near Barcelona to relax on the first 3 weeks of our honeymoon. We spent most of those 3 weeks relaxing on a beautiful beach on the Costa Brava coast, but we did take one day to visit Barcelona. Yes, just one day. So in this post, I'll share with you our day in Barcelona.
We're by no means experts on the city. As I said, we were only there for one day. However, I thought I'd share our favorite spots in case you also find yourself in this city for a short period of time. If you've experienced Barcelona, feel free to drop your recommendations in the comments to help others! Also note that we visited in 2019. Some of the restaurants or attractions may not be available at the time that you visit. 
Keep in mind that my husband (it still feels weird to write) and I are fast travelers. We do A LOT in a short period of time and we walk everywhere. On that day, we ended up walking 40 km around the city. So for some, this itinerary may be best spread out over a few days. Do with it as you wish!
I'll also have guides to all of our major destinations coming soon (plus a comprehensive guide of our entire 3 months in Europe). In these posts, I'll share our favorite spots in each city, including lots of vegetarian restaurants. Stay tuned!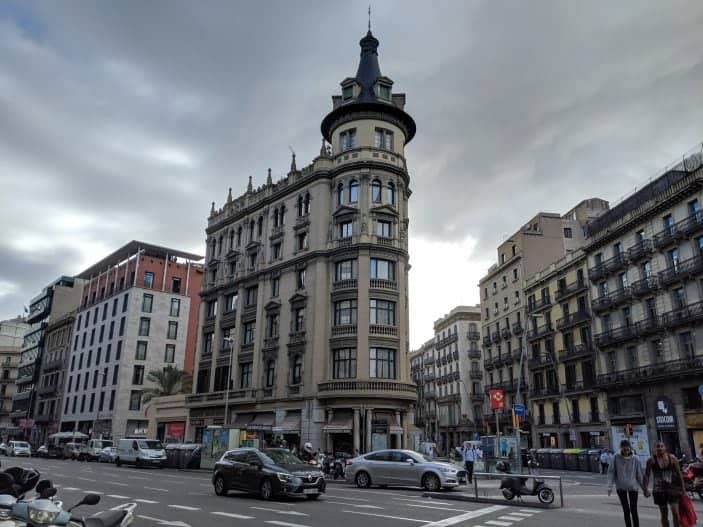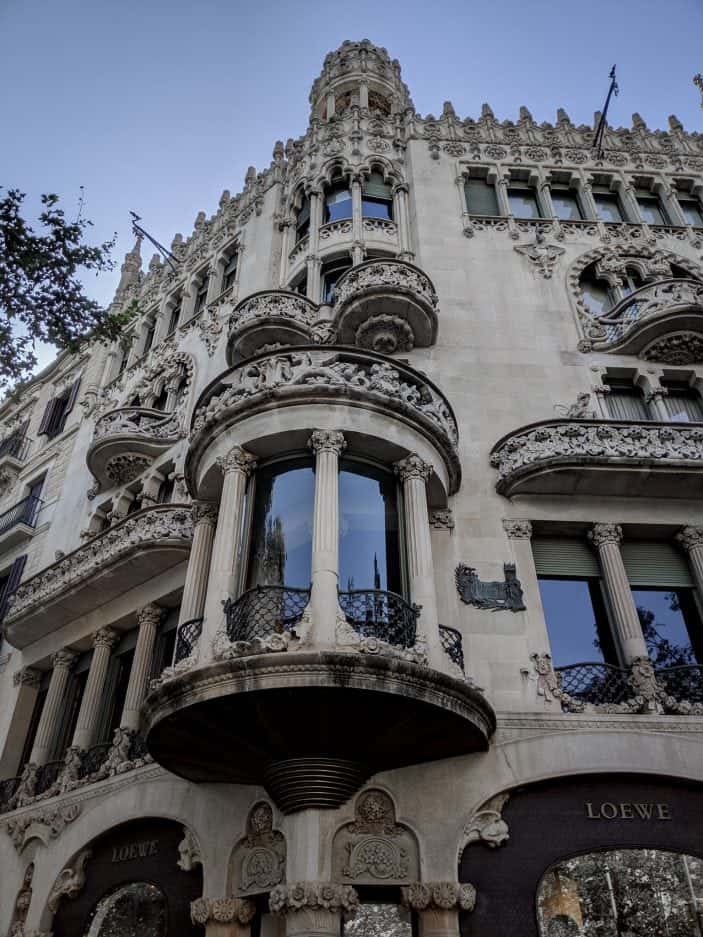 Beautiful Places to Visit in Barcelona (Architecture/Parks)
We walked to each and every one of these places around the city. Each of them were wonderful and well worth the stop. I have a map lower in this post so you can find their locations.
La Sagrada Familia – If you only have time to see one thing in Barcelona, this should probably be it. An impressive church designed by architect Antoni Gaudí. The construction began in the 1980s and still continues to this day. You can buy tickets to visit the interior (we didn't), but it's a busy spot, so do so in advance. Honestly, the exterior was amazing enough for us. | Google Maps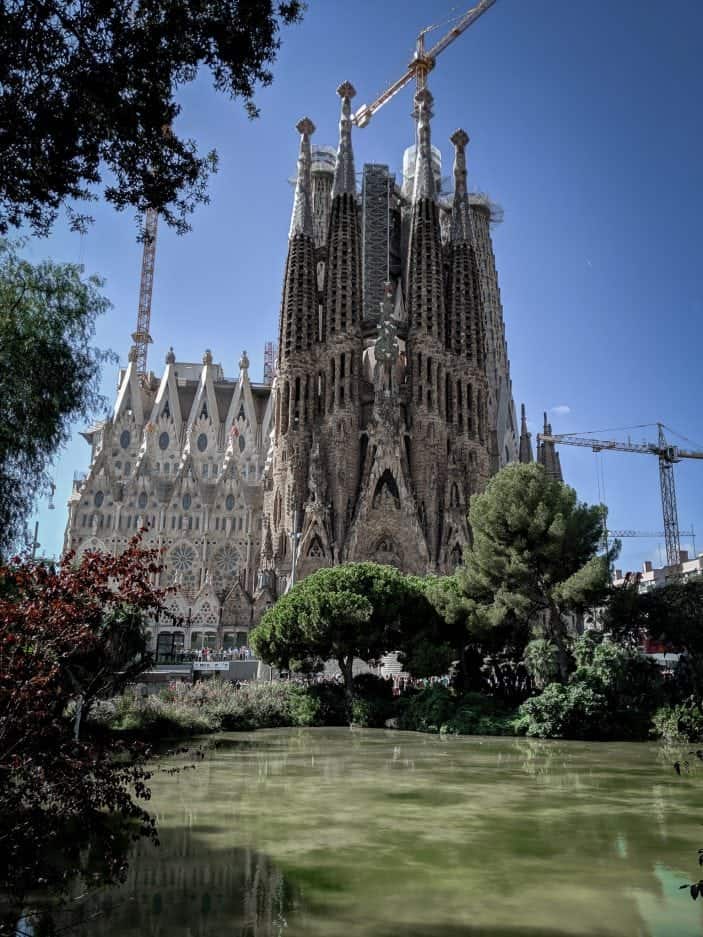 Plaça d'Espanya – A famous plaza with beautiful architecture, a fountain and shopping. We just stopped here quickly to see. If you're limited on time, I wouldn't worry about missing this, but it's worth a quick stop.| Google Maps
Plaça de Catalunya – A square filled with statues, shops and cafes. Just like the Plaça d'Espanya, it's worth a stop, but we didn't spend much time here. | Google Maps
Cathedral de Barcelona – A beautiful Gothic cathedral. I could have stared at it for hours. | Google Maps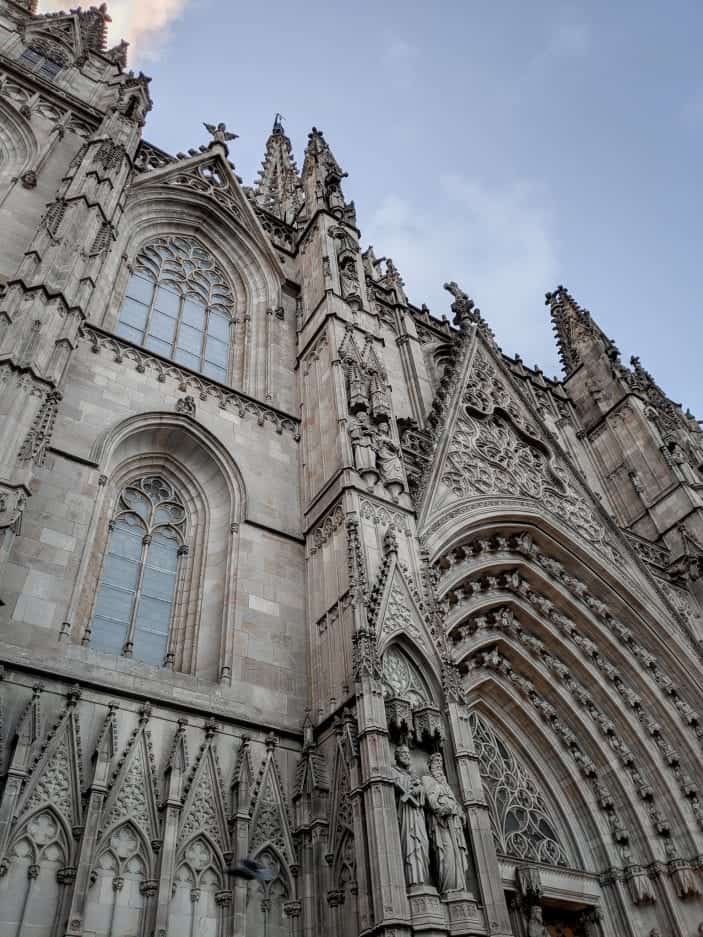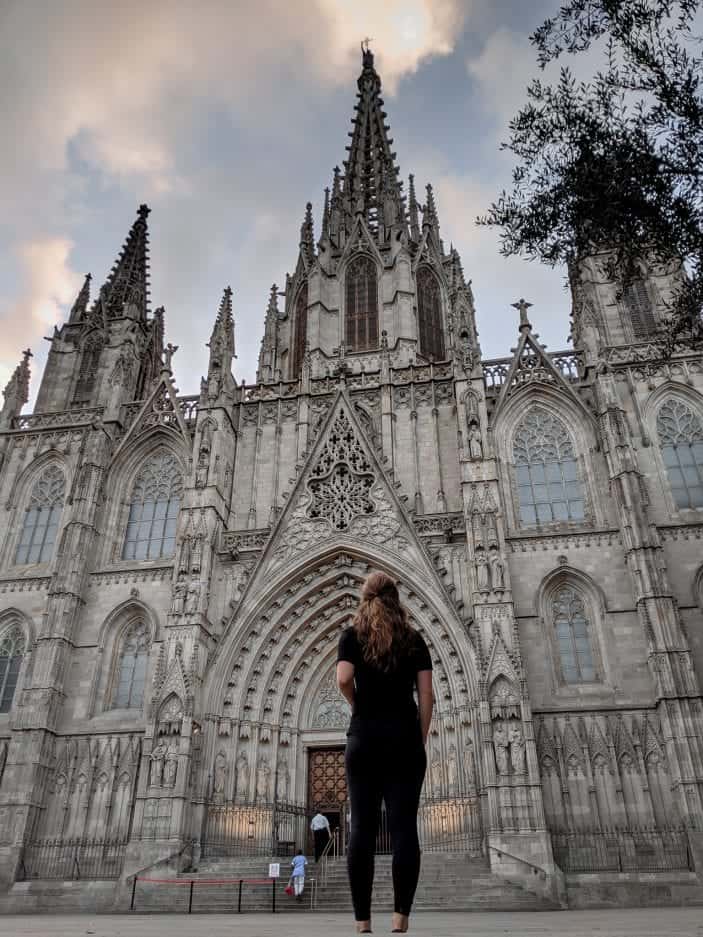 Basilica of Santa Maria del Mar – A beautiful Catalan Gothic cathedral| Google Maps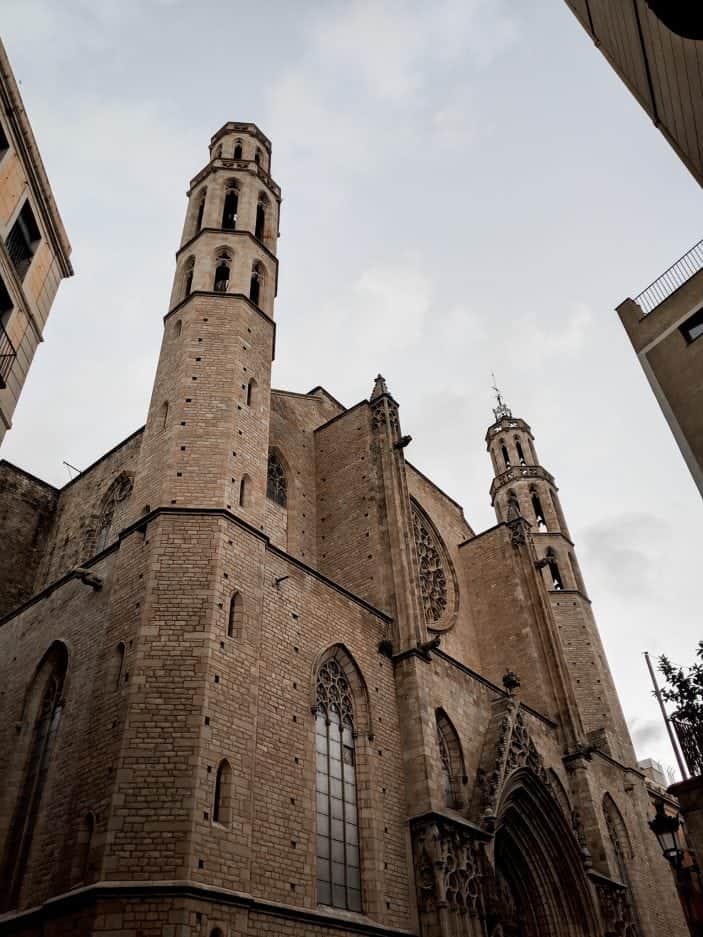 Arc de Triomf – A large detailed arch in the middle of the city. It's worth a quick stop.| Google Maps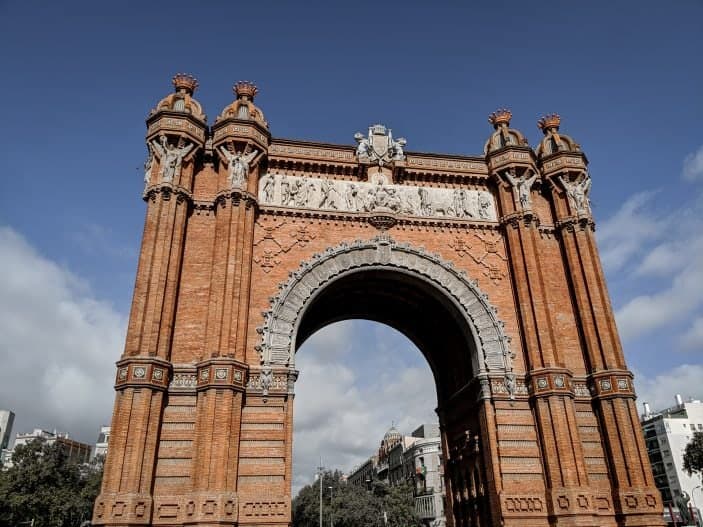 Ciutadella Park – A large park in the center of the city. We spent a good hour walking here and sitting in the shade of the trees.| Google Maps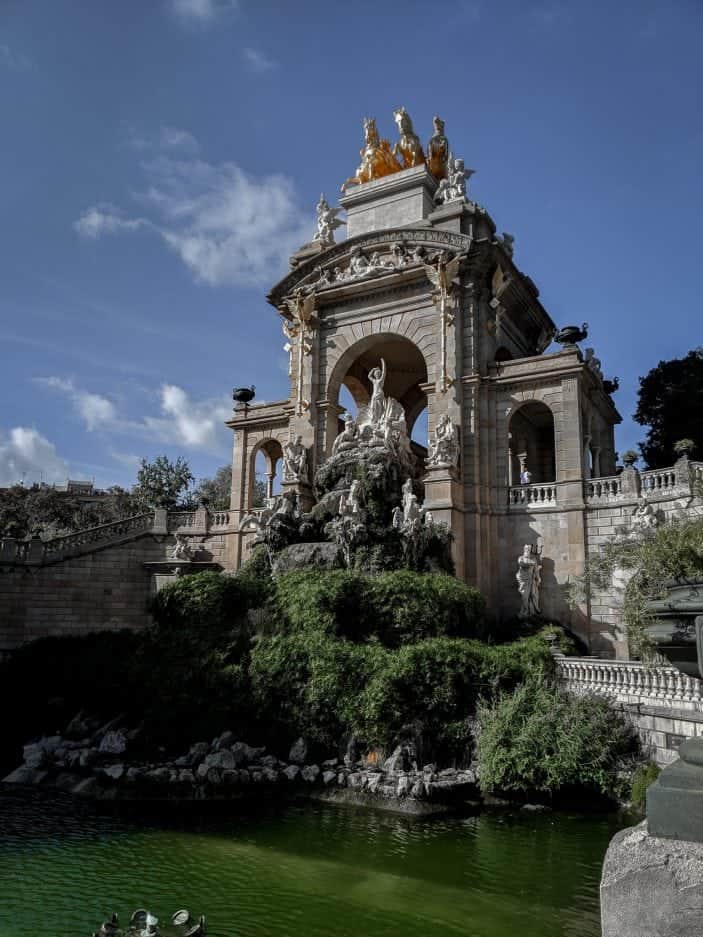 Parc de Montjuïc & Font Màgica de Montjuïc – A large park with museums, a fountain, gardens and more. You also get a nice view of the city, up the hill. This was a bit of a walk (about 45 minutes) from most of our other stops, but it was well worth it. | Google Maps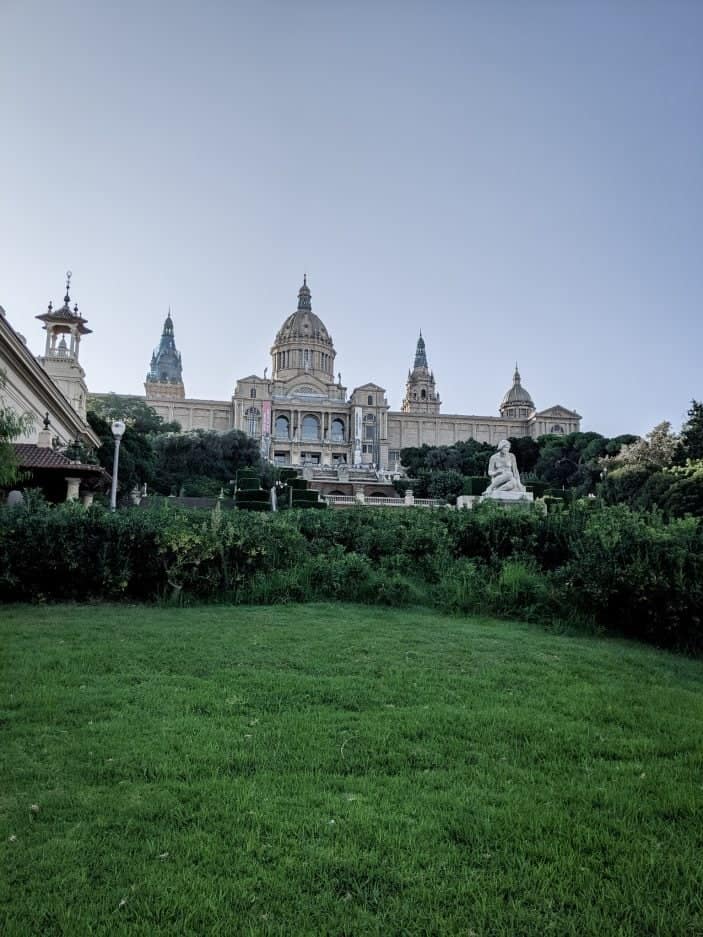 Park Güell – A quirky and colorful housing development developed by Gaudí, that is now a park. It's very busy and you need to pay to get into certain parts of the park. We decided to stay in the other sections, which still offered great views of the city. Note that this a far from the city center and you may want to use public transportation to get here. We decided to walk and it was quite far. | Google Maps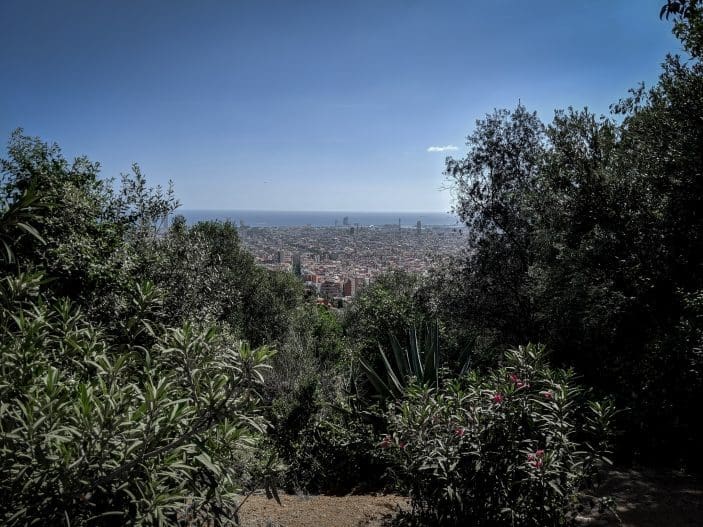 Casa Batlló – A very eccentric, but beautiful building. We didn't go inside, but it's worth a quick stop to see the exterior. | Google Maps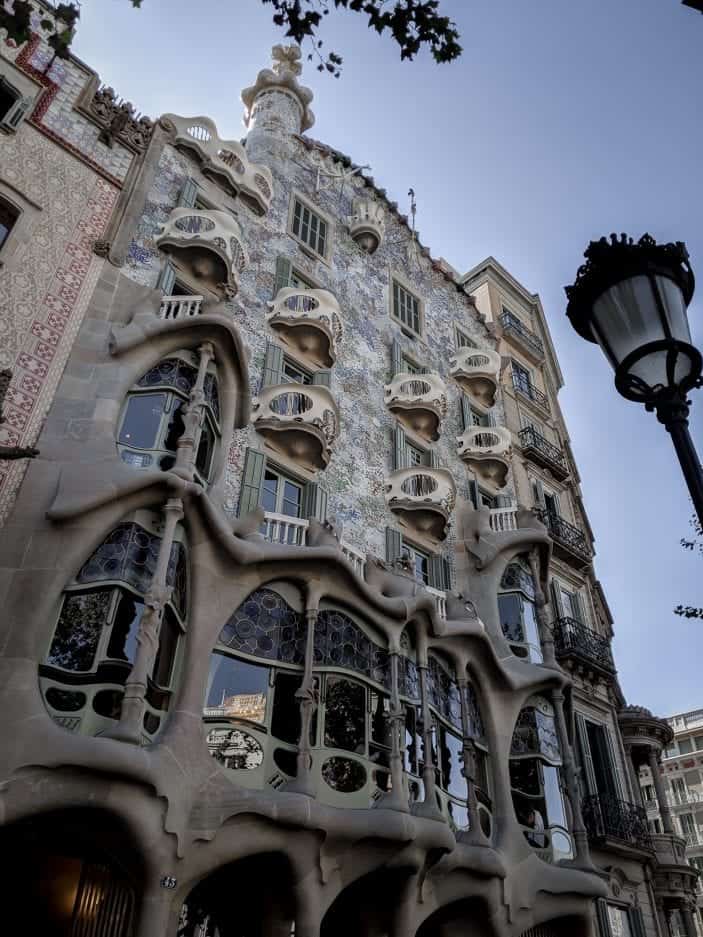 Where to Eat Vegetarian in Barcelona
This was the hardest part of planning our day. Where do we eat?! Not because there weren't any vegetarian restaurants. Quite the opposite, there were so many to choose from, I had a hard time picking favorites! Here are our picks:
Bohl
A cute restaurant in Eixample neighborhood, near the Arc de Triomf and Cuitadella Park. It's a great place for brunch and coffee. They have a variety of lattes, coffee, tea and breakfast options, such as smoothie bowls, porridge and toasts. They also have a very delicious looking dinner menu, but we ate there late in the morning, so it wasn't available yet. | Google Maps
Our Menu Picks:
Matcha Latte – Unsweetened and with your choice of plant-based milk (I chose coconut).
Iced Coffee – Apparently the closest to an American iced coffee in Barcelona.
Scramble Bumble – Scrambled tofu with mushrooms and hollandaise sauce on top of sourdough toast.
Apple Pie Oatmeal – Topped with date paste, apples, pecans, raisins and more.
Plant-based cheesecake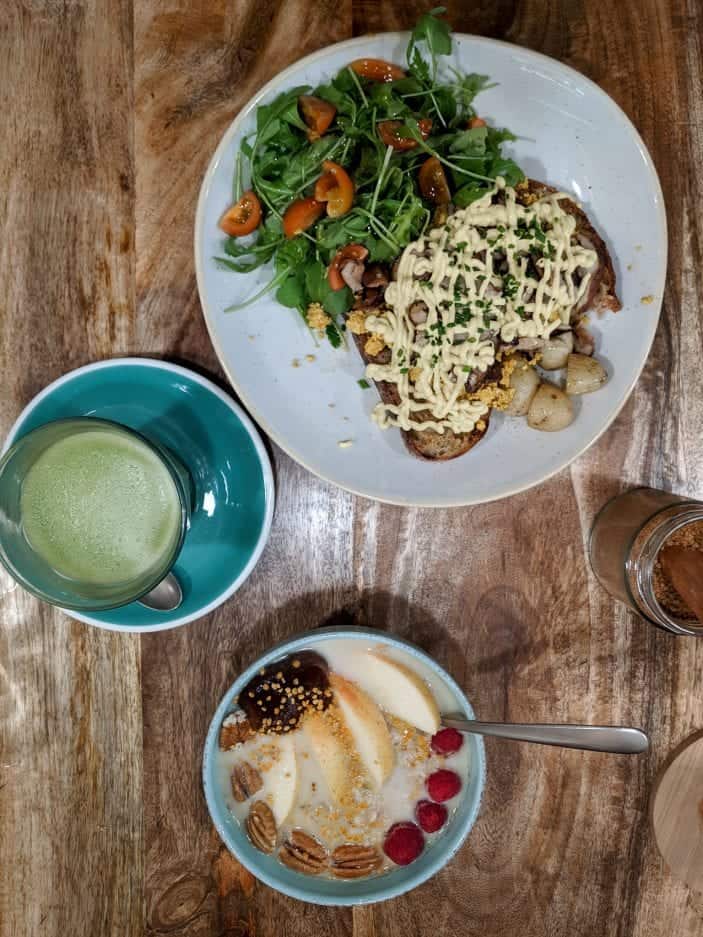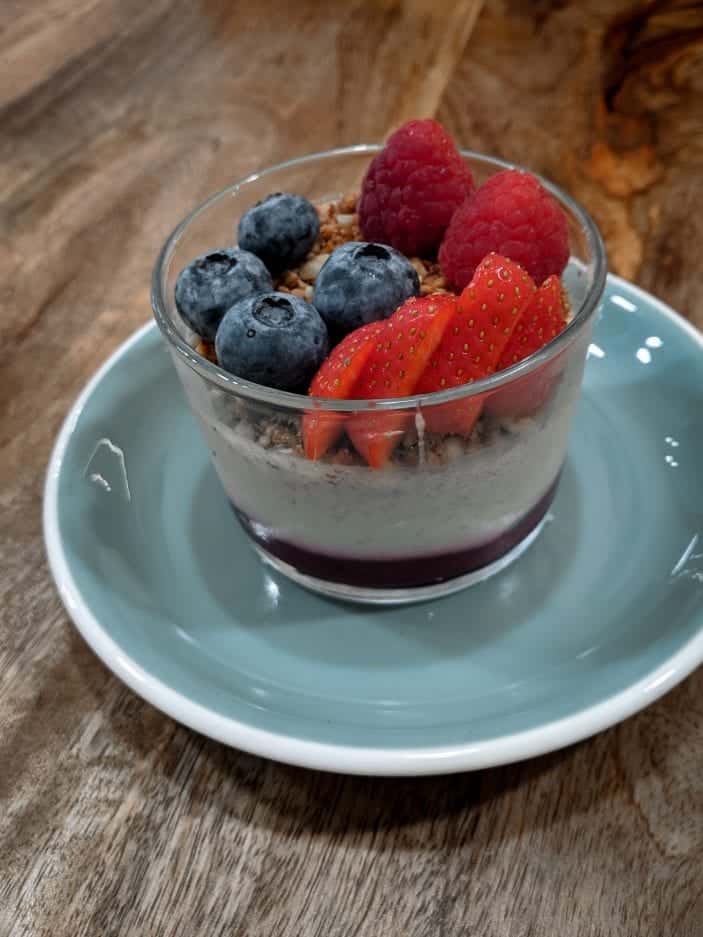 La Pepita:
We stopped here for an afternoon snack as it was recommended for having the best patatas bravas in Barcelona. Wanting to taste some tapas while in Spain, we decided to share the dish for a snack. It did not disappoint. | Google Maps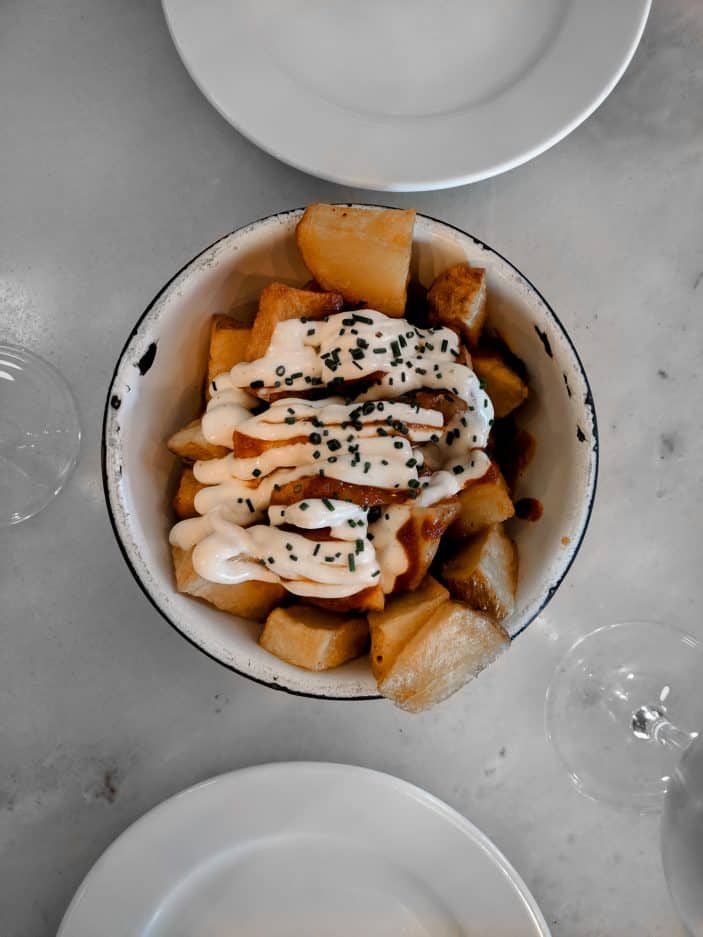 Brunch and Cake:
This place was recommended to us and as we already had a full day of meals planned already, we just stopped for a piece of cake to share. Shaun and their Nutella cake and I had a few bites. It was delicious! Very sweet, but a good treat. This place is not entirely vegetarian, but it does have many plant-based options. | Google Maps
Flax and Kale:
This was our final stop of the day. It's a very beautiful restaurant that serves high-end flexitarian dishes. It's not entirely vegetarian (they do serve fish), but you get a lot of plant-based choices. | Google Maps
Our Menu Picks:
Funghi Coconut Toast – A very large slice of bread topped with rich, creamy mushrooms. We had it to share with some wine and it was my favorite dish there.
Tacos Al Pastor – Tacos with jackfruit "pork". Shaun had this and it was so good. A little on the spicy side, but very good.
Green Power Raviolo – This was my main meal and it was very tasty. There were only a few pasta pieces served on a very generous amount of eggplant. I probably wouldn't take it again, but it was still very good.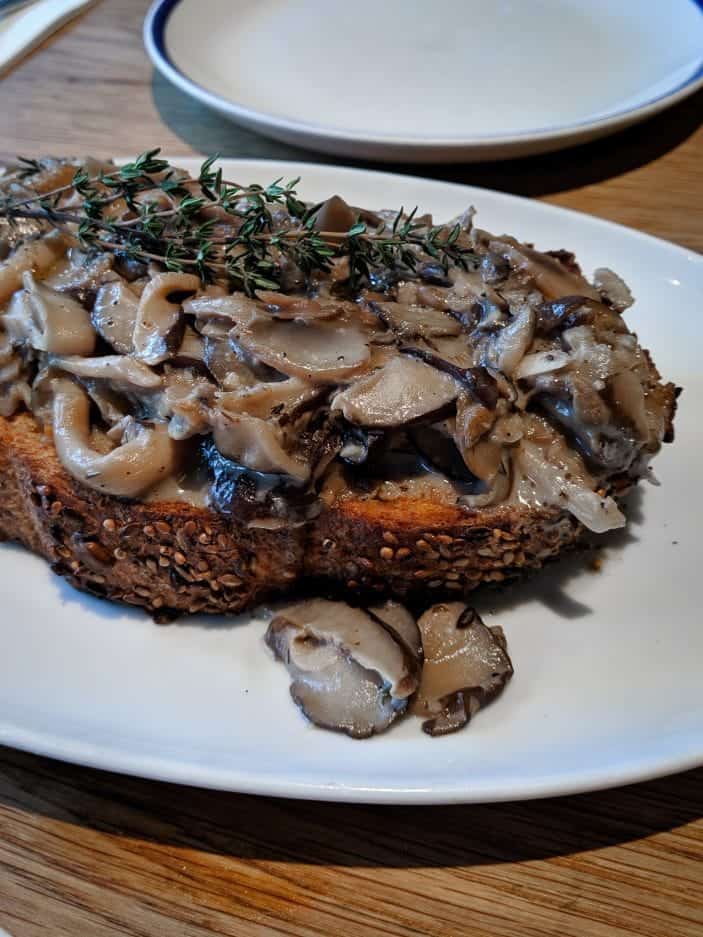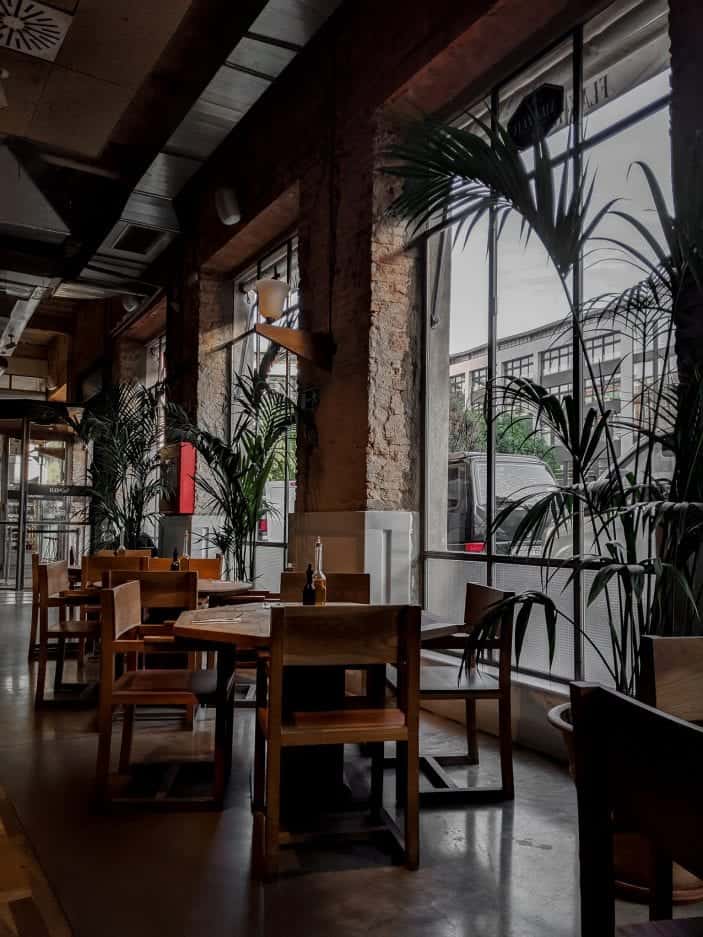 Other Vegetarian Restaurants:
These are other high-rated vegetarian spots in Barcelona. We didn't get to try these, but it's worth noting for our next visit.
Teresa Carles
Veggie Garden
The Green Spot
Gocce di Latte – For vegan gelato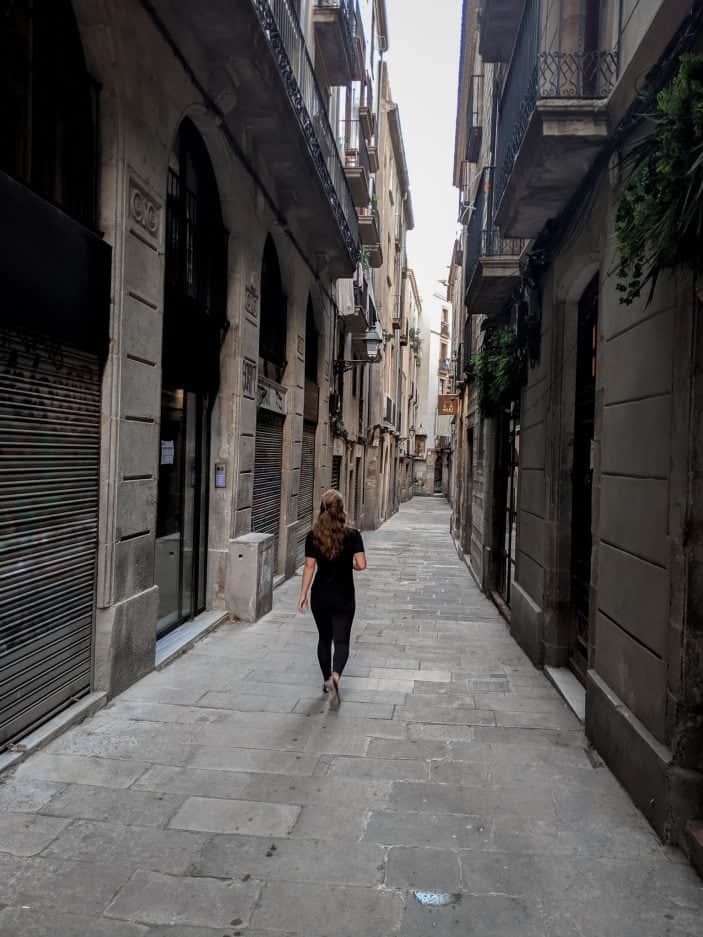 TIP: If you're limited on time, pick a few things you'd like to see that are close together. For example, you could skip Park Güell, Parc Montjuïc and Plaça d'Espanya and stay closer to the Segrada Familia. When you're limited on time, you can't always see it all.
No matter what, you'll be able to enjoy the beautiful architecture and busy streets of Barcelona. Just walking around the city from one destination to another was an activity in and of itself.
Travel Map
And that was our day in Barcelona! We loved this city and hope to visit it again, for more than just a day. I have to say though, we did a lot in the time that we had. There's always more to see, but if you're short on time, you can still see a lot of this beautiful city.
For more tips and information on Barcelona, you can check out this guide from Gimme Some Oven. I used it before visiting and it was very helpful!
If you want more details on our 3 months traveling through Europe, check out my complete guide here.