1 Week in Austria + Vegetarian Guide
Sharing our 1 week in Austria, including our visits to Graz, Vienna, Salzburg and Hallstatt. Here, I'm sharing our favorite sights, as well as the vegetarian meals we ate. Austria was one of our favorite countries in Europe and it's not hard to see why.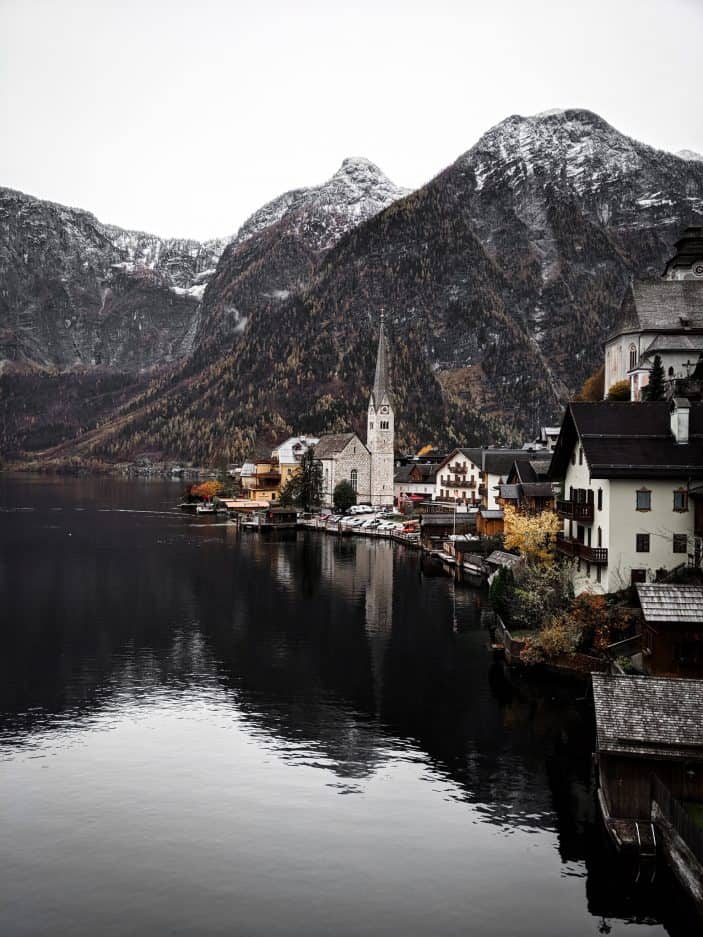 We started the month of November in Austria. The fourth country of our Europe trip and our favorite one so far.
We were actually in Austria from October 31st to November 7th and it was the perfect time of the year if you ask me. The Christmas decorations were just starting to get out and the weather was perfect. Not too warm, not too cold. It was certainly colder than it was in Italy, but a small winter coat was just what we needed. Note that it was much colder in the mountains (we visited Hallstatt), but I was honestly surprised at how mild it was. We didn't experience anything under 0 – 5°C, which is nothing to a Canadian. Hah!
At the start of November, we were able to experience the end of fall in Austria (the trees were still colorful) and the beginning of winter.
If you're planning a trip to Austria (or if you're just dreaming of visiting one day), continue reading to learn more about our experience in this beautiful country. Just keep in mind that I don't live in Austria and I'm not an expert on the area. We also visited in 2019, so some of the restaurants or attractions may not be available at the time that you visit.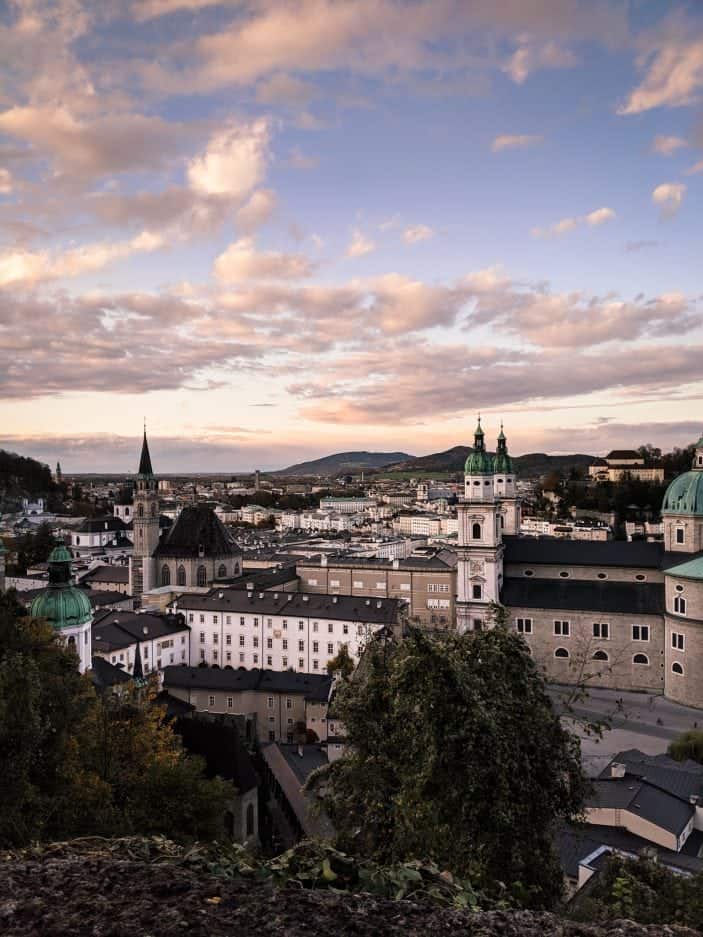 Our Austria Itinerary
Day 1: Graz
Day 2: Graz – Vienna
Day 3 + 4: Vienna
Day 5: Vienna – Salzburg
Day 6 – 8: Salzburg + Hallstatt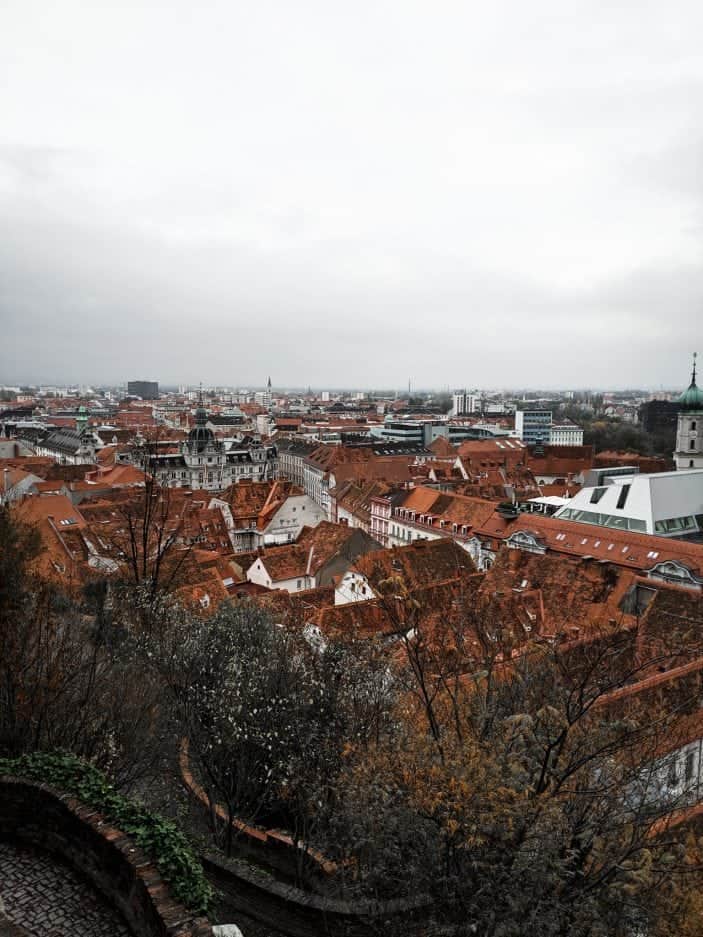 Graz
Our first stop in Austria was Graz. We only had one night there, but we fell in love with the city instantly. We were there on a gloomy Halloween day and I can only imagine how beautiful it would be on a sunny day. It was a last-minute addition to our trip and it did not disappoint.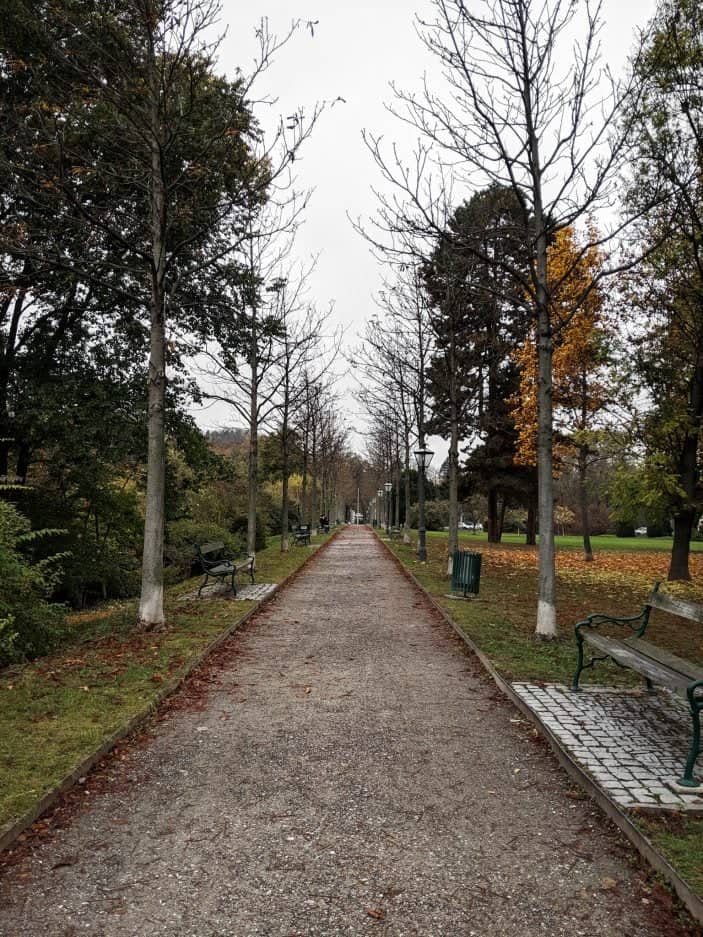 Things to Do in Graz
Hauptplatz | Google Maps
A historic town square surrounded by medieval buildings. There are many cute shops and restaurants.
Old Town of Graz | Google Maps
We loved walking around the streets of Old Town of Graz, just looking at the shops. The atmosphere was so cozy, especially in the evening.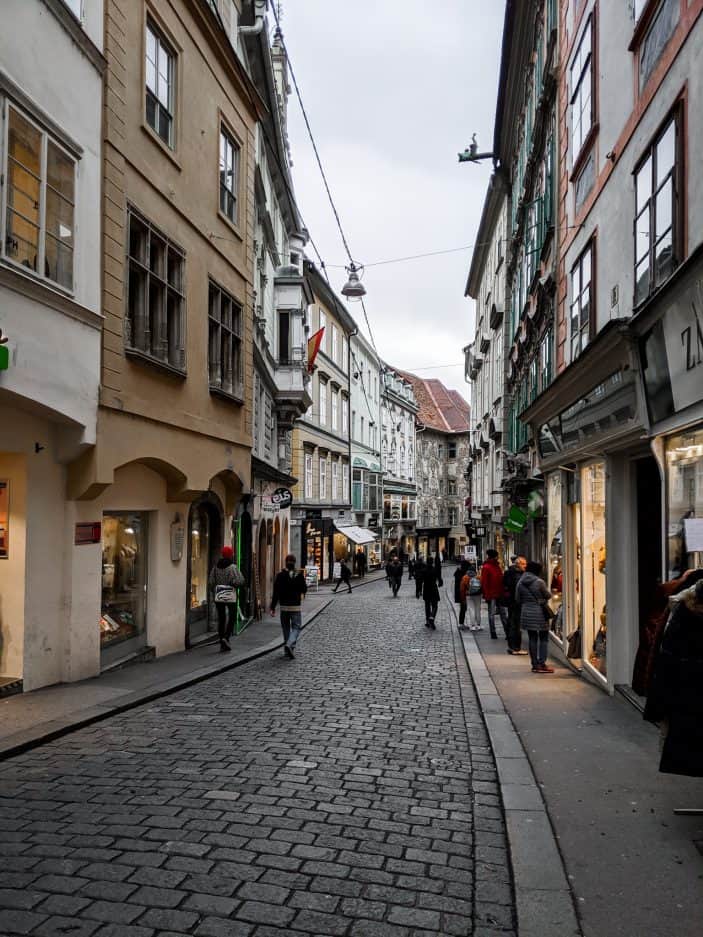 Mausoleum of Emperor Ferdinand II | Google Maps
We just stumbled onto this 17th-century building while walking around the city.
Schloβberg | Google Maps
An old castle and a park on top of a hill with great views of the city. If you only have time to do one thing in Graz, I'd recommend walking up the hill for the view. Our Airbnb host recommended this to us and it was my favorite part of our time in Graz.
Clock Tower | Google Maps
On top of the same hill, you'll see the Clock Tower. We walked up the many stairs to the Clock Tower and were rewarded with the best view.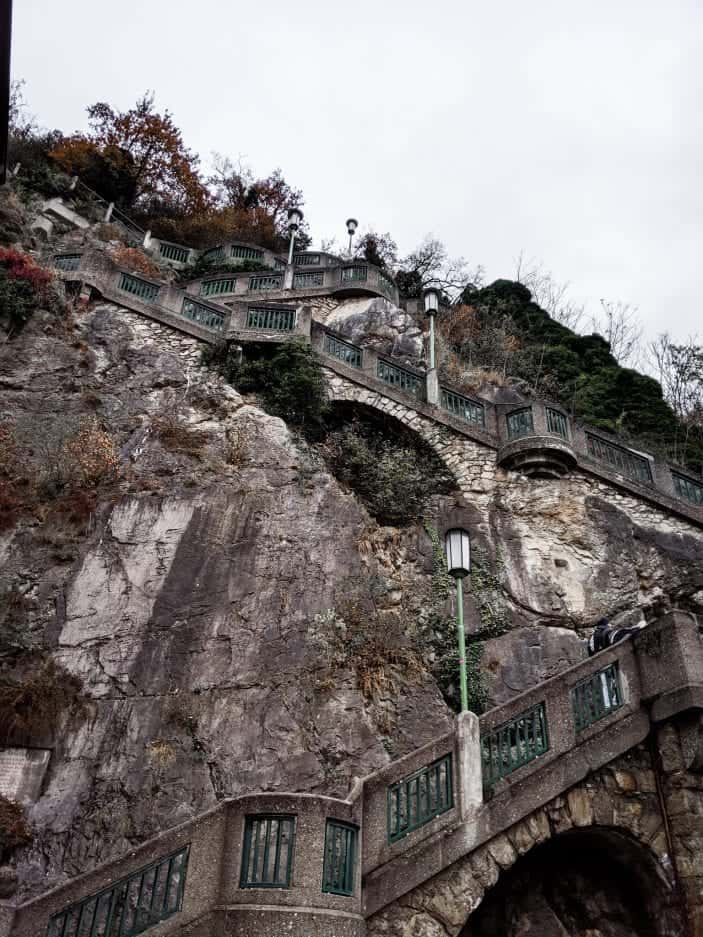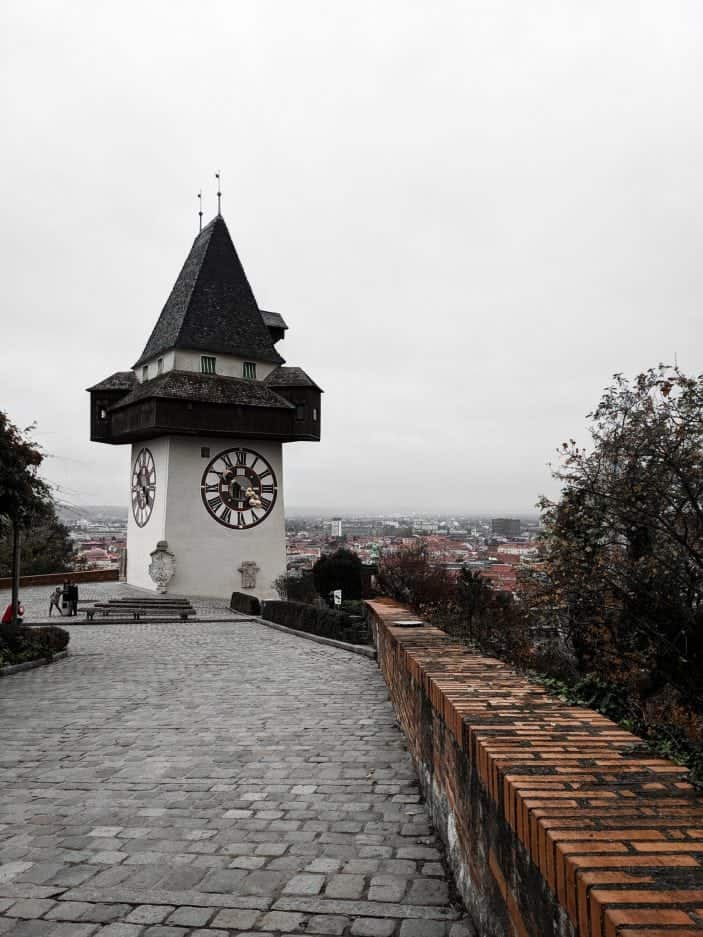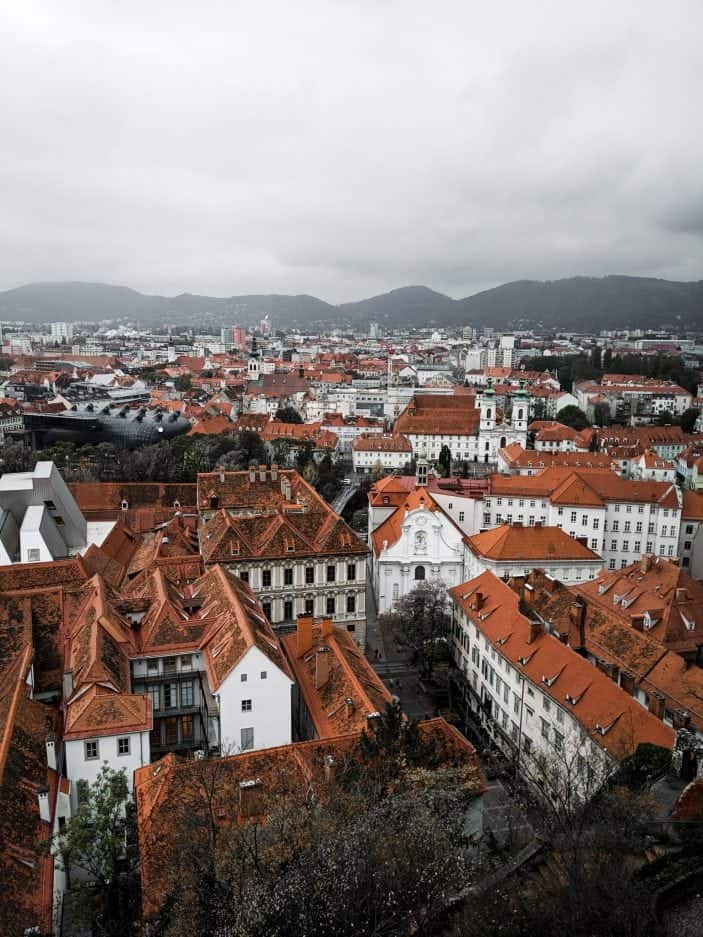 Where we Ate in Graz:
Café Erde | Google Maps
We stopped at this cozy vegan cafe in Graz and it was delicious. Bonus, they have vegan schnitzel, so we got to try a vegan version of this traditional Austrian dish! It was definitely indulgent, but so good.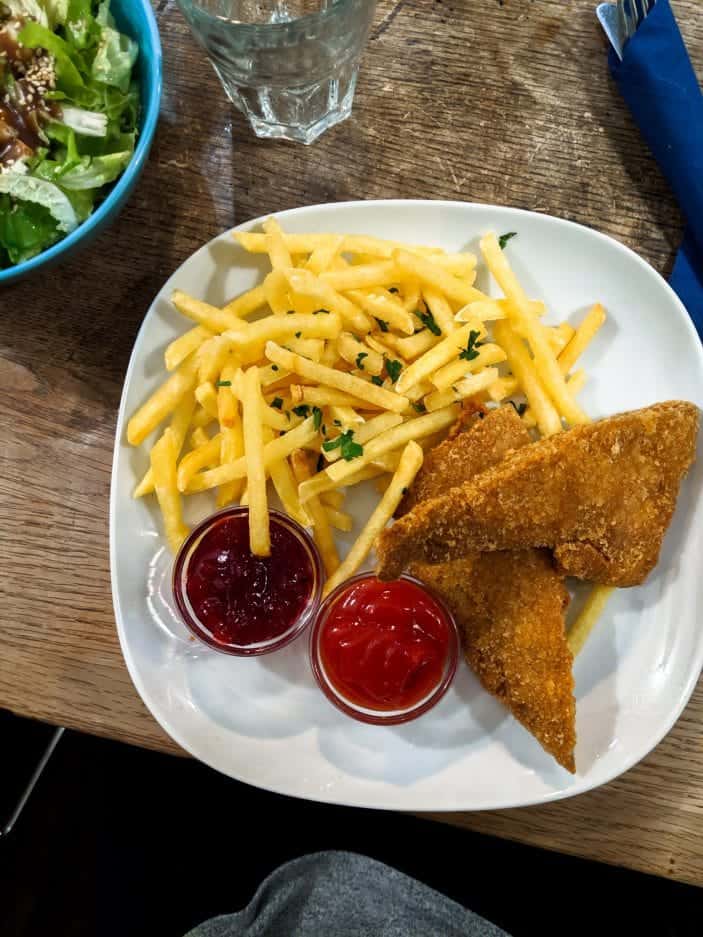 Mangolds Café | Google Maps
We stopped at this vegetarian spot for a quick snack and coffee in the afternoon. It's a shop with a coffee and snack bar, plus it serves a buffet-style meal. We had an energy bite and coffee.
Operncafe | Google Maps
We stopped at this place for breakfast before leaving Graz. We had other plans initially, but everything was closed for a local holiday. I'm so happy we stumbled onto this place. Shaun had their falafel bowl and I had porridge with fruit. We also both had coffee and shared an apple streusel as we were told to try one while in Austria. I'd highly recommend this place. It was chic, cozy and the food was excellent.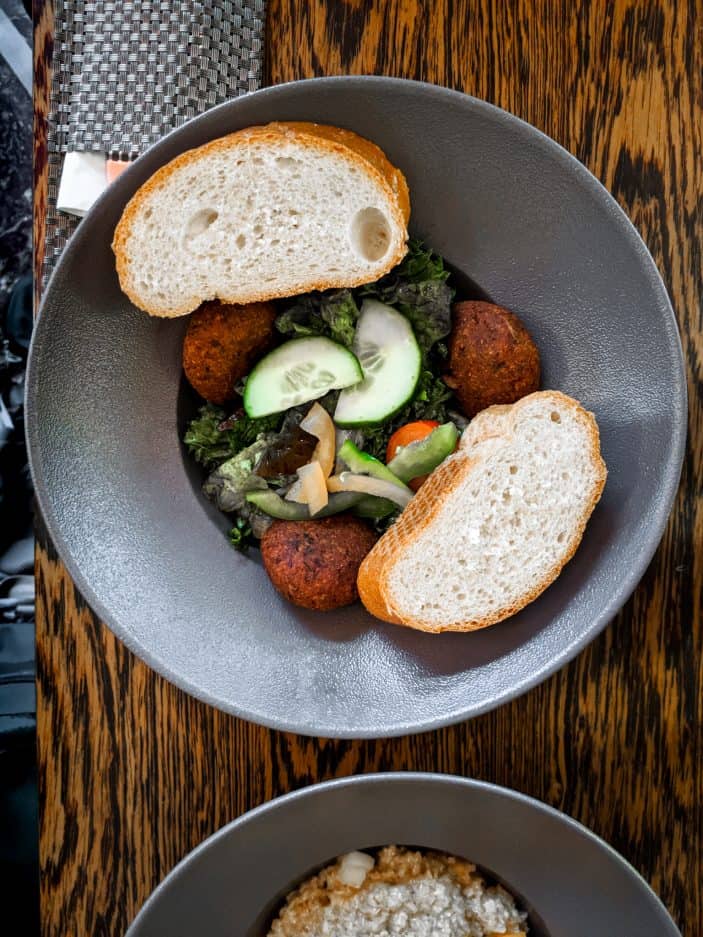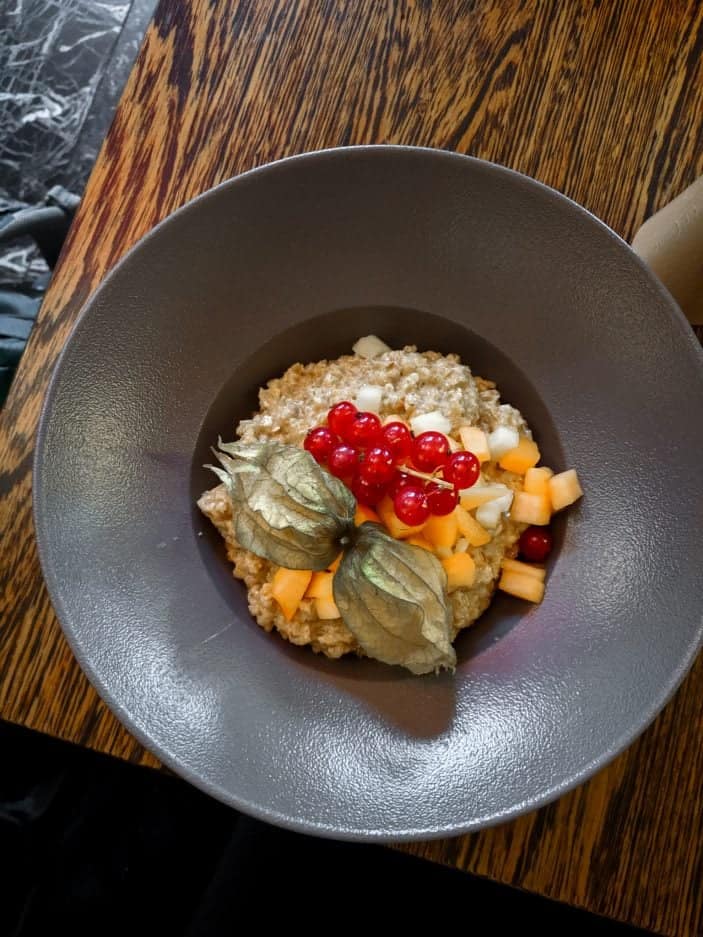 Café Greenhouse | Google Maps
We were planning on eating breakfast here on our last day, but as mentioned above, it was closed due to a holiday. It's a vegan spot worth checking out if you're in the area!
Vienna
Vienna was our second stop in Austria and it's a must. This is possibly my all-time favorite city. It's chic, clean and absolutely beautiful. The city is also filled with museums and gardens. Being the biggest city in Austria and the capital of the country, it's a must if you're visiting the area.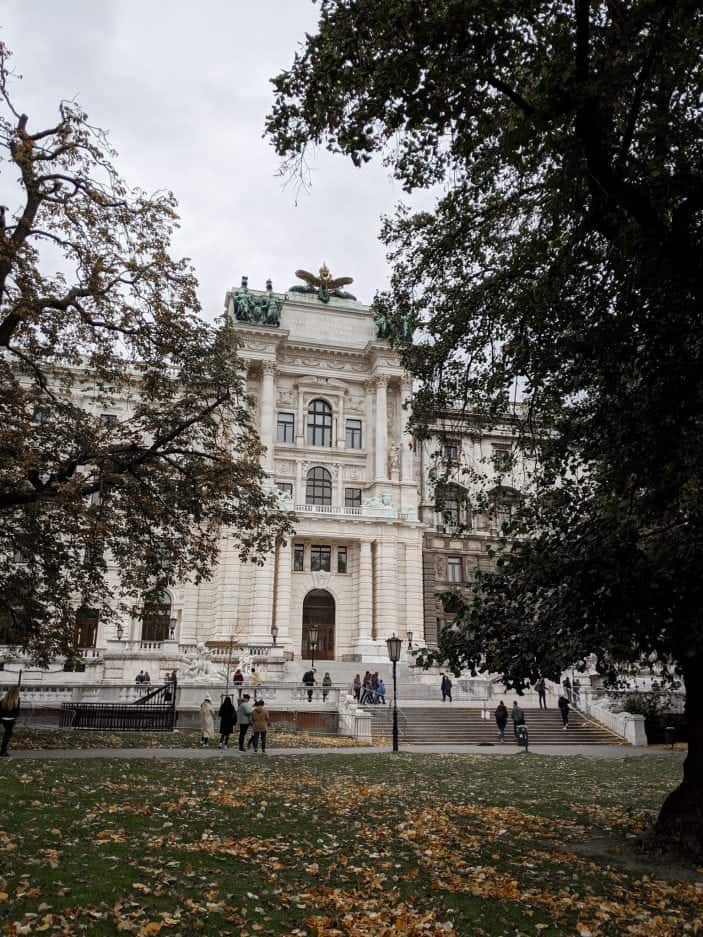 Things to do in Vienna
Schönbrunn Palace + Gloriette | Google Maps
One of the must-see places in Vienna. It's a little outside of the city center, but easy to get to. We decided to walk there, a little less than 1 hour from our Airbnb in the city.
It's free to walk around the outside of the palace and in the beautiful park behind. I'd recommend walking up to Gloriette on top of the hill. You'll get a great view of the palace and the city.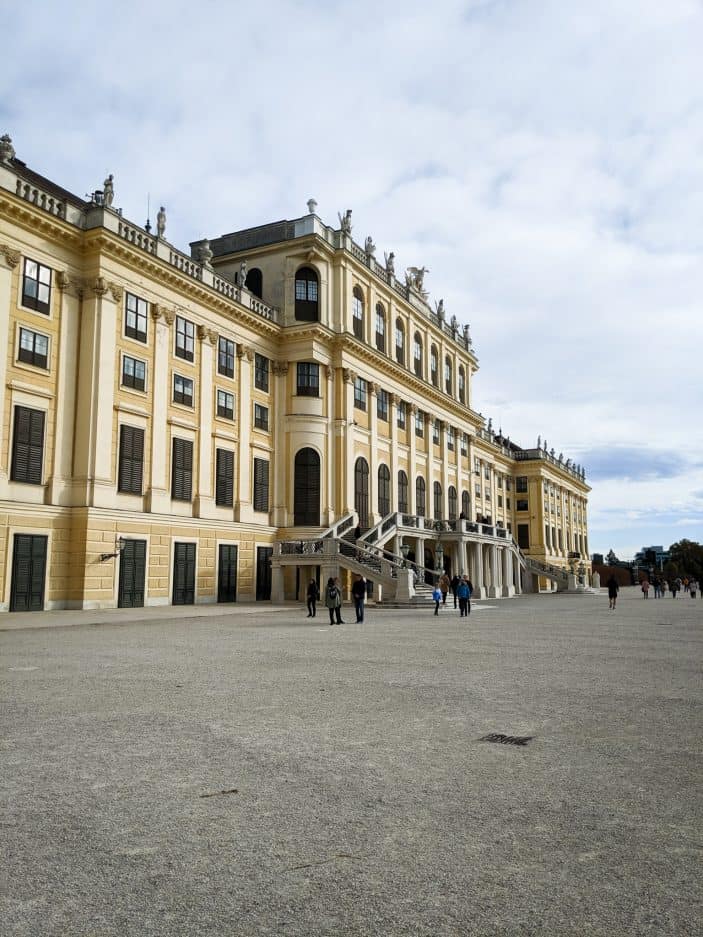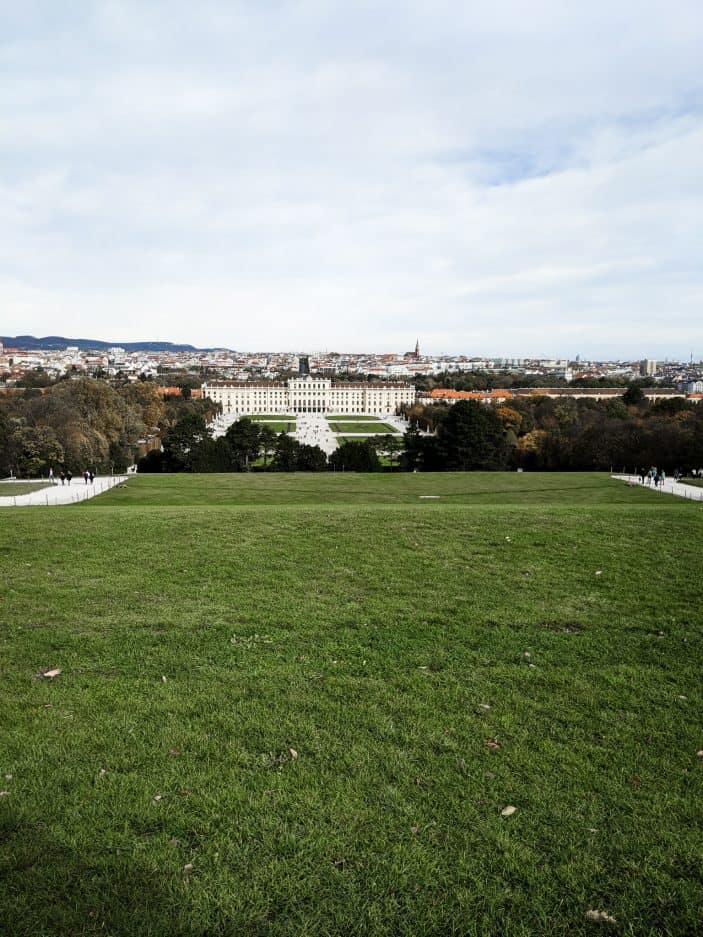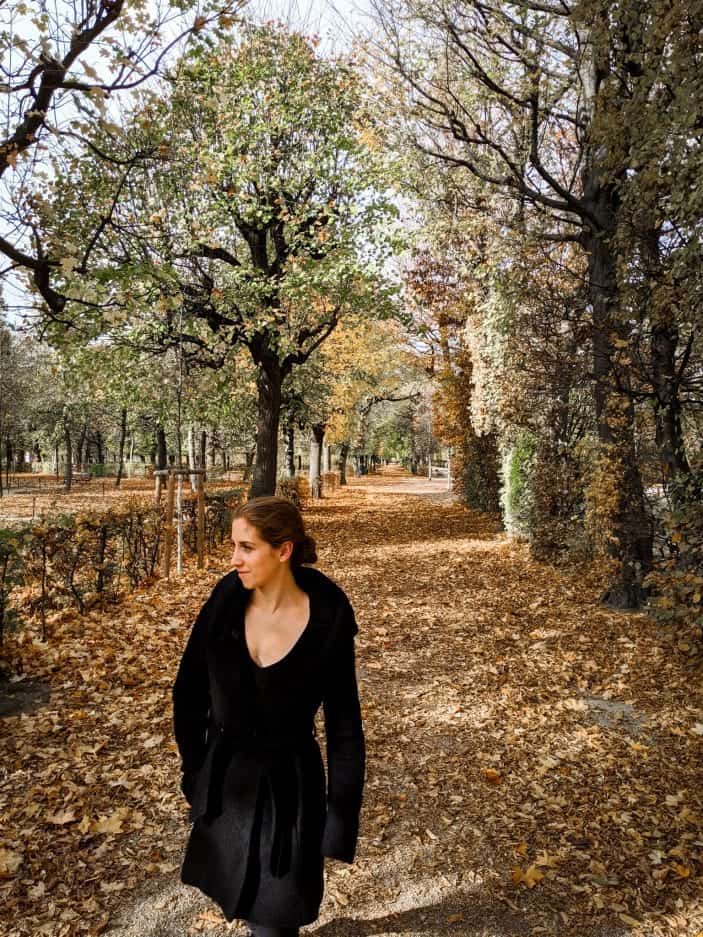 Rathaus | Google Maps
A beautiful municipal building. It was under construction when we were there, but it was still worth a quick stop.
Maria-Theresien-Platz | Google Maps
A square surrounded by museums and filled with statues, green space and fountains.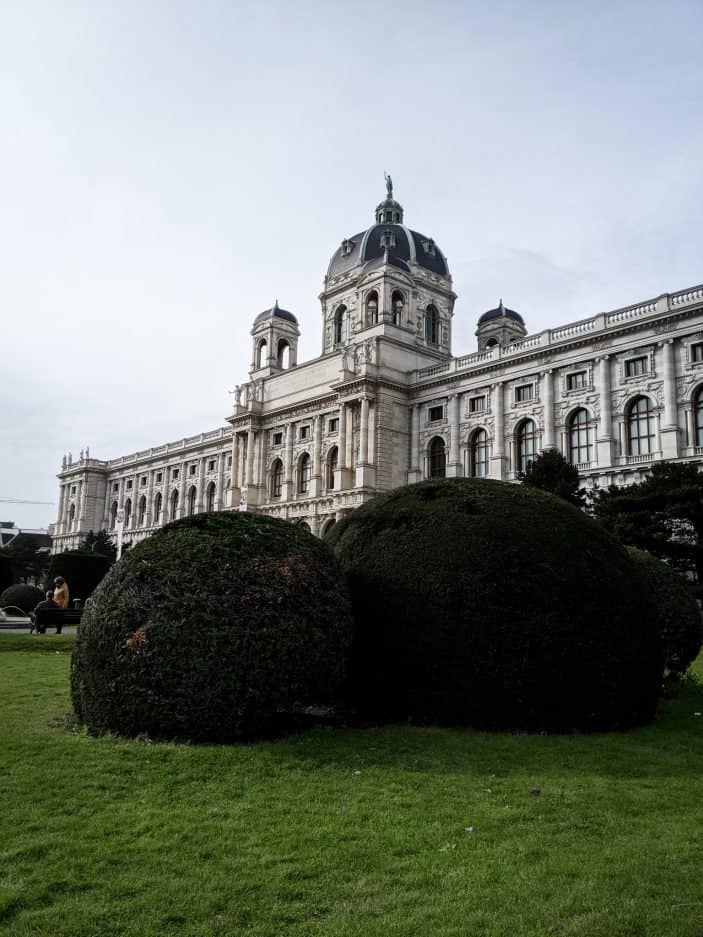 Volksgarten | Google Maps
A beautiful rose garden in the middle of the city, surrounded by beautiful buildings, statues and fountains.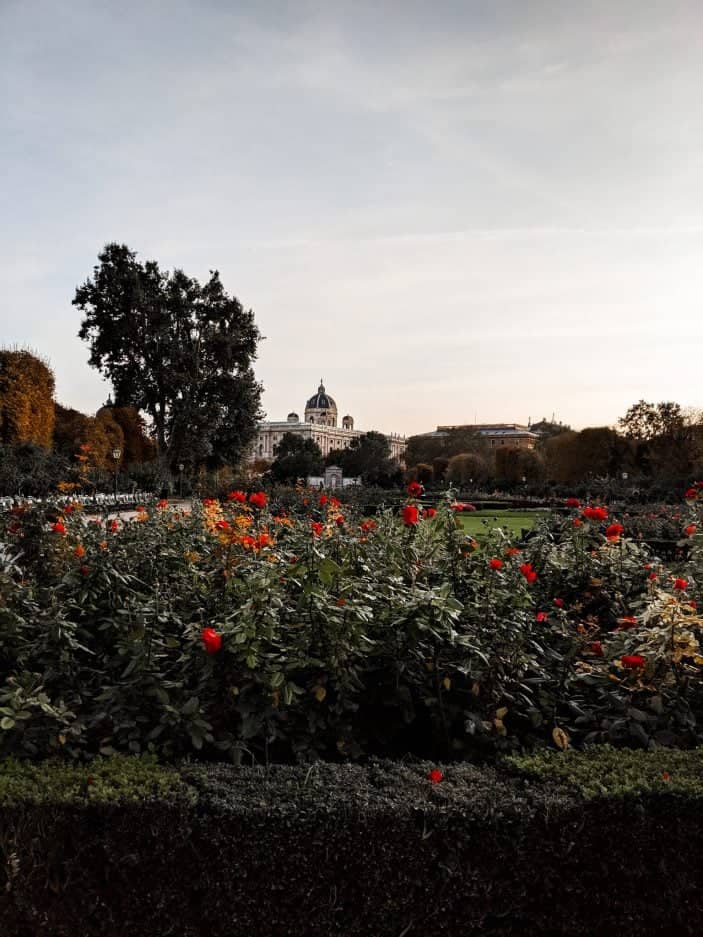 Burggarten | Google Maps
Another garden filled with statues, close to the Volksgarten and Neue Burg (a museum).
Austrian National Library | Google Maps
This is probably the one thing I regret not doing in Vienna. You can pay to see the interior of this library, which is apparently like walking into the Beauty and the Beast library. It's definitely on my list next time I'm in the city.
St. Stephen's Cathedral | Google Maps
A beautiful cathedral in the city center. It was filled with tourists, but so worth the stop. You can also see the interior at no cost.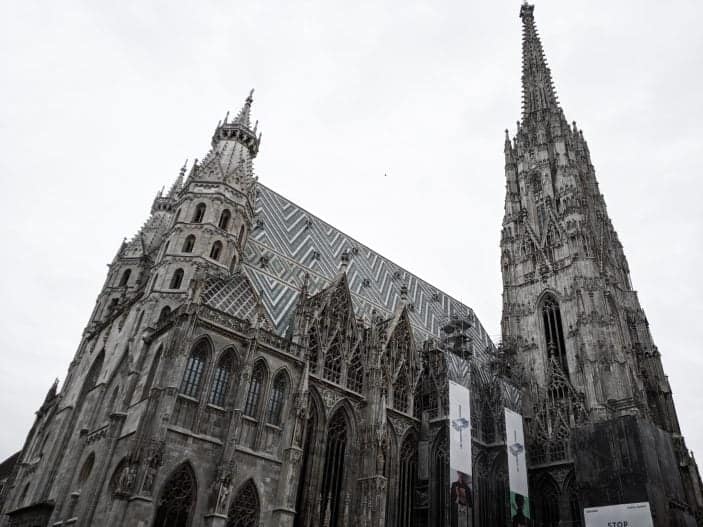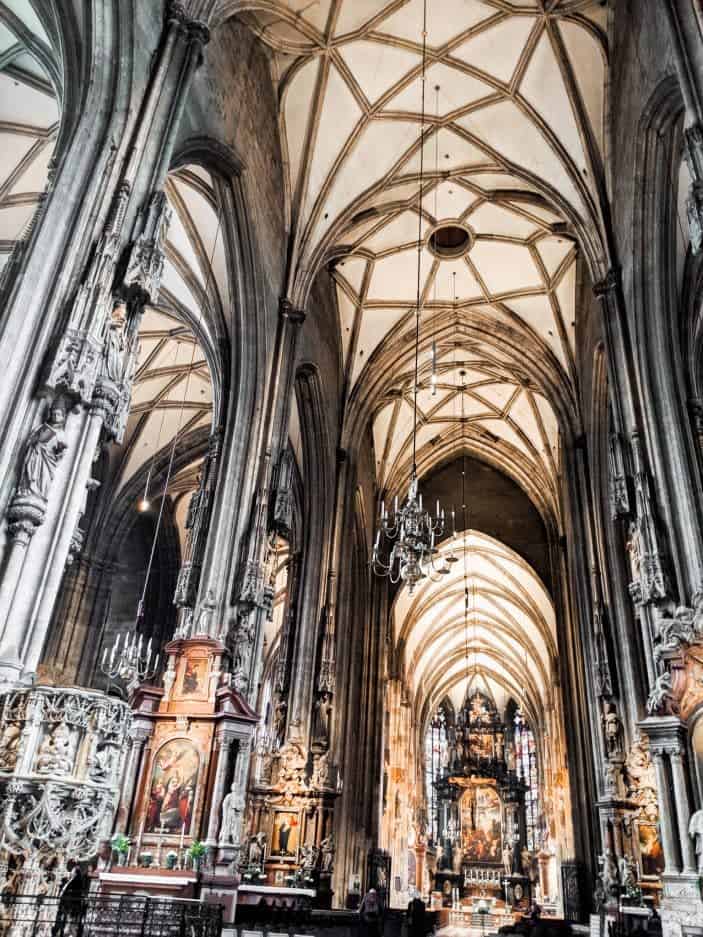 Naschmarkt | Google Maps
Vienna's biggest market, filled with food stalls and more.
Karlskirche | Google Maps
A beautiful 18th-century cathedral.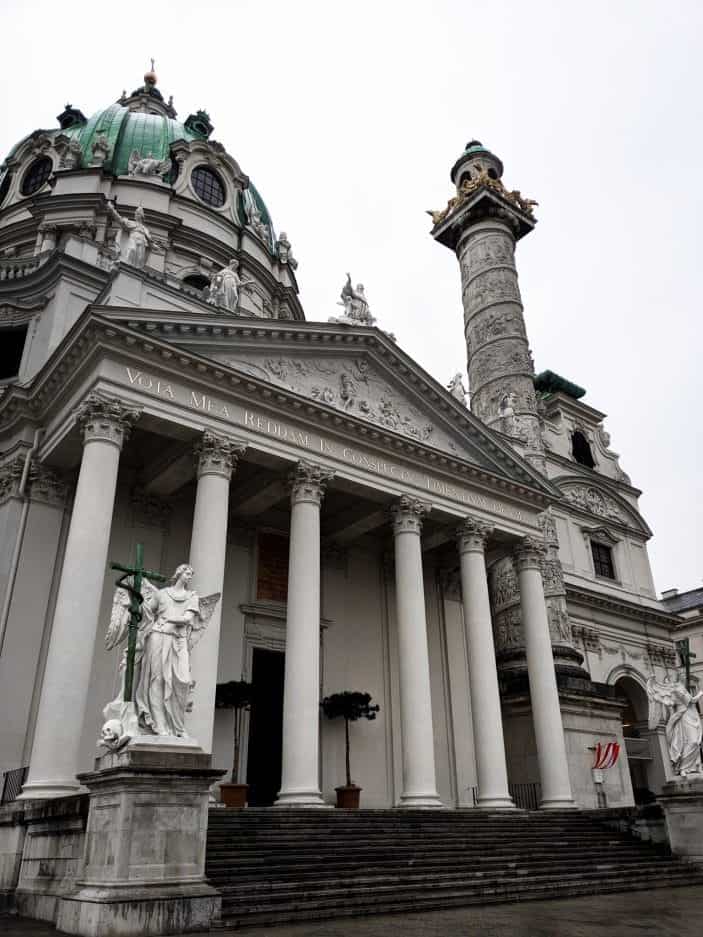 Belvedere Palace | Google Maps
We stopped at this famous palace on our way to the train station on our last day in Vienna. It's a beautiful 18th-century palace, surrounded by green space and housing art from the middle ages to today.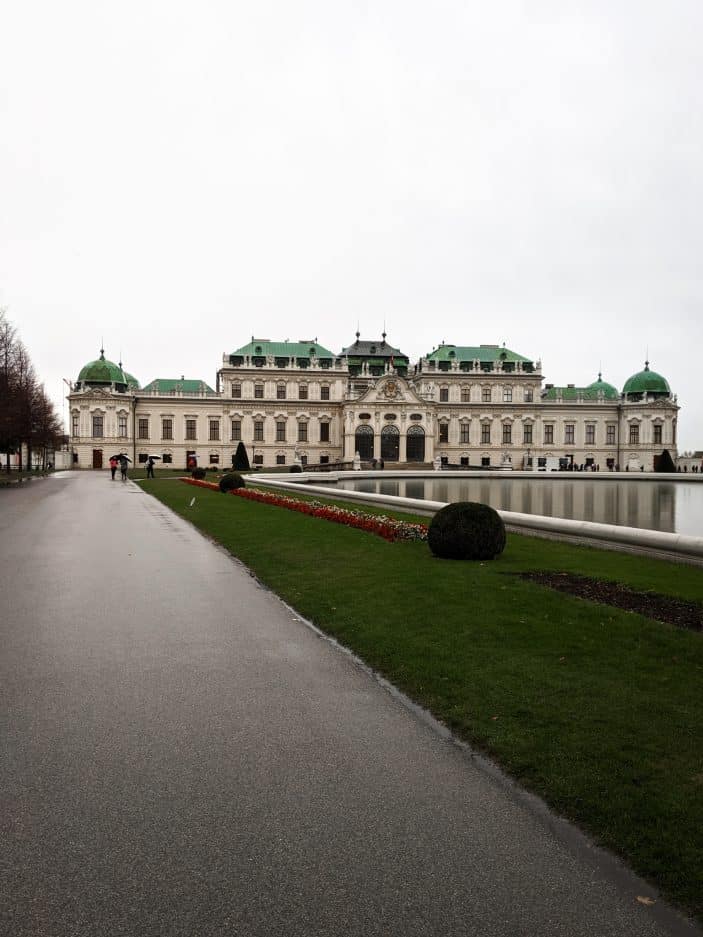 Other Things to do in Vienna:
Vienna is filled with museums. There's basically a museum everywhere you look. I'm personally not a big museum person, but if you are, you have many to choose from. That being said, we did see the exterior of some beautiful museums and other buildings worth seeing.
Albertina – An art museum. We didn't visit the museum, but just walked around the exterior.| Google Maps
Vienna Operahouse – A wold-famous opera house with guided tours.| Google Maps
The Hofburg – A baroque palace with museum.| Google Maps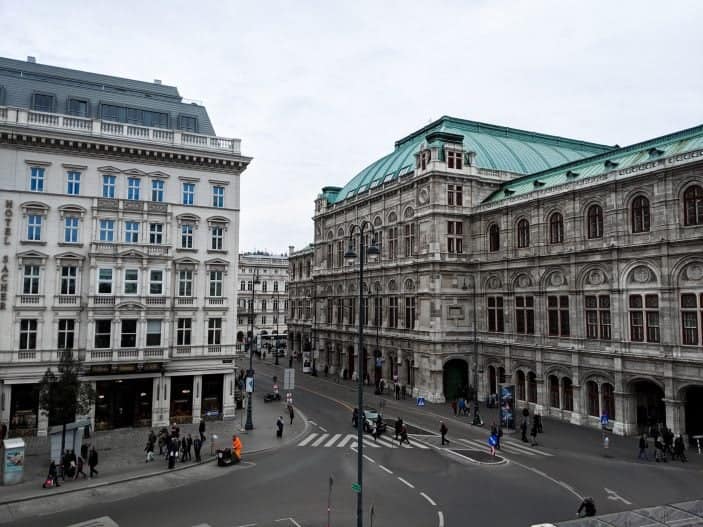 Where we Ate in Vienna
Swing Kitchen | Google Maps
A vegan fast-food chain, mostly serving veggie burgers. We had their chili burger and Vienna burger, sweet potato fries and regular fries. Definitely a great place for vegan comfort food.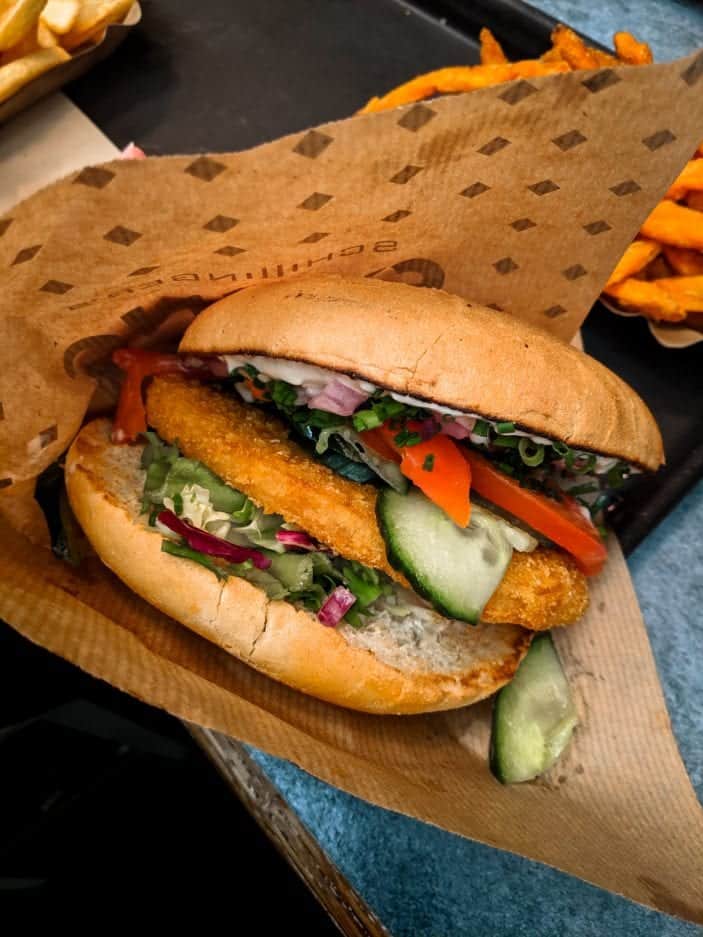 Café Zehnsiebzig | Google Maps
This was one of my favorite spots in Vienna (and probably most of our travels in Europe). We didn't stop for a meal, but we spent a rainy afternoon here to do some work and have a snack and drinks. It's a very cozy co-working space that serves meals, snacks, coffee, lattes, alcohol and more. We tried their raw cashew coconut slice, oat matcha latte (which was big and so good) and coffee. When it got dark out, we enjoyed a glass of wine here before going back home. I'd highly recommend this place!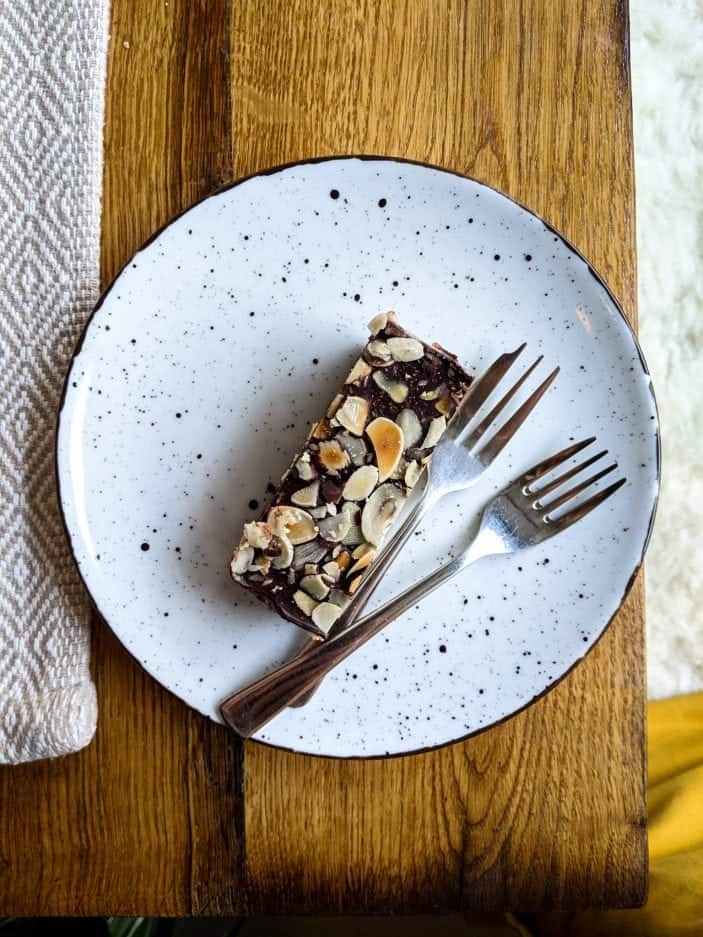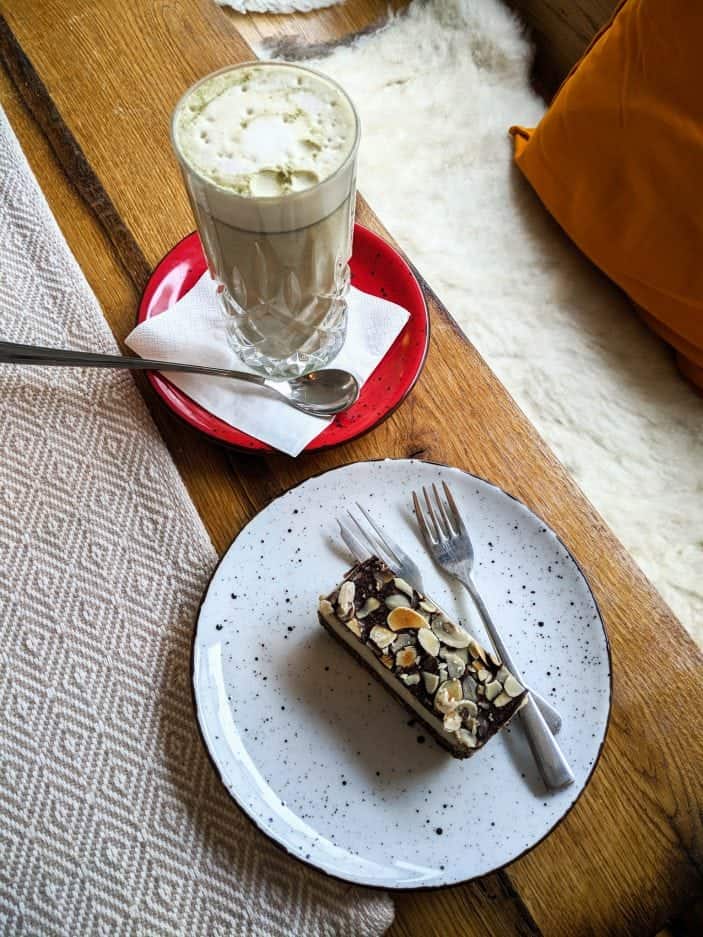 Superfood Deli | Google Maps
This place was recommended to us and we stopped for lunch one day. They serve a good variety of bowls, porridge, smoothies and lattes. We had the chocolate oats, veggie burger bowl, oat milk cappuccino and coffee. We loved it!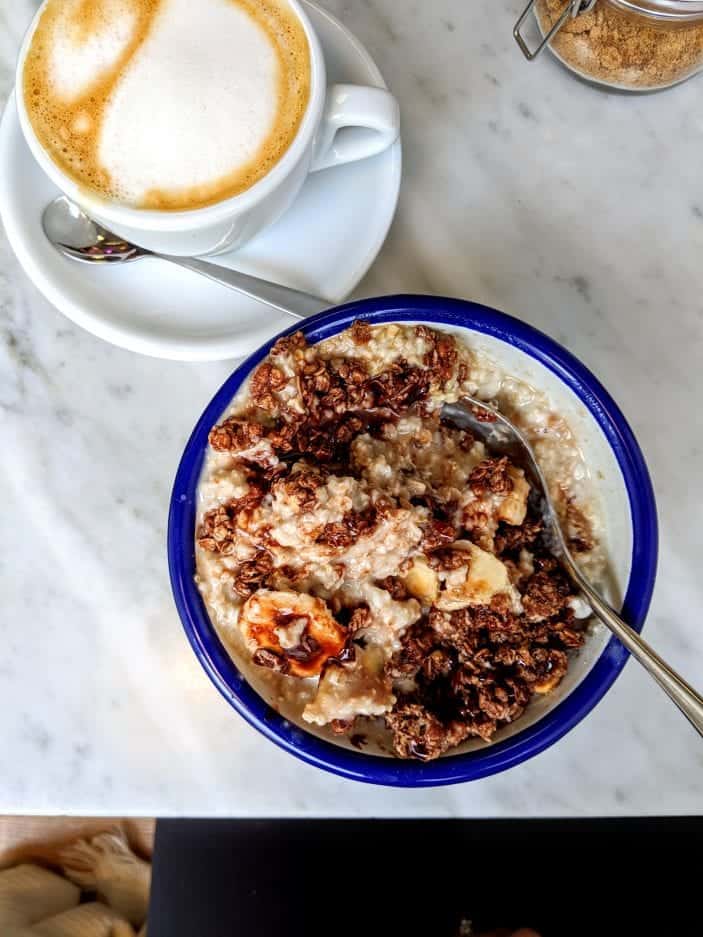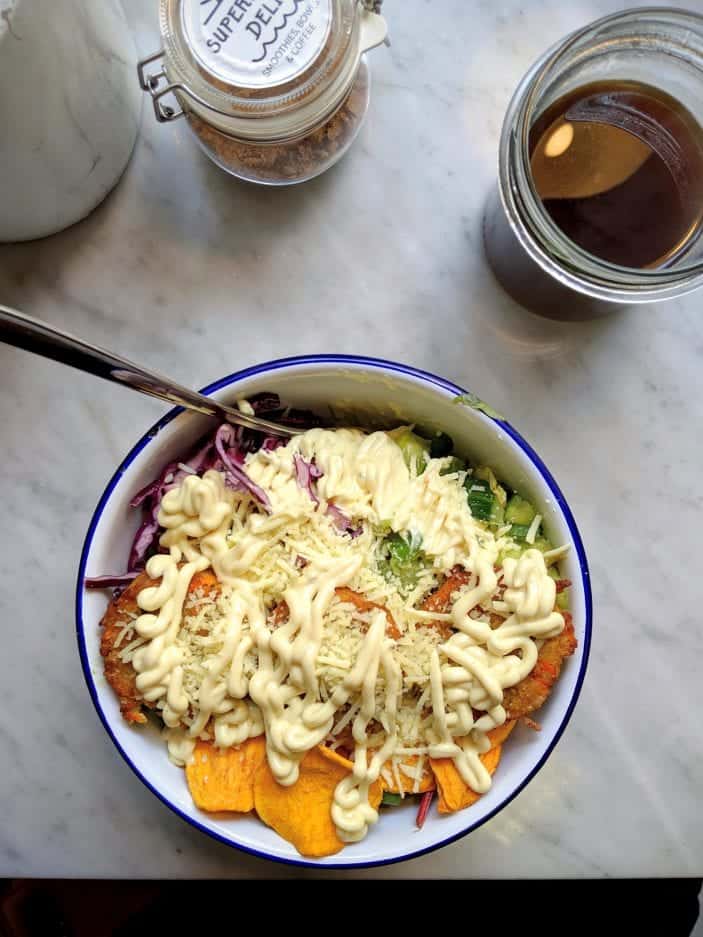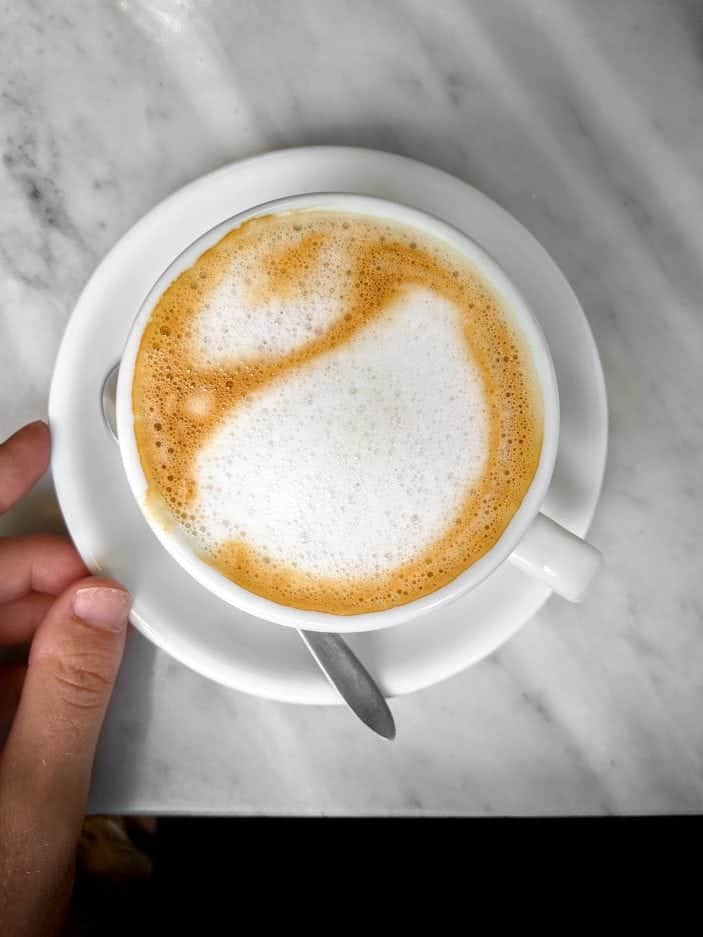 Simply Raw Bakery | Google Maps
This place was recommended to us, specifically to try their vegan sachertorte. We also found some date-sweetened chocolate! It's a cute place with lots of raw desserts, smoothies, bowls and drinks. It was a little on the expensive side, but worth it for a snack.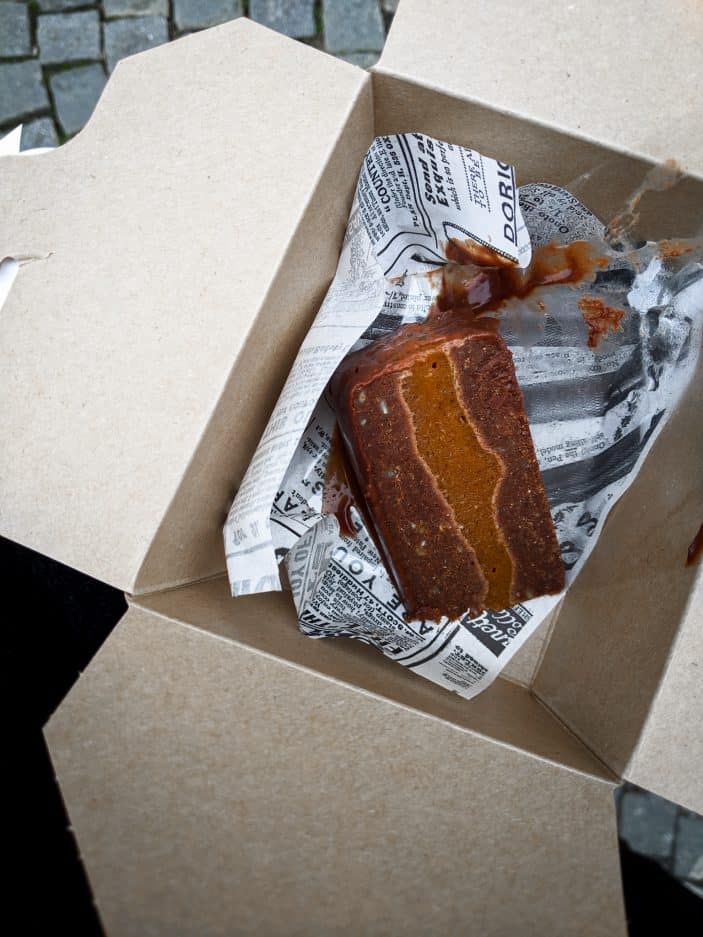 Salzburg
Our next stop was Salzburg, which was also our base as we did a day trip to Hallstatt. This city is located close to the Austrian mountains and is surrounded by rolling green hills. It's also the birthplace of Mozart and the setting of The Sound of Music (which I've actually never seen). It's another must on your trip to Austria.
Where we Stayed
We actually stayed in Grodig, which was a cute, quiet town just outside of Salzburg. Click here to see our Airbnb. It was honestly the best Airbnb experience we've ever had. The host also dropped off a basket of topfentascherl at our doorstep on our first morning. I'm just sharing this spot as I highly recommend it.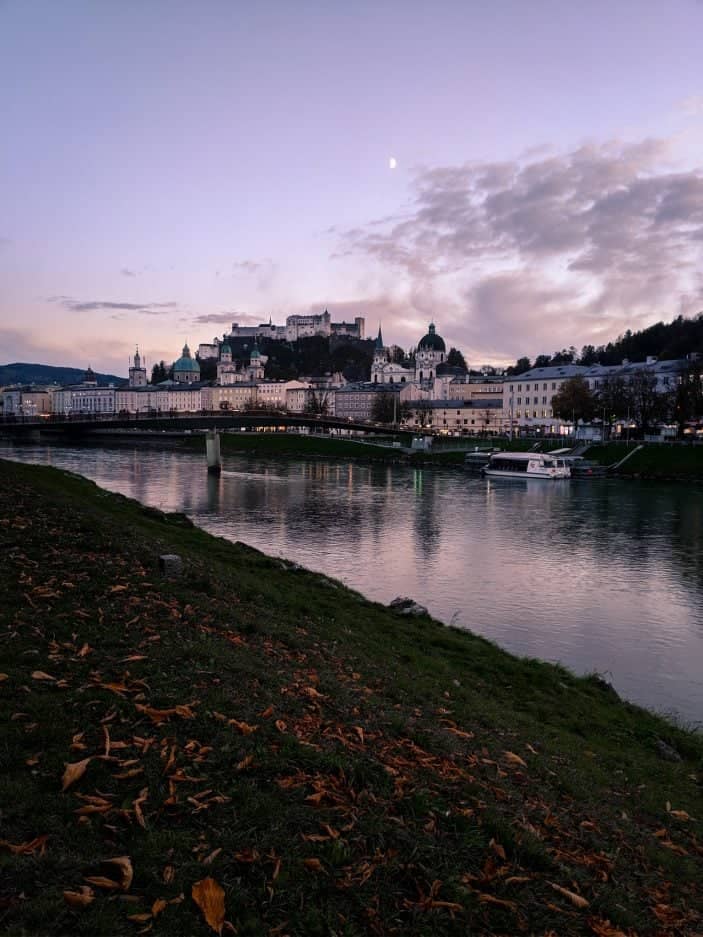 Things to Do in Salzburg
Fortress Hohensalzburg | Google Maps
This is probably the top thing to do in Salzburg. You can pay to enter the fortress, which we didn't do as it was a little over our budget. However, we did hike up to the fortress and had a great view of the city. It's also impressive enough from the outside.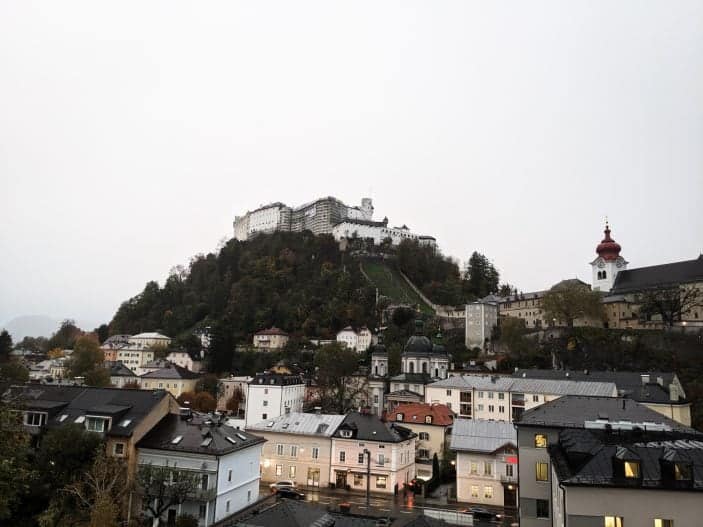 Salzburg Cathedral | Google Maps
Just a beautiful cathedral.
All Things Mozart
Salzburg is the birthplace of Mozart, so there are many Mozart-related things you can do. You can see Mozart's birthplace (which is now a museum), his residence (now a museum as well) and Mozartplatz, a courtyard with his statue. You can also find Mozart chocolates (Mozartkugel) all around Austria, which are delicious!
Mirabell Palace + Mirabellgarten | Google Maps
A 17th-Century palace with a garden.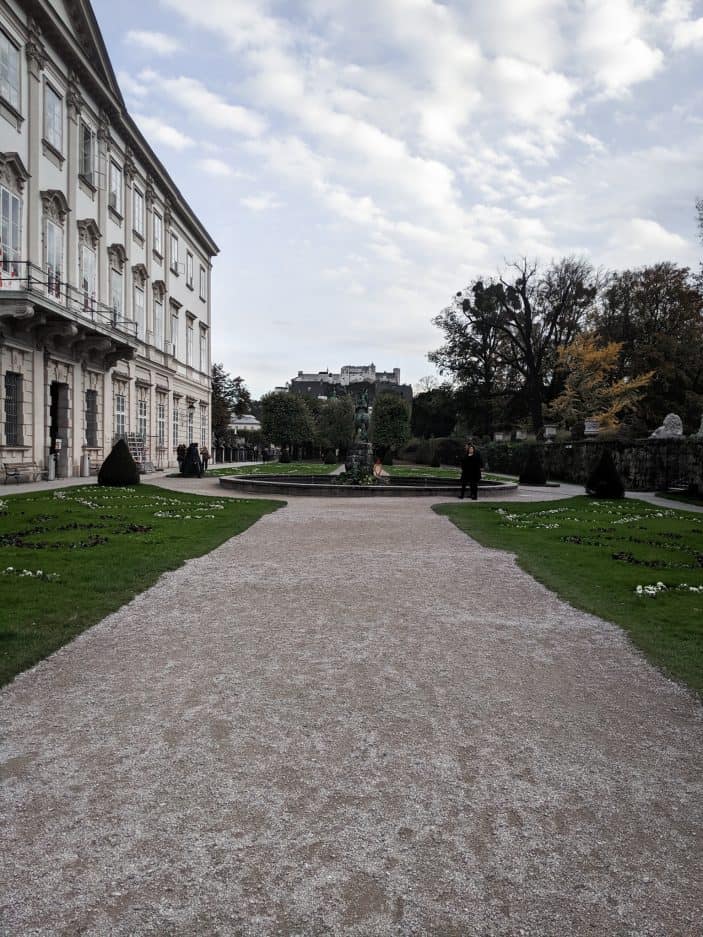 Kapuzinerberg | Google Maps
A great place for a walk in nature and to get good views of the city.
Where we Ate in Salzburg
The Green Garden | Google Maps
This restaurant was recommended to us and it's one of the few vegetarian restaurants in Salzburg. We stopped here for dinner and while it wasn't our favorite, it was good. I had their cauliflower tacos and Shaun had the "fish" and chips (they tasted a bit too fishy for my taste, if that's a thing). They apparently have a great brunch spread, so I'd try that next time for lunch.
The Heart of Joy | Google Maps
We stopped here for a late lunch on our first day in Salzburg. They have a good variety of vegan dishes. We both had their tofu sandwich and of course I had to take the matcha. The food was great, but I have to say, the vibe of the restaurant was a little odd and not my style. I'd still recommend it for a quick vegan bite!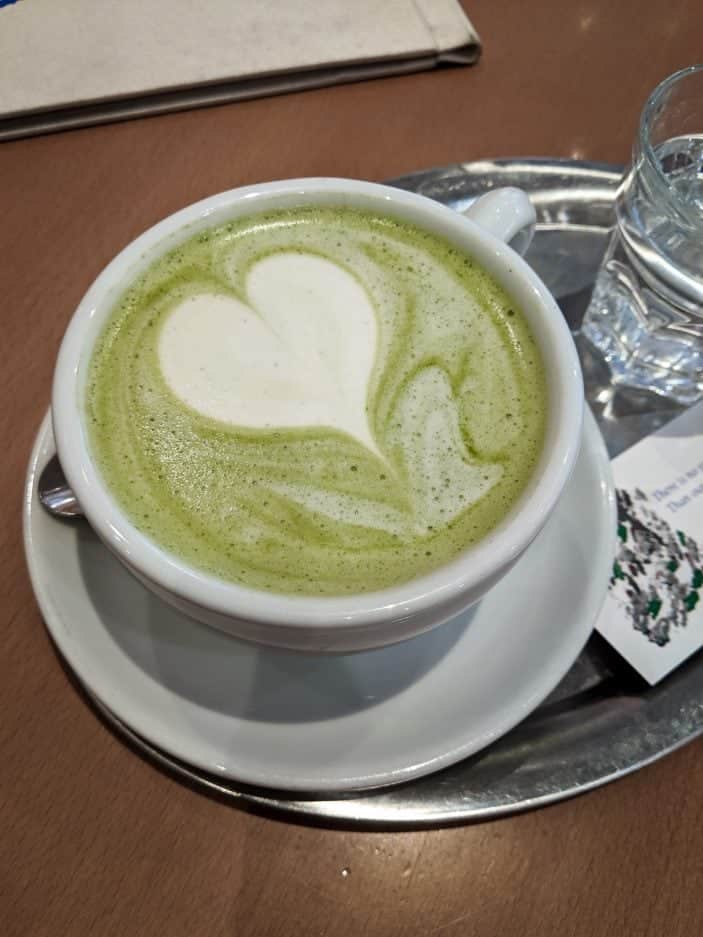 GustaV | Google Maps
This place was at the top of my list, but unfortunately we weren't able to make it work. It was closed during our short time in Salzburg. It does have great reviews and I'd highly recommend checking it out if you're in the area.
Hallstatt
Hallstatt is a very small village in the Austrian mountains and it was possibly my favorite place we visited in Europe. We did a day trip there from Salzburg and one day was plenty of time to visit.
There are a few things you can do if you're open to spending money, such as visit the salt mines or take a gondola up to the Dachstein Skywalk or the 5 Fingers observation deck. We would have loved to do these things, but we decided to do other cheaper adventures.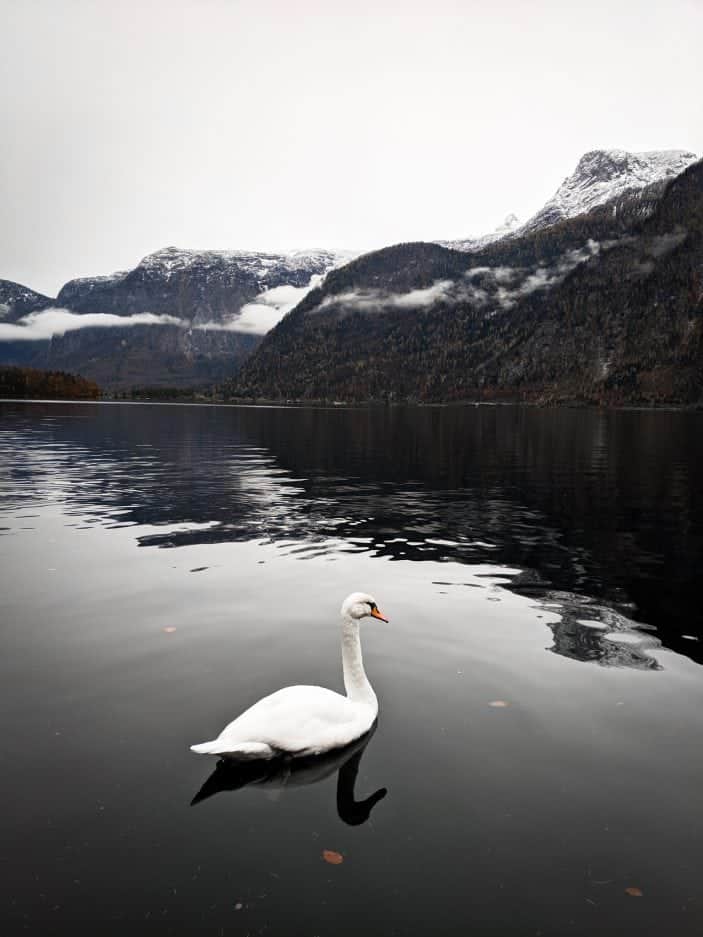 What we did in Hallstatt
We spent most of our day hiking up to Rudolfsturm, where there's an observation deck and a restaurant. It's also where you go to enter the salt mines. The hike took us less than 1 hour and we had beautiful views of Hallstatt and the mountains along the way. We had lunch at the top as the food options are limited in this small town.
For the rest of the day, we walked around the cute little village, looking at the views and shops. I'd recommend stopping at the classic village viewpoint for the best view (photo at the top of the post)!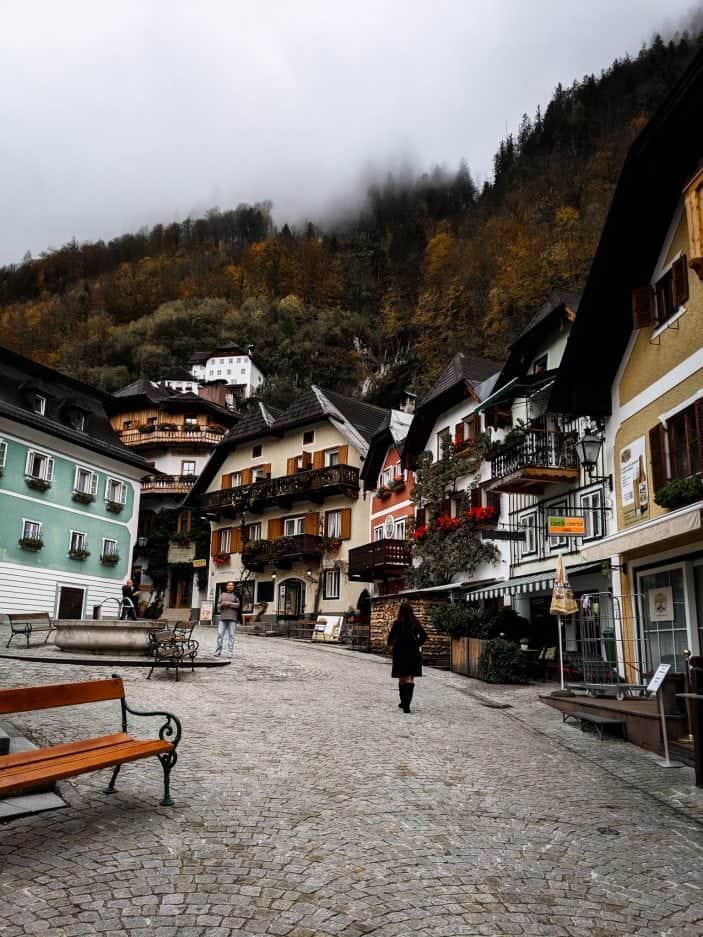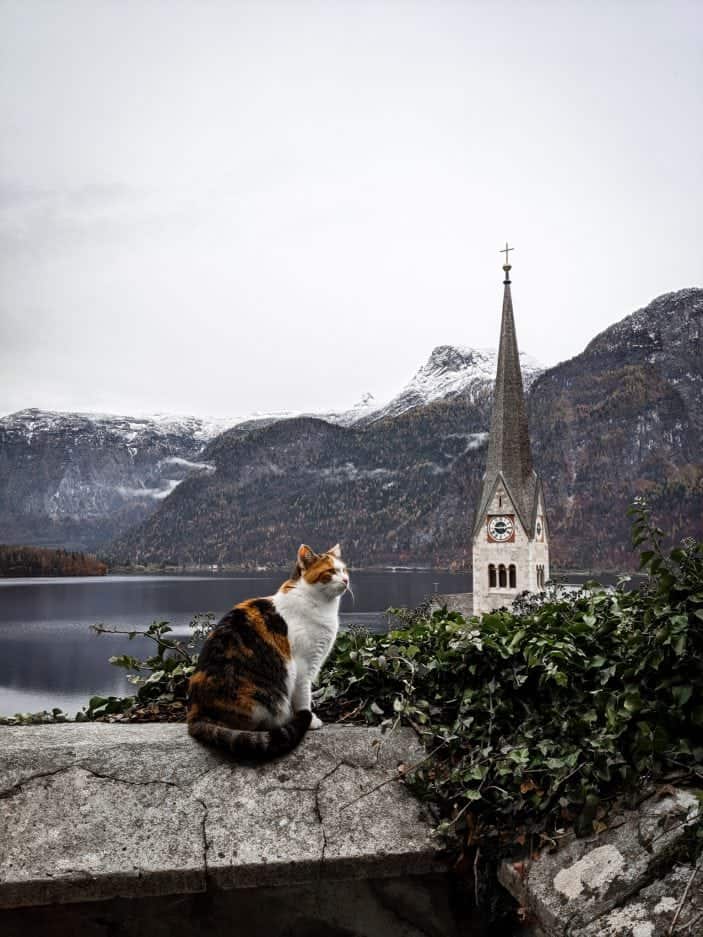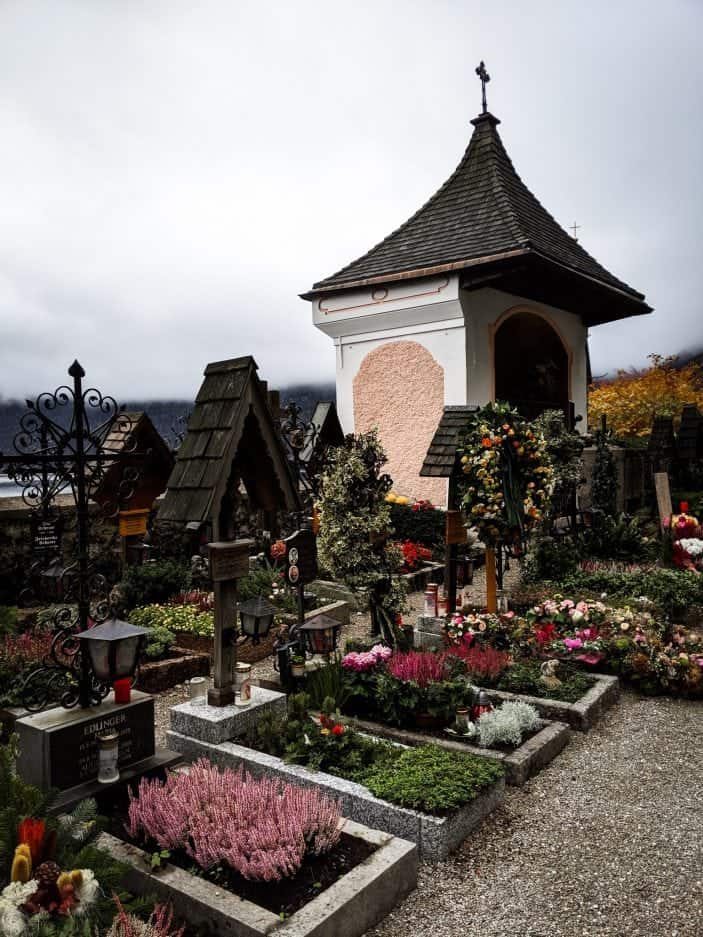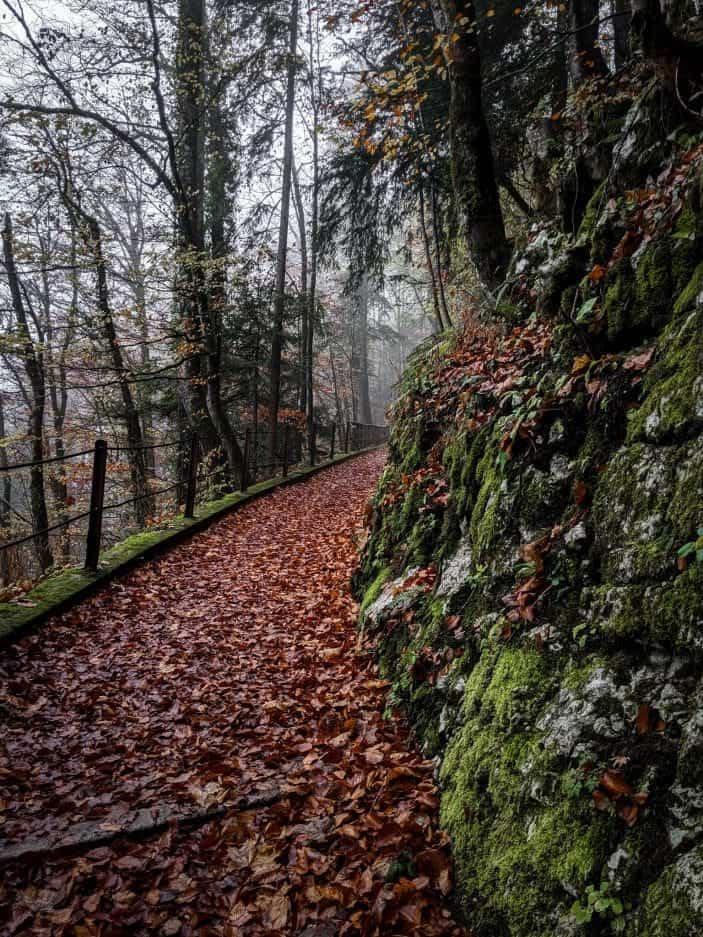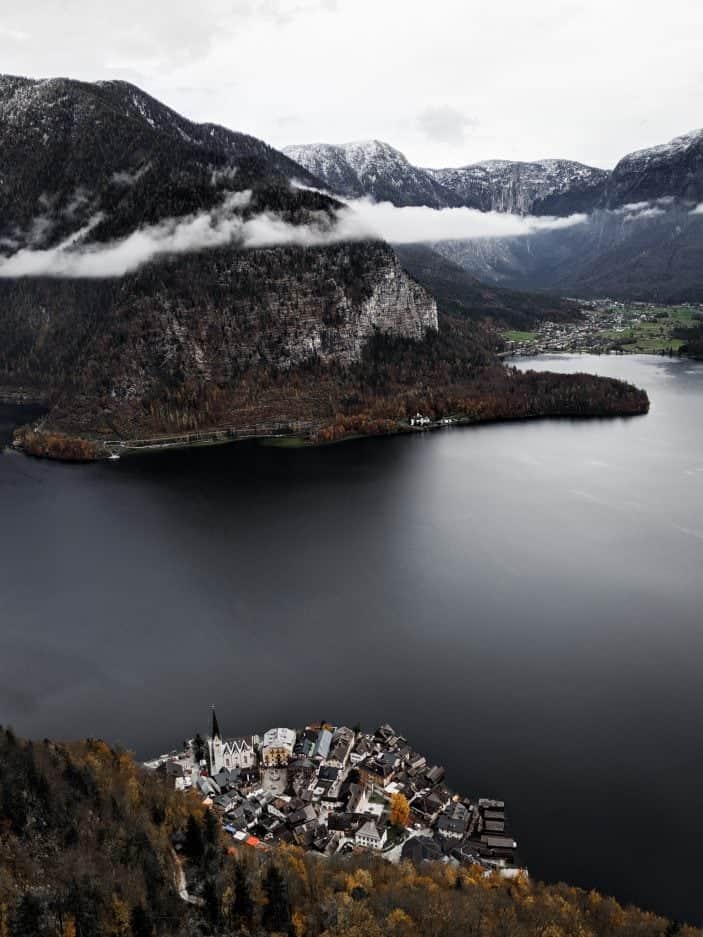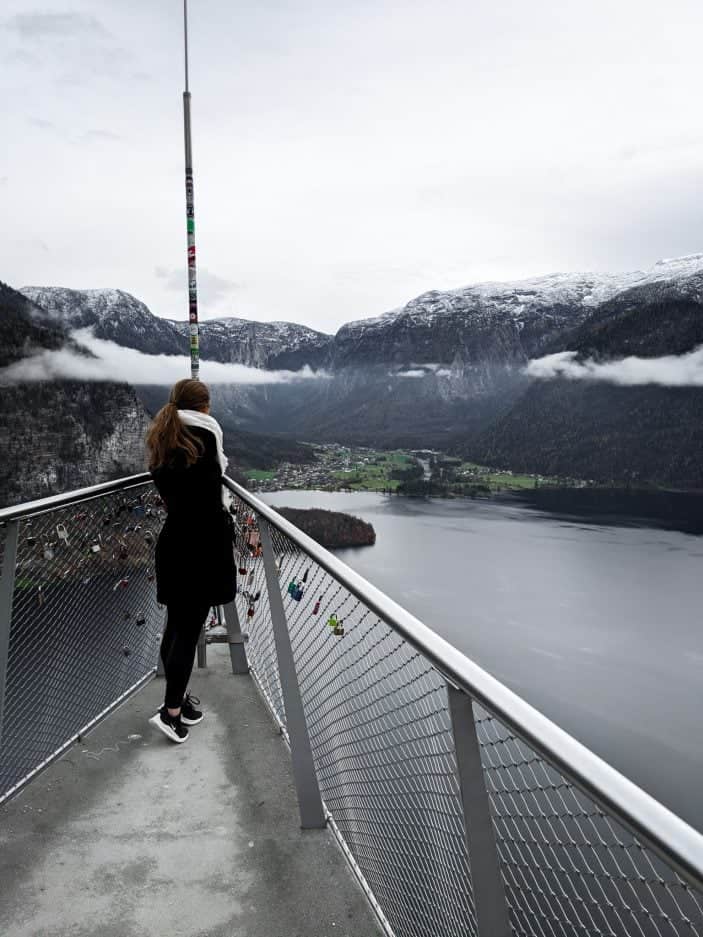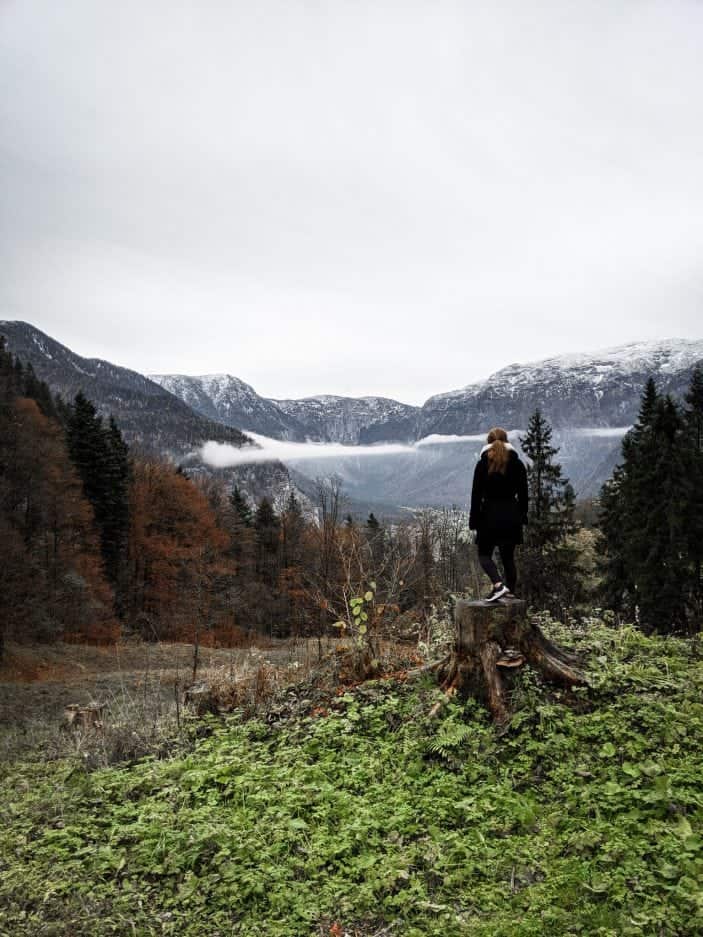 Our Austria Map
This was a long post, but I hope it was helpful!
Interested in more details on our time in Europe? Read my Europe guide here.