The Best Restaurants We Tried in Europe: A Vegetarian's Opinion
Learn more about the best restaurants we tried in Europe and the vegetarian meals we enjoyed the most.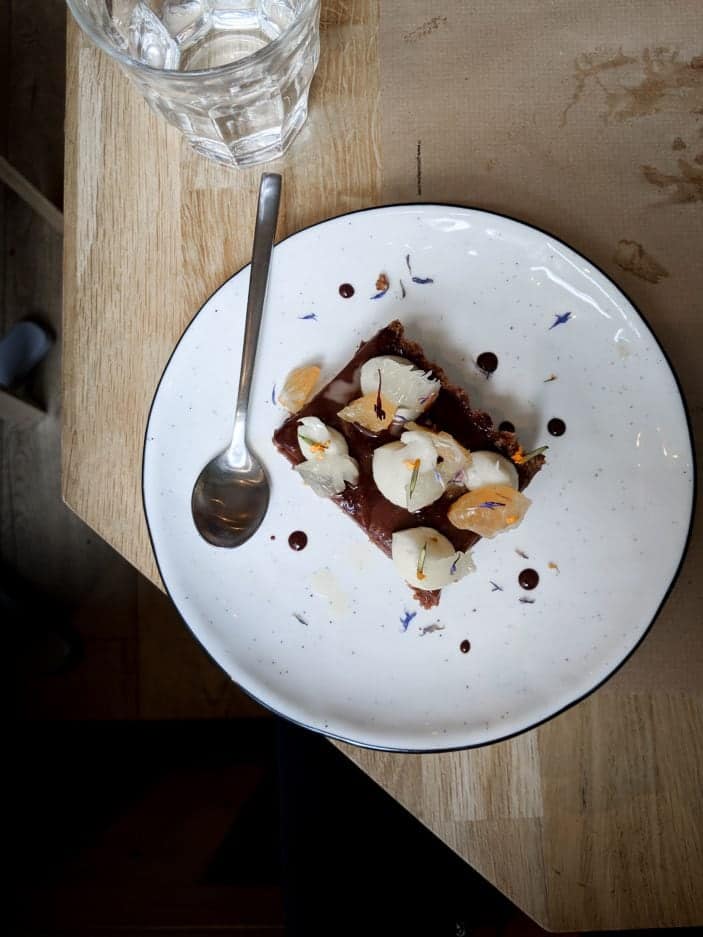 Another Europe post! And I'm talking about my favorite subject: food.
One of my favorite parts about traveling is trying different restaurants and dishes from other countries. Thankfully nowadays, it's very easy to find vegetarian (and even vegan) meals when traveling. Today I'm sharing the best meals we had while traveling across Europe for our honeymoon.
Where did we travel? We visited Spain, France, Italy, Austria, Switzerland, Germany and the United Kingdom. Every place offered something different!
Of course there are many restaurants that we didn't get to try. I'm sure there are many other great ones out there. This list is just from our experience and personal opinion. Also note that we traveled in 2019, so I can't guarantee that all of these restaurants will be available at the time that you visit. That being said, I hope you'll find some new places to try!
The Best Restaurants we Tried in Europe:
United Kingdom
Let's start with the UK because that's where we found most of our favorite restaurants. We stayed there the longest and got to try out many restaurants. London was full of good food!
Shaun would probably add by CHLOE to this list and I agree that it was good, but the restaurants I'm mentioning below were better in my opinion. Another one I enjoyed, but that didn't make the list was Farmacy. Their vegan mac and cheese was great, but everything else we tried wasn't amazing and the prices were high. That being said, here are our top restaurants from the UK!
I think I can safely say that this was my favorite meal of our entire 3 months in Europe. This Indian restaurant has several locations across the UK. We personally tried the Carnaby Dishoom. It's not vegetarian, but they offer many vegetarian and vegan options!
What we Tried: We started with the vegetable samosas and the okra fries to share. I then had their house black daal with naan bread and Shaun had their vegetable biryani. I also had their house chai with oat milk. Everything was absolutely amazing. I would fly back to London just to have that daal one more time.
Note: I would encourage you to make reservations far in advance! We decided to make reservations and ended up only having a spot on our last day in London (2 weeks later). They accept walk-ins, but it's risky.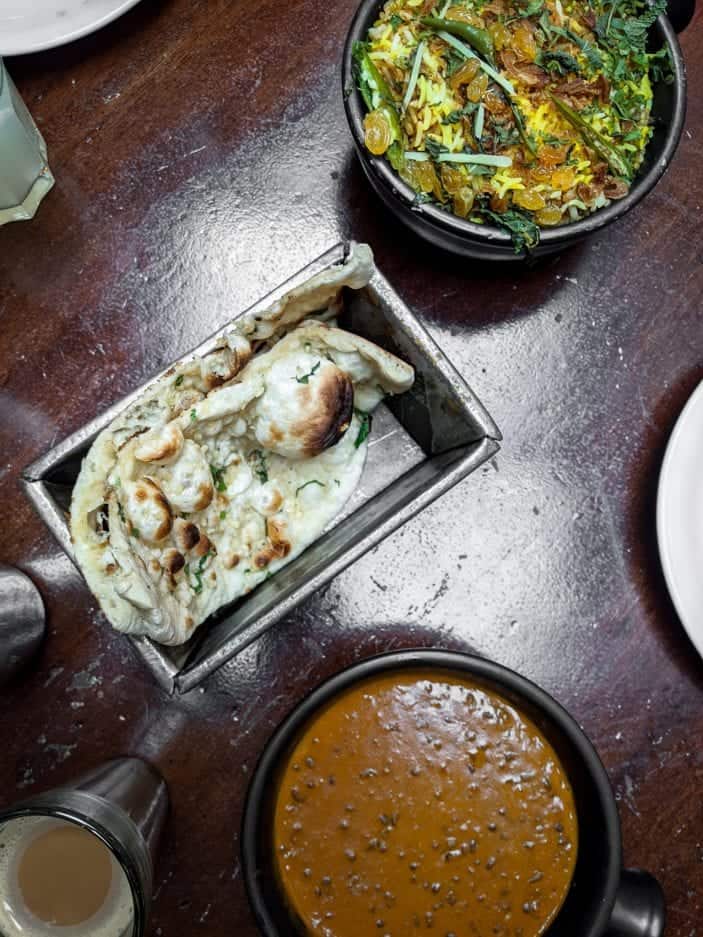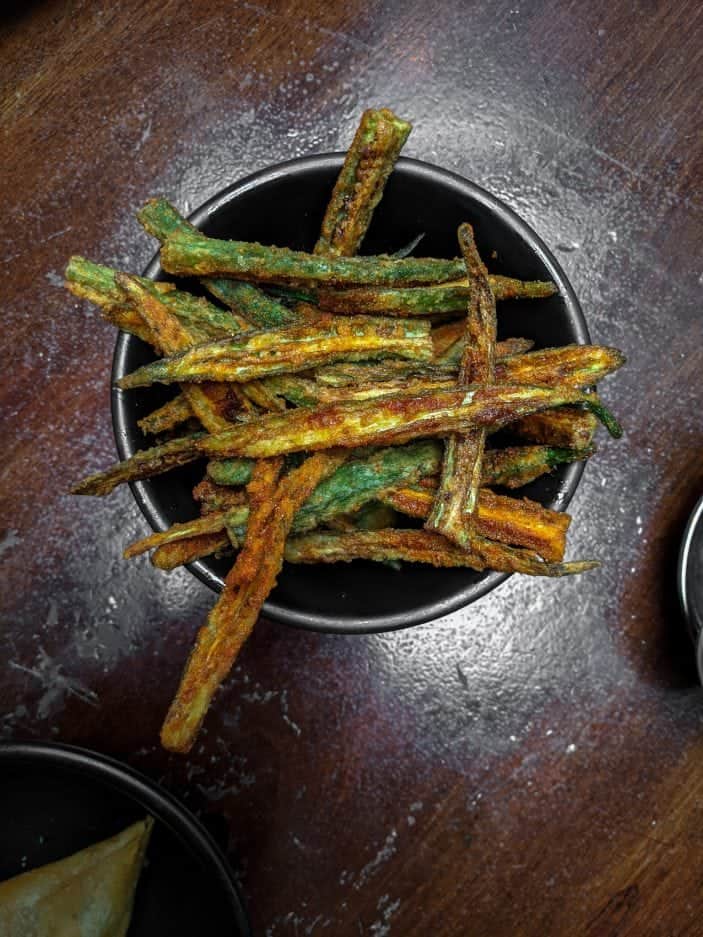 Wulf and Lamb – London | Google Maps
This was another one of our favorites and it's mostly because of their vegan mac and cheese. Trust me, it's incredible! We ate here twice, almost 3 times, and it was so worth it.
What we Tried: We shared their vegan mac and cheese both times and it's the best mac and cheese we've ever tried (vegan or not!). We also tried the Wulf burger, creamy linguine and smoked tofu Caesar. The Caesar wasn't my favorite, but otherwise, everything was delicious! They also have a great selection of vegan desserts (the brownie was great).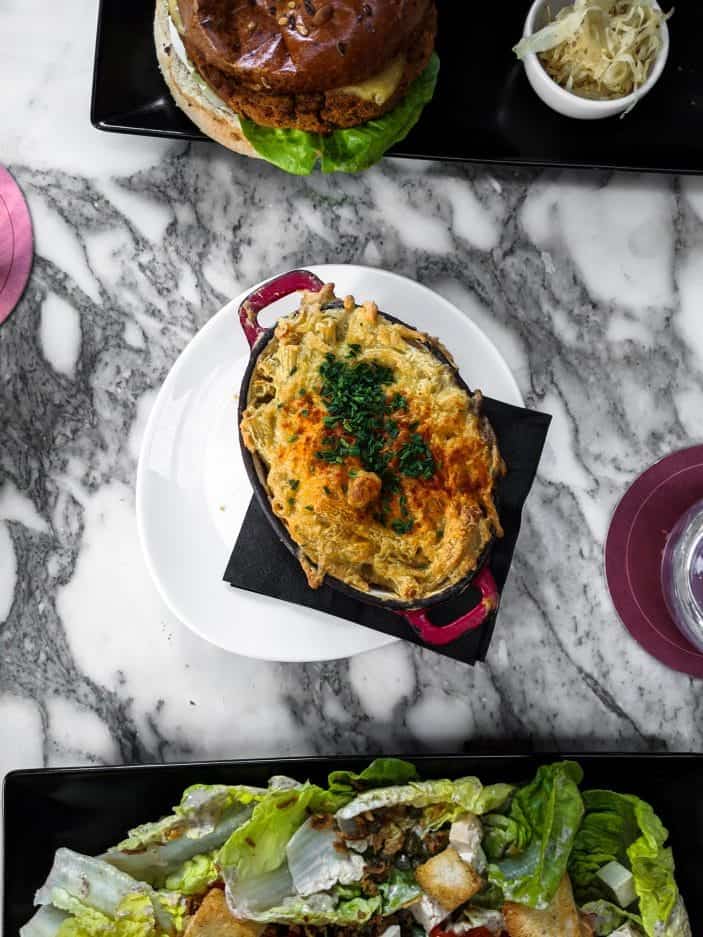 Mildred's Soho – London | Google Maps
We stopped at this vegetarian restaurant one night as it was recommended to us by many. It was so good! We had vegetarian burgers and fries and it was the best comfort food.
What we Tried: I had their halloumi burger and Shaun had their Teriyaki Chick'n burger. We also had the dumplings to share. Everything was delicious!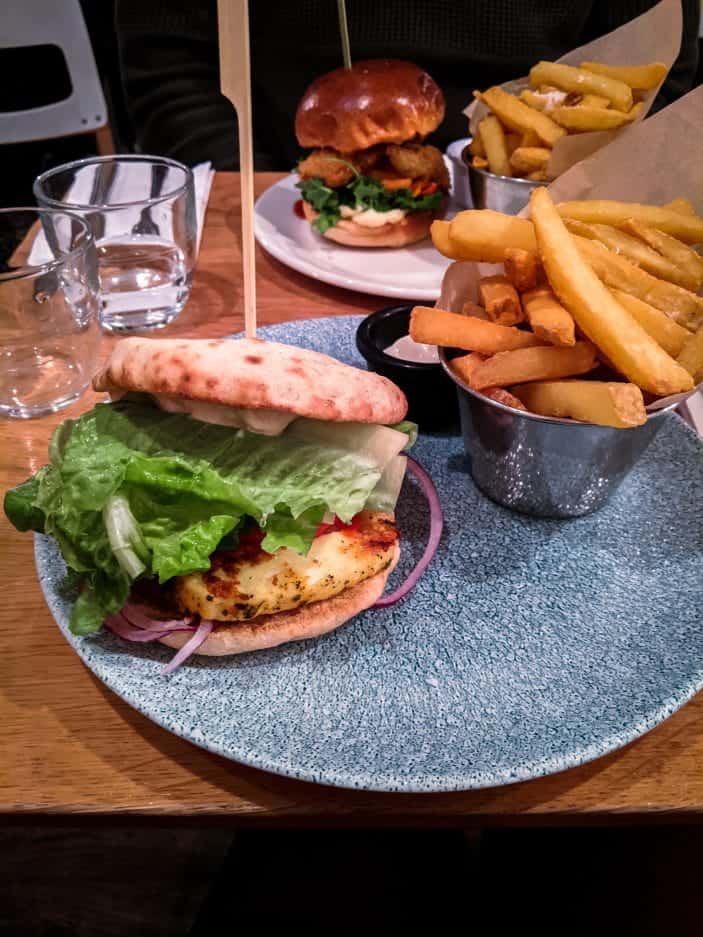 Paradise Palms – Edinburgh | Google Maps
I didn't expect to love this place so much, but I was pleasantly surprised! We had the best comfort food here after a long train ride from London to Edinburgh. It's vegetarian and offers tons of vegan options.
What we Tried: I had the most amazing vegetarian loaded fries and Shaun had nachos. I'd highly recommend the fries.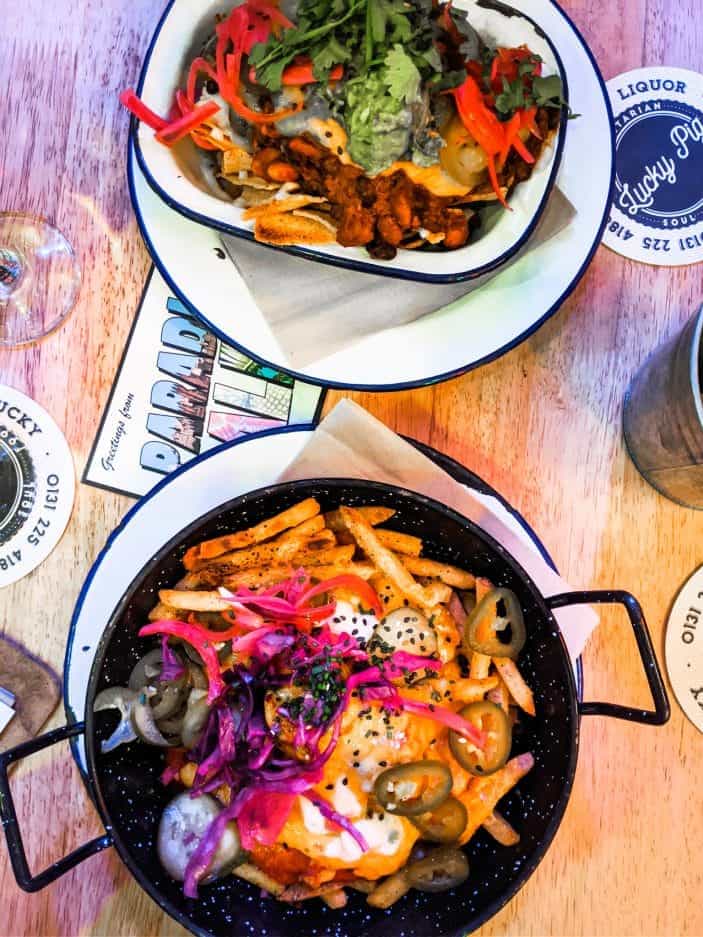 France
Of course we had some amazing pastries and coffee in France, but we also found some great places for vegetarian meals. Here's what we loved the most.
One of Shaun's favorites. This little spot in Nice serves vegan hotdogs with the best homemade buns and lots of toppings. We actually ended up here twice during our 2 days in Nice.
What we Tried: They have a few varieties of toppings and we tried the guacamole, original and chili.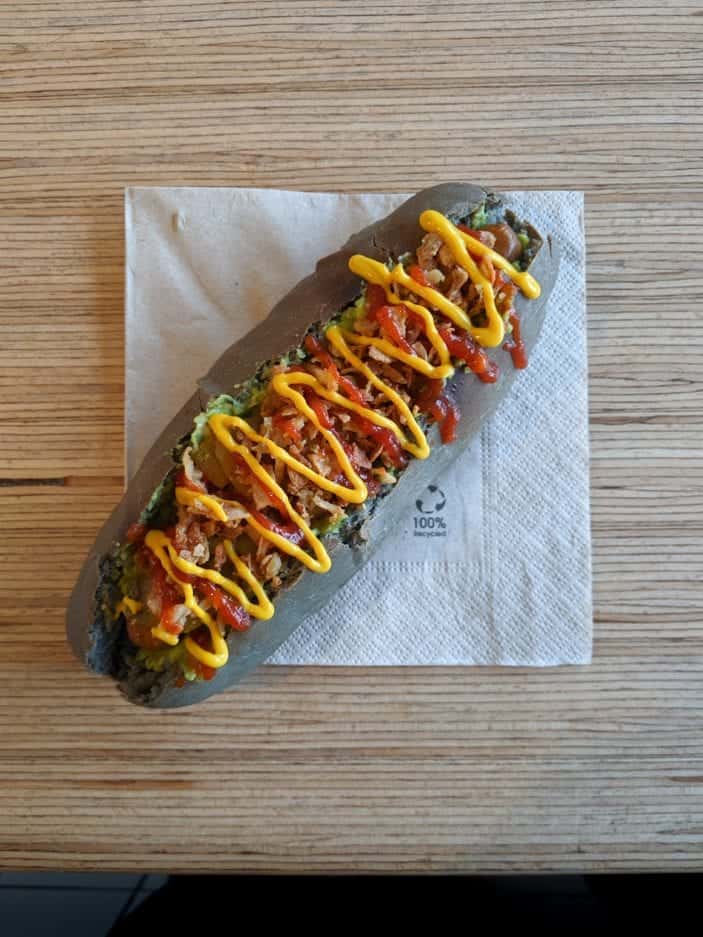 Another place in Nice where we ate twice over 2 days. All of their menu is vegan and their meals are nutritious and flavorful. I'd highly recommend it if you're looking for a light and nutritious lunch.
What we Tried: Shaun had their falafel wrap twice, which is wrapped in a buckwheat pancake. I tried their curry. We also tried a clementine tart and pink smoothie.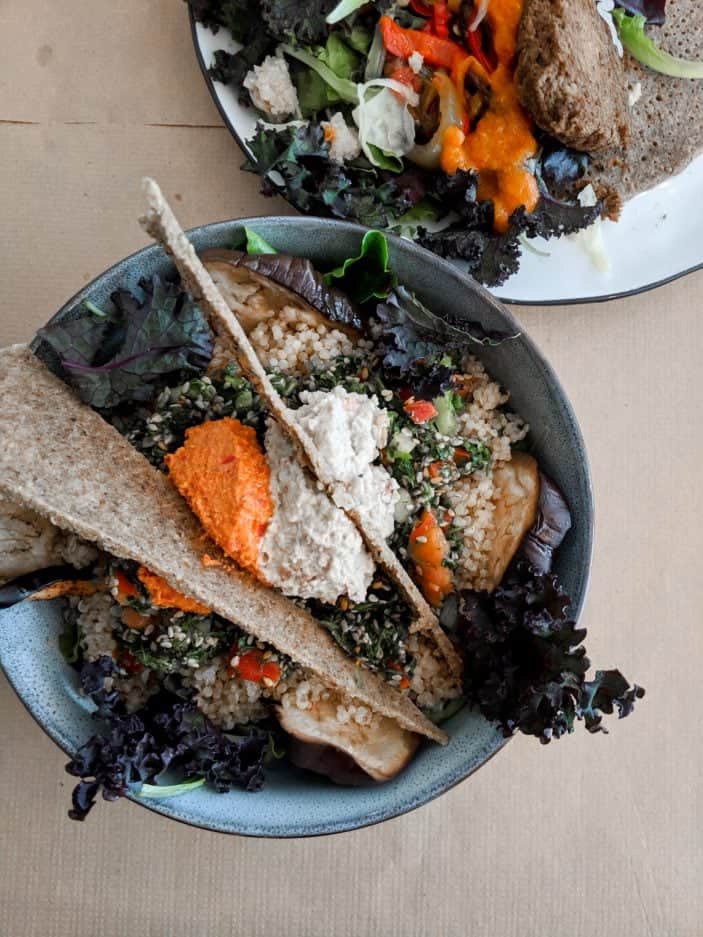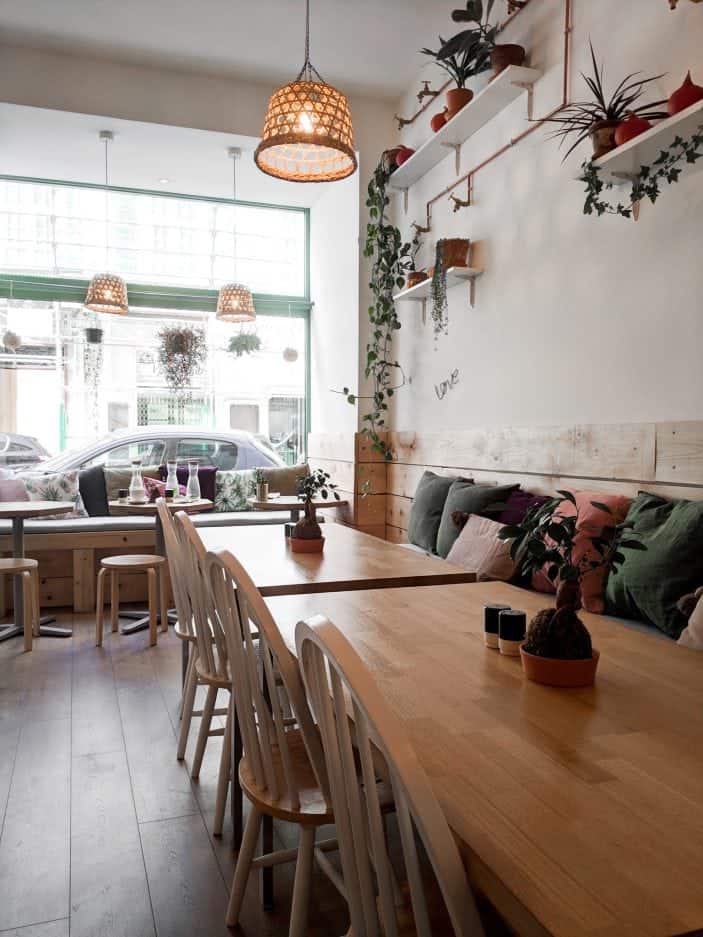 This place was recommended to us by many and we loved it! It's a great place for brunch in Paris. It's not vegetarian, but they offer many plant-based options.
What we had: I had their scrambled eggs and salsa on sourdough crumpets and Shaun had the avocado on crumpets. We also had the banana bread with espresso butter to share. It was so good. I'm still dreaming about that banana bread.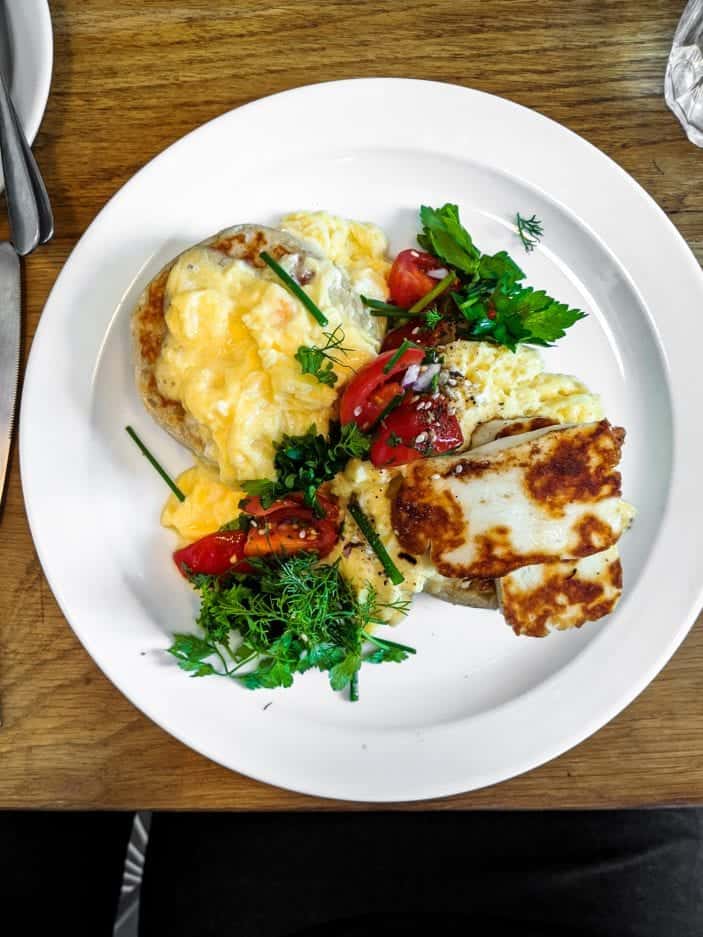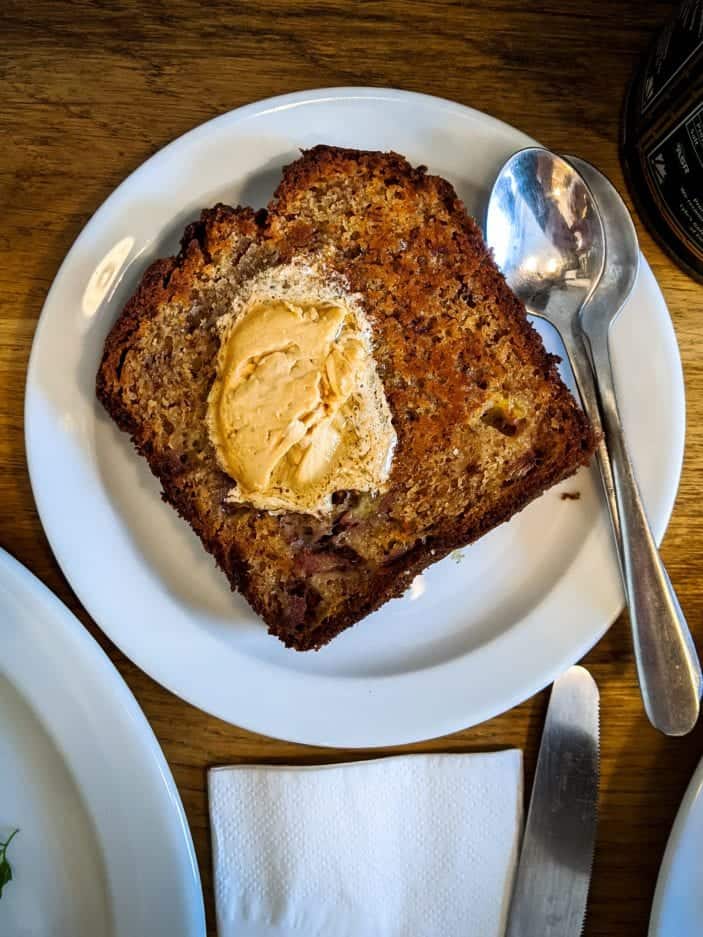 Sundays in Soho – Paris| Google Maps
Another great place for brunch in Paris. This was my favorite meal in Paris. It gets quite busy, so go early or make reservations if you can. This is another place that's not vegetarian, but that offers many vegetarian and vegan options.
What we had: I had their Greenback avocado toast (toast with avocado, feta, eggs and tomatoes) and a matcha latte. Shaun had their morning nourish bowl (eggs, mushrooms, kale, potatoes and avocado). Both were amazing and these were the best avocado toasts I had on our entire trip. Trust me, I had many avocado toasts.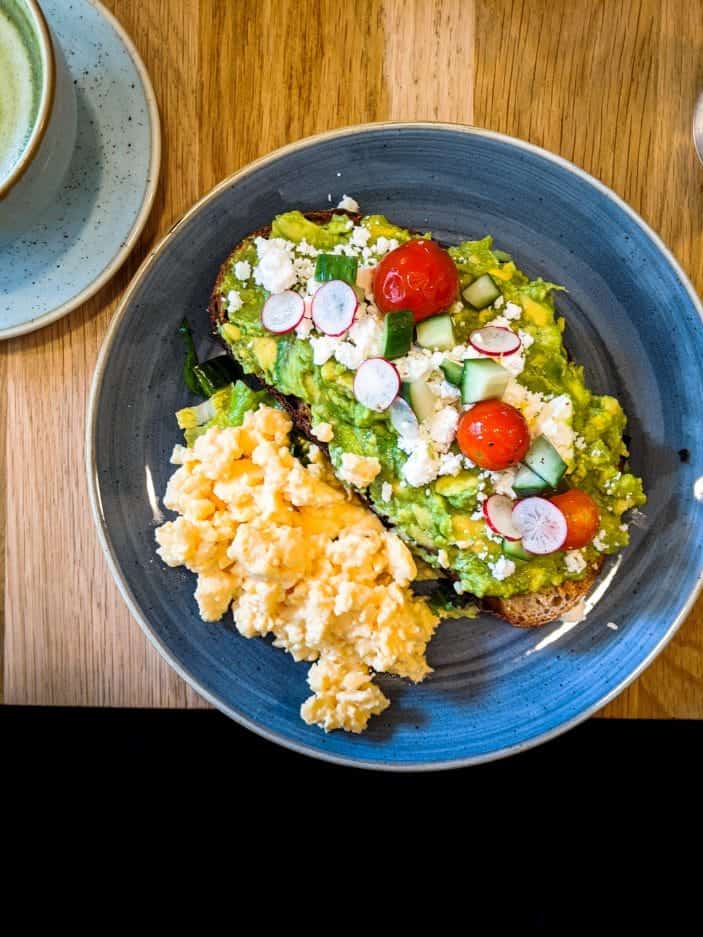 Italy
Surprisingly, none of the pizza we had made this list. Don't get me wrong, we enjoyed some good pizzas, but they didn't compare to these great places.
La Giostra – Florence | Google Maps
This was a close second on or list (after Dishoom in London). It was possibly the best dining experience I've ever had. The service was incredible and while it is on the expensive side, you get so much with your meal!
What we Tried: The menu was written in Italian, but we had a mushroom tagliatelle dish and a pear and ricotta ravioli. For an appetizer, we went with burrata, served with bread, honey, jam and pine nuts. SO good. Not only that, but they also serve a 3-bite appetizer with prosecco, then lemoncello after the meal, all on the house (or at least included in the price).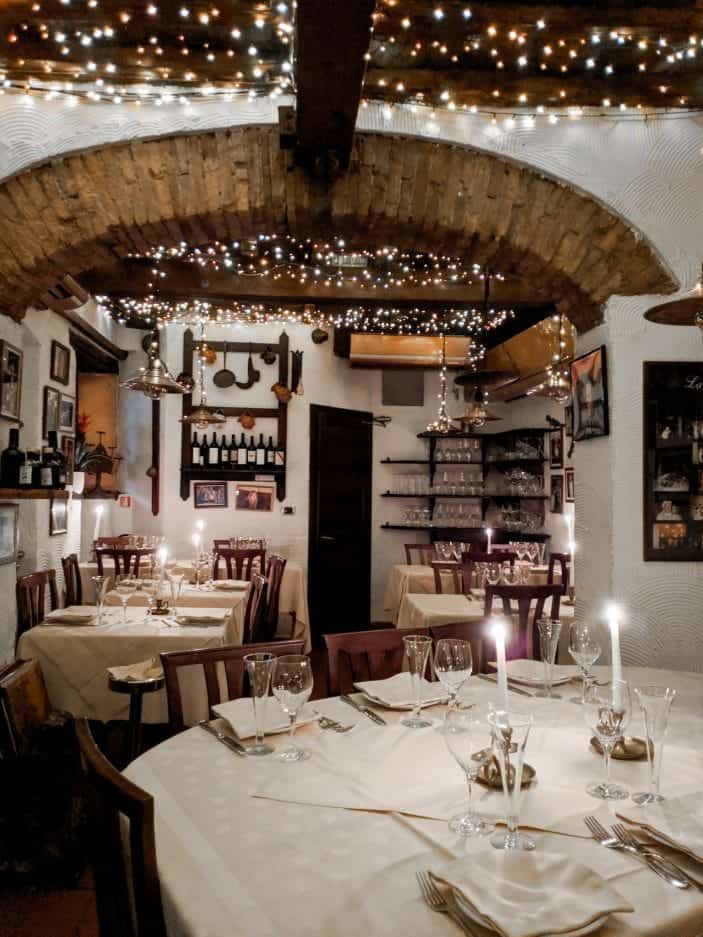 Gelateria Edouardo – Florence | Google Maps
This was my favorite place for gelato because unlike most other gelato shops, this one served many vegan options! It's also next to the Cattedrale, making it convenient. We ate our gelato while looking at the view.
What we Tried: Shaun had their red wine sorbet and dark chocolate gelato (both very good). I also had the dark chocolate and their pistachio gelato. The pistachio was my absolute favorite. It tasted like a sweet, buttery cookie to me. Shaun didn't like it as it's sweet and salty. I personally LOVE sweet and salty treats, so if you do too, give it a try.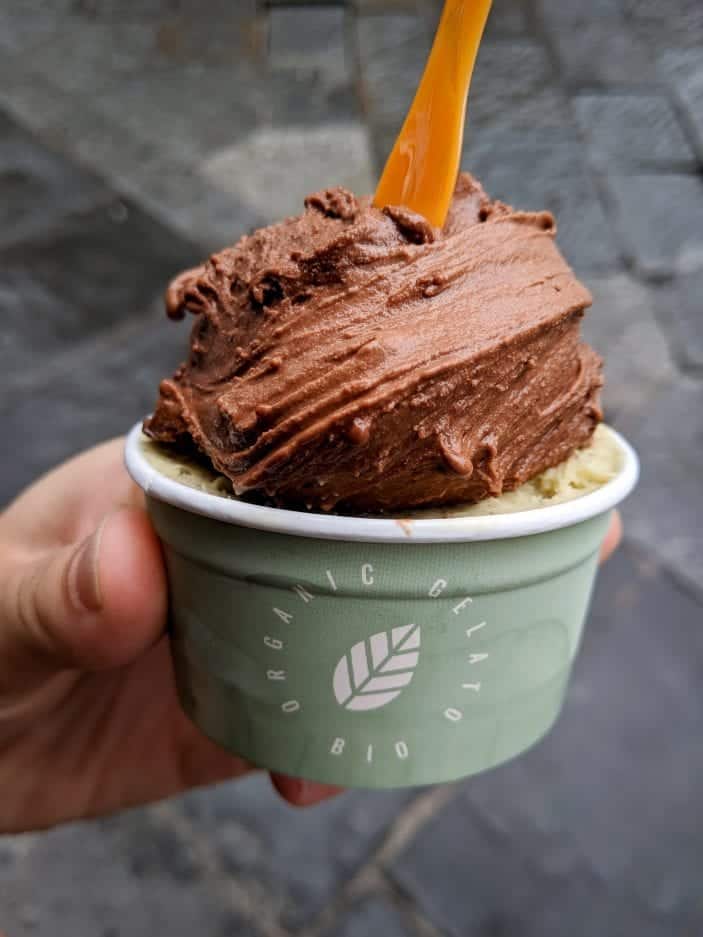 Spain
While we spent 3 weeks in Spain, we cooked mostly from our little Airbnb in Lloret de Mar. However, we did visit Barcelona one day and had some great vegetarian food. One made our list.
Flax & Kale – Barcelona | Google Maps
I debated adding this one to my list, because the ravioli I had wasn't great, but the truth is, everything else was amazing. It's more of a chic restaurant in Barcelona and everything is vegetarian!
What we Tried: Like I said, I had ravioli, which wasn't great, but Shaun had some great jackfruit tacos. For starters, we shared the mushroom toast and we LOVED it.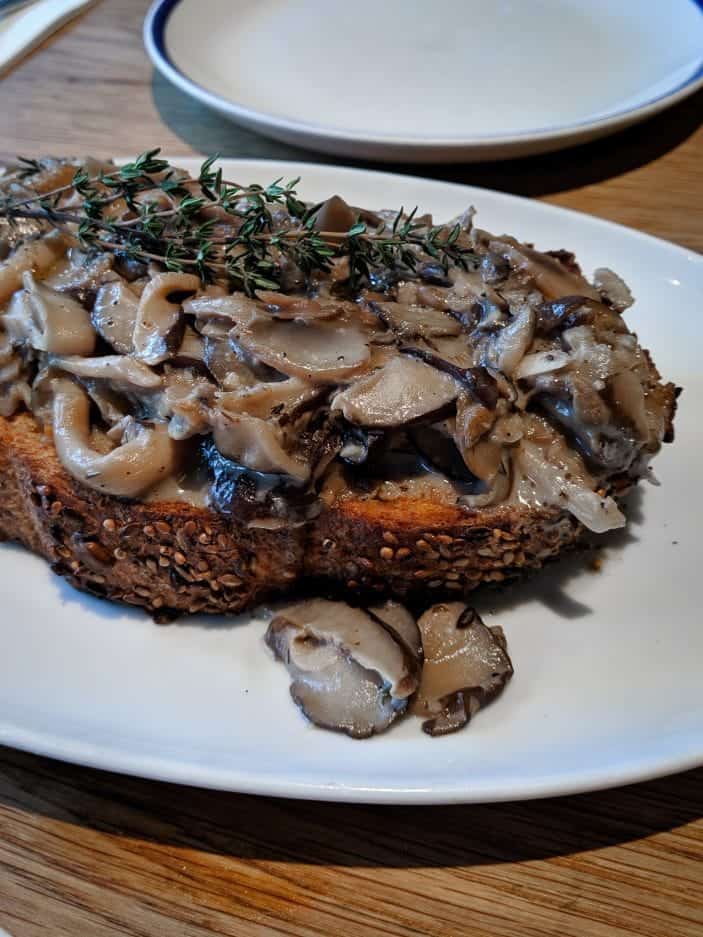 Germany
We only spent 3 days in Germany (more specifically Munich) and there were so many vegetarian restaurants to choose from. As our time was limited, we checked for the best reviews and ended up in this great place…
Gratitude Eatery – Munich | Google Maps
This is one of the only restaurants we tried in Germany, but it was so good. We stopped here for lunch and while the options were limited, they were all great.
What we Tried: Shaun had an incredible vegan burrito and I had a grilled avocado on rice.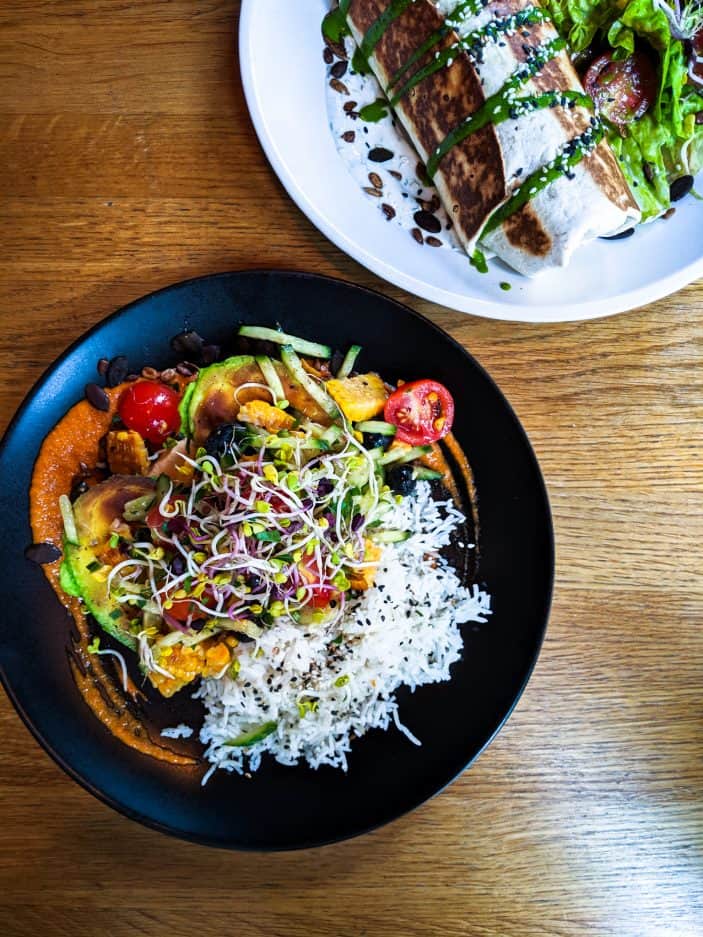 Bonus:
Haus Hiltl (Zurich, Switzerland). I'm mentioning this one because it's probably my biggest regret. It's the oldest vegetarian restaurant in the world and we didn't try it! It has great reviews, so I think it's definitely worth trying. We did stop at their shop, where they serve quick sandwiches, vegan ingredients and snacks.
None of the restaurants we tried in Switzerland and Austria made the list. It's not that we didn't have good food, but our meals didn't compare to the ones mentioned above. It's worth mentioning though that we found this little co-working coffee shop in Vienna that was amazing. I'm still thinking about it. The matcha latte and raw slice were both great and the atmosphere was perfect for working on a cold, rainy day.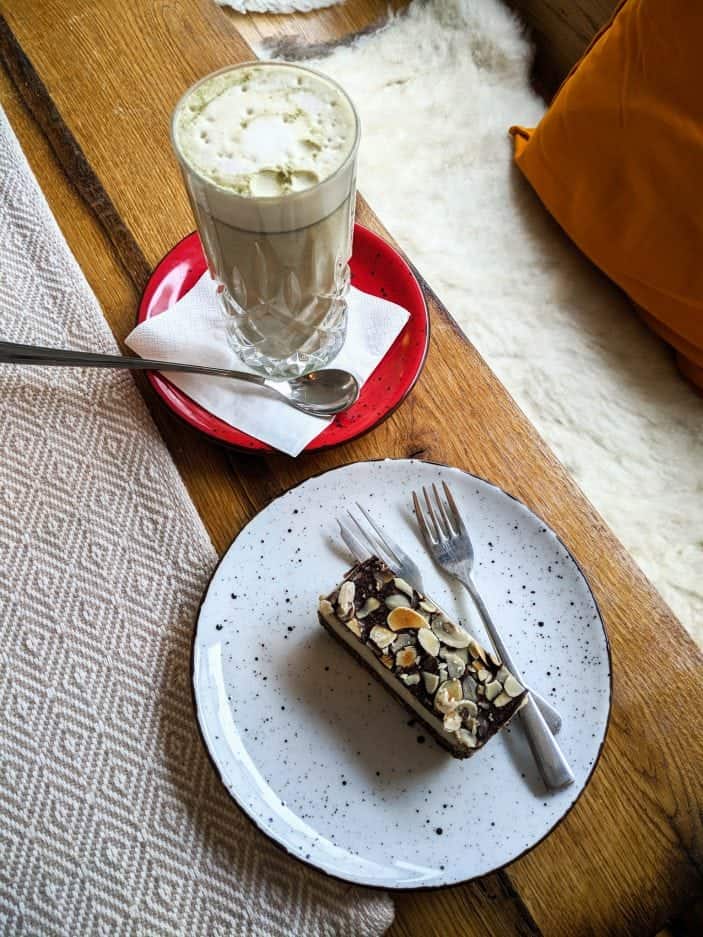 Want to know what other restaurants we tried in Europe? Check out my travel guides for Barcelona, Southern France, Tuscany, Austria, Munich, Switzerland, Paris, London and Edinburgh. Or you can check out my complete 3-month Europe guide here.
Have you tried any of these restaurants? Did we miss something good? Let me know in the comments!