18 Easy Date-Sweetened Holiday Treats
Sharing 18 easy date-sweetened holiday treats made with wholesome, plant-based ingredients (or with a vegan option). Many of these treats can also be made gluten-free and nut-free! There's something for everyone.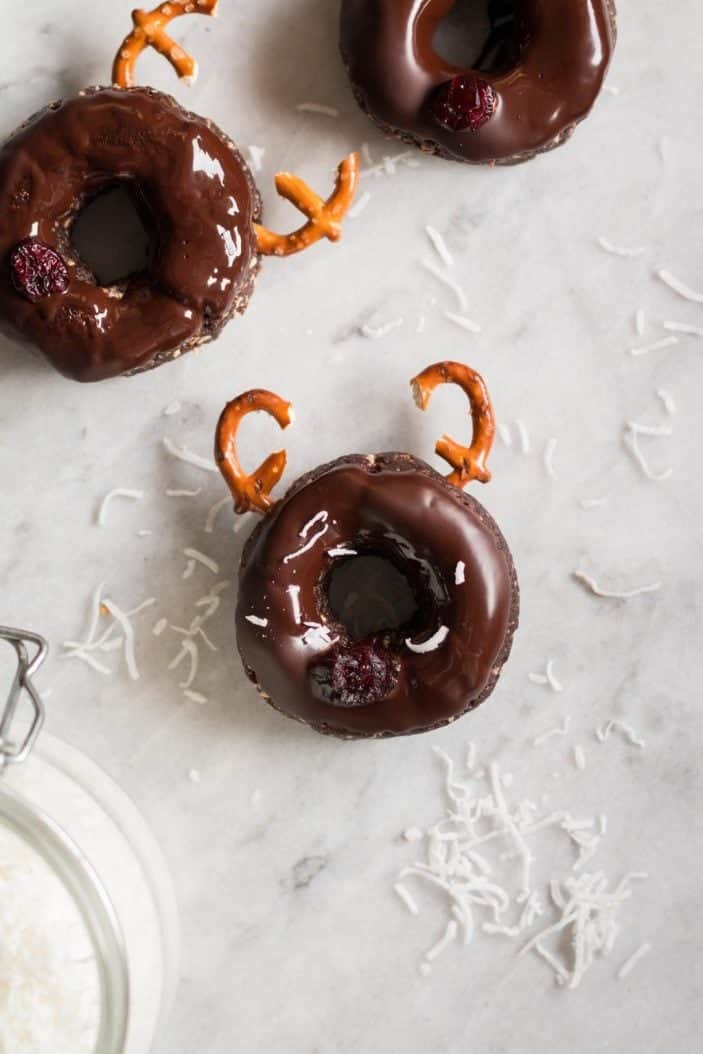 The Holiday season is here and I couldn't be happier. This is of course my favorite time of the year and I'm excited to be spending it in Europe this year. Switzerland, Paris and London are definitely places I want to spend the Holiday season.
One thing I do miss: My kitchen. I've been missing making my homemade treats since we left for Europe, but I'm compensating by trying the amazing treats they have here. I really can't complain about that.
So for those of you who are home and are looking for wholesome treats to make this season, I have you covered. Today I'm sharing 18 date-sweetened treats, all plant-based (or with a plant-based option) and many being gluten-free. Some are even nut-free or have a nut-free options!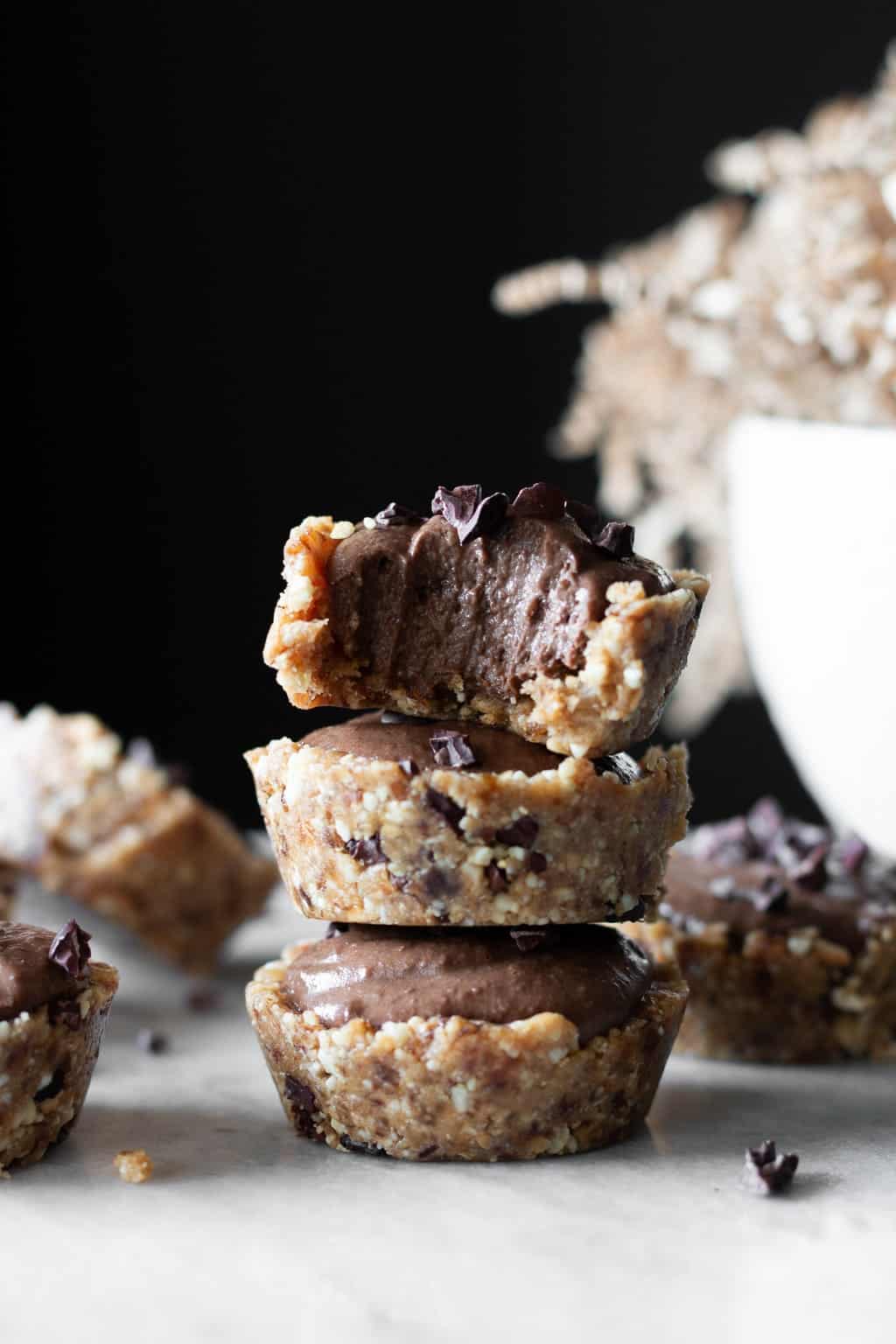 Little cookie dough cups filled with chocolate mousse. These no-bake bites are made with cashews, dates, coconut milk and a few more simple ingredients. They also keep well in the fridge or freezer, making them a perfect make-ahead treat.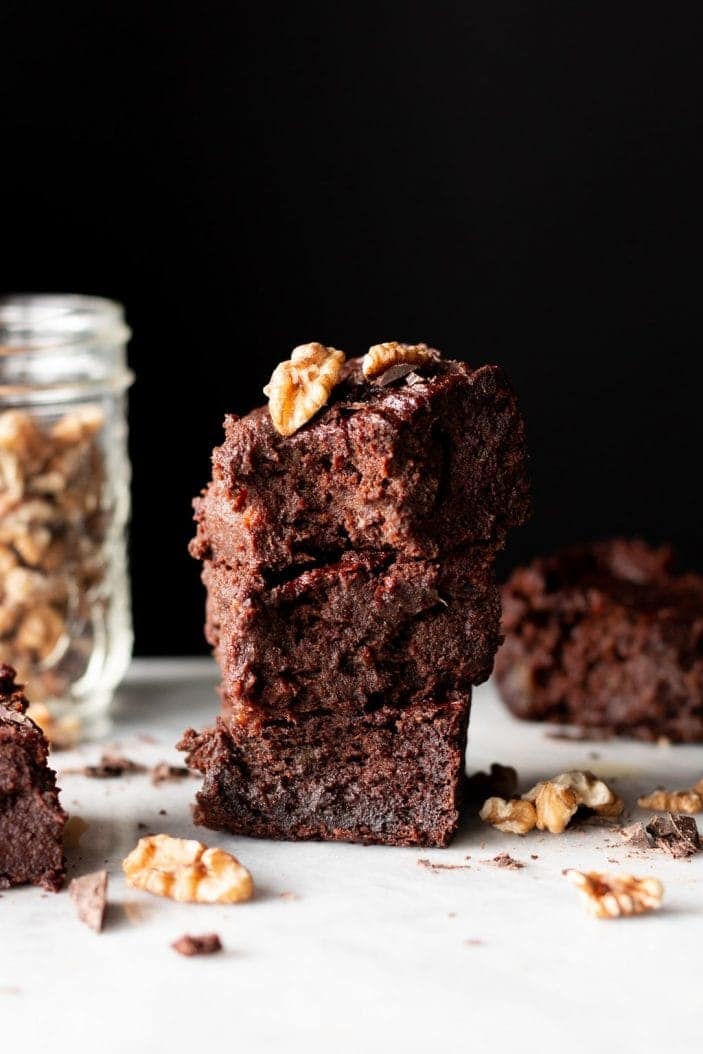 These fudgy brownies have gotten great reviews from readers and for good reason. You can't even tell they're sweetened with dates (and applesauce) and are free of gluten. Great for those who can't have gluten at your Holiday feast.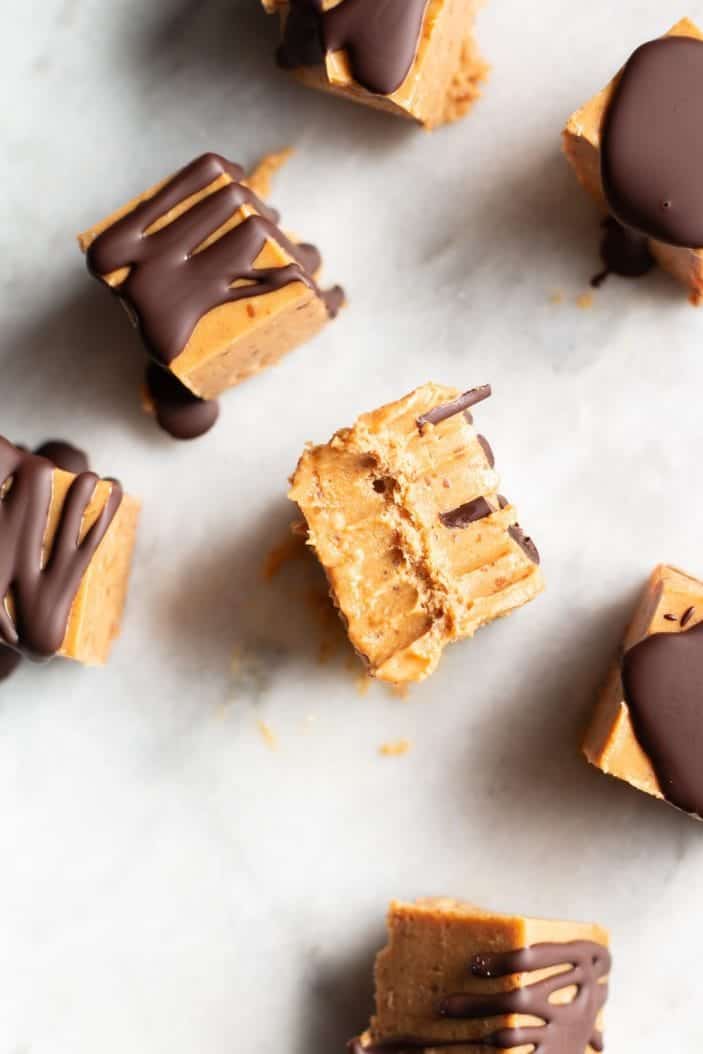 A rich and creamy fudge that's made with only 3 ingredients: dates, peanut butter and cacao butter (or coconut oil). Add a pinch of salt and a drizzle of chocolate to take it to the next level. With this peanut butter fudge, a little goes a long way. Plus, it's another great make-ahead treat you can leave in the freezer.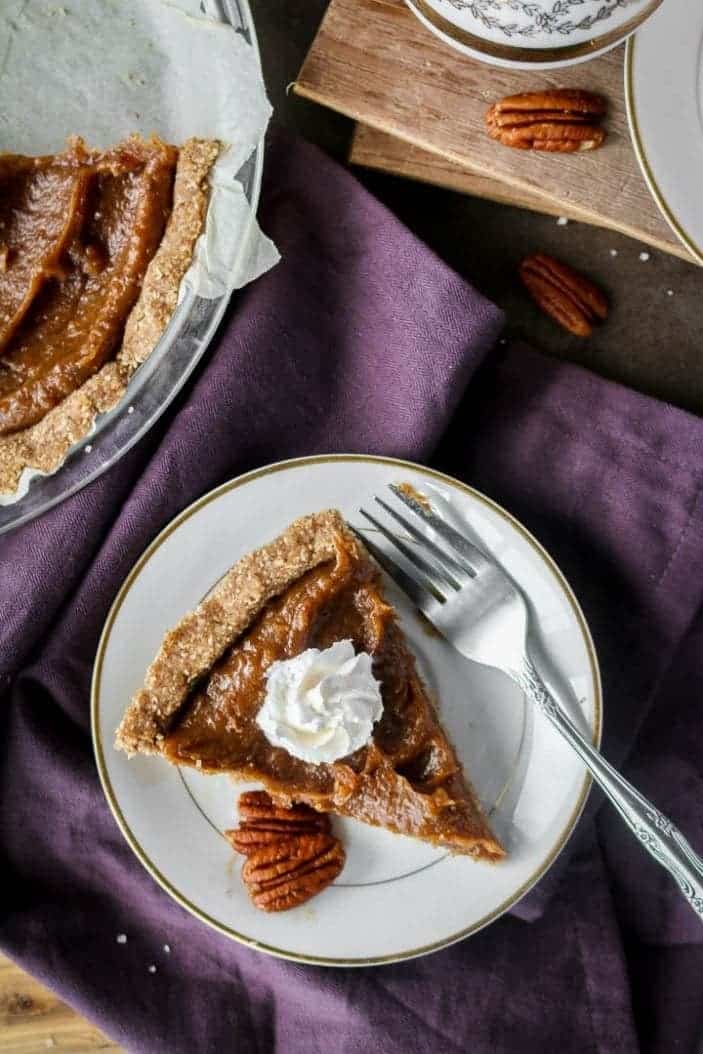 One of the oldest recipes on the blog, but I promise, it's a good one. Just a simple oat crust topped with a quick and easy date caramel. Top it with pecans for a crunch.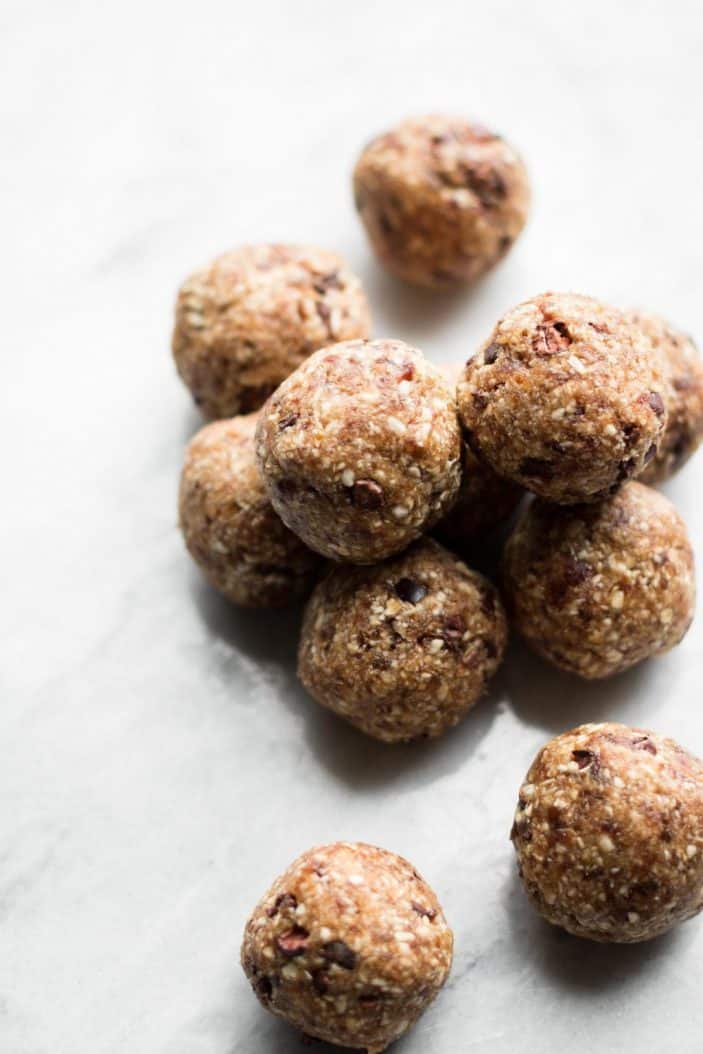 These cookie dough bites are good all year long, but I love making them as part of a "truffle" platter, along with other no-bake bites. They're ready in less than 15 minutes and are a real crowd-pleaser. Plus, they can be made over a week in advance and kept in the freezer!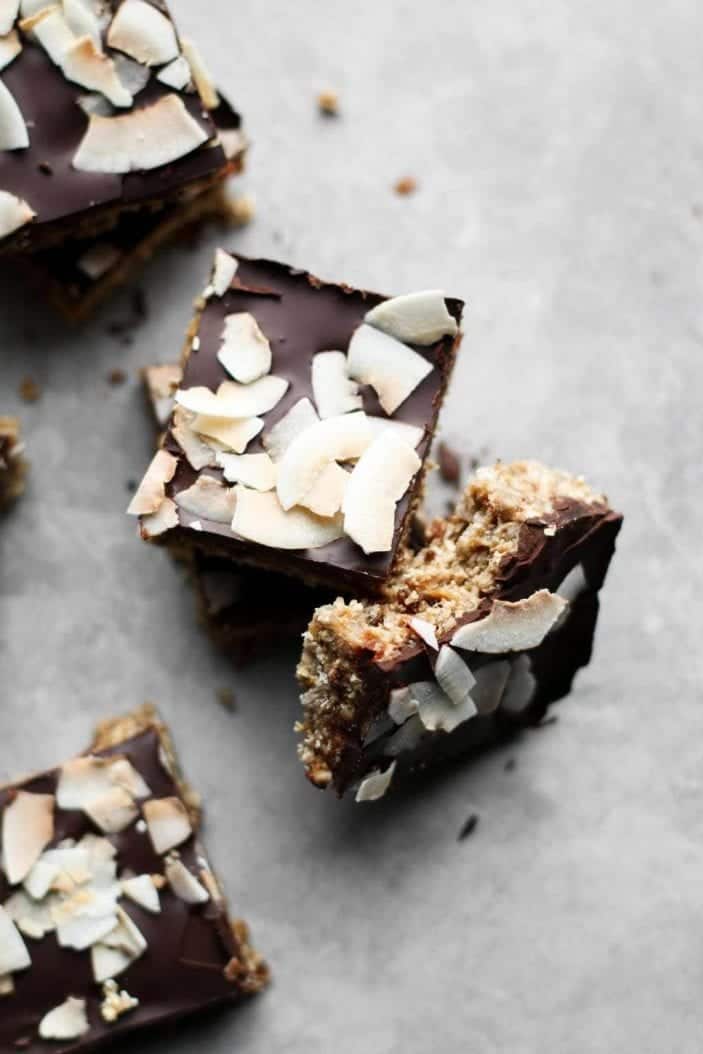 Not specifically a Christmas recipe, but there's nothing stopping you from making them for the Holidays. They're simple and can be decorated as you wish.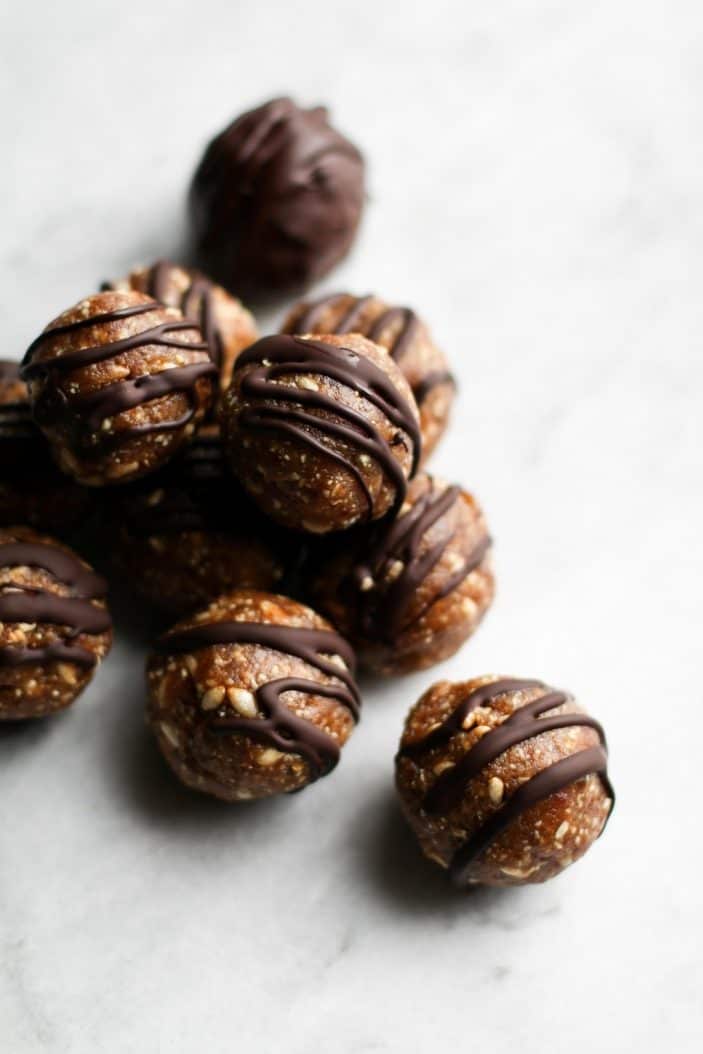 One of my favorite traditional Christmas treats, made "healthier". These bites are made with just a few simple ingredients, including dates, peanut butter, peanuts and rice crisps.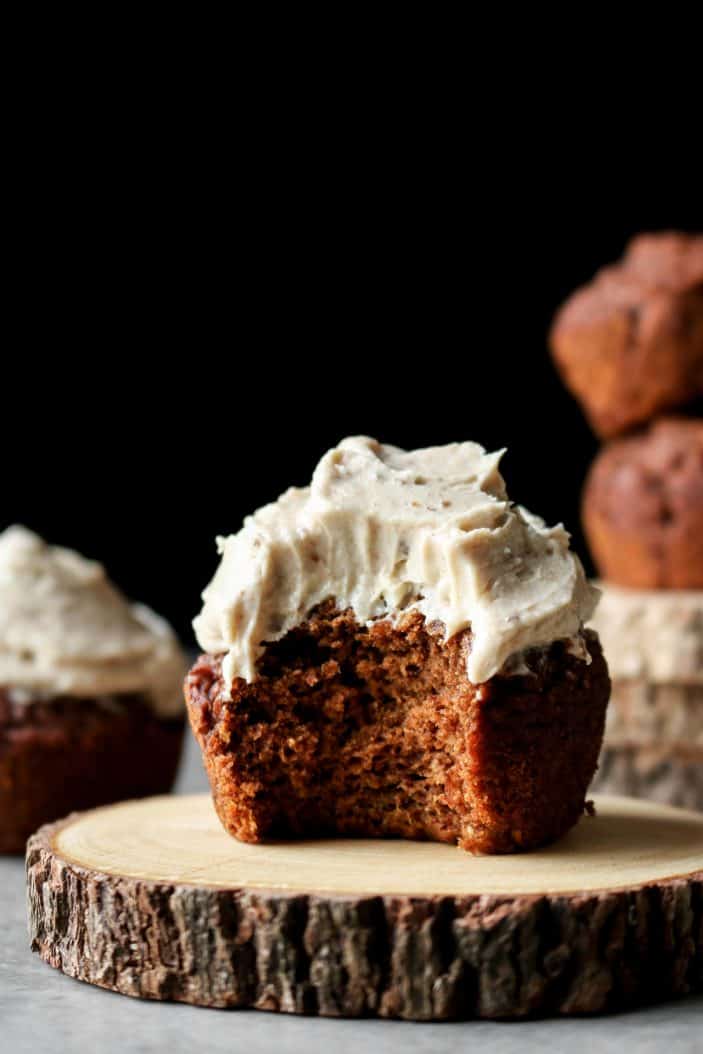 These pumpkin cupcakes can easily be made vegan by adding a touch of water instead of the egg and by using vegan cream cheese. They're also great as muffins without the frosting! You have many options.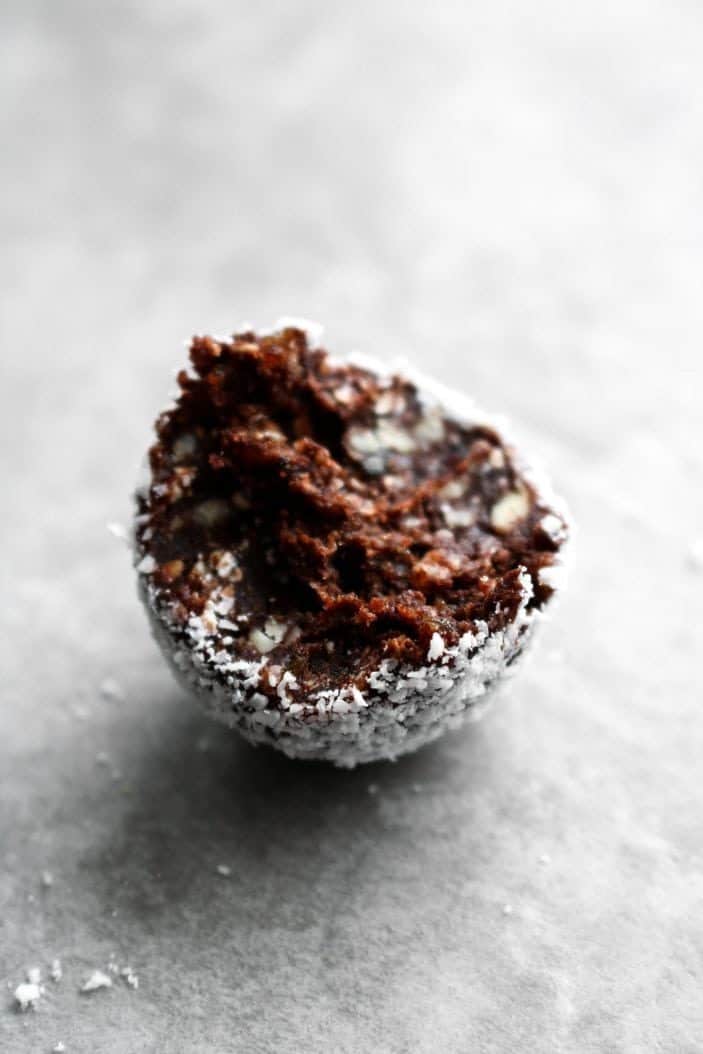 Another of my go-to Holiday treats. I make these truffles every year and they're another crowd-pleaser. I actually served these at my wedding and got raved reviews! They taste like little coconut macaroons, but in bite-sized form.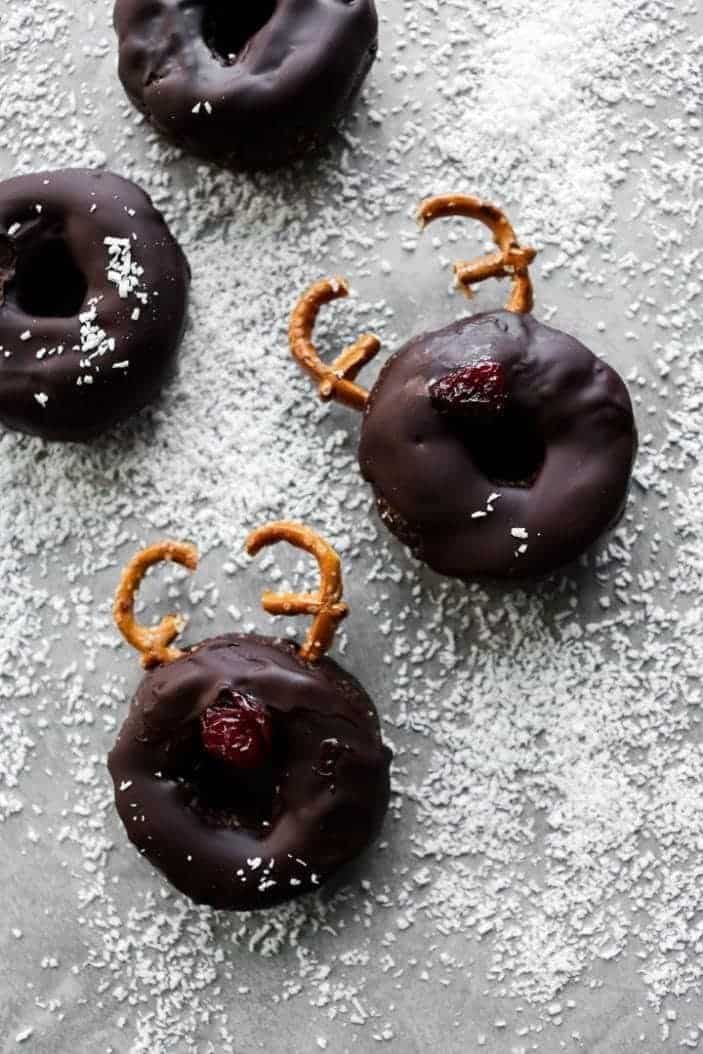 One of the most obvious Holiday recipes on the blog. These cute little Rudolph donuts are great to make with kids. You can also keep it simple and skip the decorating. They'll be good either way.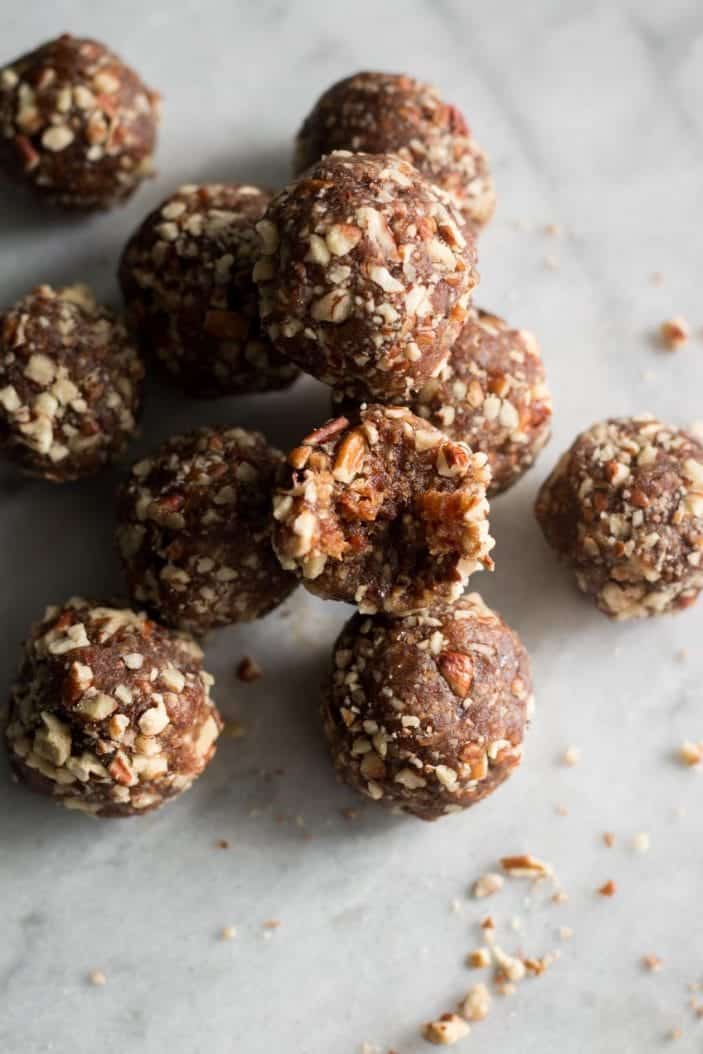 These bites are made with only 3 ingredients: pecans, dates and pumpkin spice. Another great recipe to add to a "truffle" platter. These date bites are perfect for fall and winter.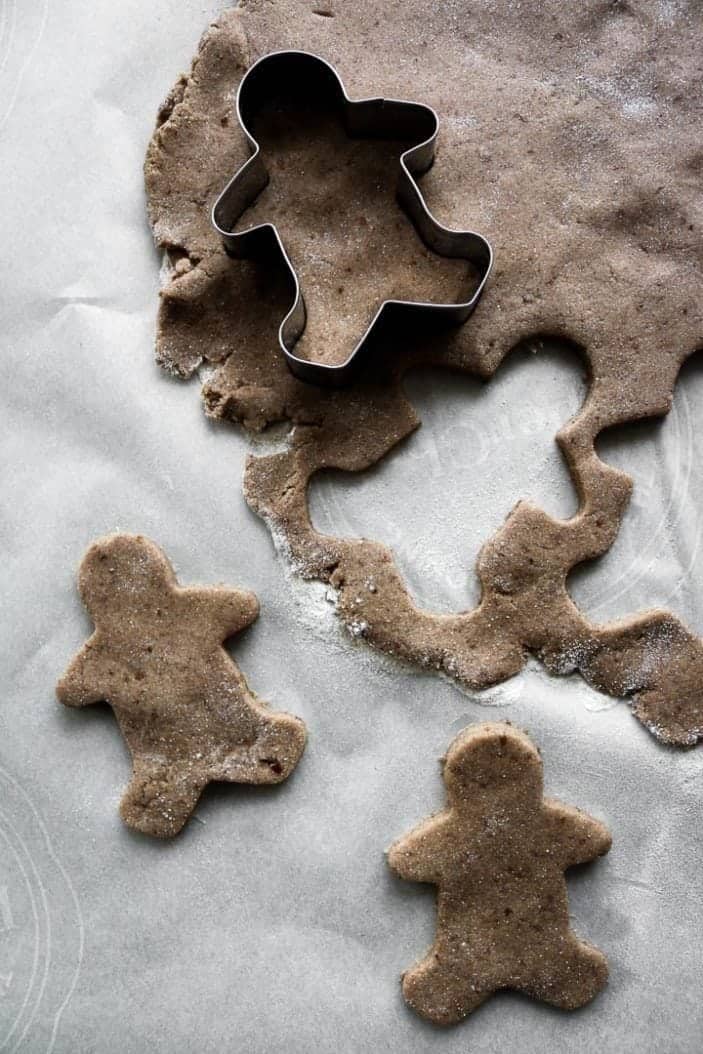 Like gingerbread men, but chai-flavored instead. These cut-out cookies are so good served with coffee or hot chocolate. They're not overly sweet and make for a good light dessert or snack during the Holidays. You also have the option of decorating them with coconut whipped cream!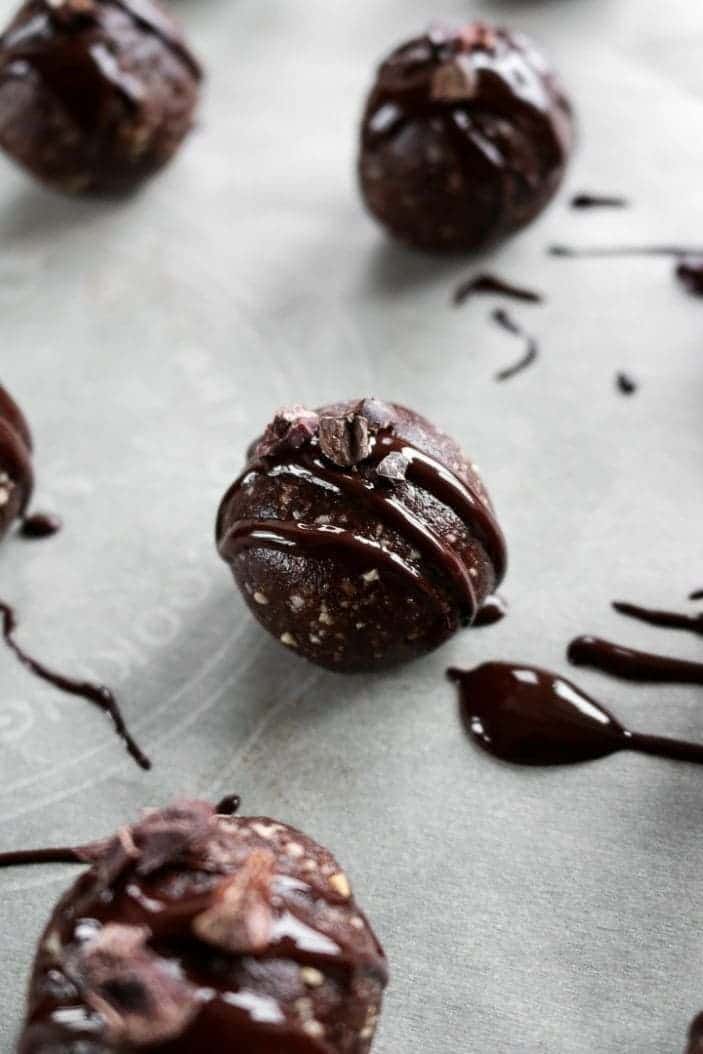 I know I said this for many recipes already, but this is another of my go-to this time of year. Rich dark chocolate bites with a touch of peppermint. The perfect flavor combination.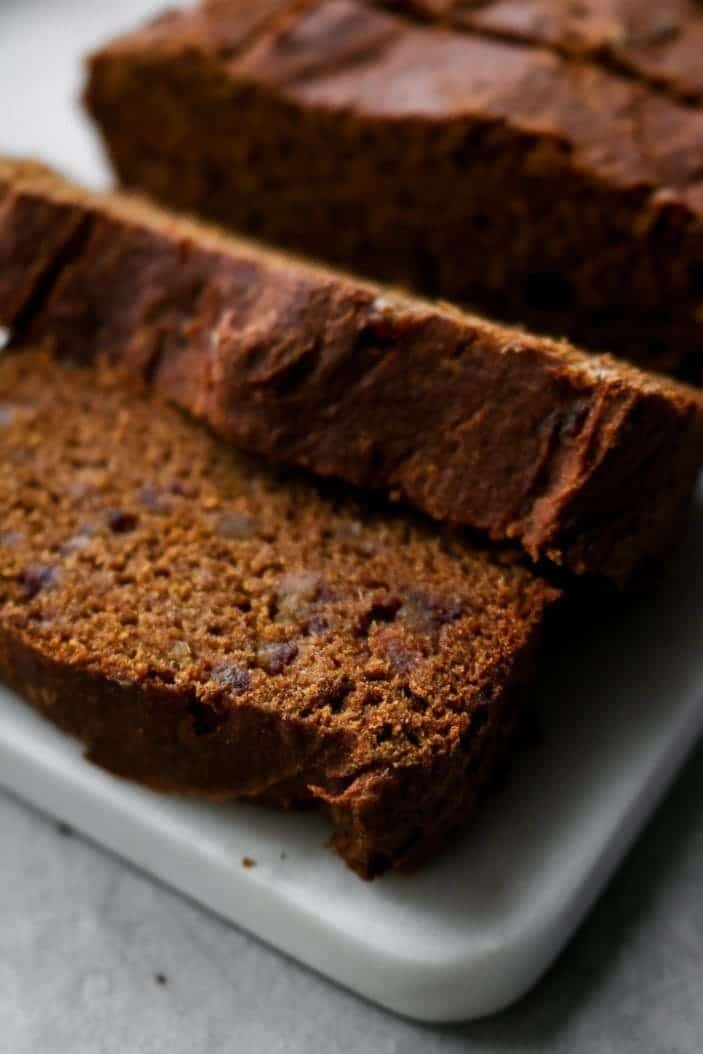 This pumpkin bread is gluten-free, nut-free, sweetened with dates and has a vegan option. In other words, it's perfect for anyone with allergies/food preferences at your Holiday table!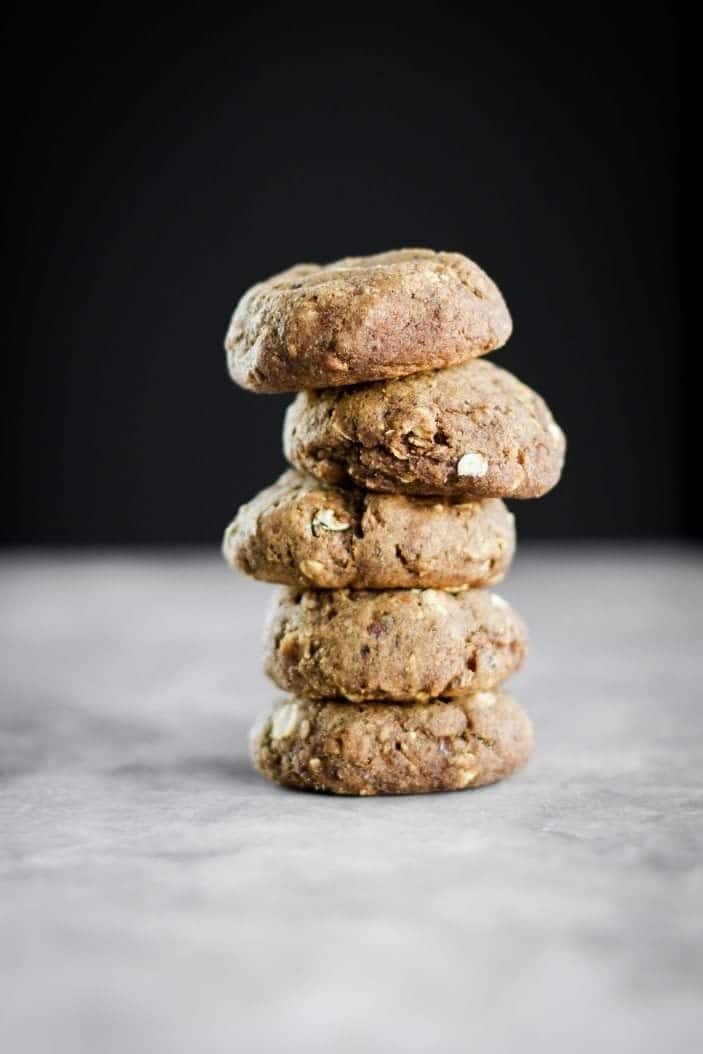 My all-time favorite cookie recipe on the blog. These pumpkin cookies are vegan, nut-free and sweetened with dates. You also have a gluten-free option! Also, the cookie dough is the best part, so make sure to try some.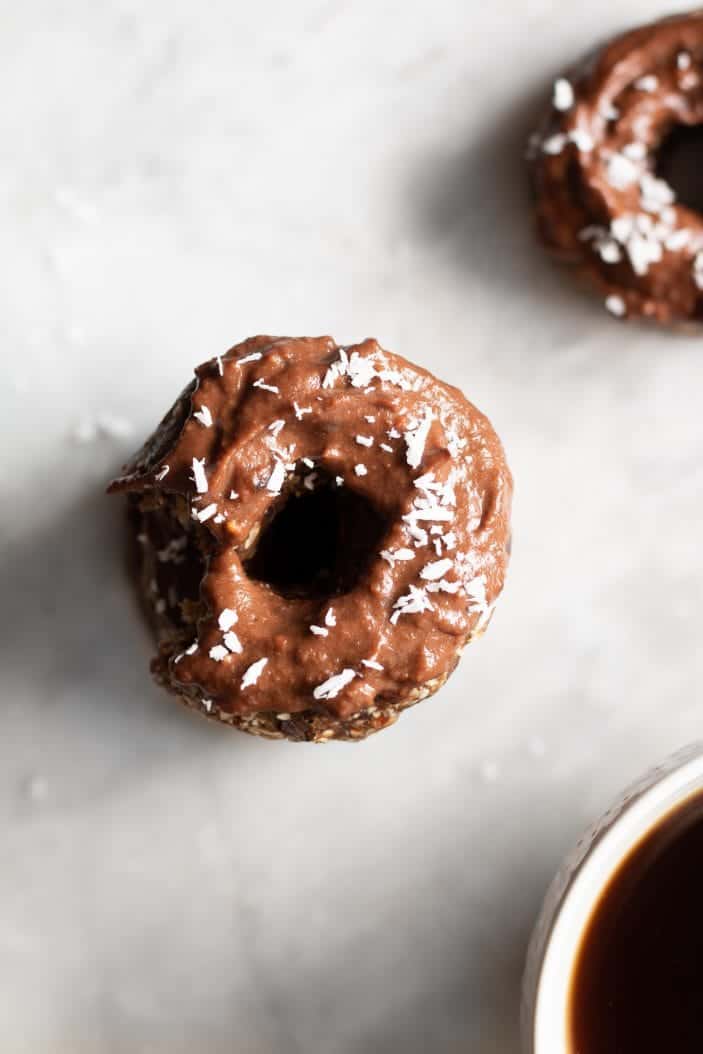 Another donut recipe, this time, with a touch of coffee. These are great for a dessert, snack or breakfast! You could make a batch in advance and have it for a quick breakfast on Christmas morning or leave it as a snack for guests. You can also skip the coffee for a kid-friendly option.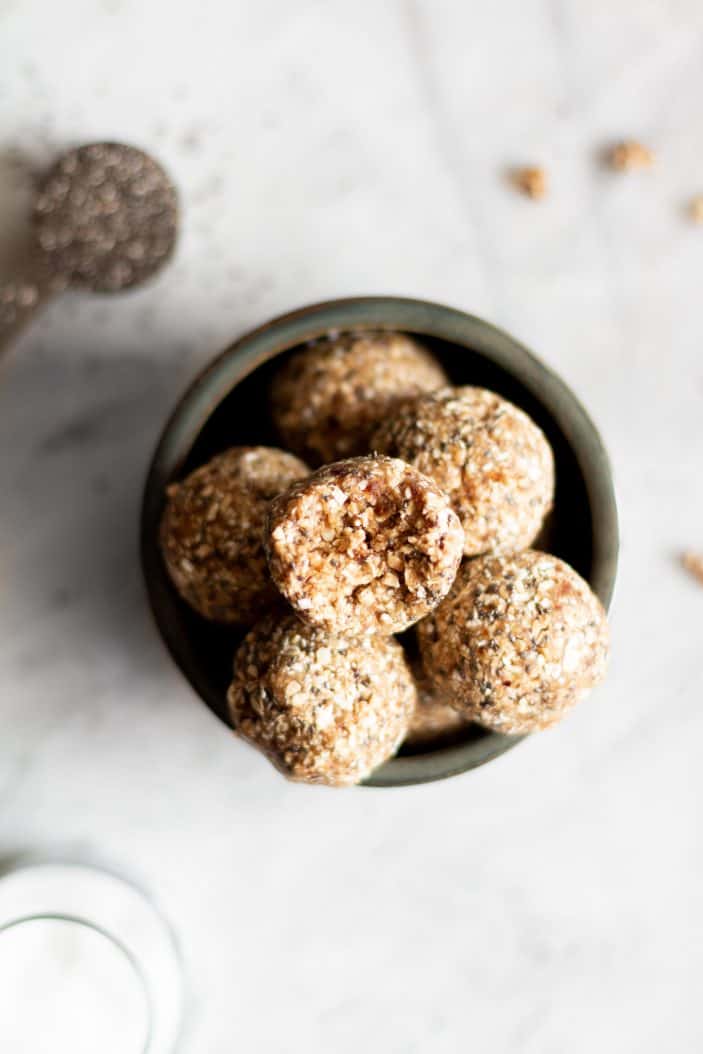 Salted caramel is always so good this time of year. These bites have a caramel-like flavor thanks to dates and are sprinkled with salt. They're packed with wholesome ingredients and make for a good energizing snack.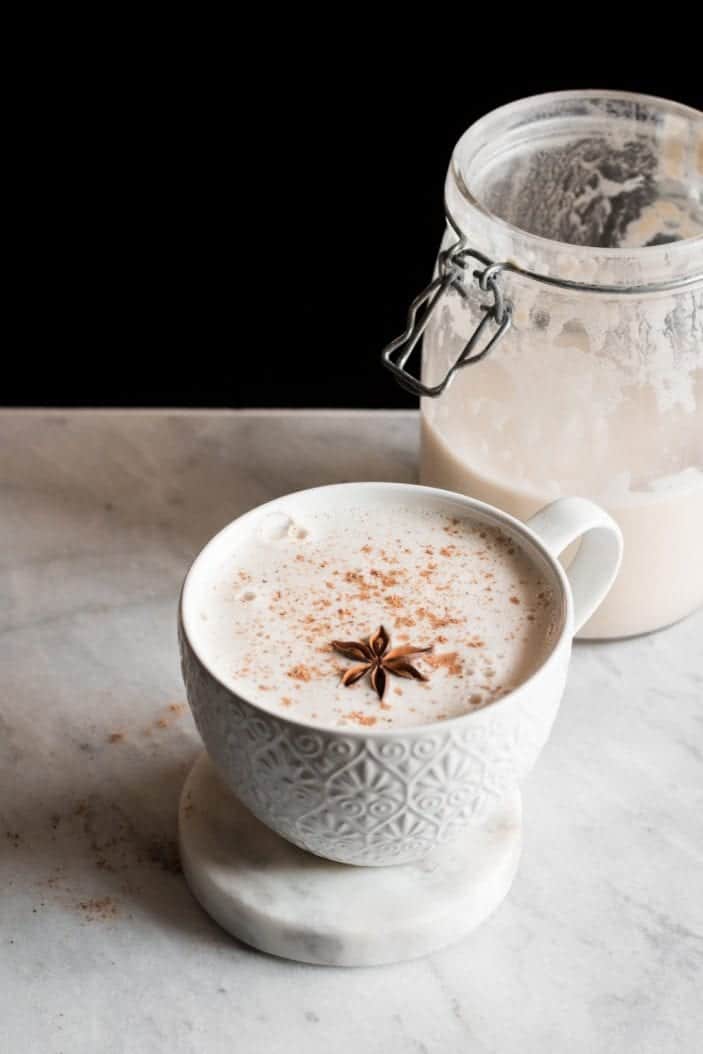 Finishing with the most festive drink: Eggnog! This one is vegan of course and is made in the blender using just a few simple ingredients – Cashews, dates and spices. It's not your traditional eggnog, but it's the best vegan festive drink.
And that's it!
I also have a few additional Holiday treats in my Healthy Holiday Treats eBook! Check out the details here. You can get 5 brand new fruit-sweetened holiday treats and 5 of my favorites from the blog for only 1.99$.
And with that, I wish you a happy and delicious Holiday season!