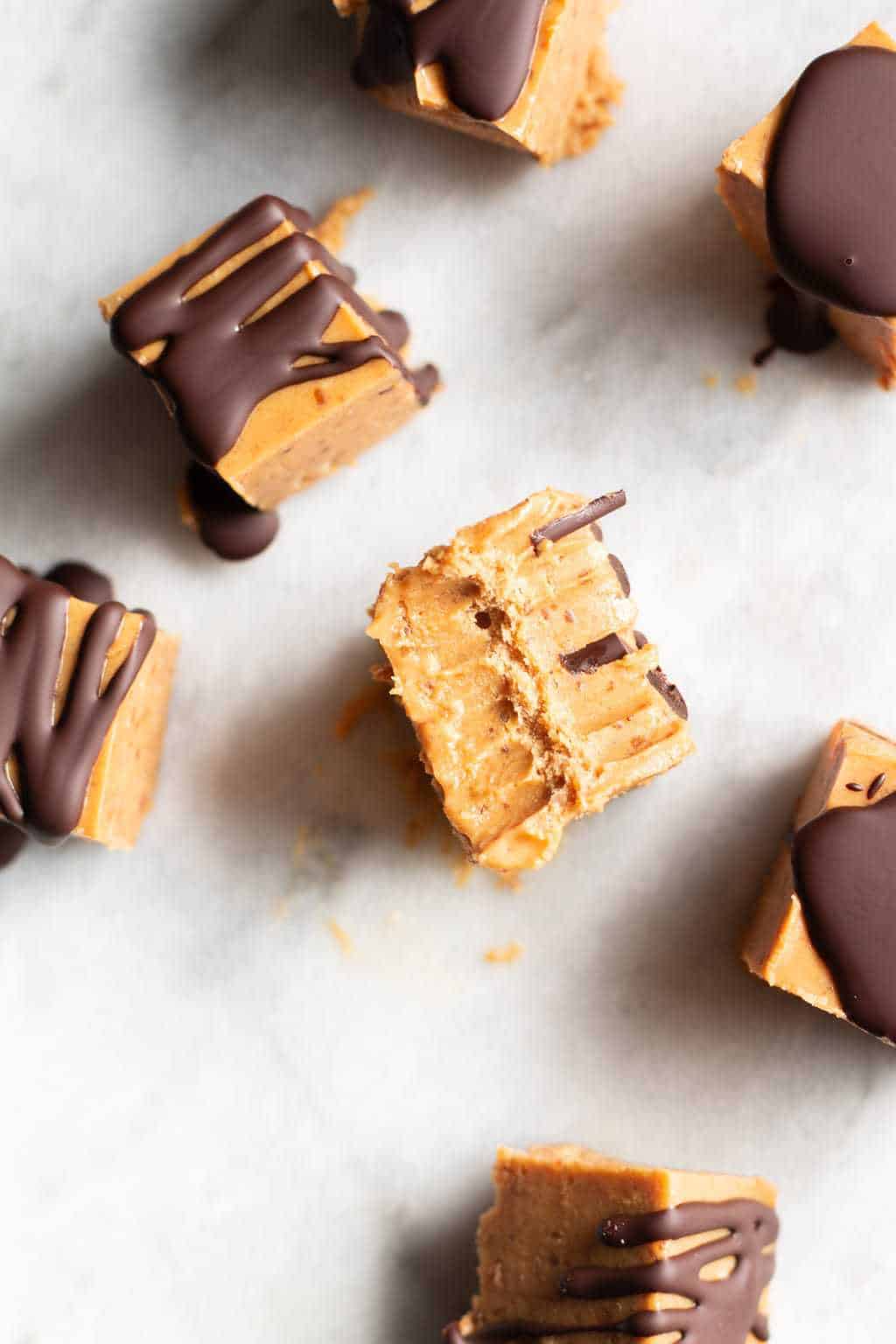 Date-Sweetened Peanut Butter Freezer Fudge
Date-Sweetened peanut butter freezer fudge. Could there be anything better?
The answer is no.
Imagine a fudgy bite, perfectly sweetened with dates and lightly salty from the peanut butter. Then top that with melted chocolate for the most delicious chocolate peanut butter favor combination. It's the ultimate sweet and salty dessert.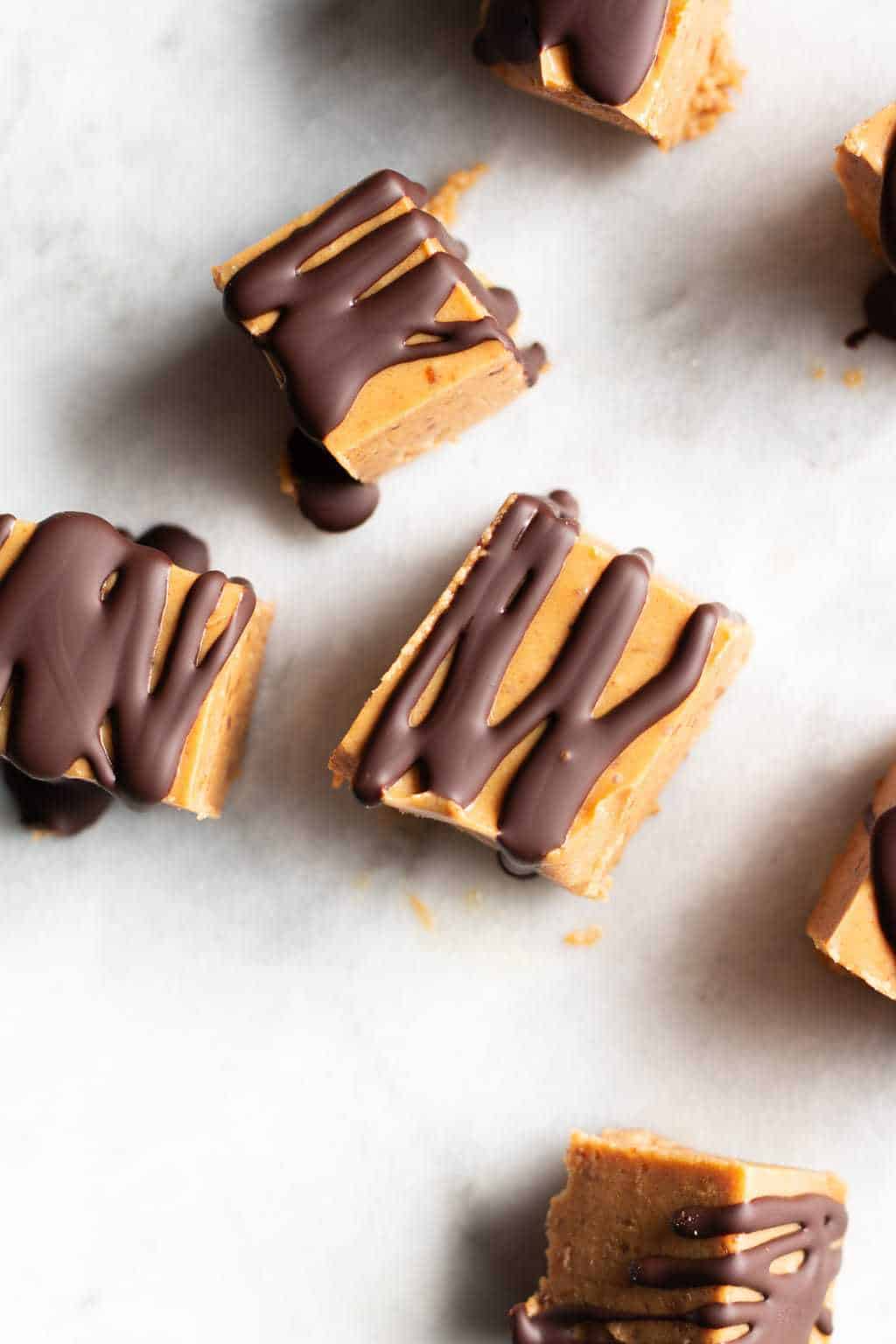 While this recipe could be considered healthy (it doesn't have any added sugar and it's packed with protein and healthy fats from peanut butter), it is quite high in fat. No, not all fats are bad – some are an important part of a healthy diet – but I did use a small amount of cacao butter in this recipe, which gives it a bit of saturated fats. I'm not one to use cacao or coconut butter/oil, but in this recipe, it just works.
The cacao butter gives it a rich, fudgy texture that doesn't harden completely when frozen. Cacao also provides a rich chocolate flavor, which goes perfectly with this peanut butter fudge. If you can't find cacao butter (it's not exactly sold everywhere), you can use coconut oil or coconut butter. It should give you a similar result.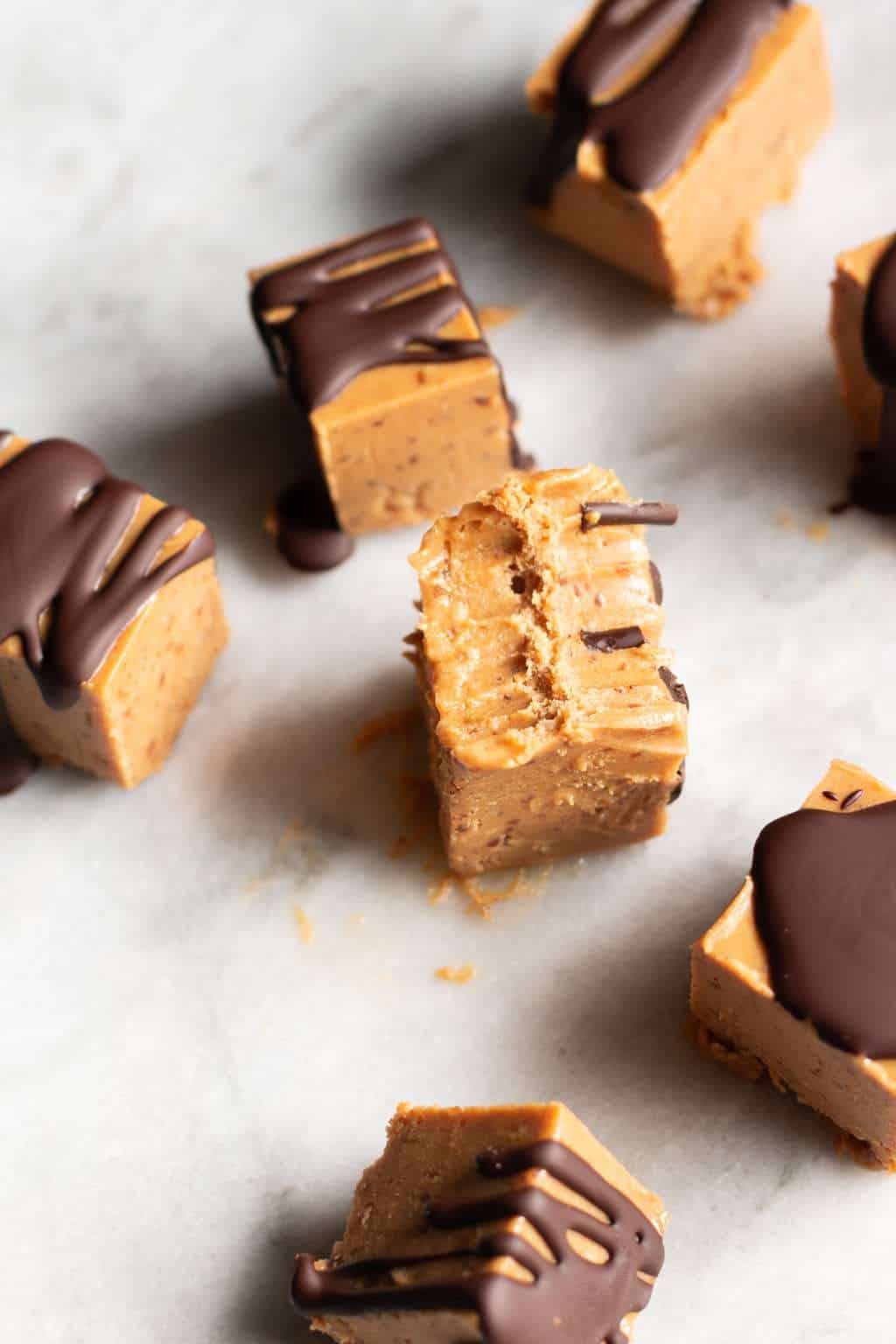 Here's how to make this recipe:
Add all the ingredients in a food processor.
Process until smooth.
Place in a sealable container and store in the fridge for at least 3 hours.
Drizzle with chocolate
Enjoy a piece of fudge, straight from the freezer.
This is one of those treats where a little bit goes a long way. Trust me, a small piece is all you need (and this is coming from someone with a big sweet tooth). This fudge is very rich and oh so delicious.
If you're looking for something special and healthy(ish) to make for Valentine's day, then this recipe might be just what you need.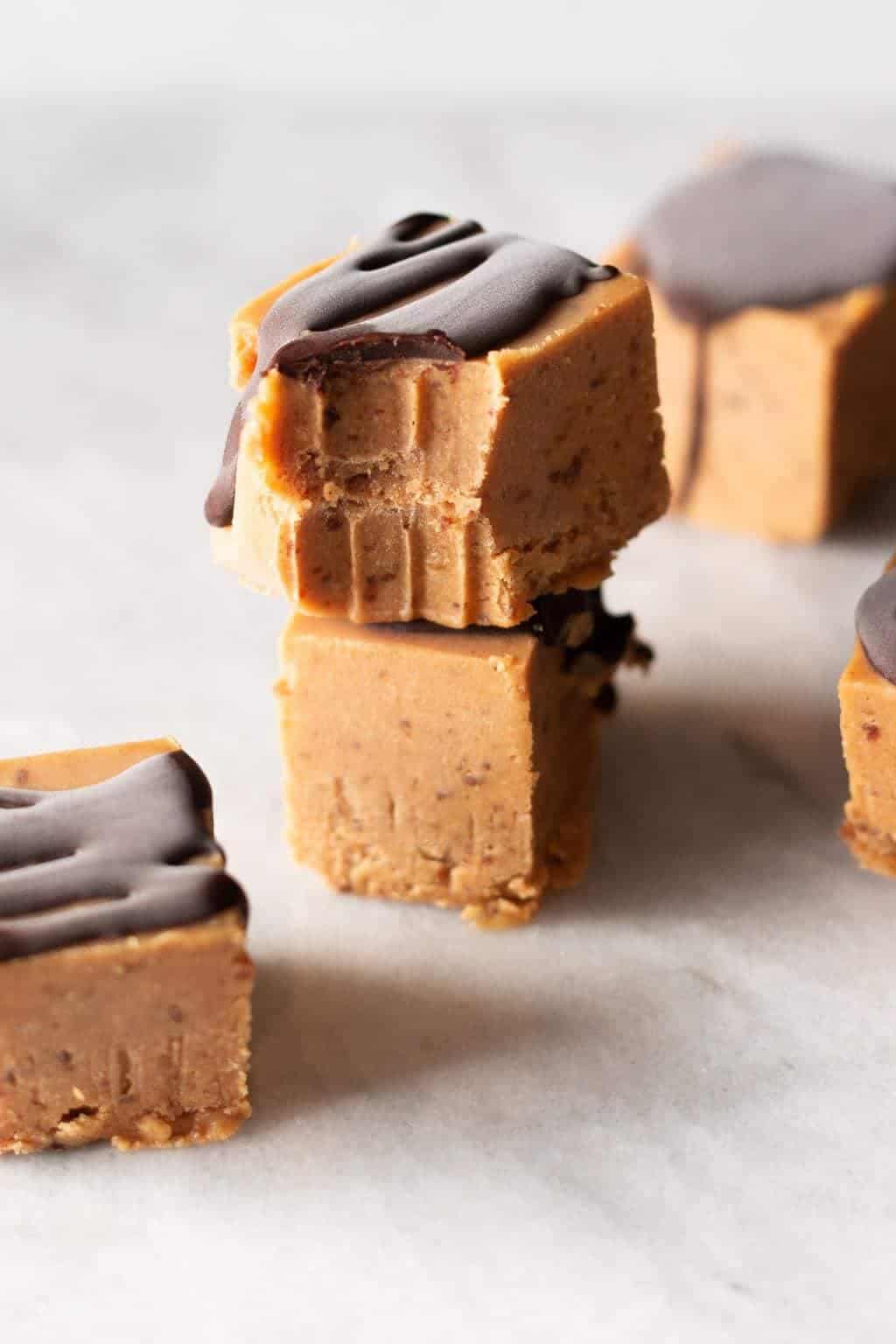 Date-Sweetened Peanut Butter Freezer Fudge
This 3-ingredient freezer fudge is lightly sweetened with dates and made in under 15 minutes. All you need is a food processor and 3 ingredients (plus chocolate for topping if you'd like). This fudge is healthy(ish), simple and so creamy.
Ingredients
1 1/2

cup

peanut butter,

natural (see note)

1/2

cup

Medjool dates

1/4

cup

cacao butter,

melted

Pinch of salt

2

tablespoons

unsweetened or dark chocolate,

melted (for drizzling)
Instructions
In a food processor, add the peanut butter, dates, melted cacao butter (I used a microwave) and salt. Process until smooth.

Line a sandwich Tupperware container or small square dish with parchement paper. Transfer the fudge mixture to the container and spread evenly.

Seal the dish or container and place in the freezer for at least 3 hours or until the fudge has hardened lightly. It should stay "fudgy", even after days in the freezer.

Drizzle the fudge with melted chocolate, then return to the freezer for another 10 minutes or until the chocolate has hardened. Cut into little squares and enjoy straight from the freezer!
Notes
I used natural salted peanut butter without adding salt, but natural unsalted works as well (just add a pinch of salt).
This recipe is very lightly sweetened. If you're looking for a sweeter fudge, use 1 cup of dates instead. Just keep in mind that the texture will be a little different (keep it in the fridge instead of the freezer and it will stay perfectly fudgy - It hardens too much in the freezer). You could also try just adding a bit of maple syrup! You can also use dark chocolate instead of unsweetened to make the recipe sweeter.
If you don't have cacao butter, you can use coconut butter or oil instead.
If you try this recipe, make sure to tag your photo #unsweetenedcaroline on Instagram, Facebook and Twitter! Don't forget to also tag me @unsweetened.caroline on Instagram so I can see your creations!