Protein apple muesli. This version of overnight oats is made with Greek yogurt and seeds for a higher protein breakfast option. Add apples for a fruit-sweetened breakfast bowl and switch the Greek yogurt for vegan yogurt for a vegan option.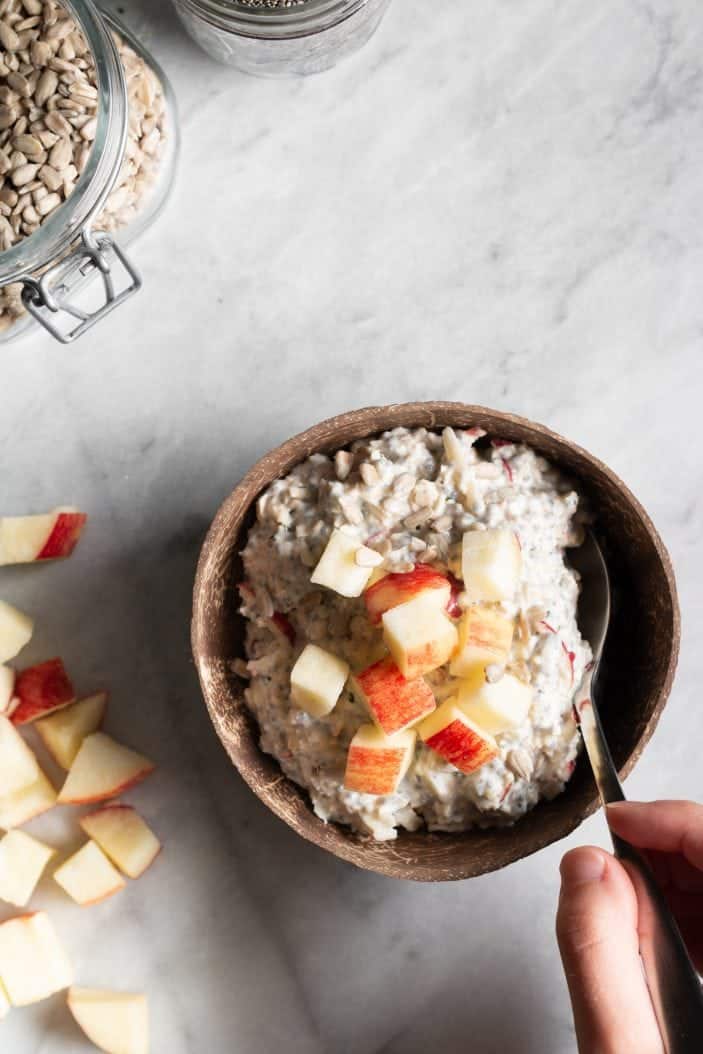 Yes, I'm here with my second bowl of oatmeal in a week. This time, a protein-packed bowl of muesli because we're in Switzerland! We're currently staying on a farm with a view of the Swiss alps and I couldn't be happier. So it felt appropriate to share this recipe while we're in the place where muesli first started. We've actually seen many muesli shops here in Switzerland and I love it.
Now, I know this is not exactly a warm and cozy fall/winter meal, but it does have apples… Plus, I don't know about you, but I love oatmeal all year round, warm or cold. Especially one that can be done in only a few minutes. Think of it as overnight oats with extra seeds and a little bit of yogurt (vegan or not). All you need to do is mix all the ingredients together, then let it soak overnight. Easy.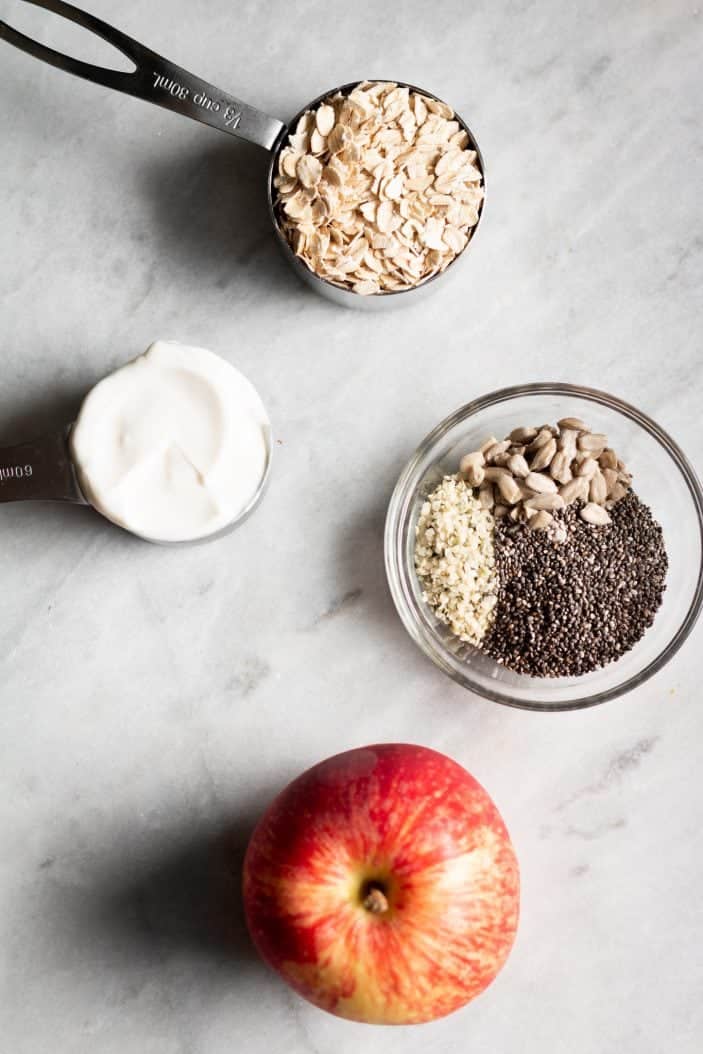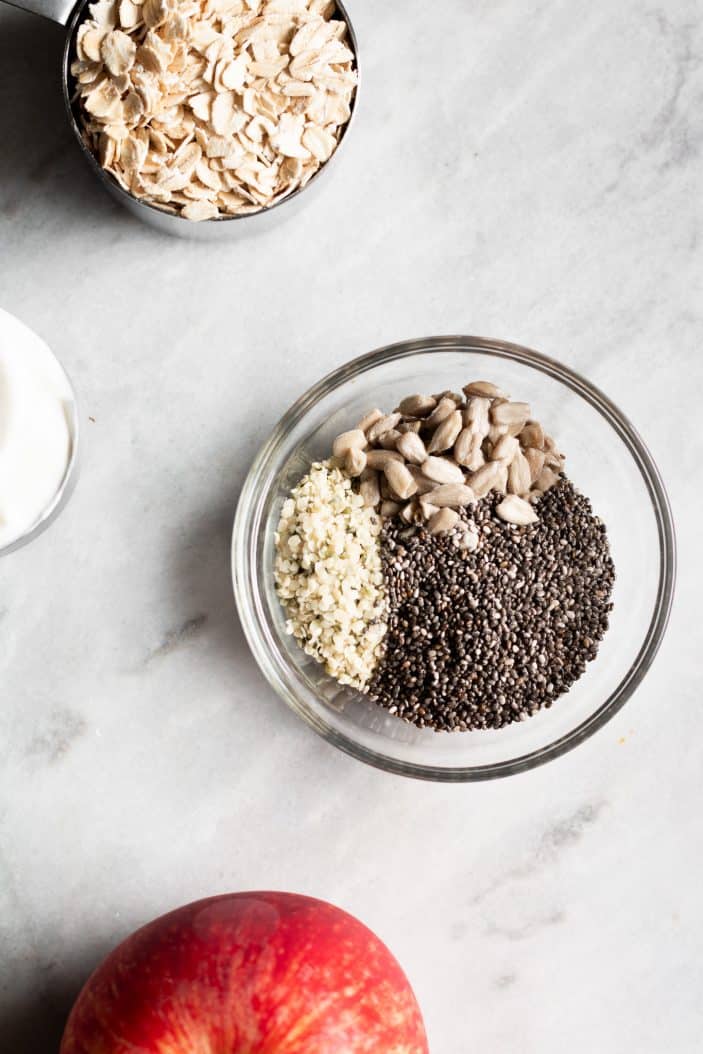 A Few Notes on the Recipe:
To make it higher in protein, I used plain Greek yogurt. However, feel free to use your favorite vegan yogurt instead.
This recipe is very lightly sweetened with apples, but you can easily add a drizzle of maple syrup or honey to taste. Just think of this recipe as a base for all of your favorite oatmeal toppings.
My favorite toppings: Bananas, berries, nuts and of course, nut or seed butter (sunflower seed butter being my favorite here).
Finally, you can use any plant-based milk here. If you choose to use plain soya milk, you'll get a good 22g protein in this bowl of muesli. Almond milk is good too, but you'll just get a little less protein. It's not really a problem, but I wanted to create a high-protein breakfast for those interested.
Also, maybe you're wondering why I use Greek yogurt and plant-based milk in the same recipe… The reason: I personally can't tolerate cow's milk (and I prefer not to drink it), but I do tolerate yogurt on occasion. So just use your favorite yogurt (ideally plain or vanilla) and milk. Make it your own.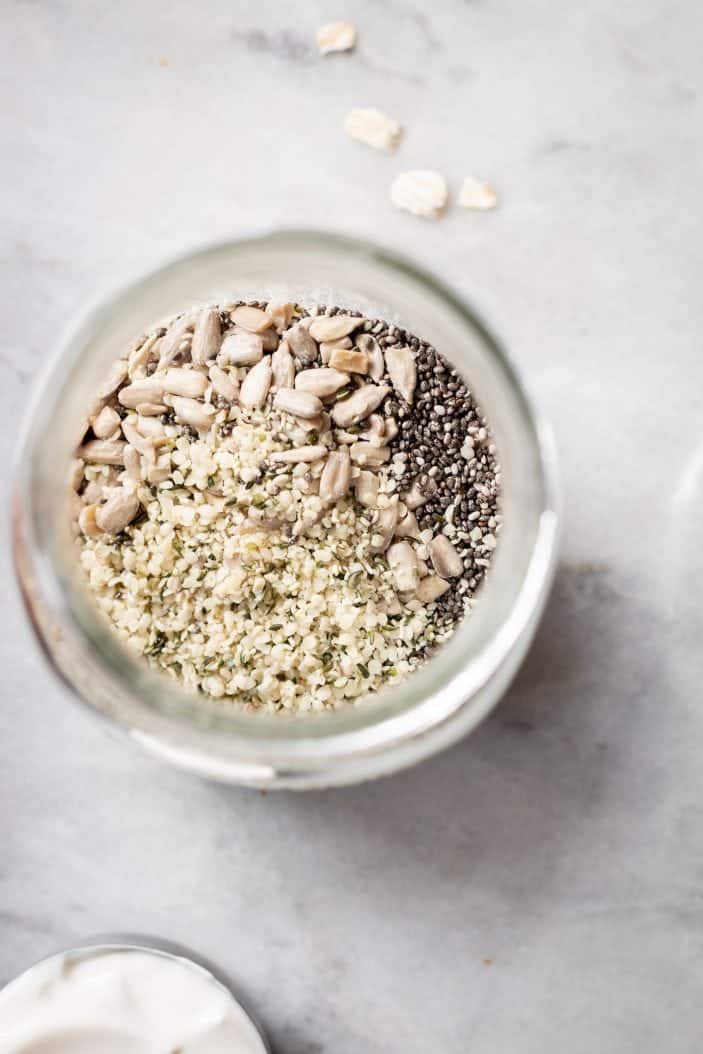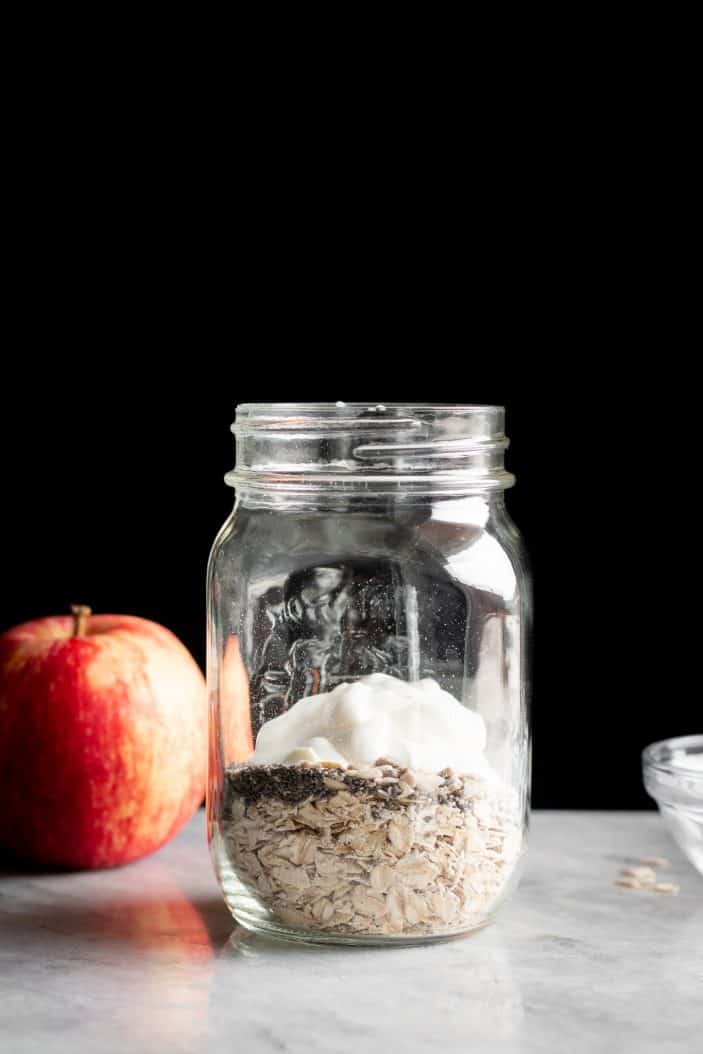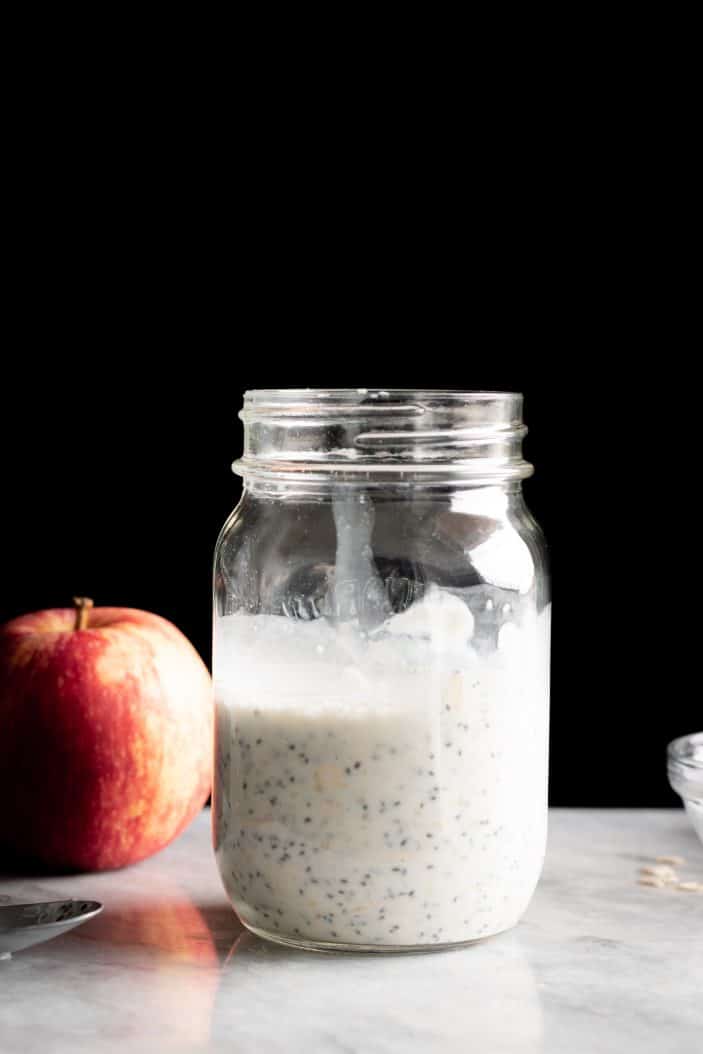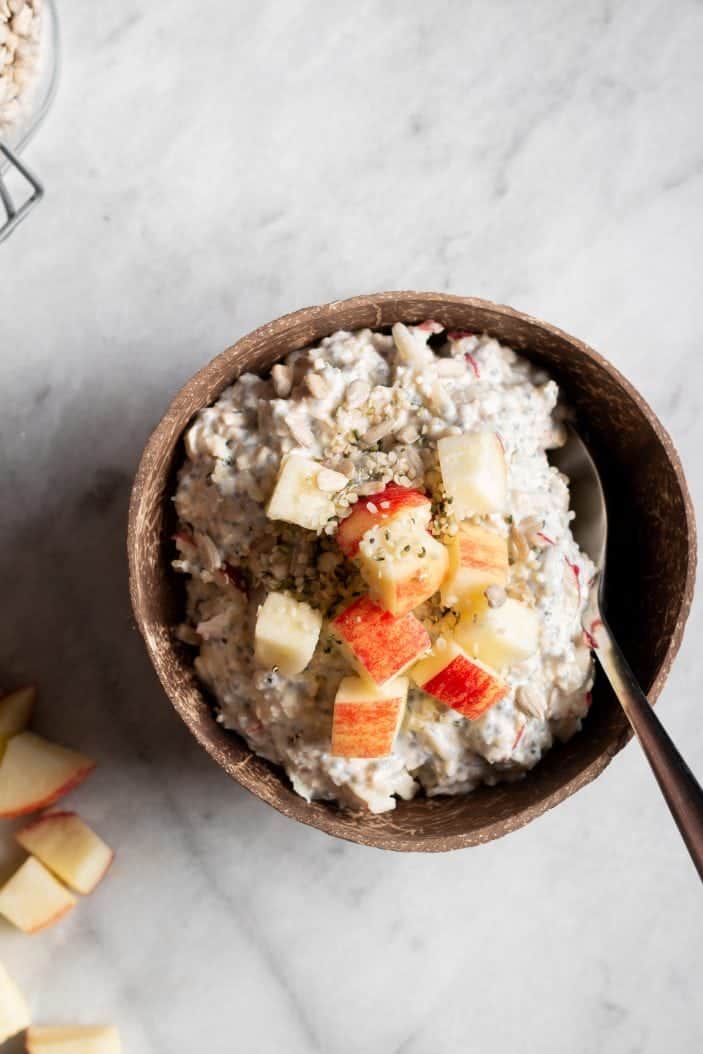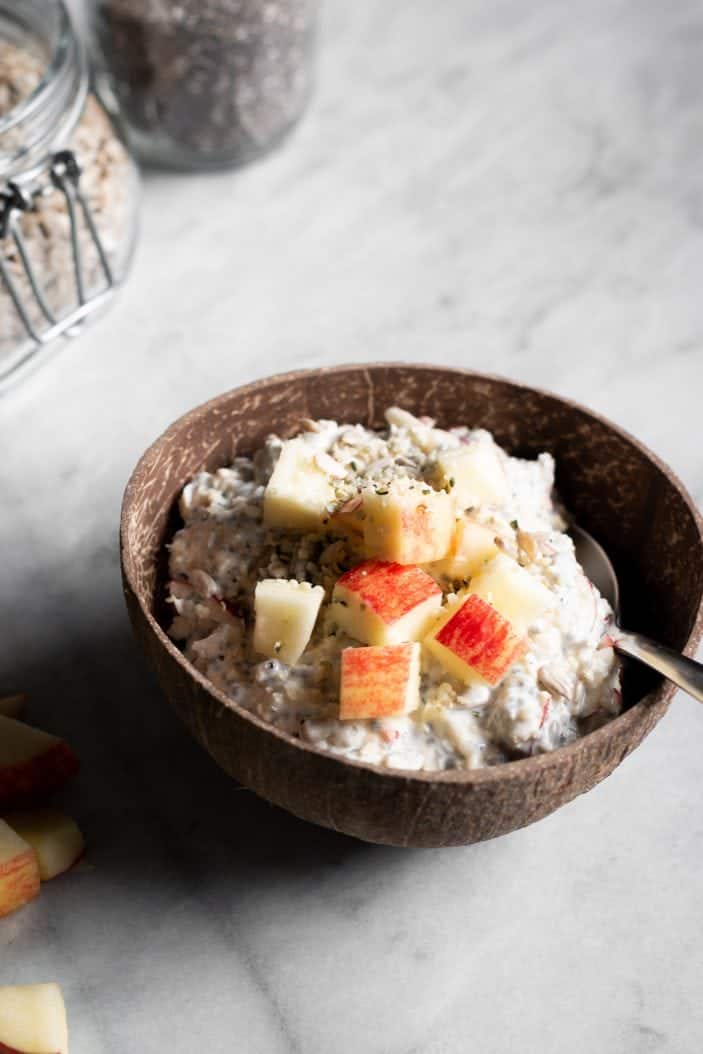 Protein Apple Muesli
This version of overnight oats is made with Greek yogurt and seeds for a higher protein breakfast option. Add apples for a fruit-sweetened breakfast bowl. You can also make it vegan by using plant-based yogurt.
Ingredients
1/3

cup

rolled oats

1/4

cup

plain Greek yogurt

1

tablespoon

chia seeds

1

tablespoon

hemp hearts

1

tablespoon

sunflower seeds

1/2

cup

unsweetened almond milk or milk of choice

1

medium

apple
Instructions
Add the oats, yogurt, chia seeds, hemp hearts, sunflower seeds and milk to a bowl or jar. Mix to combine.

Shred 3/4 of the apple and stir it into the oats. Dice the rest of the apple and add it on top of the oats. Cover and let soak overnight or for at least 2-3 hours.

Serve cold with maple syrup if desired or other toppings of choice.
Notes
This muesli is sweetened with apples. You can easily add a touch of maple syrup for a sweeter breakfast. You can also add a small handful of raisins.
If you make this protein apple muesli, be sure to leave a comment and/or give this recipe a rating! I love to hear from you guys. And of course, if you try this recipe, don't forget to tag me on Instagram!