5-Ingredient Cookie Dough Bites
5-ingredient cookie dough bites. Made in under 10 minutes in a food processor and filled with wholesome ingredients, including dates, cashews and oats. What could be better?!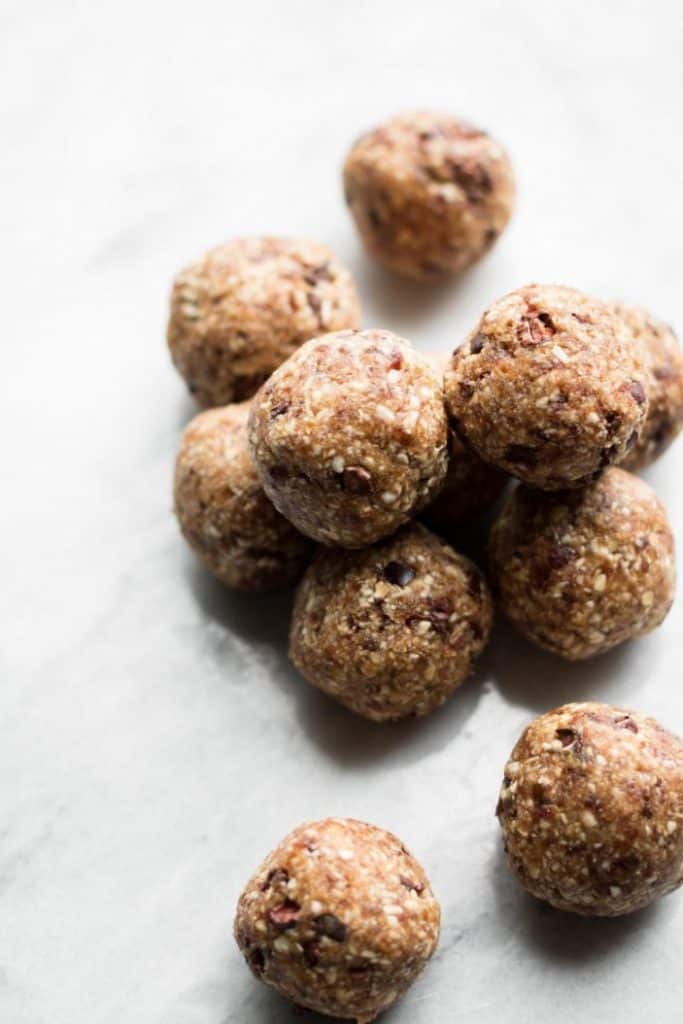 Cookie dough will forever be my favorite flavor when it comes to snacks and desserts. Ice cream, granola bars, energy bites… Anything. Even better when it's simple and healthy, which is all you'll see on the blog over the next few weeks.
Did you read my last post? The news is out, Shaun and I are moving to British Columbia! We're moving to the other side of the country in less than 3 weeks. Not to mention that we're planning a road trip across Canada to get there. I think it's safe to say that we're crazy busy. Packing all of our belongings, last-minute appointments, finding a new apartment… Plus we're working full time in all of this and I'm trying to keep up with this blog.
Since I'm trying to minimize what we're bringing, I'm limiting the groceries I buy and using up the ingredients I have in the pantry. That means lots of energy bites, granola bars and basically anything that uses up flour (I have almost a whole bag of whole wheat flour left, which means I'll be making homemade bread, pancakes and banana bread until the day we leave). I'm also turning to simple recipes because lets face it, moving across the country is a lot of work. My to-do list has NEVER been this long and every day is filled from the time I open my eyes in the morning to the second my head hits the pillow at night.
It's not all bad though. I honestly love moving (I know, weird). I love packing and organizing and I love getting creative in the kitchen using up the ingredients I have left. Some of my time is filled seeing friends and family for the last time in probably a year. It's bittersweet. What I don't like though is changing banks, signing apartment contracts and finishing up every other little thing that needs to be done when moving provinces. Not so fun.
Also, sleeping in an empty apartment on an air mattress for one week because that's the only time the movers were available to pick up our stuff… Not so fun. But, it's all worth it and part of our exciting adventure. I'm trying to enjoy New Brunswick and everything I'll miss from this place over the next few weeks.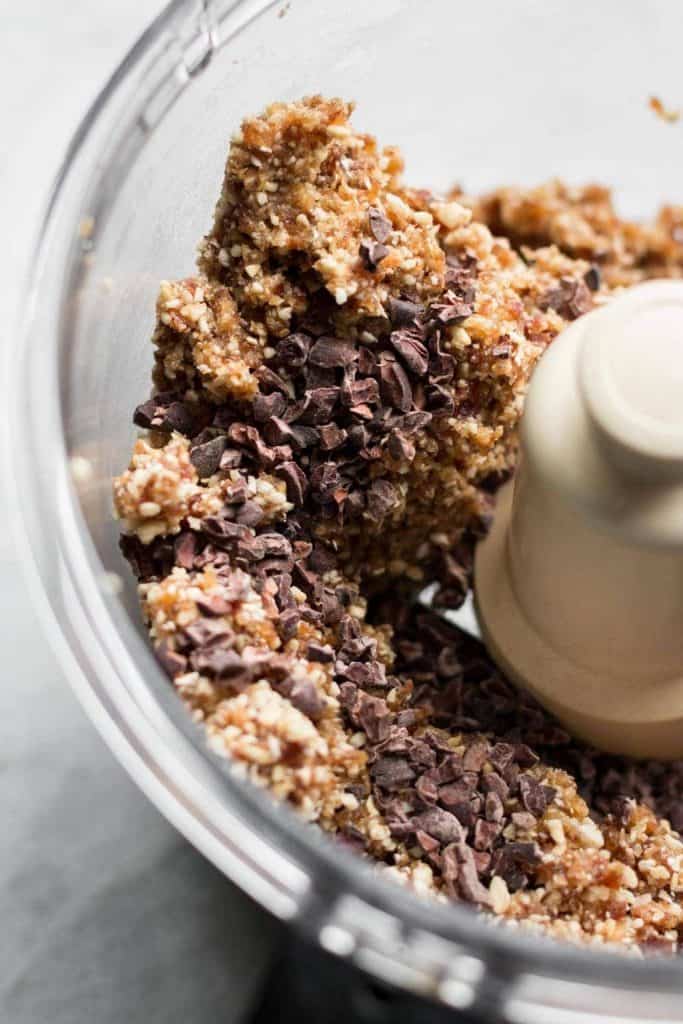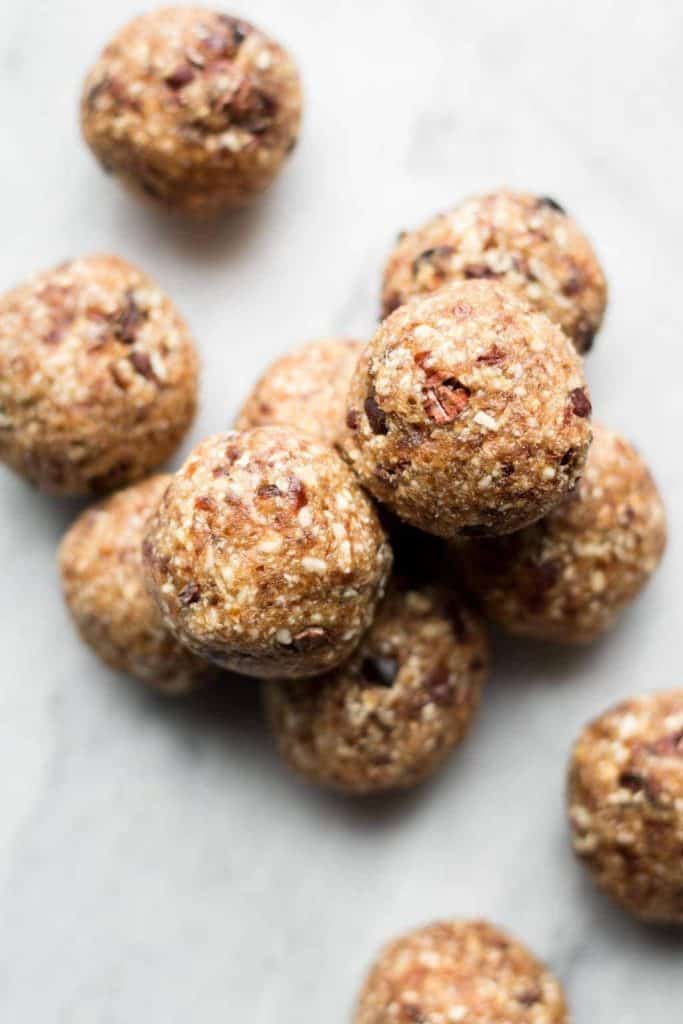 So to get back to these simple little cookie dough bites. They're one example of all the energy bites I'm bringing along with us on our drive across the country.
Like the title indicates, they're made with 5 ingredients, including cashews, dates, oats, cocoa nibs and vanilla. Plus salt and water, but I don't really count those as ingredients. Just throw everything in the food processor until the mixture sticks together when pressed. Roll them into little bites and enjoy!
A few notes:
I like to process the cashews before I add the rest of the ingredients, until it forms something close to a coarse flour. I then add the remaining ingredients (minus the cocoa nibs). That way, you get a less chunky and more cookie dough-like texture. If you prefer a chunkier bite, blend everything together, as shown in the video.
Next, you can use mini chocolate chips instead of cocoa nibs if you want an even sweeter treat. I never tried it myself to be honest, but I do like the idea. Just add them at the same time you would add the cocoa nibs and you should be good.
Finally, I like to eat these straight out of the freezer. They keep well for a long time and they are soft and delicious, even when frozen (all thanks to the dates!).
See? You need a batch of these in your freezer at all times this summer!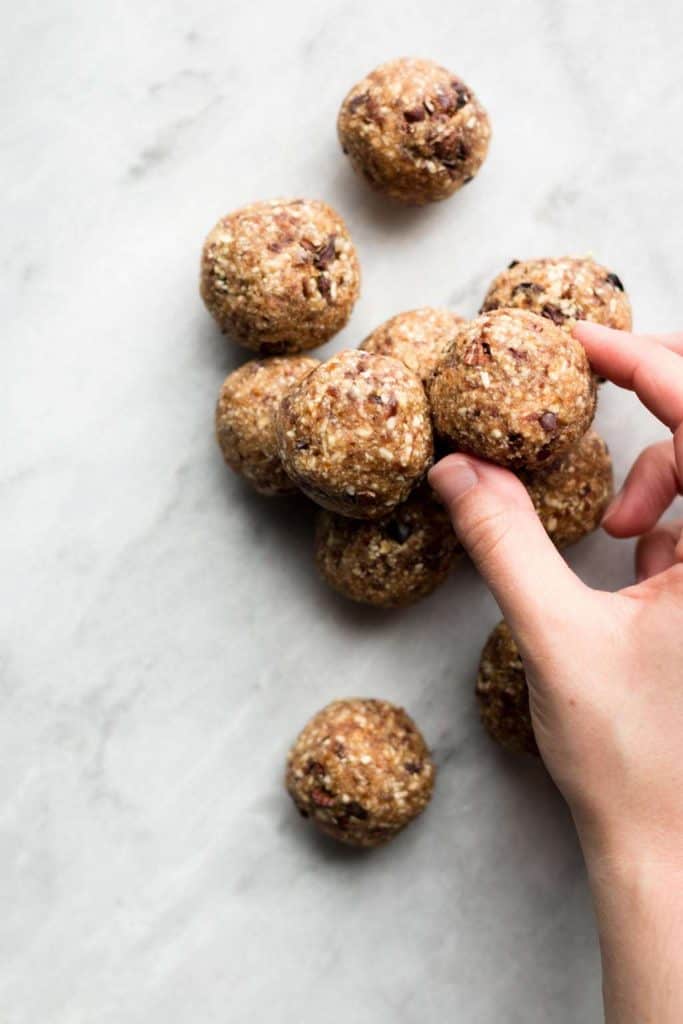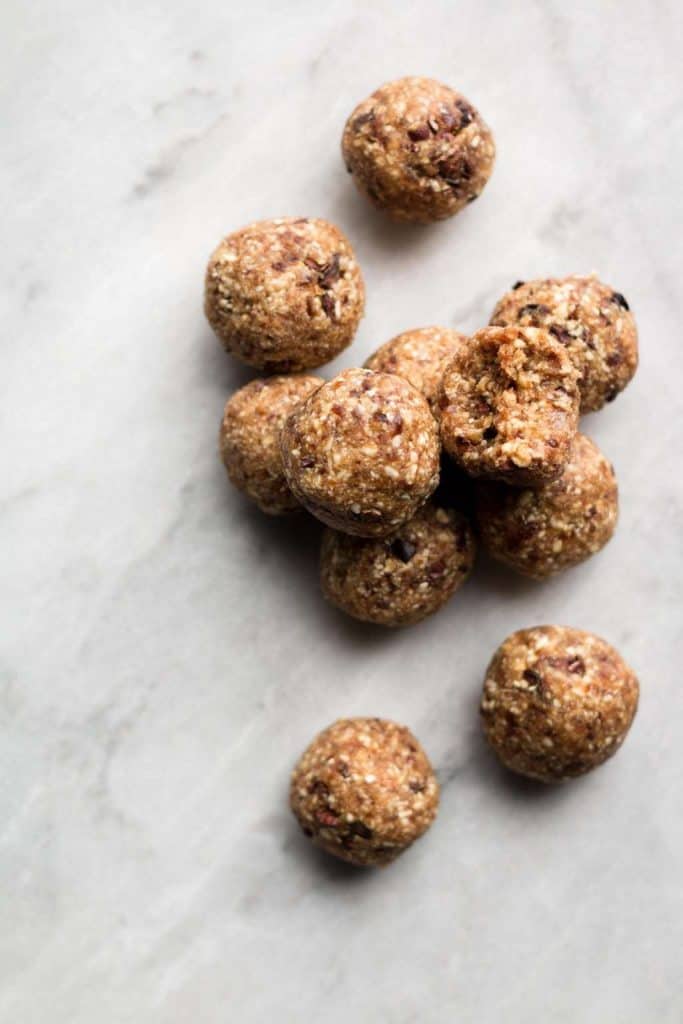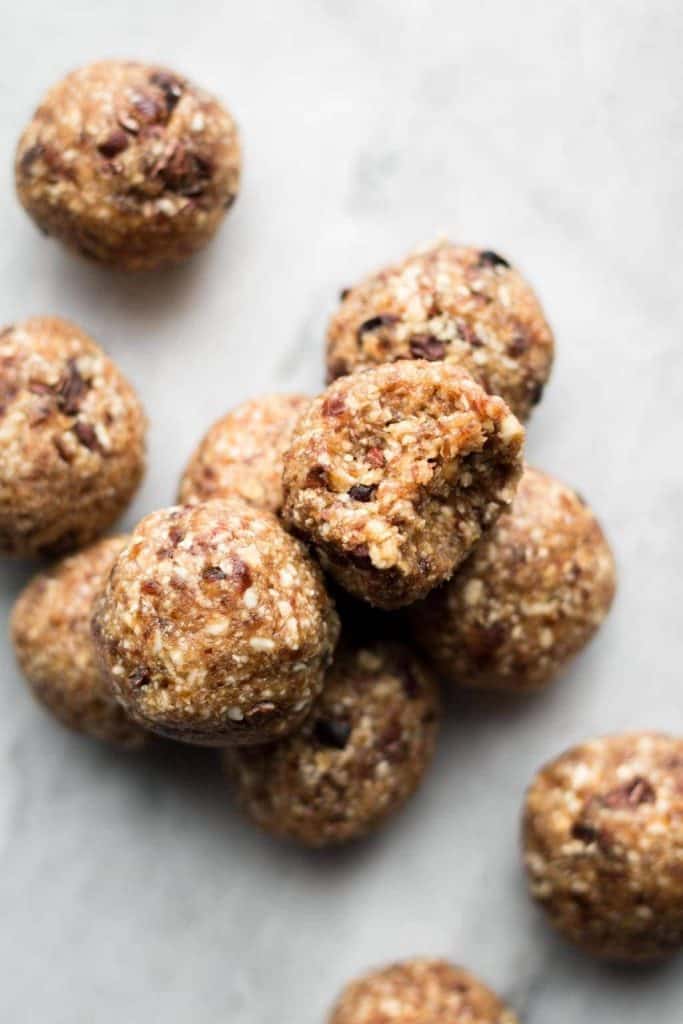 Watch How to Make the Recipe:
5-Ingredient Cookie Dough Bites
Simple. healthy and delicious. All you could ask for in a snack. They're sweetened with dates and filled with cashews, oats and cocoa nibs for a healthier cookie dough bite. Did I mentioned they're done in under 10 minutes?
Ingredients
1

cup

cashews,

raw or roasted unsalted

1

cup

Medjool dates,

pitted

1/2

cup

rolled oats

1

teaspoon

vanilla extract

2

tablespoons

cocoa nibs

Pinch of salt

Water as needed
Instructions
In a food processor, add all of the ingredients except for cocoa nibs and water. Process until the mixture sticks together when pressed. If too dry, add water, 1 tablespoon at the time until the mixture sticks together without sticking too much to your hands.

Add the cocoa nibs and process a few more seconds until mixed in.

Roll the dough between the palm of your hands to form 10-12 balls.
Notes
They can be kept in an airtight container at room temperature for a few days, although I prefer to keep them in the fridge or freezer. They can be eaten straight from the freezer and it keeps them fresh.
You can use mini chocolate chips instead of the cocoa nibs if preferred. Add at the same time as you would the cocoa nibs.
For smoother energy bites, add the cashews to the food processor first and process until it forms a flour before adding the remaining ingredients.
If you make these cookie dough energy bites, be sure to leave a comment and/or give this recipe a rating! I love to hear from you guys. And of course, if you try this recipe, don't forget to tag me on Instagram!