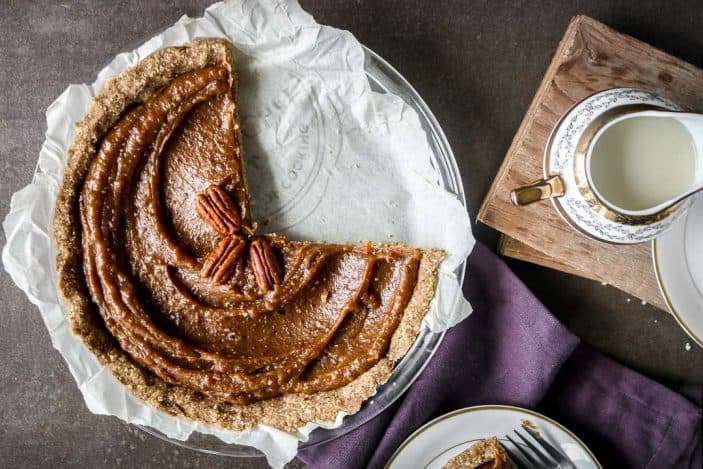 Easy Date Caramel Pecan Pie
First it was Caramel & Coconut Latte Overnight Oats and now it's a caramel pecan pie. Now you understand why I posted a date caramel tutorial? 😉 Seriously though, to me, fall is all about pumpkin and salted caramel. And soup. There's nothing better than going on a hike when the leaves are changing and coming home to a comforting bowl of soup. Ah I love fall!
I have so many recipes to share with you guys in the next few months! I just need to take the time and write the post which is not always easy. The internship is certainly taking up a lot of my time.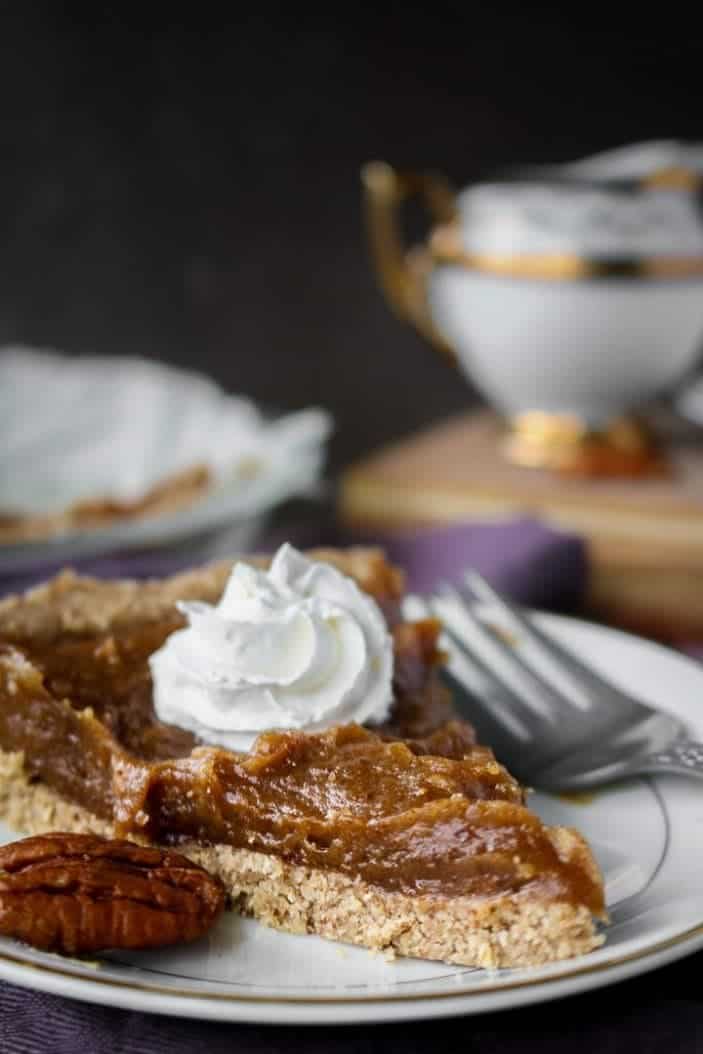 Speaking of which, I can't believe it's already my fourth week of internship. This year will be gone before I know it! It's so exciting and stressful not knowing what my life is going to be after I'm done with school. I have so many questions and it's hard not having any answers when you're a control freak and you love to plan everything… Hah! But at the same time, I feel free. I can do whatever I want when I graduate. A new beginning! But for now, all I can do is focus on my internship (and this blog).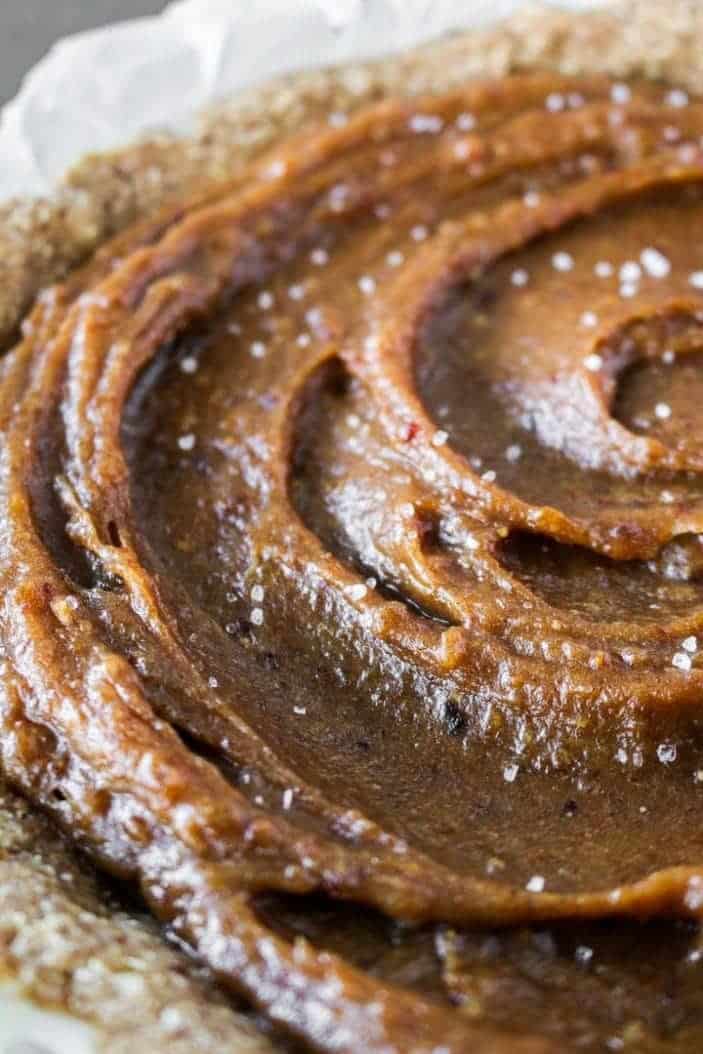 Okay, back to the recipe. I feel like I'm all over the place today!
This has to be the easiest pie I've ever made. All you need is 6 ingredients (6!!!) and 20 minutes. Easy, right?! And you only need a food processor (or high-speed blender) and a pie dish, which means you'll hardly have any dishes to clean.
You start by processing your crust ingredients in the food processor, you transfer the mixture in the pie dish and you bake it for 10 minutes. Then, you make your date caramel (you don't even have to clean the food processor in between). Once the crust is done, you spread the caramel on top and you let it chill in the fridge for 1-2 hours… You don't have to wait, but it makes it easier to cut. You can even top it with pecans and coconut whipped cream if you want to get fancy.
It's that easy.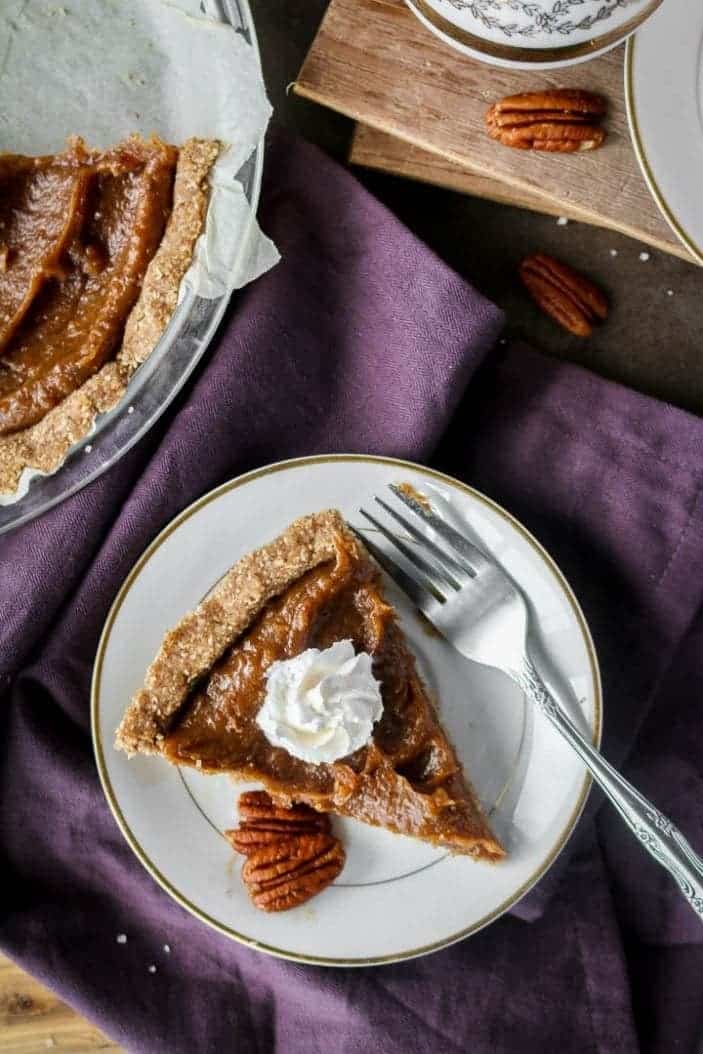 Perfect healthy Thanksgiving dessert right? I think so. 🙂
Easy Date Caramel Pecan Pie
An easy oat and pecan crust filled with creamy date caramel. Top with a sprinkle of sea salt and a dollop of coconut whipped cream for a healthy refined sugar-free treat!
Ingredients
Crust
2

cups

rolled oats

1

cup

pecans

1/4

cup

low-fat coconut milk + 2 tablespoons

1

teaspoon

vanilla extract

1/4

teaspoon

fine grain sea salt
Caramel
2

cups

Medjool dates,

pitted

1

cup

low-fat coconut milk
For Topping
Coconut whipped cream

Sprinkle of sea salt

Pecans
Instructions
Make the Crust
Preheat oven to 350F.

Line a pie dish with parchment paper or lightly grease the bottom of the dish.

Add the oats and pecans in a food processor. Process about 30 seconds. Add 1/4 cup of coconut milk and vanilla. Process until the dough sticks together. Add 1-2 more tablespoons of coconut milk if it's too dry.

Press the dough on the bottom and the sides of the pie dish. Bake for 10 minutes.
Make the Date Caramel
In the same food processor, add dates and coconut milk. Blend until smooth, about 2-3 minutes.

Spread the caramel evenly on the crust.

Chill in the fridge 1-2 hours if desired to make it easier to cut and hold together.

Serve with a dollop of coconut whipped cream, pecans and a sprinkle of sea salt if desired.
Notes
Store in the fridge or freezer in an airtight container. It's actually good to eat right out of the freezer.
I used this recipe for the date caramel filling.
You can find a recipe for coconut whipped cream here.
If you try this recipe, make sure to tag your photo #unsweetenedcaroline on Instagram, Facebook and Twitter! Don't forget to also tag me @unsweetened.caroline on Instagram so I can see your creations!