18 Easy Satisfying Vegan Salad Recipes
18 easy satisfying vegan salad recipes that are delicious and filling. These salads are packed with nutritious ingredients and are balanced with carbs, protein and fats. You'll also find many high-protein salad options!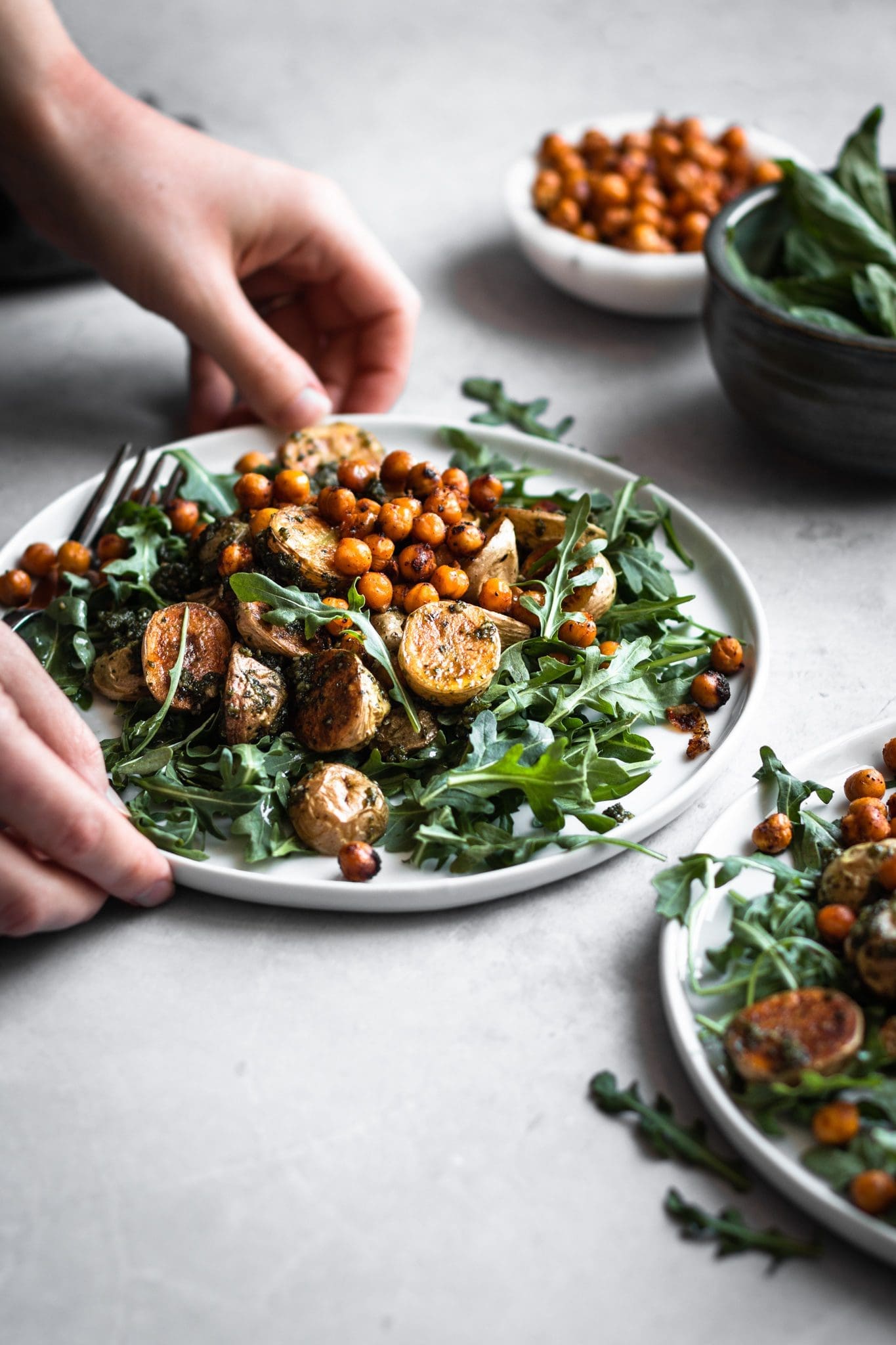 Salads shouldn't be boring. There are so many ways to make a salad interesting and satisfying! Here, you'll find a variety of delicious and nutritious salad recipes to try for lunch, dinner or as a side dish! But first, let's look at how to build a filling salad.
How to Make a Filling Salad
Add protein. Protein helps us feel satisfied and full after our meals. Can you get enough protein on a vegan diet? Of course! Simply be mindful of eating some sources of protein daily. To add protein to your salad, you can try adding beans, lentils, tofu, tempeh, nuts or seeds. You can also use nut or seed butters as a base for your dressings!
Don't forget carbs. Do you need carbs at every meal? No, but carbs are our main source of energy and can help us feel satisfied and energized. Do what works for you! Choose whole grains or high-fiber carbs more often to help with gut health and satisfaction. You can try adding warm roasted potatoes or sweet potatoes to make a filling bowl. Rice and quinoa are also great options!
Make it delicious. Do you force yourself to eat boring salads, just to feel unsatisfied and hungry after a meal? Enjoying your food is incredibly important! Add flavor by using fun dressings and a variety of vegetables or fruits.
Eat enough. Don't eat a small plain salad and expect to be satisfied and full for hours. Yes, sometimes that's what you might want and that's completely fine! But instead of focusing on eating the smallest portions possible, try focusing on satisfaction and getting variety in your diet.
You can also find my tips to prepare balanced vegan meals here. And learn more about vegan protein sources here.
Now, here are some delicious and satisfying salad recipes to try!
If you make any of these salads, be sure to leave a comment and/or give these recipes a rating! I love to hear from you guys. And of course, if you try these recipes, don't forget to tag me on Instagram!