Nourishing Protein Quinoa Bowl
Nourishing protein quinoa bowl. A nutritious and energizing salad packed with protein from quinoa, edamames, hemp hearts, sunflower seeds, nutritional yeast and tahini. Served with sweet potatoes and kale for a colorful and nourishing salad.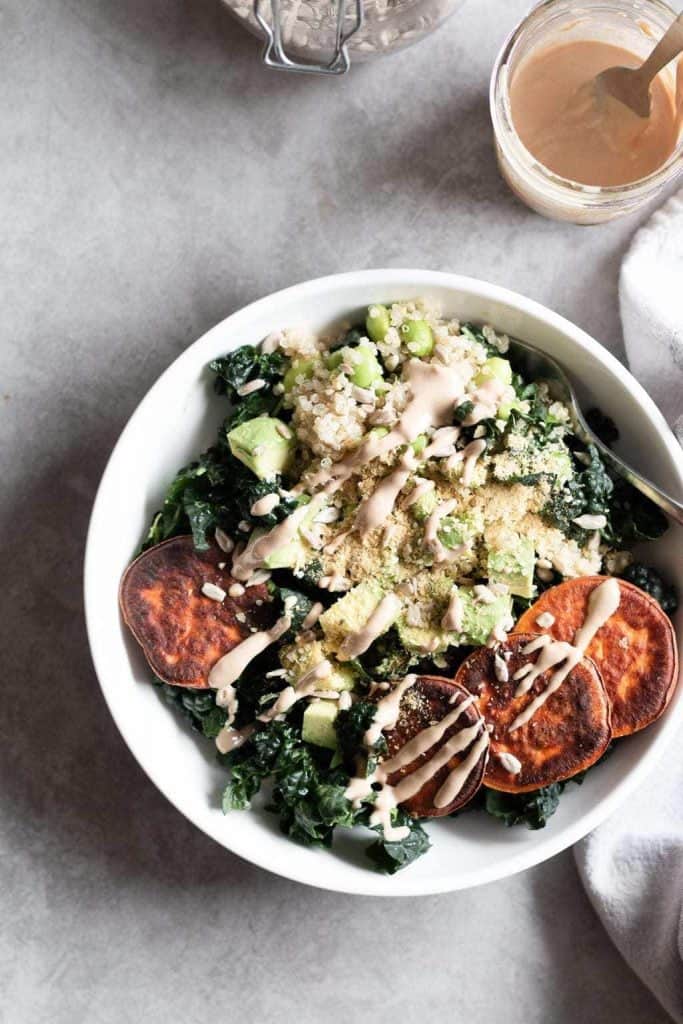 Welcoming the New Year with this nourishing protein quinoa bowl.
I hope you all enjoyed your holidays and that you're ready for 2019! Did you set any goals this year? I shared a few of my goals in this post, but I'm trying to be a bit more flexible with my goals this year. For the first time in my life, I have no idea what the future holds and I'm okay with it.
All I know is that we're off to a good start. We started 2019 in Los Angeles, on our 2 week road trip across the West Coast. Not a bad start at all if you ask me.
So far, we've been to Washington, Oregon, California, Nevada, Arizona and now we're back in Nevada before heading back home. We're driving quite a bit for the next two days, in hopes of getting back home tomorrow night. It's been a very exhausting, but incredible trip.
So while most people started the year eating healthily, we've been eating on the road for almost 2 weeks. In our defense, we've been eating a lot of "healthy" meals in the car, including avocado or peanut butter sandwiches, vegetables, fruits and lots of Lara bars. The few times we ate out, we stopped at vegetarian or vegan restaurants and I ate whatever I felt like eating. That included veggie burgers, pizza, lasagna and even fries… Did I feel guilty? Not even for one second. It's all about balance, whether on vacation or not.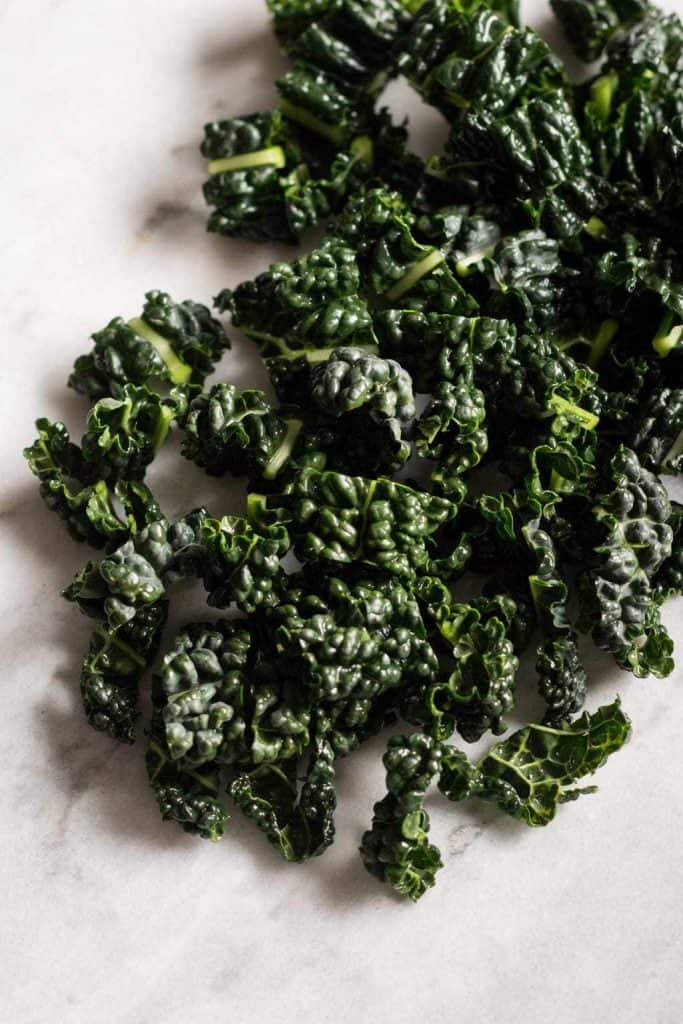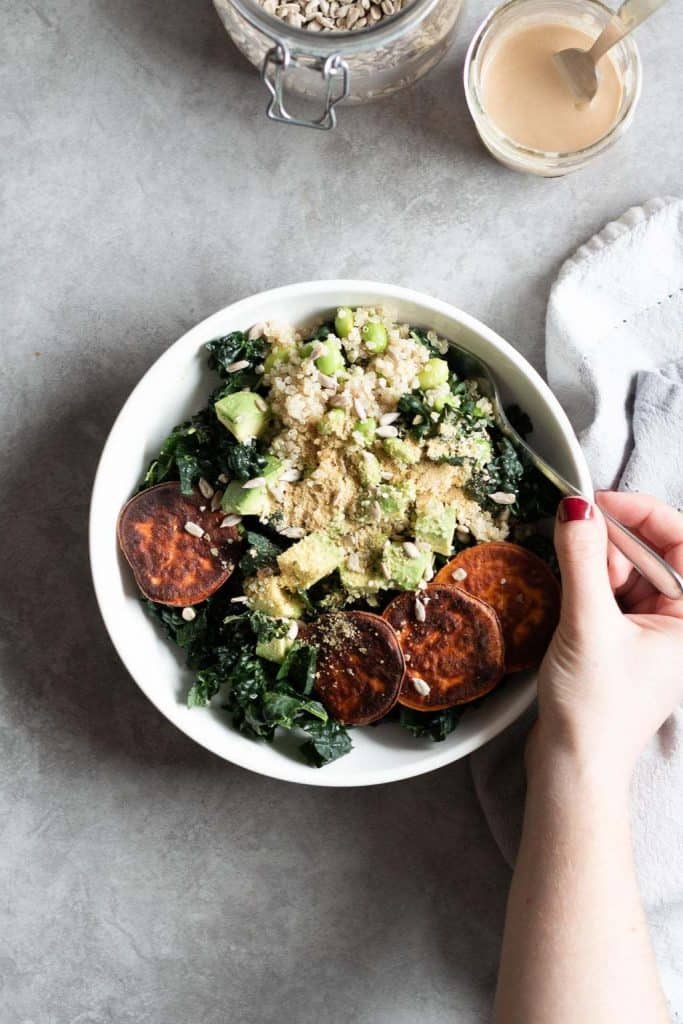 The few weeks before we left though, I did fill up on all the vegetables, in the form of this protein quinoa bowl. I made so many versions of this salad over the past month and I finally wrote down the recipe.
It's packed with protein from quinoa, edamame (you could use black beans or chickpeas instead), nutritional yeast, tahini, sunflower seeds and hemp hearts. I also used kale for a hearty green and I topped the bowl with avocado for another filling and nutritious ingredient.
Finally, I included some roasted sweet potatoes, simply because I can't get enough. There's really nothing better than roasted potatoes in a salad. I'm serious. Plus, the sweet potatoes with the quinoa will offer you some high fiber complex carbs. This salad keeps me full and energized for hours!
So instead of starting the year with a chocolate recipe (as I did last year), I'm starting with vegetables. Here's to a healthy and happy 2019!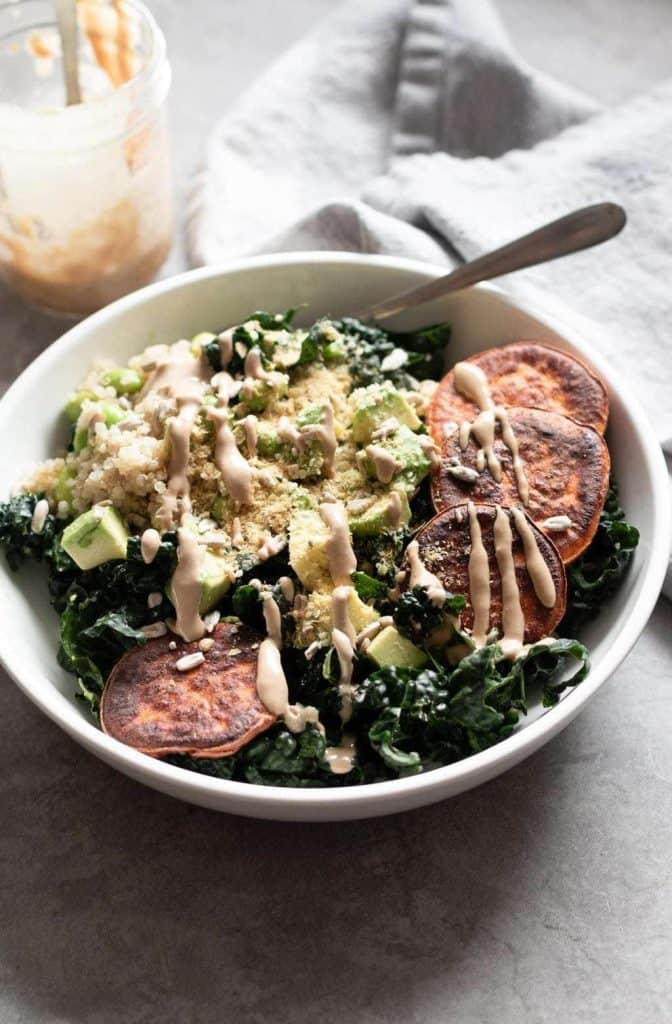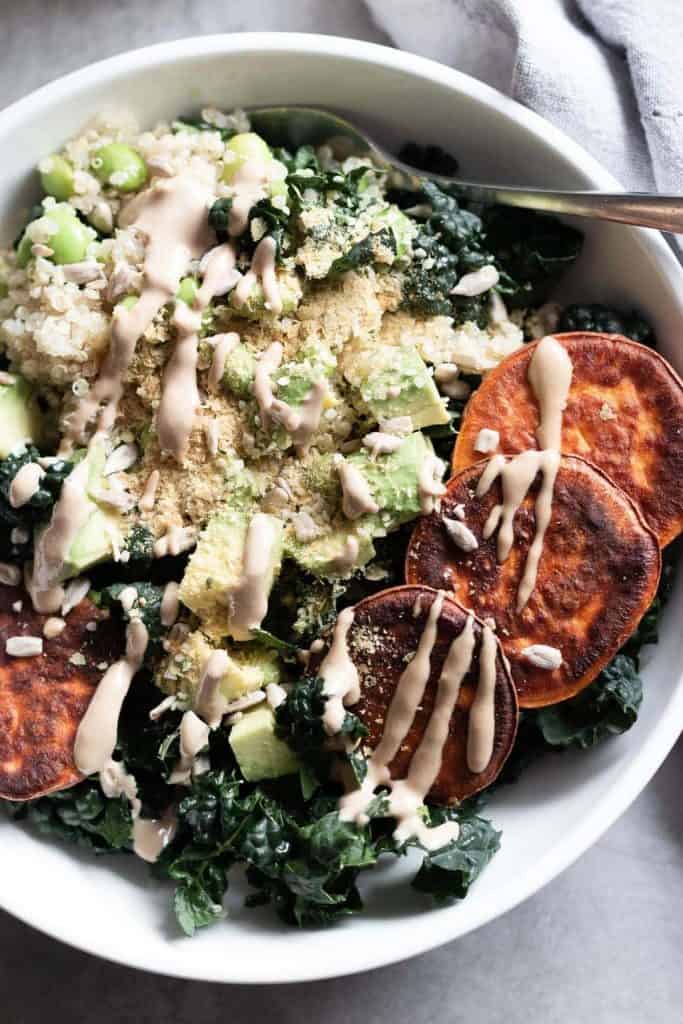 Nourishing Protein Quinoa Bowl
A nutritious and energizing salad packed with protein from quinoa, edamames, hemp hearts, sunflower seeds, nutritional yeast and tahini. Served with sweet potatoes and kale for a colorful and nourishing salad.
Ingredients
1

medium

sweet potato,

sliced or diced

1

tablespoon

oil

(I use avocado)

1/4

cup

uncooked quinoa

(see note)

4

cups

kale,

chopped

1

cup

edamames

(I use frozen)

1

ripe avocado,

diced

Sunflower seeds,

for topping

Hemp hearts,

for topping

Nutritional yeast,

for topping

Salt to taste
Dressing
2

tablespoons

tahini

1

teaspoon

low sodium soy sauce

1

teaspoon

white wine vinegar

1

small

garlic clove,

finely grated

1-2

tablespoons

water

as needed
Instructions
Prepare the sweet potato: Place on a baking sheet and drizzle with oil. Toss to cover evenly and sprinkle with salt to taste. Roast for 30 minutes at 400F or until tender and lightly golden.

Meanwhile, add the quinoa in a small saucepan with 1/2 cup of water. Bring to a boil, then reduce heat and simmer covered for 15 minutes or until the water has been absorbed.

Once the quinoa is cooked, add the frozen edamames to the quinoa and cover. The steam should thaw and warm the edamames. Set aside.

Chop the kale and divide into 2 or 3 bowls (depending on how many portions you're serving).

Prepare the dressing: In a small bowl or jar, whisk together all the ingredients except for the water. The mixture should be thick. Add water as needed, 1/2 tablespoon at a time. The dressing should be creamy and easy to drizzle.

Assemble the salad: Top the kale with the quinoa and edamames. Add the roasted sweet potato. Drizzle with the dressing and top with avocado, sunflower seeds, hemp hearts and nutritional yeast.
Notes
This recipe makes 2 large salads or 3 smaller portions. You could also serve it as a side dish for more portions.
Instead of cooking a small portion of quinoa, I usually cook 1/2 cup of quinoa and use what's not used in other recipes. I find that this larger portion of quinoa cooks better than a small 1/4 cup.
This recipe is great served warm and cold! The leftovers also keep well in the fridge.
If you make this quinoa bowl, be sure to leave a comment and/or give this recipe a rating! I love to hear from you guys. And of course, if you try this recipe, don't forget to tag me on Instagram!