Loaded Vegan Fajita Salad
This loaded vegan fajita salad is packed with color and made with a mix of cooked and raw vegetables. Add a flavorful herb dressing for a delicious healthy meal.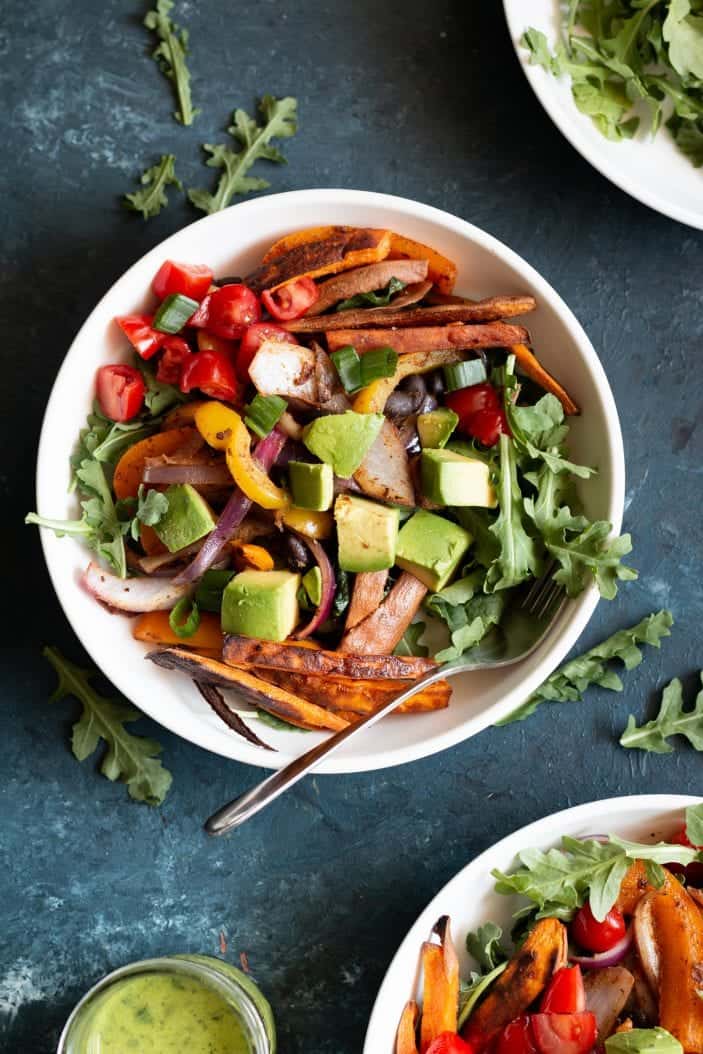 Happy Friday and happy Cinco de Mayo weekend! I have an amazing, colorful salad for you guys to celebrate Cinco de Mayo in a healthy way. That's not to say you shouldn't have chips and guacamole or queso as well. There's place for all of that.
I've never exactly celebrated Cinco de Mayo. I only learned about this holiday once I started creating and sharing recipes a few years ago. To me, May 5th has always been my best friend's birthday.
But I'm all about having an occasion to enjoy Mexican food (even my very non-authentic version of it).
My favorites? Vegan queso, nachos and this fajita salad.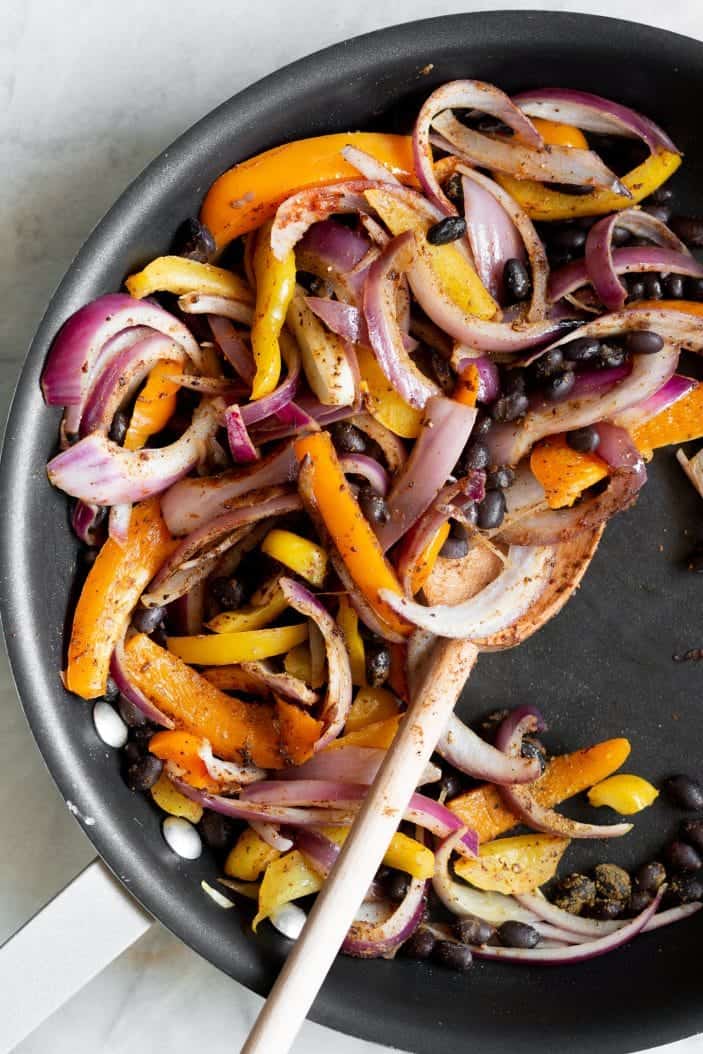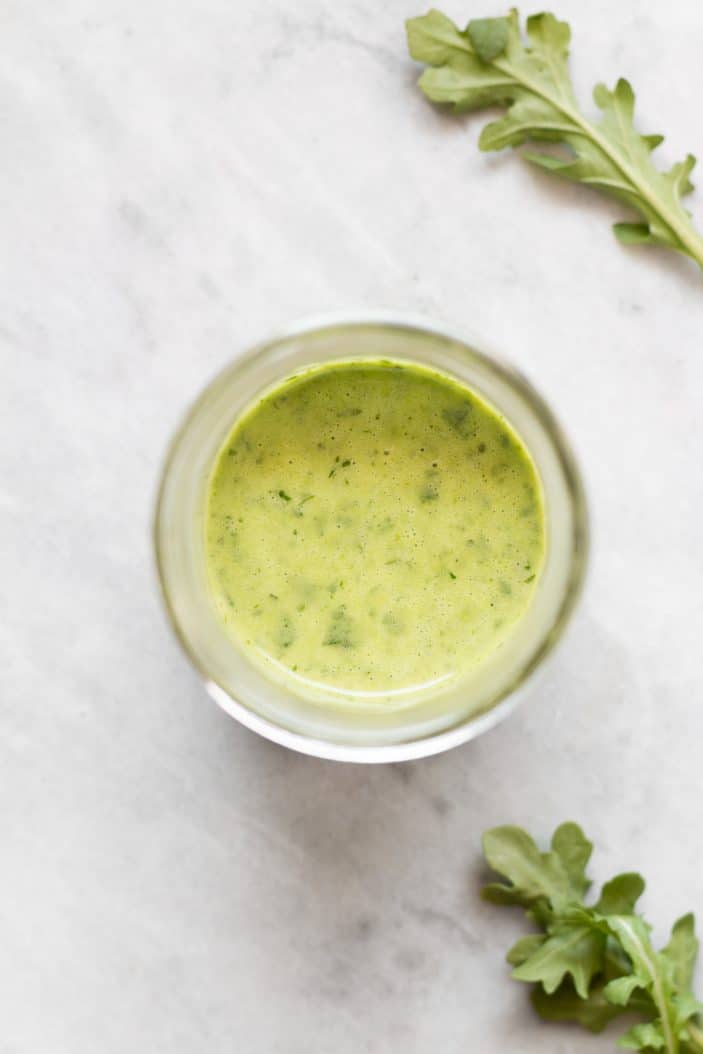 Here's how you make this salad:
Start by roasting your sweet potatoes (you guys maybe noticed by now how much I love roasted potatoes in salad). By the time your sweet potatoes are done roasting, the salad should be done.
Meanwhile, saute your onions and peppers in a pan. Add the beans and spices to cook it all together.
While everything is cooking, blend all the dressing ingredients in a blender.
Finally, assemble the salad! Add your raw veggies in a bowl. My favorites here are leafy greens and tomatoes. Then, add your roasted sweet potatoes and sautéed vegetables. Top with a diced avocado, green onions and the dressing. Toss it all together and serve!
I don't know about you guys, but I love and hot and cold salad.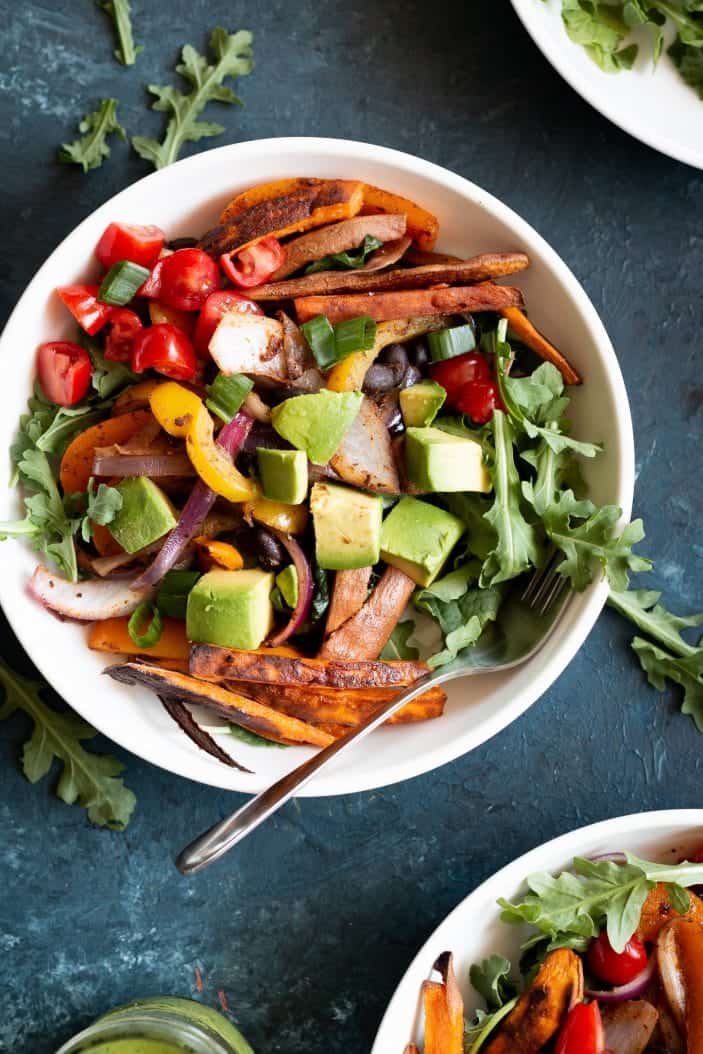 What are you making for Cinco de Mayo?
Loaded Vegan Fajita Salad
This loaded vegan fajita salad is packed with color and is made with both raw and cooked veggies. It's ready in the time it takes you to roast the sweet potatoes and makes for a filling and healthy meal.
Ingredients
2

medium

sweet potatoes,

diced or cut into fries

1

tablespoon

olive oil or oil of choice

1

medium

bell pepper (red, yellow or orange),

sliced

1

small

red onion,

sliced

1

can (19oz)

black beans,

rinsed and drained (about 1 1/2 cup)

1

teaspoon

cumin

1

teaspoon

chili powder

Salt to taste

4

cups

leafy greens of choice (lettuce, kale, mixed greens, etc.),

packed

1

tomato,

diced (or a handful or cherry tomatoes, halved)

1

avocado,

diced

Green onions for serving

(optional)
Herb Dressing
3

tablespoons

olive oil

1/4

teaspoon

salt

1/4

cup

fresh cilantro,

lightly packed

1/4

cup

fresh parsley,

ligthly packed

Juice of 1 lime

1

garlic clove

1/4

cup

water
Instructions
Preheat oven to 400F. Place the prepared sweet potatoes on a baking sheet. Drizzle with oil and toss to coat. Sprinkle with salt to taste. Roast for 30 minutes or until golden and lightly crispy.

Meanwhile, heat oil in a large skillet over medium heat. Add the onion and bell pepper and sauté for 5-10 minutes or until softened. Stir in the black beans, cumin, chili powder and salt and cook for another 2 minutes. Remove from heat.

Prepare the dressing: In a high-speed blender or small food processor, add all the dressing ingredients. Blend for 30 seconds.

Assemble the salad. Place the leafy greens and tomatoes in a large bowl, along with the roasted sweet potatoes and cooked onion, pepper and beans. Drizzle with the dressing and toss to combine.

Serve into 3-4 bowls, and top with avocado and green onions.
Notes
This recipe makes 3 large servings or 4 smaller servings. You can also serve it as a side dish. 
This salad is best eaten immediately. If eating later, you could serve it cold with the dressing added at that time.
If you make this loaded vegan fajita salad, be sure to leave a comment and/or give this recipe a rating! I love to hear from you guys. And of course, if you try this recipe, don't forget to tag me on Instagram!