Chocolate Peanut Butter Soft Serve
A creamy chocolate peanut butter soft serve ice cream made with just 3 ingredients. All you need is peanut butter, cocoa powder and frozen bananas.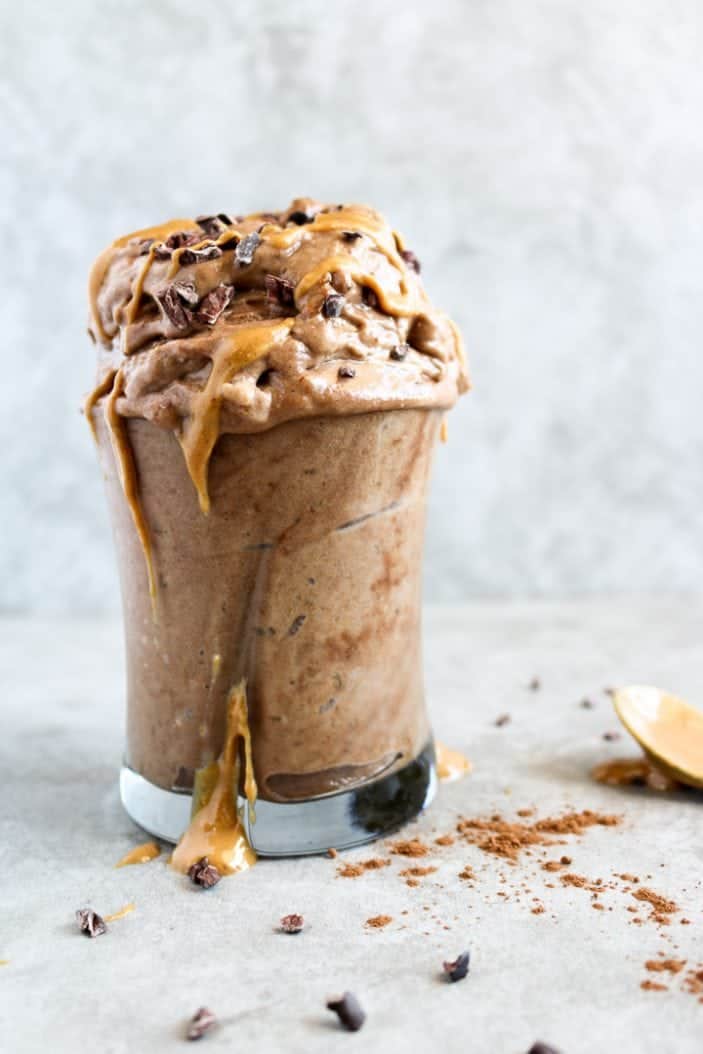 Back in 2016, when I started sharing food photos on Instagram, in the peak of smoothie bowls and energy bites, this was the recipe that got me started. This banana ice cream was the base of many of my posts, from loaded ice cream bowls to chia ice cream parfaits. At that point, I was making this banana ice cream every morning for breakfast.
I've made this recipe countless times now, but this was the original. At that time, I called it nice cream, as it was known as on social media back then, though I've since started using the term "banana ice cream" to avoid labeling food as morally "nice" or "good". Either way, it continues to be a delicious and nutritious snack that I enjoy all year round.
Since then, I've also shared a version 2.0, which you can find here, along with better photography. If you'd like to try my original recipe, you can find it below.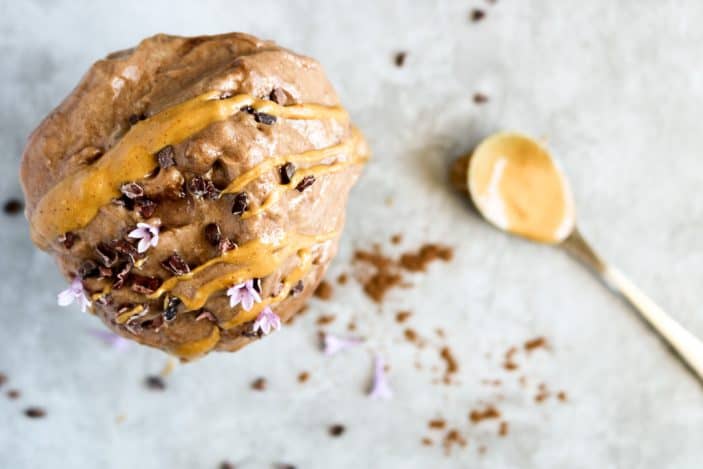 How to Make Chocolate Peanut Butter Soft Serve:
Here are the steps to make a simple dairy-free chocolate peanut butter soft serve at home.
Freeze the bananas

Start by slicing the bananas and freezing them in an airtight container overnight or for at least 12 hours. To prevent the banana slices from sticking together, you can place the slices in a single layer on a baking sheet lined with parchment paper. Freeze them for about 1 hour, then transfer them to an airtight container. This is not necessary, but it can save you from needing to break up banana slice clumps the next day.

Blend the ingredients

When the bananas are ready, place them in a food processor, along with the peanut butter and cocoa powder. Process until smooth. If you have a weaker blender or if it's not blending properly, you can add a splash of your favorite plant-based milk.

Serve

Serve the banana ice cream immediately with toppings of choice.
Banana Ice Cream FAQ:
Can I Make This Recipe Nut-Free?
For a nut-free option, you can replace the peanut butter with sunflower seed butter.
Can I Make This Recipe in a Blender?
If you have a strong blender, you should be able to make this recipe. You might need to add a splash of plant-based milk to get it started, which might result in a softer ice cream. I found a strong food processor to be the best tool for this recipe.
More Dairy-Free Ice Cream Recipes:
For more banana ice cream recipes, you can try this oatmeal cookie dough banana ice cream and this peanut butter strawberry swirl ice cream with cookie dough crumble.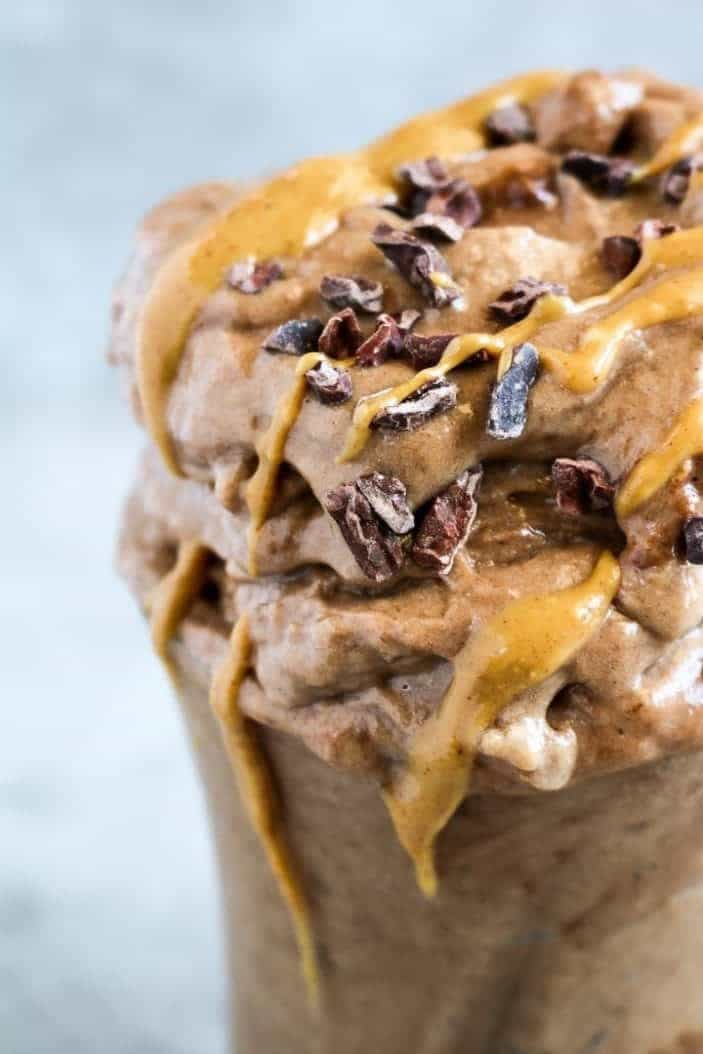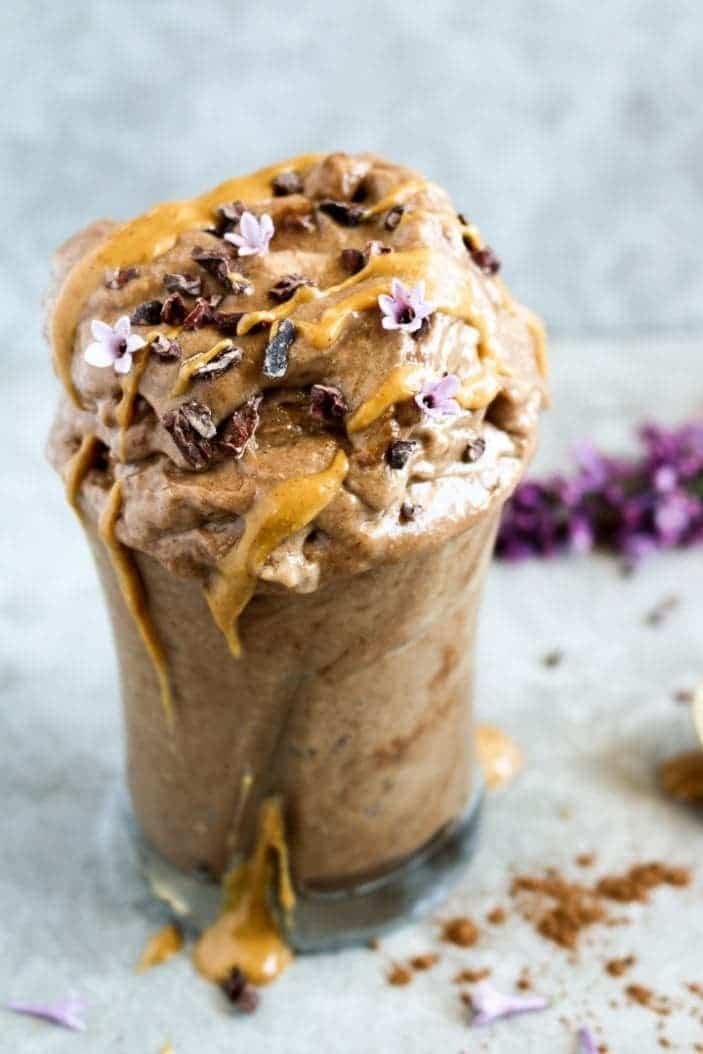 Chocolate Peanut Butter Soft Serve (Nice Cream!)
This is my go-to ice cream – made from bananas, peanut butter and cocoa powder. That's it.
Ingredients
4

large

bananas,

frozen

2

tablespoons

peanut butter

2 1/2

tablespoons

cocoa powder,

unsweetened
Suggested Toppings
More peanut butter

Cocoa nibs

Chocolate or carob chips (or drizzle)

Shredded coconut

Fresh berries
Instructions
Slice your bananas and freeze overnight or for at least 12 hours.


Add your frozen bananas, peanut butter and cocoa powder in a food processor and process until smooth.

Serve immediately of store in an airtight container in the freezer.
Notes
I use organic salted peanut butter, but you can use any kind you have on hand. You can also use sunflower seed butter for a nut-free version or almond butter if preferred. 
If you make this chocolate peanut butter soft serve, be sure to leave a comment and/or give this recipe a rating! I love to hear from you guys. And of course, if you try this recipe, don't forget to tag me on Instagram!