12 Meal Prep Tips From a Registered Dietitian
Here are 12 meal prep tips from a registered dietitian. These beginner meal prep tips will help you prepare balanced and delicious meals, while saving time and reducing food waste.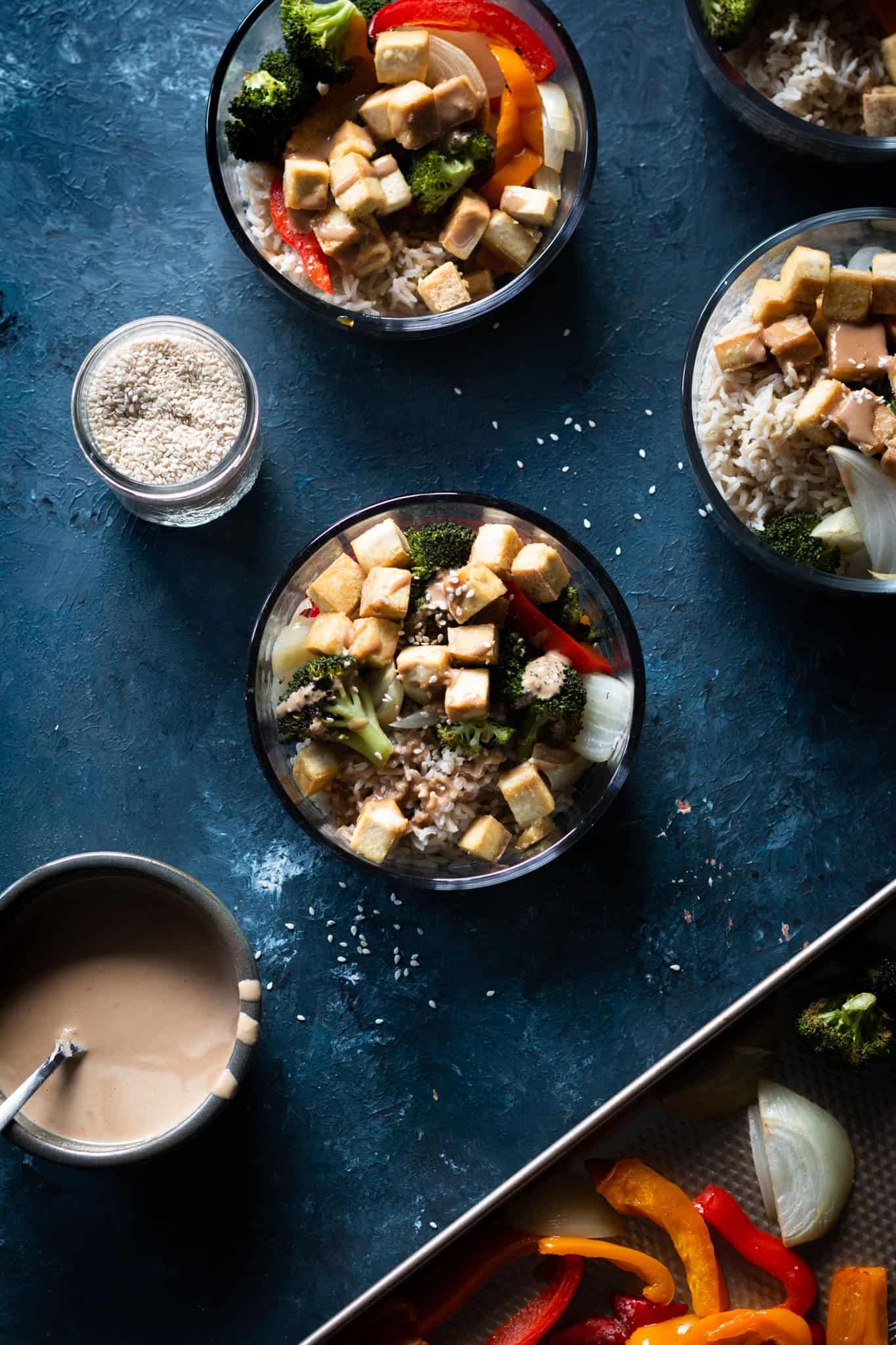 Are you interested in improving your meal prep game? Or are you new to meal prep? Here you'll find all of my meal prep tips to help you get started. These tips are not focused on restricting your diet and controlling portions. Instead, these tips will help you prepare delicious and satisfying meals to save you time during busy weeks.
As I'm a vegan registered dietitian, many of the recipe ideas and suggestions below have a focus on plant-based diets. However, that doesn't mean that these tips don't apply to an omnivore diet. Other than the specific vegan recipes mentioned, these tips are for all eaters. I hope you'll find them helpful!
Meal Prep Tips
1. Keep It Simple
Meal prep shouldn't take a entire day out of your week. Instead of trying to prepare every single meal in advance, I encourage you to keep it simple. Start with 1 or 2 recipes if you're new to meal prep and make large batches to save time. Once you feel comfortable and you have a system that works, prepare a few more recipes, including snacks. You can also use a slow cooker or Instant Pot to save time.
2. Use What You Have First
Before you get ready to go shopping and meal prepping, use what you have. This will reduce food waste and save you money. Do you have vegetables that are about to go bad? Throw them in a soup! Maybe you have brown bananas? Make banana bread or muffins for snacks. You can also save fruits and vegetables by chopping them and storing them in the freezer for future meals, such as smoothies, soups or a stir-fry.
3. Shop with a List
Once you have a plan for your old leftover ingredients, make a list of the recipes that you'd like to make, then prepare a shopping list. This will help keep you organized and will save you from forgetting important ingredients.
4. Invest in Good Reusable Containers
Reduce your plastic waste and keep your meals organized with good reusable containers. Go for glass containers or see-through containers so that you can easily see what you have. Having a set of containers will also make them easily stackable to save precious space. If you're looking for alternatives to plastic bags, stasher bags are a great option.
5. Prep Ingredients
If you're short on time or if you prefer not to prepare your meals in advance, you can start by prepping ingredients instead. Chop your veggies when you get home from the grocery store, cook a large batch of rice or quinoa for easy meals and have some quick protein foods on hand. This will make it easier during the week to make quick meals, such as burrito bowls, salads, stir-fry, soups and more.
6. Prep Snacks
Meal prep is not all about main dishes. Try to prepare snacks as well! This could be as simple as adding quick snacks to your shopping list, such as apples, bananas, trail mix or granola bars. If you'd like to prepare something extra, you could try making a double batch of energy bites or no-bake granola bars to keep in the freezer for quick snacks. Muffins are also a great meal prep snack. I would recommend starting with one fun meal prep snack recipe, then keep the rest simple with fruit or prepared snacks.
7. Prepare Balanced Meals
Make sure to prepare meals that will satisfy and fill you. Don't try to prepare low calorie meals that will keep you hungry all day. Instead, prepare meals that are balanced with a source of carbs, protein, fat and vegetables for fiber.
Try to use a variety of different ingredients. This will help you get all the nutrients that you need. Plus, eating 30 different plant foods every week can benefit your gut health.
If you're looking for tips on how to prepare balanced vegan meals, you can find my guide here. If you're not vegan, many of the same tips still apply to you.
8. Double Recipes
This one doesn't need much explaining. If you're taking the time to prepare a recipe, might as well double it! You'll save time and you'll dirty less dishes, while preparing more portions.
9. Use the Freezer
To be safe, it's best to eat most prepared meals within 4 days. For this reason, if you're looking at preparing meals further in advance, try to store some portions in the freezer. Soups, stews, veggie burger patties and some casseroles keep very well in the freezer. Prepare large portions of these to keep in the freezer at all times. Just make sure to use them up before storing more in the freezer. Here are 45 freezer-friendly vegetarian recipes if you're looking for ideas.
10. Use Convenience Foods
I don't mean that you should rely on pre-made meals all the time, but some packaged foods can help save you time during meal prep or later during the week. For example, try using canned beans, lentils, jarred pasta sauce, frozen vegetables and fruits. These are minimally processed convenience foods that will save you time and can reduce food waste.
Feel free to use other packaged foods to finish a meal, such as frozen vegan nuggets to enjoy with your prepared rice and some roasted vegetables or a salad. Pre-made veggie burgers are also a great option to keep in the freezer for quick meals. All foods fit in a healthy diet.
11. Prepare Meals that You Enjoy
Keep in mind that being satisfied and being full are two different things. You can feel full after a meal, without being satisfied. This often happens when you didn't eat a meal that you enjoyed or when you ignore your current cravings. Make sure that you prepare enjoyable meals. Don't try to prepare boring meals just because they're "healthy". This will backfire when you'll end the day craving the foods you didn't allow yourself to have.
Make your meals more enjoyable by adding flavor with sauces, spices, herbs and more. And don't forget to add some carbs for satiety, comfort and energy.
12. Stay Flexible
Don't try to follow a strict meal plan that tells you what to eat on which day. Instead, prepare a variety of different meals and snacks, then listen to what you're craving that day. Some days you might feel like a lighter meal, while other days, you might want something hearty. Allowing yourself to eat the foods that you want in that moment will help you have a better relationship with food and will reduce intense cravings and overeating later in the day.
---
And that's it! Whether you're new to meal prepping or not, I hope that these tips will help. If you're looking for meal prep recipe inspiration, I linked some of my favorites below. Enjoy!
Meal Prep Recipes