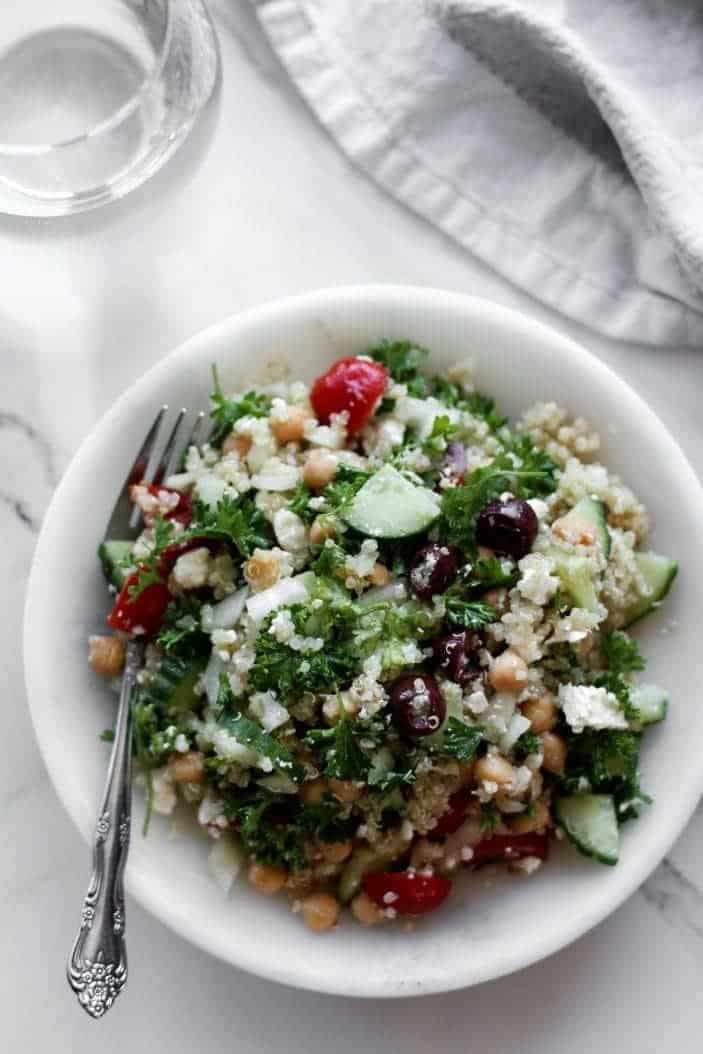 Greek Quinoa & Chickpea Salad
It's Global Pulse Day and I'm celebrating with a healthy Greek Quinoa & CHICKPEA Salad!
Chickpeas are hands down my favorite pulses. I must say that picking a favorite is a little difficult, because well… I love them all! But I think I'll stick with chickpeas. From salad toppings to hummus and veggie burgers… You really can't go wrong with chickpeas. What are your favorite pulses?
In the spirit of Global Pulse Day, here are some of my favorite pulse recipes:
Everyday Salad with Tahini Dressing & Chickpea Croutons
Easy Black Bean and Quinoa Chili
Golden Roasted Cauliflower Dahl
And now this salad!
I've had this recipe saved up for a while now. Not for this particular occasion, but now I can't think of a better day to share it with you guys than this one!
Here's the story behind this recipe: If you've been reading my blog for a while, you might know that I'm currently doing my dietetic internship. This internship lasts one year and includes a food services management section, a clinical section (nutrition therapy) and a community section (mostly prevention and nutrition for a healthy population). My point is, during my management rotation, I had to develop a new recipe for the hospital cafeteria. Since I have a passion for vegetarian recipes, they asked me to create a healthy vegetarian option, preferably a salad. I wanted a filling salad that would have a complete protein, such as a combination of grains and pulses, so I knew it had to be a quinoa salad. I actually ended up creating two different quinoa salads: this Greek quinoa salad and a Southwestern quinoa salad (which I might share with you guys later). I spent a lot of time developing these recipes. I had to test them at home and then test them at the hospital to make sure they had the equipment and the ingredients needed. I also gave samples in the cafeteria to get the clients' feedback. I'm happy to say that everyone LOVED it.
Anyway, all that to say that this salad is inspired by the recipe I created for the hospital during my management rotation.
I made this salad over a dozen times and I love taking it to work for a healthy and filling lunch. It only takes 30 minutes to make and it's the perfect recipe to make on Sundays to have healthy lunches throughout the week. This salad is packed with protein thanks to the quinoa and the chickpeas and is guaranteed to keep you full for hours. The feta also adds some protein and flavor to this dish, but you can certainly leave it out to make it vegan. I added cucumbers and tomatoes and then chose to use parsley instead of lettuce for a flavor boost. Finally, the vinaigrette is a simple mix of lemon juice, olive oil and salt. It's really all you need for a great Greek-inspired salad. And of course the feta takes it to the next level if you're up for it.
Happy Global Pulse Day!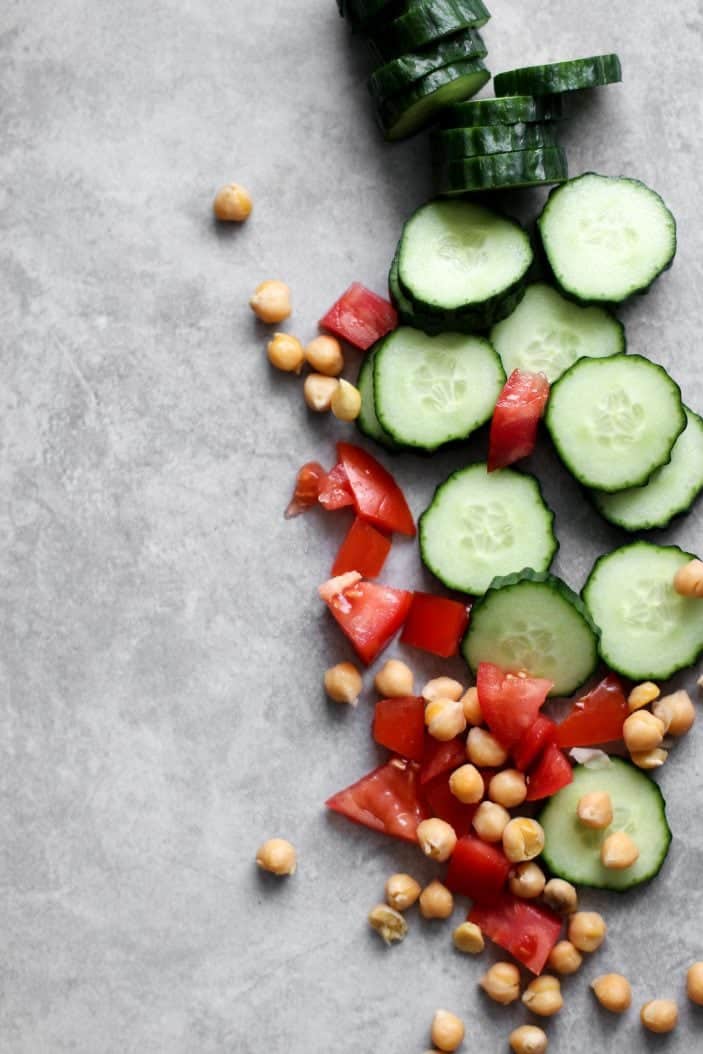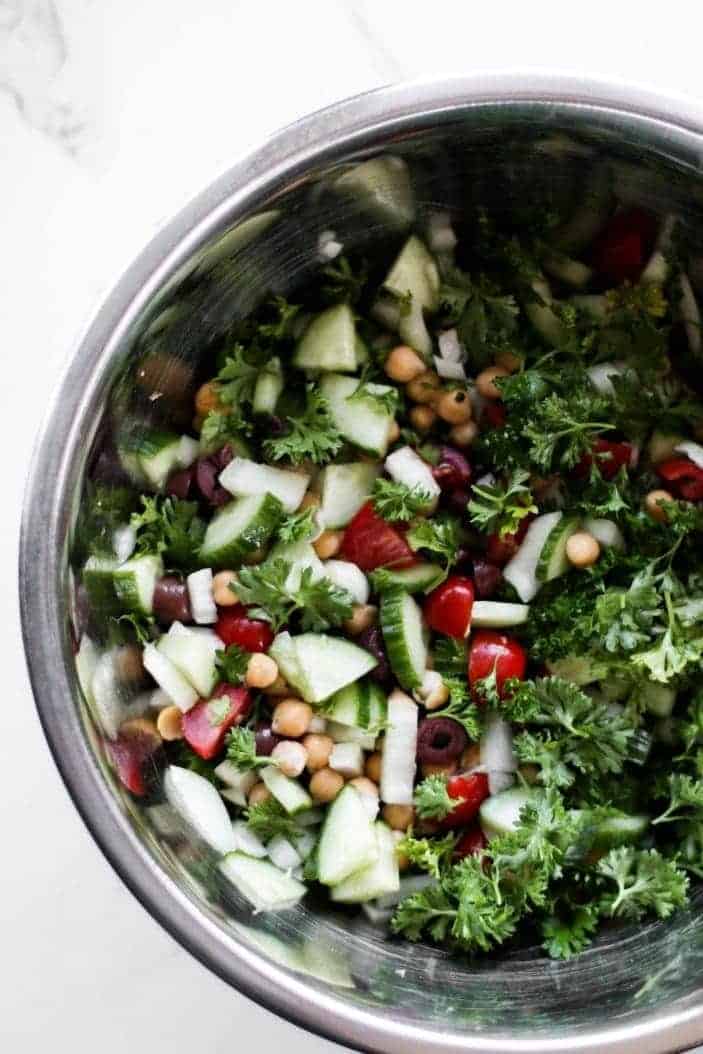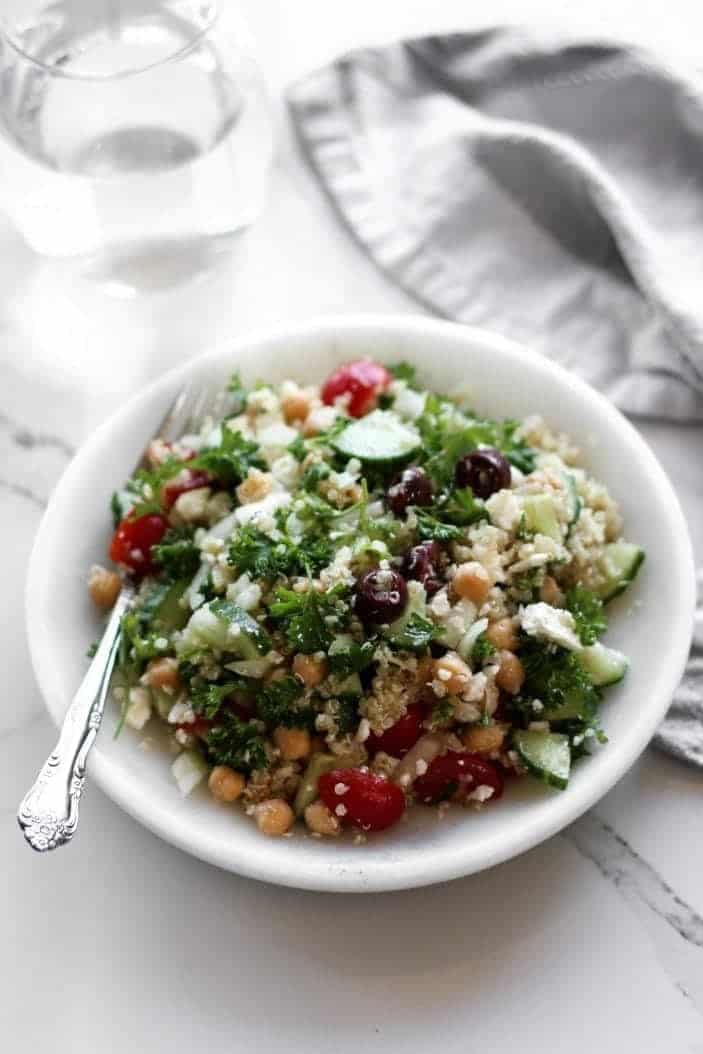 Greek Quinoa & Chickpea Salad
This fresh, yet hearty salad will keep you full for hours. It's filled with nutrient-rich vegetables, including tomatoes and cucumbers and uses parsley as a flavorful alternative to lettuce. Quinoa and chickpeas make this recipe packed with protein and fiber, while olive oil and lemon juice makes a healthy and simple vinaigrette. Leave out the feta to make this dish vegan.
Ingredients
1

cup

quinoa,

dry (about 2 1/2 cups cooked)

3

cups

parsley,

chopped

1

cup

cherry tomatoes,

quartered

2

cups

English cucumber,

diced (about 1 cucumber)

1 1/2

cup

onions,

diced (red or yellow)

2

cups

chickpeas

1

cup

feta cheese,

crumbled

1/2

cup

kalamata olives,

sliced (optional)

1/4

cup

lemon juice

1/4

cup

olive oil

1/4

teaspoon

fine grain sea salt
Instructions
Add your quinoa in a small pot, along with 2 cups of water. Bring to a boil, then reduce to low heat and let simmer 15 minutes or until the water has been absorbed. Let it cool completely.

Meanwhile, prepare your parsley, cherry tomatoes, cucumbers, onions and chickpeas and place in a large bowl. Add your crumbled feta, olives, lemon juice, olive oil and salt.

When your quinoa has cooled down, transfer to the bowl with your other ingredients. Toss all the ingredients together. Add more salt or pepper to taste. Enjoy!
Notes
Store in an airtight container in the fridge.
Leave out the feta for a vegan option.
If you try this recipe, make sure to tag your photo #unsweetenedcaroline on Instagram, Facebook and Twitter! Don't forget to also tag me @unsweetened.caroline on Instagram so I can see your creations!