A vegan loaded queso dip that's packed with vegetables! This vegan queso is cashew-free and made with a base of potatoes and carrots.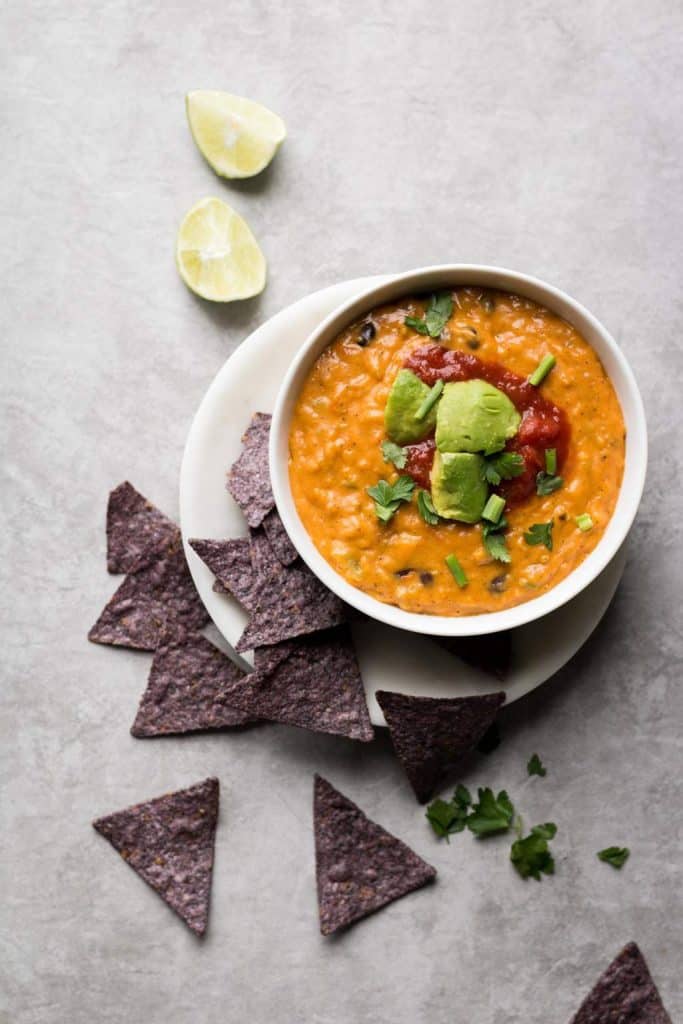 Are you celebrating Cinco de Mayo? If so, I have a delicious dip for you to try!
This loaded vegan queso is easy, delicious and packed with vegetables. All you need is 30 minutes. You might have most of the ingredients on hand already! This queso is made with… Potatoes and carrots! Just trust me on this one.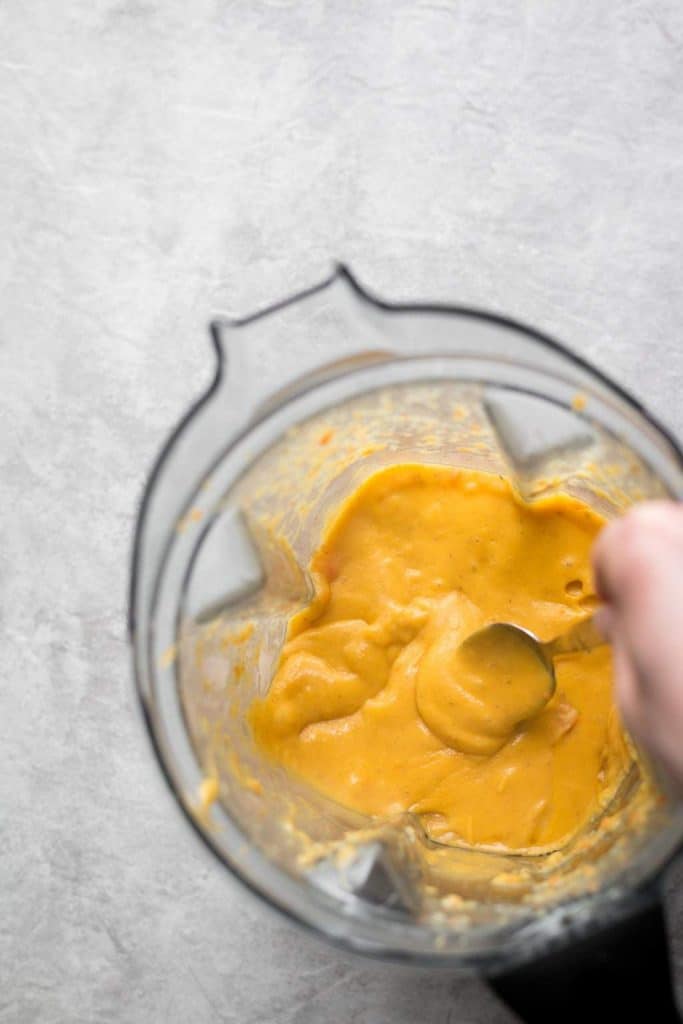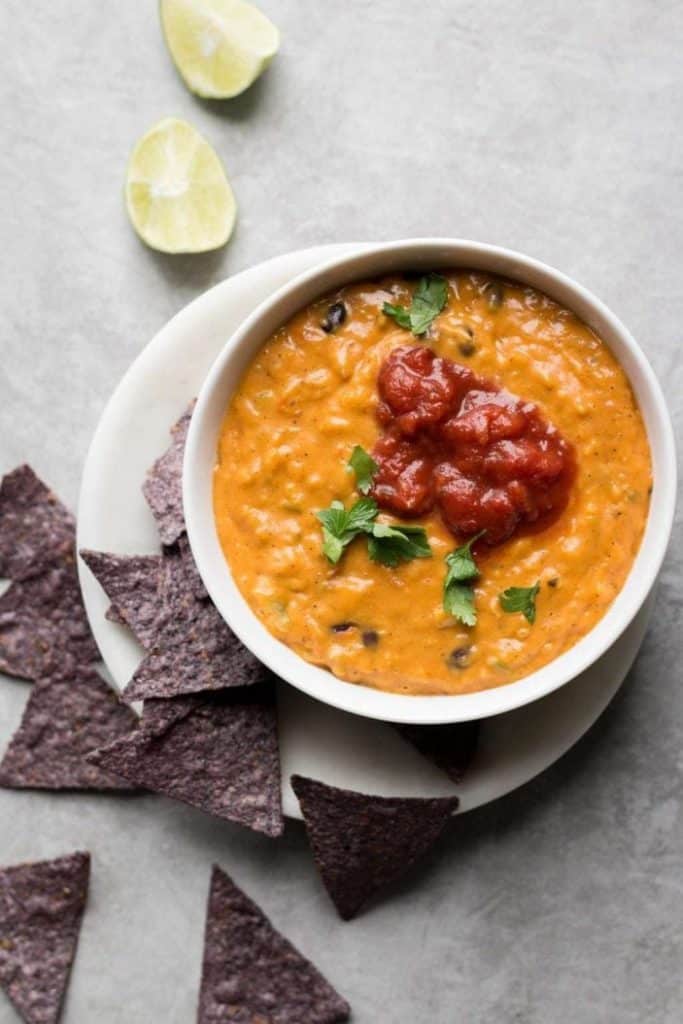 How to Make Loaded Vegan Queso:
Start by boiling potatoes and carrots. Meanwhile, you can sauté your onions, garlic and jalapeno pepper. Sprinkle with a bit of chili powder and cumin, cook for a few minutes, then toss in a high speed blender. Blend along with your cooked potatoes, carrots and nutritional yeast. You'll end up with a surprisingly stringy and very flavorful cheese sauce.
Since this is a loaded queso dip, I stir in some salsa and black beans. You can also top it with cilantro and avocado (or guacamole). If desired, you could also add corn and sautéed red peppers. Make it your own! If you don't want a loaded dip, skip the add-ins and simply blend the onions and jalapenos with the cheese sauce until smooth. Both ways are great!
If you're worried about this recipe being vegan and made from potatoes and carrots, trust me, it still tastes delicious and surprisingly cheesy. When making something vegan, I always encourage not comparing it to the non-vegan version because they can both be good in their own way.
I first made this dip for a girl's night in with my vegan friend. I think it's safe to say that it was a real hit.
That being said, whether you're vegan or not, give this dip a try! Not only is it delicious, but it's cheese-free and filled with vegetables. You can't go wrong with a delicious, yet healthy recipe.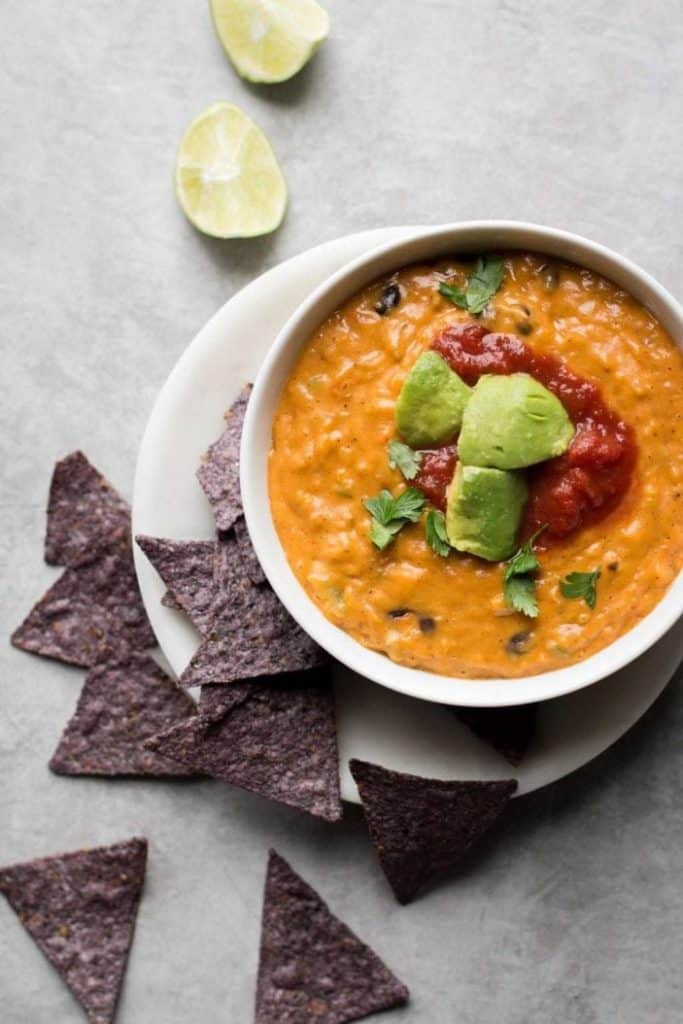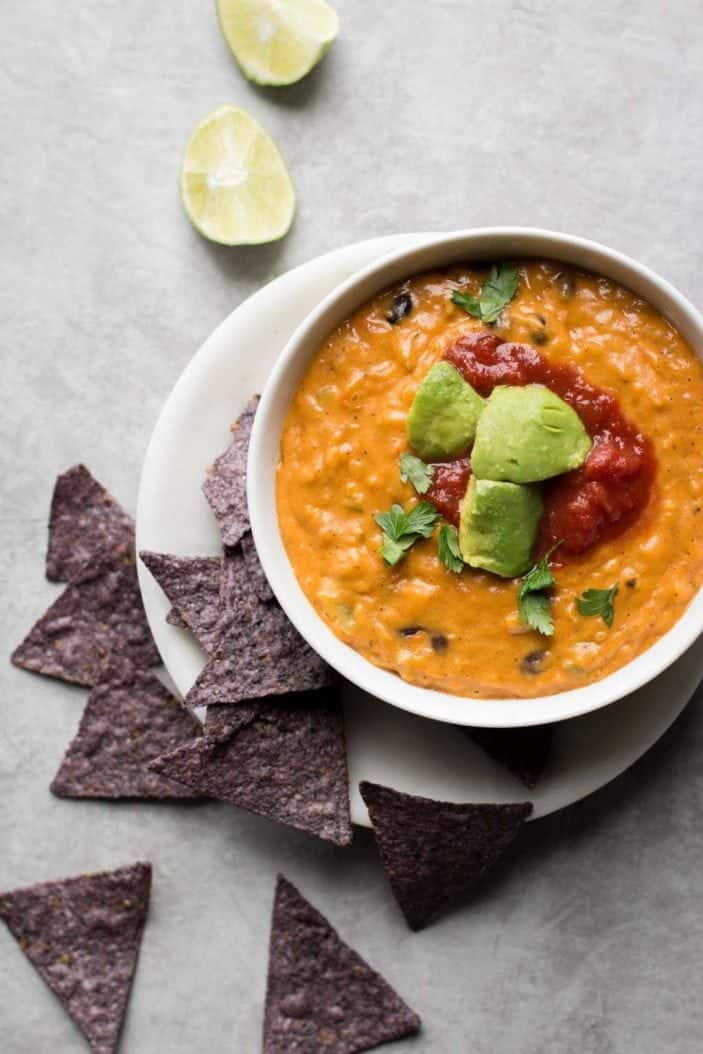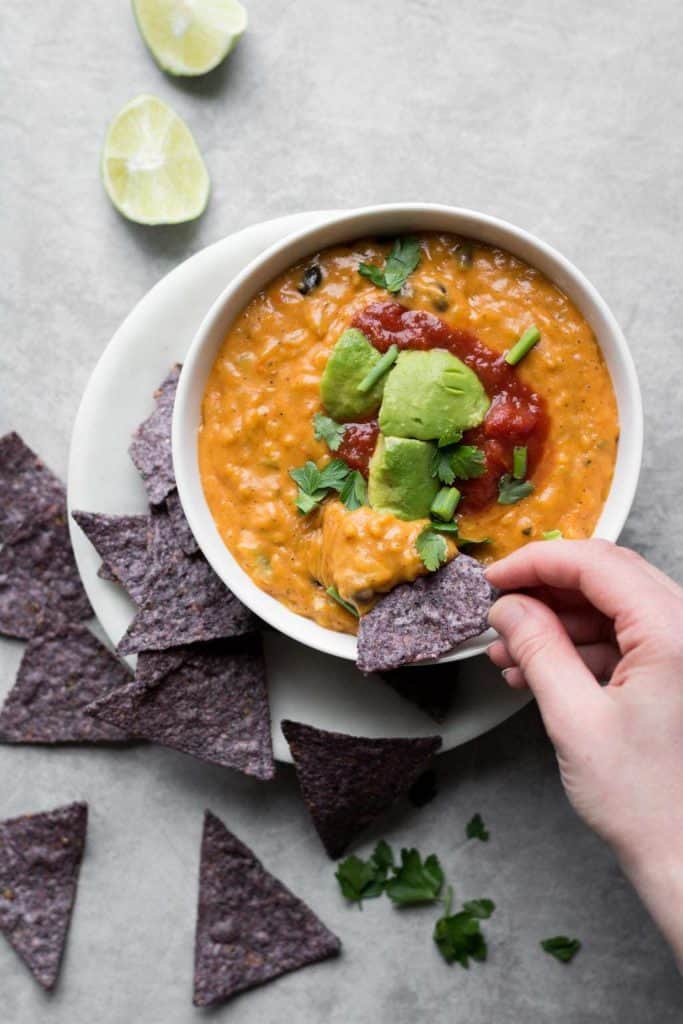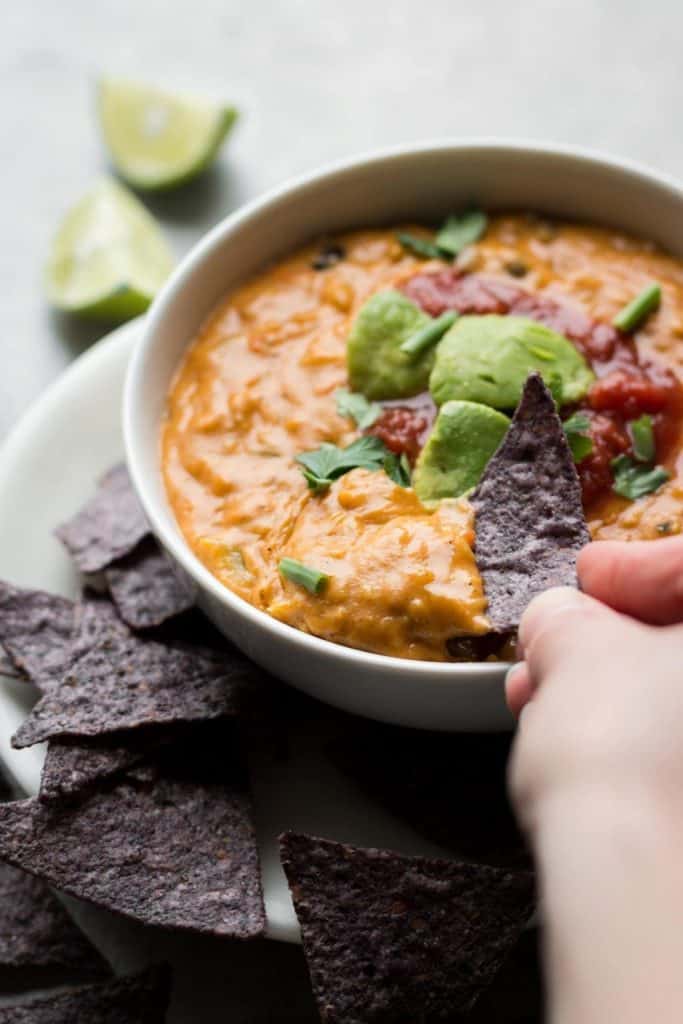 Vegan Loaded Queso Dip
This vegan queso is filled with vegetables and cashew-free! The "cheese" is made from a base of potatoes and carrots and is flavored with nutritional yeast, garlic, cumin and chili. For a loaded dip, you can add jalapeno, onions, salsa, black beans, avocado and cilantro! The result? A flavorful, comforting and healthier queso dip.
Ingredients
1 1/2

cup

potatoes,

diced (1 cm or 1/2 inch cubes)

1/2

cup

carrots,

diced (1 cm or 1/2 inch cubes)

1

medium

yellow onion,

diced

1

large

garlic clove,

minced

1/2

jalapeno,

small diced

1

teaspoon

cumin,

ground

1

teaspoon

chili powder,

ground

3

tablespoons

nutritional yeast

2

tablespoons

water

2

tablespoons

olive oil

1/2

teaspoon

salt

(or more to taste)

1/2

cup

black beans

1/4

cup

salsa + more for topping

Avocado

Cilantro
Instructions
Add carrots and potatoes to a small saucepan and cover with water. Bring to a boil over high heat, then reduce to medium and simmer until tender, about 10-15 minutes.

Meanwhile, heat 1 tablespoon olive oil on a skillet over medium heat. Add onion, garlic and jalapeno. Cook until onions are translucent and fragrant. Add cumin, chili and salt and cook another minute. Set aside.

When your carrots and potatoes are done, drain and transfer to a blender or food processor. Add the nutritional yeast, 1 tablespoon olive oil and water. Blend until smooth.

Add your salsa plus sauteed onions and jalapeno to the blender and pulse a few times to incorporate. You can blend it smoother if desired.

Stir in the black beans, then transfer the dip to a serving bowl. Top with more salsa, avocado and cilantro if desired. Serve with tortilla chips.
Notes
For a smooth dip, omit the toppings and beans. Blend the onions and salsa with the cheese sauce until smooth.
For a spicier dip, you can add sriracha to taste.
Keep leftovers in an airtight container in the fridge for up to 4 days.
If you make this vegan loaded queso, be sure to leave a comment and/or give this recipe a rating! I love to hear from you guys. And of course, if you try this recipe, don't forget to tag me on Instagram!