Peanut Butter Cookie Dough Bites
Life update: we moved in our new apartment!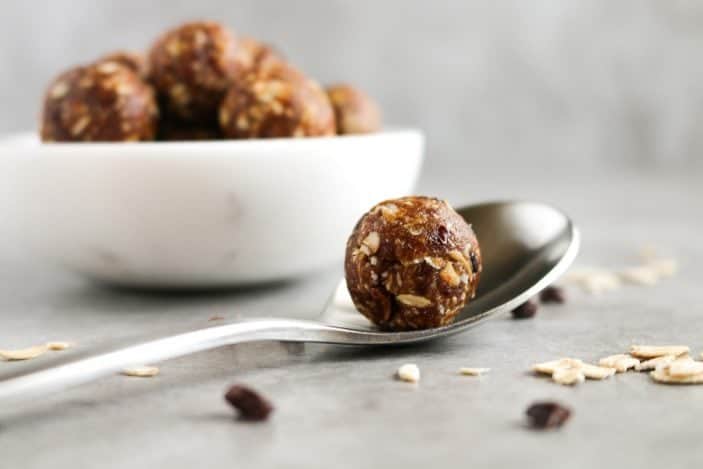 I'm having so much fun emptying boxes, organizing our stuff and decorating the apartment! Yes, I get extremely excited about organization. Sometimes I remind myself of Monica from Friends… I love when everything is in clean. I might be a control freak. I might be.
Now I could continue talking about the apartment, but I'll save that for another time. Instead, let's get right to the recipe! Today I'm sharing an old favorite of mine.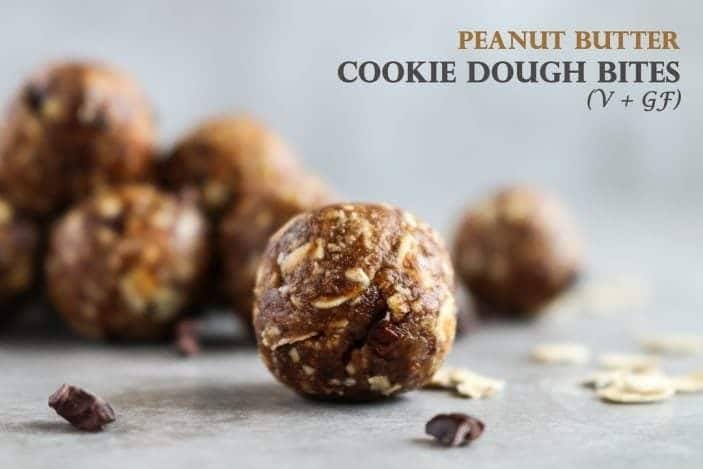 Another peanut butter recipe?!! YES.
This might me my last one until next year (I wrote about it in last week's post), but that could be a good thing. It might force me to try different flavors once in a while… You could say peanut butter chocolate is my number one choice when it comes to desserts. I can't be the only one!? The good news is, I tried sunflower seed butter and I'm hooked! It will definitely be my replacement for the year. Have you tried it yet? Highly recommended. 🙂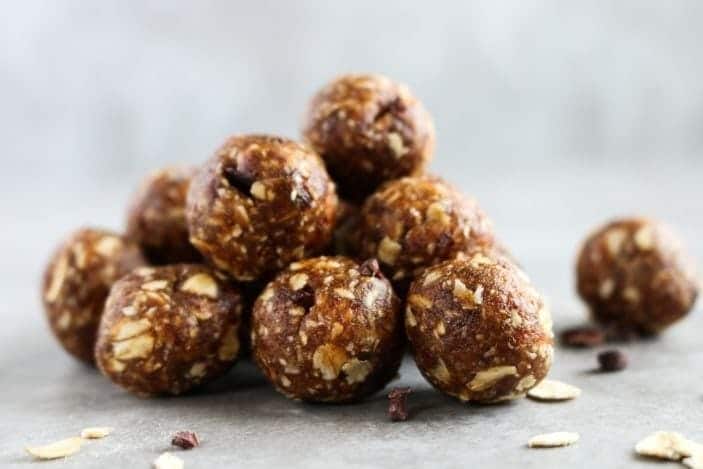 If you follow me on Instagram, you probably saw pictures of my cookie dough nice cream a few times. Well, I perfected my recipe, measured it and now I'm sharing it with you! These cookie dough bites are soft without being sticky, yet firm enough to hold together. I added cocoa nibs for a little crunch, but they're completely optional! To top it off, they're gluten-free, vegan and sweetened with dates only!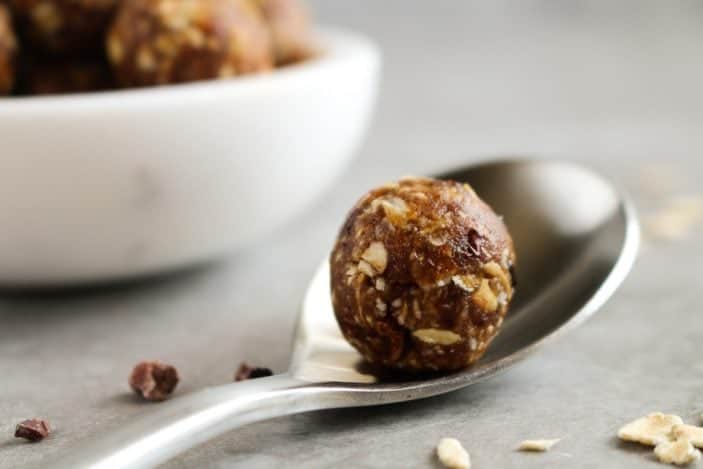 I like to eat mine with a glass of milk or to put them on top of nice cream (my favorite!). Lately I've been keeping them in the freezer as a quick snack. When I crave something sweet, I eat two or three bites to satisfy my sweet tooth and it works like magic! Most of the time. 😉
I hope you love them as much as we do!
Peanut Butter Cookie Dough Bites
These peanut butter cookie dough bites make the perfect satisfying, yet healthy snack. They're filled with wholesome ingredients, such as peanuts, oats and dates.
Ingredients
1/4

cup

peanut butter

1/4

cup

dry roasted peanuts

1

cup

Medjool dates,

pitted

1

teaspoon

vanilla extract

1

tablespoon

coconut oil

1

cup

rolled oats or quick oats

1

tablespoon

cocoa nibs

(optional)
Instructions
Add the peanut butter, peanuts, dates, vanilla and coconut oil in a food processor. Process until it forms a ball, about 2 minutes. Add 1/2 a cup of the oats and continue processing a few seconds.

Remove the blade from the food processor. Add the remaining oats and the cocoa nibs and mix it all together with your hands (it will be thick).

Using your hands, form 35 little balls (or less if desired), about 1/2 tablespoon each.

Store in an airtight container in the fridge or in the freezer.
Notes
If your dates are dry, you might need to add 1-2 tablespoons of water to the mixture before adding the oats. You'll know by checking if the mixture holds together when pressed between your fingers.
I made this recipe many times, including a peanut-free version! To do this, I used sunflower seed butter instead of peanut butter and cashews instead of peanuts. To make it nut-free, you could try using sunflower seeds instead of peanuts. In another batch, I used almonds instead of peanuts to give it a milder peanut taste and it was good! My favorite is still the recipe above… Although the peanut-free version is a close second!
If you make this recipe, don't forget to tag your photo #unsweetenedcaroline