In this last coffee break post, I'm sharing my tips to manage stress in isolation, pantry staple recipes, books I'm loving and more!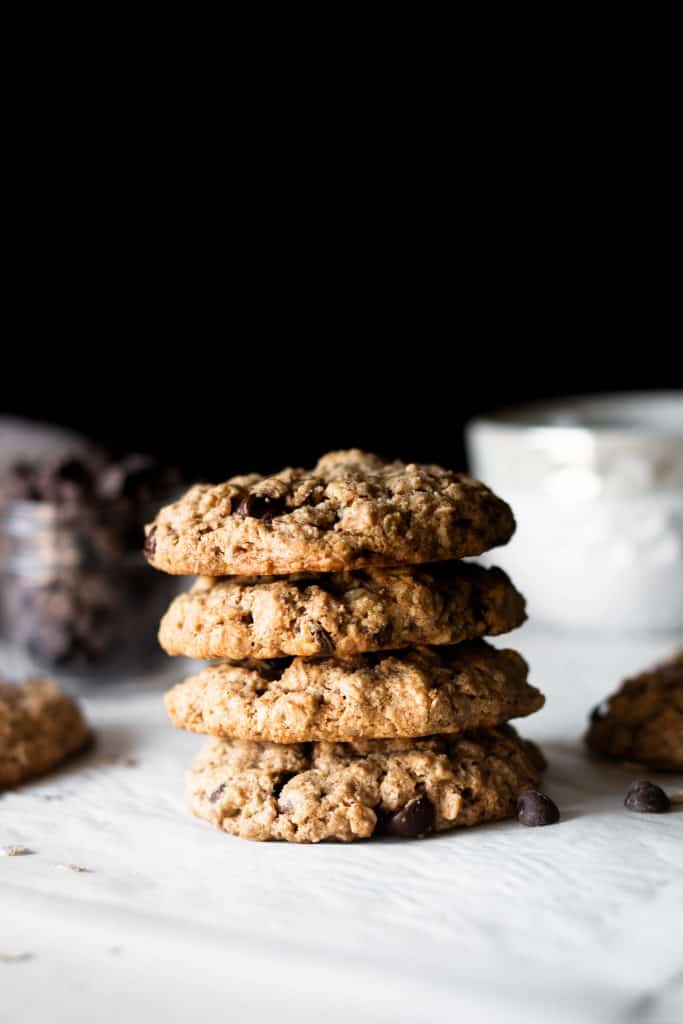 I've been writing these monthly favorites and coffee break posts for over 2 years now and I think it's time for a change… As I recently said goodbye to Unsweetened Caroline, I've been thinking of ways to best serve you guys. I want this new place to be a source of plant-based inspiration and reliable nutrition information. For that reason, I think it's time that I let go of these monthly life posts and instead, that I spend that time sharing more nutrition tips and tricks.
When I made the shift to Nourished by Caroline, I promised myself that I would start sharing more nutrition posts, along with all of my recipes.
So here's what's coming: I'll continue to share 2 posts per week and twice per month, I'll be sharing a nutrition post. These posts will be focused on plant-based nutrition and non-diet nutrition. You can find my current nutrition posts here.
So welcome to my last coffee break post. It's been fun. I hope you enjoyed them, but it's time to move on to bigger and better things.
Quarantine Update
How could I not talk about what's going on in the world at the moment? How are you guys feeling? I hope you're well and that you're staying safe.
I've been in isolation for almost 2 weeks now. Shaun and I have been lucky enough to work from home so far (things may change for me as I'm a casual worker at our hospital).
For now, we're isolating at home and going out as little as possible. I haven't done groceries in 2 weeks and I'm trying to avoid going to the stores until I really need to. I only get out of my house for a walk in nature every day. That little time outside is what's keeping me sane and I'm lucky we're still able to do this here in Canada. Of course I'm keeping my distance from others and we live in a rural area, so it hasn't been difficult.
I'm spending my days working on the blog and trying to be as helpful as possible. I've been spending a lot of time testing recipes, writing (more on this later), reading, watching Friends and Disney movies.
How are you guys spending your time in isolation? Are you still working?
Quarantine Self-Care
Even though we're fortunate and I'm so grateful for everything that we have during this tough time, I think we're all a little anxious.
So here are some of my favorite ways to manage stress during these uncertain times (or at least what works for me):
Take daily walks in nature if you can (but keep your distance from other people!).
Move daily. I'm not talking about doing intense home workouts (although you can if that's your thing). But I think any movement you enjoy is very important right now. It can help with stress and allows us to move our muscles as we're isolating in small spaces. My favorite ways to move: Gentle yoga or stretching, walks, short runs outside or doing a few body-weight exercises (pushups, sit-ups, etc). I also think it's so important not to pressure ourselves to workout right now, while knowing that any little movement will help us feel better.
Take a warm bath with candles and a good book.
And speaking of books, reading a good fiction novel is a great way to escape reality for a little bit.
Catch up on your favorite TV shows. There's no need to feel guilty about watching more television than usual right now.
Play relaxing or happy music. Maybe dance alone in your kitchen.
Bake or cook delicious recipes. Food is so much more than fuel.
Drink all the cozy drinks (and limit caffeine if it makes you nervous like me).
Try to have a bedtime routine. It's so easy to work until late at night or stay up reading the news. For that reason, I've been making a point of not working after dinner and avoid reading the news in the evenings. Try to read a book before bed or do some gentle stretches. Anything to relax and promote good sleep.
Limit your exposure to the news. While it's important to stay updated, try to read what you need and move on.
Try not to be pressured into being productive 24/7. It's okay to relax and do the things you enjoy, always and especially now.
Cooking with Pantry Staples
Are you isolating at home and avoiding the grocery stores? I sure am.
I recently Shared 45 plant-based recipes that use pantry staples. You'll find a good variety of breakfasts, snacks, main dishes, desserts and beverages. These recipes all use basic ingredients you'll likely find in your kitchen. Find all the recipes here.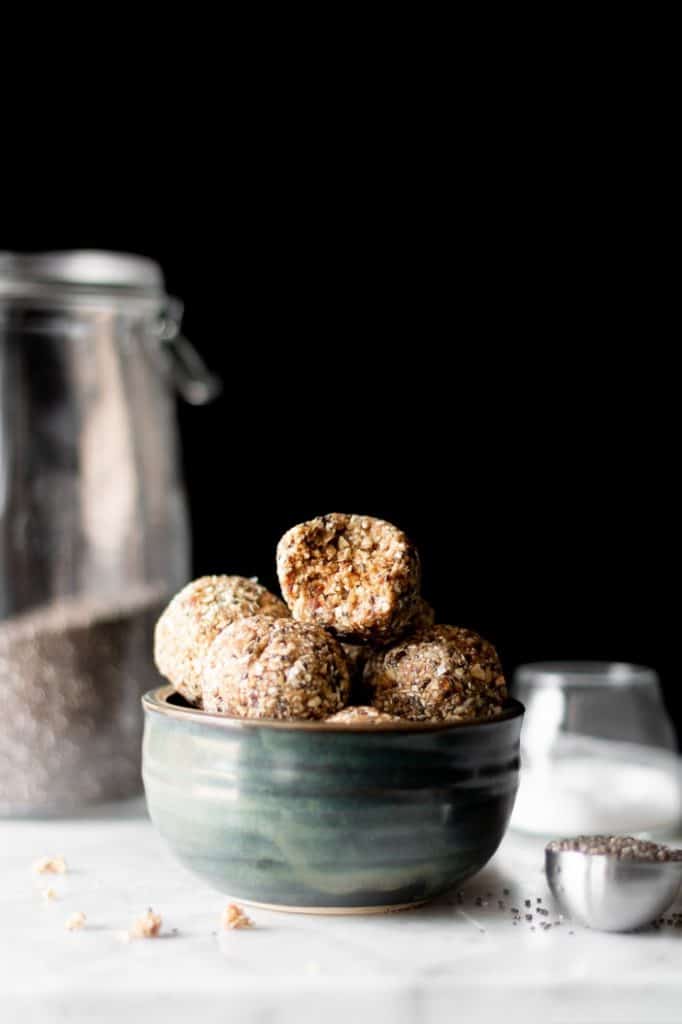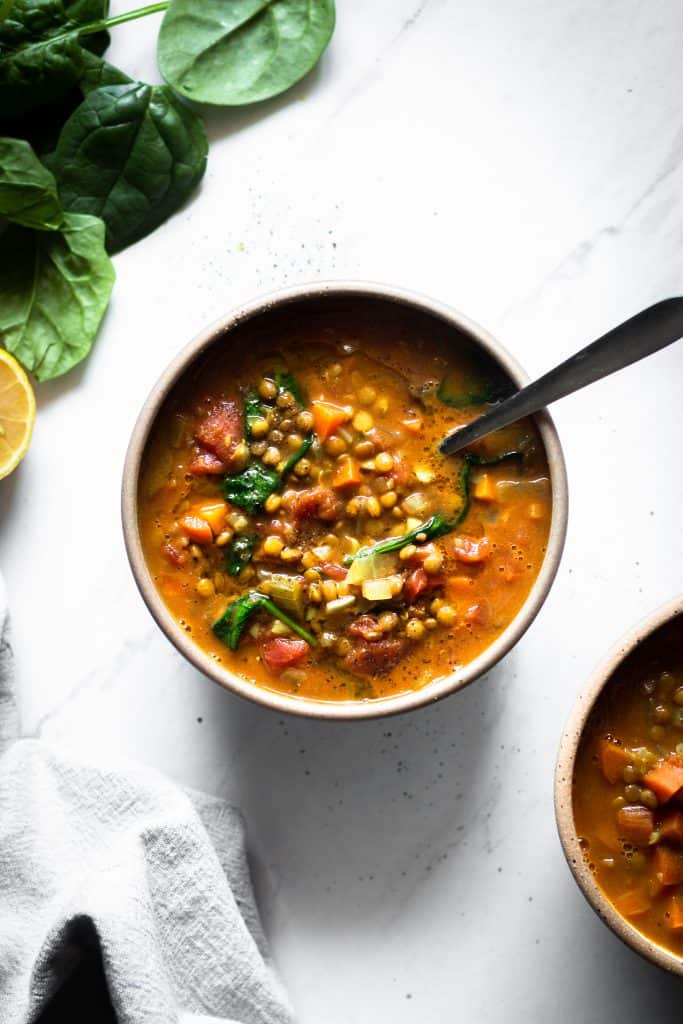 Currently Reading
Like many, I've been reading a lot lately. I finished Watching you and The House We Grew Up In by Lisa Jewell. Next up is The Family Upstairs by the same author. Clearly I'm into suspense/mystery novels. I also finished Still Me by Jojo Moyes. Our local library has an app where we can access all of these books from home and it's been amazing.
A New eBook?
If you follow me on Instagram, you may have seen that I'm working on a new eBook! You can expect a vegan kitchen guide to come out in the next month or so!
This guide will share all my tips for stocking a vegan kitchen, with notes on how to store and use different ingredients, plus notes on getting key nutrients on a vegan diet.
I hope you'll love it! It won't be focused on stocking a kitchen during isolation, but I think it will be very helpful in this time.
New Videos
I'm finally back into a regular YouTube posting schedule. You can now expect one new video per week. Here are the videos I've posted this month.
Top Recipe This Month
The top recipe this month is without a doubt these vegan oatmeal chocolate chip cookies. So many of you have made them! If you try my recipes, make sure to share your photos with me on Instagram! I love to see your creations.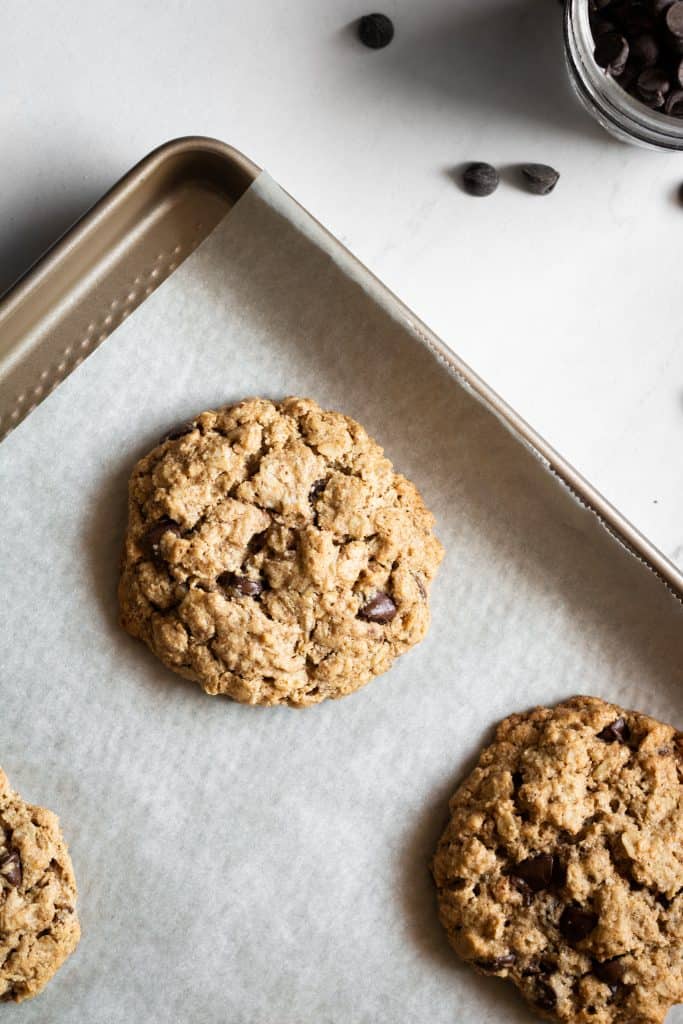 And that was out last coffee break! Before I leave, I would love to know what you'd like to see on the blog? Are there any nutrition subjects you'd like to see? Let me know in the comments!