My Favorite Protein Green Smoothie
Looking for a high protein green smoothie? This is my favorite.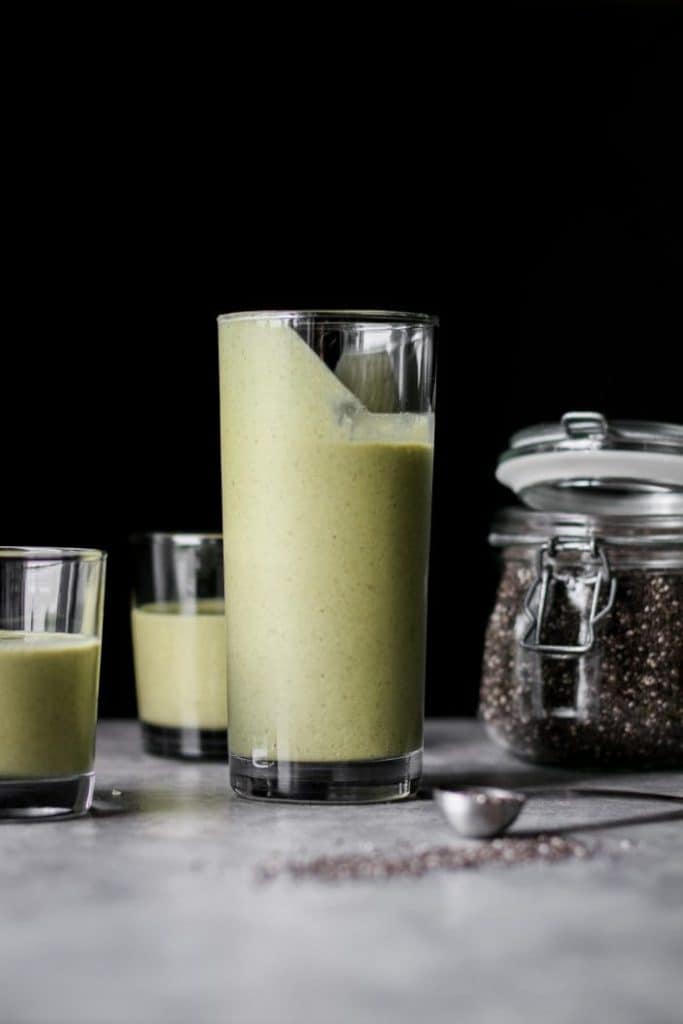 This protein green smoothie is inspired by a recipe I made a while ago for Pure Goodness on Instagram. I've been making the smoothie non-stop since then, so I thought I should share it on the blog as well! I don't believe that we need protein powder every day to attain our protein needs. Simply eat nuts, seeds, legumes and other high protein foods every day and you can easily meet your needs. However, I love using protein powder in smoothies when I eat them as a meal. I don't always use it, but I like to have a little protein boost, along with other filling ingredients. If my smoothie doesn't have enough protein and fiber, I get hungry again in an hour. I tend to avoid drinking smoothies for breakfast for that very reason… This is why I created this recipe. I wanted a smoothie that would actually satisfy me for more than an hour (I'm hungry in the morning!).
To make it filling, I added a mixture of high protein and high fiber ingredients. For protein, I used chia seeds, almond butter (or sunflower seed butter), soy milk and unflavored protein powder. Then, to add some fiber, I used a banana, a Medjool date, oats and again, chia seeds. The result? A smoothie that contains 550 calories, 29g of protein and 13g of fiber. And guess what? It actually satisfies me for a few hours.
A few substitutions for this smoothie. First, you can use sunflower seed butter instead of almond butter to make it nut-free. You could also use peanut butter, but I find it overpowering in this smoothie. Second, you can use unsweetened almond milk or cashew milk, but it will reduce the amount of protein. Third, you can try other greens instead of spinach. Kale works well, but if you're new to green smoothies, I suggest sticking to spinach as it has a milder taste. Finally, this smoothie is not overly sweet, so if you have a big sweet tooth, I recommend using 2 Medjool dates instead of one. At first, I made this smoothie with 2 frozen bananas and no ice. While it was delicious, it did add up to quite a bit of carbs. If you want a treat, you can certainly do it that way, but I preferred having a good balance of carbs, protein and fiber for breakfast without having a sugar crash.
What I love so much about this smoothie is that it doesn't have a strong sweet and fruity taste. To me, it tastes like a milkshake… I don't know how else to describe it. All I know is that I would actually drink this smoothie every morning, which has never been the case with other fruity smoothies. Note that I use unflavored and unsweetened protein powder. I've been using Pure Goodness' pumpkin seed protein powder (this is not sponsored). If you use a flavored or sweetened protein powder, it may overpower the smoothie's natural taste. I also use 2 tablespoons of protein powder in this smoothie, but it can give it a strong taste. I like it that way, but you may want to start with one, then increase as you wish.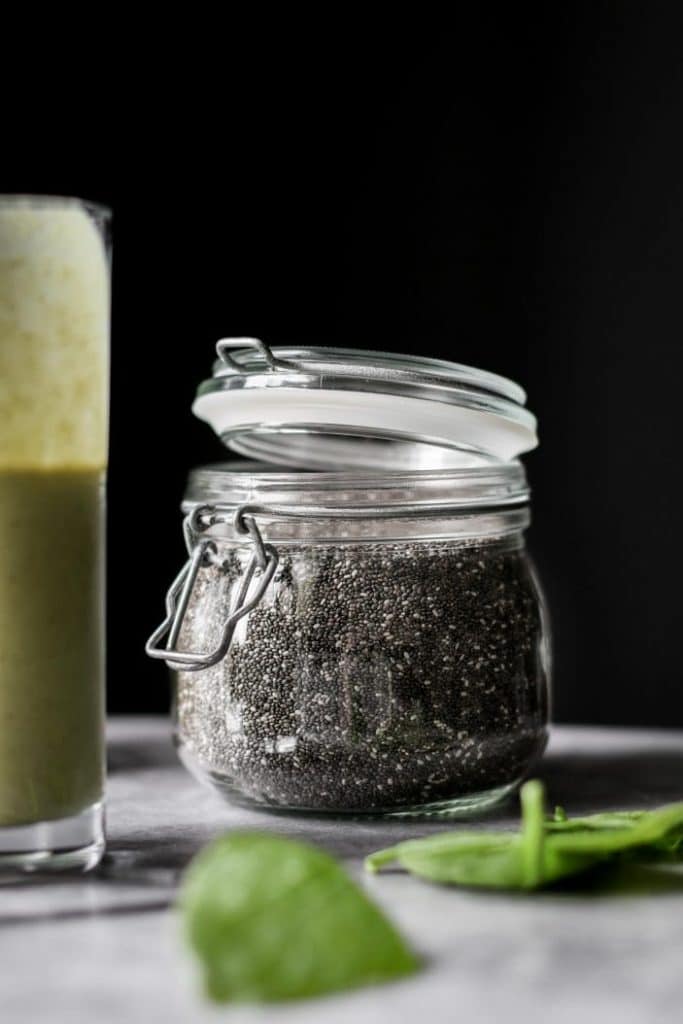 What have I been up to this week (other than work of course)? You may have seen on Instagram that I've been making my own food photography surfaces. I bought 2 large pieces of wood and I painted them with Acrylic paint. I painted each piece on both sides, so I now have 4 different surfaces to choose from! The surfaces aren't used in these pictures, but you'll certainly see them in my pictures soon! I'm excited to share them with you.
I'm also working on a veggie burger recipe. I'm testing them one last time this week and I'm waiting for my friend Catherine's feedback before posting them. They should be on the blog next week or the one after. I'm also testing a Thai kale salad with crispy tofu. Finally, like I mentioned last week, I'm finishing a page for the blog that will share what I have in my pantry. My goal is to give you an idea of the ingredients I always have on hand. The list may make a good guide for grocery shopping as well! Those posts are all coming soon, but for now, I hope you'll give this protein green smoothie a try. Never know, it may become your new favorite too!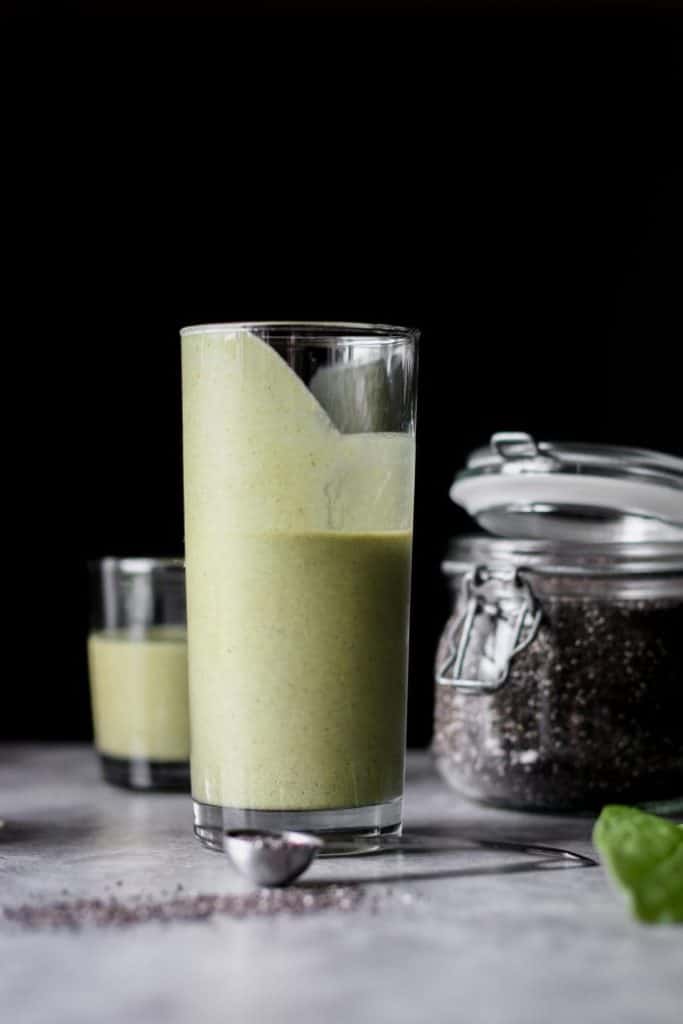 My Favorite Protein Green Smoothie
This simple smoothie will keep you satisfied for hours. It's filled with protein from chia seeds, nut butter, soy milk and unflavored protein powder, adding up to 29g. It also contains 13g of fiber from the banana, date, oats, chia seeds and spinach. With a good mixture of protein and fiber, this smoothie makes the ideal breakfast or post-workout snack!
Ingredients
1

large

banana,

frozen

1/2

cup

spinach

1

tablespoon

almond butter

3/4

cup

soy milk,

unsweetened

1

Medjool date,

pitted

1

teaspoon

chia seeds

1/4

cup

rolled oats

1-2

tablespoons

protein powder,

unflavored and unsweetened

1/2

teaspoon

vanilla extract

3-4

ice cubes
Instructions
Freeze the sliced banana overnight or for at least 12 hours.

Add all the ingredients to a high-speed blender. Blend until smooth.
Notes
You can use sunflower seed butter instead of almond butter to make it nut-free. You could also use peanut butter, however I find it a bit too overpowering in this smoothie.
Feel free to use unsweetened almond milk in this smoothie instead of soy milk. Keep in mind that this will significantly reduce the amount of protein in this recipe.
You can try using other greens, such as kale. Spinach does have a milder taste, so if you're new to green smoothies, you may want to stick with that.
This smoothie is not overly sweet, so if you have a big sweet tooth, try using 2 Medjool dates instead of one.
You can start with 1 tablespoon of protein powder, then increase as desired. I like using 2, but it can have a strong taste.
If you make this protein green smoothie, be sure to leave a comment and/or give this recipe a rating! I love to hear from you guys. And of course, if you try this recipe, don't forget to tag me on Instagram!