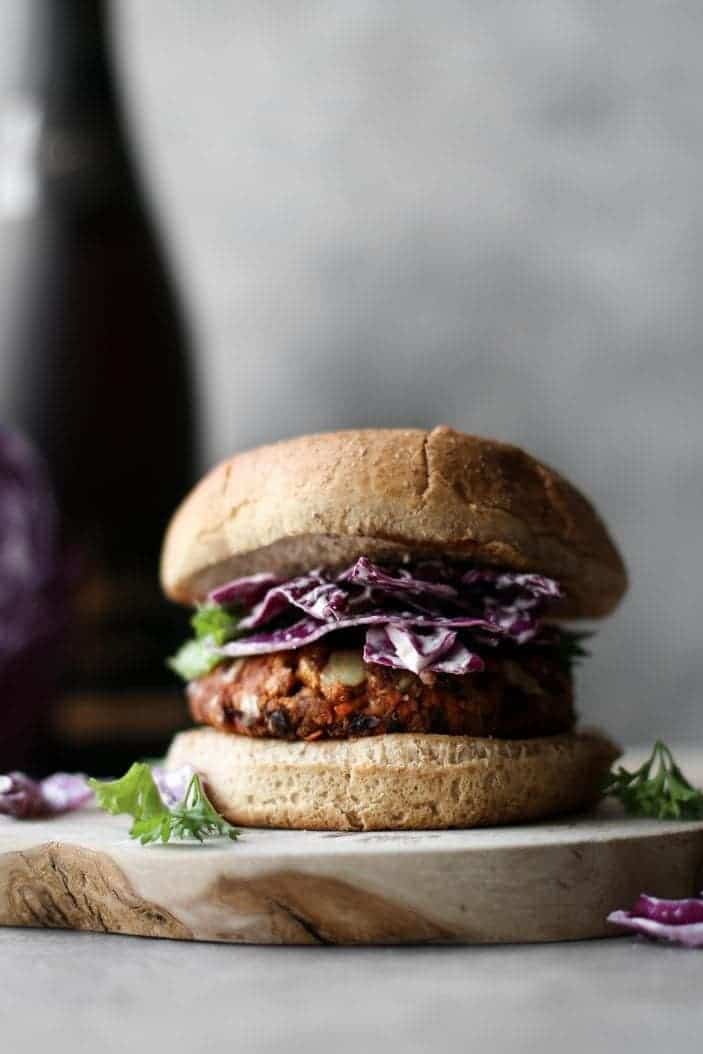 Easy Black Bean Burger with Tahini Slaw
Meet my go-to easy black bean burger.
I spent many years trying several different veggie burgers and I finally found my favorite. Current favorite I should say. I'll probably find a new favorite next year… but for now, this is my go-to burger.
Why is it my current favorite? Here's why:
It holds together when cooking and eating.
It's full of flavor from herbs, spices, garlic and onions. I don't want a veggie burger that tastes like beef. I want flavor from plant-based ingredients. Burgers and veggie burgers are two different things!
It has texture. It's not overly soft, nor is it dry.
It's not complicated. I wanted something simple that I can make over and over again.
It's nutritious!
I wanted to share a simple black bean burger. If there's one thing I don't like when making veggie burgers, it's ending up with a lot of dirty dishes. For this recipe, I went with raw onions and garlic. Don't get me wrong, I love the flavor that comes with sauteed onions and garlic, but I wanted a burger that required only one bowl (and one food processor). No baking sheet to roast the nuts, no skillet to cook the onions and garlic, no bowl to make a flax egg. If you prefer, you can certainly cook the garlic and onions in this recipe as well! You could also roast the nuts and seeds if you want.
Like I said, this black bean burger is very simple. All you need is a food processor to process the ingredients and a large bowl to mix everything together. Honestly, you could even make them without a food processor. Buy bread crumbs instead of processing toasted bread. Mash your black beans with a fork in the large bowl. Chop your nuts and seeds with a knife… It works! I just prefer to make them in the food processor to ensure that everything is well chopped or mashed so that the burgers hold together nicely. If you're careful to chop everything well though, I'm sure the burgers would be a success!
I probably made these black bean burgers 6 times in the last 2 weeks. I have 2 large freezer bags full of patties, which should hold me until Christmas. Maybe. I love freezing these burgers for quick weeknight dinners. Here's my favorite way to freeze them: Line a baking sheet with wax paper or parchment paper. Form the patties and line them up on the prepared baking sheet. Place the baking sheet in the freezer for a few hours until the burgers are frozen. You can then transfer the frozen patties in a large freezer bag. That's it! This way, the burgers don't stick together when they freeze.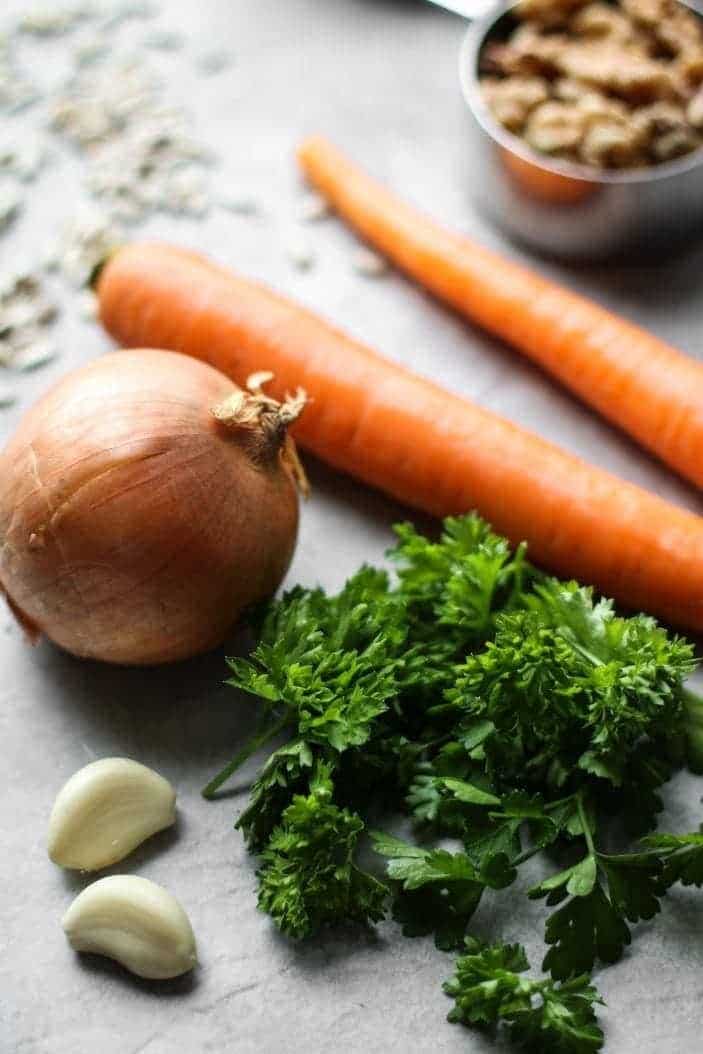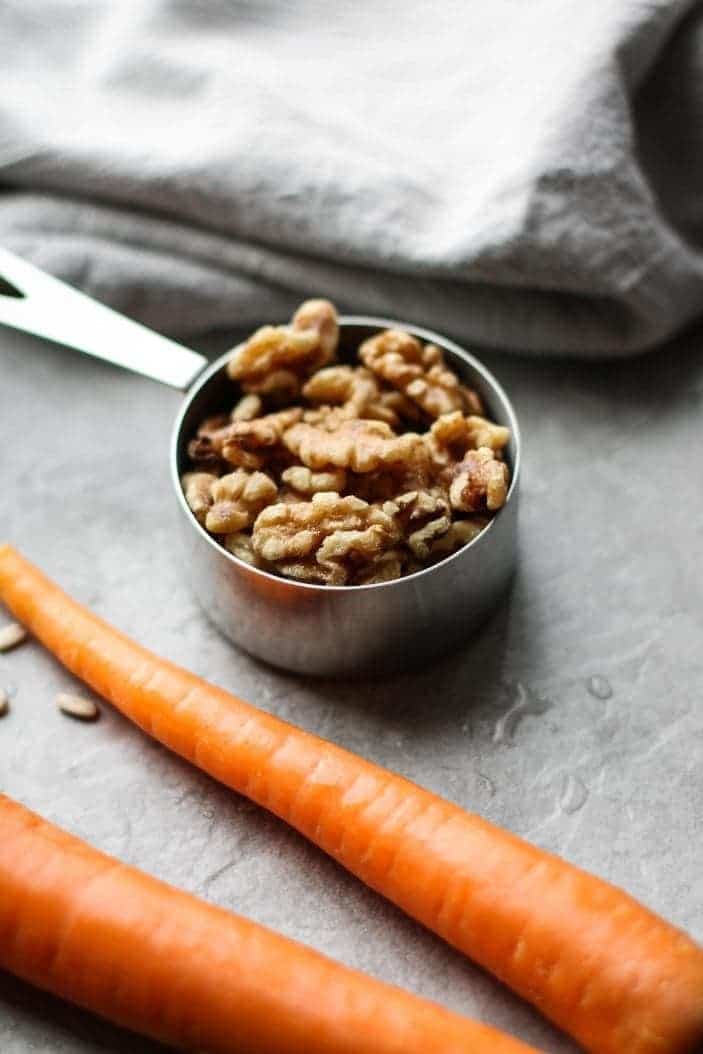 My next goal was to make these burgers as nutritious as possible. No salted or sweetened sauces mixed in, not too much salt, yet filled with nutritious ingredients and flavor. That being said, I made my black bean burger with a base of black beans (obviously), walnuts, sunflower seeds and veggies. I also used homemade whole wheat bread crumbs (toasted bread thrown in the food processor). The result? A black bean burger filled with fiber (from the beans, vegetables, whole wheat bread and nuts), healthy fats (from the nuts and seeds) and protein.
As for flavor, I used a mix of smoked paprika, garlic powder, fresh garlic, onions, parsley and even some tomato paste. All together, it almost gives a BBQ flavored burger, without adding any BBQ sauce.
A few notes on allergies. My friend Catherine tested a gluten-free version with success. She used gluten-free bread and gluten-free all purpose flour. Finally, if you want a nut-free burger, try replacing the walnuts with more sunflower seeds.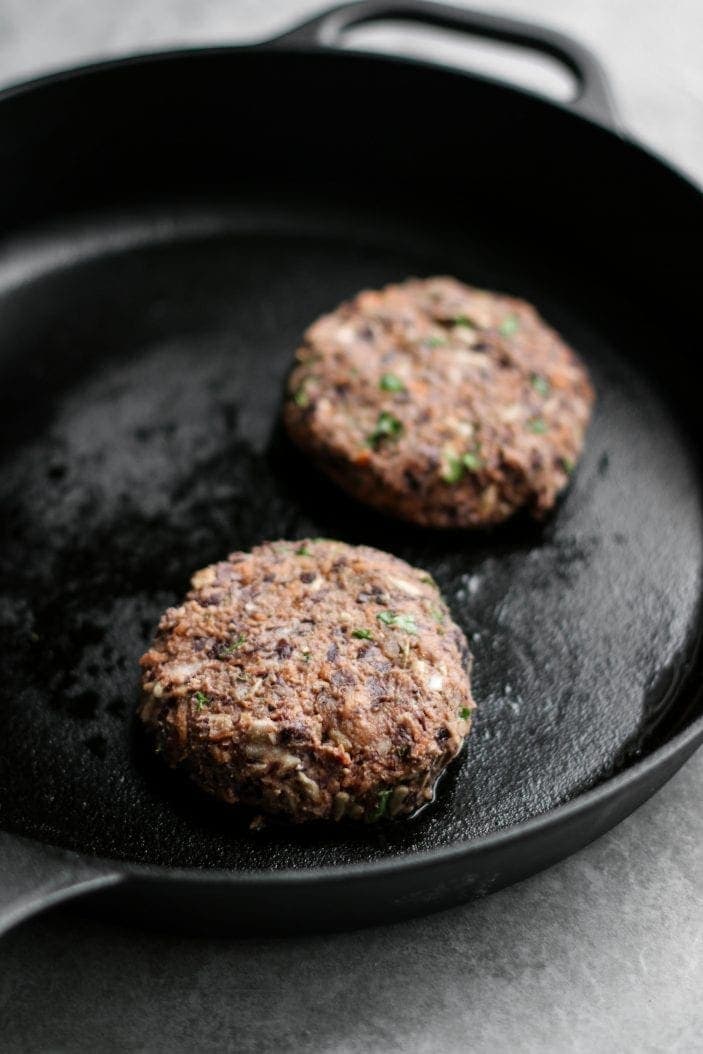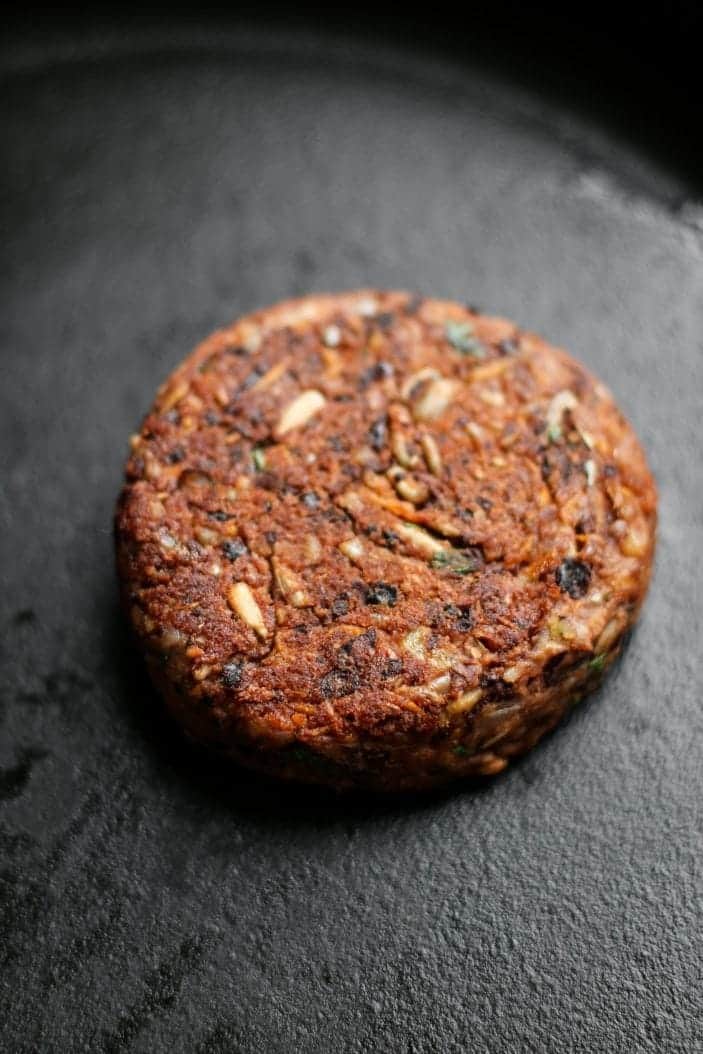 One last thing about this black bean burger: The tahini slaw. I think it's no secret – I'm obsessed with tahini. I often top my veggie burgers with a bit of cabbage and tahini sauce, so I thought I'd share it with you guys. It's very simple. In a medium bowl, whisk together the tahini, vinegar, water and garlic. Chop the purple cabbage and stir it in the sauce until evenly coated. You could also add some carrots! That's it. I can honestly just eat it as is, but it's especially good on top of a burger. It's also completely optional. I also like this burger with the classic mustard, ketchup, tomato, cheese and lettuce. It's up to you!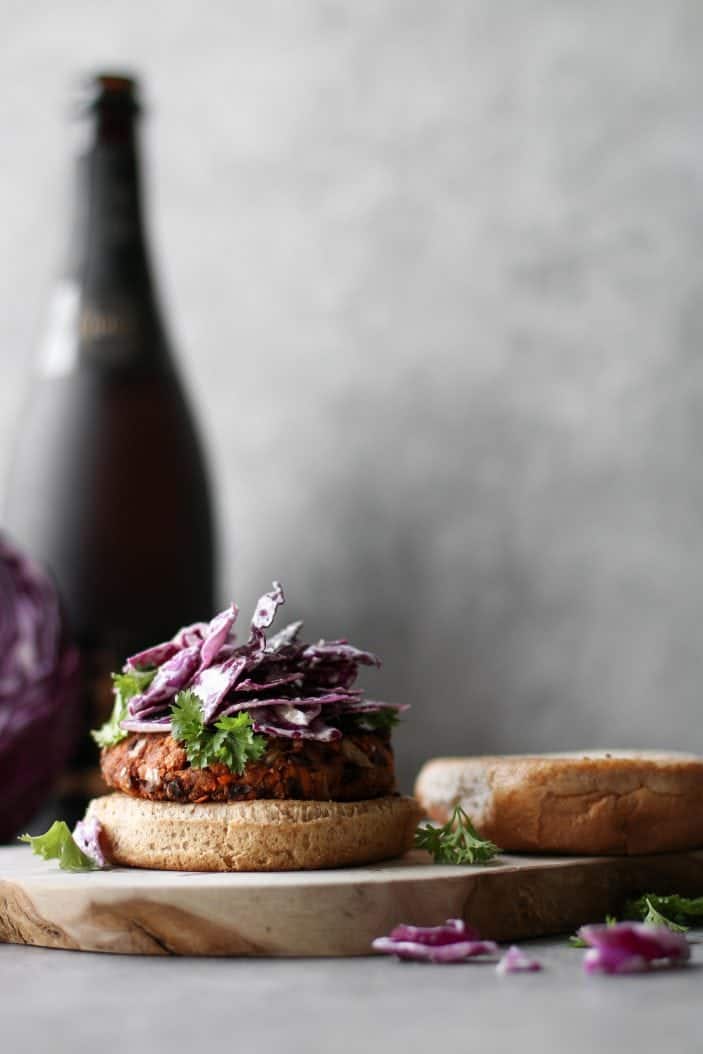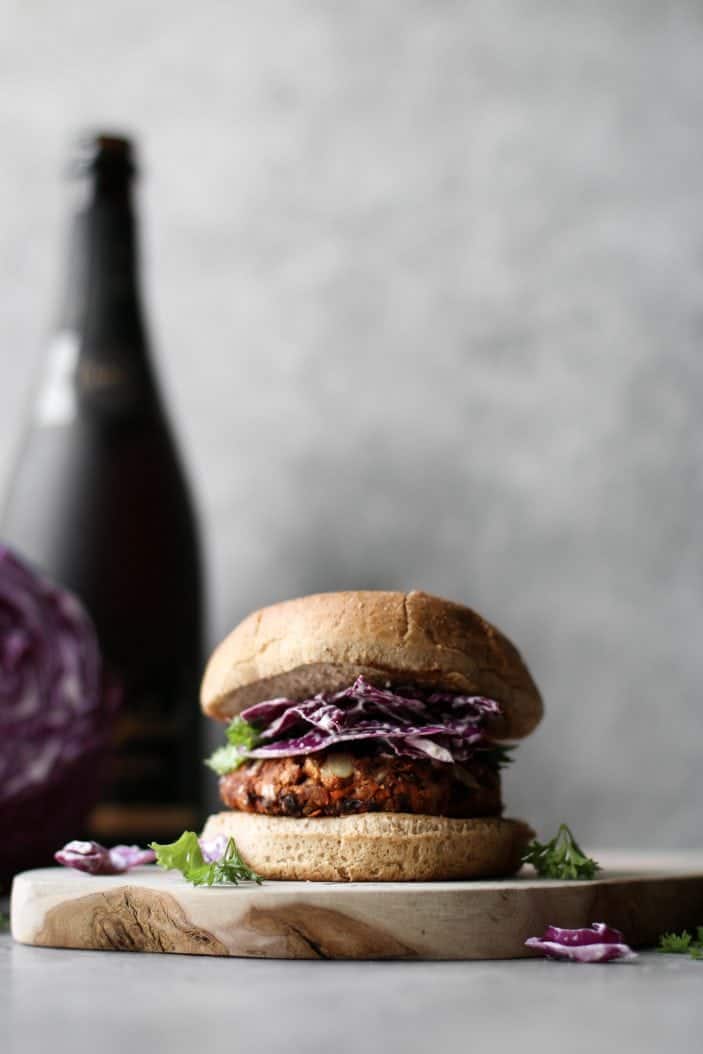 Easy Black Bean Burger
A simple veggie burger that's nutritious, yet delicious! The black bean patty is high in protein thanks to the beans, nuts and seeds. It's also filled with fiber due to the beans, vegetables, whole wheat bread and again, the nuts and seeds. It's flavored with smoked paprika, garlic and onions to give you a BBQ flavored burger, without any BBQ sauce. Make a few batches and keep them in the freezer for easy weeknight dinners!
Ingredients
2

slices

whole wheat bread,

toasted

19 oz (540 ml)

black beans,

canned

1

medium

yellow onion,

chopped (about 1 cup)

2

medium

garlic cloves,

minced

1/2

cup

raw walnuts

1/2

cup

raw sunflower seeds

1

cup

carrots,

packed, finely shredded

1/4

cup

fresh parsley,

chopped

3

tablespoons

tomato paste

1

tablespoon

oil + more for cooking

1

tablespoon

whole wheat flour

2

teaspoons

smoked paprika

2

teaspoons

oregano,

dried

1

teaspoon

garlic powder

1/2

teaspoon

fine grain sea salt

Pinch

of

cayenne

(optional)

Pepper to taste
Suggested Toppings
Tahini cabbage slaw (recipe follows)

Mustard

Ketchup

Sriracha

Tomato

Lettuce

Cheese

Hummus
Instructions
Toast your bread in a toaster until golden and crispy. Tear the toasts and add them to a food processor. Process until you get small/medium sized crumbs. Transfer to a large bowl.

Rinse your black beans and add them to the same food processor (there's no need to clean it). Process a few seconds, leaving some texture.

Add your chopped onion and minced garlic to the food processor with the beans. Process a few more seconds to bring it all together. You want the mixture to have a bit of texture, while still being mashed. Transfer to the same large bowl as the bread crumbs.

In the food processor, add your sunflower seeds and walnuts. Pulse a few times until chopped. Transfer to the bowl.

Add the remaining ingredients to the bowl. Stir everything together until combined.

Form 7-8 patties.

To cook the patties: Heat oil in a cast iron skillet over medium heat. Cook the patties 5 minutes on each side until golden and crispy on the outside.

Serve on a bun with desired toppings.
Notes
To make this recipe gluten-free, use gluten-free bread and flour.
To make them nut-free, try replacing the walnuts with more sunflower seeds.
Alternatively, you can cook the patties in a skillet (approximately 5 minutes on each side) or in the oven at 400F for 15 minutes, then 10 minutes on the other side.
To freeze the burgers: line a baking sheet with parchment or wax paper. Place the uncooked patties on the prepared baking sheet. Place in the freezer for a few hours, then transfer them to a freezer bag or container.
Tahini Slaw
A quick and easy salad made with only 4 ingredients. This recipe can be used as a burger topping or as a simple side salad. It may not be the fanciest salad, but sometimes simple is all we want. Swap some of the cabbage for shredded kale or carrots for a little pop of color and texture.
Ingredients
2

cups

purple cabbage,

chopped
For the Sauce
1

tablespoon

tahini

1/2

tablespoon

white wine vinegar

(or lemon)

1

tablespoon

water

1

small

garlic clove,

finely grated
Instructions
In a medium bowl, mix all the ingredients for the sauce. Whisk until smooth, adding more water as needed.

Chop your cabbage and transfer to the bowl. Mix with the sauce until evenly coated.
Notes
Make sure to chop the cabbage thinly so that you don't have large pieces.
Use leftovers as a side salad.
Feel free to swap some of the cabbage for other vegetables, such as carrots, kale or other.
If you try this recipe, make sure to tag your photo #unsweetenedcaroline on Instagram, Facebook and Twitter! Don't forget to also tag me @unsweetened.caroline on Instagram so I can see your creations!