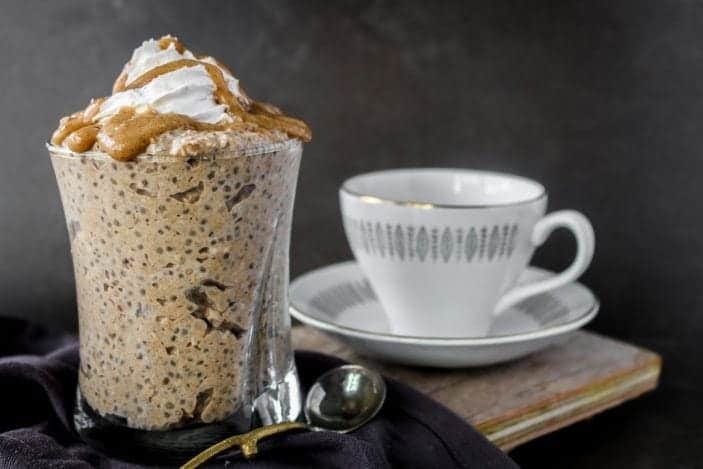 Caramel & Coconut Latte Overnight Oats
Here I am, writing on a Saturday again!
This internship is certainly keeping me busy during the week. I woke up at 4:45 in the morning for the last few days (including this Saturday!) for a big catering event. Yup, I'll enjoy sleeping in tomorrow… By that, I mean waking up at 7 am without an alarm. The problem with being a morning person!
Other than the lack of sleep, I'm really enjoying my experience so far! I'm starting my internship with 11 weeks of food service management in the hospital. Then, I'm doing 18 weeks of clinical nutrition. During those weeks, I'll be doing many different rotations, including diabetes, tube feeding, rehab, renal, neurology, cardiac, plastic surgery, burns, pediatrics, obstetrics (I'm so excited for this one!!!) and family medicine. I'm finishing with 6 weeks in public health which should be fun. I'll get to learn so much on the job!
Food service does include a lot of early mornings, and since I have two roommates who probably wouldn't like waking up at five in the morning with me, I have to be quiet around the apartment. Of course that's when I drop my water bottle on the floor and make a big mess. Of course.
I also need something quick for breakfast so I can sleep an extra 15 minutes. Yes, 15 minutes makes a big difference!! This means I'll be eating a lot of overnight oats in the next few weeks. Caramel and coconut latte overnight oats to be exact.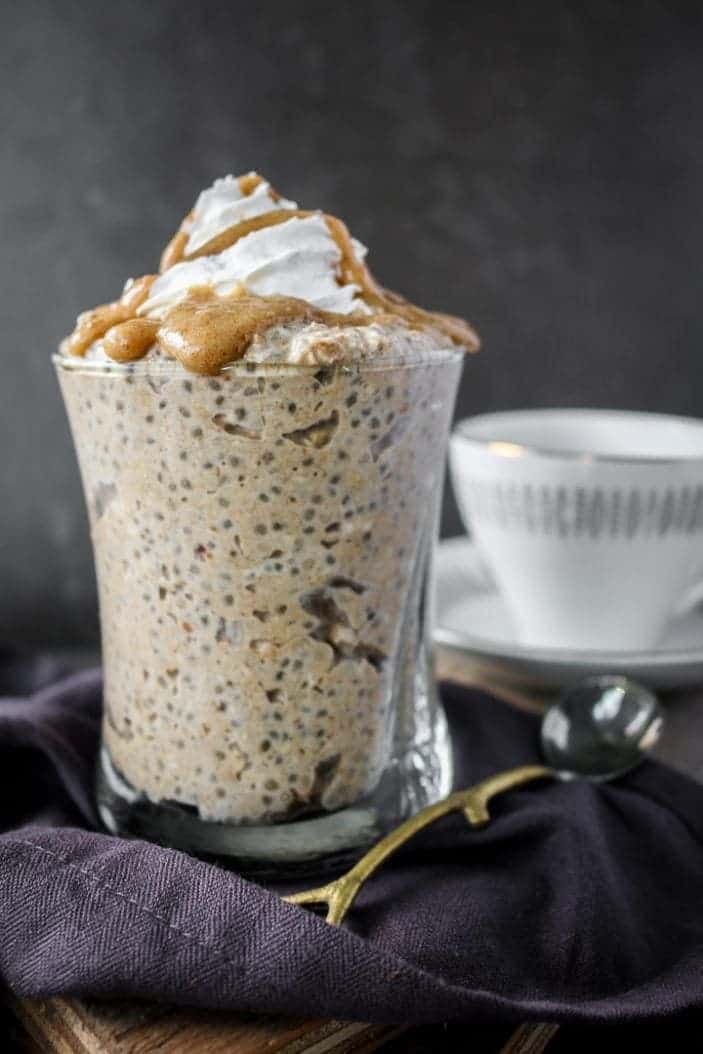 Now, lets talk about this recipe.
If you're like me, you like coffee for its flavor and not only for the energy boost. That's why I love this recipe. It has a rich coffee taste from the cold brew and a creamy texture from the coconut milk. Dates add a sweet caramel-like flavor and you end up with oats that taste like a sweet and creamy latte. The recipe has a few steps, but trust me, it's quite simple and totally worth the effort! You also have the option to skip a few steps!
First, you can start by making your cold brew. It needs to soak overnight, so the first night you soak your coffee grounds and the second night you soak your oats in the cold brew and milk. You can use this tutorial to make homemade cold brew, but you can also use brewed coffee if you want to skip this step. You won't get the same smooth coffee flavor, but it'll still taste great! There's also the option of buying cold brew, but I find it a bit too pricey for my student budget. *Sigh*
The next step is to make your date caramel (you can use this easy tutorial). Once again, you can skip this step. Simply add finely chopped Medjool dates or a drizzle of maple syrup to sweeten the recipe.
Next, you can make some coconut whipped cream, but that's totally optional! I don't blame you if you decide to keep it simple and skip this step.
Finally, you soak your oats the night before and enjoy a quick breakfast in the morning! It's the BEST overnight oats recipe for fall. Trust me, it's better than dessert!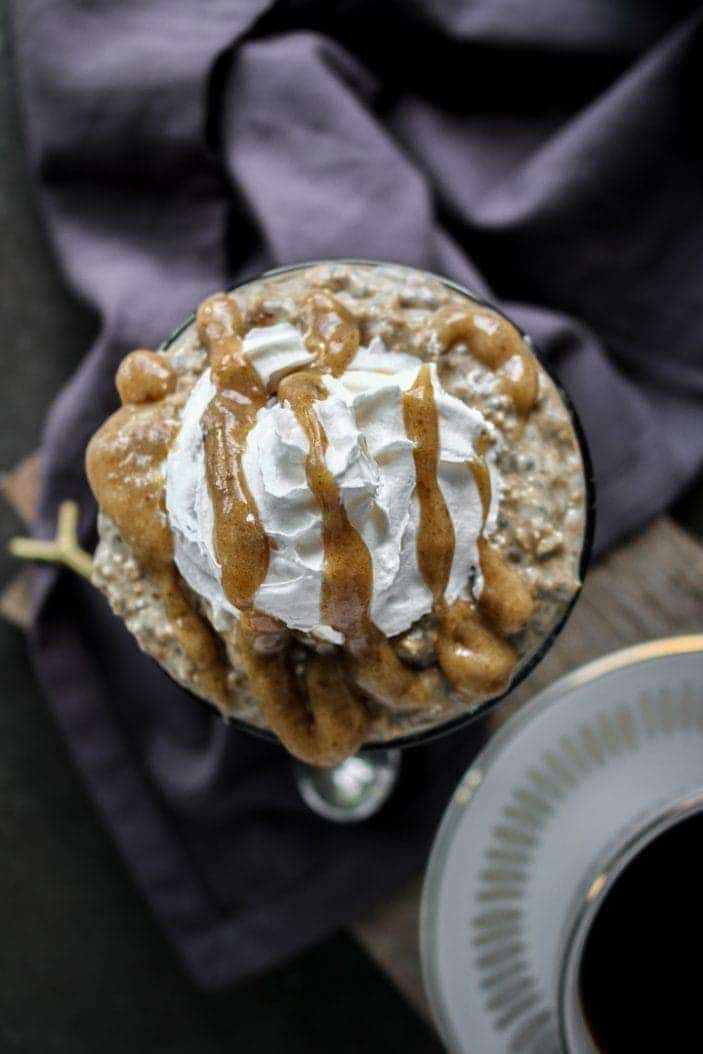 Now if you'll excuse me, I need to go take a long nap. Enjoy the rest of your weekend!
Caramel & Coconut Latte Overnight Oats
Rich and comforting oats soaked overnight with cold brew coffee and coconut milk, topped with creamy date caramel and coconut whipped cream. The ultimate fall breakfast!
Ingredients
1

cup

rolled oats

2

tablespoons

chia seeds

1/2

cup

cold brew coffee

1

cup

low-fat coconut milk

2-4

tablespoons

date caramel

(or more to taste)

coconut whipped cream for serving (optional)
Instructions
Start by making your cold brew if you're not using store-bought. You'll need to soak your coffee beans overnight before making your oatmeal, so you'll want to make this the night before you plan to soak your oats.

Soak your oats and chia seeds in cold brew and coconut milk overnight in the fridge.

Make date caramel if you don't have some already.

Serve with coconut whipped cream or your choice of toppings. Cocoa nibs and chopped nuts would be great too!
Notes
You can use brewed coffee instead of cold brew, but you won't get the same rich coffee flavor. I use this recipe for cold brew, but store-bought works as well.
If you don't have a food processor or if you don't want to make date caramel, you can sweeten your oats with maple syrup or chopped dates. I use this recipe for date caramel.
I find that coconut milk pairs well with coffee in this recipe. I've tried it with almond milk as well, but I didn't like it as much as coconut milk.
You can follow this tutorial for cold brew coffee, this one for date caramel and this recipe for coconut whipped cream.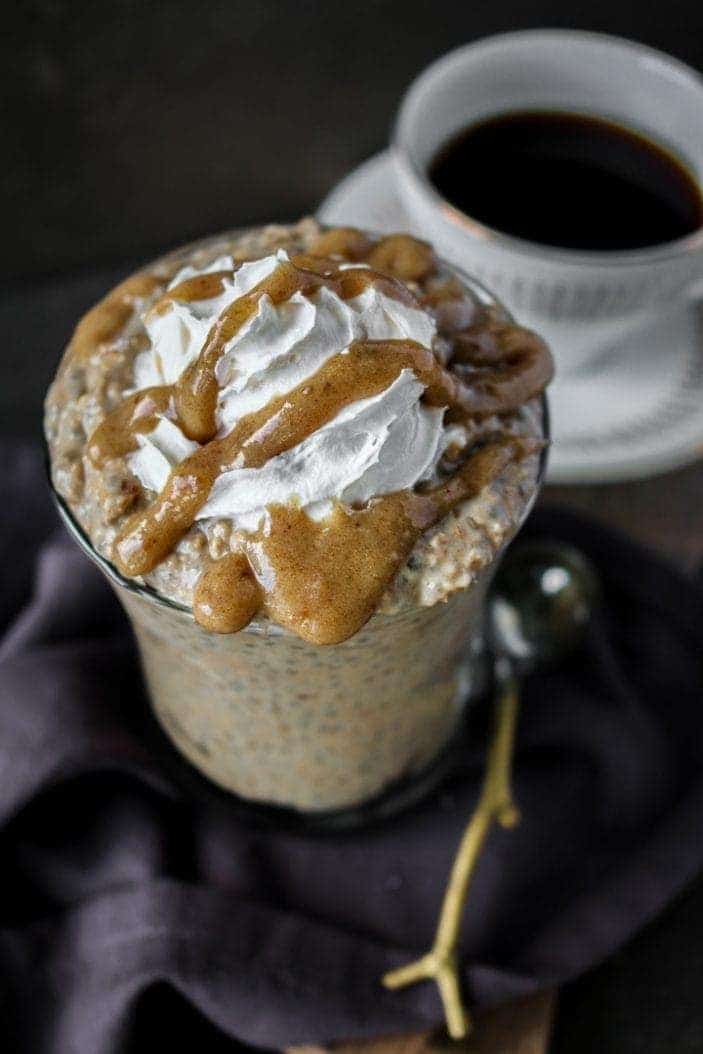 If you try this recipe, make sure to tag your photo #unsweetenedcaroline on Instagram, Facebook and Twitter! Don't forget to also tag me @unsweetened.caroline on Instagram so I can see your creations!