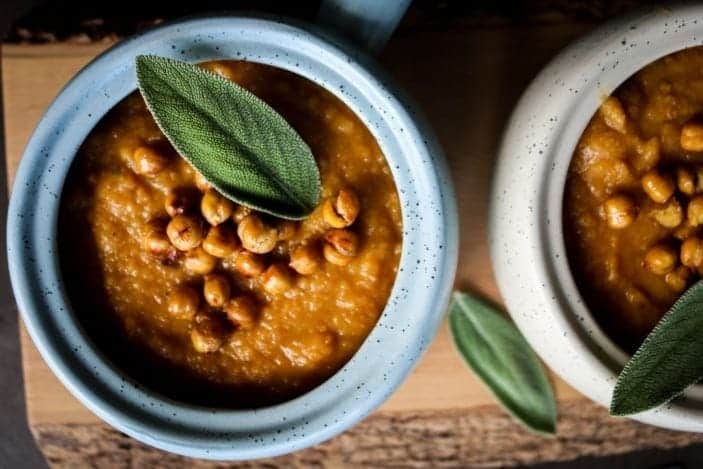 Spiced Root Vegetable Soup
Happy Monday!
How was your weekend? We had a quiet weekend at home which was a nice change. Friday night, Shaun and I went for a small hike, then we had popcorn and wine while watching a movie. My idea of a perfect fall Friday night! Saturday, I stocked the fridge, did a bit of university work and baked some pumpkin cookies (the recipe is coming to the blog SO soon!). Finally, I spent most of Sunday cooking and cleaning. I love starting a new week with a clean house and a fridge full of prepared meals. I can certainly say that it was a productive weekend!
I don't always take the time on Sundays for meal prep, but now that I'm busy with my internship from Monday to Friday, the weekend is the only time I can create and photograph recipes. It's funny how a full day of cooking goes by so much faster than the same amount of time spent at work… I need a job that lets me cook all day! I guess I'm probably in the right program. 🙂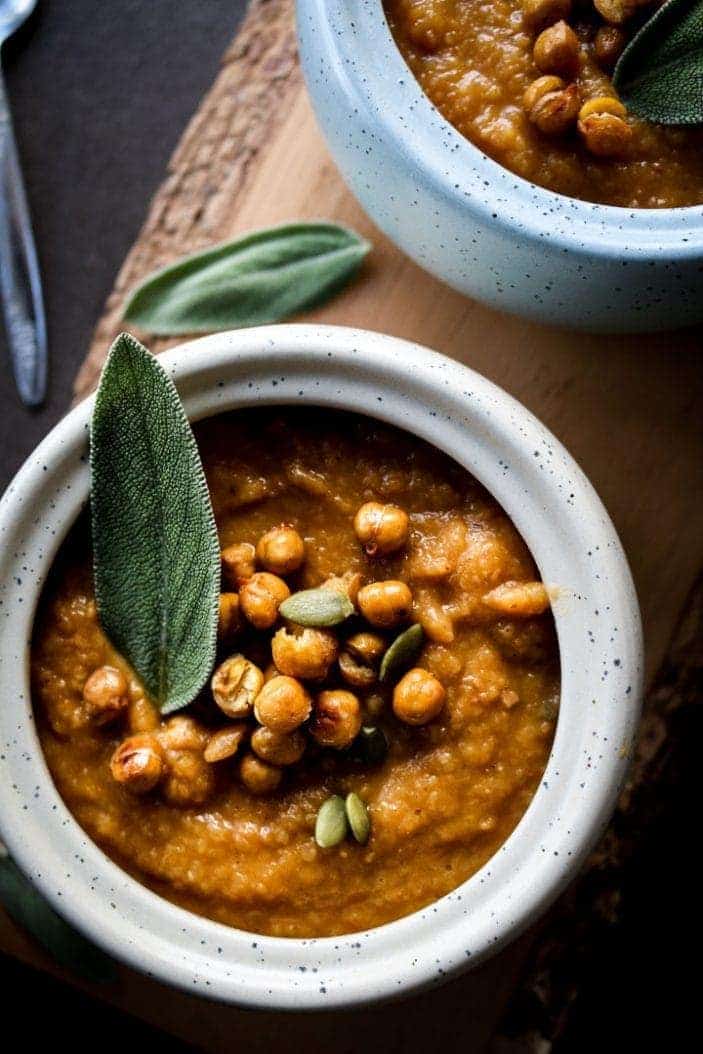 So like I said, yesterday I did my meal prep for the week. I made dahl, beet hummus and two different soups, one of them being this spiced root vegetable soup.
I made it four times in the last month and let me tell you, I never tasted a soup so flavorful!! It's all thanks to cumin, cinnamon, ginger, fresh sage, garlic and onions. Blend these spices with vegetable broth, roasted carrots, sweet potatoes and rutabaga and you've got yourself the perfect autumn soup! I like to top it with pepitas and roasted chickpeas to add a crunch and a bit of protein to my meal. Then I eat it with toasts because soup needs to be accompanied by toasts. It just does.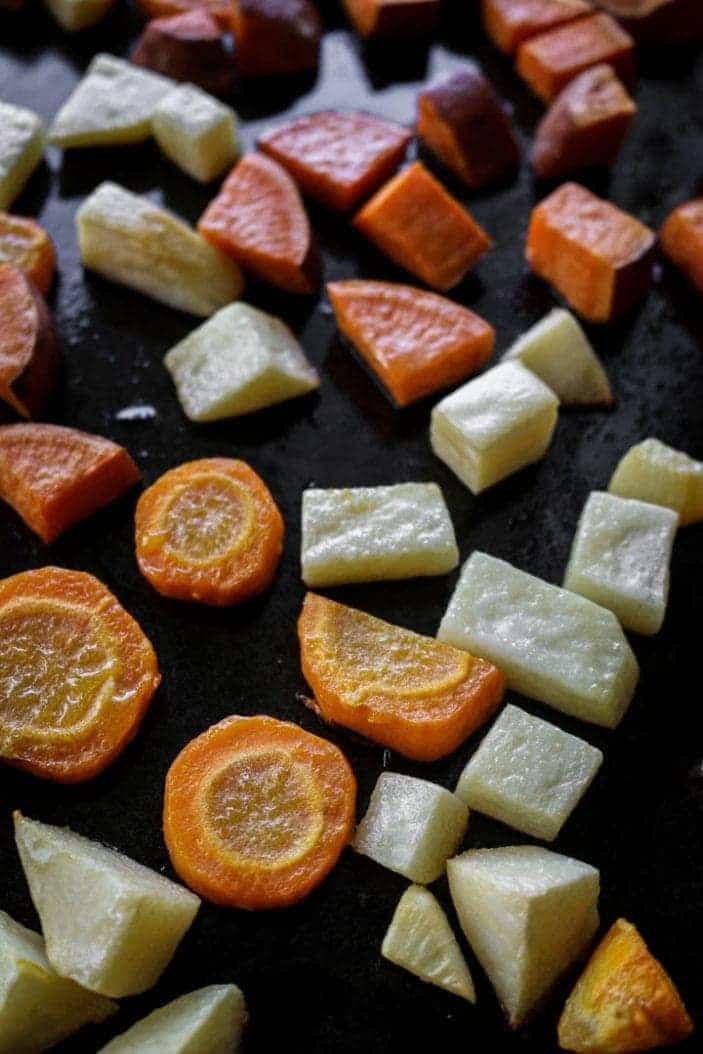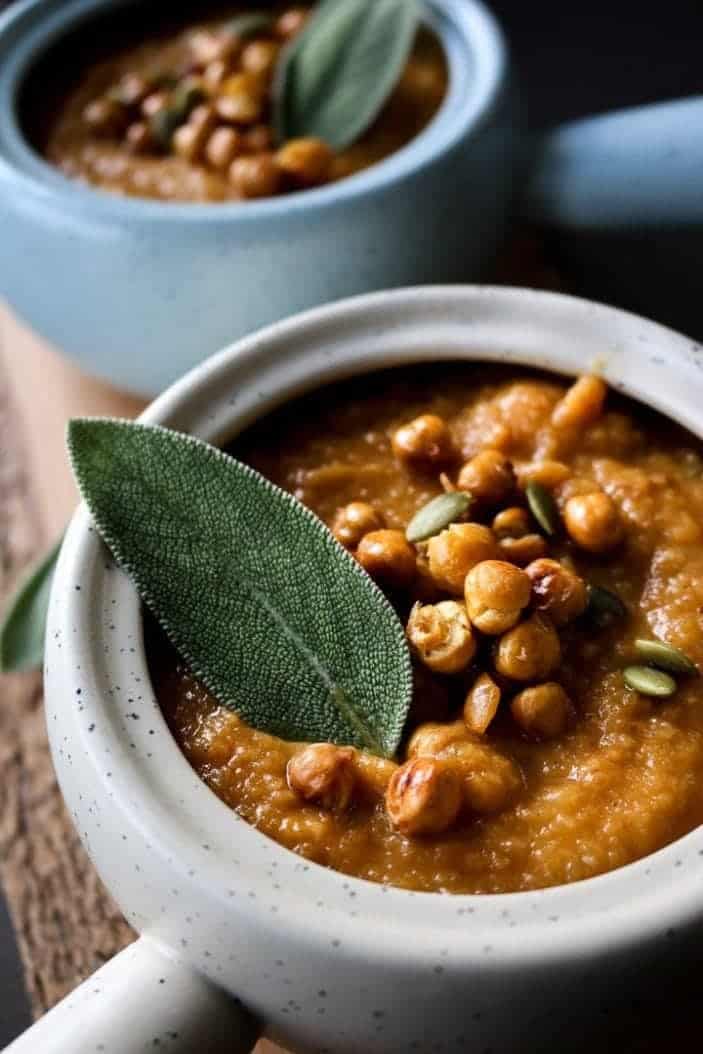 This soup is exactly what your Monday needs. Especially if it's cold and cloudy like it often is here in Saint John. I'm not complaining though. Fall is all about staying warm in cozy sweaters while eating all the comfort food! Right!?
Spiced Root Vegetable Soup
This hearty soup is packed with seasonal vegetables, including roasted sweet potatoes, rutabaga and carrots. Cumin, cinnamon, sage, ginger, onions and garlic makes it the most flavorful soup I've ever tasted. Top it with pepitas and roasted chickpeas for an added crunch and a protein boost. I like to keep a stash in the freezer for quick weeknight dinners. Nothing beats a warm bowl of soup on a cold autumn day!
Ingredients
2

cups

sweet potatoes,

diced

1

cup

rutabaga,

diced

1

cup

carrots,

diced

1

cup

chickpeas

3

tablespoons

olive oil

1

cup

yellow onions,

diced

2

large

garlic cloves

1

tablespoon

grated fresh ginger

2 1/2

cups

vegetable broth,

no salt added

1

teaspoon

cumin,

ground

1/4

teaspoon

cinnamon

1

tablespoon

fresh sage leaves

(or 1 teaspoon dried)

1

teaspoon

fine grain sea salt

Pepper to taste

Pepita seeds for topping
Instructions
Preheat oven to 400F.

Dice your sweet potatoes, rutabaga and slice your carrots. Place on a baking sheet. On the same baking sheet, add your chickpeas. Try to keep them separated from the vegetables since they don't go in the food processor along with them after roasting. Drizzle with 2 teaspoons of olive oil.

Roast for 25-30 minutes until lightly golden.

Meanwhile, heat a skillet over medium heat. Add your onions, garlic and ginger with the remaining 1 teaspoon of oil. Cook for about 5 minutes until the onions are fragrant. Add your cumin, cinnamon and salt and cook for another 1-2 minutes.

Transfer to a food processor, along with your roasted vegetables, fresh sage and vegetable broth.

Blend all the ingredients together until smooth, about 1 minute. Add more vegetable broth if the soup is too thick for you. Add pepper or more salt to taste.

Before serving, you can heat it up in a saucepan over medium heat 2-3 minutes.Top with roasted chickpeas and pepita seeds.
Notes
You can leave the skin on the sweet potatoes.
Keep in the fridge in an airtight container.
The soup can be kept in the freezer, simply thaw overnight and reheat in the microwave or in a saucepan over medium heat.
If you try this recipe, make sure to tag your photo #unsweetenedcaroline on Instagram, Facebook and Twitter! Don't forget to also tag me @unsweetened.caroline on Instagram so I can see your creations!