Date-Sweetened Apple Crumble Bars
Date-sweetened apple crumble bars. These crumble bars are gluten-free, nut-free, vegan, fruit-sweetened and very nutritious! They're made with a base of sunflower seeds, oats and dates, which makes them high in fiber, yet absolutely delicious.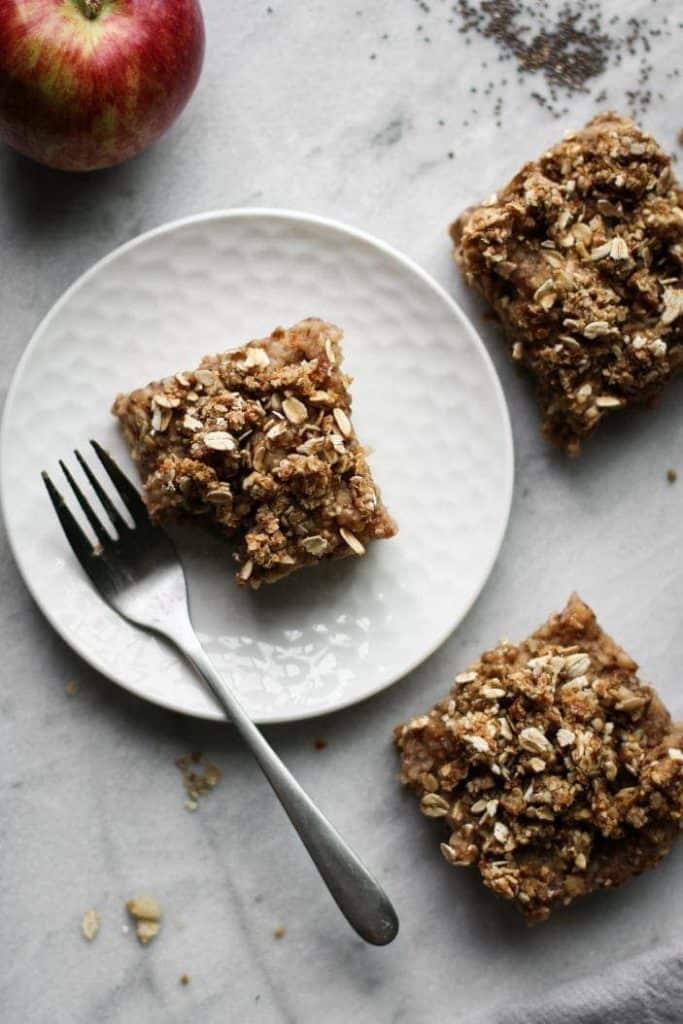 I'm making this recipe on repeat until I'm done with the 20lbs bag of apples we picked.
These apple crumble bars are inspired by one of my favorite recipes from the blog: My Nut-Free Strawberry Vanilla Crumble Bars. If you haven't tried those already, then you have no idea what you're missing. My favorite part of the recipe is the crumble. Crumble has always been my favorite dessert. When I was in high school and living at my parents' place, I was always the one making desserts for the family. Every fall, I would make several apple crumbles (and eat most of them myself). I was never one to make apple pie, it was always an apple crumble or crisp. And when I make it, I always want more crumble than apples.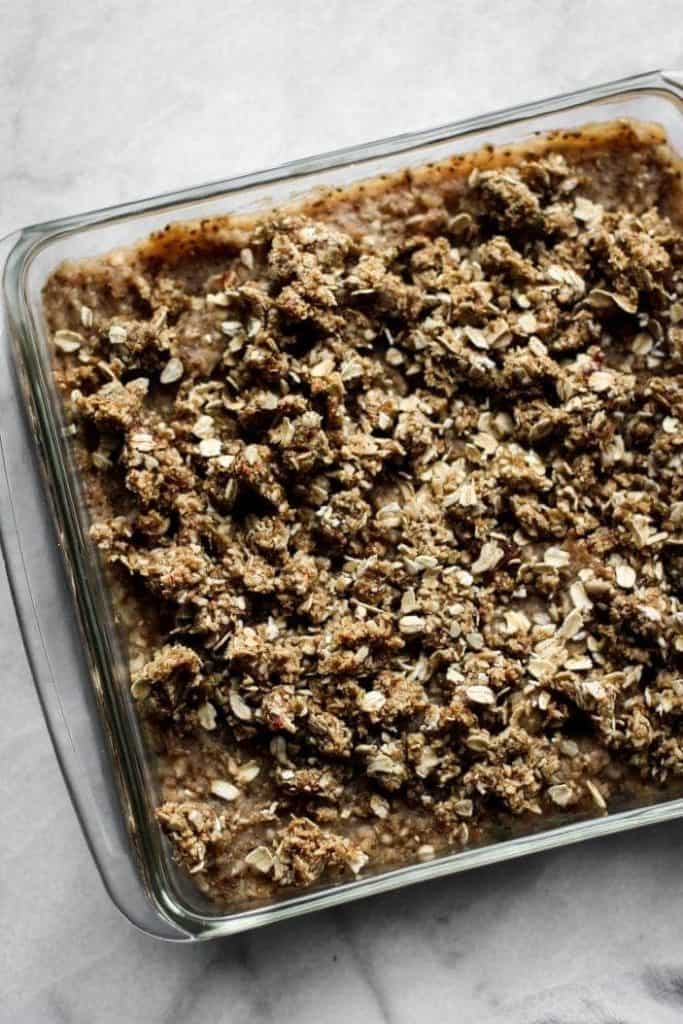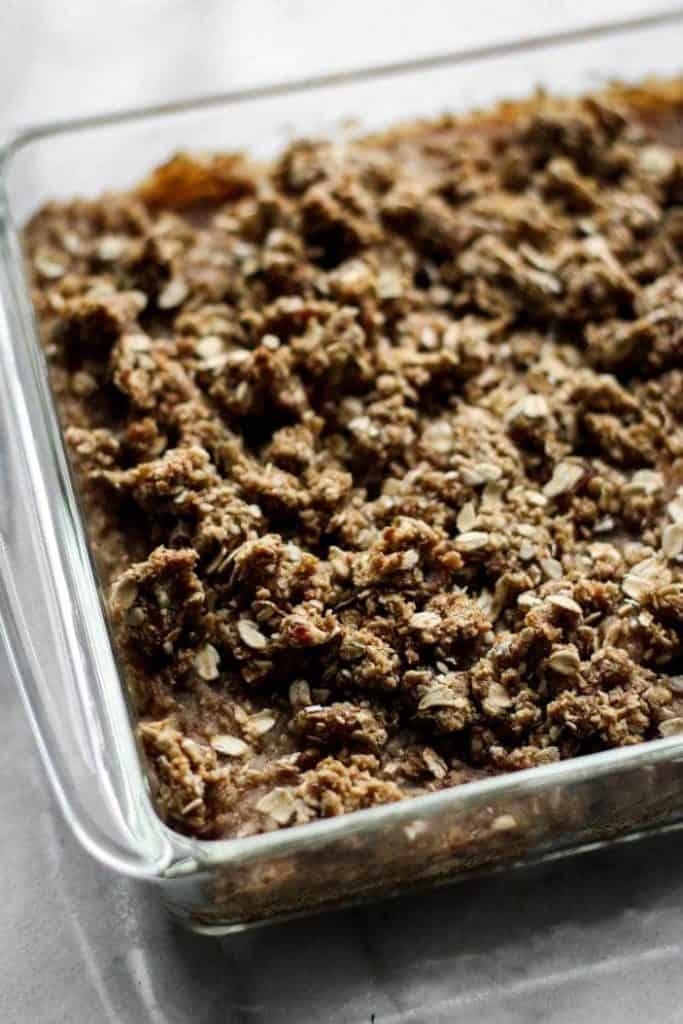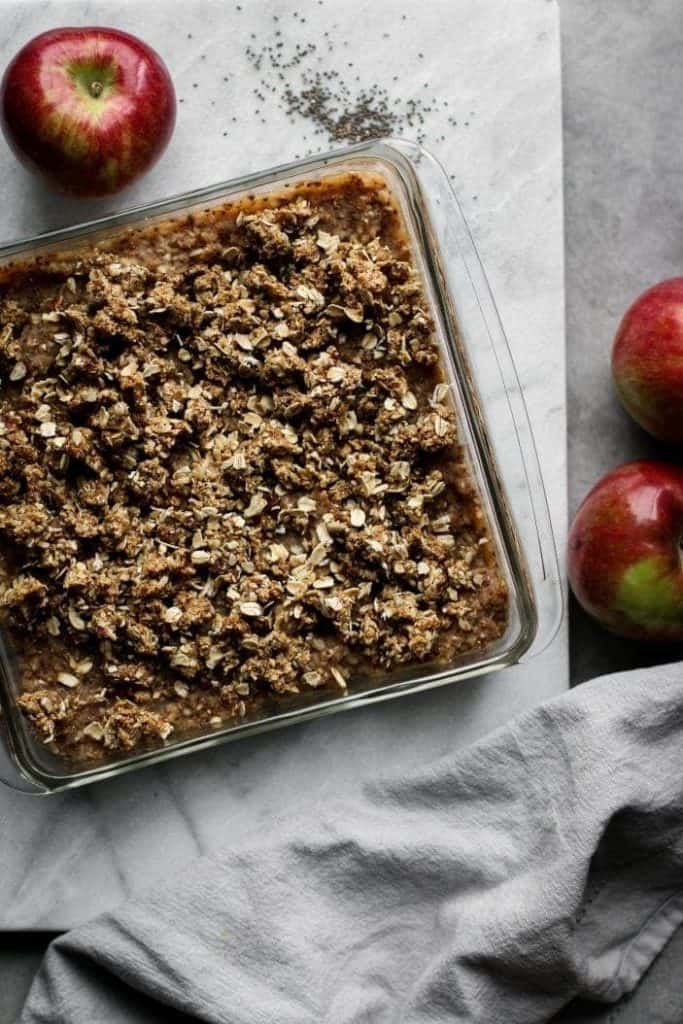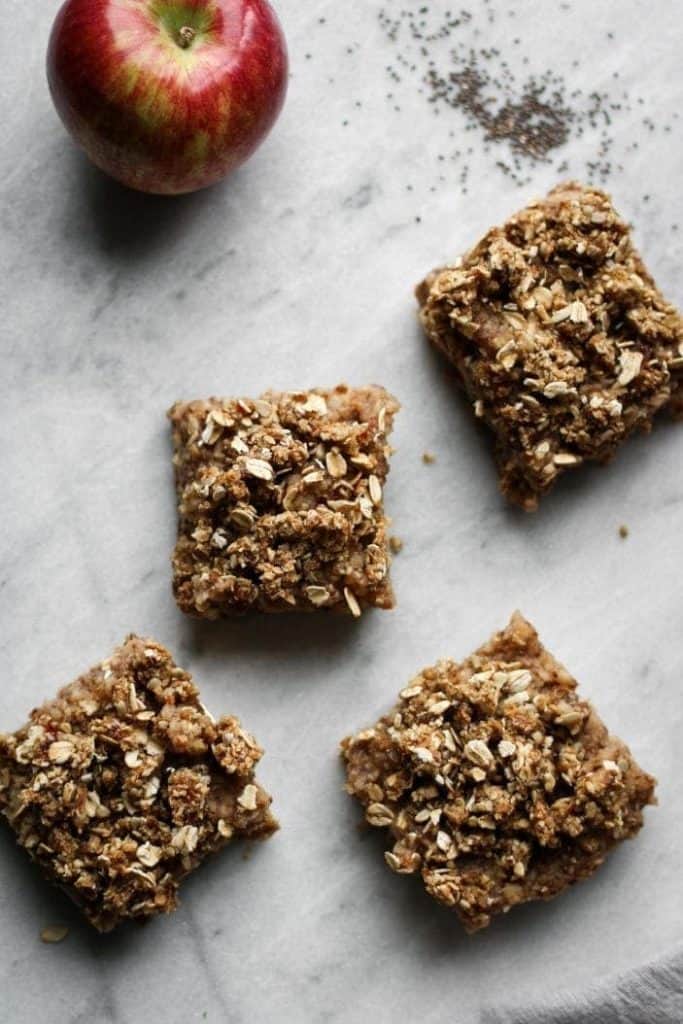 The making of these bars is very similar to the making of my strawberry crumble bars. I first use a food processor to make the crumble. All the crumble ingredients (except one cup of the oats) go in the food processor. I process the ingredients until I get a crumbly mixture. A food processor is important in this recipe as you need to process the dates and sunflower seeds. I then add the last cup of oats in the end and pulse it a few times to mix it in.
To continue, I put aside one heaping cup (or 1.5 cups) of the mixture (which will be used for topping), then press the rest to the bottom of a baking dish. At this point, I either make the applesauce filling or use some that I made in advance.
The applesauce filling goes on top of the crumble that's pressed in the baking dish. Finally, sprinkle the remaining 1.5 cups of crumble and bake for 15 minutes. DONE.
It may sound complicated with the applesauce and all, but trust me, it can take less than 30 minutes. To save some time, make the applesauce in advance and use dry roasted sunflower seeds.
Notes on the Recipe:
You can use nuts instead of sunflower seeds if preferred. Pecans would make it very fall-like. I think almonds would be nice in this recipe as well, but I've never tried it. I also like to use dry roasted sunflower seeds to save some time.
I use this spiced chia applesauce in this recipe.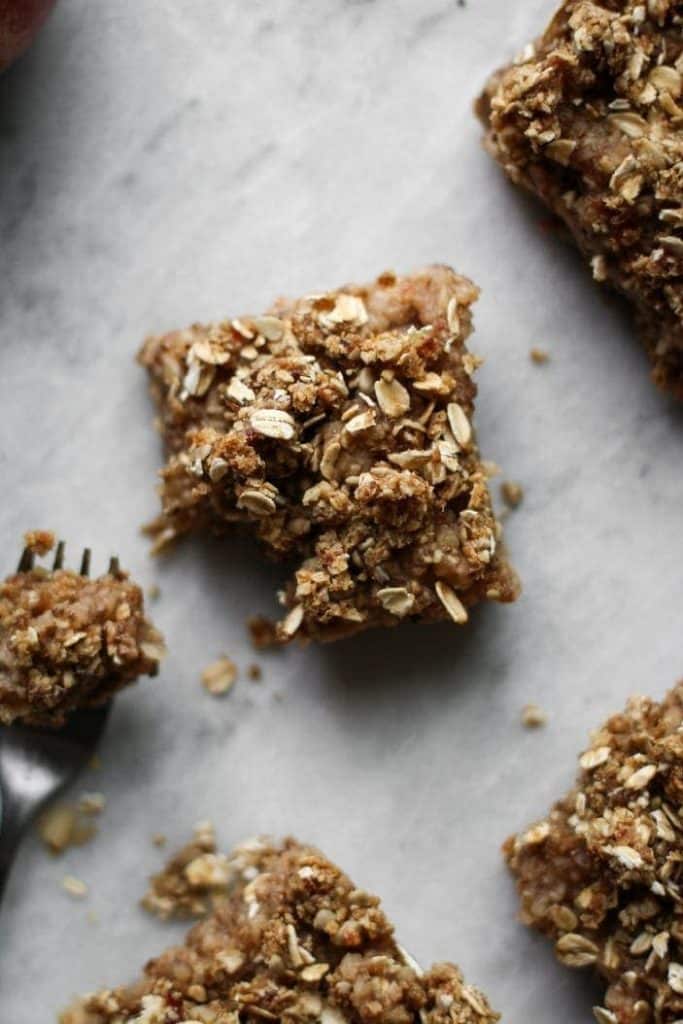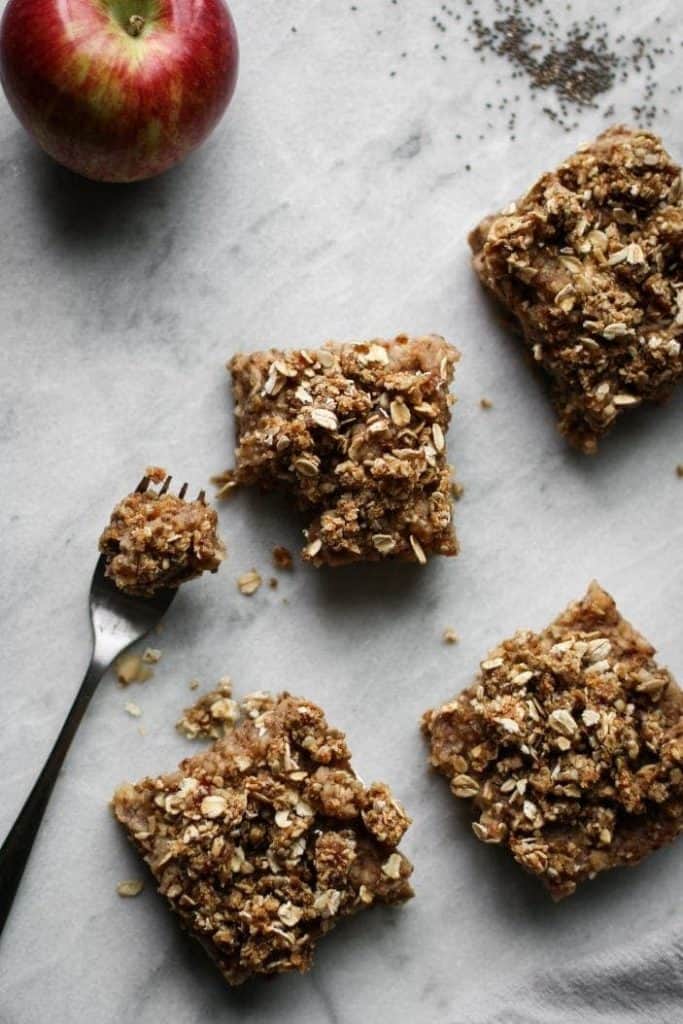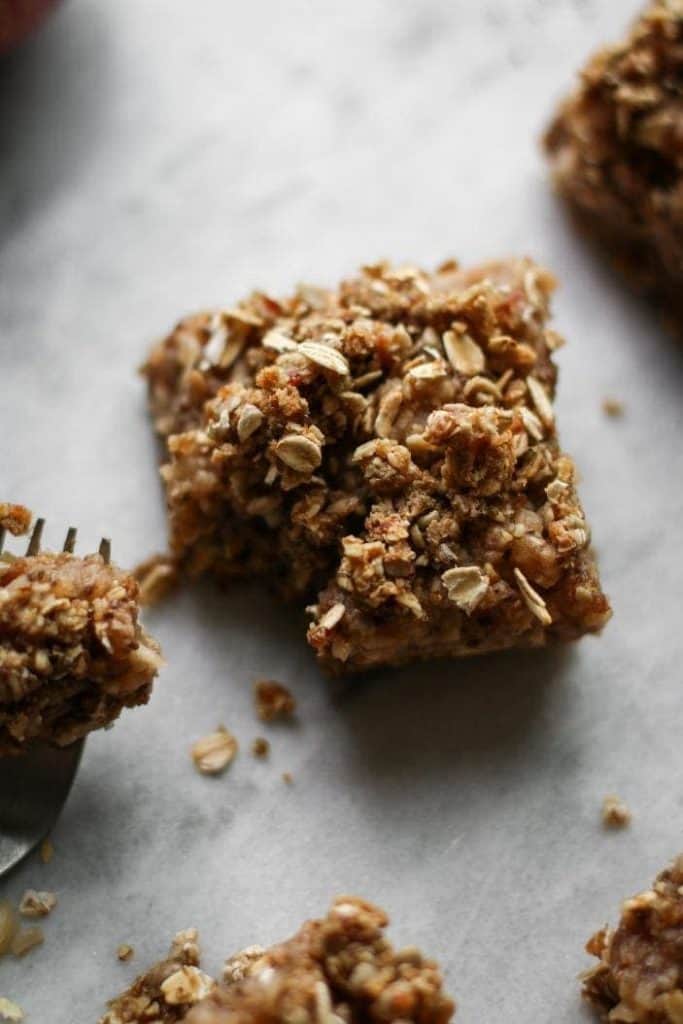 It's my new favorite way to use up the apples I picked this season! Along with my caramel apple slices and my sugar-free apple crisp!
Date-Sweetened Apple Crumble Bars
These apple crumble bars are a great way to use up all the fresh apples this season. Not only are they sweetened with dates only, but they're also gluten-free, nut-free and very nutritious! They're made with a base of sunflower seeds, oats and dates, which makes them high in fiber, yet absolutely addictive.
Ingredients
1

cup

raw sunflower seeds

1

cup

Medjool dates,

pitted

3

cups

rolled oats

1/4

cup

margarine or butter,

melted

1/2

teaspoon

vanilla extract

1/4

teaspoon

fine grain sea salt

3

tablespoons

water

1

batch (2 cups)

spiced chia applesauce

(recipe on the blog)
Instructions
Preheat oven to 325F. Lightly grease a 9×9 inch baking dish with margarine or butter. Set aside.

Spread the sunflower seeds on a baking sheet. When the oven is preheated, roast the sunflower seeds for 10 minutes until lightly golden. When the sunflower seeds are done roasting, remove from the oven.

Place the roasted sunflower seeds and dates in a food processor. Process until crumbly. Add 2 cups of oats, melted margarine (or butter), vanilla and salt. Add water and process until the mixture sticks together when pressed. Add the remaining 1 cup of oats and process for a few seconds until combined. You want the mixture to stick together, while still having texture.

Press the oat mixture at the bottom of the greased dish, leaving 1.5 cups for topping. Spread the applesauce evenly on top of the bottom layer. Finally, crumble the remaining oat mixture on top.

Bake for 15 minutes, uncovered at 325F. Let cool 30 minutes-1 hour before cutting. This helps the bars stick together.
Notes
To save some time, you can buy dry roasted, unsalted sunflower seeds instead of raw and skip the roasting process.
Get the recipe for the chia applesauce here.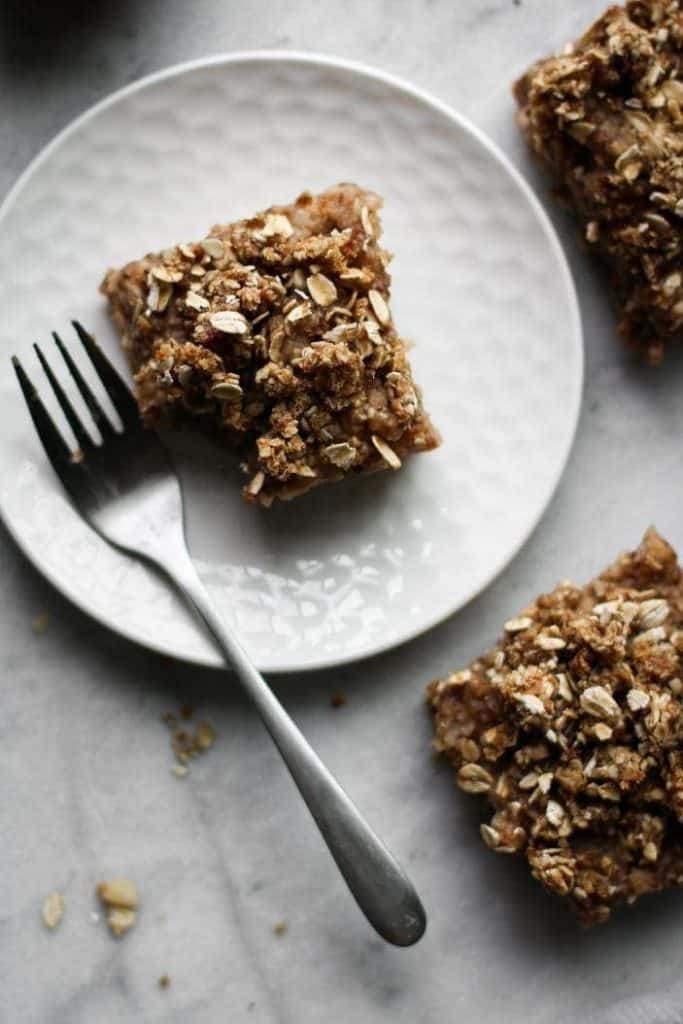 If you make these apple crumble bars, be sure to leave a comment and/or give this recipe a rating! I love to hear from you guys. And of course, if you try this recipe, don't forget to tag me on Instagram!