Spiced chia applesauce that's sweetened with fruit and thickened with chia seeds. Add dates for extra sweetness or keep it simple. Perfect for a snack or as part of apple crumble bars.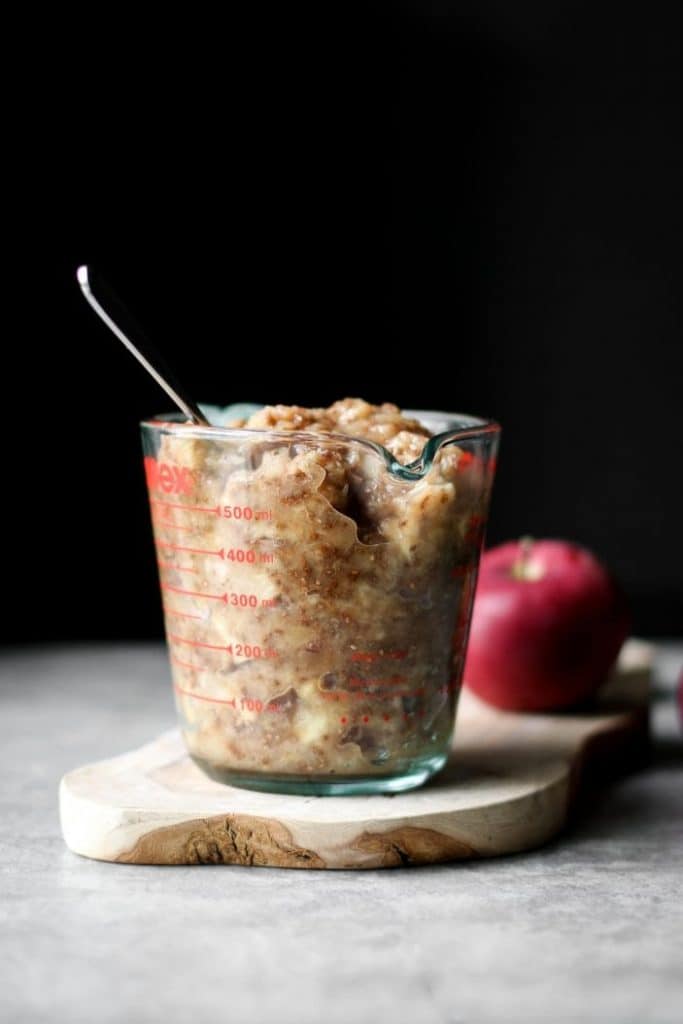 My fridge is currently full of applesauce from the many batches I tested over the weekend. I have to say, it was a good way to use up my 20lbs bag of apples – If you're looking for more sugar-free apple recipes, I also love my sugar-free apple crisp and healthy caramel apple slices.
Like I said, I tried a few versions of this recipe over the weekend. First, I tried it sweetened with a few chopped Medjool dates. The dates soften when cooked with the apples, which makes them blend perfectly in the sauce. No chunks of dates, just a perfectly sweet chia applesauce. I then tried a version without the dates, which turned out great as well. Make it without the dates if you prefer a lightly sweet applesauce. I find that dates take this sauce to the next level. As for the spices, I tried a few variations as well. First, I tried it with a touch of cinnamon only. It was good, but then I tried it with pumpkin spice (!!!). That one was a winner! I like to add half pumpkin spice and half cinnamon. This way, the cinnamon is dominant, but you still get a touch of nutmeg, allspice, ginger and clove. I didn't add much, but feel free to play with the spices. Add more or less to taste!
I used this recipe for homemade pumpkin spice, but you can certainly use store-bought.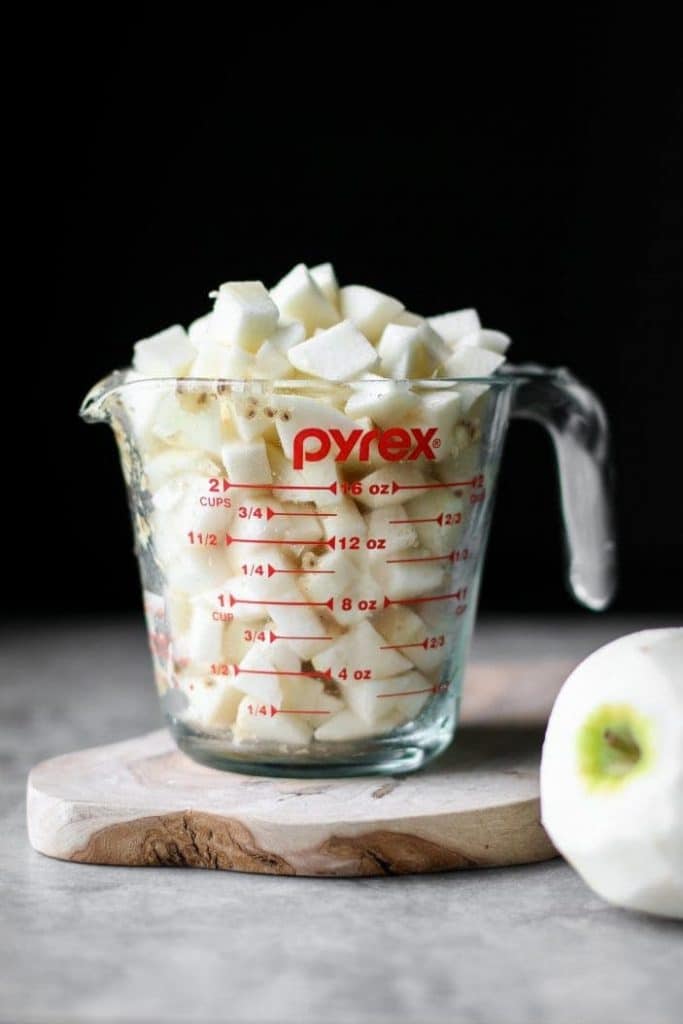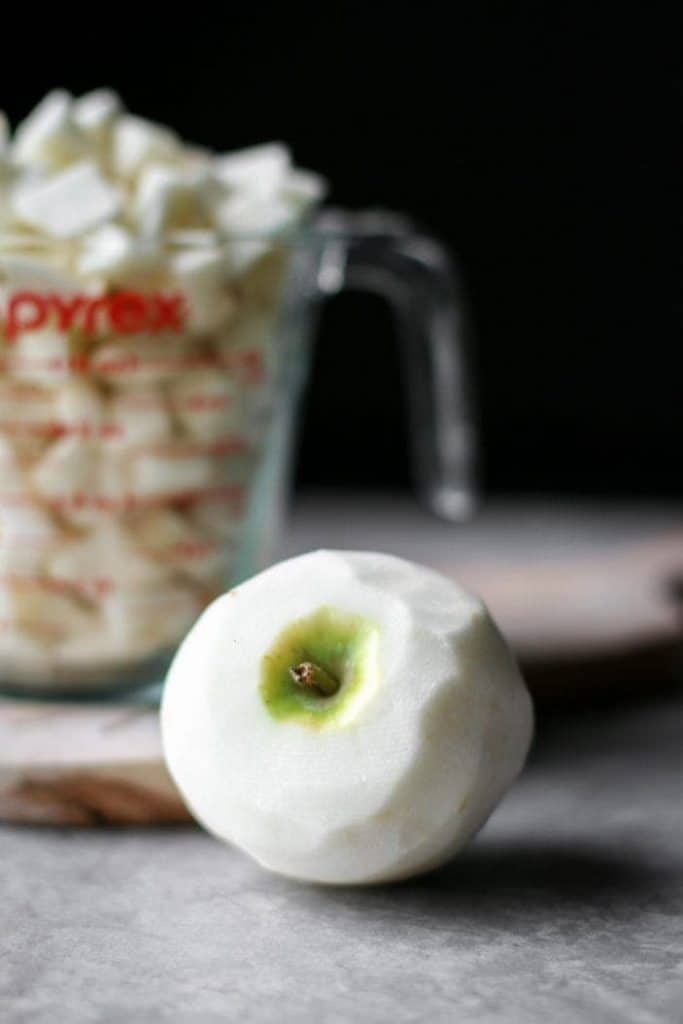 How to Make Homemade Chia Applesauce:
To make the sauce, all you need to do is add your peeled, diced apples in a small saucepan, along with water, cinnamon, pumpkin spice and vanilla. I bring the mixture to a boil, then stir in the chia seeds and simmer over low heat for 15 minutes. After 15 minutes, the chia seeds should have absorbed the liquid and the sauce should be thick and chunky. Use a fork to mash some of the apples, leaving some chunks if preferred.
It doesn't get much easier than that!
Eat this chia applesauce on its own as a snack or dessert or add it to oatmeal, parfaits, desserts and more… I highly recommend making a batch to use in these apple crumble bars.
And with that, I'll leave you to the recipe. Enjoy!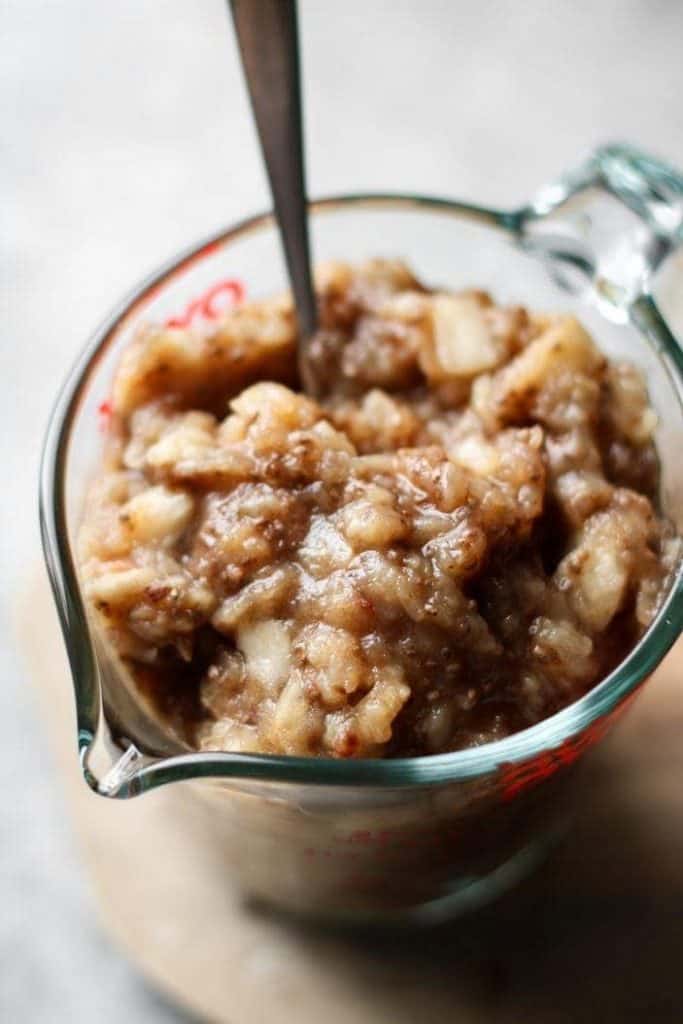 Spiced Chia Applesauce
Thick, chunky applesauce that's sweetened with fruit only and thickened with chia seeds. Add dates for extra sweetness or simply keep it as is. Eat it as a snack or dessert on its own or add in oatmeal, parfaits or desserts!
Ingredients
4

medium

apples,

peeled and diced

3

Medjool dates,

chopped (optional)

3/4

cup

water

1/2-1

teaspoon

cinnamon,

ground

1/2

teaspoon

pumpkin spice mix

1/2

teaspoon

vanilla extract

2

tablespoons

chia seeds
Instructions
Peel and dice your apples in 1 inch cubes.

Add all your ingredients (except the chia seeds) in a small saucepan over high heat. Bring to a boil, then reduce to low. Stir in your chia seeds and let simmer, covered for 15 minutes, stirring a few times. The chia seeds should absorb the liquid and thicken the sauce.

Mash the apples with a fork, leaving some chunks if desired.
Notes
Start with 1/2 teaspoon of cinnamon and add more to taste. Use 1 teaspoon or more if you love a strong cinnamon taste.
I used Cortland apples.
Store in an airtight container in the fridge for up to one week.
This recipe makes approximately 2 cups.
If you make this spiced chia applesauce, be sure to leave a comment and/or give this recipe a rating! I love to hear from you guys. And of course, if you try this recipe, don't forget to tag me on Instagram!