A Registered Dietitian's Tips To Make Meal Prep Easier
Here are a registered dietitian's tips to make meal prep easier and save time while eating nutritious meals throughout the week.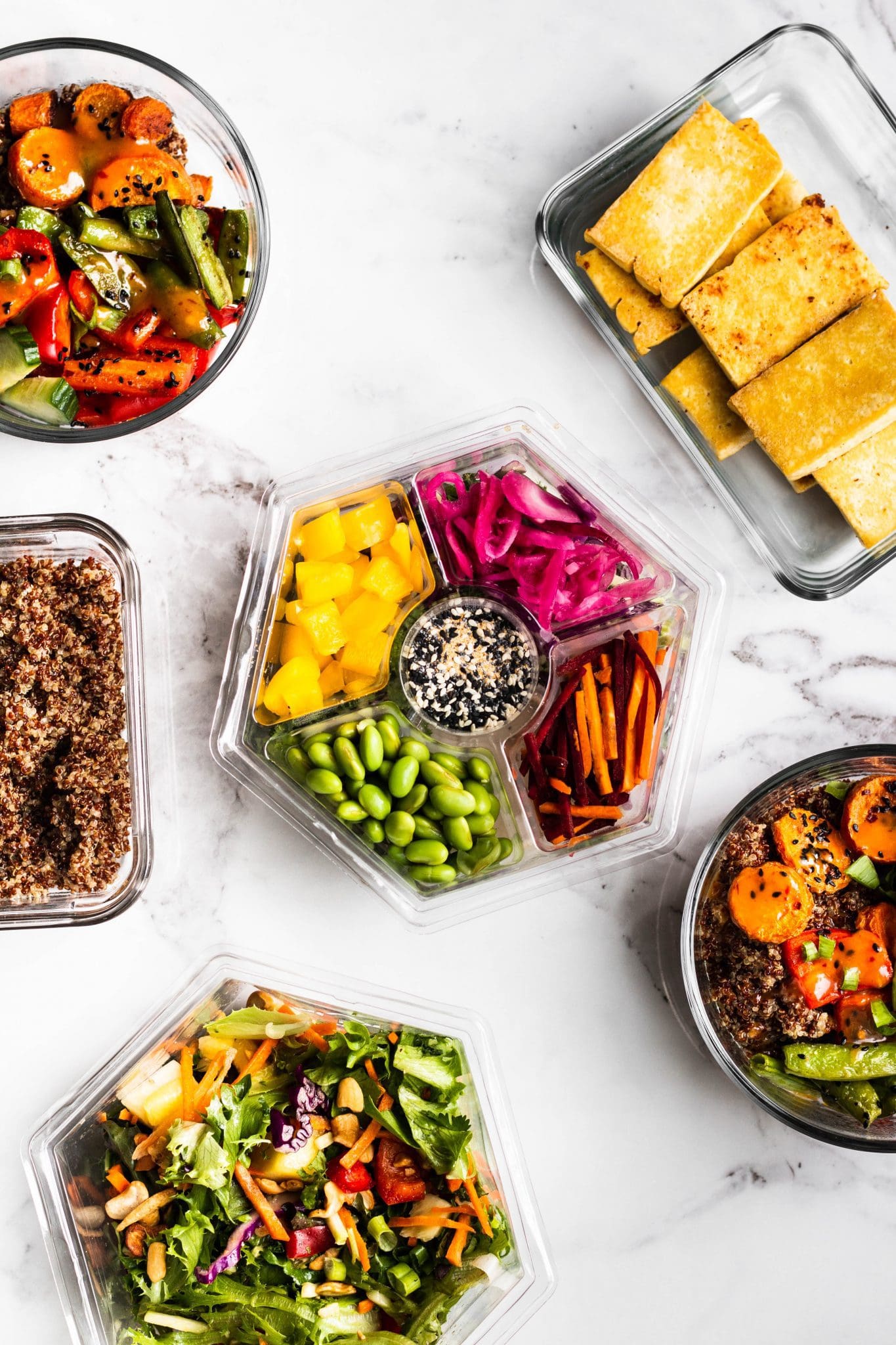 This post is made in partnership with Inspired Go. All opinions and tips are my own. Thank you for supporting the brands that make this blog possible.
When you think of meal prep, do you imagine spending hours in the kitchen, preparing specific and complicated meals for every day of the week? Do you imagine eating the same bland meals on repeat? It doesn't have to be this way. Here are my easy meal prep tips to save time and enjoy delicious meals throughout the week.
Tips to Make Meal Prep Easier:
Keep It Simple:
Save time and energy by sticking to simple recipes. This is especially important if you're new to meal prep. This could be a simple soup and a batch of no-bake granola bars. Start slow and adjust as needed.
Prepare Meal Components:
Instead of preparing complicated meals to eat on repeat all week, try preparing ingredients or meal components. Not only will this save you time, but it will make your meals less repetitive and boring. This could include cooking a big batch of rice, roasted vegetables, chickpeas and tofu. You could also chop some vegetables or use salad kits to save time. Simply prepare a few ingredients that you can use to create fast meals throughout the week. Prepare ingredients that overlap and that can be used in many different ways to save time and keep things interesting.
Batch Cook:
This is a common meal prep strategy, but it does help save time. That being said, I don't recommend making a big batch of a recipe, just to eat the same thing all week (unless that's what you want). Instead, try to reinvent leftovers. This will make meal prep a little less repetitive. Another strategy, if it's a freezer-friendly recipe, is to freeze half of the batch. This way, you can enjoy a few portions one week without getting tired of eating the same thing on repeat and you'll have more in the freezer when you need it.
Use Your Kitchen Tools:
Do you have an Instant Pot? A slow cooker? A food processor? These kitchen gadgets will make your meal prep much quicker and easier. Just throw all of the ingredients in your Instant Pot or slow cooker and let it do the work for you. No need to stir or work through several steps. A food processor can also be useful for slicing or shredding vegetables for salads, soups and more.
Learn to Multitask:
Once you're comfortable with meal prep, try to multitask. For example, cook a soup in a slow cooker or Instant Pot while roasting vegetables and chickpeas in the oven. While your meals are cooking, prepare a batch of hummus or energy bites in a food processor. Essentially, take the time to prepare a few non-cook meals or snacks while the other meals or ingredients are cooking. You can also use that time to clean the dishes! By multitasking this way, you'll be able to finish your meal prep much faster.
Take Shortcuts:
Take shortcuts in the kitchen when you can. Some nutritious convenience foods include canned beans and lentils, store-bought pasta sauce, canned or frozen vegetables and fruits. Pre-chopped vegetables and salad kits are also a great way to save time, which we'll discuss below. Use these minimally processed ingredients to create quick and easy meals for the week.
You can also include some fun foods, such as vegan "meats", store-bought veggie burgers and more. These will add variety to your diet and will make healthy eating much more sustainable. Remember that food should be enjoyed!
Consider a Meal Delivery Service:
If you want some extra help to make it through the week, consider a meal delivery service. These can make healthy eating more enjoyable and possible if you have a busy schedule or if you don't always want to spend time in the kitchen (we've all been there).
Meal delivery services can also be used along with the meal prep tips discussed above. For example, you can prepare a few meals or ingredients for the week and fill in the gaps with a meal delivery service to save time and energy. Use these services to skip the tasks you dislike the most, such as chopping vegetables! You can also use a meal delivery service to add variety to your meals each week. As discussed earlier, meal prep shouldn't result in eating the same meal on repeat. Eating a variety of foods will make healthy eating much more interesting (plus it will support your gut health and help you reach your nutrient needs!).
Try to find a healthy meal delivery service in your area. If you're located in Western Canada, Inspired Go is a great option that offers delicious salad kits, sheet pan meals, juices and more. I love that they have several vegan and vegetarian options, my current favorite being the Rainbow Salad. They have something for everyone! I personally find it so much easier to eat more vegetables when I have their delicious, prepared meals ready for the week. All you need to do is order your favorite meals online (no subscription is required) and they deliver the meals to your door on the day of your choice. It's so easy!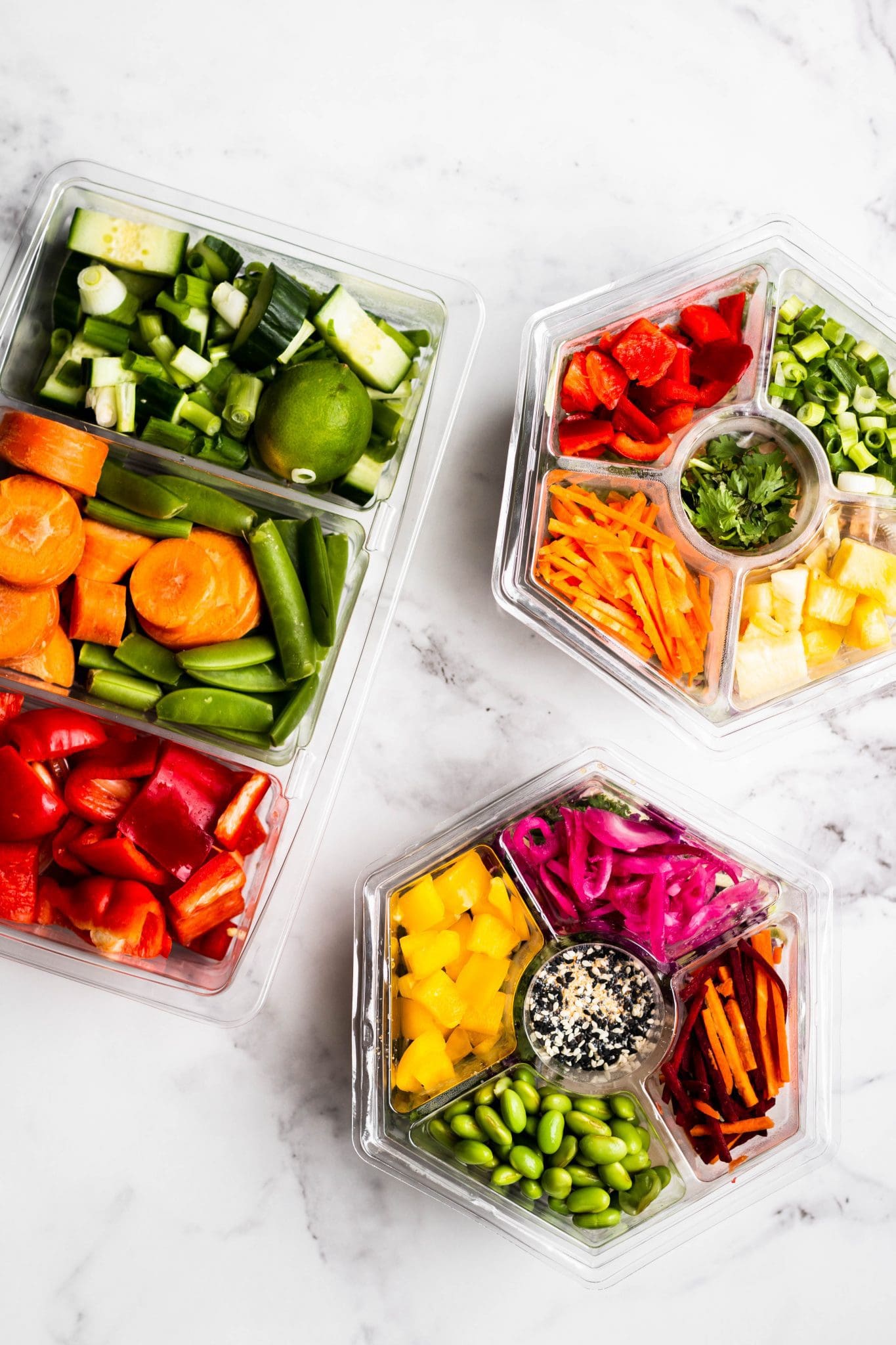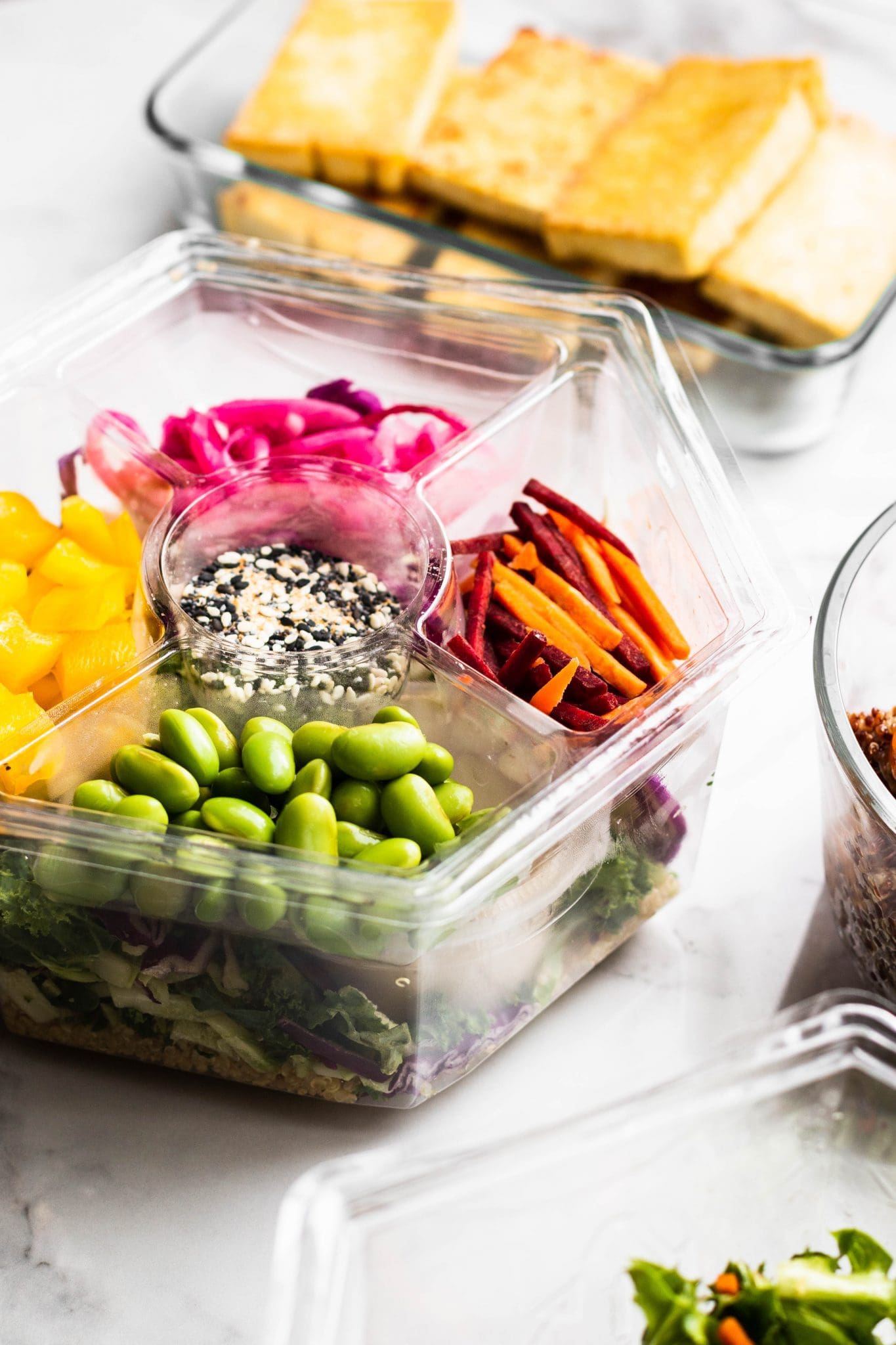 As a non-diet dietitian, I understand that cooking nutritious meals at home is not possible for everyone. We all have our own situations that can make cooking and eating nutritious and delicious foods complicated. Whether you're busy with work, raising a family, dealing with health issues and/or just don't have the energy or desire to cook, there's no shame in taking shortcuts.
Inspired Go's mission is to inspire every individual to thrive by removing the barriers to healthy eating. When you need a quick meal, Inspired Go has you covered with fresh and healthy meals delivered to
your door. Perfect for easy meal prep throughout the week, Inspired Go offers meal delivery of salads, sheet pan meals, juices and more. Inspired Go's greens are locally sourced, grown in a sustainable
Canadian greenhouse, and they partner with local chefs to create their delicious salad recipes.
Order a week of meals today at inspiredgo.ca. They currently deliver to homes in Vancouver & the Lower Mainland, Kelowna, Vernon, Calgary, Edmonton, Regina, Saskatoon, and Winnipeg. I hope you'll love their meals as much as we do!