What I Eat in a Day: 1 Month Before my Wedding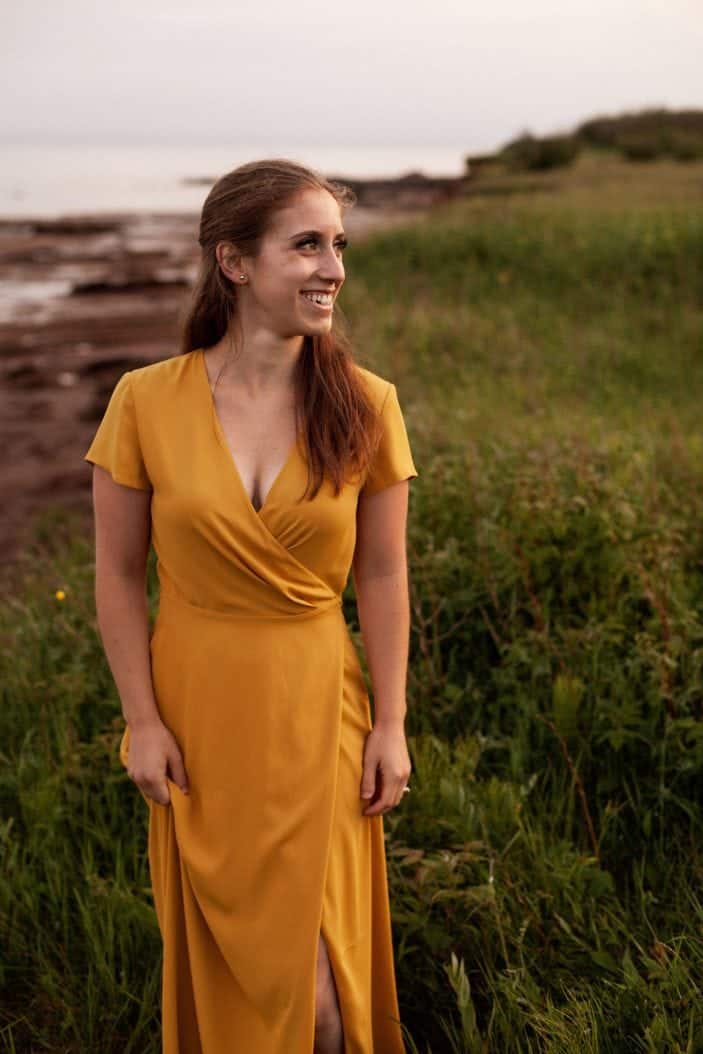 It's been a while since I wrote a "what I eat in a day" post and I thought it would be fun to share what I eat before my wedding. The big day is just a little over one month away. I can't believe it!
Before I get into my day with you, I wanted to share a few things.
First, I'll do a more comprehensive wedding diet post following our wedding. Things will likely be a little different over the next month as I won't be home, so I'll share it all in my next wedding diet post!
Second, note that my wedding goals are maybe different that other people's goals. Everyone has a different idea of how they want to look on their wedding day. Personally, I don't believe in diets. I especially don't believe in restricting yourself just to look a certain way on your wedding day. I understand that we all want to look good in our dress on our wedding day, but to me, that doesn't mean we should restrict ourselves, which can negatively impact both our physical and mental health. However, I'm not saying that there's anything wrong with wanting to look your best on your wedding day. Do what feels right to you.
Finally, this is not meant to be a recommendation on how to eat before your wedding. I'm not saying that this is the best way to eat or that you should do the same as me. This is just how I'm eating at the moment. Again, do what's right for you.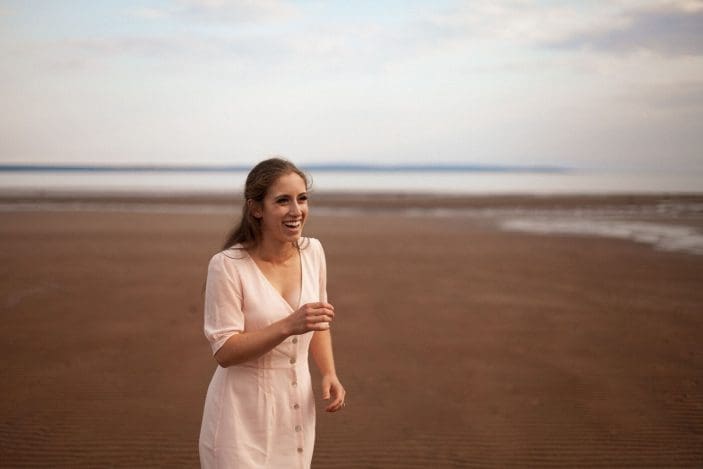 My Wedding "Diet" Goals:
I want to eat in a way that feels good and fuel my body so that I have the energy to go through those busy weeks leading up to the wedding.
I also want to improve my digestive health so that I don't feel bloated and unwell on the big day. Not that I have any severe digestive issues (which I'm grateful for), but I do have a sensitive gut.
My Digestive Health Story:
I've never shared my struggles with my digestion here, but as this is a big part of my wedding "diet", I thought I'd share what's been going on in the past year.
A little over one year ago, I got my IUD removed (a form of birth control). When I had it put in 3 years back, I started having digestive issues. It only happened a few months after I had it inserted, so I didn't think more of it. As the years went by, I started thinking that maybe that was the reason for my digestive issues. So I had it removed and I didn't use any hormones for a few months. I definitely felt better.
A few months after, I tried another IUD that was lower in hormones and it all started again. I kept it for 3 months, then got it removed.
Finally, this past December, I tried one more thing: a hormone birth control pill with the smallest amount of hormones possible. Within one month, I started having severe digestive issues, to the point where I was scared to eat. Everything made me extremely bloated. I had heart burn and indigestion daily from eating foods I could normally tolerate. With that, I gained almost 10lbs in one month.
Okay, I never focus on weight. However, it scared me that I ate the same, if not better (due to my digestive issues) than before and still gained weight fast. It's not that having an extra 10lbs is bad in any way. It's the fact that I felt extremely bloated and uncomfortable in my own body. Something I didn't experience, even when I weighed that same weight before. I also needed to fit in my dress.
Again, I waited 3-4 months and I stopped the pill. That was 4 months ago. I'm slowly feeling better. My digestive health has greatly improved, but it's still not perfect. I'm also slowly getting back to my prior weight.
So here I am, 1 month before my wedding and trying to feel my best. That's what motivates me. Feeling good on my wedding day and not feeling heavy and bloated.
And with that, here's my latest "What I eat in a day":
Breakfast (5:15):
Yes, I wake up early. Shaun works an hour away in Kelowna, so we start our day a little before 5 am and I eat my first meal within 30 minutes of waking up. I'm hungry in the mornings! My breakfast lately has been either oatmeal or toast with nut or seed butter.
Go-To Oatmeal: Rolled oats, unsweetened soy milk (a good protein source), chia seeds, hemp hearts, peanut butter or sunflower seed butter and sometimes a handful of frozen berries. You can find a more detailed recipe for my go-to oatmeal here.
Toast: I've been using Silverhills Bakery sprouted bread. I find it easier to digest, which is what I want at this point. I top 2 toasts with about 2 tablespoons of peanut butter or sunflower seed butter, then have a big glass of unsweetened soy milk on the side.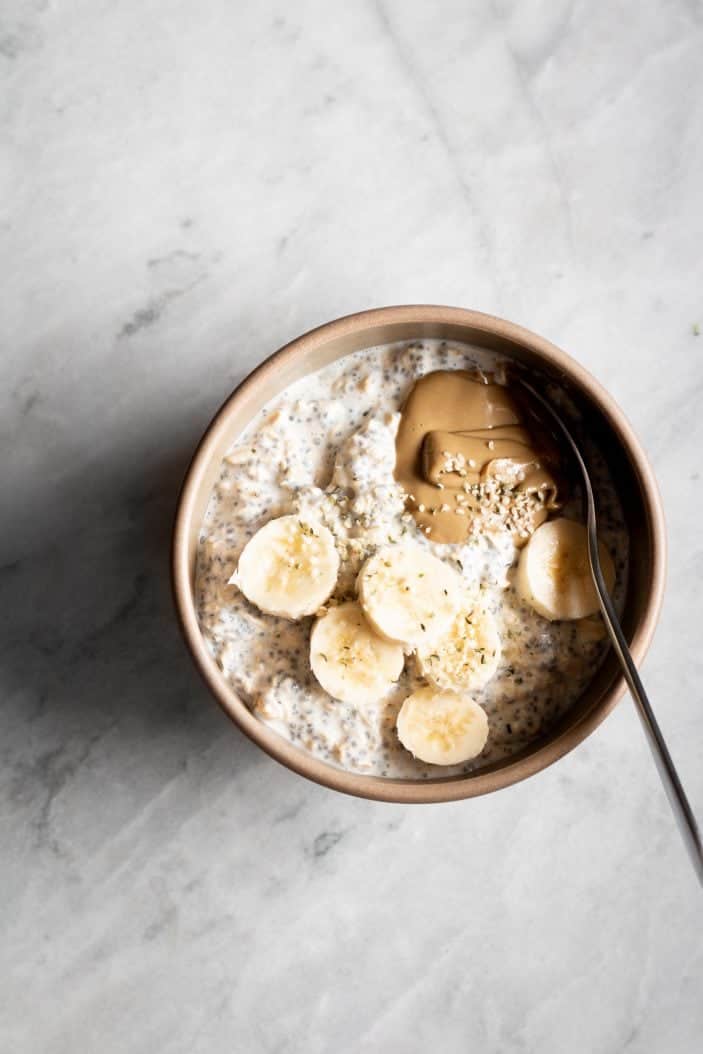 Snack (9:00-9:30):
I wake up really early, so I always need a snack to get me through to lunch. Lately, it's been very different every day as I've been testing many new recipes. For example, it could be a small muffin with peanut butter (I have many lentil muffins in my freezer – something I've been testing), fruit with a few nuts, hummus with vegetables or even a small smoothie.
I'll also have either a black tea with almond milk or this matcha latte.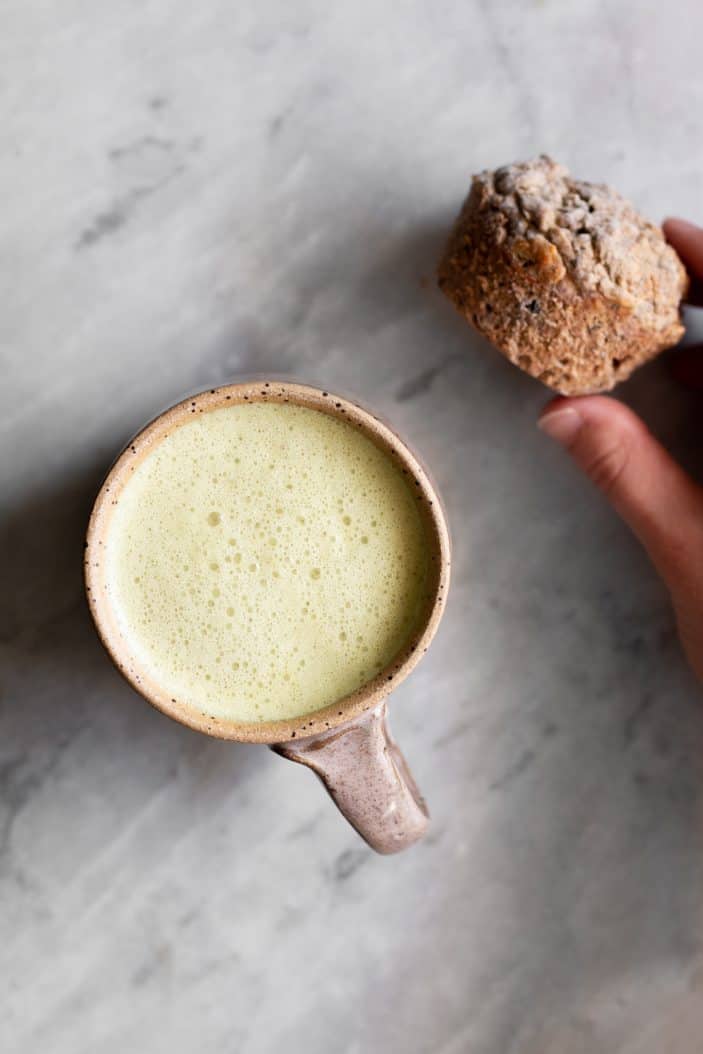 Lunch (11:30-12:00):
Lunch has been soup most days as I'm currently photographing recipes for my eBook that's coming out next month. My freezer is full of soups, so I've been eating a bowl of either lentil dal, peanut stew, pea soup or minestrone soup most days. My soup always has vegetables and legumes. I then pair that with 1 or 2 slices of Silverhills Bakery bread with a small amount of vegan margarine, depending on how hungry I am.
If I'm not having soup, I'll have a grain and legume salad, which I've been doing a lot of right now for the eBook. I'll have a good mix of whole grains, legumes and vegetables.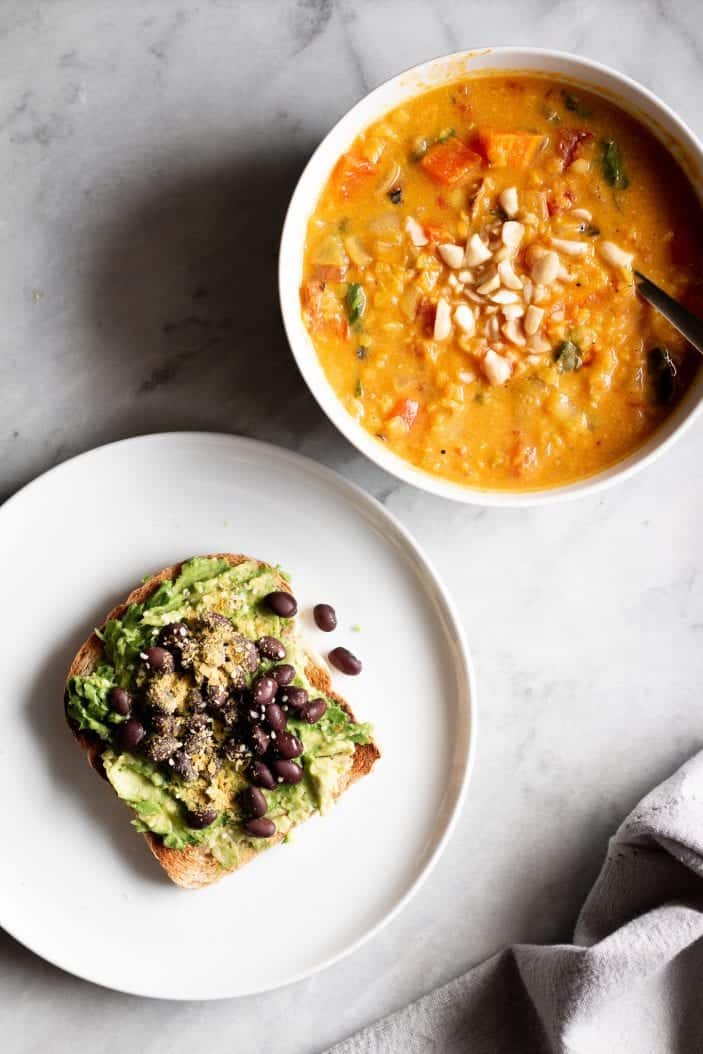 Snack:
Lately, I've been eating a larger lunch as I have so much food to eat before we leave for our wedding and honeymoon. That means I haven't really been hungry for an afternoon snack. However, I've been having an iced decaf coffee with unsweetened almond milk almost every day.
Dinner (16:00-17:00):
Dinner can be anything. Again, I've been testing so many recipes lately that I'm always left eating leftovers for dinner. For example, this week's dinners have been vegetarian bean pot pie, avocado pea toasts, more quinoa salad, polenta with beans and vegetarian enchiladas (all recipes that will be out soon!). All I can say is that I always have legumes, grains or starches and vegetables.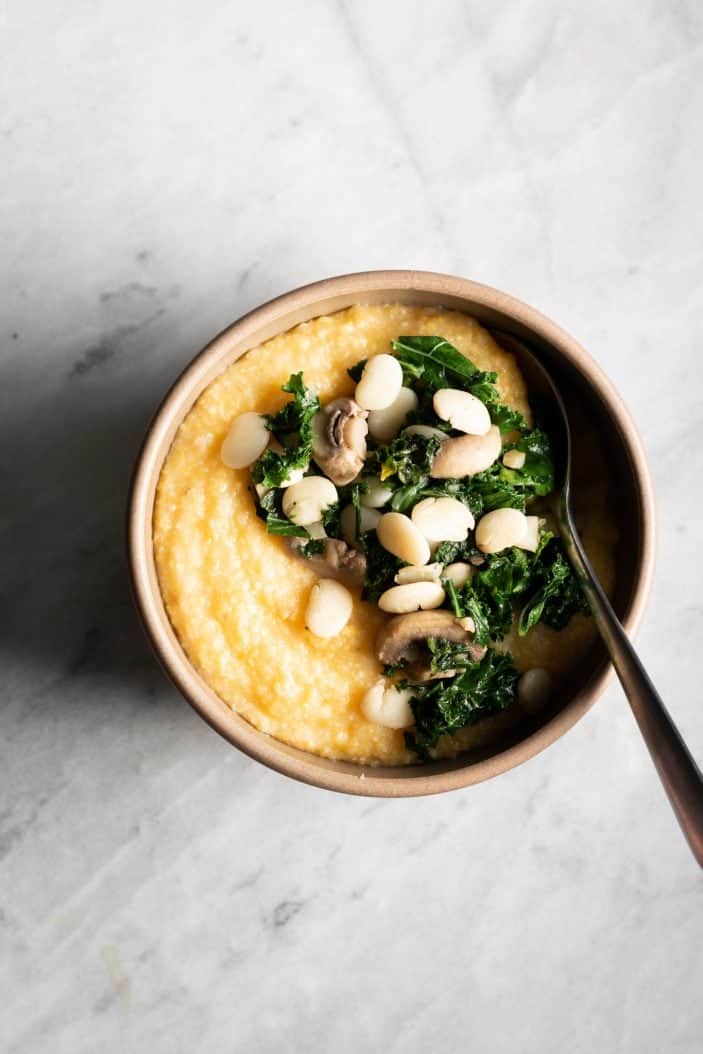 After dinner, I almost always have something sweet. Lately it's been either a small piece of no-bake granola bar or a small bowl of chickpea ice cream. I just have a small piece of whatever dessert I created or photographed that week.
And that's it! I don't usually have an evening snack as I do go to bed early (around 8:30-9:00 pm) because of my early wake-up time.
For the month of September, until our wedding on the 28th, things will likely change as I'll be at my parent's place in New Brunswick. For that reason, I'll do another wedding diet post after the wedding! In that post, I'll also share my exercise routine for the month leading to my wedding.
If you want more, you can check out my other "what I eat in a day" posts here and here.
The photos of myself are taken by Tremblett Photography.