Vegan Chickpea-Nut Butter Ice Cream Cake
The best vegan chickpea-nut butter ice cream cake.
See what I did there? I combined chickpea and peanut butter to make chick(pea-nut). Yes, that means there is in fact chickpeas in this dessert. And no, you can't taste them. They're simply there for nutrition and texture. Trust me, it just works.
This recipe takes one of my favorite recipes from the blog: My chickpea-nut butter ice cream. When I shared this recipe earlier this summer, I got some great feedback from you guys. Many of you made it and absolutely loved it! I even heard from someone who made it and her grandmother said it tasted just like regular peanut butter ice cream.
That's my goal. Making healthier desserts that don't taste healthy. My job is done here.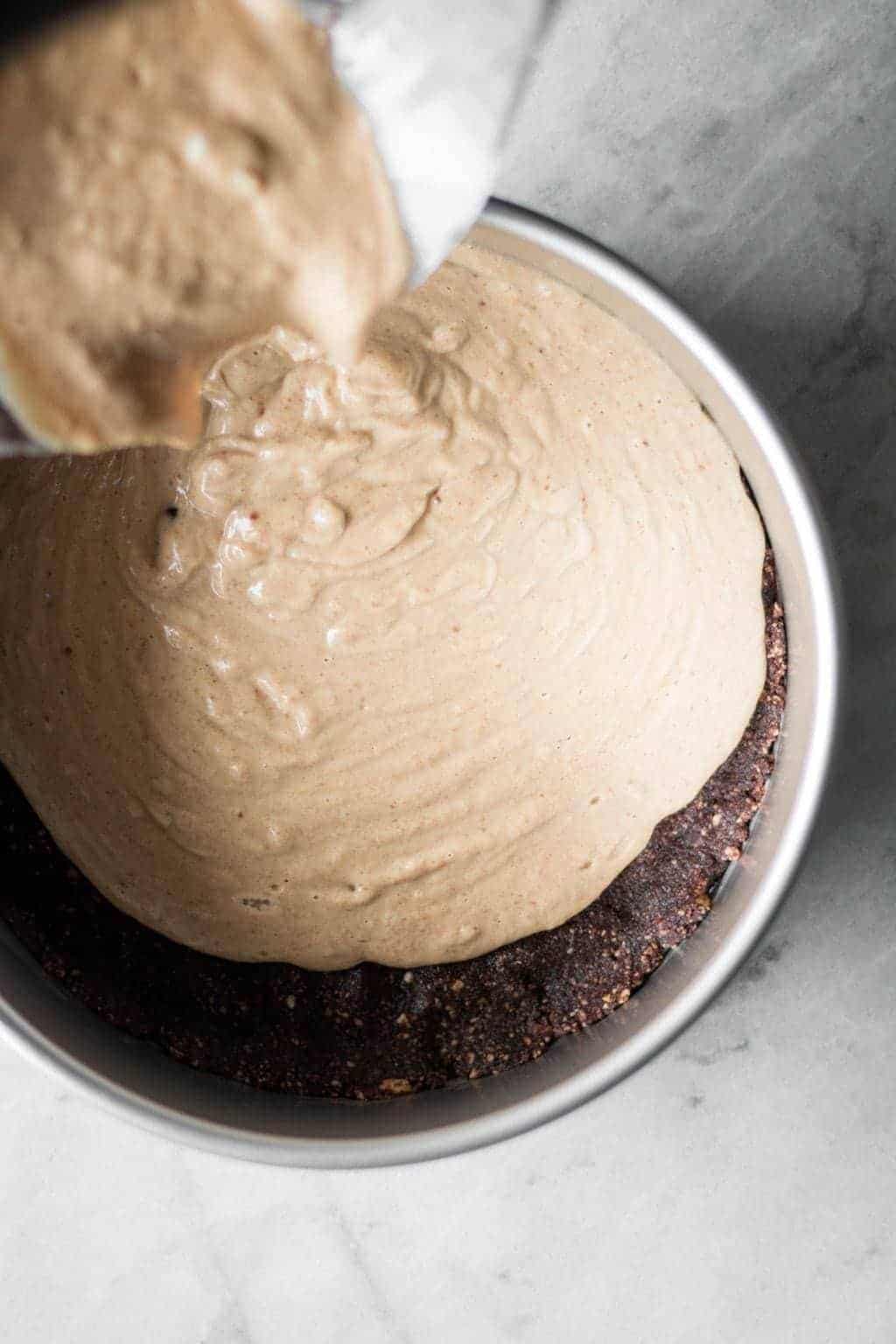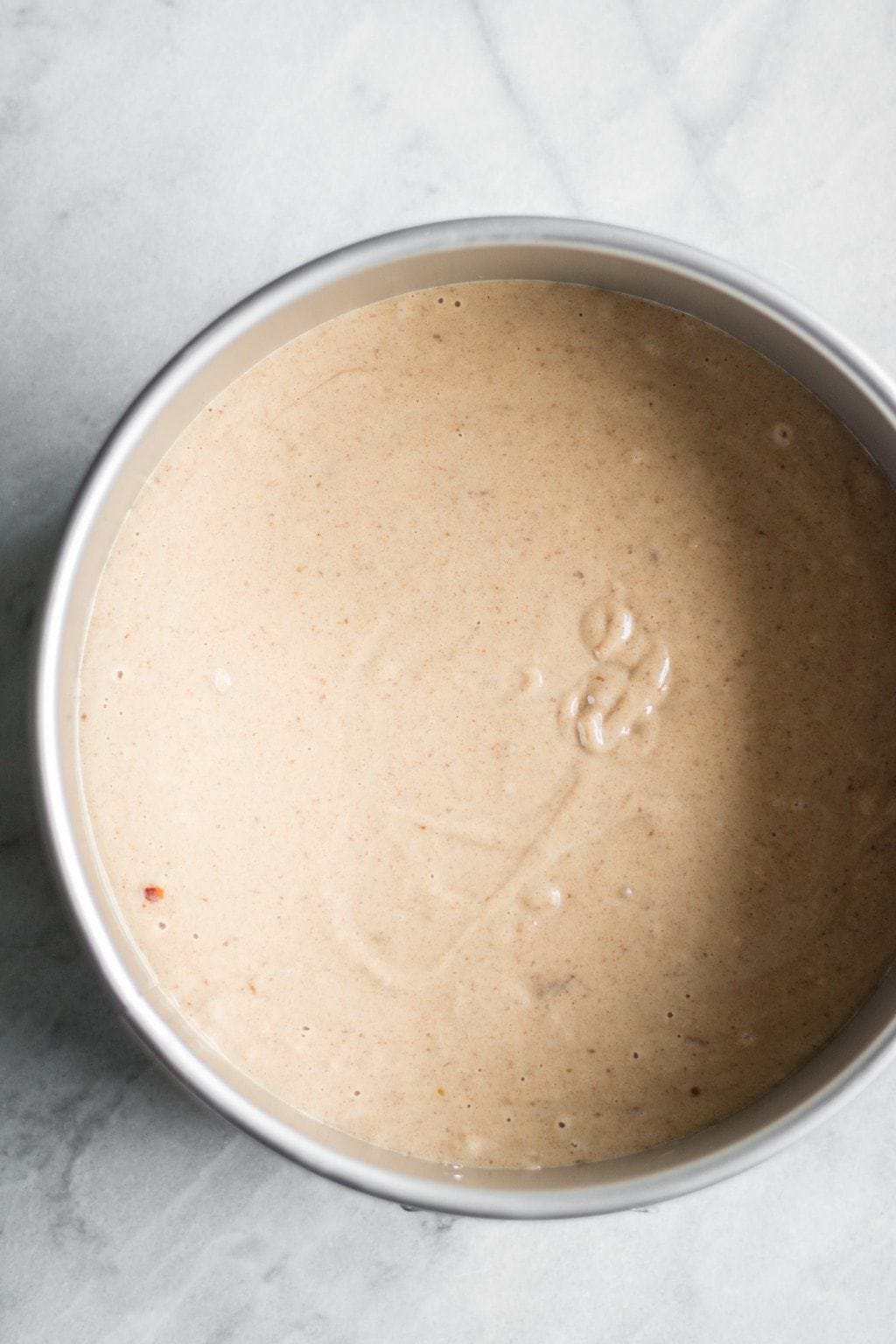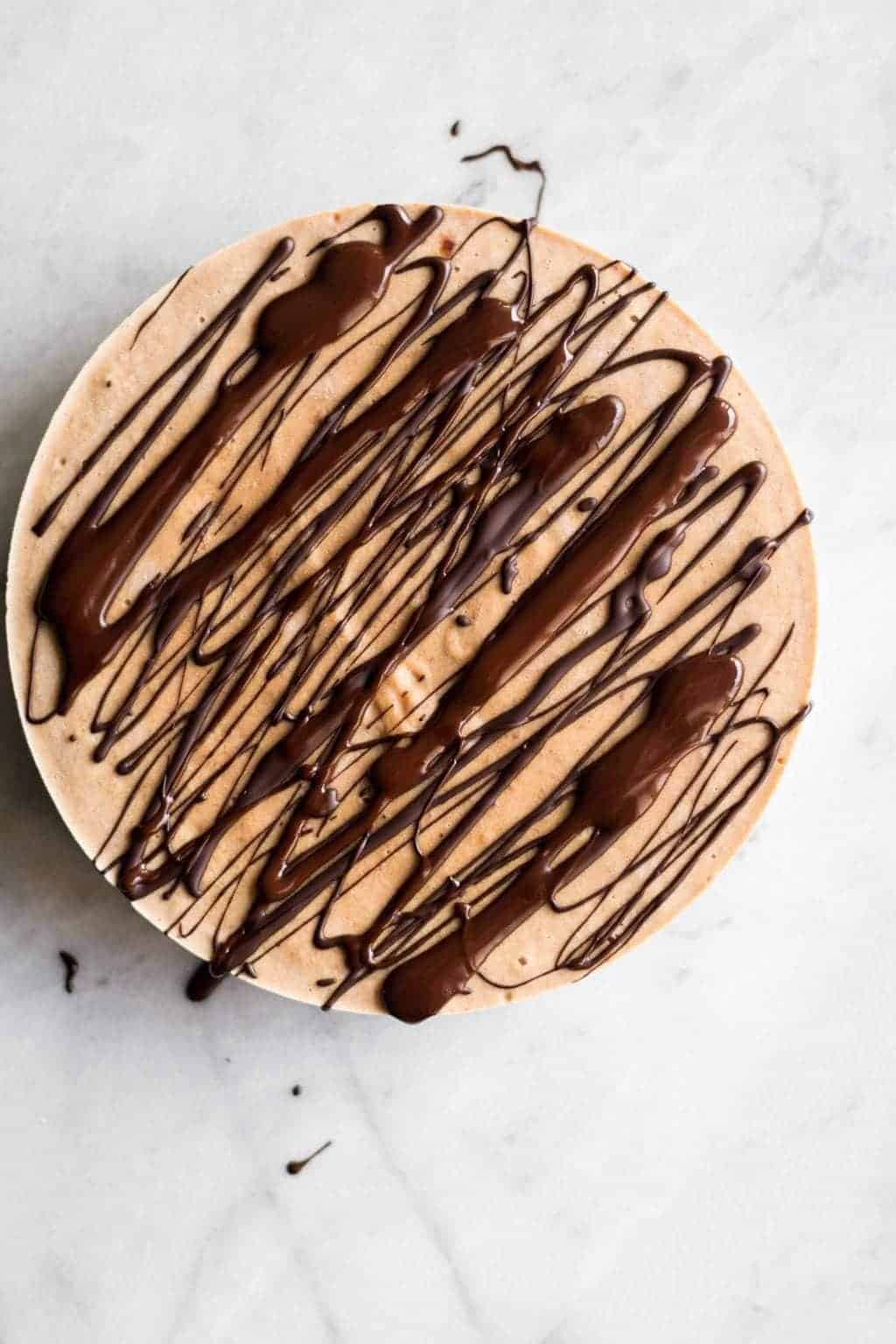 So in this recipe, I took my favorite ice cream and turned it into a cake. It goes like this:
Start with a buttery chocolate cashew crust, made grain-free and sugar-free.
Top it with chickpea-nut butter ice cream, sweetened with dates and filled with good ingredients, such as peanut butter, plant-based milk and chickpeas.
Finish it off with a drizzle of unsweetened or dark chocolate and a sprinkle of coconut chips.
Try not to eat the whole thing in one day.
This cake is a warm summer day's dream. It requires zero baking, minimal work (it's so much easier than it sounds!) and of course, it's frozen and refreshing. It's been a life-saver during this heat wave… I'm not even sure we can call it a heat wave anymore as this crushing heat has been here most of the summer.
No matter the temperature where you are, you need this cake in your life. Believe me, I would eat this cake even if it were -30°C outside. It's that good.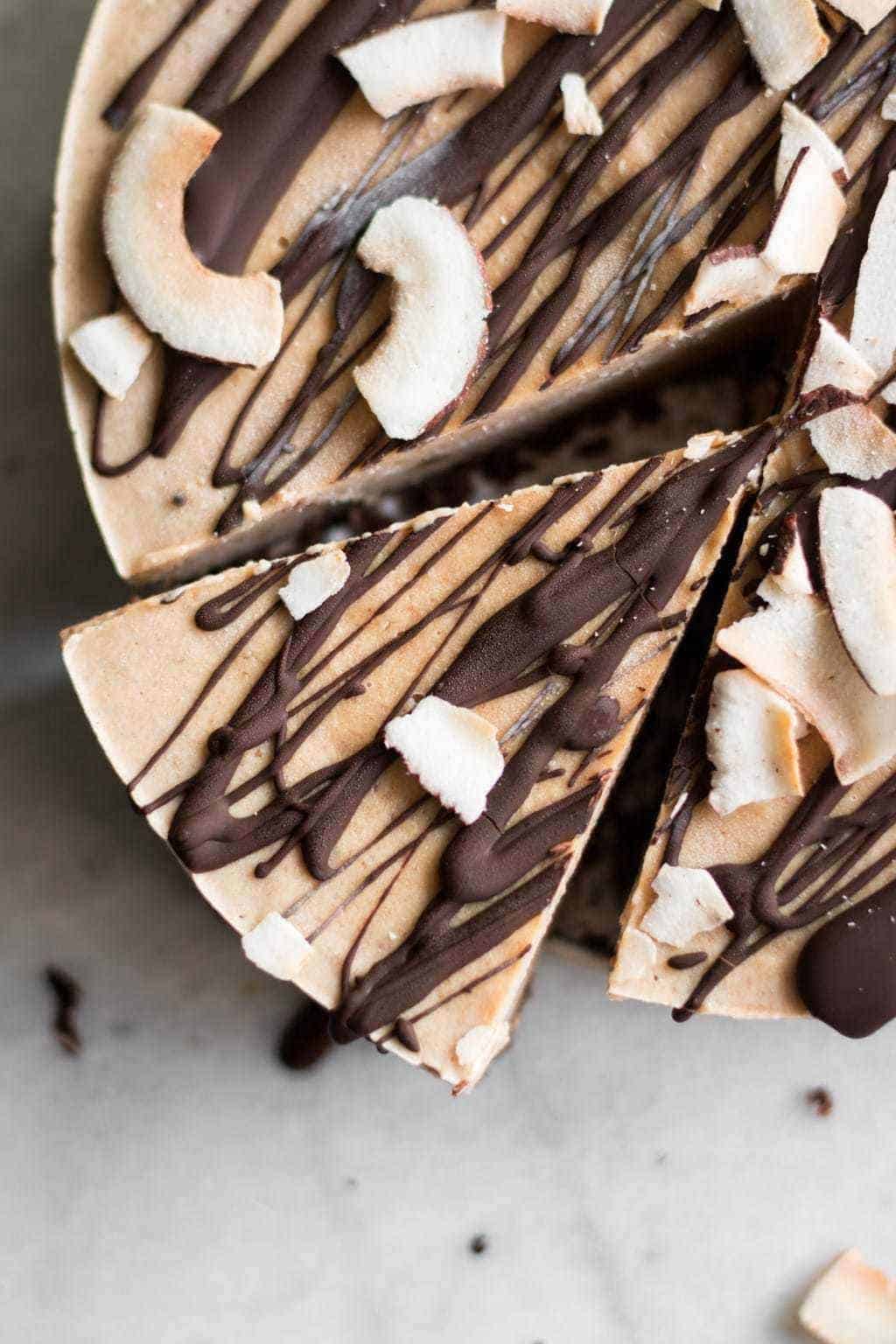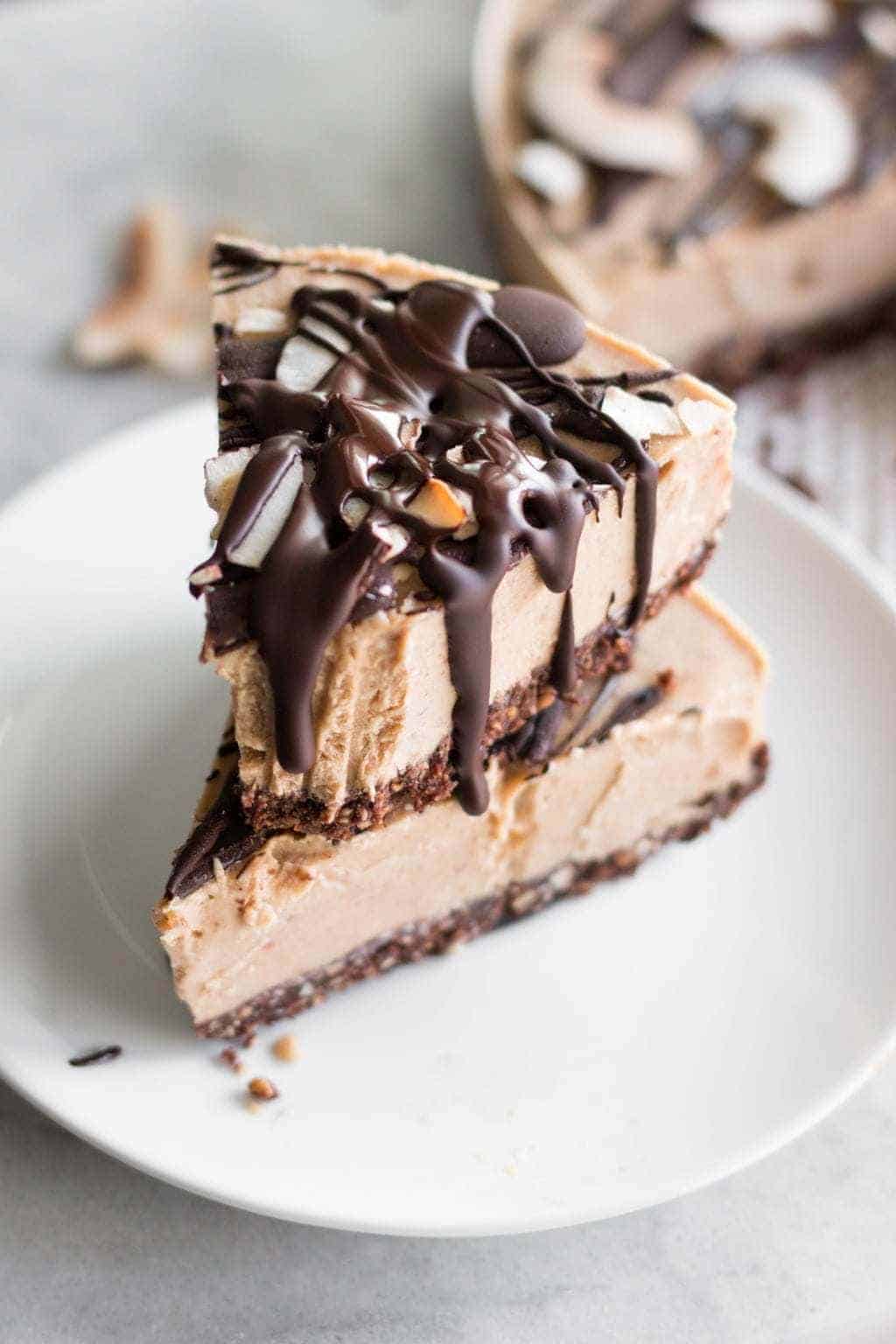 Vegan Chickpea-Nut Butter Ice Cream Cake
The best vegan ice cream cake with… chickpeas! Yes, chickpeas. This cake is refined sugar-free, gluten-free and vegan, but trust me, that doesn't stop it from being delicious. Made with a buttery cashew chocolate crust, creamy peanut butter ice cream and topped with chocolate and coconut chips. This is the perfect summer ice cream cake that's secretly healthy.
Ingredients
1

batch

chickpea-nut butter ice cream

2 oz

(about 1/4 cup)

unsweetened or dark chocolate,

melted

Coconut chips or shredded coconut,

for topping
Chocolate Crust
1 1/2

cup

raw cashews

1/2

cup

unsweetened shredded coconut

3

tablespoons

cocoa powder

3

tablespoons

margarine, butter or coconut oil,

melted
Instructions
Make the crust: In a food processor or high-speed blender, process the cashews and coconut until it forms a coarse flour.


Add the cocoa powder and margarine to the food processor and process until the mixture sticks together when pressed. Add one tablespoon of water if needed.

Transfer the crust to an 8-inch cake pan with removable bottom (you can use any cake pan, although this will make it easier to cut and serve). Press the crust mixture evenly to the bottom of the pan.

Make the ice cream: In a high-speed blender (I use the same one used for the crust, no need to clean it), add all the ingredients for the chickpea ice cream and blend until smooth. (Get the recipe for the ice cream here).

Pour the ice cream mixture evenly over the crust. Place in the freezer overnight or for at least 8 hours until firm.

When the cake has frozen, drizzle with chocolate and sprinkle with coconut. Let the chocolate harden in the freezer for 5-10 minutes. Serve and enjoy!
Notes
Store the cake in the freezer, covered.
If you try this recipe, make sure to tag your photo #unsweetenedcaroline on Instagram, Facebook and Twitter! Don't forget to also tag me @unsweetened.caroline on Instagram so I can see your creations!