Cherry Coconut Overnight Oats
Creamy cherry coconut overnight oats, served with cherry chia jam. Perfectly sweetened with fruits and filled with fiber and healthy fats. Serve it with nut butter and shredded coconut for added flavor.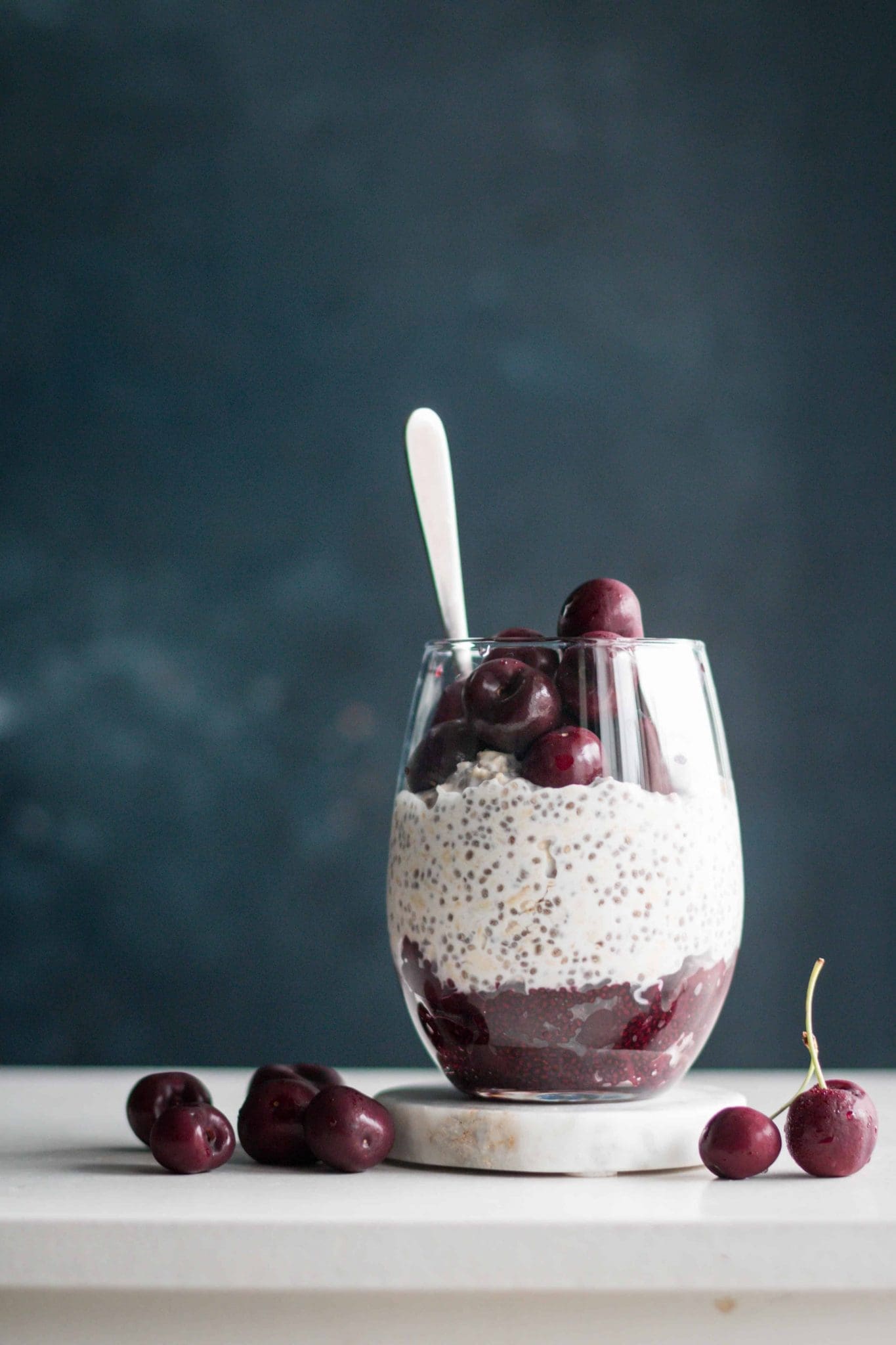 As I'm writing this, I'm sitting in our living room, darkened from the clouds and smoke outside. It's 8:30 am outside, yet it still looks like 5 am. Today marks one week since the smoke invaded the Okanagan and there's no sign of it going away any time soon.
I'm sitting on our couch, the windows opened, deciding that the (finally) cold air from outside is worth the smell of smoke for one morning. The temperatures dropped to the low twenties this weekend after weeks of 30s and 40s. Our apartment has been closed up all week due to that heat and smoke, so I'm choosing to let the cool air come in, no matter the smoke.
So yes, I'm excited for fall. For the wildfires to stop, for the fresh air and for the produce. My favorite time of the year!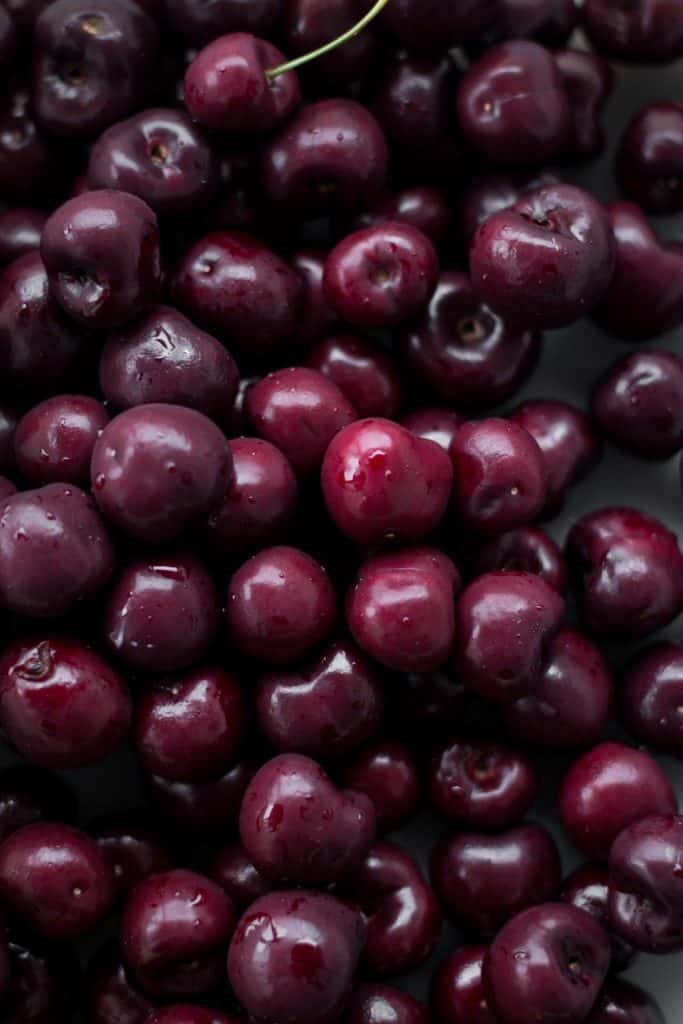 It's not fall yet though, so I'll have to live with the heat and smoke for another while. To pass the time and to enjoy what I still can of summer, I'm staying indoors and cooking with all the summer produce we currently have on hand, including cherries. Yes, I still have some cherries left from the 20lbs we picked a few weeks ago, so I'm here with one last cherry recipe – Cherry coconut overnight oats.
I've been having overnight oats almost daily during the work week lately as it makes a perfect on-the-go breakfast. I've been waking up and going directly to the gym before work, then I eat this breakfast at work, after my workout. Of course I have a piece of fruit or another little something before working out, but these oats are the perfect satisfying breakfast after exercising. It keeps me full (almost) until lunch each day. And that's saying something!
I'm sure by now, most of you are familiar with overnight oats. They've been popular for years now, but I love trying new flavors. Coconut and cherry oats being my current favorite combination.
To make these overnight oats, I use low-fat canned coconut milk. The canned version adds such a great creaminess to the oats. I also add a banana to the mix for added natural sweetness. The oats, milk, chia seeds and mashed banana soak in the fridge overnight to soften and thicken. You then wake up to a delicious and nutritious breakfast with minimal preparation! In the morning, all you need to do is add your toppings of choice.
For this recipe, I add cherry chia jam (this recipe that I shared on the blog two weeks ago) and shredded coconut. I also love to add nut butter since I really can't have oatmeal without it. Sunbutter or almond butter are my favorites for this one, but choose your favorite or omit!
That's all you need for a healthy, delicious and satisfying breakfast.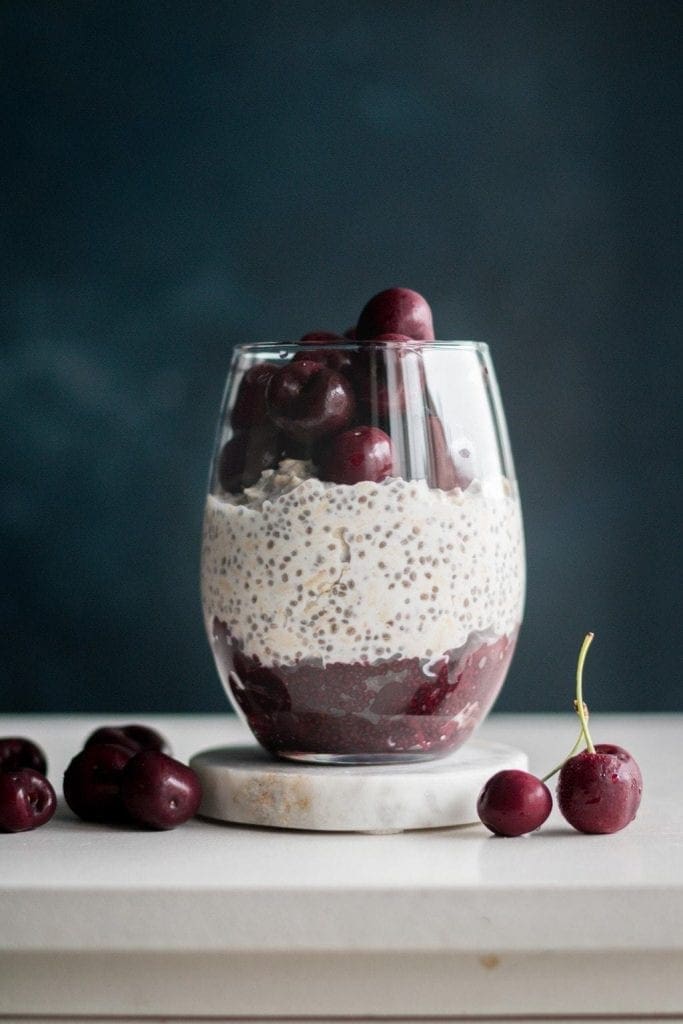 Cherry Coconut Overnight Oats
Creamy coconut overnight oats, served with cherry chia jam. Perfectly sweetened with fruit only and filled with fiber and healthy fats. This nutritious breakfast is sure to fill you up for hours! Serve with nut butter and shredded coconut for added flavor.
Ingredients
1

cup

rolled oats

1

can (14 oz/400ml)

low-fat coconut milk

3

tablespoons

chia seeds

1

small

banana

1/2

cup

cherry jam,

or more to taste

1/2

teaspoon

vanilla extract
For Topping
Nut butter

Cherries,

pitted

Shredded coconut,

unsweetened
Instructions
In a bowl or glass storage container with lid, mash the banana. Stir in the rolled oats, coconut milk, vanilla and chia seeds until thoroughly combined.

Cover and let soak in the fridge overnight. The mixture will thicken and soften.

After soaking, stir the oats and add milk to thin if the oats are too thick to your liking. Use your milk of choice.

Serve with cherry chia jam (about 1/4 cup per bowl), fresh cherries, shredded coconut and nut butter if desired. Almond butter and sunbutter are my favorites in this recipe.
Notes
I use this recipe for cherry chia jam, but feel free to use the jam of your choice. If using a sweetened jam, you won't need as much.
If you make these cherry coconut overnight oats, be sure to leave a comment and/or give this recipe a rating! I love to hear from you guys. And of course, if you try this recipe, don't forget to tag me on Instagram!