Fruit-Sweetened Cardamom Blueberry Muffins
Fruit-sweetened cardamom blueberry muffins. These muffins are sweetened with bananas and made with whole wheat flour for a nutritious, high-fiber snack. There's also a vegan and nut-free option!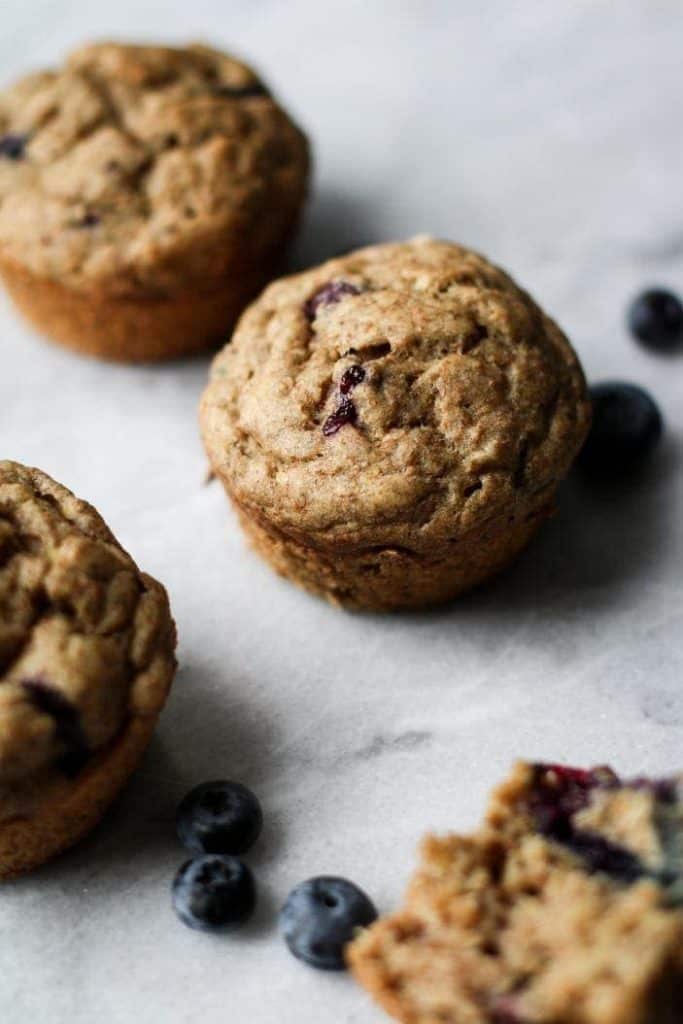 Looking for a healthy snack for school or work? Or maybe a quick on-the-go breakfast recipe? I'm here to help with these little fruit-sweetened cardamom blueberry muffins.
These muffins are inspired by one of the most popular recipes on the blog: my breakfast banana bread. If you haven't tried that one yet, go make it NOW. Then come back and make the next best thing: These cardamom blueberry muffins.
Honestly, I can't say which one's my favorite. I used the same base for the muffins as I did for the banana bread and they are both extremely moist and truly satisfying. The best part? They're sweetened with bananas only. And blueberries in this case.
How to Serve these Muffins
Note that like my banana bread, these muffins aren't intended to be overly sweet and dessert-like. I would classify them as breakfast food. A little sweet and perfect with nut butter or some butter/vegan butter. I love having them as a snack with Sunbutter. It's the best! But like I said, don't expect them to be overly sweet. Instead, enjoy them as a healthy lightly sweet breakfast or snack.
Many have tried and loved my banana bread over the years, so I'm hoping you'll enjoy these muffins as well.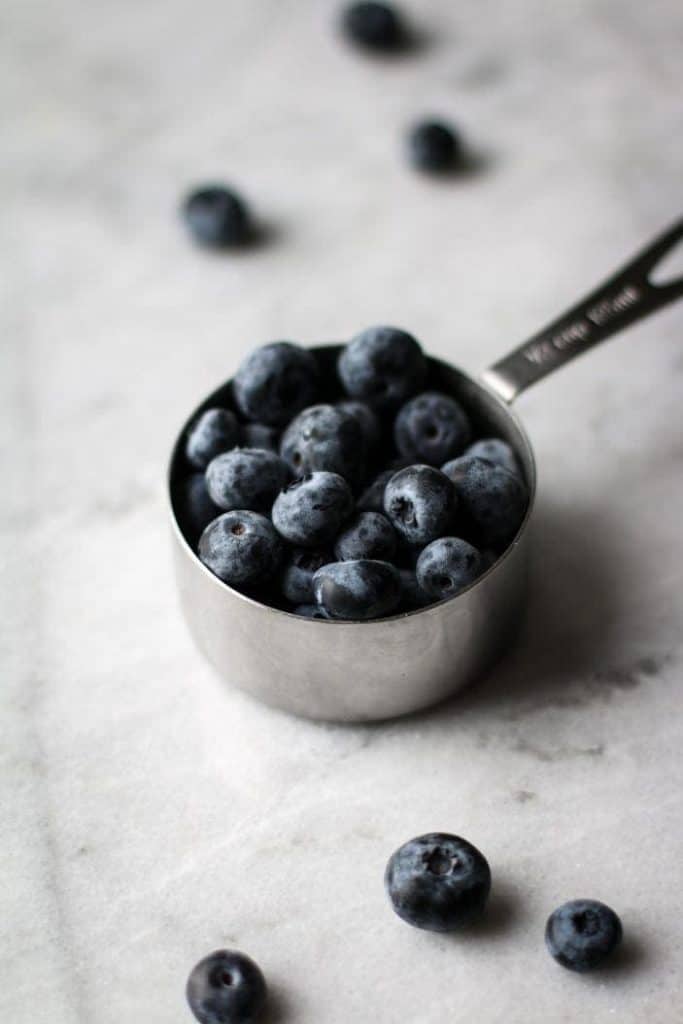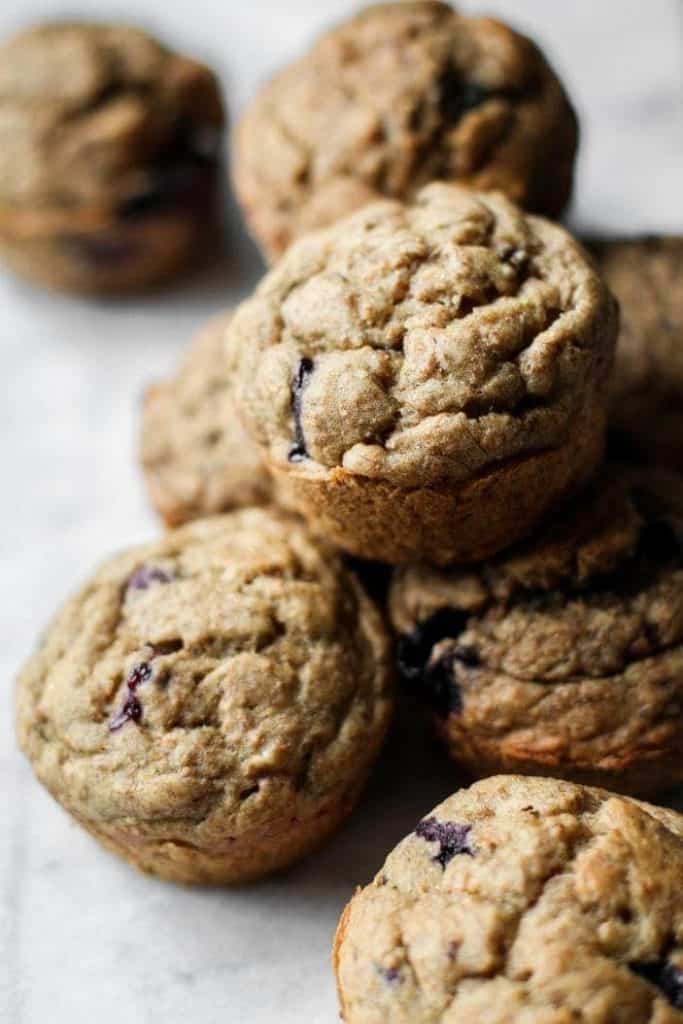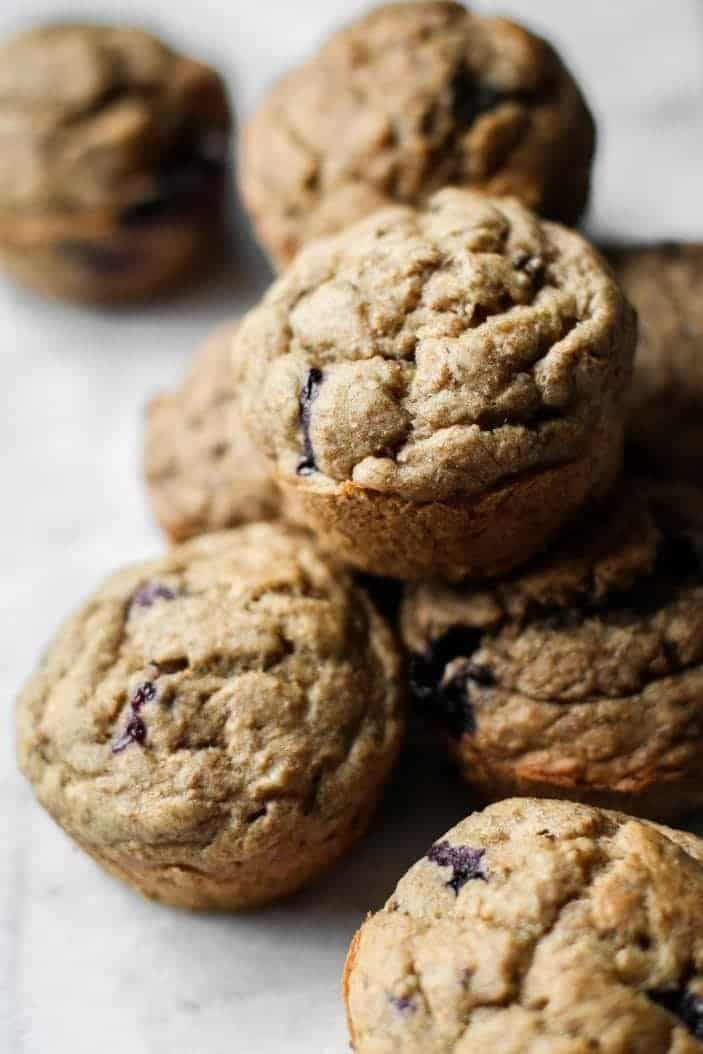 Ingredient Substitutions:
As I said earlier, these muffins are inspired by my banana bread. And like my banana bread, these muffins have several different variations. For the original, I made them with whole wheat pastry flour, unsweetened almond milk and olive oil. Here are a few alternatives:
Gluten-free version: Try substituting the whole wheat flour for all-purpose gluten-free flour – The same amount. My friend tried a version with buckwheat which didn't turn out too well. It works, but I believe all-purpose gluten-free would work best. I haven't tried it myself, but it worked well for the banana bread.
Nut-free version: Substitute the almond milk for unsweetened soy milk, oat milk or your favorite nut-free milk. Cashew milk also works (if you're not looking for a nut-free option of course).
Other oils: Substitute the olive oil for melted coconut oil or a lighter tasting oil, such as avocado oil.
And if you're looking for a different flour option, spelt flour works well too!
I hope one of those versions will fit your needs! If you're anything like me, you probably already have all of those ingredients on hand. If so, make a batch and have quick snacks all week! I know I'll be making more. 🙂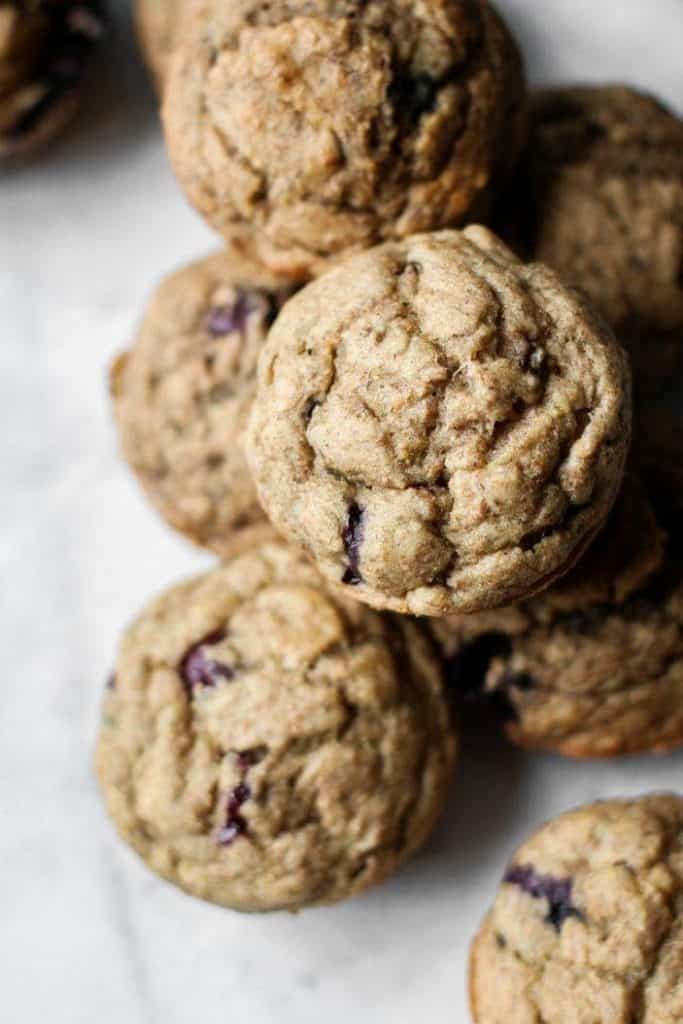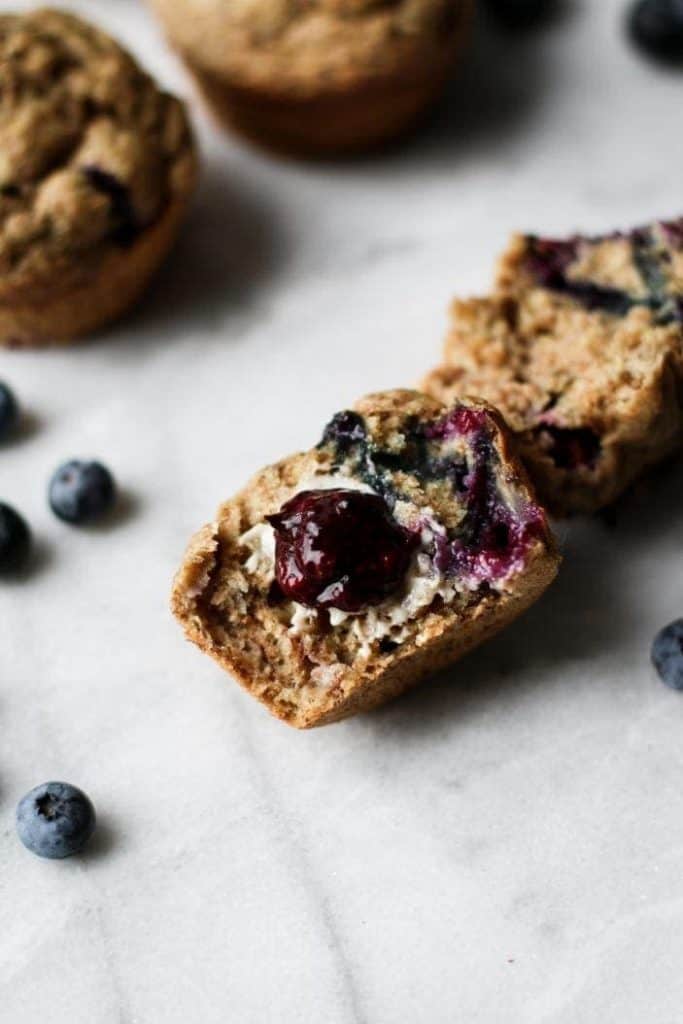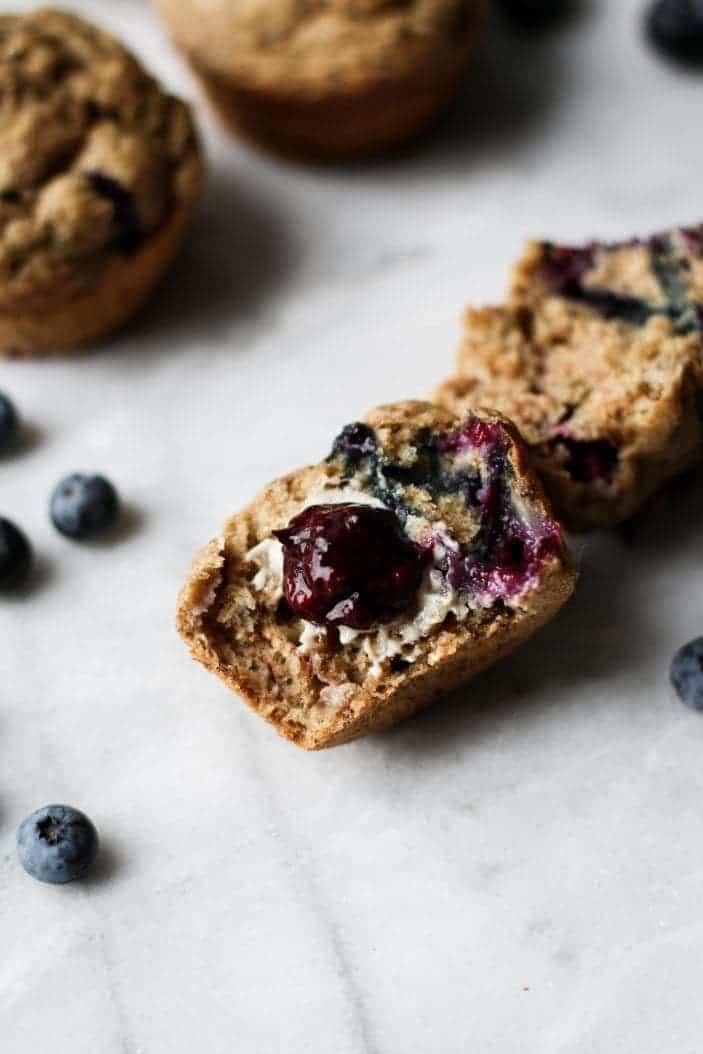 Fruit-Sweetened Cardamom Blueberry Muffins
Get ready for back to school season with these fruit-sweetened cardamom blueberry muffins! This little treat is sweetened with bananas only, making it a perfectly healthy breakfast or snack. They would be a great addition to any lunch box – For kids or adults! They also have a few possible substitutions for a gluten-free and a nut-free version.
Ingredients
Wet Ingredients
1 3/4

cup

overripe bananas,

mashed (3-4 large)

1/4

cup

milk of choice

1/4

cup

olive oil

1

egg

(or 2 additional tablespoons milk)

2

teaspoons

vanilla extract
Dry Ingredients
2

cups

whole wheat pastry flour

(or light spelt)

1

teaspoon

baking soda

1/2

teaspoon

baking powder

1/4

teaspoon

fine grain sea salt

1 1/4

teaspoon

ground cardamom

1/2

cup

blueberries
Instructions
Preheat oven to 350F. Lightly grease your muffin pan with oil or butter/margarine. You could use muffin liners instead if preferred.

In a large bowl, Mash your bananas. Whisk in your milk, oil, egg (if using) and vanilla.

Add your dry ingredients, including the blueberries, to the wet mixture and mix all together.

Transfer the mixture to your greased muffin pan, making 12 muffins. Bake for 20 minutes or until a toothpick inserted in the center comes out clean.

Let them cool a few minutes before removing from the pan.
Notes
To make this recipe gluten-free, try replacing the whole wheat flour with all-purpose gluten-free flour.
You can substitute the olive oil for a light tasting oil or melted coconut oil if preferred.
I used unsweetened cashew milk and unsweetened almond milk in this recipe with success. Feel free to try other unsweetened milks.
If you make these cardamom blueberry muffins, be sure to leave a comment and/or give this recipe a rating! I love to hear from you guys. And of course, if you try this recipe, don't forget to tag me on Instagram!