Slow Cooker Vegetarian Pumpkin Chili
Slow cooker vegetarian pumpkin chili. Made vegetarian and high-protein thanks to a combination of red lentils and black beans. This pumpkin chili has been a fall favorite around here for the past two years and I hope you'll love it too.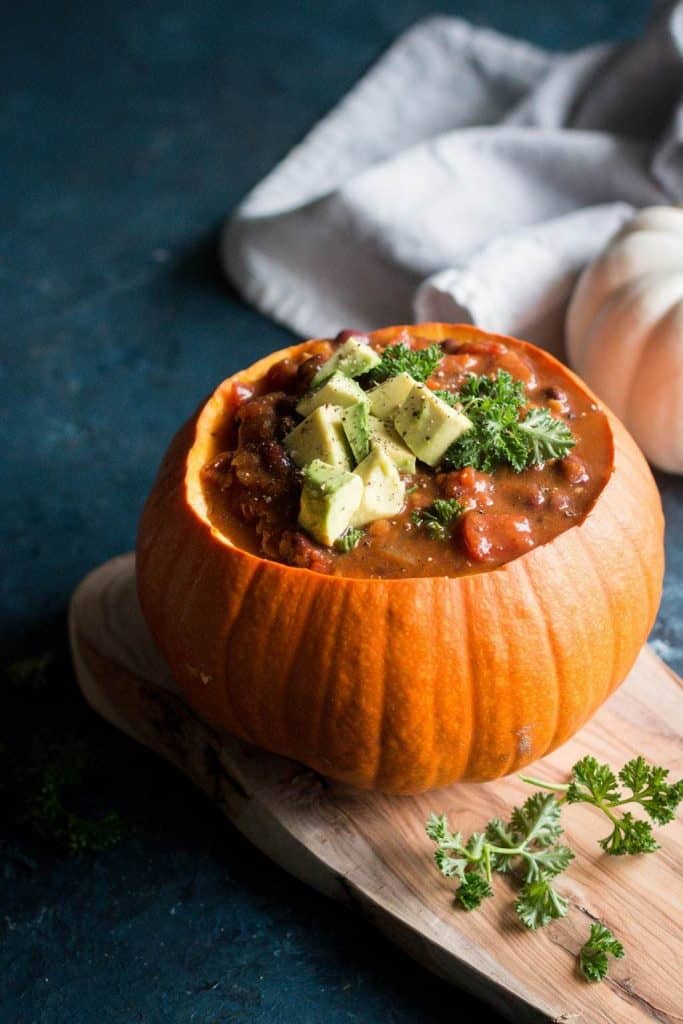 This is actually my first time sharing a slow cooker recipe on the blog and I have no excuse for it. Since I moved in with Shaun 4 years ago and he brought with him an old slow cooker, I've used it exactly 3 times. Two of those times being this week. The other time was 2 years ago when I made Half Baked Harvest's Moroccan soup. I'm not sure how it's been 2 years already, but it has.
Two years ago, I was starting my dietetic internship and living with a great friend. Now I'm on the other side of the country and I've been working as a dietitian for more than a year.
Do you ever associate certain recipes with events or stages of your life? I certainly do. I associate sweet potatoes and spaghetti squash to my 12th grade in high school, banana ice cream with my 4th year of university, tahini salads and my raw granola power bowl with my internship.
Clearly food is a big part of my life.
So now, I'll make this winter the winter of slow cooker recipes. Or at least in my house… Are you interested in more slow cooker recipes on the blog? I'd love to hear what you think!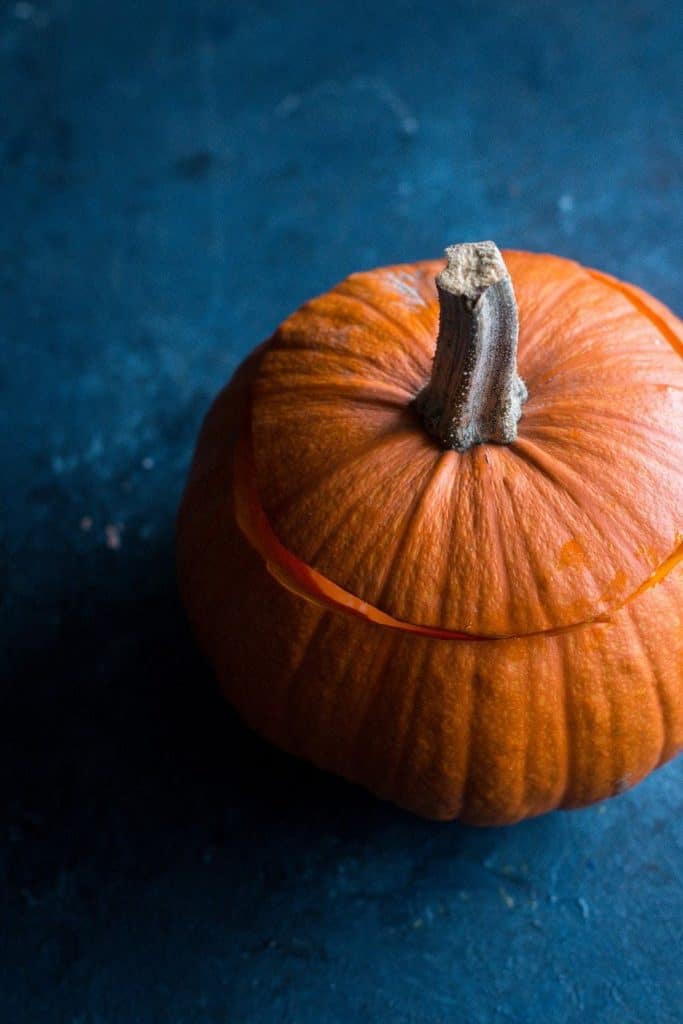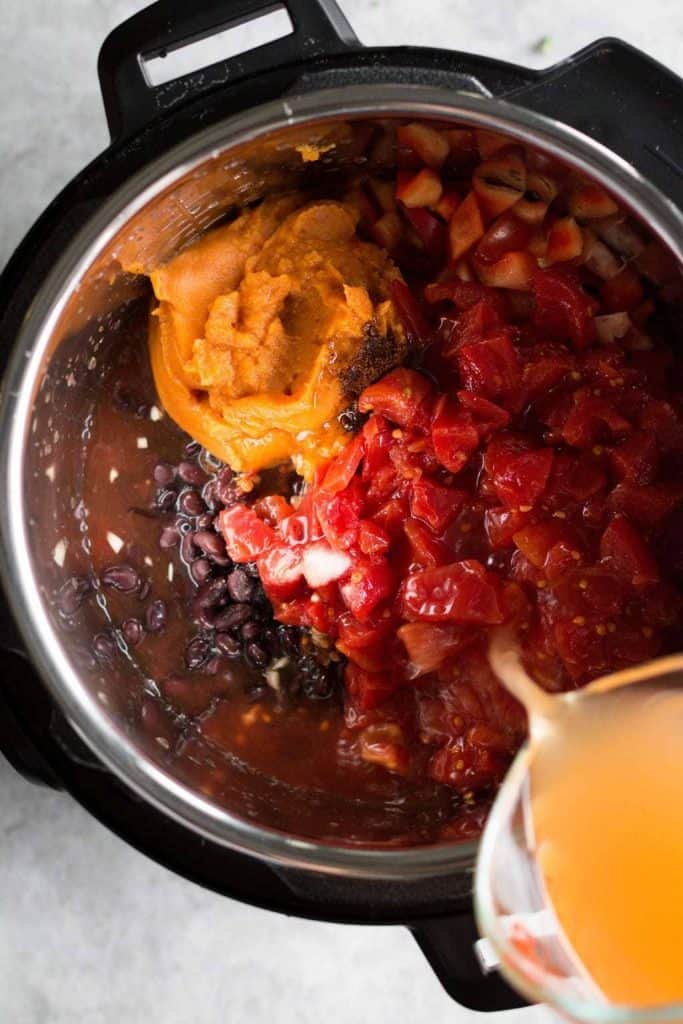 And now, my first slow cooker recipe: this vegetarian pumpkin chili.
This recipe can also be made in the Instant Pot for those who want a quicker option. Either way, all you need to do is dump all the ingredients in and leave it there to cook. Both options are equally delicious, although there's nothing better than a chili slow cooking all day.
This chili is grain-free, unlike my quinoa chili. To make it meatier, I added red lentils, which makes it thicker and offers a good boost of protein and fiber, along with the black beans.
Serve this chili with avocado, black pepper, green onions, cheese (if not vegan) and a good slice of bread for dipping. Bring on the comfort food!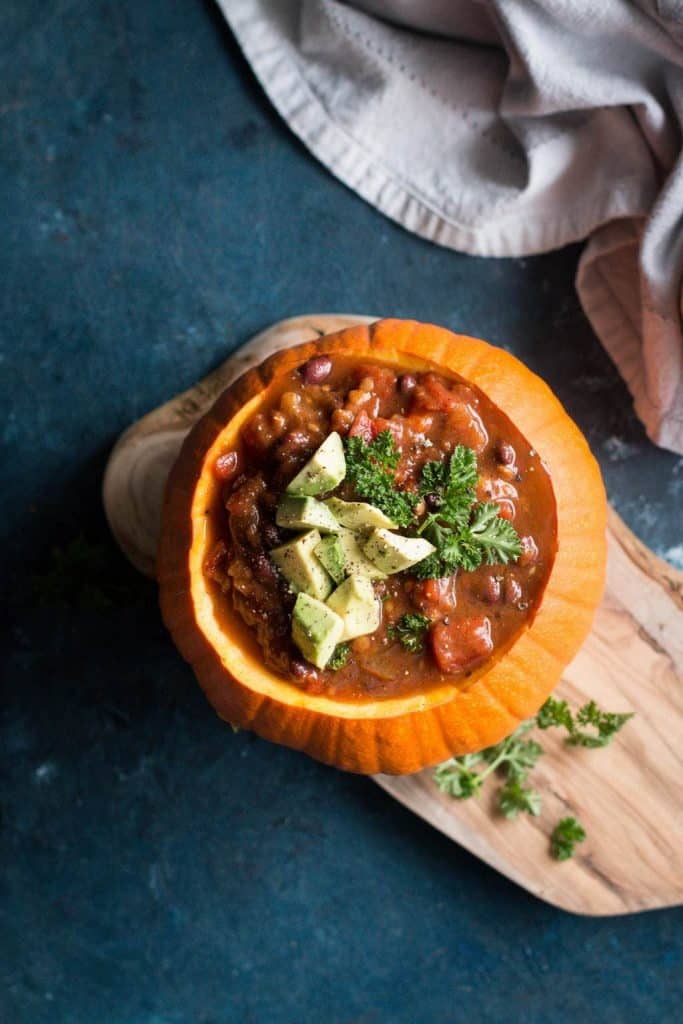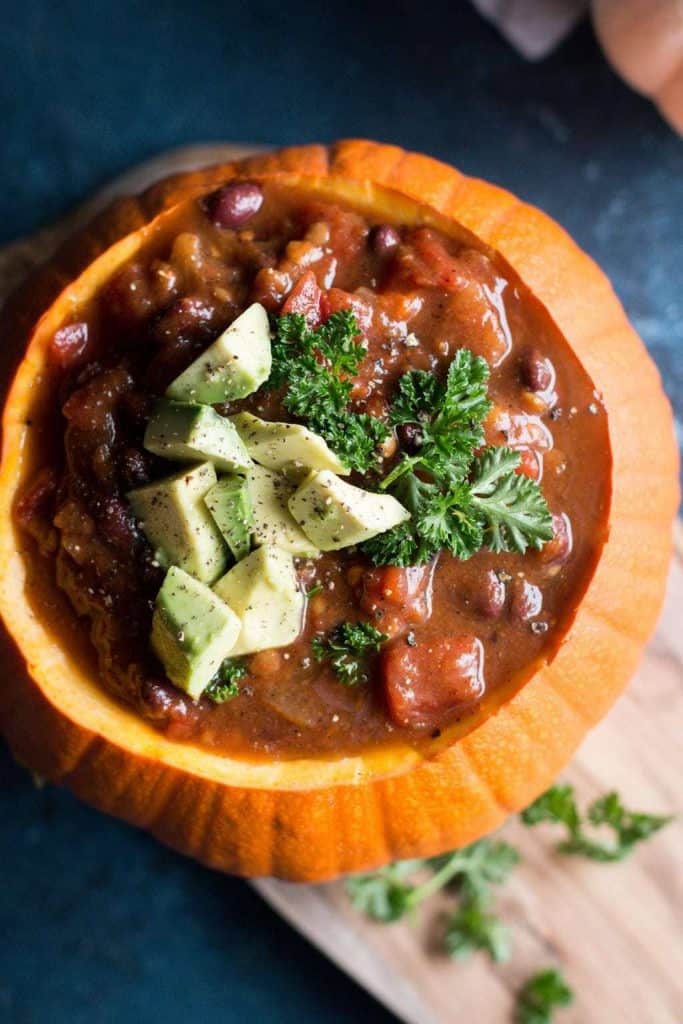 Finally, for those of you who celebrated Thanksgiving this weekend, I hope you had a great time with family!
Shaun and I spent Thanksgiving a little differently this year. Although to be honest, we celebrated differently last year too.
Our tradition was usually simple: We had a traditional turkey dinner with our entire (small) family. One dinner with my family and one or two with Shaun's family. Last year, everyone was busy, so instead, we pushed the dinner a few weeks after and spent Thanksgiving weekend in New Hampshire.
This year, since we now live far away from our family, Shaun and I spent the weekend on Vancouver Island instead. We sadly don't have plans to visit family until next July, so we're making the most of our time alone in BC. That means spending our weekends travelling around the West coast. You know what? I'm okay with that.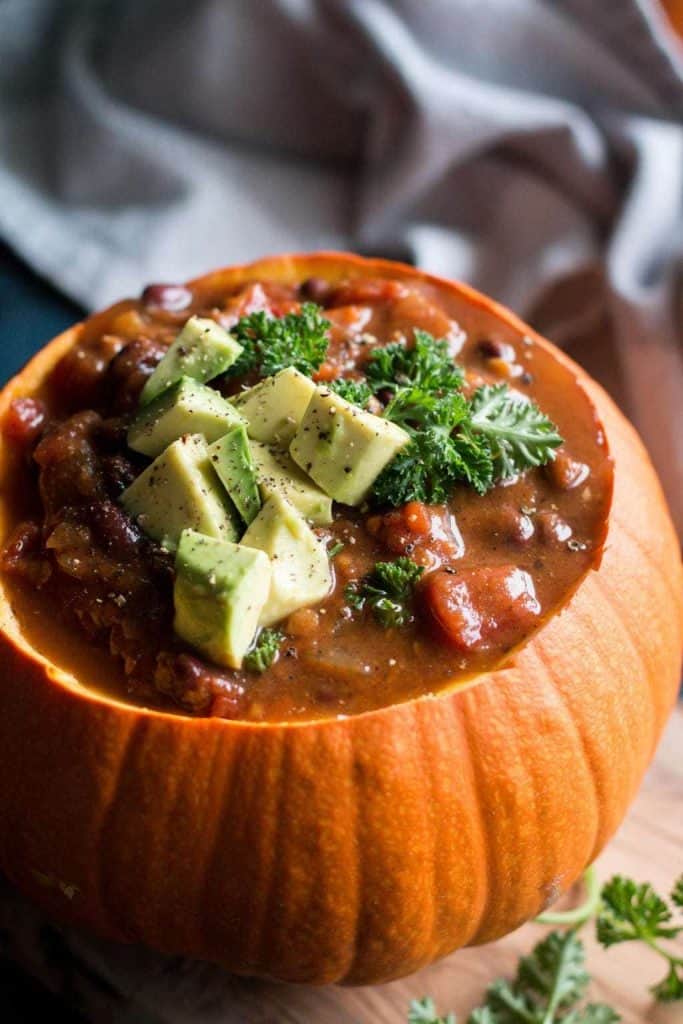 Slow Cooker Vegetarian Pumpkin Chili
An easy vegetarian chili with a seasonal twist. This pumpkin chili can be made in the slow cooker or in the Instant pot for a quick and easy meal. It's also made high in protein thanks to black beans and lentils!
Servings
4
(or 6 smaller portions)
Ingredients
1

medium

yellow onion,

diced

1

medium

bell pepper,

diced (I used red)

3

large

garlic cloves,

minced

1

can (19oz)

black beans,

drained and rinsed

1/2

cup

split red lentils

1

can (28oz)

diced tomatoes

1

cup

pure pumpkin puree

2

cups

vegetable broth,

no salt added

3

tablespoons

tomato paste

2

tablespoons

chili powder

1

teaspoon

cumin,

ground

1/2

teaspoon

smoked paprika

3/4

teaspoon

salt
Instructions
Slow Cooker
Add all the ingredients to the bowl of your slow cooker. Stir together and cover. Cook on high for 5 hours.

Ladle the chili into bowls and top with avocado, black pepper, green onions and cheese if desired.
Instant Pot
Add all the ingredients to your Instant Pot. Stir together and cook on soup or chili setting for 15 minutes.

Once done cooking, release the steam. Ladle into bowls and top with avocado, black pepper, green onions and cheese if desired.
Notes
If using salted vegetable broth, add less salt to the recipe, to taste.
If you make this vegetarian pumpkin chili, be sure to leave a comment and/or give this recipe a rating! I love to hear from you guys. And of course, if you try this recipe, don't forget to tag me on Instagram!