Roasted Sweet Potatoes with 2-Minute Vegan Aioli
Roasted sweet potatoes with 2-minute vegan aioli. The ultimate side dish that requires only 8 minutes of work and minimal ingredients.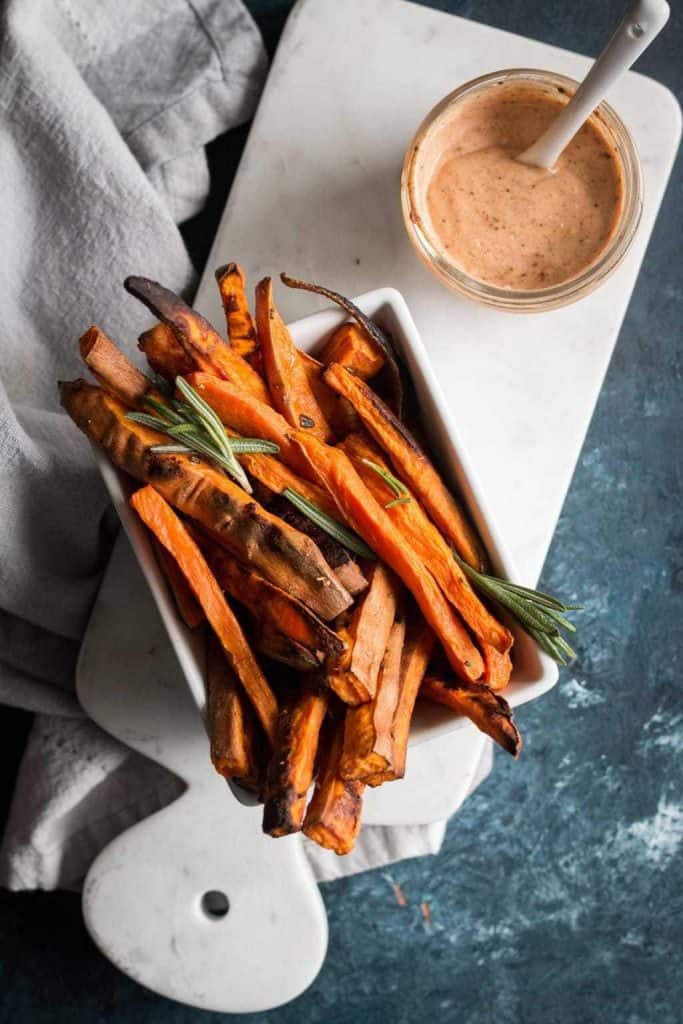 My latest obsession: roasted sweet potatoes with 2-minute vegan aioli.
I've been eating this about 3 times a week lately and there's no stopping me. These sweet potatoes with tempeh and a kale salad have been a staple in our house since I finally found tempeh and vegan mayonnaise in Vernon a month ago… It was an exciting day.
As disturbing as it may be, we went through almost an entire jar of vegan mayonnaise in one month, all because of this recipe. Me, who's never bought mayonnaise in my life. It's just not something we use, but now, that may change. Mayonnaise may become a regular condiment in our fridge, all to satisfy my aioli cravings. I mean, I could make my own mayonnaise, but sometimes you just want something quicker.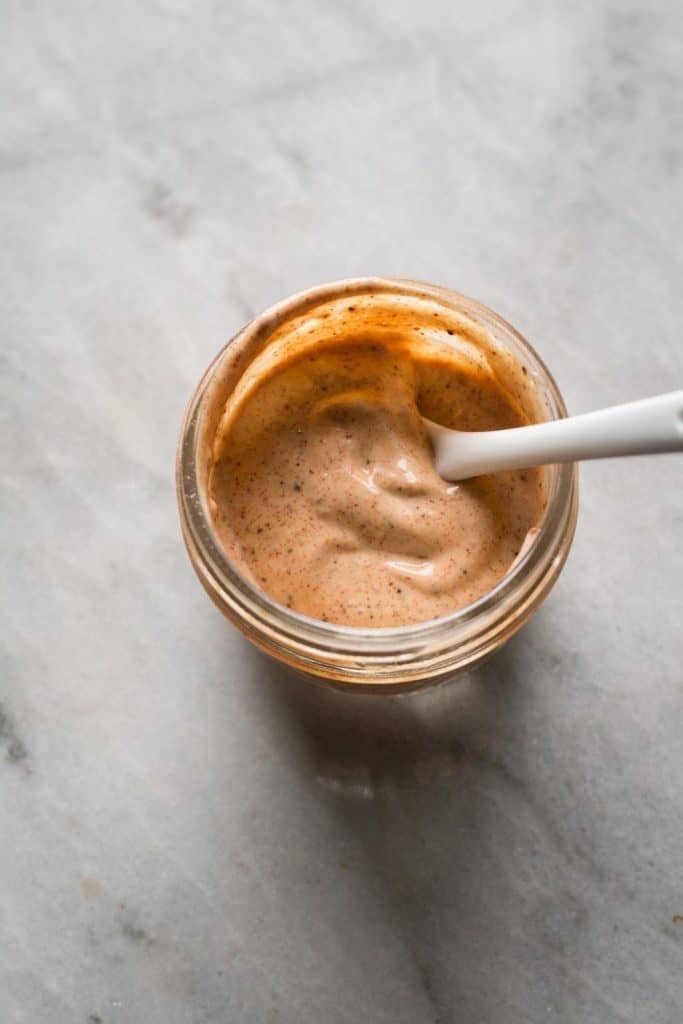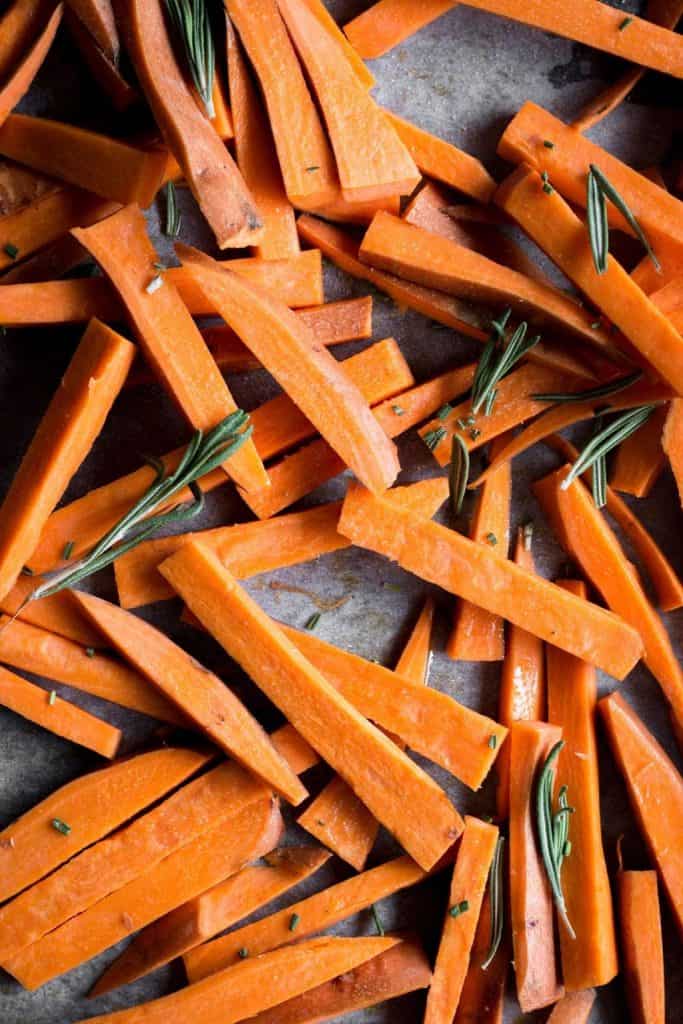 Almost every vegetarian restaurant we visited on our road trip across Canada had sweet potato fries and aioli. We ordered it a few times and it soon became our favorite. So of course, I had to create my own version. Roasted sweet potatoes and aioli we can have at home, whenever we feel like it.
This is what I came up with.
I'll tell you now, this is a lazy aioli. There's no fancy ingredients and no blender involved. All you need is a small jar or bowl, mayonnaise, mustard, lemon juice and a few spices. It can be done in 2 minutes, while the sweet potatoes are roasting, so the entire thing is done in 45 minutes with minimal work. Now, that's my kind of recipe.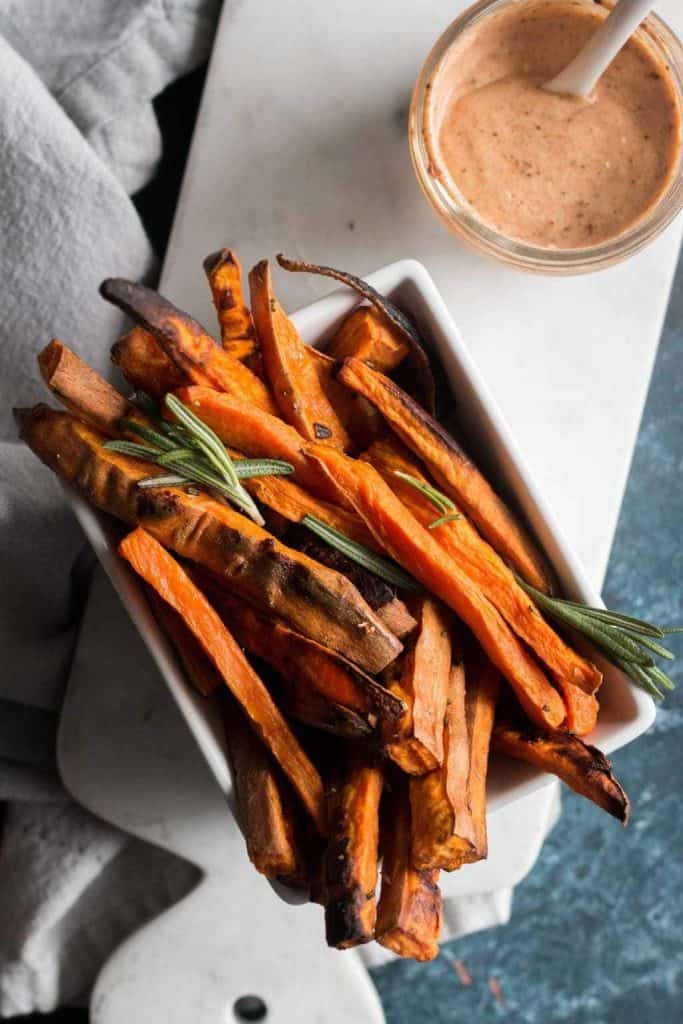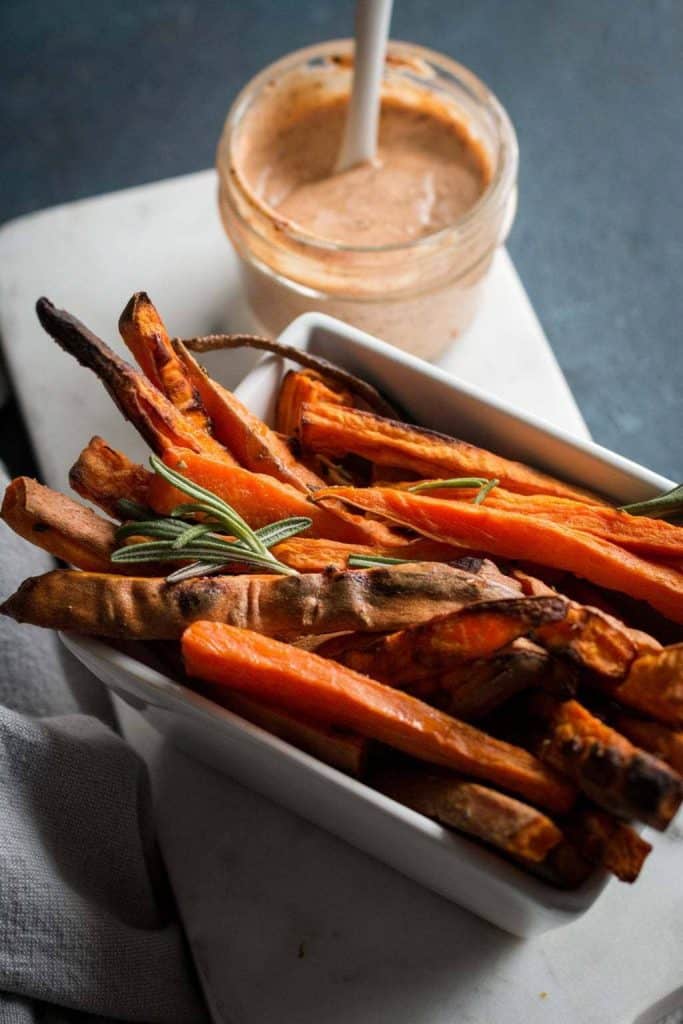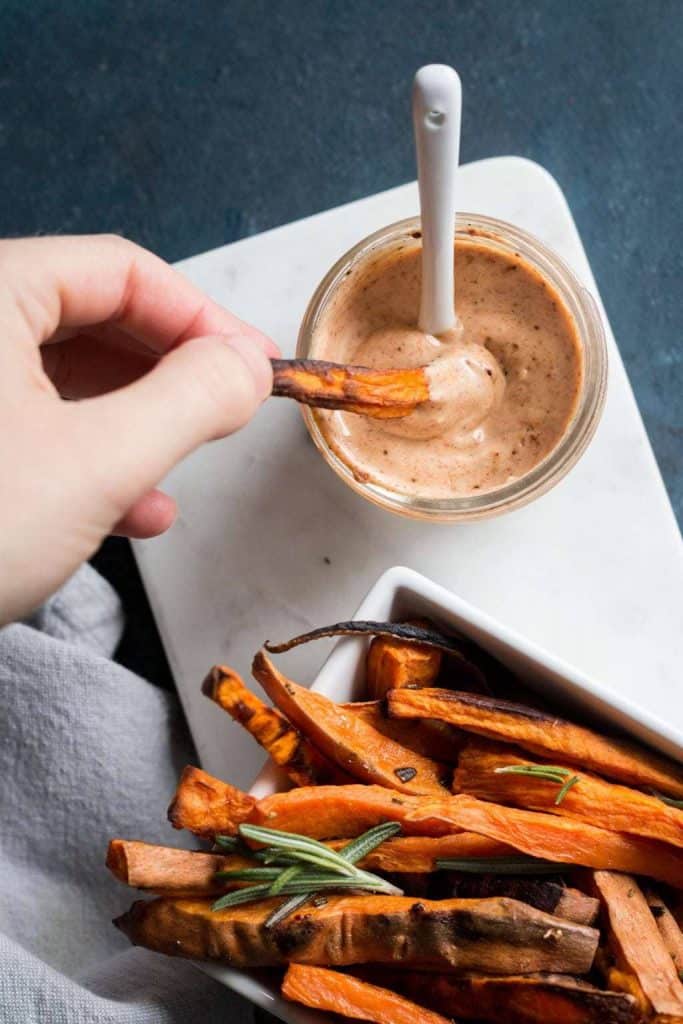 For more sweet potato recipes, check out my savory sweet potato casserole, vegan Caesar salad with tempeh and sweet potatoes or sweet potato kale and black bean quinoa salad.
Roasted Sweet Potatoes with 2-Minute Vegan Aioli
Roasted sweet potatoes with the easiest vegan aioli. All you need is a bowl, mayonnaise, mustard, lemon juice, a few spices, 2 minutes and you've got yourself a delicious dipping sauce.
Ingredients
2

medium

sweet potatoes,

cut into sticks

1

tablespoon

oil

(I used avocado oil)

1/2

teaspoon

sea salt,

to taste

1

teaspoon packed

fresh rosemary,

finely chopped (optional)
2-Minute Vegan Chipotle Aioli
4

tablespoons

vegan mayonnaise

(or mayonnaise of choice)

1

tablespoon

lemon juice

1/2

teaspoon

dijon mustard

1/2

teaspoon

garlic powder

1/2

teaspoon

smoked paprika

1/8

teaspoon

chipotle,

ground
Instructions
Cut the sweet potatoes into sticks (like fries) and place on a large baking sheet. You may need two baking sheets as you want the fries to be well spaced out (this allows them to be crispy instead of soggy).

Drizzle with olive oil and add salt and rosemary. Toss to evenly coat the sweet potatoes. Spread in a single layer. Roast for 40 minutes at 400F or until the fries are crispy. You can toss them around halfway through to roast evenly.
Make the Aioli
Meanwhile, prepare the aioli: In a small bowl or jar, whisk together all the aioli ingredients until smooth. Set in the fridge until the sweet potatoes are ready.
Notes
I like to line my baking sheet with parchment paper to avoid sticking.
If you have leftover aioli, store in an airtight container in the fridge for up to 4 days. It's great in a sandwich!
If you make these roasted sweet potatoes, be sure to leave a comment and/or give this recipe a rating! I love to hear from you guys. And of course, if you try this recipe, don't forget to tag me on Instagram!