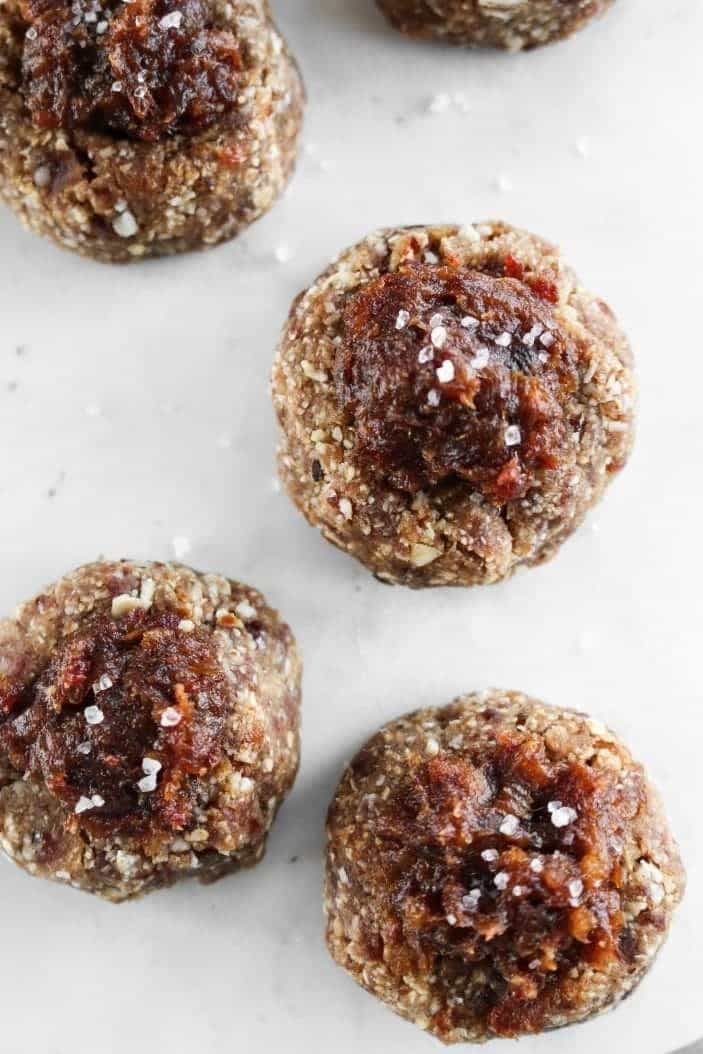 Raw Salted Caramel Thumbprint Cookies
Is it really March already? I can't believe how fast this year is going by and my internship certainly doesn't help. Every 3-4 weeks, I'm working in a different department in the hospital, so I'm constantly busy and learning something new. Do you realize how fast 3 weeks goes by? The second I get comfortable in one rotation, it's time to change to the next one! I'm currently spending 3 weeks in diabetes education, which is a whole different world from family medicine, burns and plastics. I'll be spending my days listening/teaching classes for diabetics, doing one-on-one appointments and doing follow-ups.
Anyway, that's my little internship update. Now, for the month of March and April, I have to put all of my energy on a big internship project (a therapeutic update). This means less time in the kitchen and more time at the library. However, I'm not ready to give up blogging yet! I was able to find the time to share my recipes all throughout my internship until now, so a little (okay, big) project is not going to stop me now! I will try to pop in at least once a week with a quick update and a new recipe. Bare with me while I finish my internship. It's a lot of work, but I'm almost done and it's definitely a rewarding experience.
For now, I hope you'll enjoy these little raw salted caramel thumbprint cookies! I shared these little gems on Instagram the other day, but I thought I should share the recipe on the blog as well.
They're fairly easy to make, requiring only a food processor. You simply have to blend all of your ingredients together, form cookies, then make your date caramel in the same food processor. No other bowl required (other than the one used to soak your dates if needed)! They're made with only a few ingredients, including dates, nuts, oats, vanilla and coconut. I used Brazil nuts, but you can make them using whichever nuts or seeds you have on hand. They make a very satisfying and energizing snack or dessert! I hope you all find the time to do some baking (or raw desserts) this weekend!
If you're looking for more desserts to make this weekend, here are some of my favorites:
Hearty Oatmeal Breakfast Cookies
Dreamy Coconut Macaroon Truffles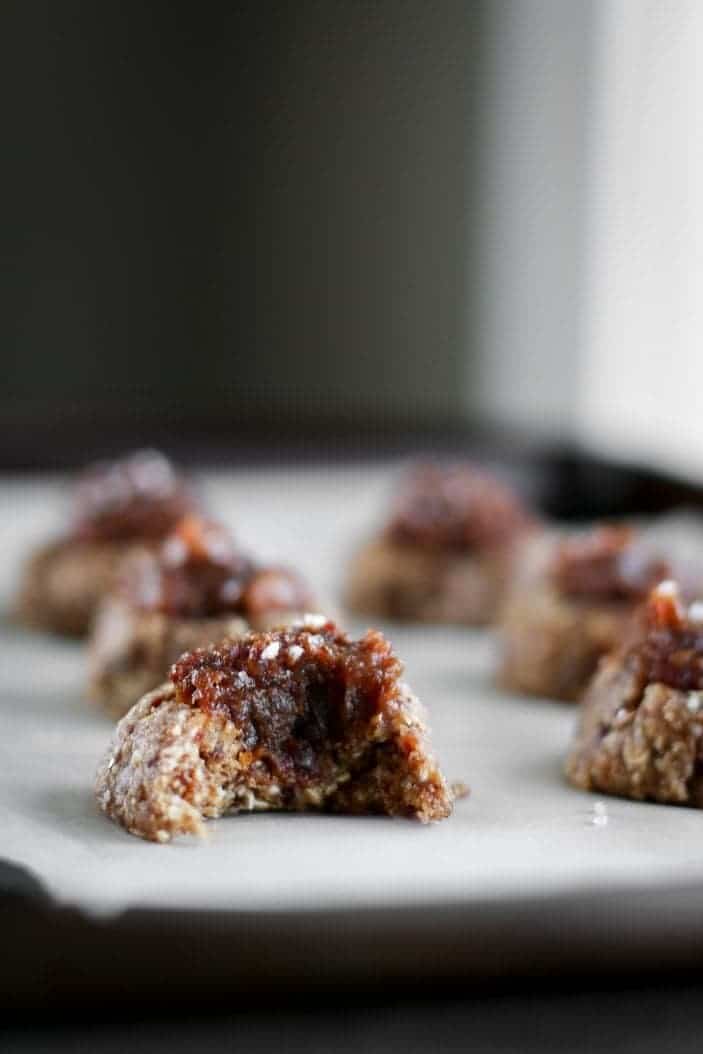 Raw Salted Caramel Thumbprint Cookies
These raw cookies are simple, yet decadent. They're made with wholesome ingredients, such as nuts, dates, oats and coconut, which will keep you satisfied and energized. I like keeping a batch in the freezer for a quick snack or a healthy dessert. Try it with different nuts or seeds depending on your taste and what you have on hand!
Ingredients
1

cup

Medjool dates,

pitted

1

cup

nuts (I used Brazil nuts)

1

cup

rolled oats

2

teaspoons

vanilla extract

4

tablespoons

shredded coconut

Sea salt for topping
Date Caramel
1

cup

Medjool dates,

pitted

water
Instructions
If the dates you're using for the date caramel are dry, soak them in hot water while preparing the cookies.

In a food processor, blend the dates, nuts, oats, vanilla and coconut until the mixture sticks together when pressed. If your dates are dry, you can add 1 tablespoon of water.

Form 12 cookies and place them on a cookie sheet. Using your thumb, make a little dent at the top of each cookie.

Make your date caramel: drain your dates, then process them in the same food processor until smooth. Add 1-2 tablespoons of water as needed.

Put a small amount of date caramel on each cookie. Store any leftover caramel in the fridge (use it in oatmeal, smoothies, desserts, etc.). Sprinkle each cookie with sea salt. Enjoy!
Notes
Store in an airtight container in the fridge or freezer. I like eating them straight out of the freezer.
If you try this recipe, make sure to tag your photo #unsweetenedcaroline on Instagram, Facebook and Twitter! Don't forget to also tag me @unsweetened.caroline on Instagram so I can see your creations!