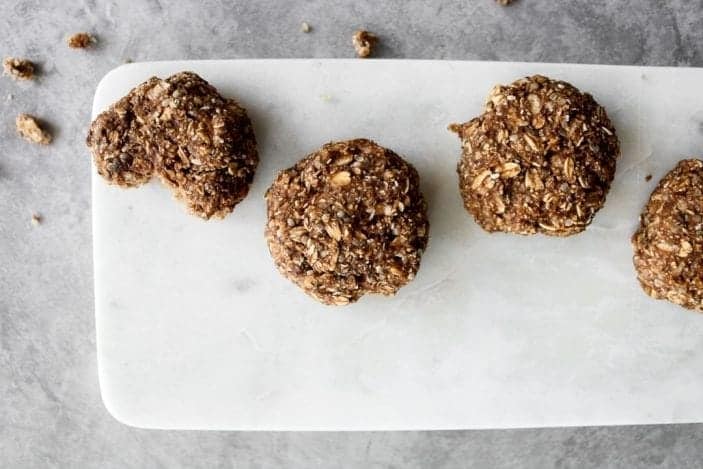 Hearty Oatmeal Breakfast Cookies
Now I know these aren't exactly the kind of cookies you're looking for during the holidays, but don't turn them down just yet! It might be December, but we still have 3 weeks before Christmas, so it would probably be a good idea to continue eating healthy for a bit. That way, you can indulge in your favorite treats around Christmas without gaining an extra 10 pounds in December.
So today I'm not sharing Dark Chocolate Mint Truffles (these will come later), but I'm sharing healthy breakfast cookies! Who doesn't want cookies for breakfast!?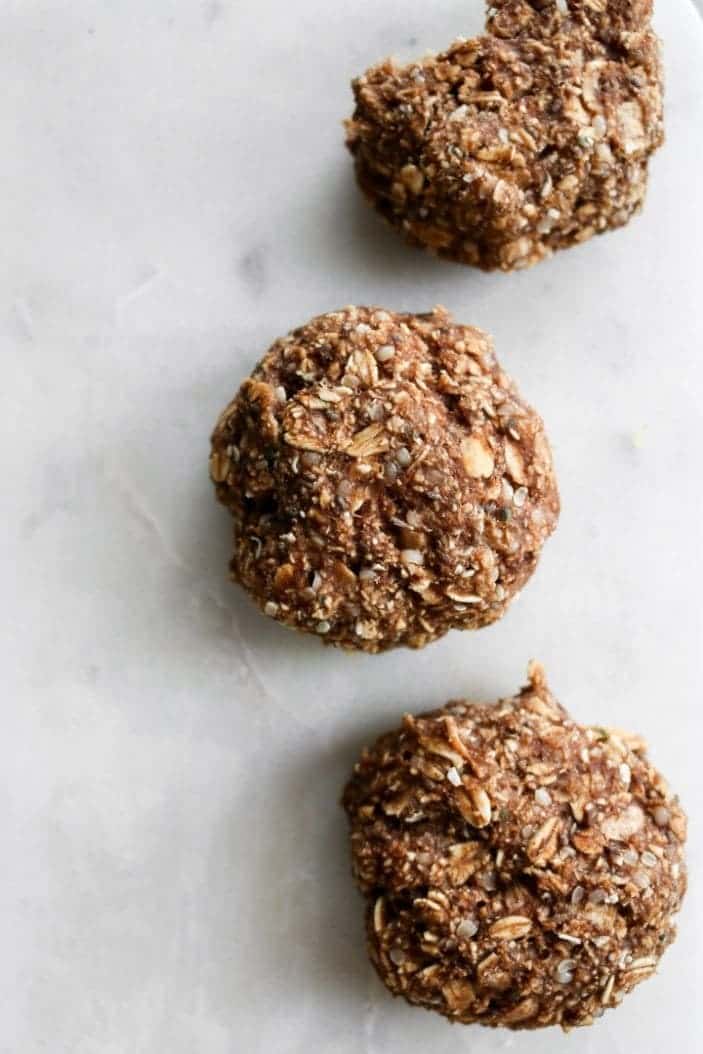 These little cookies are packed with nutrients. One cookie contains healthy fats and 3 grams of protein and fiber, all under 112 calories. So it's totally appropriate to eat 2 cookies, a piece of fruit and a glass of milk for breakfast. See? You can have a balanced breakfast that includes cookies! It can also be a great option if you need a quick breakfast on-the-go. I'm a morning person and I like to take my time eating a big breakfast, but I know that's not the case for everyone. We all need a quick breakfast once in a while.
To be honest, I prefer eating these cookies as a snack. They make a nice mid-morning 100 calorie snack and they prevent me from getting hangry before lunch, which trust me, is a good thing!
I should also tell you that these cookies aren't overly sweet. They're sweetened with bananas and apples only, which makes them a perfectly healthy breakfast or snack cookie! The good thing about that is that I'm not tempted to eat 3 of them for dessert. They're not like my Spelt Oatmeal Pumpkin Cookies. <— If you want a very sweet dessert cookie, try these instead.
No, these cookies are delicious in their own healthy way. They have a slightly sweet banana and apple flavor, while offering a delicious hint of vanilla and coconut. What I love most about these cookies is the addition of sunflower seed butter. I'm totally obsessed with that stuff. It adds a great taste AND it makes them nut-free! You can't go wrong with that! Not a fan of sunflower seed butter? You can definitely swap it for peanut butter or almond butter, but I find that sunflower seed butter is a better fit for this recipe. Then again, I love it so much that I could eat it by the spoonful, so it's up to you!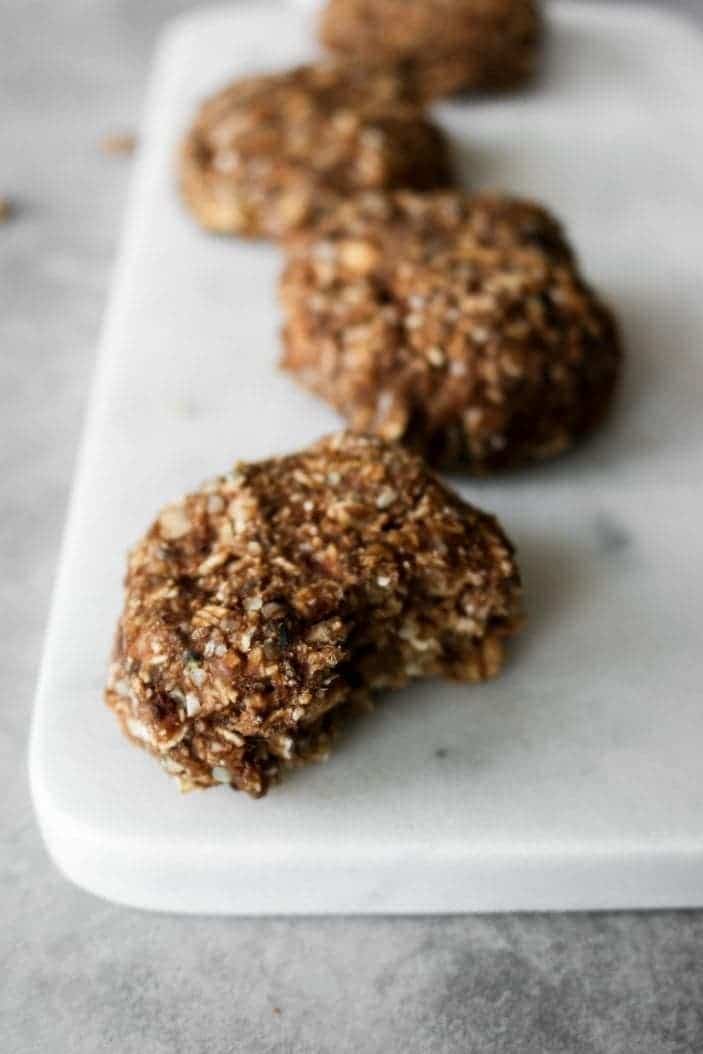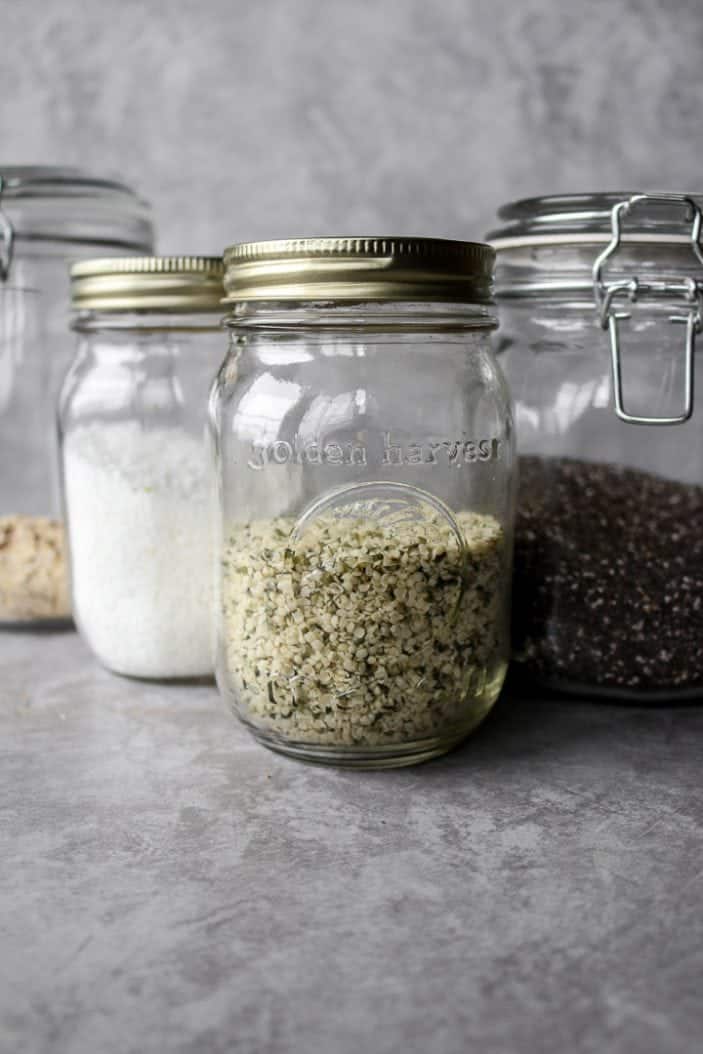 To take them to the next level, I added chia seeds and hemp seeds for added protein and healthy fats. I then used rolled oats and oat flour to make them (very) chewy and gluten-free.
There you have it! A healthy, gluten-free, nut-free and unsweetened breakfast cookie!
While we all want to indulge during the holidays, I think it's a good idea to incorporate healthy meals throughout the next few weeks. I'll be back soon with some healthy, but indulgent treats. Don't worry, I want dessert too. 😉
Have a great weekend and happy baking!
Hearty Oatmeal Breakfast Cookies
These little cookies are packed with nutrients! They contain 3 grams of fiber and protein and healthy fats, all under 112 calories! Bake them on Sunday to have a quick breakfast all week, or eat them with a piece of fruit and a glass of milk and you've got yourself a balanced breakfast.
Ingredients
2

mashed overripe bananas

2

tablespoons

sunflower seed butter

1

teaspoon

vanilla extract

1/2

cup

packed shredded apple (I used Gala)

1

cup

rolled oats

3/4

cup

oat flour

2

tablespoons

hemp seeds

1

tablespoon

chia seeds

2

tablespoons

shredded coconut (optional)
Instructions
Preheat oven to 350F. Line a cookie sheet with parchment paper.

In a large mixing bowl, mash together your bananas, sunflower seed butter and vanilla.

Add your shredded apple, oatmeal, oat flour, hemp seeds, chia seeds and shredded coconut. Mix all the ingredient together.

Form 12 cookies and place them on the prepared cookie sheet. They don't spread, so don't worry about putting them close together.

Bake for 15 minutes. Enjoy!
Notes
Store in an airtight container at room temperature for 2-3 days or in the fridge or freezer.
To make the oat flour, I simply blended rolled oats in my blender for a few seconds.
If preferred, feel free to use peanut butter or almond butter instead of sunflower seed butter.
If you try this recipe, make sure to tag your photo #unsweetenedcaroline on Instagram, Facebook and Twitter! Don't forget to also tag me @unsweetened.caroline on Instagram so I can see your creations!