Naan Avocado Toast with Dukkah & Pan-Fried Chickpeas
This month, it's all about using the ingredients I already have in my pantry.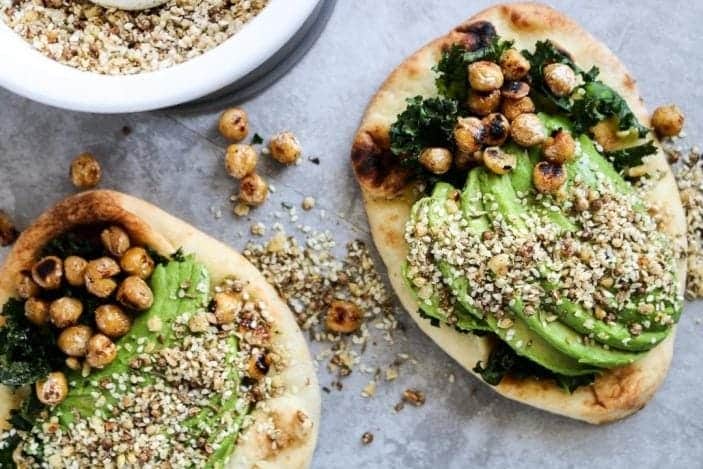 If you follow me on Instagram or Snapchat (unsweetenedcaro), you probably know by now that we're moving! I'm doing my dietetic internship in Saint John this September, so we're moving an hour and a half away from the place I always called home. Yes, I know an hour and a half isn't a big deal, but I'll still miss Moncton. It also means that I can't bring the food I have in my freezer and I'd rather not bring what I have in the fridge… Not only that, but I'm moving in an apartment with Shaun and my friend who's allergic to peanuts. I'm addicted to peanut butter and I don't mind giving it up for a year, but all my kitchen is probably contaminated with peanuts. For that reason, I don't want to bring any food with me to the new apartment… Next year will be challenging in so many ways! haha!
So for July, Shaun and I have both apartments. This means I'm living in Moncton for work and on my days off, I drive to Saint John to start moving the small stuff I can live without for a few weeks. We plan on gradually moving everything we can with our cars and then move the big furniture and the rest of our stuff the last day of the month. When we're all settled in, I'll share pictures of our apartment. It's SO beautiful!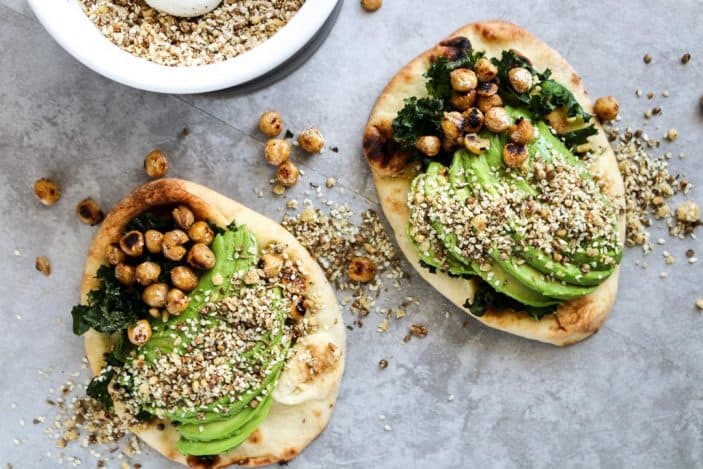 Now, enough about the apartment. Lets talk about this recipe! It uses ingredients you probably already have in your pantry (except for the naan bread, but let's be real, that's worth the trip to the grocery store.)
I decided to use walnuts in my dukkah, but feel free to use any nuts you'd like! Pistachios or almonds would be great, but I went with walnuts since I had to eat them before the end of the month. Trust me, it still turned out great!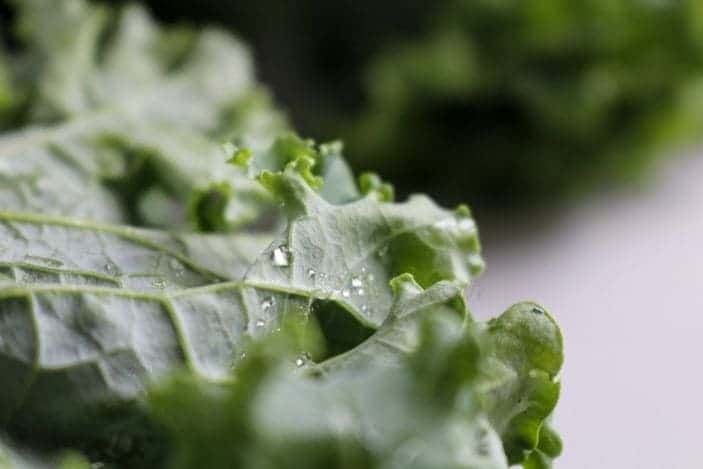 I should also say that this is my first time trying dukkah, so if you're some kind of dukkah expert, do it like you normally do. You can also make it as coarse as you like. I think it would be great with bigger pieces of walnuts and maybe even a few whole sunflower seeds?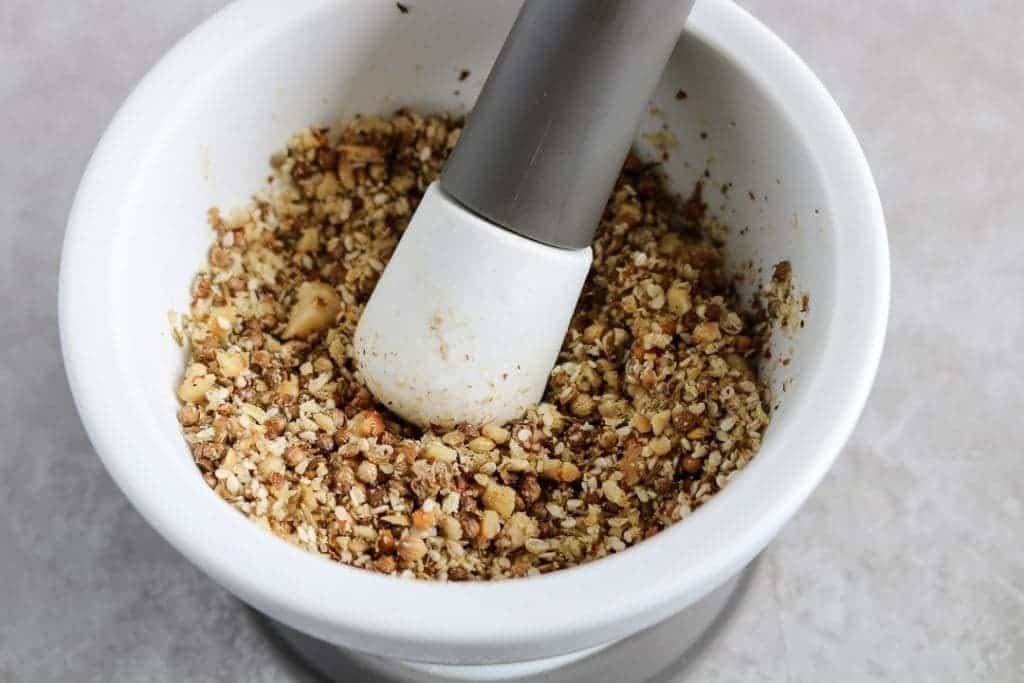 So we talked about the dukkah, which adds so much flavor, but imagine the added taste of crispy kale chips and chickpeas… and then the creamy avocado and the comforting naan bread (which is so much better than regular bread!) Can we agree that this recipe has all the best healthy ingredients combined?! Try it, you won't be sorry!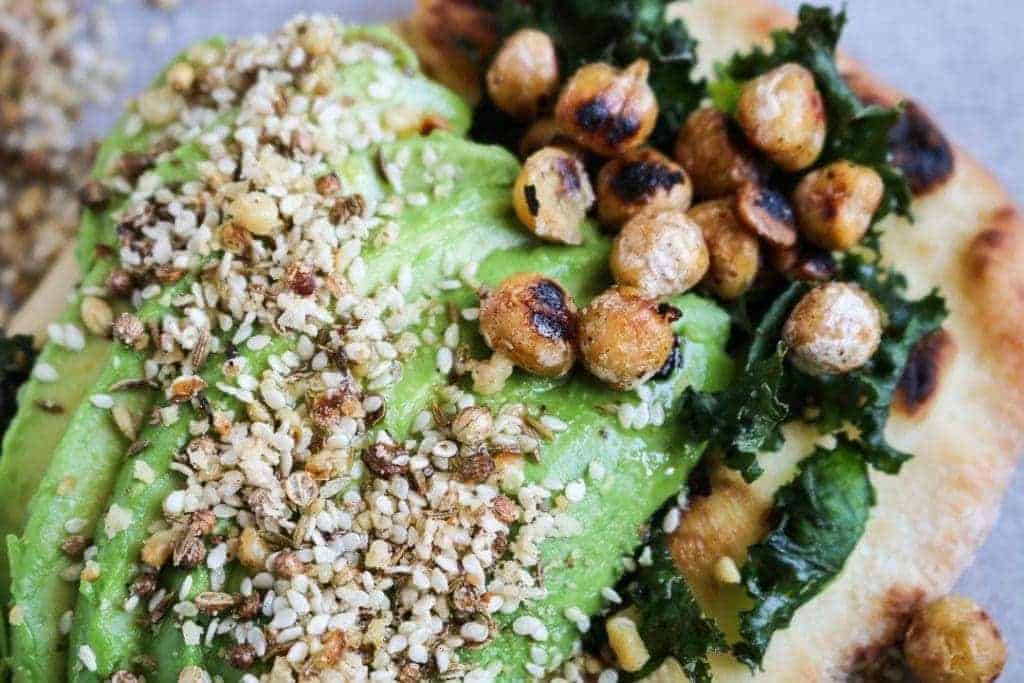 See? Moving doesn't need to include boring food or unhealthy take-out. 🙂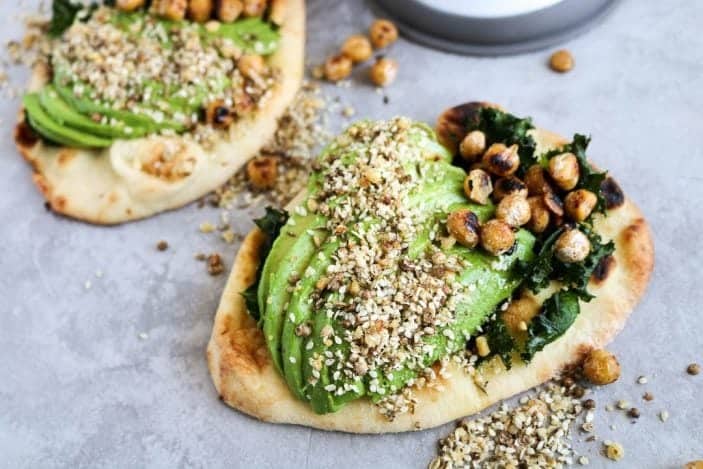 Naan Avocado Toast with Dukkah & Pan-Fried Chickpeas
This recipe takes avocado toast to a whole new level. Naan bread is topped with avocado, flavorful dukkah and crispy chickpeas for a filling, yet healthy meal.
Ingredients
Dukkah
1/4

cup

walnuts

(or nuts of choice)

1

tablespoon

coriander seeds

1

tablespoon

cumin seeds

2

tablespoons

sesame seeds

1/4

teaspoon

sea salt
Pan-Fried Chickpeas
1/4

cup

chickpeas

1

teaspoon

olive oil

Salt to taste
Naan Avocado Toast
2

mini

naan breads (I use whole wheat)

1/2

cup

kale leaves

1

teaspoon

olive oil

1

ripe

avocado
Instructions
Preheat oven to 350ºF.

Start the dukkah: Toast the walnuts for about 10 minutes over medium heat in a small dry skillet. Stir often, they will be fragrant when ready. Set the toasted walnuts aside on a paper towel or a plate to let them cool. Now toast the sesame seeds, cumin and coriander separately, each for 4-5 minutes until fragrant. Set aside to let them cool (without mixing the different nuts and seeds together on the plate, you will need to grind them one at a time.)

Using the same skillet, add the chickpeas with 1 teaspoon of olive oil or more. Cook them for 10-15 minutes until crispy on the outside. Stir them a few times.

While the chickpeas are cooking, tear the kale leaves in medium pieces. Place the naan bread on a cookie sheet and top each of them with the kale. Drizzle with olive oil and use your hands to rub the oil evenly on the kale and naan bread. Toast them in the preheated oven for 8-10 minutes and check them every few minutes so they don't burn.

When the chickpeas and the naan breads are ready, remove them from heat and finish the dukkah.

Finish the dukkah: Grind the toasted walnuts with a mortar and pestle until you reach the desired consistency. I like it coarse to give a crunch to the recipe. Set aside and now grind the seeds. Finally, mix all the ingredients together, including the salt.

Top each naan bread with half a sliced avocado, roasted chickpeas and 1 tablespoon of dukkah (or more to taste.)

Serve immediately and enjoy! Store the leftover dukkah in an airtight container in the fridge.
Notes
To make this recipe nut-free, try using sunflower seeds instead of the walnuts in the dukkah.
You could also use roasted chickpeas instead of pan-fried chickpeas.
If you don't have a mortar and pestle, you can use a food processor. Don't process the dukkah too much because it could turn into a paste.
If you make this recipe, don't forget to tag your photo #unsweetenedcaroline