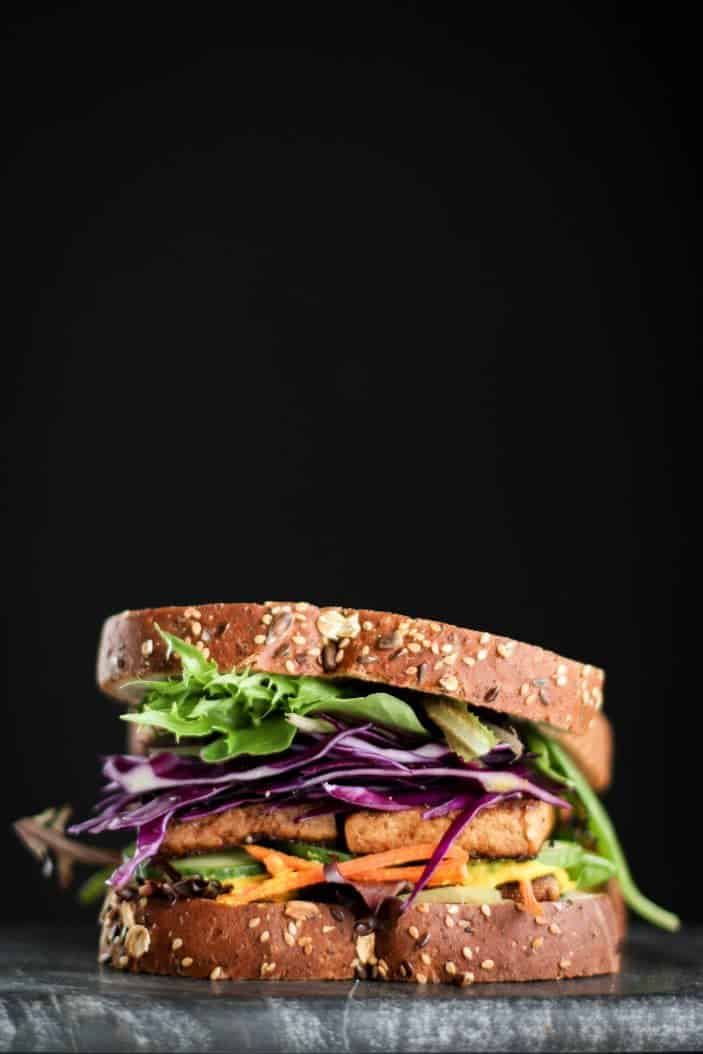 Marinated Tofu Sandwich + Salad
A short little post for a good little recipe.
This marinated tofu is all I've been craving lately. Yes, I do crave tofu and vegetables sometimes. What I really mean is that I'm slowly starting to crave those fresh, spring recipes. It's about time! It felt like a long winter around here (I'm not even sure it's done yet), but I'm finally seeing the end of it! The sun is shinning outside and we're starting to get temperatures above 0ºC, so all is good. It was also Shaun's birthday Saturday and mine is next week, so April is an exciting month around here!
Now this tofu. If you're looking for an easy lunch or weeknight dinner, you need to try this recipe! I've been making it every week lately and I'm obsessed. All you need to do is marinate your tofu overnight (or for about an hour), then you can use it however you want. You can either cook it on a cast iron skillet for a few minutes on each side or eat it uncooked if you prefer! I like it cooked in a sandwich filled with veggies or uncooked in a salad. My favorite thing about this recipe is that the marinade doubles as a great salad dressing! Just cut the tofu into little cubes and toss it in a salad with the marinade. See? One recipe, 2 great meals! You can tweak the marinade and experiment with different flavors as well. It's all up to you!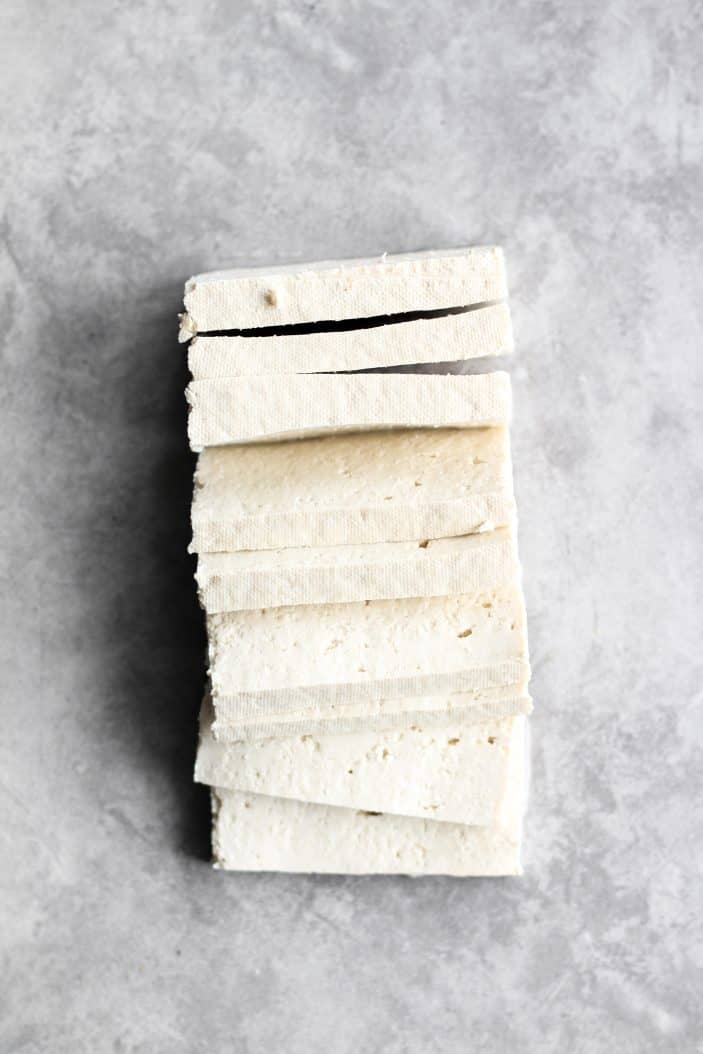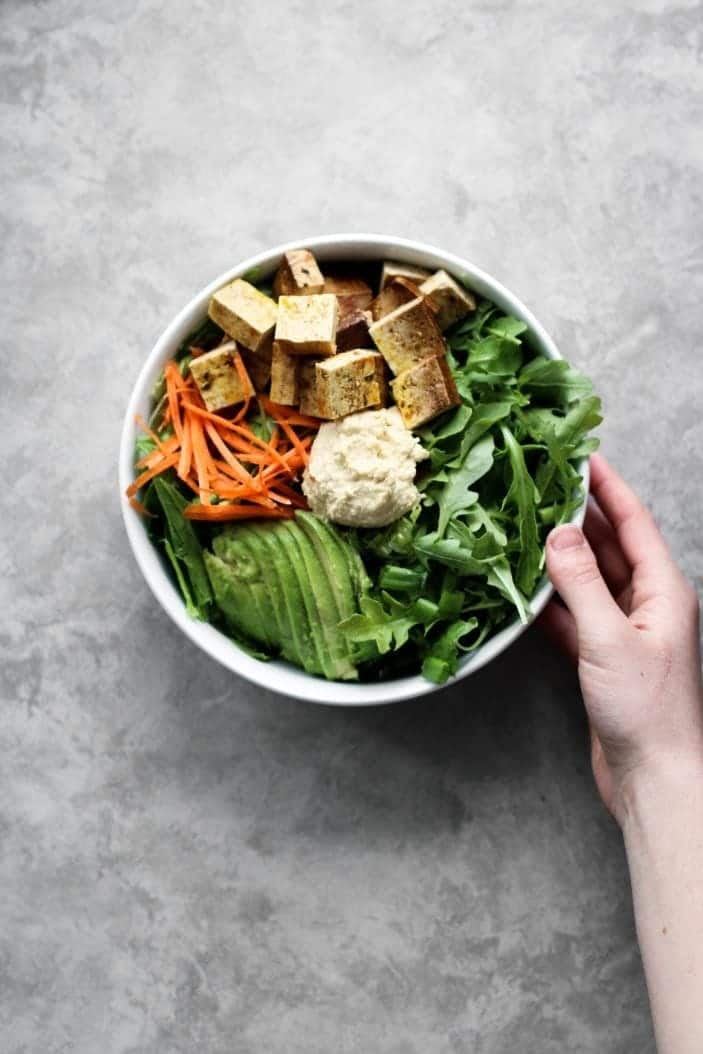 A little life update: I'm currently working in oncology at the hospital for 4 weeks as part of my dietetic internship. Emotionally, I think it might be the most difficult rotation of my internship. Working in this area (and the hospital in general) makes me realize how fragile life really is. We shouldn't take our health or our family for granted – I know it's easy to forget sometimes. My grandfather is actually waiting for open heart surgery in the next week. Since he was admitted at the hospital where I work, I've been able to spend some time with him and make sure he gets enough nutrition before and after surgery! At least I can use my training to help. 🙂
On a positive note, if you're looking for something to bake this week, I highly recommend trying this sugar-free breakfast banana bread! I shared the recipe on the blog last week and I can't believe how many of you guys tried it already – All with great results! Nothing makes me happier than seeing all of your creations. And with that, I wish you all a great week!
Marinated Tofu Sandwich + Salad
A simple and flavorful meatless option that can be used in countless recipes. The tofu is marinated for 1 hour or overnight to give you a not-so-boring vegan meal. I suggest adding it to sandwiches and salads (using the marinade as a dressing), but the possibilities are endless!
Ingredients
1

bloc

extra-firm tofu (420g)
Marinade
1/4

cup

olive oil

1/4

cup

low sodium soy sauce

1/4

cup

balsamic vinegar

1

tablespoon

prepared mustard

1

teaspoon

smoked paprika

1

teaspoon

oregano,

dried

1

garlic clove,

grated on a microplane

1

tablespoon

lemon juice

1/2

teaspoon

lemon zest

(optional)
Instructions
In a small bowl, whisk together the ingredients for the marinade.

Drain the tofu (press if desired). Slice the tofu into 9-10 rectangles (or little cubes if using in a salad) and place in an airtight container or plastic bag. Pour the marinade over the tofu, making sure to coat evenly. Marinate overnight or for at least 1 hour.
For Cooking
Heat 1 tablespoon of oil in a cast iron skillet over medium heat. Place the tofu on the skillet and cook for 5 minutes on each side or until slightly crispy on the outside.
For a Sandwich
Place 2 slices of cooked or uncooked tofu per sandwich (or more if desired) and add fillings of choice. I recommend cucumber, sprouts, leafy greens, purple cabbage, mustard, tomatoes and shredded carrots.
For a Salad
Cut the tofu into little cubes and use as a salad topping. Use the marinade as a dressing.
Notes
Keep leftover tofu (cooked or not) in the fridge in an airtight container.
Oh and we fixed a few problems we were having with the blog. I know some of you weren't able to leave comments on posts, but I'm happy to say that it's now fixed! Sorry for any inconvenience.
If you try this recipe, make sure to tag your photo #unsweetenedcaroline on Instagram, Facebook and Twitter! Don't forget to also tag me @unsweetened.caroline on Instagram so I can see your creations!