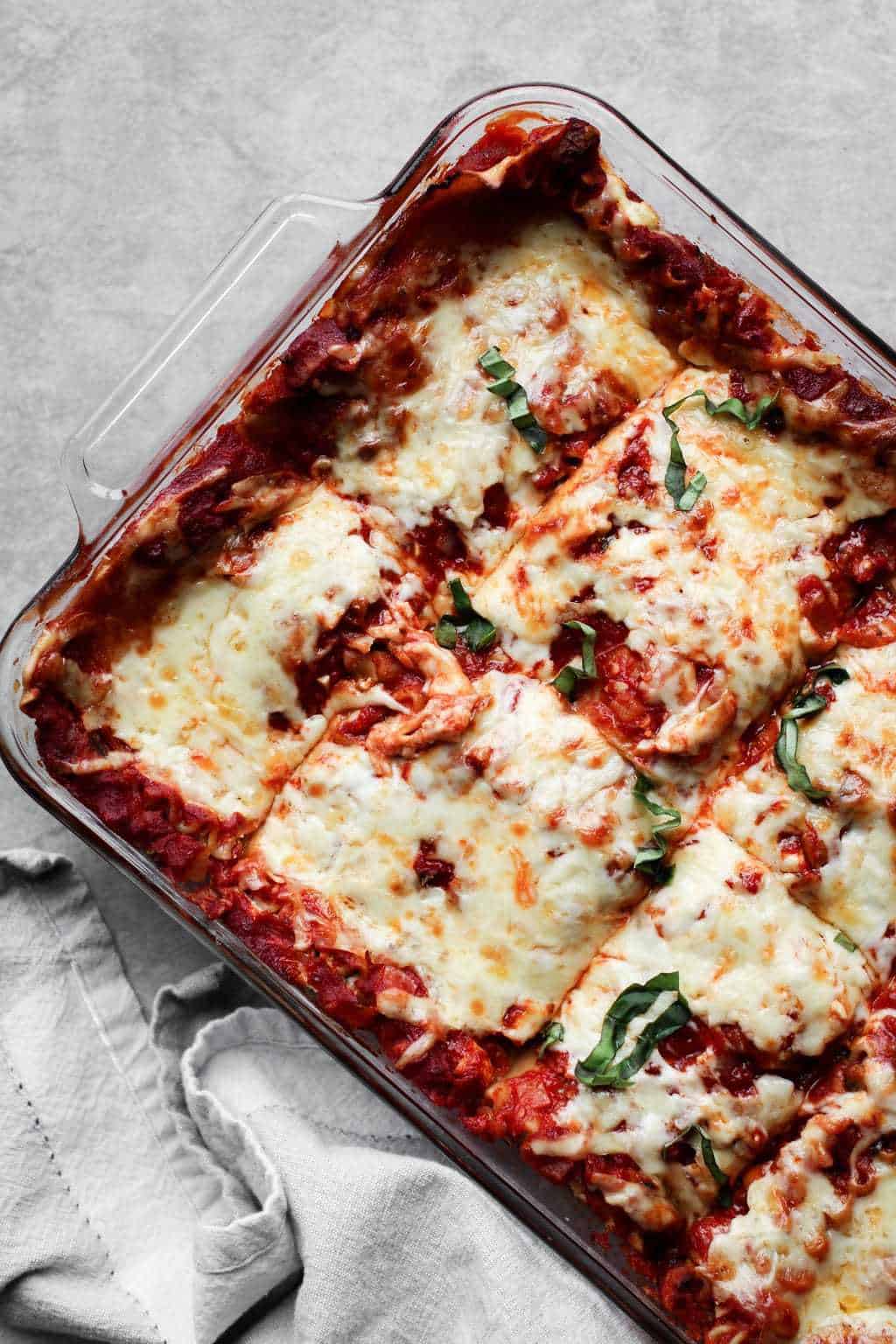 Lightened-Up Vegetarian Lasagna
Looking for a good last minute vegetarian Valentine's Day dinner? If so, I've got a great lightened-up vegetarian lasagna for you!
For some reason, pasta just seems like the appropriate Valentine's Day recipe to me. In my opinion, there's nothing better than a romantic dinner with pasta and wine. I say that, but we celebrated Valentine's Day this past Saturday and we ended up eating a salad and a tomato tart (I shared our Valentine's Day menu in my February favorites post if you're interested).
Since we celebrated Valentine's Day on the weekend, I feel like it's over already. Every time someone mentions Valentine's Day, I need to remind myself that it's on Wednesday. I guess we didn't make a big deal about it this year anyways (not that we normally do). We just had a quiet night at home, eating good food and watching a movie. We may or may not have watched Zootopia. We also somehow ended up watching 3 episodes of Planet Earth… I'm not sure why. Somehow, I enjoyed it enough to watch it for a few hours, which is very unlike me as I usually fall asleep or get restless after watching television for an hour.
So yes, that was our Valentine's Day this year. Clearly we didn't do anything fancy, but nevertheless, we had good food and we enjoyed each other's company. A relaxing evening at home was exactly what we needed.
We've both been very busy over the last few months and the next couple of months are going to be even busier. Shaun is finishing up his university classes and will have an exam every weekend until the end of March. That means he's studying every night and every weekend until then. Since he's busy with university and work, I'm taking that time to focus on projects for the blog!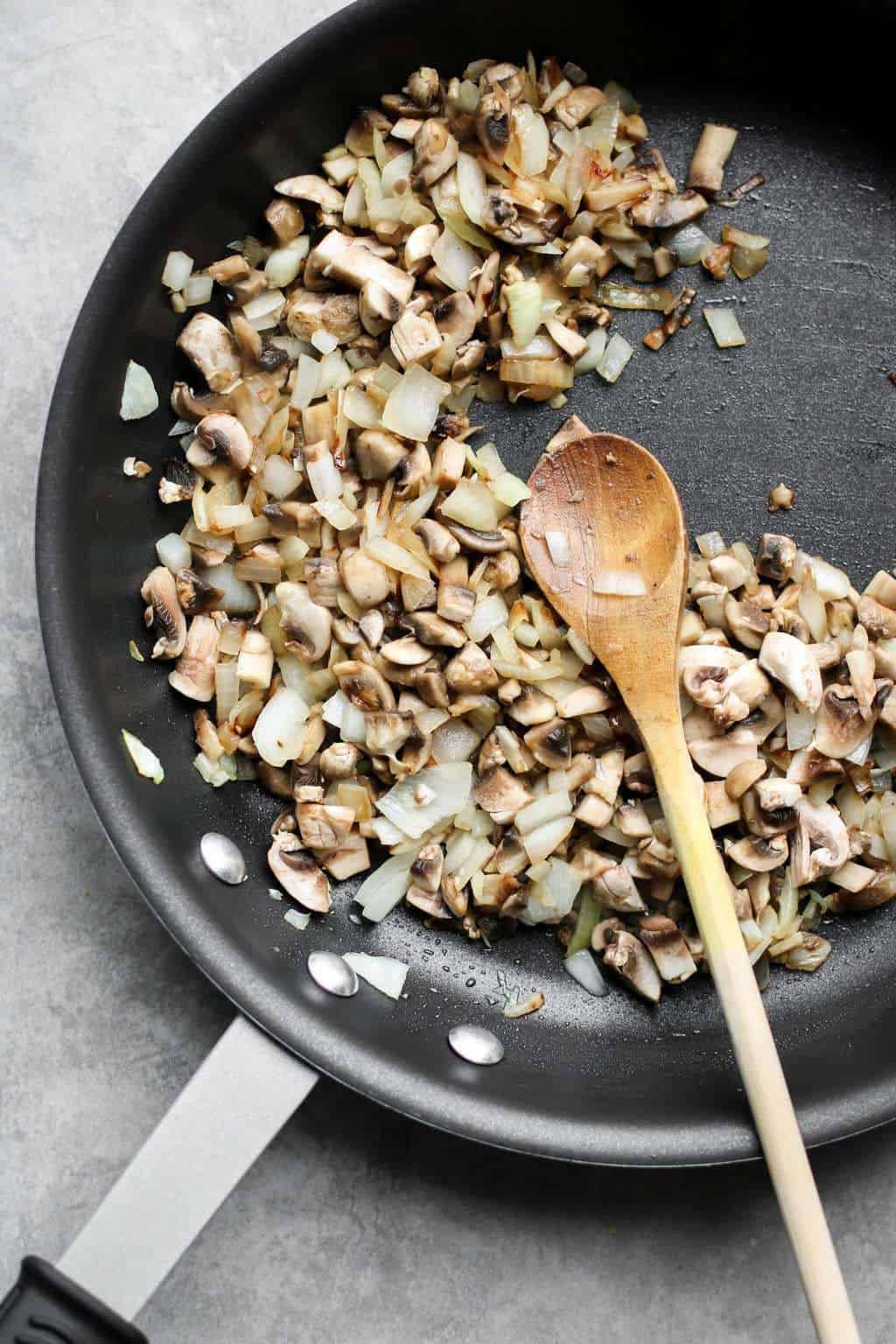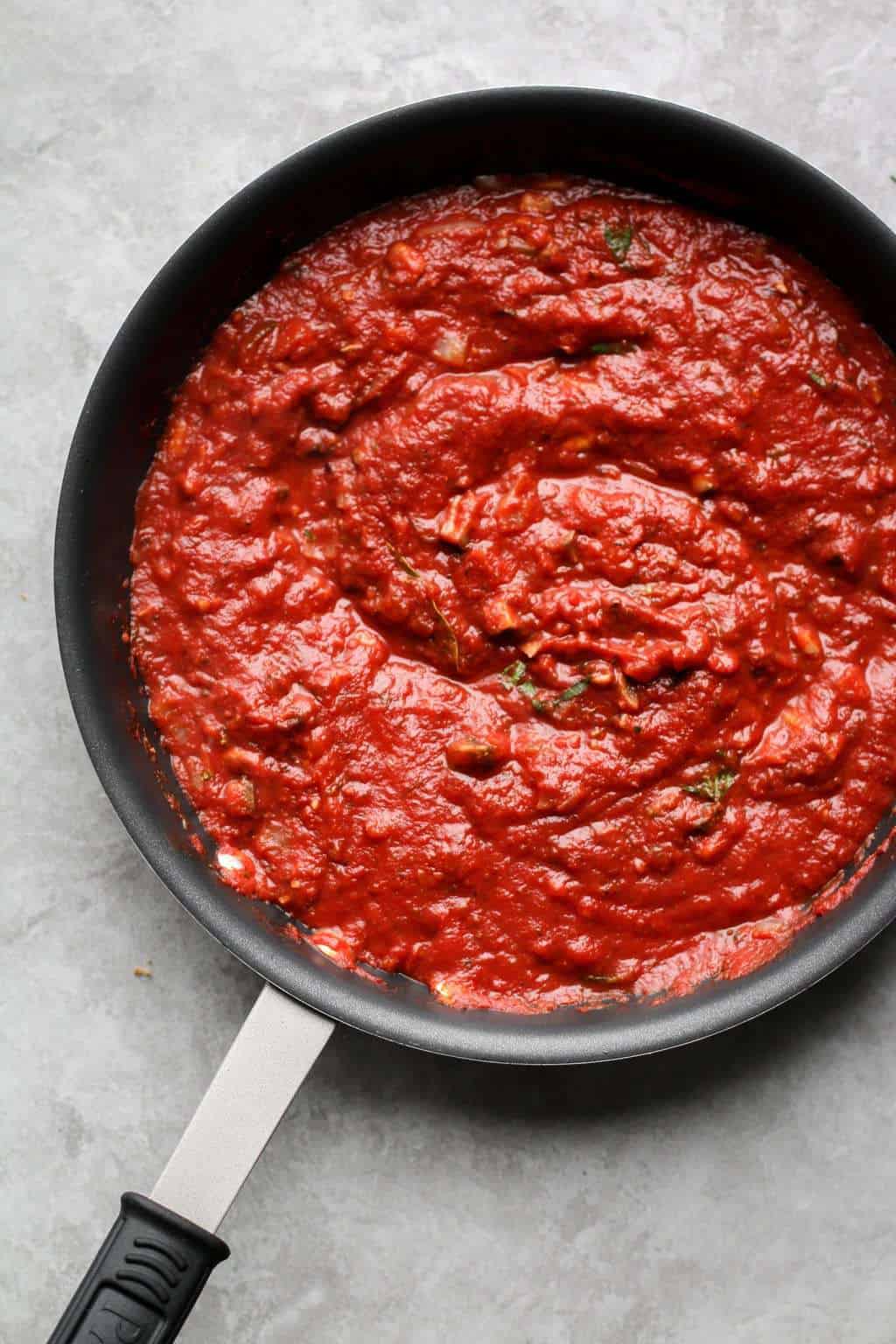 This brings us back to today's recipe. A comforting, yet healthy pasta dish.
This vegetarian lasagna is a lighter version of a lasagna I used to make all the time growing up. Similarly to that recipe, it's vegetarian and has a cheese and spinach layer in the middle. Nothing special. To make it lighter, I decided to use cottage cheese instead of ricotta. It cuts back on the fat and calories by quite a bit, especially when using 1-2% fat cottage cheese. You can also add two large handfuls of spinach (I used extra large handfuls) to the cheese to add more vegetables.
I tried to keep the tomato sauce as simple as possible. You could always use store-bought sauce, but to cut back on the salt, I made my own. This also allowed me to add more vegetables and to customize the flavor. I decided to add mushrooms as I love the flavor it brings to tomato based dishes. It also adds fiber and nutrients! For more fiber, you can also add a bit of red lentils to the sauce. I kept it simple and left them out, but I did try it once with success.
Basically, the sauce is all made in one skillet. The noodles can be cooked at the same time and you can quickly make your cottage cheese mixture. When everything is done, you simply assemble the lasagna, bake it and then eat! It may not be the quickest recipe, but it makes a lot of leftovers and it's worth it! It's also a great recipe to make as a couple for a date night at home. Maybe with a glass of wine and some nice music? That sounds like an ideal Valentine's Day dinner to me!
And always keep room for dessert. 🙂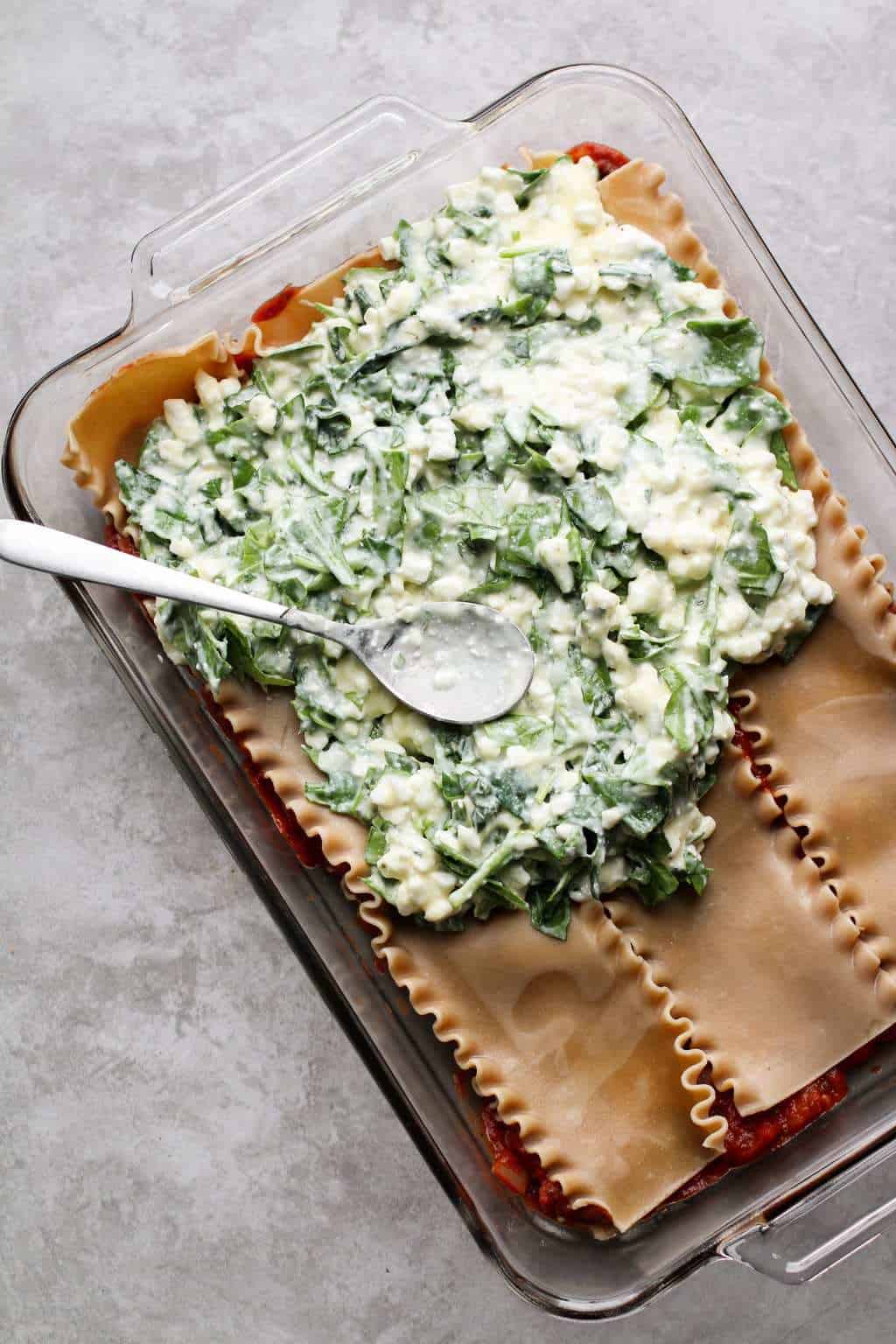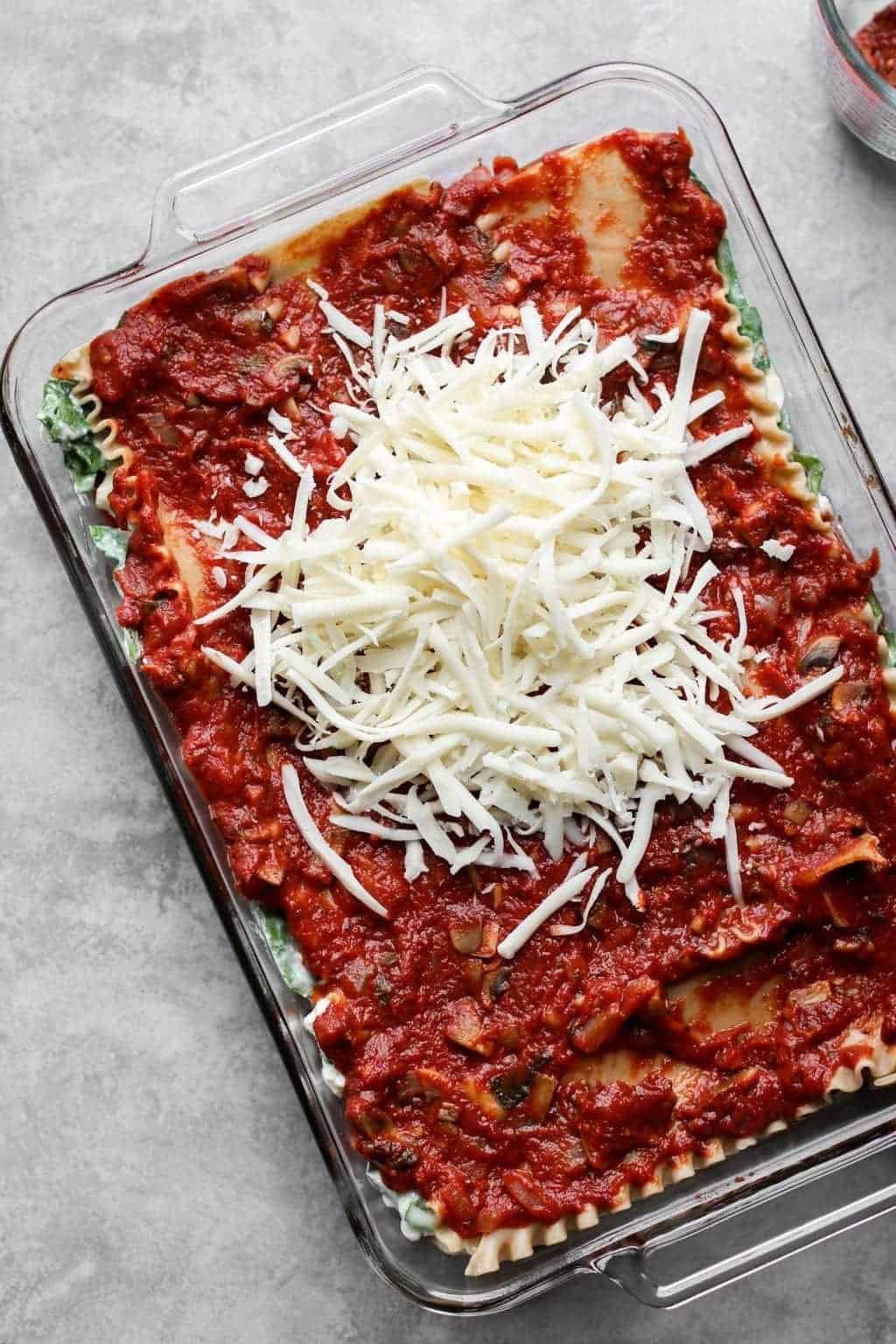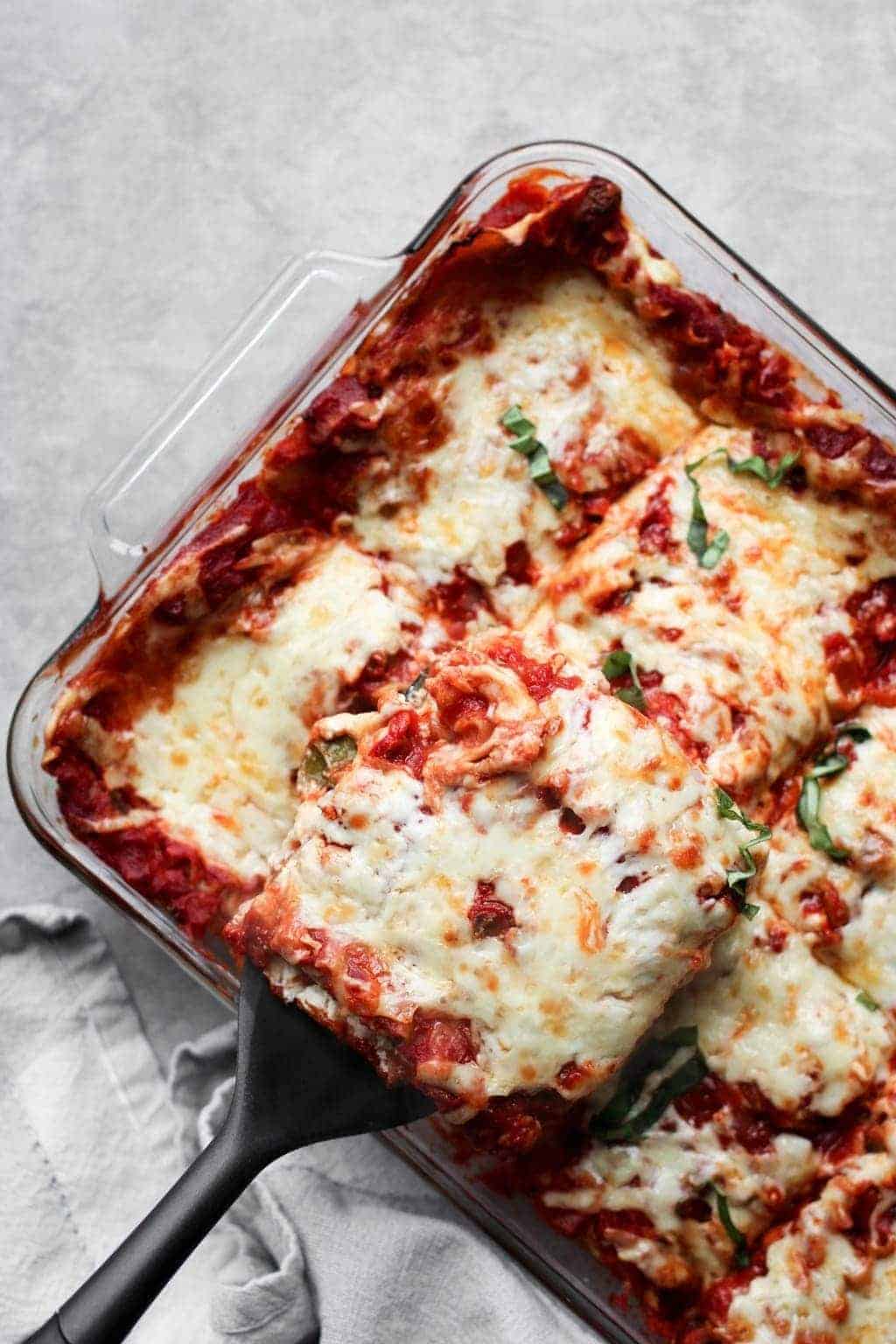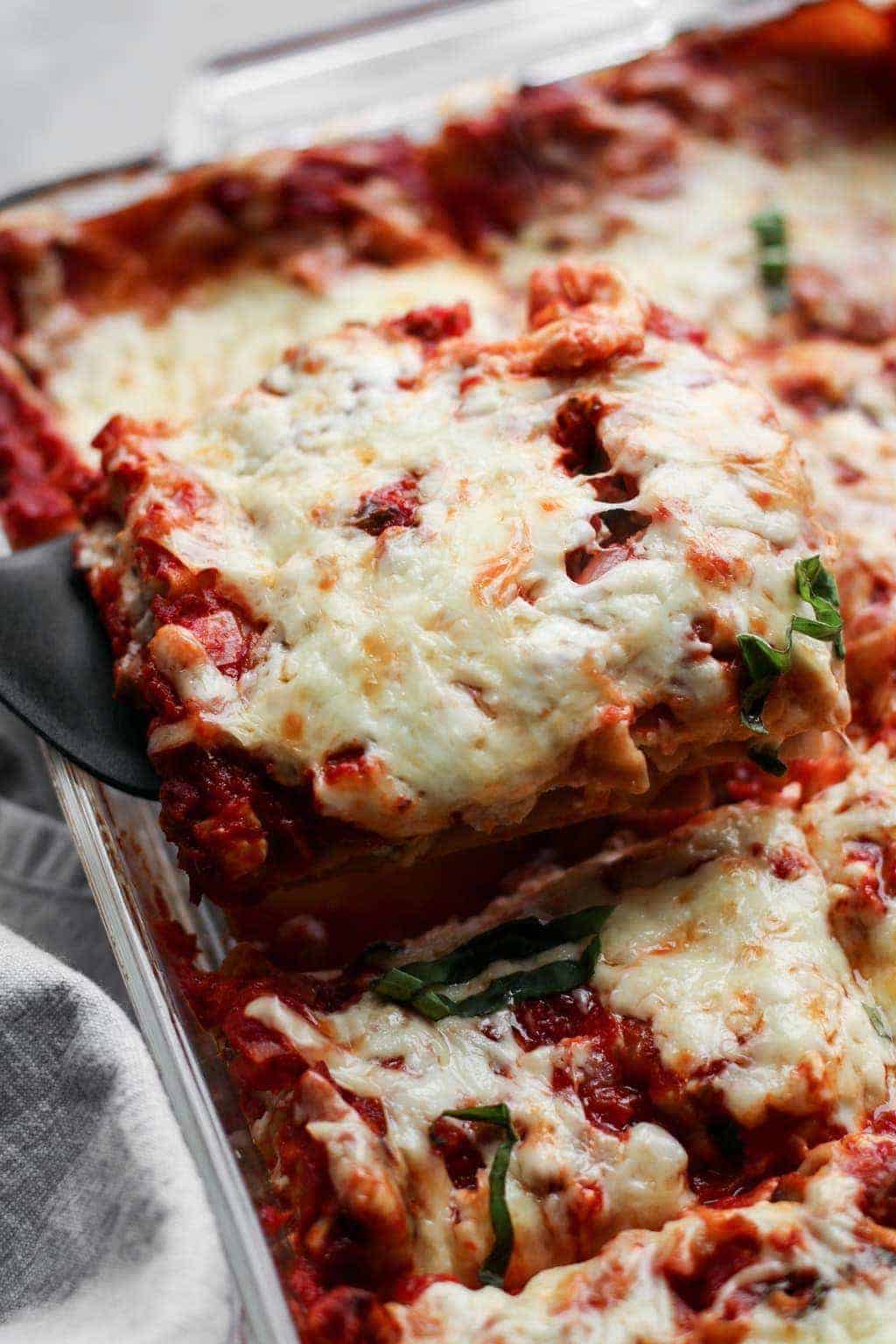 Lightened-Up Vegetarian Lasagna
This vegetarian lasagna is made lighter with low-fat cottage cheese and light mozzarella. It's packed with flavor from mushrooms, garlic, onions, fresh basil, oregano and red wine vinegar. You have the option to add red lentils for a fiber and protein boost.
Ingredients
1

box (375g)

lasagna noodles,

whole wheat

2 1/2

cups

light mozzarella,

shredded

Fresh parmesan

(optional)

Fresh basil,

chopped (optional for garnish)
For the Tomato Sauce
1

medium

yellow onion,

diced

4

medium

garlic cloves,

minced

1

tablespoon

olive oil

2

cups (227g)

white mushrooms,

diced or sliced

1

can (28oz)

crushed tomatoes

3

tablespoons

tomato paste

2

tablespoons

red wine vinegar

1/2

teaspoon

fine grain sea salt

2

tablespoons

fresh basil,

chopped (or 1 teaspoon dried)

2

teaspoons

oregano,

dried

1

bay leaf,

dried
For the Cottage Cheese Layer
1

package (500g)

cottage cheese (1 or 2% MF)

1

large

egg

1/4

cup

fresh basil,

chopped

2

handfuls

baby spinach

Small pinch

nutmeg,

ground
Instructions
Heat 1 tablespoon of oil in a large skillet over medium heat. Add onions and garlic and cook for 5 minutes until the onions are fragrant and translucent. Add salt.

Stir in the diced or sliced mushrooms and cook for another 5 minutes.

Add your crushed tomatoes, tomato paste, red wine vinegar, basil, oregano and bay leaf. Bring to a low boil, then let simmer over medium-low heat for 15 minutes, stirring a few times to avoid sticking.

In the meantime, cook pasta according to the package's instructions.

In a small bowl, stir in your cottage cheese, egg, basil, spinach and nutmeg. Set aside.

Once your tomato sauce and noodles are done, assemble the lasagna. Spread 1/2 cup of the tomato sauce at the bottom of a 9 x 13 inch baking dish. Layer 4 lasagna noodles. Spread half of the remaining sauce on top of the noodles. Layer with 4 more noodles. Spread all of the cottage cheese mixture, then layer with another 4 noodles. Finally, add the remaining sauce. Sprinkle with mozzarella and parmesan.

Cover the casserole with aluminum foil. Bake for 30 minutes, covered, then uncover and bake for another 15 minutes or until cheese is melted and lightly golden. Let sit for 10 minutes before slicing.
Notes
Keep leftovers covered in the fridge. 
You can add a 1/2 cup of dry red lentils to the sauce if desired. Add at the same time as the crushed tomatoes and herbs. You may need to let the sauce simmer a little longer to let the lentils cook. You may also want to add a few tablespoons of water or broth.
If you try this recipe, make sure to tag your photo #unsweetenedcaroline on Instagram, Facebook and Twitter! Don't forget to also tag me @unsweetened.caroline on Instagram so I can see your creations!