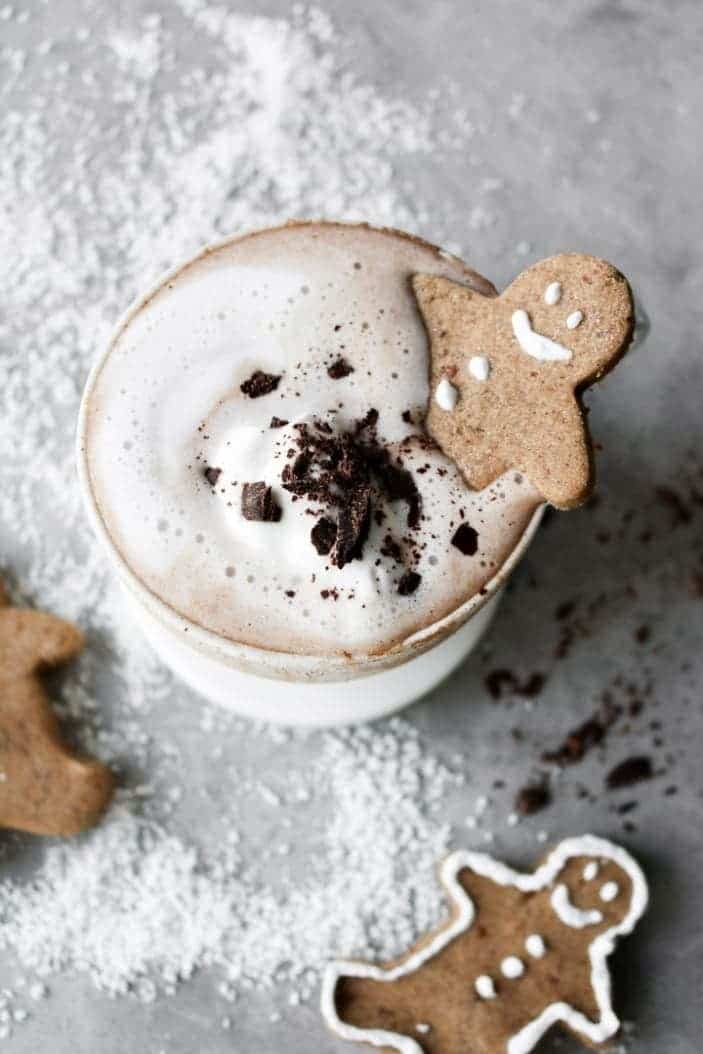 Creamy Vegan Hot Chocolate
A simple creamy vegan hot chocolate. Yes please!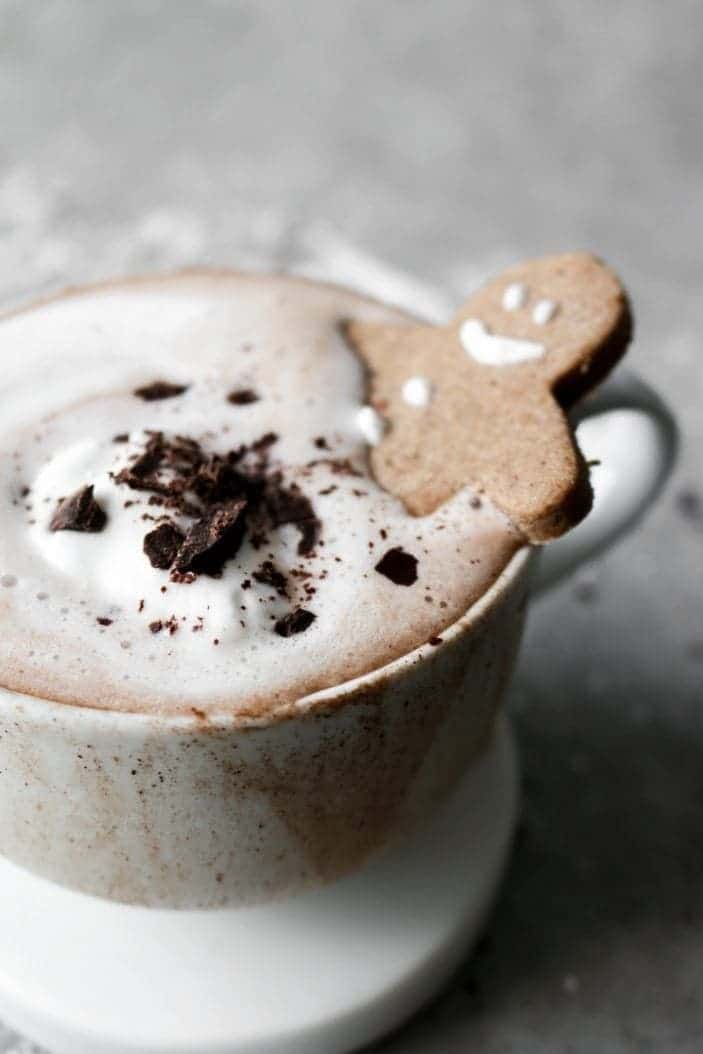 Just look at that frothy hot chocolate… I'm envying that cookie. It's -30ºC here today and the wind is strong, so a hot tub would be nice. Or a vacation on a tropical island.
I don't know what's wrong with me, but I've been feeling extremely drained in the last month. I come home from work exhausted and I go to bed at 9 pm at the latest. Then I wake up at 6 am still feeling exhausted, even if I slept like a rock. Seriously! I've even seen myself go to bed at 8 pm and sleep until 6:30 am without waking up during the night. It's strange… My body is usually rested after just 8 hours of sleep. I'm not sure if it's related to my internship or if it's something more serious. For my internship, I have to work with patients and other health professionals all day and socializing makes me feel tired (yes, I'm a major introvert), but I'm not sure if that's the problem?
It's Christmas break soon, so I'll soon be able to see if the internship is the reason behind my fatigue. I probably just need a break! 🙂
Okay, let's move on to the recipe.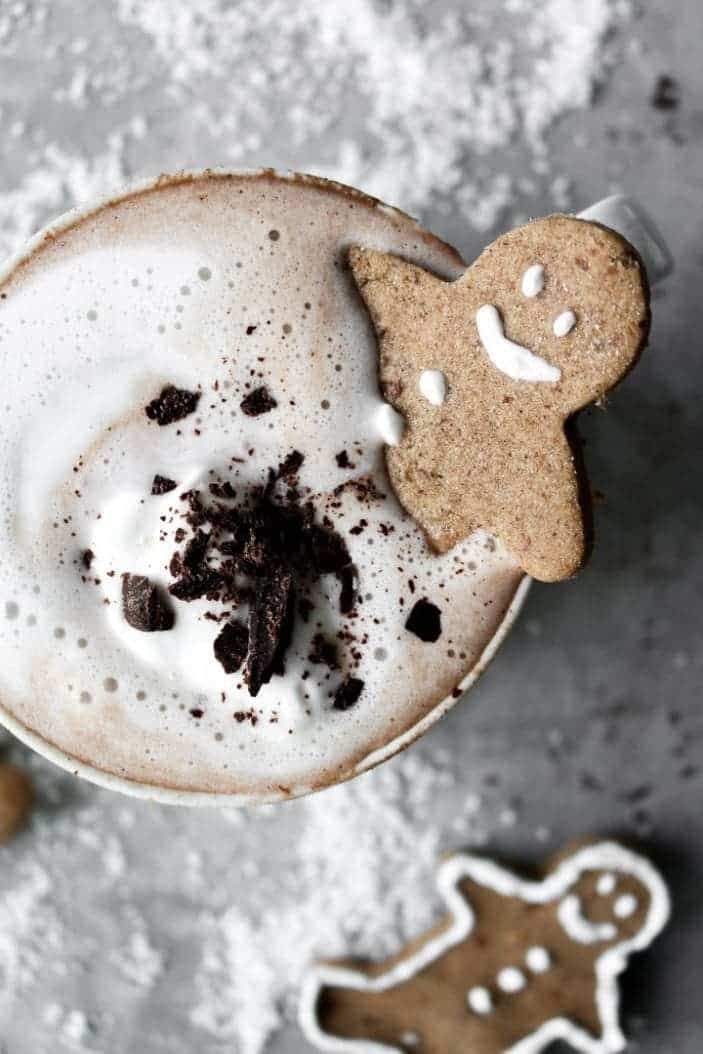 The trick to get the creamiest hot chocolate? Coconut milk! Low-fat canned coconut milk to be exact. I decided to go for a combination of coconut milk and almond milk for a lighter, but still rich hot chocolate. Add dates, cocoa powder and vanilla and you get yourself a great hot chocolate! It's done in less than 15 minutes and it's probably the healthiest hot chocolate ever. When you boil all the ingredients together, the sweetness of the dates mix in with the milk, so you still get a sweet drink. Then you strain the liquid through a fine mesh sieve and discard the little pieces of dates. Your drink is now smooth and creamy!
I like to top it with coconut whipped cream, grated nutmeg and dip in a Chai-Spiced Cut-Out Cookie. <— Try these cookies if you haven't already. They pair perfectly with this drink! I explain how to make the coconut whipped cream in this post.
The best part about this recipe? It doubles as chocolate milk. You simply let it chill in the fridge and drink it cold. Shaun actually thinks that it's better than regular chocolate milk. I agree! And it's so much better than the unsweetened plant-based chocolate milk you find at the grocery store! This one is actually sweet, creamy and DELICIOUS!
Yup. This is what I'll be drinking over the next few weeks. Hope you try it too!
Creamy Vegan Hot Chocolate
The creamiest vegan hot chocolate! This rich beverage is made with coconut milk, almond milk, dates, vanilla and cocoa powder only. You won't believe there's no added sugar in this delicious hot chocolate. It's a great healthy drink for the holidays. Or any day really. You can even keep it in the fridge for a great alternative to chocolate milk.
Ingredients
1

can

low-fat canned coconut milk

1

cup

unsweetened almond milk

2 1/2

tablespoons

unsweetened cocoa powder

3

Medjool dates,

roughly chopped

1/2

teaspoon

vanilla extract
For Topping
Coconut whipped cream

Nutmeg

Chopped chocolate
Instructions
Make the coconut whipped cream if using.

In a small saucepan, add your coconut milk, almond milk, dates and vanilla.

Bring to a boil, then reduce heat to medium heat and let simmer.

Whisk in your cocoa powder until no clumps remain.

Let simmer for 1-2 minutes.

Pour the hot chocolate over a fine mesh sieve, into 2 cups. This gets rid of the pieces of dates.
Notes
You can try using different kinds of milk for this recipe, but I highly recommend keeping the coconut milk.
If you like a stronger chocolate taste, add more cocoa powder.
Feel free to add cinnamon and nutmeg to your hot chocolate while cooking.
Keep leftovers in the fridge for a good alternative to chocolate milk!
If you try this recipe, make sure to tag your photo #unsweetenedcaroline on Instagram, Facebook and Twitter! Don't forget to also tag me @unsweetened.caroline on Instagram so I can see your creations!