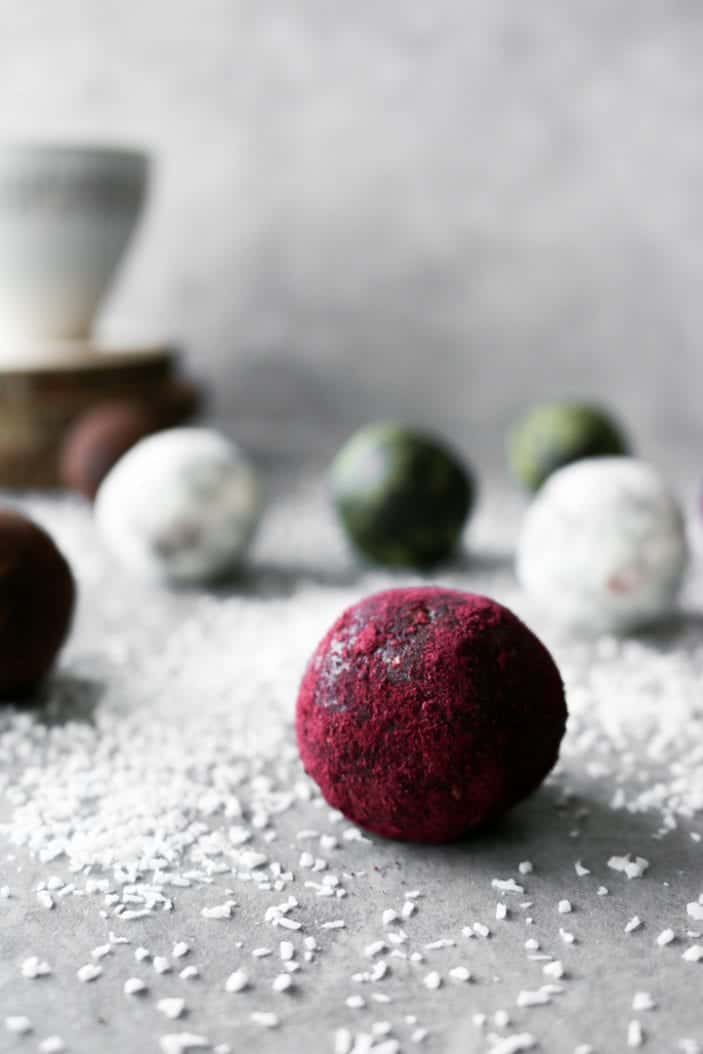 I hope these festive Easy Holiday Truffles make your Monday a little better.
It's the last Monday before Christmas (!!) and I'm sharing yet another holiday dessert. I'm getting a little carried away with all the Christmas treats. For a while I didn't think it was going to be possible to continue sharing one recipe every week on this blog… In the last two weeks I've been sharing two and this week I'm sharing three! I'm not sure how I'll be able to do it. Especially since this week is my last week of internship before Christmas vacation and I have a big evaluation to finish for tomorrow. That's what I did all weekend. I did take Saturday night off to go to a Christmas concert with my family though. It's our Christmas tradition! 🙂
Speaking of Christmas traditions, what are yours? We usually have a family dinner on Christmas Eve. I always choose the menu, so it's often a healthy casserole or a fancy salad with sides. I'm not sure what I'm choosing this year, but I'm excited! I'm easily excited when it comes to food. Anyway, we always walk to church after dinner, which is a fifteen minute walk from my parent's house. I love it when there's light flurries, it makes for a magical family walk! When we come home, we usually open one gift each, then watch a movie. On Christmas day, we open up presents first thing in the morning, then have a big breakfast, usually an egg casserole of some sort. The rest of the day, we enjoy our gifts, maybe watch a movie and spend time with the family before my grandparents arrive for our turkey dinner. This year, Shaun and I have a turkey lunch at his mom's place as well. Then, on the 26, we have a turkey dinner at his dad's place. You can imagine I get tired of turkey pretty quickly! My plate always ends up being a big pile of vegetables and stuffing. I never get tired of stuffing.
Anyway, that's what my Christmas looks like! It changes from year to year, but that's what it's been like in the last few years. I love it!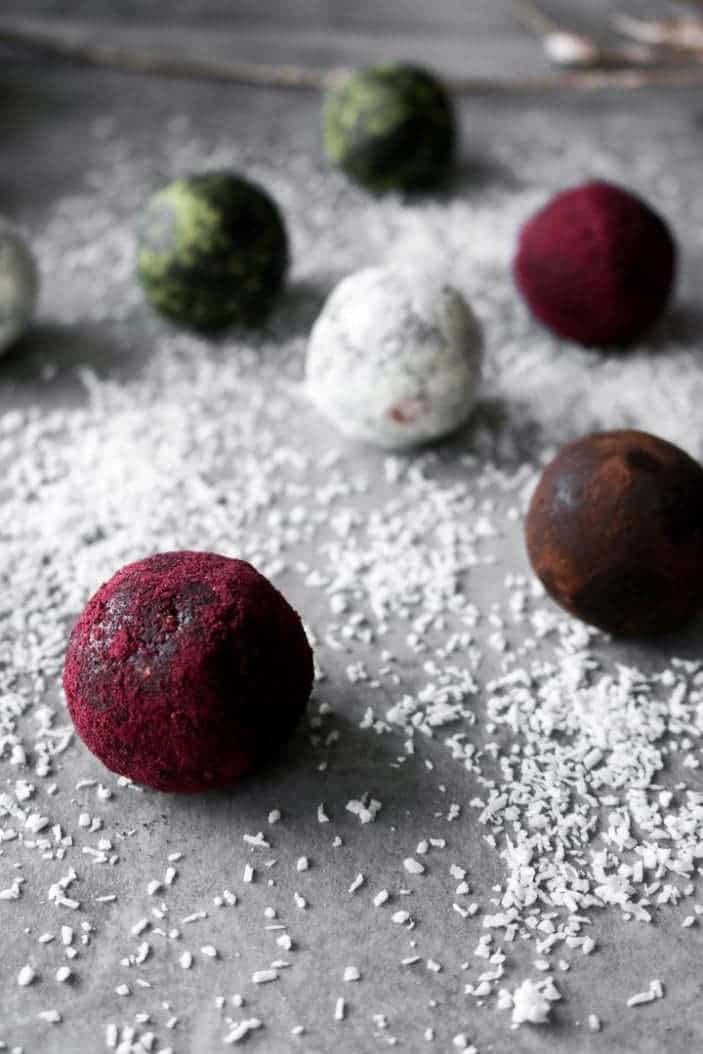 So here I am today, sharing an easy holiday truffle recipe with you guys!
This has to be the easiest dessert recipe I've ever made! It's literally done in less than 20 minutes. All you have to do is throw all three ingredients in a food processor, blend until the mixture holds together when pressed, make little balls, then roll them in your coating of choice! I chose beet powder, coconut flour and cocoa powder. Beet powder can be found in health food stores and I love it for it's bright pink/red color! Don't worry, you can't taste the beets! Then I chose coconut powder which makes beautiful white snowballs. Finally, cocoa powder will give you traditional-looking truffles. Feel free to use whichever ingredient you have on hand or none of them if preferred!
I hope you're all ready for Christmas? The only thing I have left is to bake a bunch of Christmas treats for my friends and family. It's gonna be a another busy week… I can't wait to be off from my internship for two weeks, I really need a break. Don't we all?
Enjoy the holidays. 😀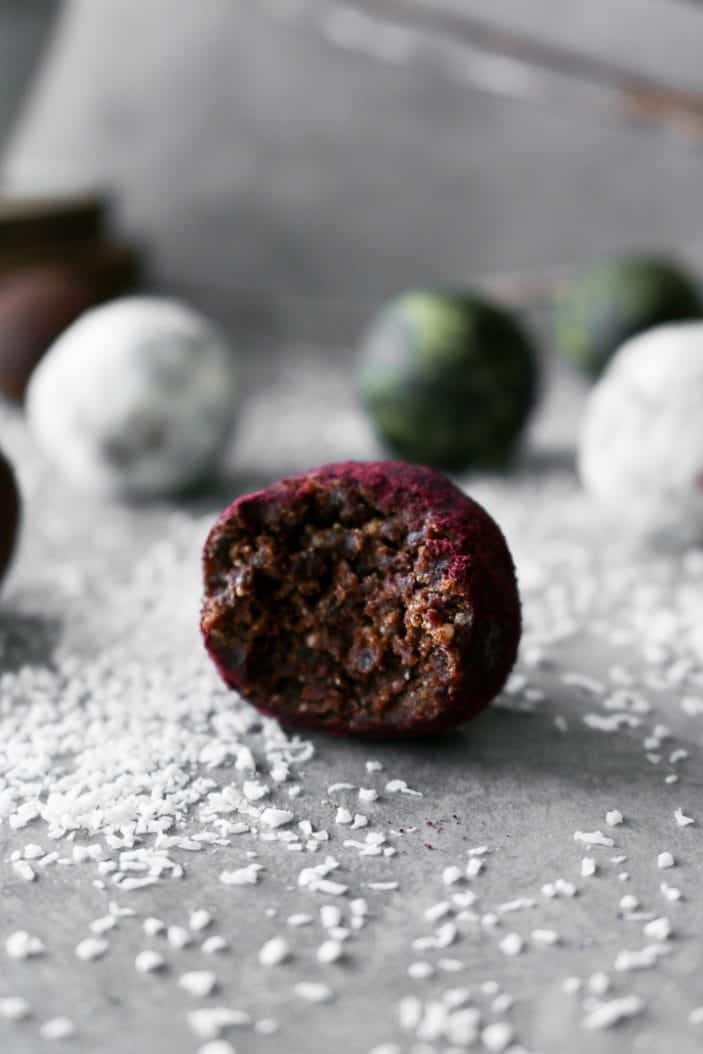 Easy Holiday Truffles
These easy truffles would be a great addition to your holiday feast! They're made with only 3 ingredients and coated with natural ingredients, including beet powder, coconut flour and cocoa powder. You can have a delicious healthy treat ready in under 20 minutes!
Ingredients
1

cup

cashews,

roasted unsalted or raw

1

cup

Medjool dates

1 1/2

tablespoons

unsweetened cocoa powder
For Coating (optional)
Beet powder

Coconut flour

Cocoa powder
Instructions
Add cashews, dates and cocoa powder in a food processor. Process 1-2 minutes until the dough holds together when pressed.

Form 10-12 little balls.

In a small bowl, add a bit of either beet powder, cocoa powder or coconut flour. Roll in the truffles until lightly coated. You can use the same coating for each truffle or make an assortment of colors, depending on what you have on hand. The coating is optional.
Notes
You only want a light coating on the truffles, if not, they can get messy.
I tried using matcha to make green truffles, but it quickly got absorbed into the truffles and turned dark. I don't recommend using matcha for this reason.
Store in an airtight container in the fridge or freezer.
If you try this recipe, make sure to tag your photo #unsweetenedcaroline on Instagram, Facebook and Twitter! Don't forget to also tag me @unsweetened.caroline on Instagram so I can see your creations!