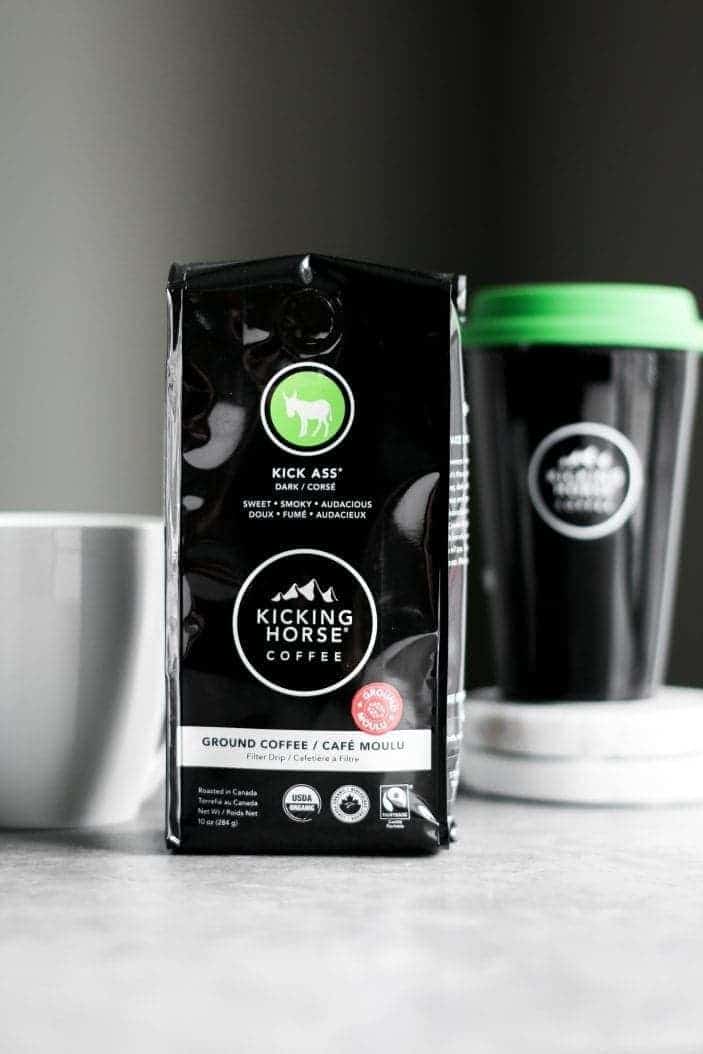 Vanilla Coconut Iced Coffee + Kicking Horse Coffee Giveaway!
I have an exciting post for you guys today!
As a thank you for all your support, we're giving away one bag of Kicking Horse® Ground Coffee AND a porcelain tumbler with lid as shown above. Kicking Horse® is our go-to coffee around here and I'm so happy to be able to share it with you guys today!
To be honest, I wasn't always a coffee lover. Like most, I started drinking coffee during university as a way to stay awake and study for a few extra hours at night. At that time, I was forcing myself to drink coffee, sometimes pinching my nose to do so. I should mention that I was drinking a cheap instant coffee I found at my parents' place. That certainly didn't help! However, things changed in my second year of university. I blame my microbiology and bio chemistry classes. I started buying better tasting coffee and I now appreciate each cup for its unique taste. My favorite way to drink coffee? No sugar and just a small splash of light cream. I make it at home every morning using a french press and now I can't live without it. Coffee is what's getting me through my dietetic internship. True story.
A few months ago, I picked up a bag of Kicking Horse® coffee from the grocery store. I had been eyeing it for the last few years and I finally decided to try it. I think it's safe to say that Shaun and I quickly fell in love with it. It's now our go-to coffee, not only for its delicious flavor, but also because the coffee is 100% certified organic, fairtrade and shade grown. They're located in Invermere, British Columbia and I love supporting local products. Kicking Horse® was in fact named Canada's fairtrade product of the year in 2016 and the #10 best workplace in Canada by Great Place to Work in 2016.
For the giveaway, I'm offering you a porcelain tumbler and bag of my favorite Kick Ass® dark ground coffee. It's smooth, sweet and flavorful, just the way I like it. Trust me, it's truly Kick Ass.
How To Enter:
See below for the 5 ways you can enter this contest. You can enter one way or all 5 for a better chance to win! The winner will be chosen at random and the giveaway is opened to residents of Canada and the US only. Good luck!
And now I've got a little coffee recipe for you to try.
I shared a post a while back about how to make cold brew (I'm a little embarrassed about the photography, but I know my style and skills will always change). Now, I'm sharing one of my favorite way to use cold brew: A vanilla Coconut Iced Coffee. It may seem time consuming, but I promise, it's very easy! All you need to do is plan a little ahead and take two minutes the night before to combine your ground coffee and cold water. You then let it steep all night or for 12-24 hours. The next day, strain the coffee using a fine mesh sieve, a cheesecloth or a nut milk bag (Congratulations, you've made cold brew!). Next is making the creamer by blending coconut milk, dates and vanilla in a high-speed blender. You then strain it the same way you did the cold brew. Finally, to make the iced coffee, simply pour some cold brew and creamer over ice. That's it! 
I know I'll be enjoying this sugar-free drink all summer. I hope you'll like it too!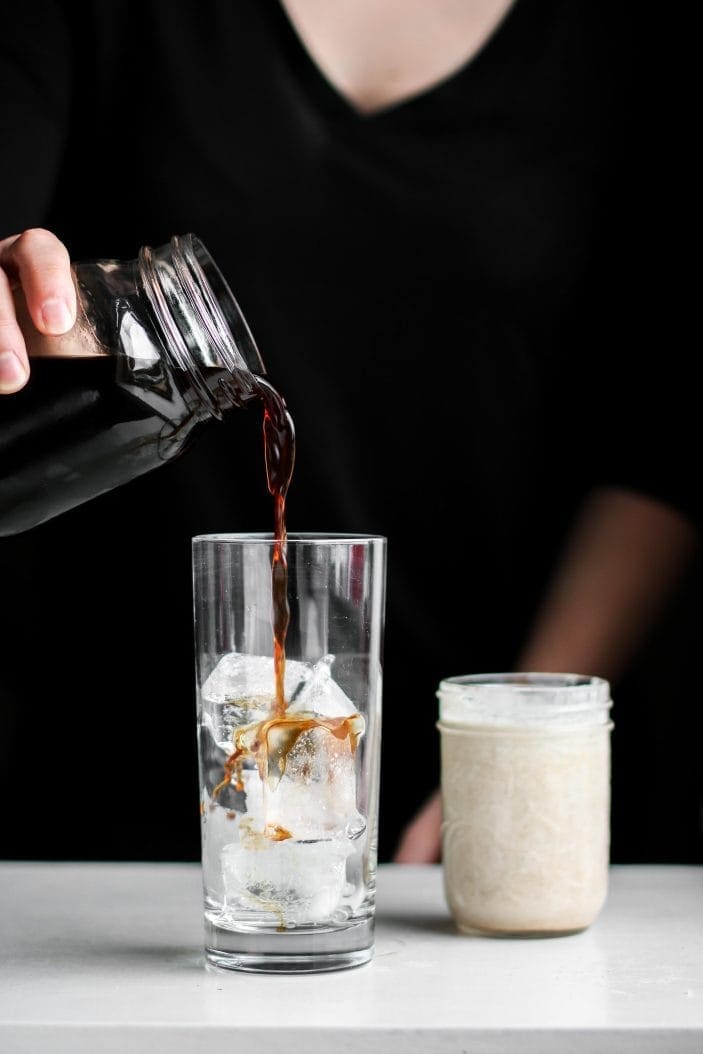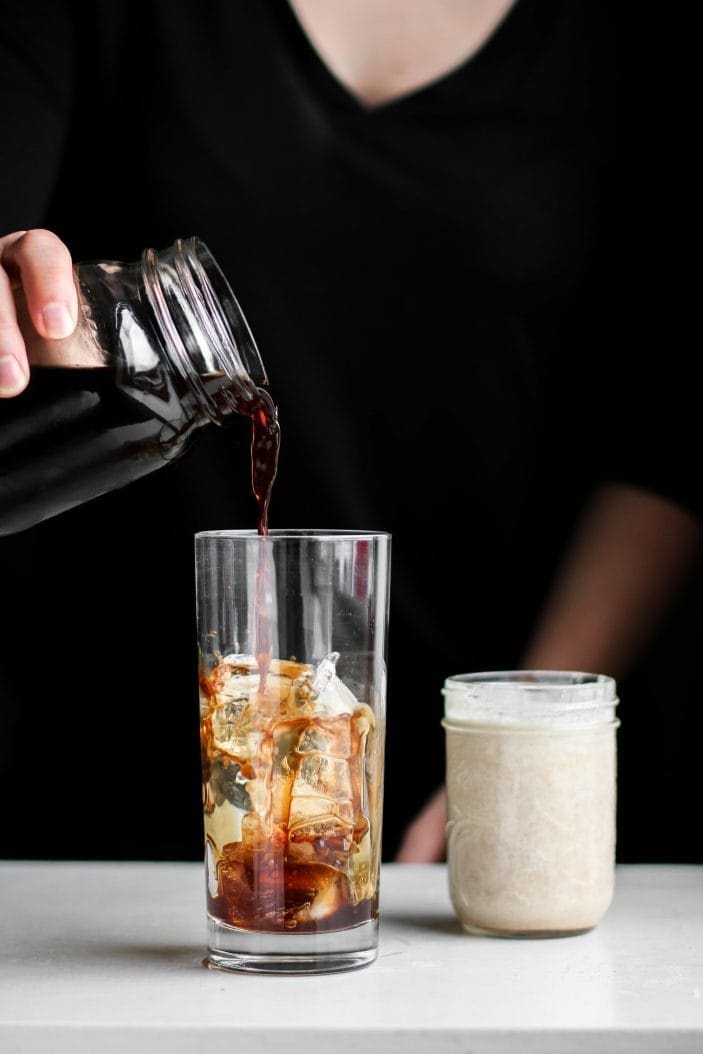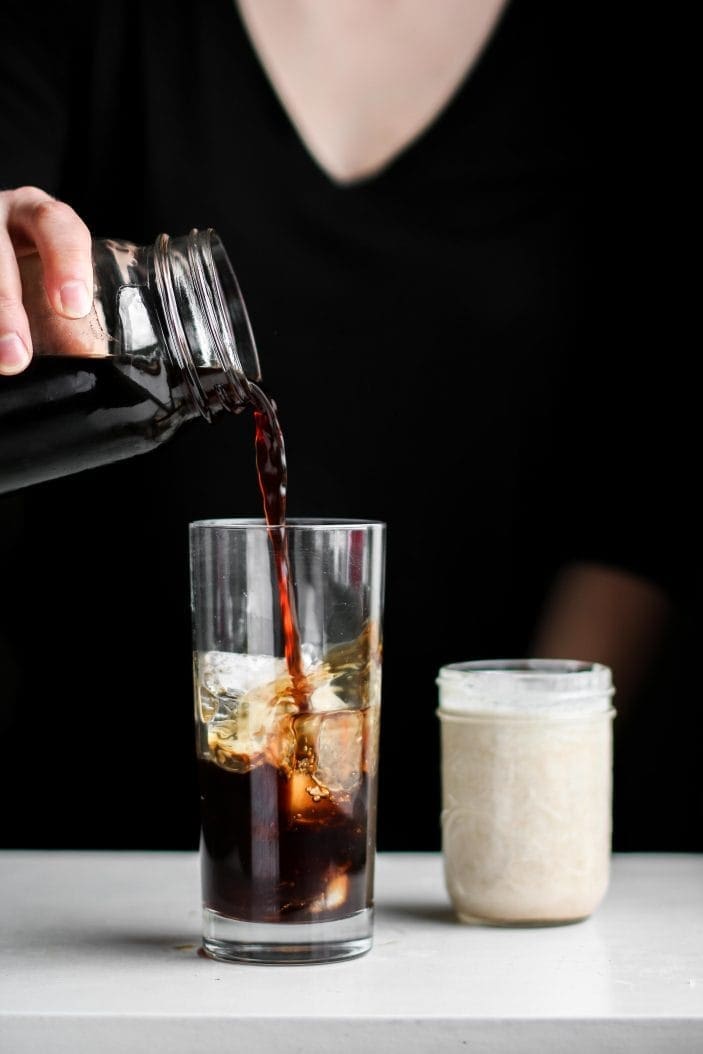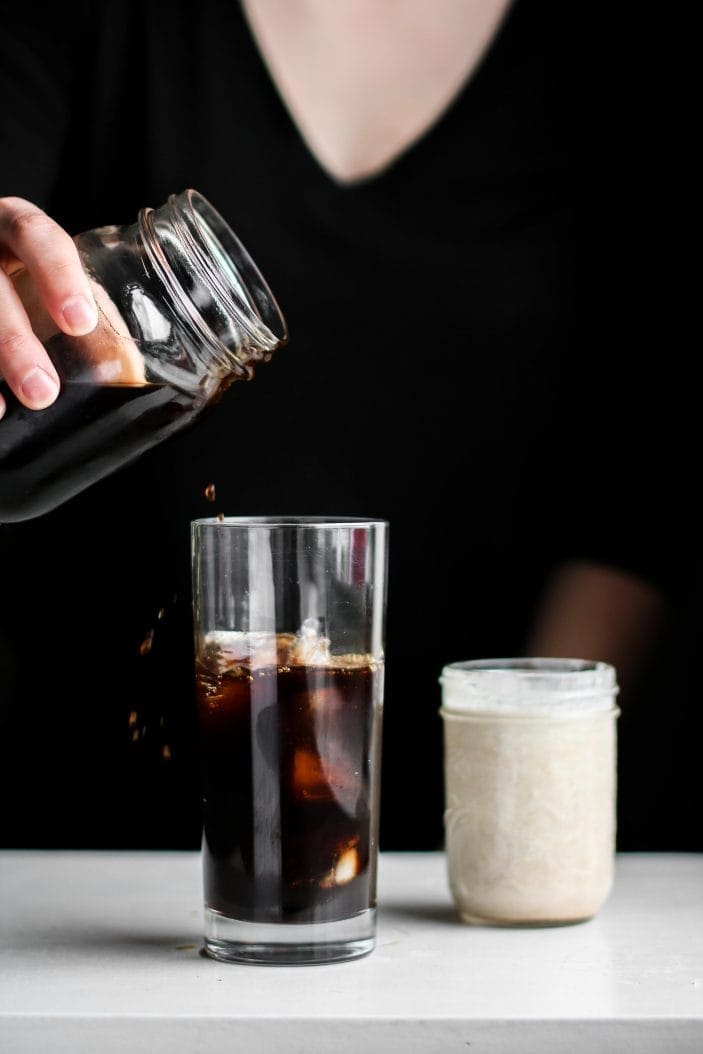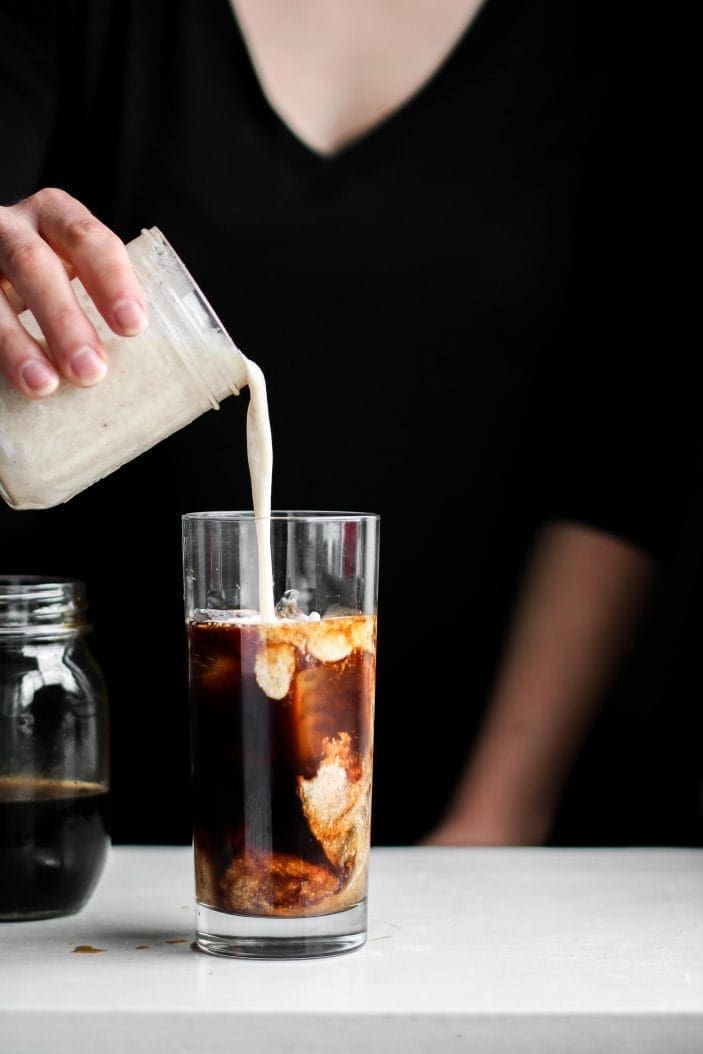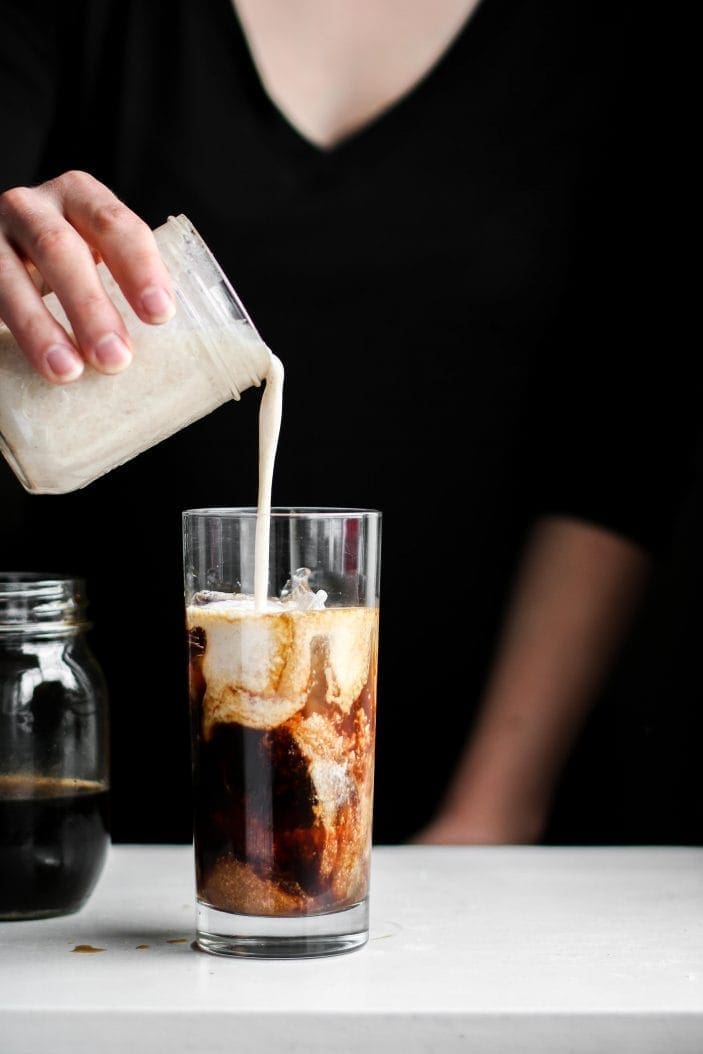 Vanilla Coconut Iced Coffee
A simple sugar-free iced coffee to satisfy all your coffee cravings on warm summer days. Just add cold brew, ice and a blended coconut creamer flavored with vanilla and dates.
Ingredients
Cold Brew
1/3

cup

ground coffee

(I used Kicking Horse Coffee)

1

cup

cold water
Coconut Creamer
2

cups

low-fat coconut milk

2

Medjool dates,

pitted

1

vanilla bean, seeds scraped

(or 1/2 teaspoon vanilla extract)
Instructions
Make the Cold Brew
In a glass container, combine ground coffee and water. Let steep overnight or for 12-24 hours.

Strain the coffee using a fine mesh sieve, a cheese cloth or a nut milk bag. You could even use a french press. Strain it a few times if desired to remove all coffee grounds.
Make the Coconut Creamer
In a high-speed blender, blend coconut milk, dates and vanilla.

Strain the milk the same way you did the cold brew.
For the Iced Coffee
In a glass, combine ice, cold brew and creamer as desired.
Notes
Make sure to use boxed low-fat coconut milk and not canned, as the canned milk will turn into clumps when mixed with cold brew and ice.
You can make a larger batch of cold brew if desired, simply combine ground coffee and water in a 1:3 ratio. Store the cold brew in the fridge for up to a week.
Keep the leftover creamer in the fridge. I love to use it in oatmeal!
For anyone who's interested, Kicking Horse® coffee is available at retailers across Canada and the US, as well as Amazon.com and Amazon.ca
You can also find Kicking Horse on Facebook, Instagram and Twitter or sign-up for their newsletter!
*All opinions in this post are my own.