Pumpkin Chai Spiced Waffles
Pumpkin chai spiced waffles. Fluffy waffles made with whole wheat flour, pumpkin puree and a generous amount of spice. Serve them with fruit, nut or seed butter or maple syrup for a delicious and filling breakfast that's perfect for fall or winter.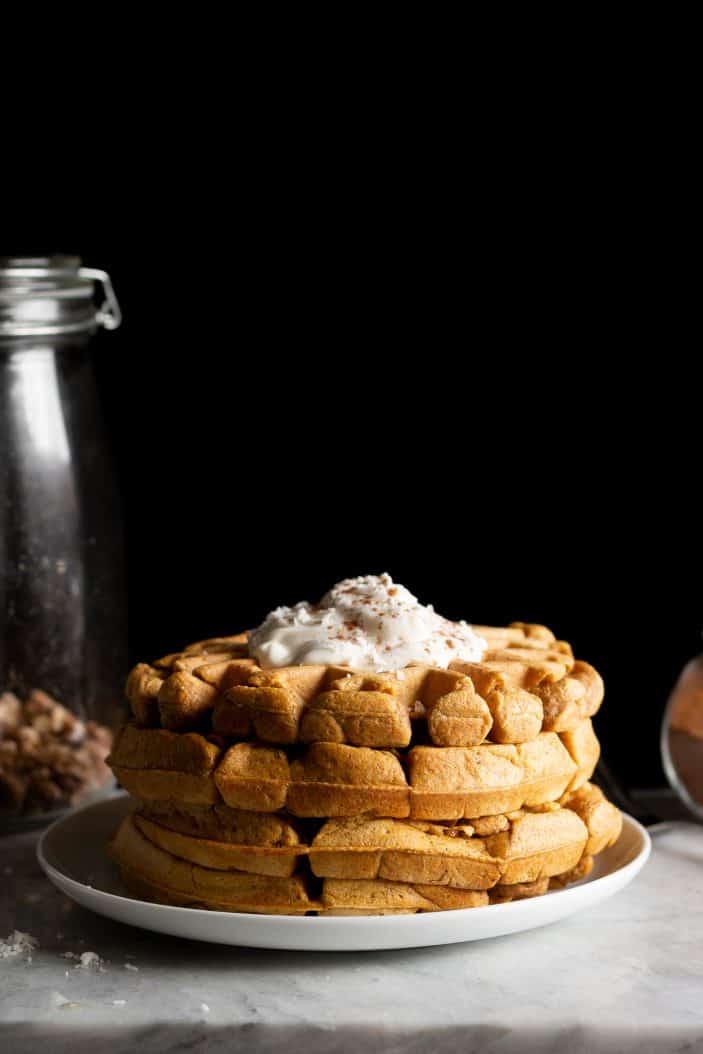 There are only 3 weeks left before 2020 and today, I'm sharing my last recipe of the year. Don't worry, I still have 2-3 posts per week planned for the rest of the year, but unfortunately, with being away from home for 3 months, I fell a little short on recipes for this last month. I'm excited to get back home though, feeling recharged and full of inspiration to create new recipes! 2020 is going to be full of good food.
From now until January, you can expect a "what we eat when travelling" post, including how we stay "healthy" while travelling. I also have a few more travel guides coming soon, a roundup of the top recipes of the year, one last coffee break post and *maybe* our wedding photos (!!).
Finally, I have something exciting coming for you guys after Christmas! Hint, you'll be able to get my products at their best price yet, PLUS I have something new(ish) coming out at the same time. I can't wait!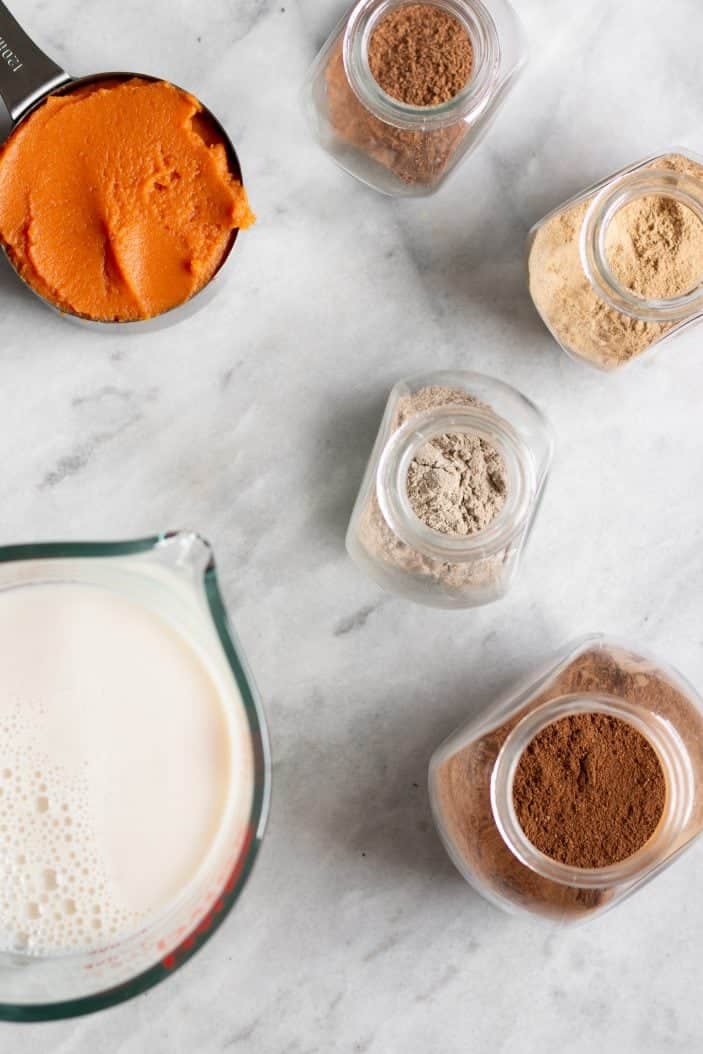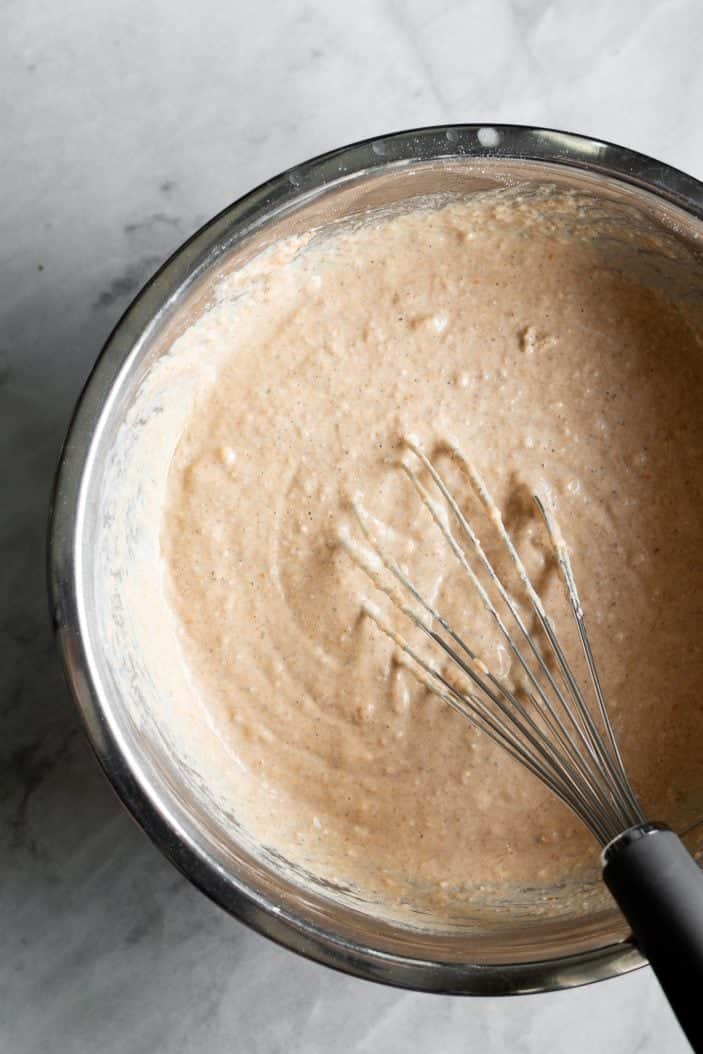 So today, I'm sharing my last new recipe of the year and it's a good one. Whole wheat pumpkin chai spiced waffles. Fluffy waffles perfectly spiced and lightly sweet. These are my favorite waffles this time of year an they're so easy! Just whisk all the wet ingredients together, then add in the dry ingredients. Cook them in a waffle maker and you're done.
These waffles actually don't have any added sugar. The pumpkin does add a light sweetness, but I love to top these waffles with a little something sweet.
My Suggested Toppings:
Sunflower seed butter, obviously.
Spiced chia applesauce. So amazing.
Pumpkin butter.
Butter. Simple is sometimes best.
Maple syrup.
Berries.
Cinnamon sugar. Of course this defeats the purpose of "no added sugar", but still.
Coconut whipped cream and a dusting of cinnamon.
A combination of any of these toppings.
I'm thinking these would be amazing for a Holiday brunch with a spread of toppings for your friends and family to choose from. I hope you'll love them as much as I do.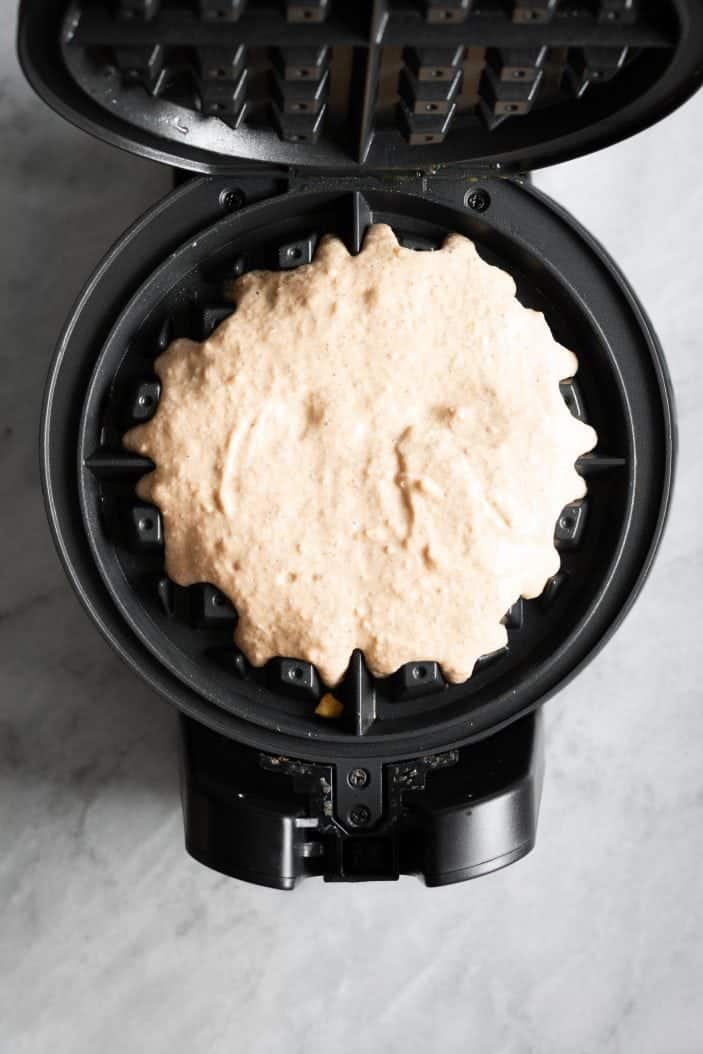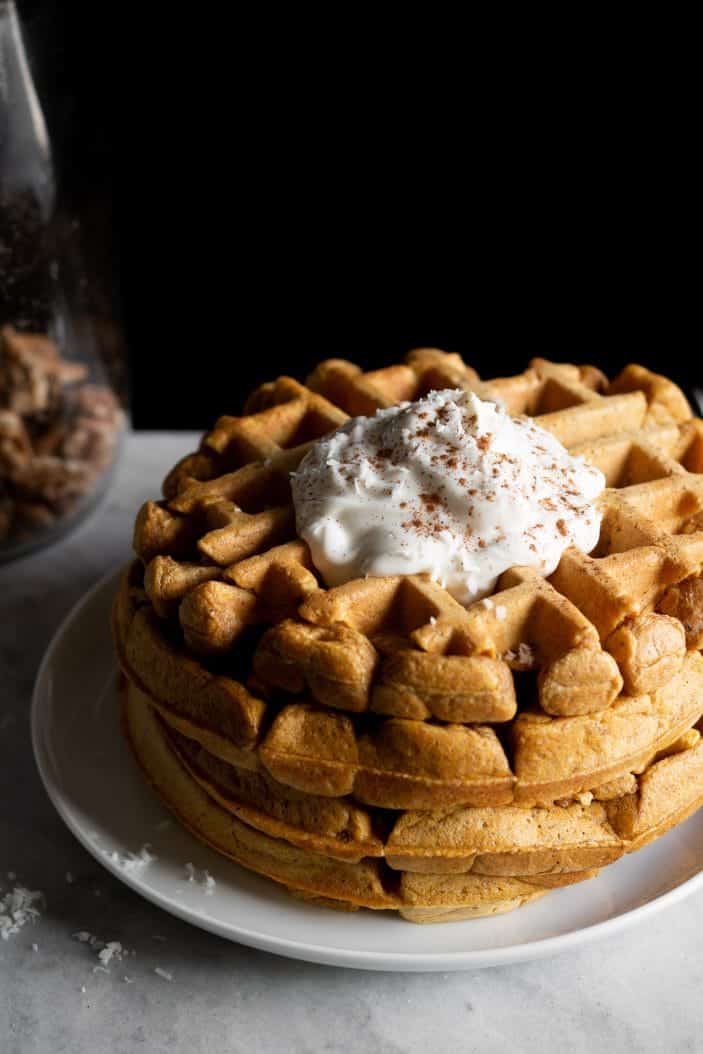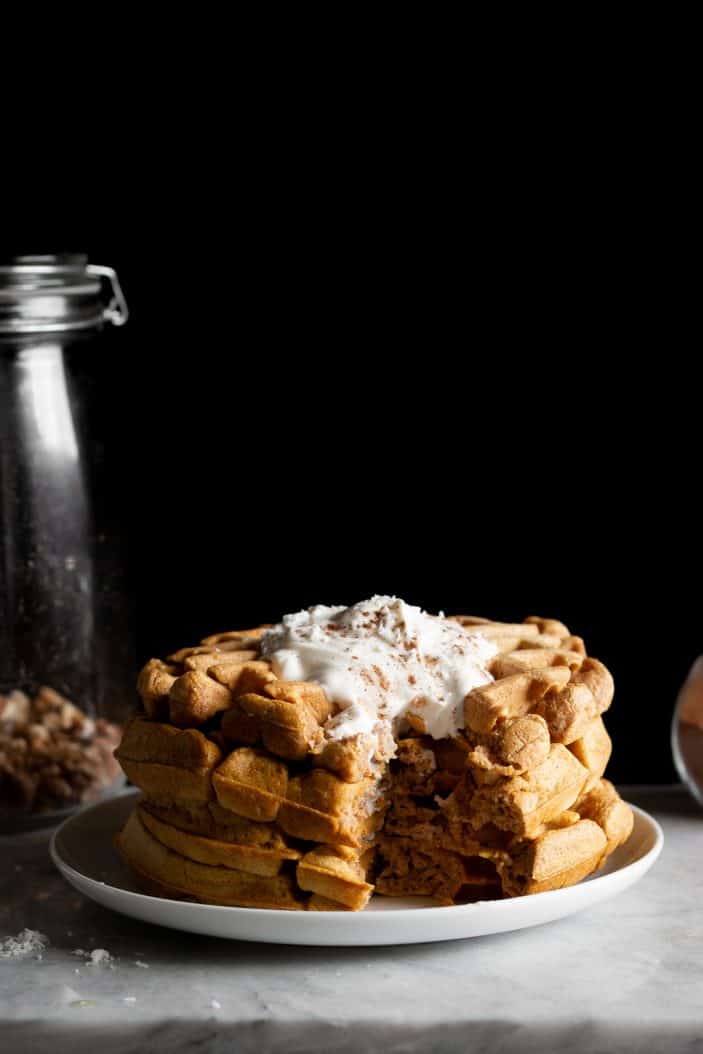 Pumpkin Chai Spiced Waffles
Fluffy pumpkin waffles with chai spices and made with whole wheat flour. These wholesome waffles make for a great holiday breakfast.
Ingredients
Dry Ingredients
2

cups

whole wheat bread flour

1 1/2

teaspoon

baking powder

1

teaspoon

cinnamon

1/2

teaspoon

ginger

1/4

teaspoon

nutmeg

1/4

teaspoon

cardamom

1/4

teaspoon

salt
Wet Ingredients
2

large

eggs

1/2

cup

pumpkin puree

1 1/2

cup

milk of choice

4

tablespoons

butter or margarine,

melted

1

teaspoon

vanilla
Instructions
Mix all the dry ingredients in one bowl.

In a separate bowl, mix the wet ingredients. Transfer to the dry ingredients and mix to combine.

Lightly grease a waffle iron with butter or margarine. Turn it on to your desired setting (I used dark).

Once hot, scoop about ¾ cup of the waffle batter and spread on the waffle maker. Close and let cook for 5-6 minutes or until cooked to your liking. This will make the crisp on the outside and soft on the inside.

Repeat with the remaining batter. Serve with coconut whipped cream, maple syrup, fruit and/or nut butter.
Notes
Suggested toppings: Sunflower seed butter, spiced chia applesauce, pumpkin butter, butter, maple syrup, berries, cinnamon sugar, coconut whipped cream and a dusting of cinnamon.
I used almond milk in this recipe, but other milks will work.
If you make these pumpkin chai spiced waffles, be sure to leave a comment and/or give this recipe a rating! I love to hear from you guys. And of course, if you try this recipe, don't forget to tag me on Instagram!