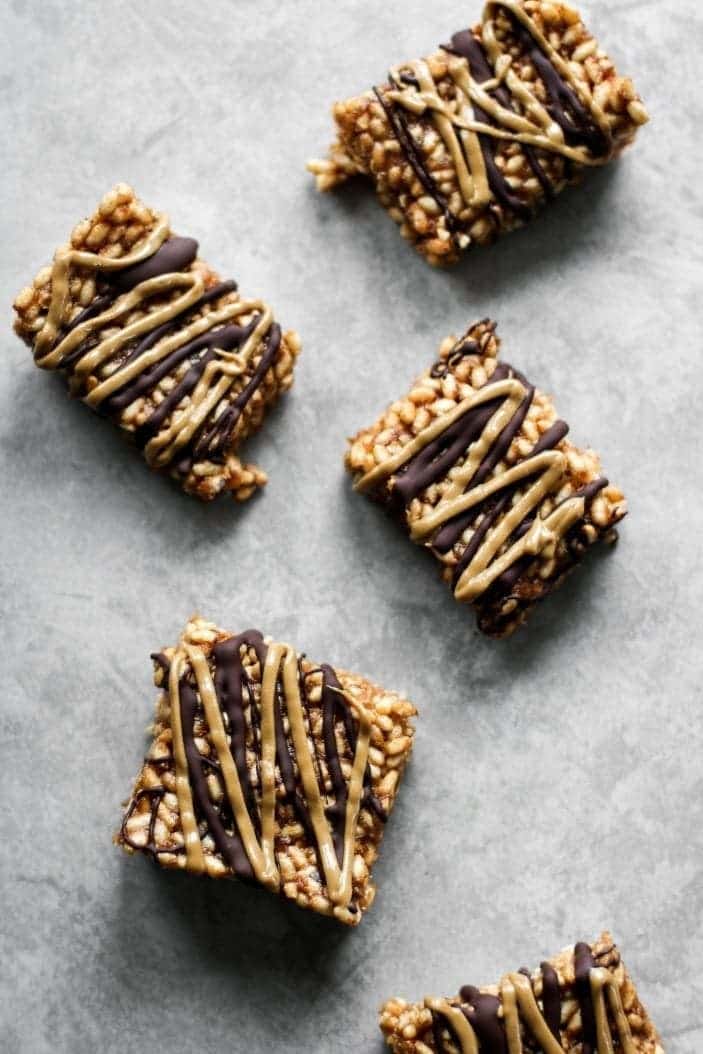 Nut-Free Caramel Rice Crispy Squares + SunButter Giveaway!
Today I'm sharing with you Nut-Free Caramel Rice Crispy Squares and something that helped me survive a year without peanut butter.
If you knew me last year, then you know that I'm obsessed with peanut butter. I used to eat it 1-2 times a day every day of the week and I'm talking about a layer so thick, you start wondering if you're having toast with your peanut butter. That had to change when I moved to Saint John for my dietetic internship. I moved in with my friend who's severely allergic to peanuts, which meant no peanut butter in the apartment. I needed to find a replacement. Of course, Catherine (my roommate) had found some great products over the years and had a few suggestions. After trying a few, I think it's safe to say that SunButter is my favorite. I think I actually learned to love it more than peanut butter. *gasp*
I use it in everything, from oatmeal to desserts, including these nut-free caramel rice crispy squares.
I meant to try a sugar-free rice crispy square since forever and I'm so pleased with how they turned out! These are as easy as the real thing, yet they're so much healthier. No marshmallow, no butter and all the crunch and sweetness. The trick here is dates. I know, I know. It's probably no surprise to you if you've been following the blog. I use dates in most of my desserts (can you blame me?!). In this recipe, they serve as a sweetener and a binding ingredient. The SunButter is meant to replace the peanut butter in the classic "peanut butter caramel rice Krispies squares". My version is not only healthier, but it's also school friendly! The school year might be almost over, but these treats would be great all year round (peanut allergy or not). Speaking of peanut allergy, we're graduating soon and in a few weeks, we'll be using peanut butter again. I'm not even sure I'll ever go back. Maybe I'll just alternate between the two. 🙂
Now, one lucky reader will win 3 containers of SunButter! One "organic", one "no sugar added" and one "original". All you need to do is enter the quick giveaway below.
Unsweetened Caroline's SunButter Giveaway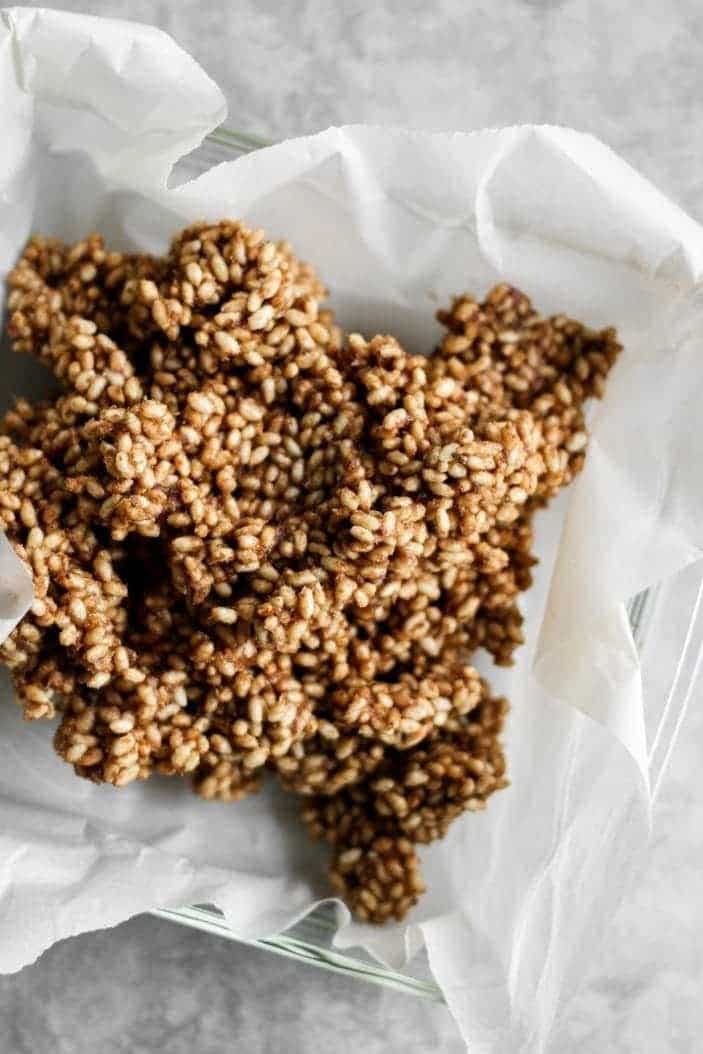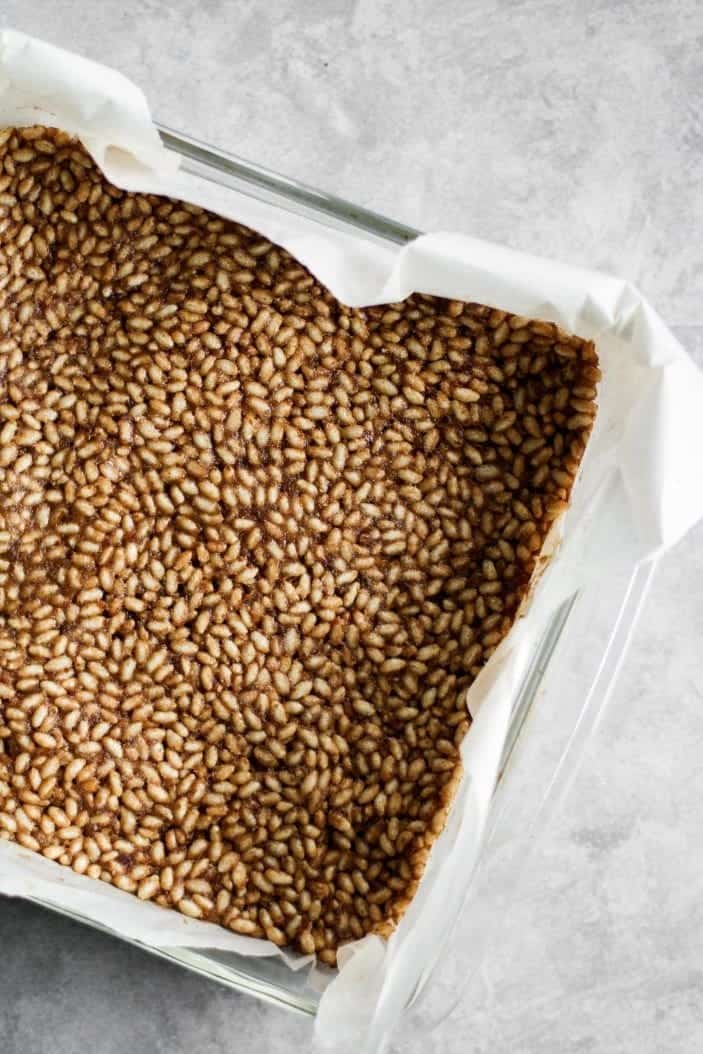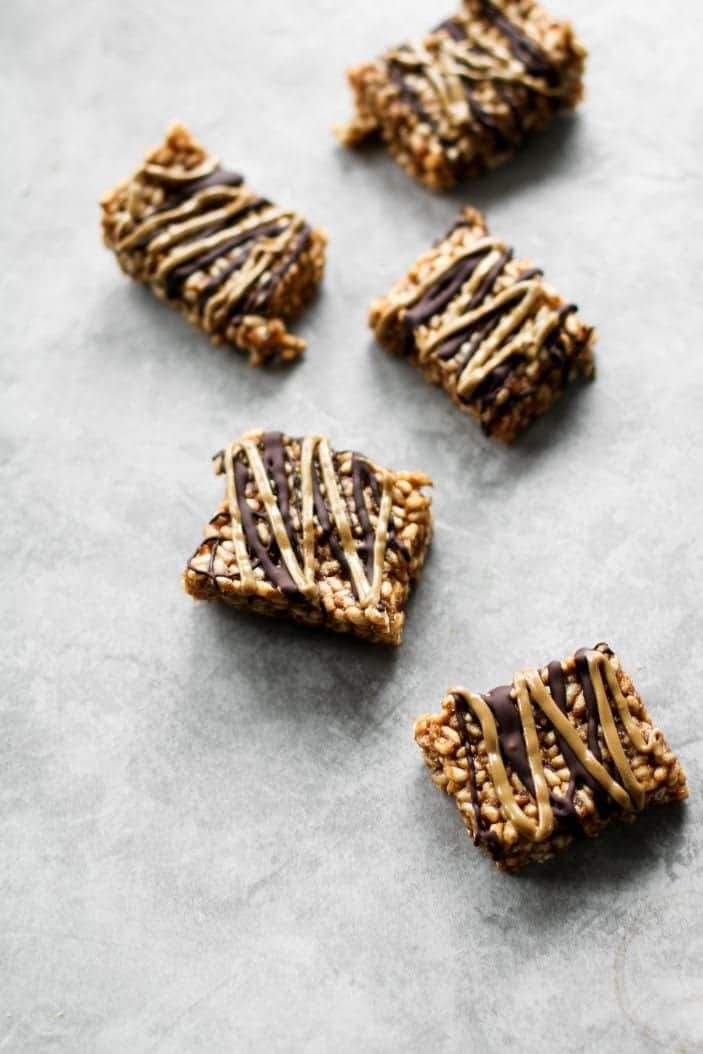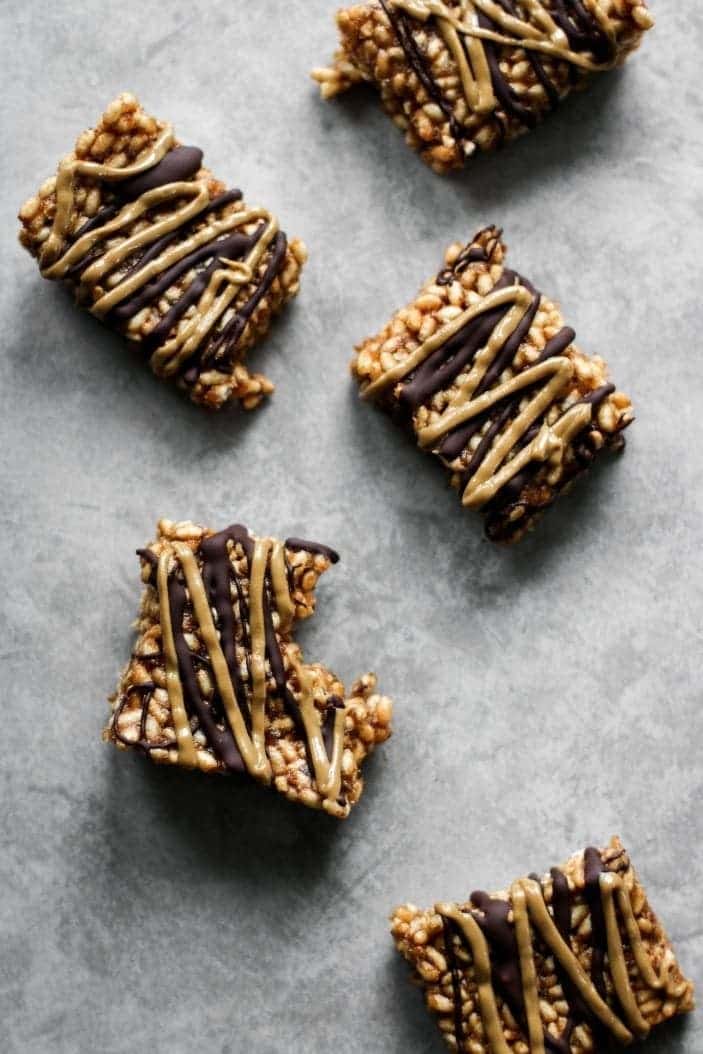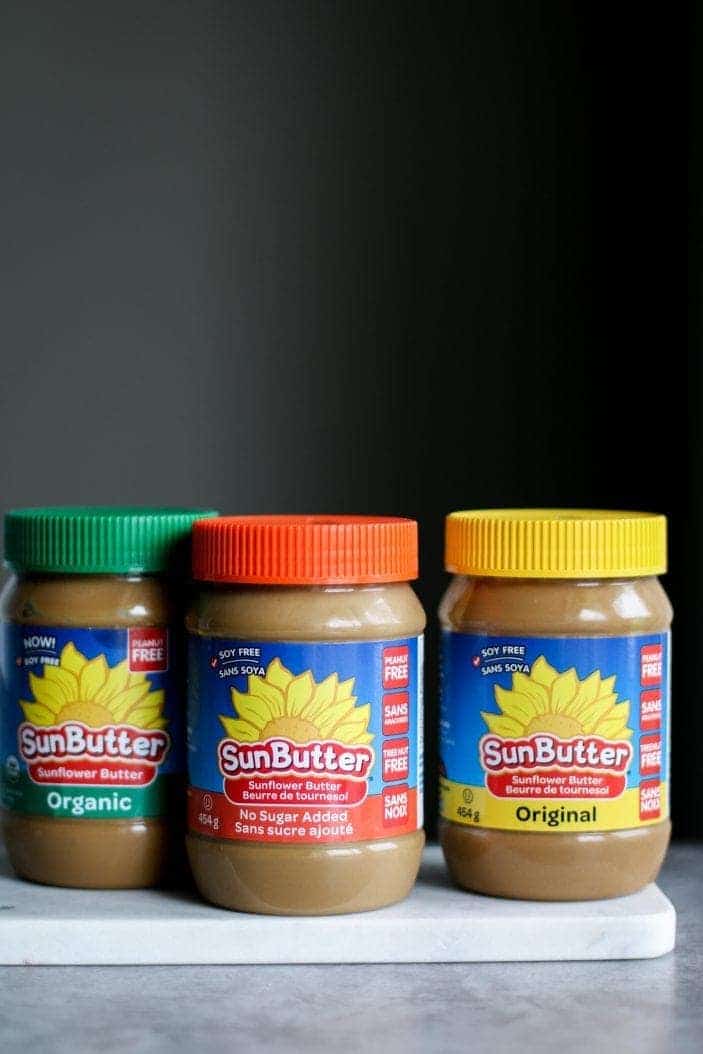 See below for the 5 ways you can enter this contest. You can enter one way or all 5 for a better chance to win! The winner will be chosen at random and the giveaway is opened to residents of Canada and the US only. Good luck!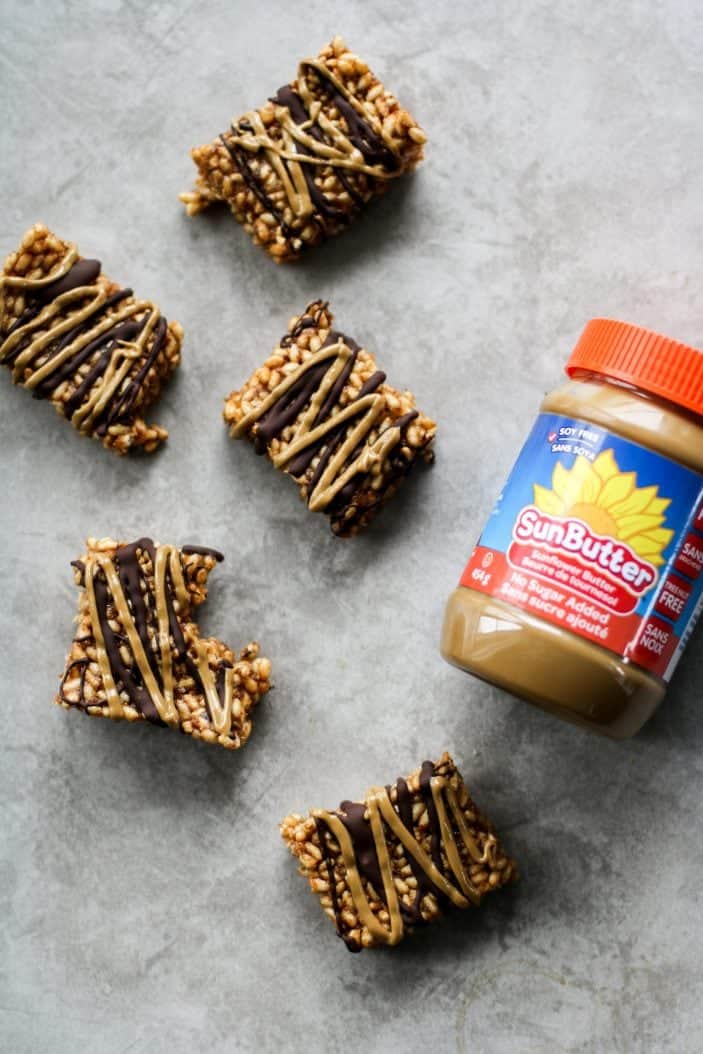 Nut-Free Caramel Rice Crispy Squares
A simple 5-ingredient treat that's perfect for school. These rice crispy squares are nut-free, gluten-free and refined sugar-free. Dates make them naturally sweet and sticky, while giving them a light caramel flavor. Drizzle them with SunButter and chocolate for a healthy and allergy-friendly treat.
Ingredients
1

cup

Medjool dates,

pitted

2

tablespoons

Sunbutter (sunflower seed butter) + 2 tablespoons for drizzling

1

teaspoon

vanilla extract

3

tablespoons

water

3

cups

rice puffs

1-2

tablespoons

unsweetened or dark chocolate for drizzling
Instructions
Line a 9x9 inch dish with parchment paper.

In a food processor, blend the dates with SunButter, water and vanilla until smooth.

Transfer the date mixture to a large bowl and mix with the rice puffs.

Press the mixture to the bottom of the prepared dish. Drizzle with melted chocolate.

In a small plastic Ziploc bag, place the 2 tablespoons of SunButter used for drizzling. Cut a very small whole in one of the corners of the bag. Use this as a piping bag to drizzle the SunButter more evenly. Alternatively, you can drizzle with a spoon.

Put the squares in the freezer for at least 30 minutes before cutting.

Cut into 12 squares.
Notes
I used Sunbutter with no added sugar, but feel free to use any variety (other than crunchy)!
Make sure to compact the mixture at the bottom of the dish very well to make sure it sticks together. The squares are a little sticky, similarly to regular homemade rice Krispies.
Keep in the fridge or freezer in an airtight container.
If you try this recipe, make sure to tag your photo #unsweetenedcaroline on Instagram, Facebook and Twitter! Don't forget to also tag me @unsweetened.caroline on Instagram so I can see your creations!
*This post is sponsored by SunButter. All opinions are my own.