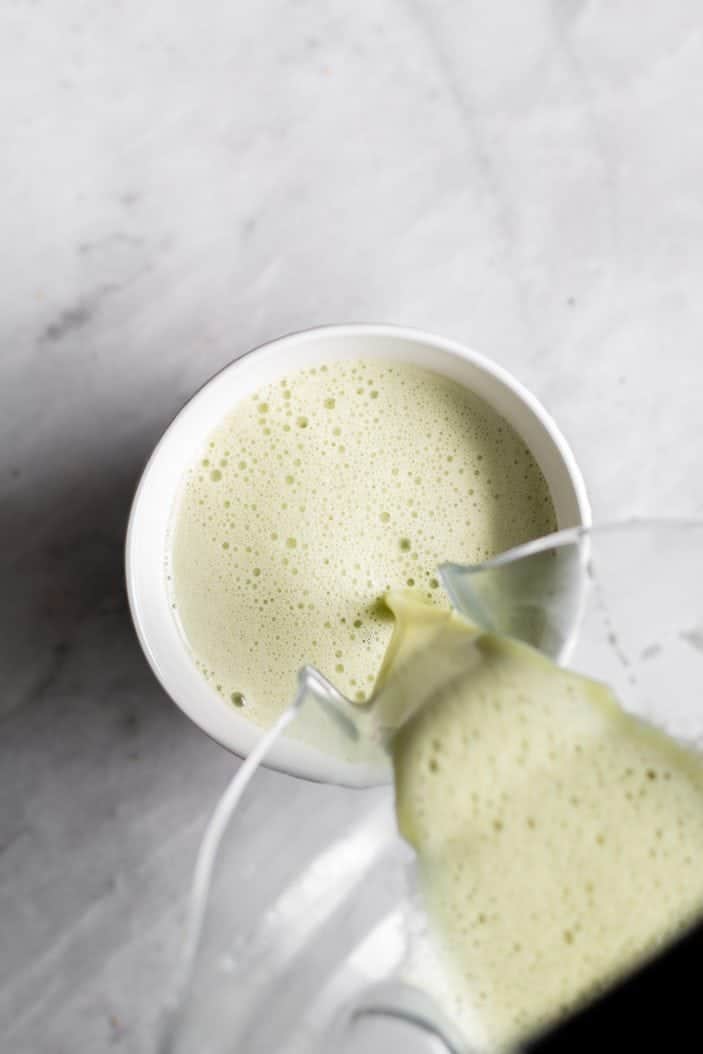 Welcome to my May coffee break! I have some exciting things to share today, so get yourself a cozy (or refreshing) drink and get comfortable! I'm still hooked on my coconut blender matcha, which I've been having daily. For a lighter drink, I've been using half a date instead of one and sometimes switching the coconut milk for almond milk. Give it a try, it's the best.
We have many exciting things coming up over the next months, starting with a visit from my best friend from New Brunswick this weekend. We're going to Vancouver to explore the city, then Shaun and I are returning two weekends after for a Harry Potter show. I can't wait!
In June, I'm travelling to New Brunswick to get some wedding stuff ready and to visit family for 3 weeks.
Otherwise, I'm keeping busy with recipe testing, eBook work and of course, wedding and honeymoon planning, which brings us to our first topic today…
Finally Sharing our Honeymoon Destinations!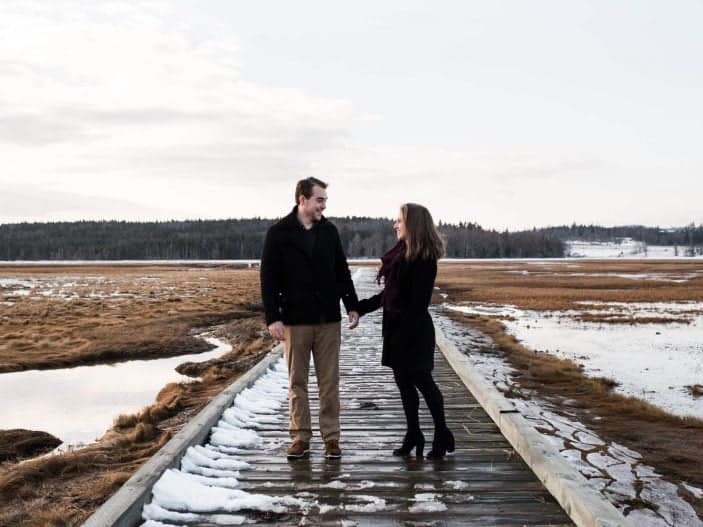 Our wedding is already coming up in September! We've been planning our honeymoon for a while now and our plans are finally all coming into place.
The details aren't all finished yet, but we booked our Airbnb's and at least know which cities we're visiting. Here's what our 3 month honeymoon will look like (if nothing changes from now until September!):
3 weeks in Lloret de Mar (Spain) – We're hoping for a relaxing first 3 weeks on the beach with maybe a few day trips to Barcelona and Girona.
2 nights in Marseilles (France) – We'll hopefully get to visit Avignon and Aix-en-Provence at that time too.
3 nights in Antibes (France) – We're planning on spending those days exploring Cannes, Nice and Monaco.
2 nights in La Spezia (Italy) – This will be our home base for Cinque Terre and Pisa.
3 nights in Florence (Italy) – We have a cute little place just outside the city, in nature. I'm hoping to visit the city, but also spend some time relaxing and visiting vineyards and places in the country side.
1 night in Venice (Italy) – We're spending 2 days in Venice, then taking a night train to Austria if all goes well.
3 nights in Vienna (Austria)
3 nights in Salzburg (Austria) – We'll visit Hallstatt then too.
3 nights in Munich (Germany) – We'll visit Neuschwanstein Castle too!
2 nights in Zurich (Switzerland)
3 nights in Bern (Switzerland) – With hopefully a day trip to Interlaken and Grindelwald.
1 night near Geneva/Lausanne (Switzerland)
5 nights in Paris (France)
1 month in London (UK) – We're hoping to do day trips from there and possibly a weekend away to Scotland. We'll call London our home for the month and work from there, while still exploring the city.
And that's our crazy 3 month honeymoon in Europe. I'm hoping to share pieces of our adventures as we go. In the meantime, if you have suggestions on things to do/see and places to eat around the cities we're visiting, let us know! And a special thank you to all of you who already shared your suggestions. You have no idea how helpful you've been!
Meal Plans
We have an end of spring deal on all of our meal plans! All you need to do is use the code "spring19" to get 25% off! It applies to any of the meal plans (vegetarian, vegan or omnivore), as well as the bundles! Hurry, the deal will only be available for the next 2 weeks.
If you're looking to incorporate more plant-based meals to your diet, this is a great place to start. It includes many nutrition and cooking tips, as well 2 weeks worth of recipes!
Healthy Snack Ideas
I shared my first nutrition post on Nourished by Caroline in case you missed it! You can read it here for 25 healthy snack ideas containing a balance of carbs and protein.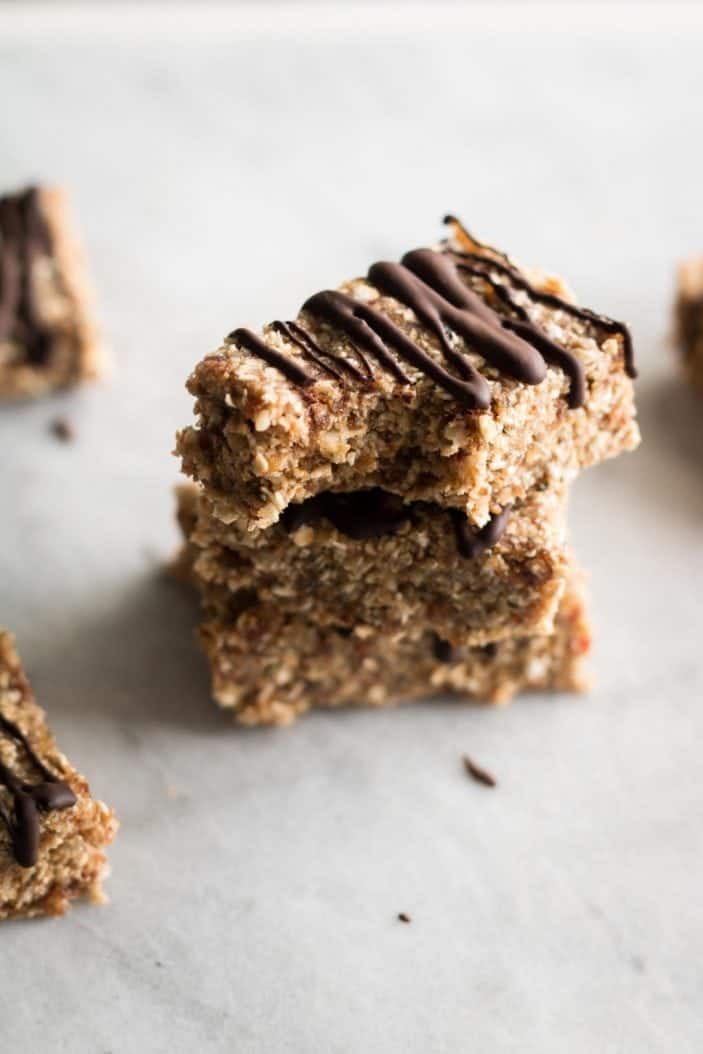 Food for Thought
I loved this article on why counting calories is a mistake (I never suggest counting calories to my clients for many reasons).
I'm not one to listen to many podcasts, but I'm loving the ones from Deliciously Ella! If you're looking for good health related podcasts, check them out (I listen to them on Spotify). I loved the one on changing habits.
Recipes to Try
Hearty herbed chickpea pancakes with zesty lemon tahini and roasted spring vegetables
What I Read this Month
Since I started biking to work in April, I've been listening to audio books almost daily. I'm almost done with the entire Narnia series now (I'm so late reading these, but better late than never). I listened to All we Ever Wanted by Emily Griffin (good, but a little slow) and read The Giver by Lois Lowry (my favorite). I'm also in the middle of reading Glass Houses by Louise Penny. Up next will be Surprise Me by Sophie Kinsella. I prefer light audio books when riding my bike as I'm too distracted for something heavy.
New Videos
Favorite May Recipes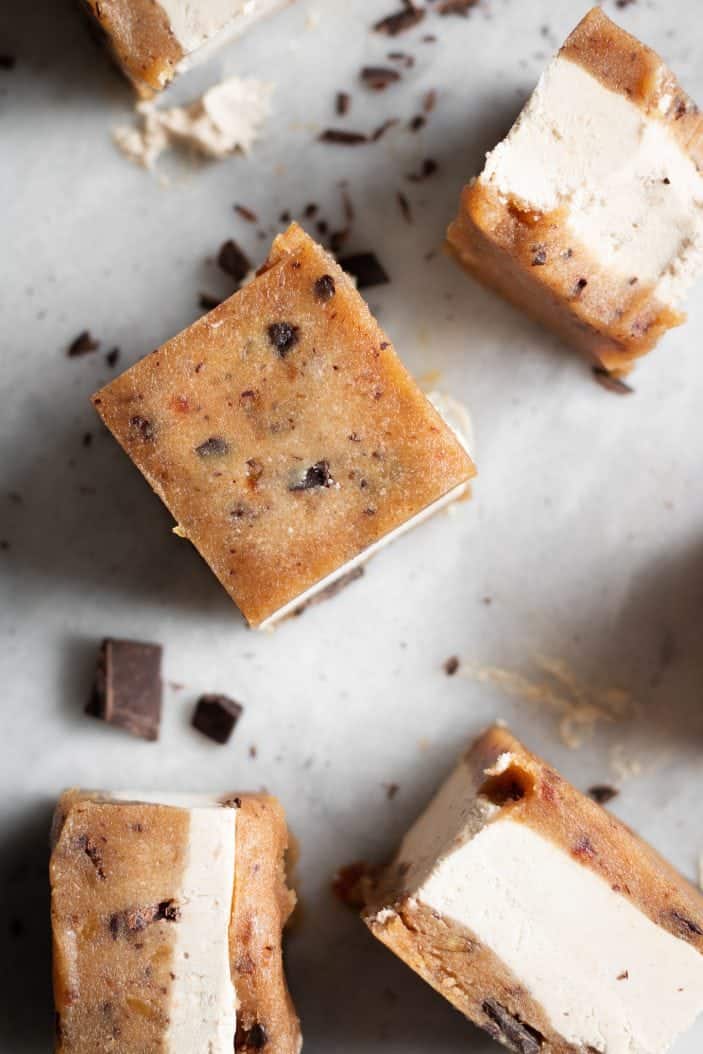 Chocolate Chip Cookie Dough Ice Cream Sandwiches