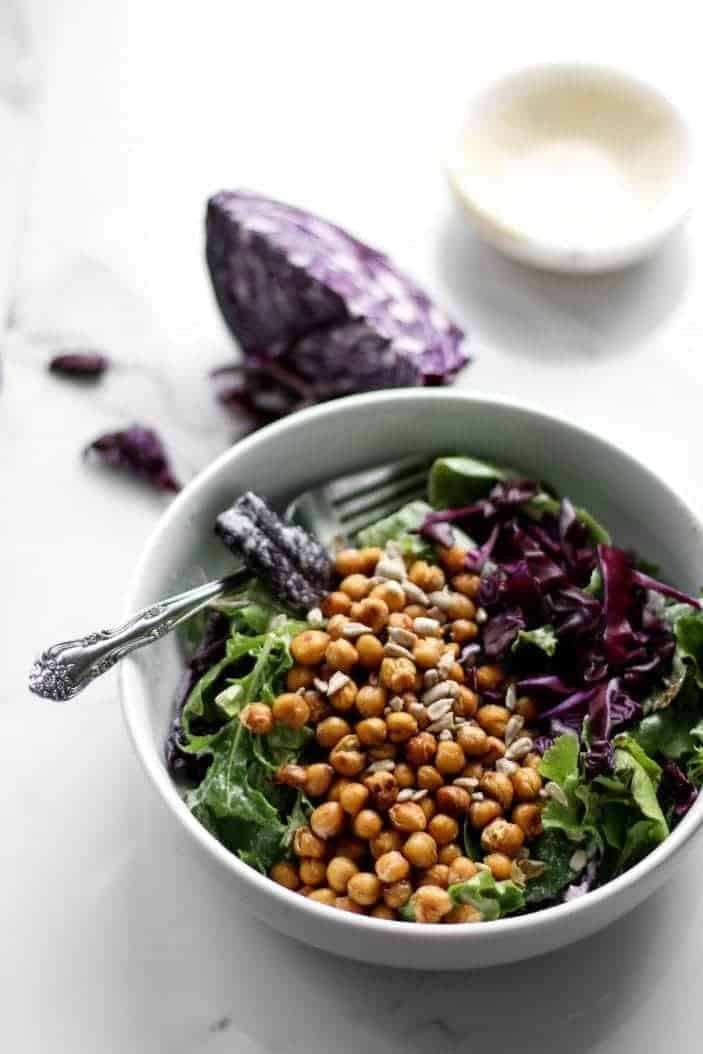 Everyday Salad with Tahini Dressing & Chickpea Croutons
Meet my go-to salad.
I've been eating this salad almost weekly for over a year now and I never get tired of it. What does that tell you? I just love crispy chickpeas and tahini with greens. I can't get enough of it! What I love most about this salad is that you can change it up with whichever vegetables you have on hand.
Here are some of my favorites:
Kale
Arugula
Spring mix
Romaine lettuce
Spinach
For added crunch, I like to use:
Cabbage
Shredded carrots
Chickpea croutons
Sunflower seeds or pepita seeds
You probably have some of these ingredients on hand already? I know I always have one leafy green in my fridge, a few cans of chickpeas in the pantry and mason jars full of nuts and seeds. And I almost always have carrots and cabbage on hand since they last a long time in the fridge. If my fridge is almost empty, I can guarantee you that I still have a bag on carrots in there, even if it's the only vegetable I have left. So if you don't feel like doing the groceries just to make a recipe, you might just be able to throw a version of this salad together. That's the beauty of it. You can adjust it according to what you have!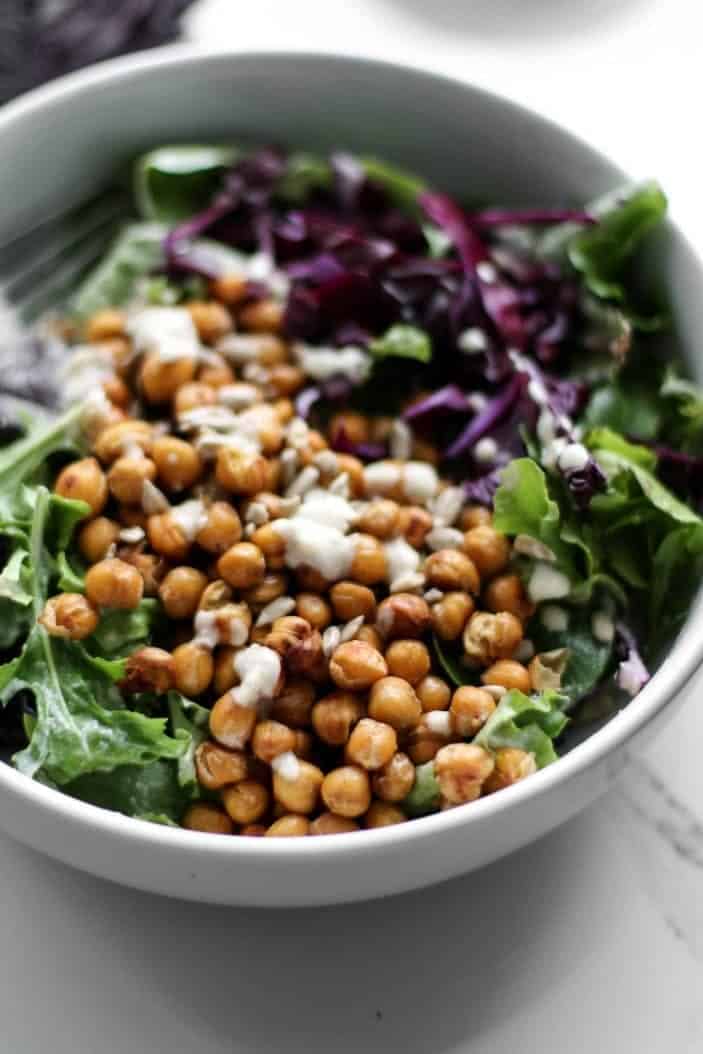 So what kind of healthy recipes are you looking for as a good way to start the year? I think January will be all about soups, stews, salads, smoothies and oatmeal for me! I truly believe that a healthy lifestyle shouldn't be boring. I want to enjoy every meal I eat and I NEVER force myself to eat something just because it's healthy. All of my recipes are meals that I really enjoy. That makes having a healthy lifestyle easy and sustainable! It's not about going to the extreme in January just to give up in February. So yes, I'll be sharing healthy recipes all month long, but in reality, that's the way I eat all year (with little treats here and there of course). Forget the "all or nothing" mindset and just enjoy healthy, satisfying and comforting recipes all year round. That's the way I see it. I do believe however, that starting a new year and regularly setting goals can be a great source of motivation!
On that note, do you have any goals this year? I shared mine in my last post if you're curious. I also like to make monthly goals and I thought I'd share them with you. For January, my little goals are the following:
No salty snacks (chips and popcorn) – I did this last year and I think it's a great way to start the year after treating myself during the last few weeks. I don't eat salty snacks too often, but I still like to limit them, especially since they can become as addicting as sugar.
No alcohol – Okay, I really don't drink a lot, maybe two glasses of wine once or twice a month, but after the holidays, I feel like it wouldn't be a bad idea to skip alcohol for a month. It shouldn't be difficult at all!
Moisturize every night and make it a habit – Sadly, I always forget (or feel too lazy) to use moisturizing cream on my face and my hands before going to bed. As a result, my skin is often dry, especially during winter!
My goals may seem a little extreme, but to me, they just reinforce things I already do most of the time. If you look at my 12 health goals for the year, I think the only ones I'll have a hard time following are to complain less and to stay off my phone 30 minutes before bed. Skipping alcohol and chips for a month will be a piece of cake! I just love challenging myself a little sometimes, it keeps me motivated. 😀
Now, I'll leave you with my first recipe of the year! I hope you enjoy this salad as much as I do.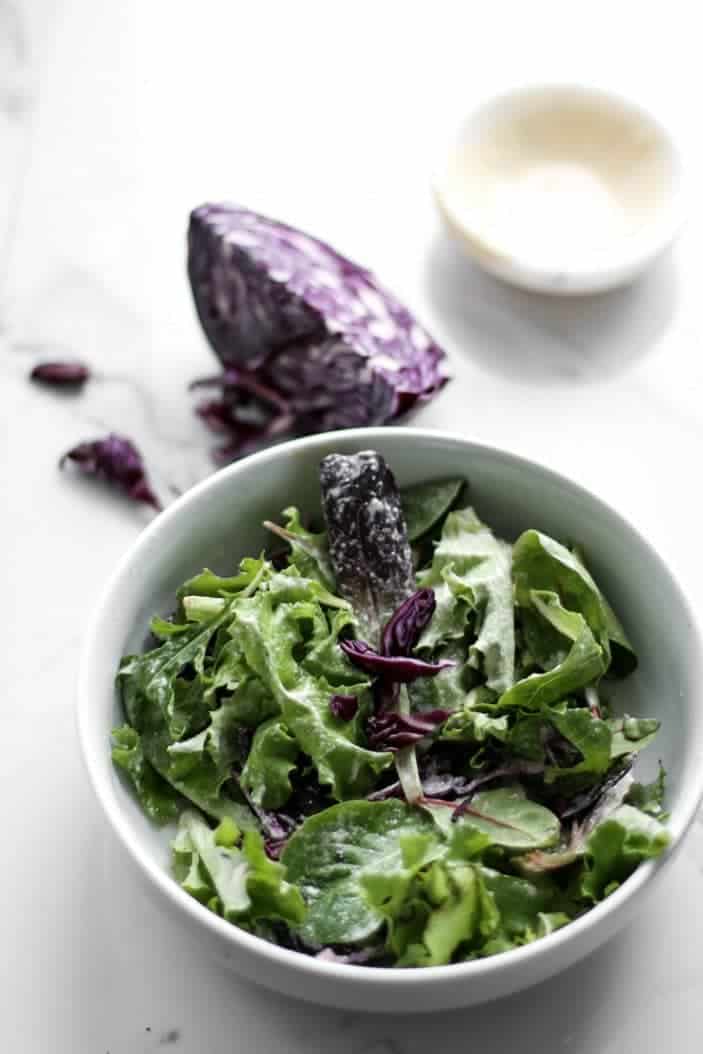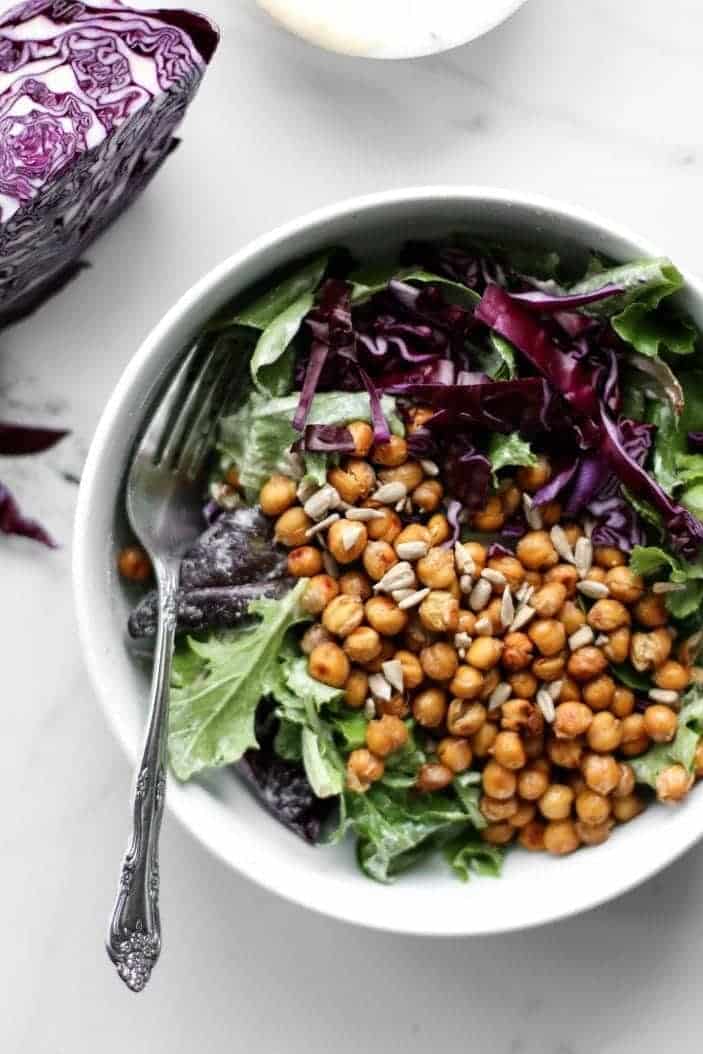 Everyday Salad with Tahini Dressing & Chickpea Croutons
A simple salad for quick everyday meals. It takes only 15 minutes of preparation and it can be adjusted to whichever vegetables you have on hand. The creamy tahini dressing and chickpea croutons make this salad delicious and satisfying. Salad doesn't have to be boring!
Ingredients
6

cups

greens

(shredded kale, arugula, spinach or other)

1

cup

cabbage

(purple or green)
Roasted Chickpeas
1

can

chickpeas

1

teaspoon

olive oil

1/8

teaspoon

fine grain sea salt

1/4

teaspoon

garlic powder

(optional)
Dressing
2

tablespoons

tahini

1

tablespoon

apple cider vinegar

1

large

garlic clove,

grated

1/4

cup

water
Optional Toppings
Sunflower, pepita or hemp seeds

Shredded carrots

Parmesan
Instructions
Preheat oven to 400F.

Rinse and drain your chickpeas. Place them on a baking sheet and drizzle with olive oil, salt and garlic powder. Roast for 35 minutes or until golden and crispy.

Make the dressing: In a small bowl, whisk together the tahini and apple cider vinegar to form a thick paste. Add the grated garlic, salt and water and whisk until smooth.

For the salad: Add the greens and cabbage in a large bowl. Drizzle with your dressing, then top with chickpea croutons and other desired toppings.
Notes
This salad makes 2 large portions or 4-6 side salads.
Feel free to switch up the vegetables!
I use this dressing on everything, from salads, to avocado toasts to veggie burgers.
If you try this recipe, make sure to tag your photo #unsweetenedcaroline on Instagram, Facebook and Twitter! Don't forget to also tag me @unsweetened.caroline on Instagram so I can see your creations!