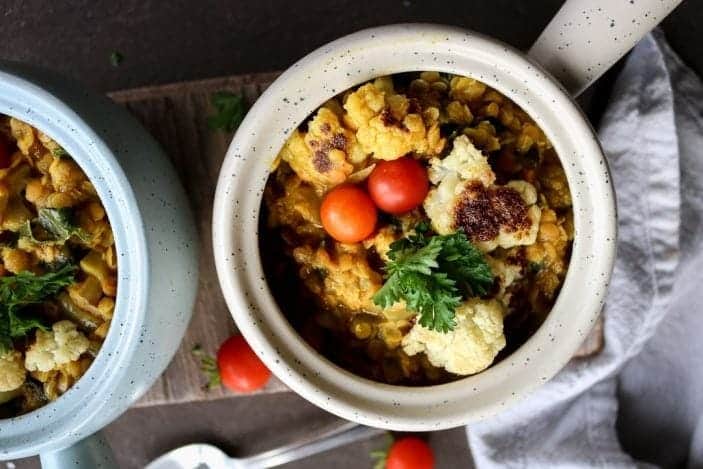 Golden Roasted Cauliflower Dahl
I have more comfort food for you guys! And it's the perfect recipe to make on a rainy weekend like this one.
I actually have the apartment to myself this weekend, something that doesn't happen often when you have two roommates! Since it's raining all weekend, I'm planning to do some recipe testing and a few projects for my internship, but other than that, I'm relaxing!
I really have to catch up on my sleep. These morning shifts are killing me lately! I'm a morning person and I love morning shifts, but lately I'm not used to getting up so early. This week I've been going to sleep at about 11:00 every night (which is late for me) and waking up before 6:00. Then I had a day were I had to wake up at 4:30. I notice when I'm missing sleep that I'm always hungry (my body must be craving food and coffee for energy), my IBS starts acting up and I can't motivate myself to workout. Oh and I get impatient, but that's nothing new.
So yes, I'm looking forward to a relaxing weekend. 🙂 And making all the comfort food!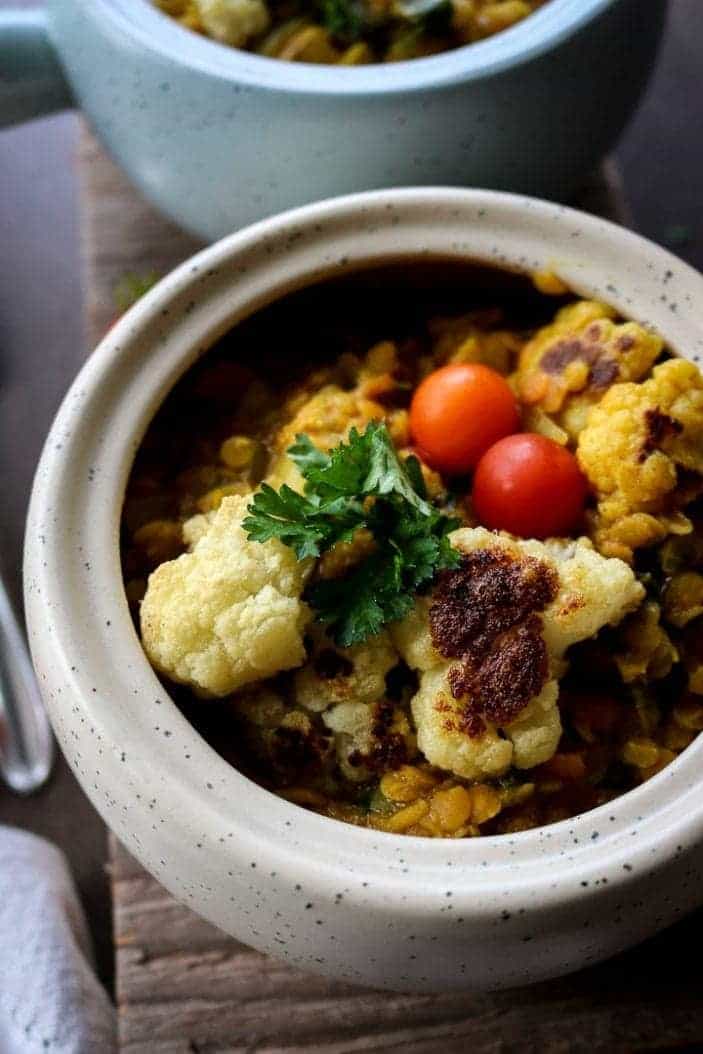 So I've been working on this recipe for quite a while now. I actually made it for the first time last summer and I made it a few times since then, in hopes of perfecting it. I'm happy to say that I'm now satisfied with the results, which is why I'm sharing the recipe with you guys today!
This is once again, the ultimate comfort food. It had to be, since that's what fall is all about, right?! It's warm, full of flavor and served on a pile of carbs rice. Yup, in my world, carbs is the definition of comfort food.
This recipe is also quite easy. It seems complicated, but everything can cook at the same time. Trust me.
You can prepare your rice and then forget about it while it cooks for 45 minutes. Meanwhile, you roast your cauliflower for 30 minutes and while it's roasting, you can make the rest of the dahl. First, you cook your onions, garlic and ginger in a large skillet, then add your spices, tomatoes and kale. Finally, you add your vegetable broth and lentils and let it all simmer for 15 minutes before mixing in the coconut milk and roasted cauliflower. You serve it on top of your rice or with a side of naan bread if you prefer. That doesn't sound too bad, right? It's all done in less than an hour!
This is what a rainy weekend needs.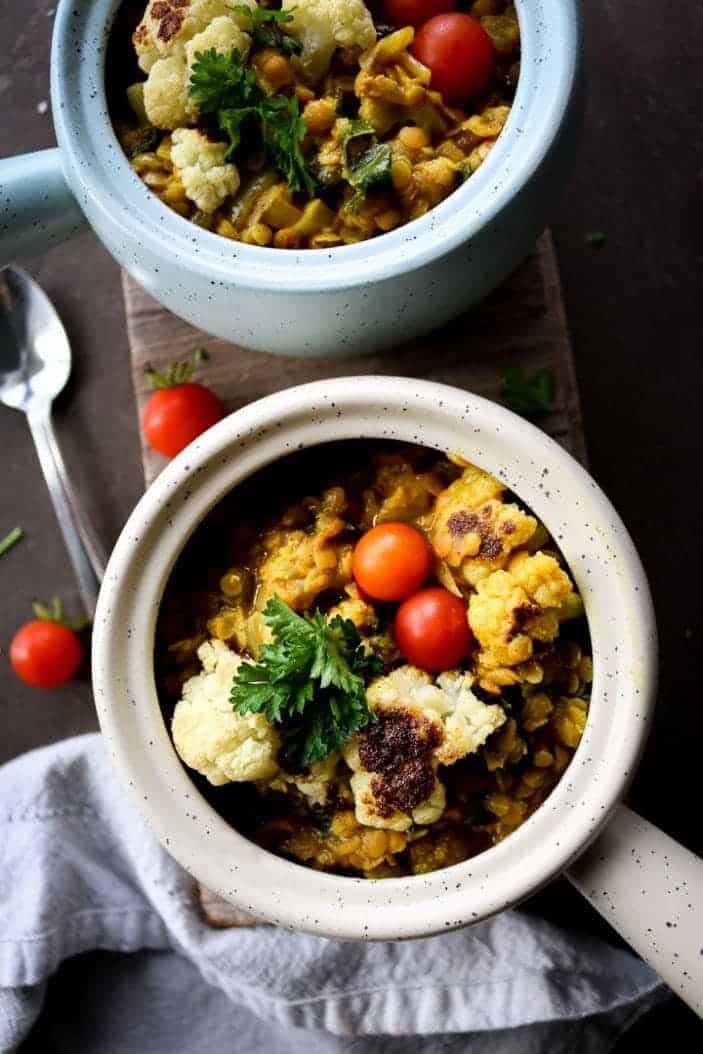 Golden Roasted Cauliflower Dahl
This thick, flavorful dahl is the perfect recipe to enjoy on a cold rainy day. Or any day really. Although it's delicious on its own, I suggest you serve it on top of rice or with a side of fresh naan bread. If you want to get a little crazy, serve it with both and you've got yourself the ultimate comfort food!
Ingredients
3

cups

cauliflower,

cut into bite sized florets

1

tablespoon

olive oil

1

tablespoon

coconut oil

(or additional olive oil)

1

cup

yellow onion,

diced

2

large

garlic cloves,

minced

1

tablespoon

fresh ginger,

peeled and grated

2

cups

kale leaves,

chopped

1

cup

diced tomatoes

1

teaspoon

fine grain sea salt

1

tablespoon

curry powder

1

teaspoon

cumin,

ground

1

teaspoon

turmeric,

ground

1/2

teaspoon

Garam Masala

2

cups

vegetable broth,

no salt added

1

cup

dried red lentils

1/2

cup

low-fat canned coconut milk
For Serving
1/4

cup

cilantro,

chopped

1

cup

long grain brown rice + 2 cups water

Naan bread
Instructions
Preheat oven to 400F.

Start by preparing your rice: Add your rice in a medium pot with 2 cups of water and a pinch of salt. Bring to a boil uncovered, then reduce heat and let it simmer, covered for 40 minutes. When the rice is done cooking, take it off heat and let it sit for 10 minutes, covered. You can make your dahl while the rice is cooking.

Place your cauliflower florets on a baking sheet and drizzle with olive oil. Roast for 25-30 minutes.

Meanwhile, heat a large skillet over medium heat. Add your onions, garlic and ginger and cook for 5 minutes until the onions are translucent.

Add your diced tomatoes, kale, curry powder, cumin, turmeric, Garam Masala and salt. Cook for 1-2 minutes.

Add your vegetable broth and red lentils. Bring to a boil, then reduce to low-medium heat and let simmer for 15 minutes.

Stir in your coconut milk and roasted cauliflower. Cook another 2-3 minutes.

Serve on top of your rice with a sprinkle of cilantro and a piece of naan bread if desired.
Notes
This dahl is very thick. If you prefer, add a bit more vegetable broth or coconut milk while cooking.
If you want some extra flavor, try adding a squeeze of lime to your rice or use broth instead of water. Then sprinkle some fresh cilantro and a pinch of salt.
I used fresh tomatoes, but feel free to use canned diced tomatoes if they're not in season.
If you try this recipe, make sure to tag your photo #unsweetenedcaroline on Instagram, Facebook and Twitter! Don't forget to also tag me @unsweetened.caroline on Instagram so I can see your creations!