Whole Wheat Broccoli Cheddar Pizza
Whole wheat broccoli cheddar pizza. Made with a thin whole wheat crust and topped with a generous amount of broccoli. This recipe can also be made vegan!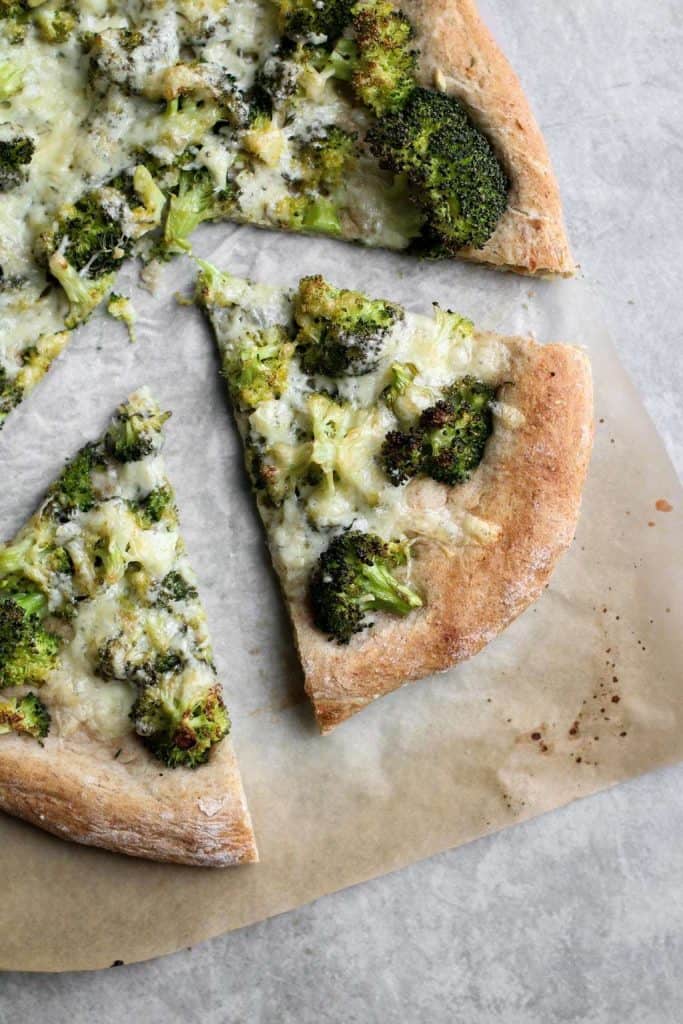 Whole wheat broccoli cheddar pizza. Yes, I said broccoli. On a pizza.
I had a few comments about it. Apparently some find broccoli on a pizza a bit weird? Honestly, I never thought for a second that this wasn't a good idea. To me, you can't beat greens on a pizza. I'm also obsessed with roasted broccoli, so why not combine both? Trust me, once you try it, you won't find it weird at all. It's the most delicious combination, especially when paired with cheddar, garlic and thyme. Green pizza lovers, you know what I mean! Many of you said you were excited for the recipe, so I'm guessing I'm not the only one who thinks this is a good idea?
Also, in my defense, some of my favorite pizzas do include broccoli. This one for example. So for those questioning my judgement, I'm not the only one!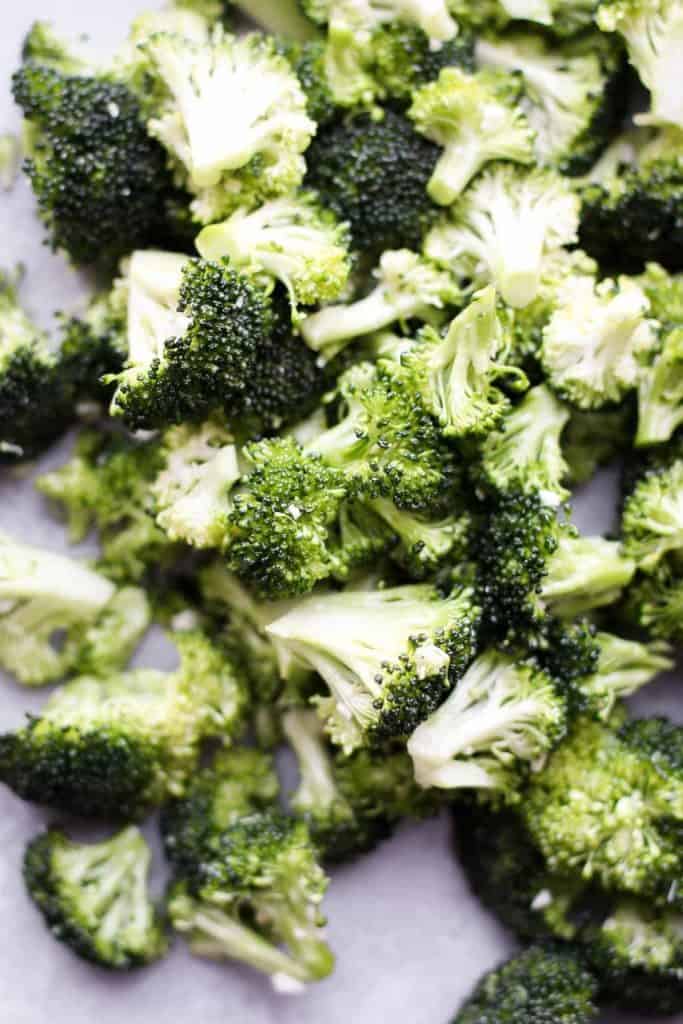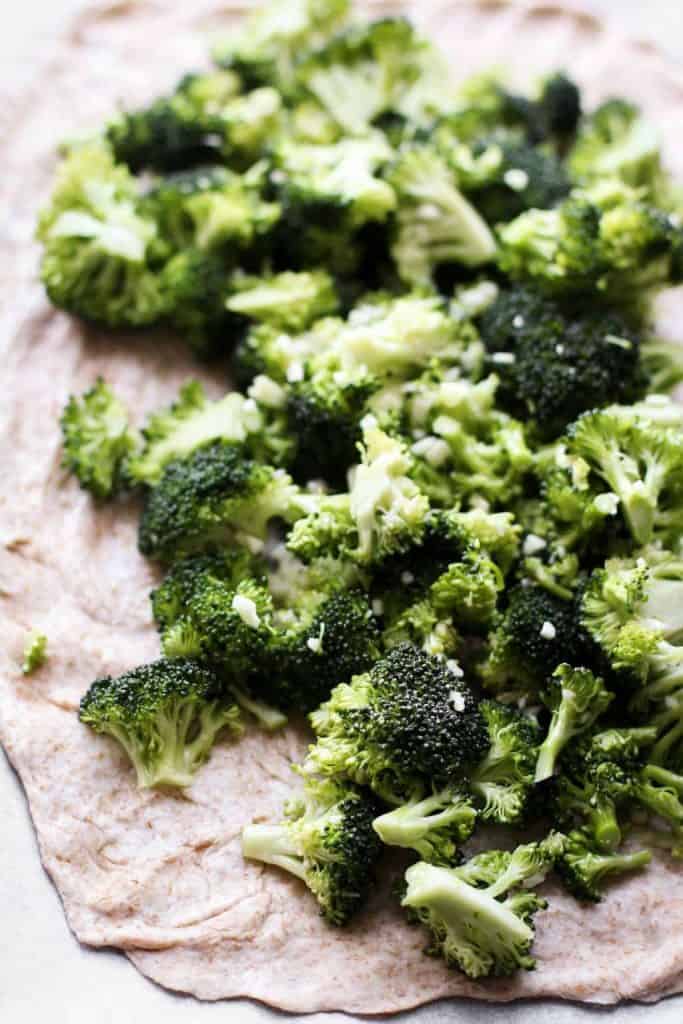 Plus, I'm all about sneaking in as many greens into my day as I can. I've been feeling the beginning of a cold for the last 3 days.
Thankfully, this cold hasn't developed into an actual, unbearable cold (yet). I think it's partly due to the fact that I've been going crazy on the vegetables, drinking lots of fluids, going to bed early and drinking my warm turmeric ginger milk daily. I also made this delicious spicy peanut soup the other day and it was just what I needed. Comfort food that's filled with vegetables.
Just like this pizza. If you're looking for a healthy, yet comforting Friday night dinner, this pizza is just what you need. To me, pizza really isn't good unless it's filled with greens… and cheese. This one is also made extra healthy with a whole wheat crust. I'm all about the added fiber! If you want something a little quicker, you could always go for a store-bought crust, but there's nothing better than homemade if you've got the time. The extra 10 minutes of prep time are so worth it!
Basically, you've got a high-fiber, vegetable packed pizza that also feels like comfort food. Or at least it does for this veggie-loving dietitian. Maybe I'm biased. Maybe not. Try it for yourself and let me know what you think! If you're still hesitant, keep in mind that you can always load it with cheddar. Everything is better with cheese. 🙂
And of course, you can make it vegan with vegan cheddar!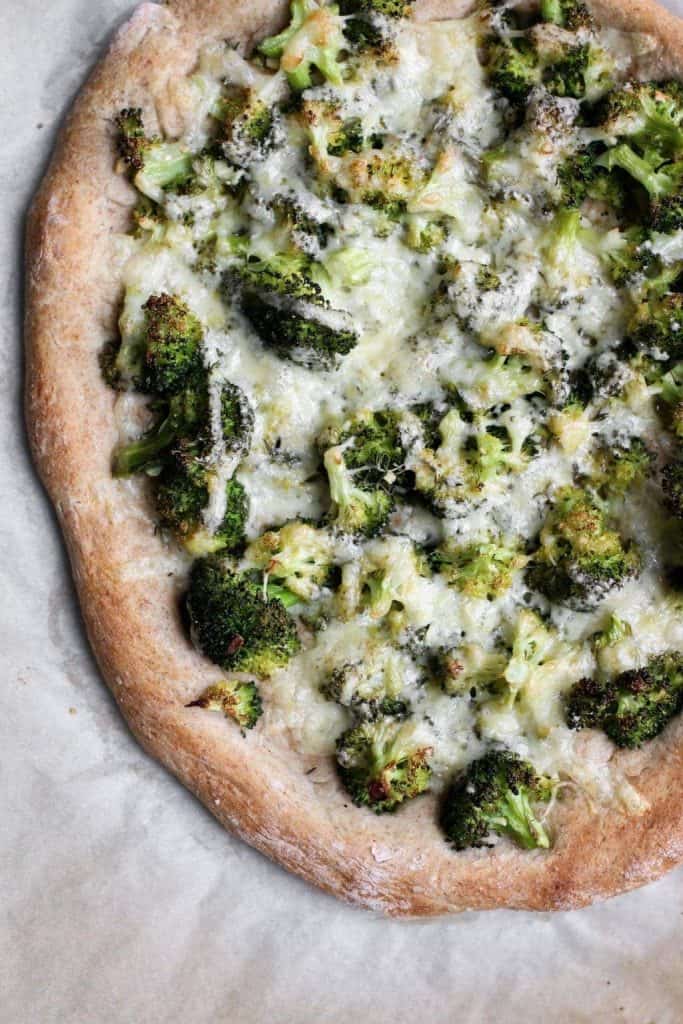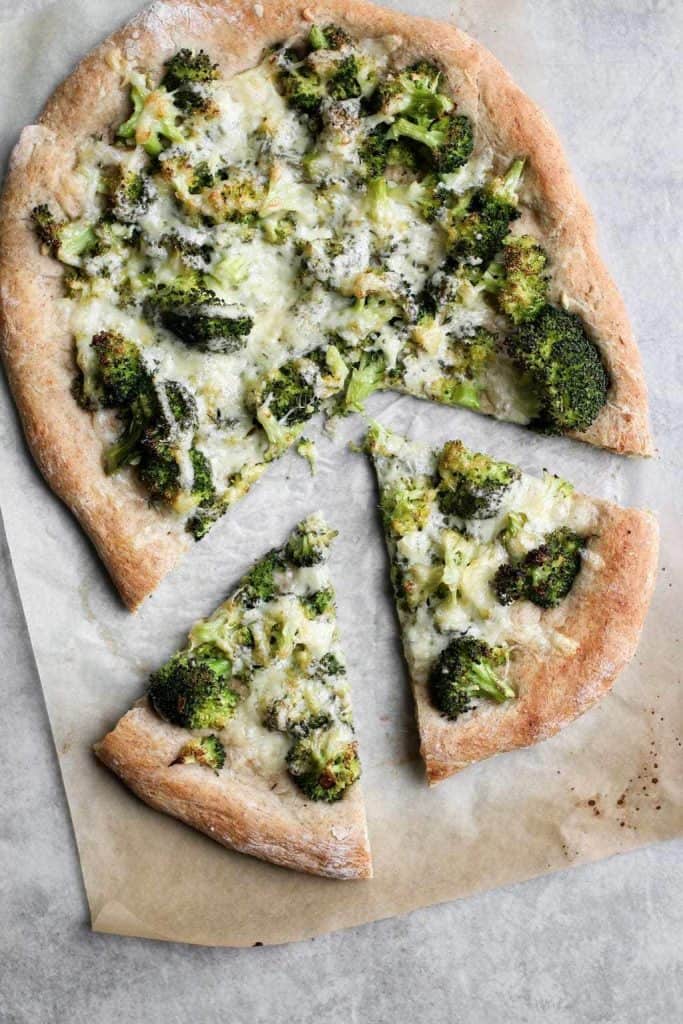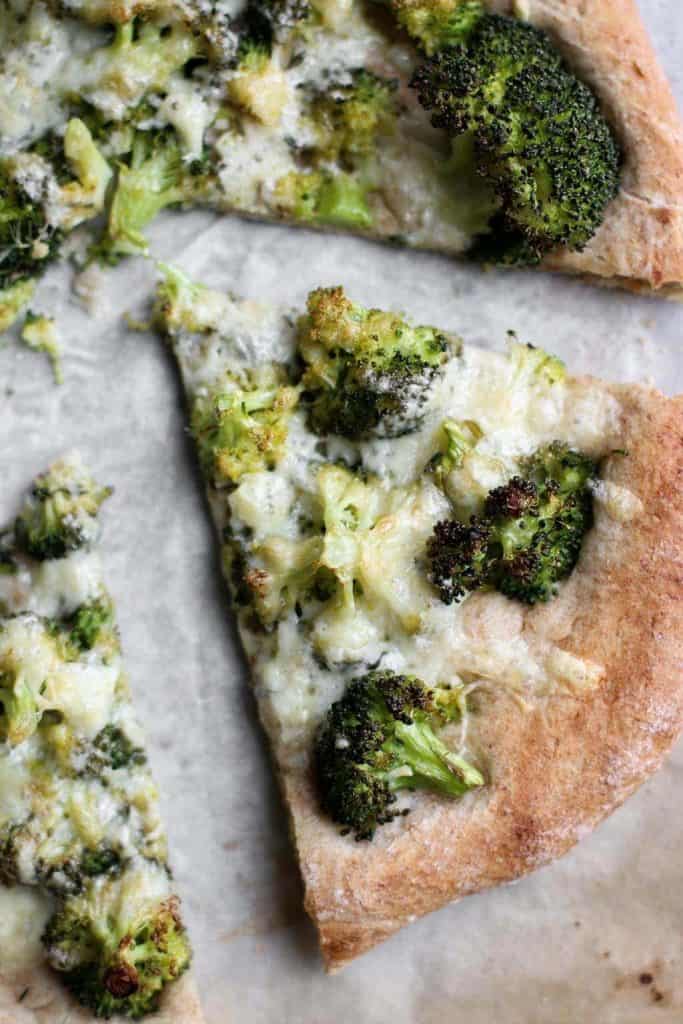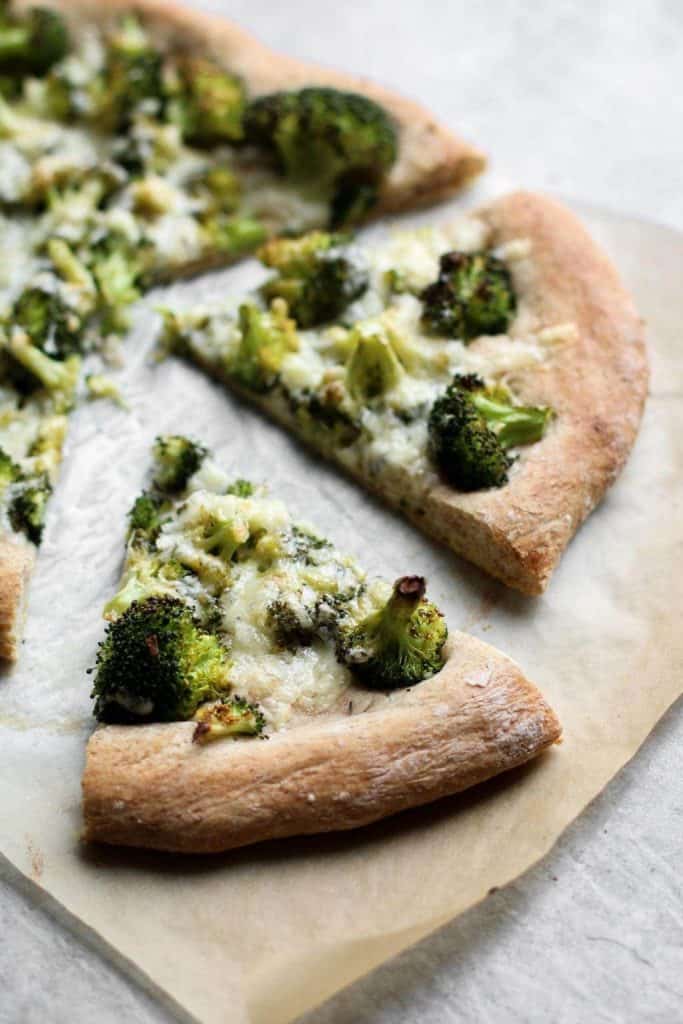 Whole Wheat Broccoli Cheddar Pizza
Pizza doesn't get any healthier. Made with a thin whole wheat crust and topped with a generous amount of broccoli. Sprinkle with cheddar, bake and enjoy!
Ingredients
Whole Wheat Crust
1

cup

all-purpose whole wheat flour

2

teaspoons

active dry yeast

1/2

cup

warm (not boiling) water

1

tablespoon

olive oil

1/4

teaspoon

fine grain sea salt
For the Pizza
1

large

head broccoli

(about 3 cups of florets)

1

tablespoon

olive oil + 1 teaspoon

2

garlic cloves,

minced

3

sprigs

fresh thyme

1/4

teaspoon

fine grain sea salt

1 1/2

cups

cheddar

(I use old white cheddar)
Instructions
Prepare the Crust
In a medium bowl, mix your active dry yeast with warm water. Stir and let sit for 10 minutes to let it foam.

Add your flour and salt to the water and yeast. Mix together, then stir in the olive oil. Form a ball and let the dough rise for 45 minutes in the bowl, covered with a towel.

When the dough is done rising, preheat oven to 450F. Line a baking sheet or pizza stone with parchment paper.

Sprinkle a bit of flour on the parchment paper and on the dough. With lightly floured hands, scoop out the dough from the bowl. Place on the prepared baking sheet. Spread into the desired shape. You should get a thin crust.
Prepare the Pizza
Toss the broccoli florets in a small bowl with garlic, salt and one tablespoon of olive oil. Mix together using your hands and making sure to coat the broccoli with the oil.

Drizzle the pizza crust with 1 teaspoon of olive oil, rubbing until evenly coated.

Top the pizza with the broccoli, garlic mixture. Sprinkle with cheddar. Remove thyme leaves from the sprigs by holding the top with one hand and sliding your fingers down. Sprinkle the thyme leaves on top of the pizza.

Bake for 15 minutes at 450F. If desired, set on broiler for a few minutes to get a golden finish. Serve immediately or store in an airtight container in the fridge.
Notes
Make it vegan: Use your favorite vegan cheese!
Use store-bought crust if desired.
If you make this broccoli cheddar pizza, be sure to leave a comment and/or give this recipe a rating! I love to hear from you guys. And of course, if you try this recipe, don't forget to tag me on Instagram!