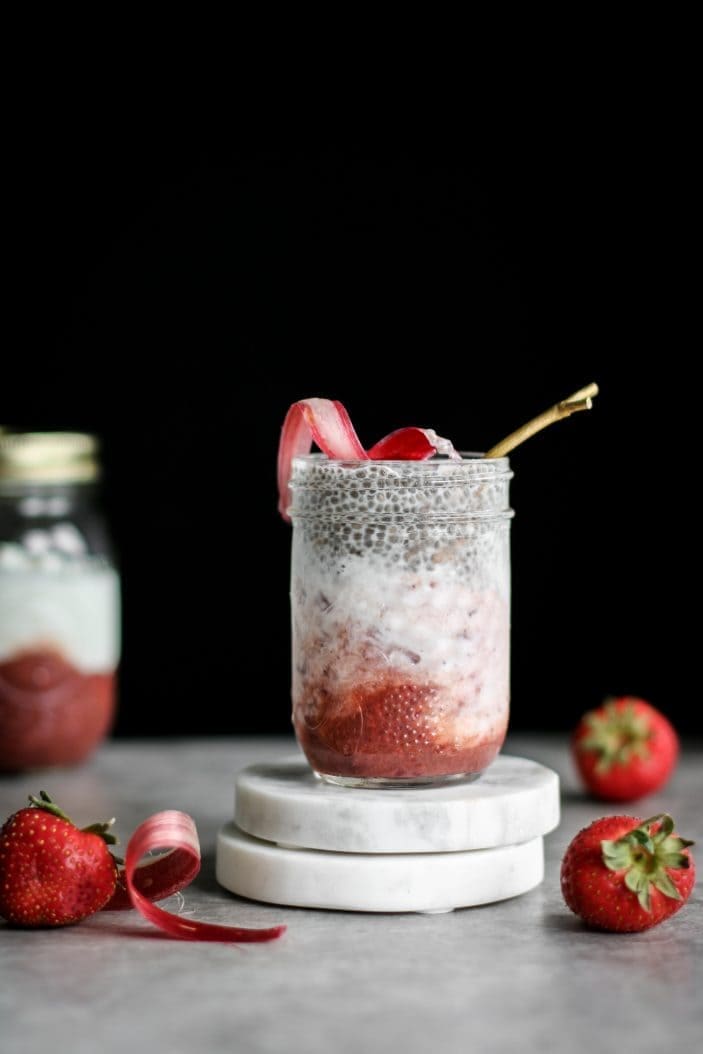 Strawberry Rhubarb & Yogurt Chia Parfait
I'm a dietitian.
I still can't believe it. I started my job Monday and it still doesn't feel real. In case you missed it (this post), I just finished my internship and I started working as a registered dietitian (candidate) in oncology, psychiatry, cardiology and surgery at the hospital. The first week was all about orientation, but I'm excited to start working by myself next week!
Other exciting news that you may have missed: we're moving in our new apartment shortly! We still have a week to go before moving, but I already started going through our stuff and started planning how I'll decorate and organize our new space. I'm obsessed with organization and decor. I love moving so much (most people look at me like I'm crazy when I say that, but I don't care). I'm just excited for a fresh start. A new place and a new job. (I shared a few more details on our apartment here).
When moving, I like to empty our fridge, freezer and pantry as much as possible. You may notice that I tend to do that every few months, whether we're moving or not. I find that it's a good way to reduce waste and remove clutter (two things that I hate). Since I'm in the process of emptying the pantry and all, I'm once again low in ingredients. For that reason, I've been eating cheese and mustard sandwiches and rice and tofu bowls all week. Appetizing right? I'm certain that no one wants those "recipes". Instead, I thought very hard to create a recipe that people would actually want to see, using the few ingredients that I had on hand. Enter this strawberry rhubarb and yogurt chia parfait.
I came up with this parfait idea last week. My mom gave me a bunch of rhubarb, so I decided to make a big batch of strawberry rhubarb compote. I also made some chia pudding to eat for breakfast last week since I ran out of oats. Of course I had to combine the two! I combined the compote with the chia pudding and some yogurt and it turned out to be the best idea I had in months. The recipe may look complicated, but trust me, if you take a few minutes to prepare the compote and the chia pudding on the weekend, you can have quick healthy snacks for the week – You can double the recipe if you want more than 4 portions. For the compote, you simply need to add all the ingredients in a saucepan, bring it to a boil, then simmer for about 10 minutes. Around that time, the dates and rhubarb should be soft and could be mashed with a fork. Then you can combine the chia seeds with milk and let it soak overnight. All you have to do after is combine all the parfait layers in a jar.
This snack has been my go-to in the last week. I've been having it everyday mid-morning or mid-afternoon. The mixture of protein from the yogurt and chia with the carbs from the fruits really helps satisfy my hunger between meals. I like to have it as a snack, but it would certainly make a good breakfast or dessert as well! It's up to you.
I highly recommend that you try the compote, even if you don't have the intention of making the parfaits. This compote is great in oatmeal, on nut butter toasts or simply eaten as is. I actually used it in a cookie recipe that I made with Stokes – That cookie recipe, along with a pasta salad and picnic photos are on the Stokes blog! Be sure to check it out.
Now, I'll leave you to the parfait recipe. Enjoy!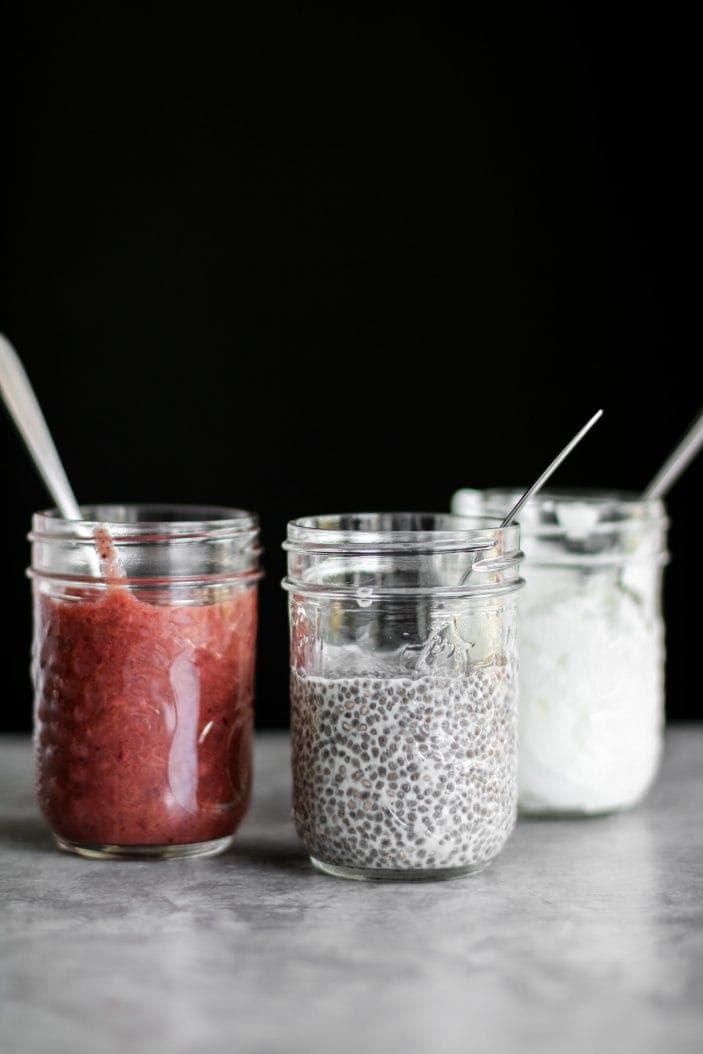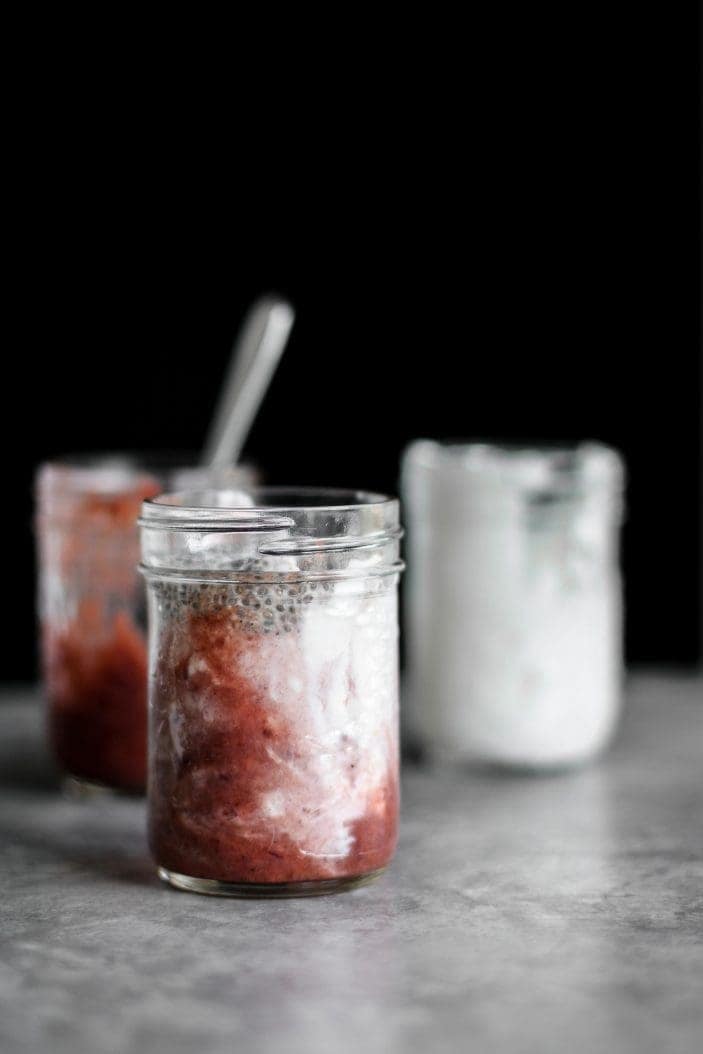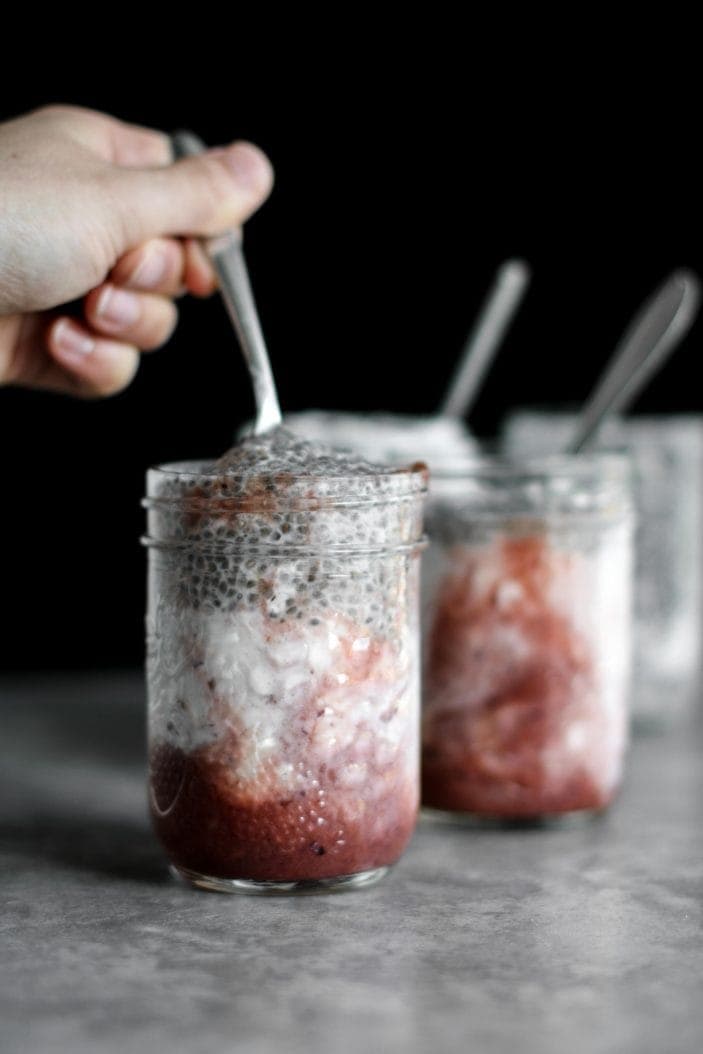 Strawberry Rhubarb & Yogurt Chia Parfait
This surprisingly simple and elegant parfait is made with only 6 ingredients and no added sugar. The compote is made from strawberry, rhubarb, dates and vanilla only. Add a layer of plain yogurt and chia pudding to make this 6-ingredient healthy treat.
Ingredients
2

cups

yogurt (plain Greek, regular or vegan)
Chia Pudding
1

cup

milk

(cow's, almond, cashew, soy or coconut)

3

tablespoons

chia seeds
Strawberry Rhubarb Compote
1

cup

rhubarb,

chopped (frozen or fresh)

1

cup

strawberries

(frozen or fresh)

4

tablespoons

water

6

Medjool dates,

pitted

1/2

tablespoon

vanilla extract
Instructions
In a small container, whisk together chia seeds and milk. Let soak in the fridge overnight.

Prepare the compote: In a small saucepan, add rhubarb, strawberries, dates, water and vanilla. Bring to a boil over high heat, then simmer for 10 minutes over low/medium heat until the rhubarb softens. Mash with a fork. Let cool (the compote will continue to thicken as it cools).

Prepare the parfaits: In a small jar, add approximately 1/4 cup of strawberry compote (cooled), 1/2 cup of yogurt and 1/2 cup of chia pudding. Enjoy!
Notes
I like to prepare a large batch of compote and chia pudding on the weekend to keep in the fridge. Then make the parfaits and use as snacks throughout the week.
Feel free to change the compote, yogurt and chia pudding ratio to your liking.
Add a drizzle of honey or maple syrup if you prefer a sweeter parfait.
Use leftover rhubarb in oatmeal, on toasts or as preferred.
If you try this recipe, make sure to tag your photo #unsweetenedcaroline on Instagram, Facebook and Twitter! Don't forget to also tag me @unsweetened.caroline on Instagram so I can see your creations!