Savory Vegan Biscuits with Scallions
Savory vegan biscuits with scallions, made with basic ingredients you likely have at home!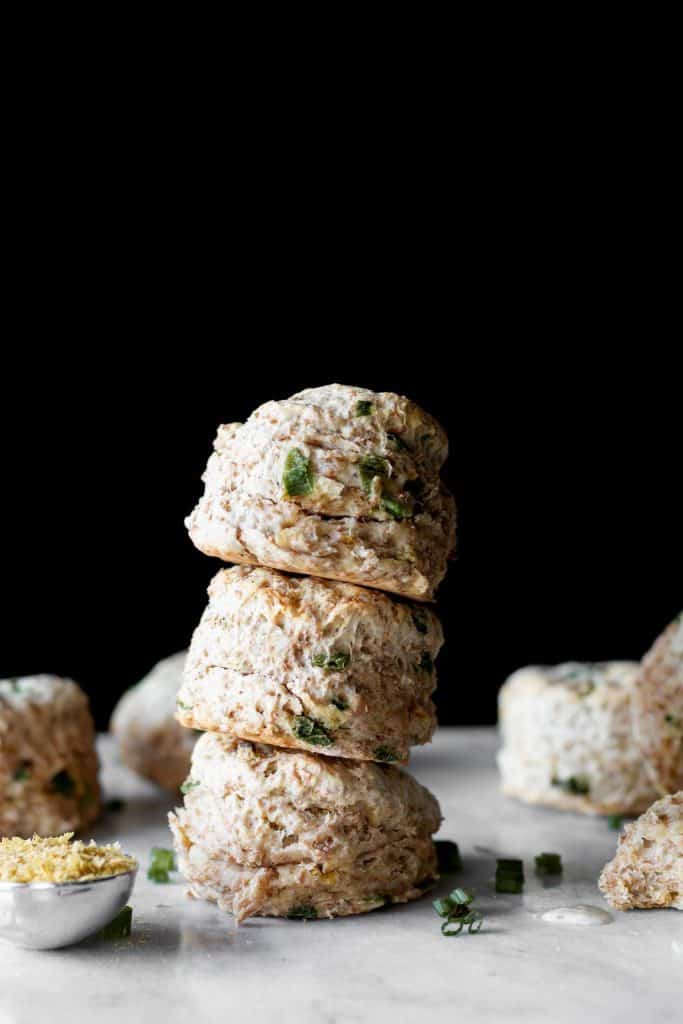 I realize now that these would have been a good recipe for Saint Patrick's Day, but I'm one day late. Oh well!
I hope you all had a good weekend, whether it involved green beer, matcha or nothing Saint Patrick's Day related at all. For me, it involved a lot of work on upcoming projects, many walks outside and some matcha.
I think it's safe to say that spring is here in the Okanagan. One month earlier than I was used to seeing spring in eastern Canada. I'm not mad about it at all. This weekend we had temperatures in the double digits and it's looking like this for the next few weeks. We had a warm, sunny weekend and I took advantage of it by walking and biking as much as I could. There's not much that makes me happier than a morning walk in the sun, when the air is warming up and the birds are singing. I love spring!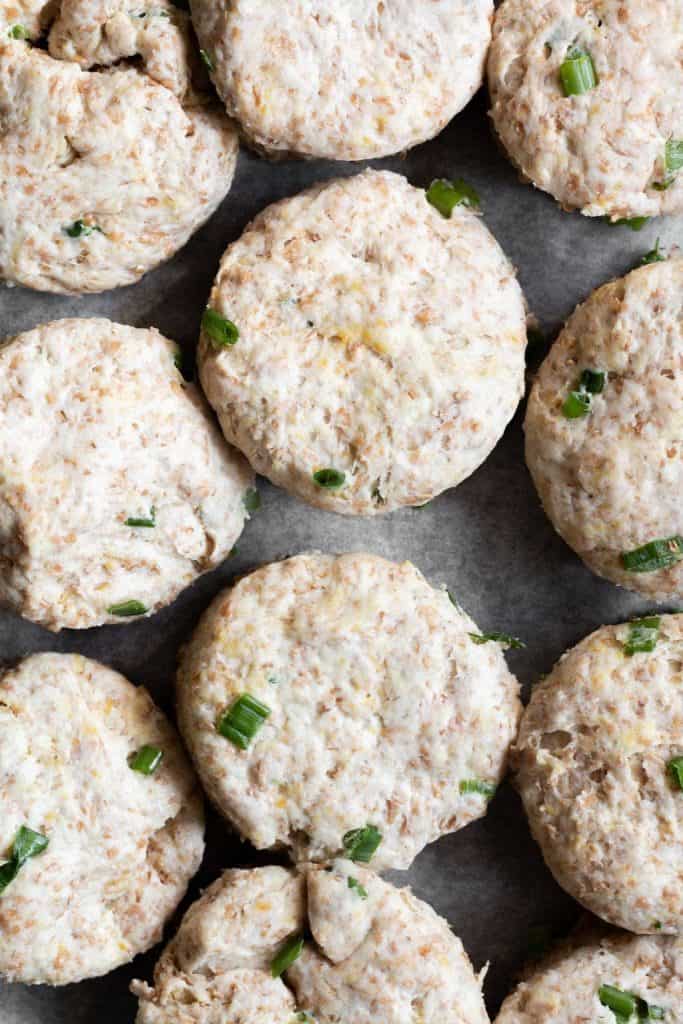 A big part of my weekend was spent in the kitchen though, testing recipes, including these savory vegan biscuits. I now have 3 batches of biscuits in my kitchen. Lets see how long they last!
This recipe is adapted from my whole wheat vegan biscuits. I only made a few simple changes to add some savory flavors and they are addictive.
Biscuits are relatively easy to make and I have a lot of tips for you to make the flakiest, softest biscuits. I learned a lot from this great post from Sally's Baking Addition!
Tips for the Best Whole Wheat Biscuits:
Use cold butter/margarine: When the cold butter melts during cooking, they release steam, which leads to little pockets of air. The result? You get flaky biscuits that are soft on the inside and crisp on the outside.
Don't over mix: If you over mix biscuit dough, you'll end up with tough and flat biscuits.
Fold and flatten: I explained this method in the instructions, but basically, you fold, then flatten the dough several times, which results in the flakiest biscuits.
Don't twist the cookie cutter: This will seal the sides of the biscuits and prevent them from rising. Instead, just press down.
Bake the biscuits close together: This helps them rise.
Flavor: In these biscuits, I added nutritional yeast and scallions for flavor with the perfect amount of salt.
How to eat these biscuits? Eat them as is or top them with vegan butter and enjoy as a side dish or as a snack. They're also great for potlucks!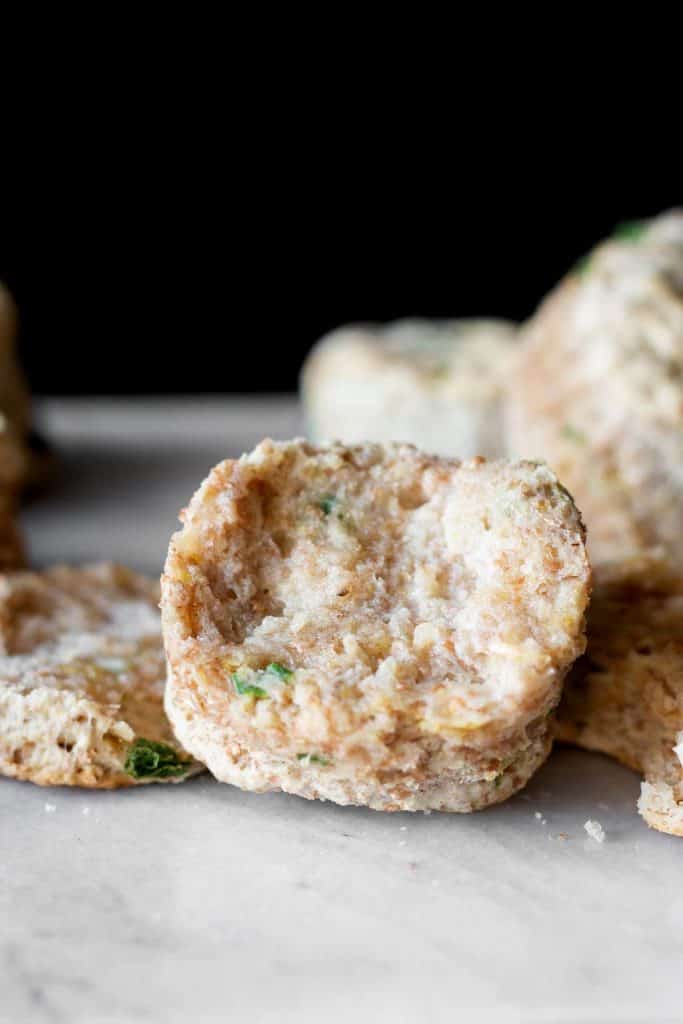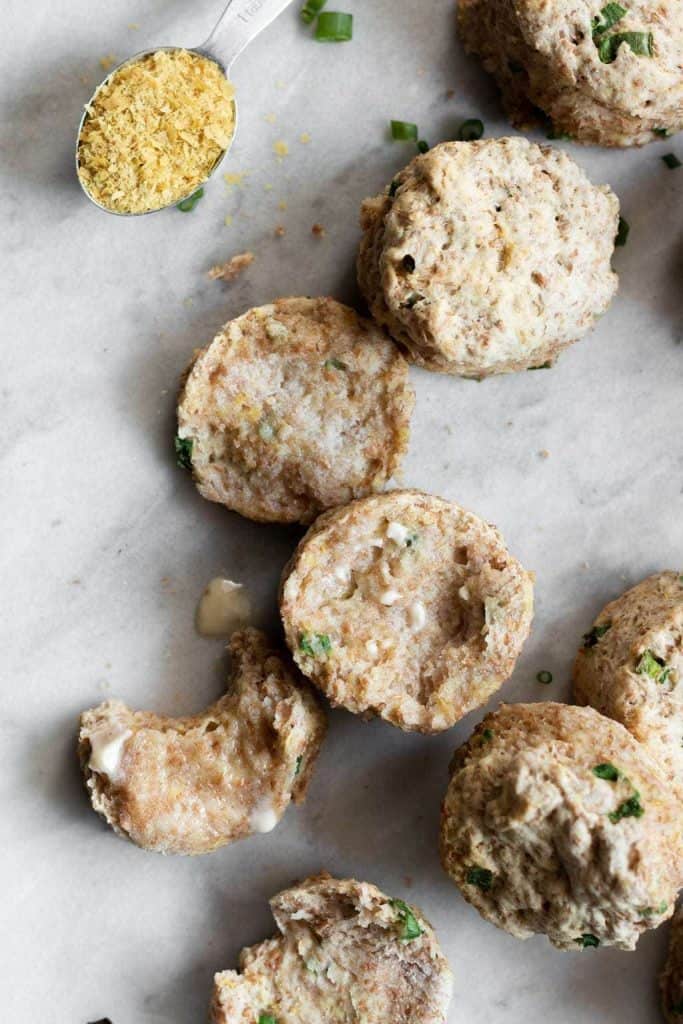 Savory Vegan Biscuits with Scallions
Whole wheat savory biscuits made vegan. Top them with butter for a delicious snack or side dish. These biscuits are the perfect addition to a big dinner with family or friends.
Ingredients
2 1/2

cups

whole wheat bread flour

2

tablespoons

baking powder

1/2

teaspoon

salt

1/2

cup

vegan butter or margarine,

cold

1

cup

almond milk,

unsweetened

1

teaspoon

apple cider vinegar

2

tablespoons

nutritional yeast

1/3

cup

scallions (green onions),

finely sliced
Instructions
Preheat oven to 425F. Line a baking sheet with parchement paper.

Add the flour, baking powder and salt to a large bowl. Whisk until combined. Set aside.

Combine the milk and apple cider vinegar to make your vegan buttermilk. Set aside.

Add the cold vegan butter to the dry ingredients and cut into the flour using a pastry cutter, a fork or by using the stand mixer until you get a coarse crumb.

Make a well into the center of the bowl. Pour the prepared buttermilk into the well, then mix everything together. Don't overwork the dough! It should look crumbly. Add the scallions and nutritional yeast and mix until just combined.

Place the dough onto a lightly floured surface. Lightly press the dough to form a rectangle using your hands or a rolling pin. Fold the dough, one side to the center, then the other. Flatten, then repeat this step 2 more times. This helps you get flaky biscuits.

Roll out the dough using a rolling pin until about ½ inch thick. Cut into 2.5 or 3-inch circles. Make sure not to twist the cutter as this will seal the sides and prevent the biscuits from rising. Shape the dough again as needed until all the dough is used. You should get about 12 biscuits.

Place the biscuits on the prepared baking sheet. Make sure they're touching as this helps them rise higher.

Brush the top of the biscuits with almond milk if desired.

Bake for 15 minutes or until crisp on the outside and soft on the inside.
Notes
Once the biscuits have cooled down completely, store them in an airtight container to avoid them becoming dry.
Make sure you're using cold butter. You can put it in the freezer for 30 minutes before starting if desired.
For proper measurements, scoop the flour into the measuring cups using a spoon, then scrape the top to level the flour. If you scoop the flour using the measuring cup directly, you may end up using too much flour.
If using unsalted butter in this recipe, increase the salt to 1 teaspoon.
If you make these savory vegan biscuits with scallions, be sure to leave a comment and/or give this recipe a rating! I love to hear from you guys. And of course, if you try this recipe, don't forget to tag me on Instagram!